Married, Paralyzed and Moving On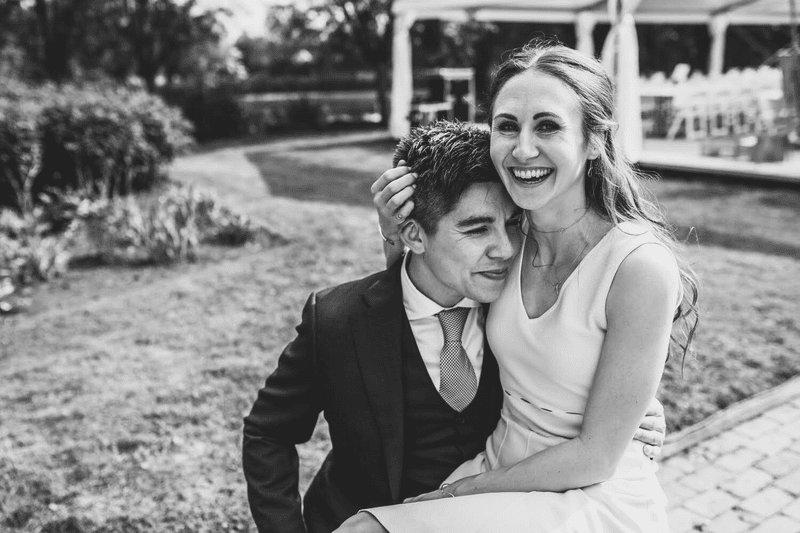 Transcript
ANNA SALE: We're coming up on the anniversary of your accident, Hiroki. Is that - does that date stick out in your mind?

HT: Yeah, definitely. I mean I - I've definitely feel like this week I've been feeling a bit down actually. Just I, I think it's the, a a sense of as the, as the time passes and it becomes more permanent, you know, it becoming more real.
This is Death, Sex & Money.
The show from WNYC about the things we think about a lot…
…and need to talk about more.
I'm Anna Sale.
AS: Hi, Rachel. Hi Hiroki.

RS: Oh hello!
When I asked Rachel Swidenbank and Hiroki Takeuchi to go a studio in London to talk with me, it took a minute to get the settings right.
AS: I'm noticing there's a little bit of bleed. Can you turn down headphones, because hearing myself back. Do you know how to do that?

HT: How do I do that? There seems to be lots of controls.
I first interviewed Rachel and Hiroki about a year and a half ago. Rachel had written me about a cycling accident that left Hiroki in a wheelchair, paralyzed from the waist down.
HT: Hey! Sorry, apparently there's some bleed? What's this thing do? I'm just pointing at buttons now.

RS: Hiroki, you can't solve this problem. Oh my god.

AS: I feel like I have a very good sense of your can-do attitude. Hiroki. I feel like -

HT: Oh well.

AS: You're quite a problem solver.

HT: Not very effective though.
Hiroki's accident happened three weeks after their wedding. And I wanted to hear from them how their lives and their marriage has changed, two years into Hiroki's recovery.
RS: I actually think when it comes to day-to-day routine, it's really hard to identify the differences from what it was like before and what it's like now. Like everything on a surface level, and the routine - it's so normalized now that you don't spot the differences. The times that you really feel the change is when you're taken out of that routine. So say we go on holiday, I'm probably going to end up packing all of the luggage whereas you would have taken responsibility for that yourself before. And then I'll probably end up carrying most of it. And in the airport we used to, we used to be those, like those loser people who'd like try and get through the airport as fast as possible and turn up as late as possible and then get off the plane as quickly and you know, be the first to passport control like it was some sort of race. Um, and now it's like we're always the last people off the plane.
Rachel and Hiroki are in their early thirties. When I first talked with them, they were still figuring out the basics of their new life. At that point, Hiroki was relying on Rachel for help with a lot of day-to-day tasks. Showering, dressing, and using the bathroom. He's more independent now.
HT: I try and get up early, we both try and get up early and do some exercise. Um, the the main difference is that Rachel goes and does exercise and then you know, is in the office by 8:30, 9, whereas if I do exercise then yeah, by the time I've got back, gone through all my kind of bowel and bladder and all the - the sort of, you know, uh toilet stuff and got showered then my, you know, I'm in the office at 10:30, 11 at the earliest really. So I'm pretty slow in the morning.

AS: And Rachel, when you think about what your life looked like when we talked before, how is it different for you, your weekday routine?

RS: Now Hiroki is fully independent, so I think the few things he asks me for is when he can't reach something on the shelf. Um, so, my routine's the same as it was before. Um, it's just, it's an, it's just without the part where we shared that morning routine together. Um, which is - which is, yeah the sad bit.
Their routines with their friends have changed, too. For the most part, they've felt supported. But there are times when it feels painfully obvious that their lives are very different from other young couples. Like like last year, when they traveled to Hawaii with a big group.
RS: And everyone was hanging out and we were all together around the pool and then someone was just like, I'm going to go down to the beach. And suddenly the whole crew went down to the beach and were like in the sea frolicking around and you had to go down steps to get down there and you couldn't, we couldn't go down to the beach because there was no wheelchair, um, was no beach wheelchairs. And so we were just stood, well I was stood, Hiroki was sat next to me, but we were just looking at our friends having all this fun and we were just like not able to participate. And it was just, it was really difficult. And, but, but seeing it, it's like I didn't want to go and participate because I didn't want to leave Hiroki by himself. So I would rather have been there and feel that sadness together than than to leave him. Um, but we're starting to get a bit better where you'll be like, oh Rach, why don't you go off and do this with these people and I'll do this with someone else and so it used to be always that it was on me to stay with Hiroki, or, or to be there but actually some of our friends are really good at at um kind of stepping in so that you're not left by yourself or, or that kind of thing.

HT: Yeah, it it it's one of those things that you know, it's definitely something that in general is something that um I definitely worry about and fear is missing out on things or being left out because I can't be part of something? You know, and, and so, you know, so sometimes people will invite me to things where it's really like not that realistic for me to be part of it and even though I'm, I - I'll say no, I still really appreciate the invite because at least then it's, sort of, I've got a choice in it, so to speak. I still feel like I'm part of it even if I'm not there.

AS: Yeah.

HT: Um. And I can't actually think of any off the top of my head, uh because like my friends have generally -

RS: I can think of one time. Um. There was a group of people going away and you weren't invited and you were really -

HT: Oh I can't remember that.

RS: - really sad about it.

HT: Oh, you mean the, that stag do?

RS: Yeah.

HT: Oh yeah, yeah. Although actually I spoke to him afterwards.

RS: No, I had words with him about it. It was just magnified into this huge deal.

AS: And you said it was a stag do? That's like a, that's like a bachelor party?

HT: Oh, like a bachelor party. Yeah. I mean we went to the wedding and it was like, you know, to be honest I probably wouldn't have been able to get to the, the, the, the, the thing anyway.

AS: And what were the words you had Rachel?

RS: Oh, um I was just, I really wanted to understand whether Hiroki had not been invited because he was in a wheelchair. Um, so I asked, um, and he was like, uh - I actually first had words with the best man and then I had words with, with the, uh, with the groom.

HT: Was this at the wedding?

RS: Yeah, this was at the wedding. [Laughs] Um -
AS: Yeah. Does it feel comfortable, Hiroki, knowing that Rachel was advocating for you afterwards? Like checking it out?

HT: [Laughs] Uh, yeah. No, I don't mind. I mean like that, that's that's something that's not really a change from before the accident in many ways. Like Rachel was always quite a fiery one and uh, you know, so everyone, everyone everyone knows that's part of the package that you get with Rachel. So uh, yeah, she doesn't shy away from conflict.
At the time of the accident, Rachel and Hiroki were both running start-ups in London. Yahoo called them one of London's "coolest tech power couples." Hiroki is the CEO of a financial tech company called GoCardless, that now has hundreds of employees. He started back to work part-time pretty soon after the accident. Rachel, though, had to close her business. She wasn't able to raise investor funds and take care of Hiroki at the same time. So she didn't work for about a year, which she found really frustrating.
She's now a VP of marketing at another tech company. But she started back at work as a consultant at Hiroki's business. They worked together for six months.
RS: I was reporting kind of to Hiroki, um so everyone was like, what's it like to work for your husband? Um, it's probably the least we've ever argued.

HT: Yeah it's true. It is.

RS: But, um, yeah, but I think that it's interesting because I look back on it now and it was such a powerful time for me to see Hiroki back at work behaving normally. Because our, because our life at home had gotten so, uh, I was still essentially his carer and I wasn't his wife. And it's, and seeing him in this position where he was holding authority and he was confident, um, it was amazing to see that and I - I think for the sake of our relationship to some extent, I probably needed that at that point in time. So I didn't realize at the time how beneficial it would be, but um it was amazing to work there and I think I was desperate for that full time work because I was going a bit crazy I think.

HT: Mm, yeah it wasn't good for you. Not not like that.

RS: No, it wasn't.

AS: That's interesting because I wondered if if working for Hiroki's company had, would have made you feel somehow like, like you were still needing to, to orient your life around him. But it sounds like it was the opposite. It was quite empowering and healthy to see him in the workplace.

RS: Yeah definitely like at the time, like I always make this joke, I think throughout all thirteen years, Hiroki, sometimes being with Hiroki is like being on the Hiroki show and I'm just like, a side member, uh like one of the supporting acts. Um, and it's always centered around Hiroki and then obviously when his accident happened, that became even more true. And so when I did work for GoCardless, I was really worried that that would be the case. Um, but I think it was almost like I was part of the picture too versus it being, feeling like I was out of it. It was like I was playing a part and and that felt important to me.
Coming up, Rachel and Hiroki on how things are different for them physically after Hiroki's accident...from sex, to just hanging out together.
RS: He used to hate it when I used to stick my finger in his belly button. That was like something that used to really annoy him, and now I just do it and he doesn't even know.

AS: [Laughs]

HT: Yeah, it's very mean. But if I see her doing it, it still freaks me out.
—
Thanksgiving is not a holiday in the UK, but over here in America, a lot of us are getting ready for some long hours of traveling this week. And if you need suggestions for good listening to take with you, we can help!
Last year we asked some of our friends who work on other podcasts for their favorite podcast episodes...you likely know a lot of them...and we built an easy-to-download playlist from their suggestions. That playlist is called "Podcasts We're Thankful For," and there's a link to it on the website for this episode, at deathsexmoney.org.
We also recommend podcast episodes in our newsletter every week. So you can go back and comb through those past issues for some ideas at deathsexmoney.org/newsletter. And if you haven't already, subscribe there! The team puts a lot of work into the newsletter every week, and it's an an email worth your time.
And just one more thing: If you're new to Death, Sex & Money, welcome! We're thankful for you. And if you have something to share or ideas for stories we should tell, our inbox is always open, at deathsexmoney@wnyc.org.
On the next episode, I talk with another couple navigating a reality they can't change.
VANESSA: What happens if they cancel DACA and then they go after all the DACA recipients and like, we have a baby? I don't want to be a single mom under those circumstances.

FREDDY: With this administration, you never know where you're standing. You know, so you can be good today and then tomorrow its chaos.
—
This is Death, Sex & Money from WNYC. I'm Anna Sale.
Rachel and Hiroki always wanted kids. But when I first talked with them after Hiroki's accident, a big open question was whether they'd be able to.
This year, they learned they could conceive together, but they have to do it through IVF.
RS: I remember coming out of that appointment and we were like so excited that it was a possibility. And we were like oh, most people would be really disappointed if they found out this was the only way they could conceive a child. Um, but for us it was, it was a big win and then, um, I went to get blood tests and followed up and anyway, I ended up at this appointment, at an IVF clinic, and we got there and they were like, yeah so, um, basically you can start next week. And we were like, whoa, whoa, whoa, whoa. Like, this feels a bit sudden and a bit soon.

HT: Yeah it definitely feels like it's it's, I'm not sure we're ready just yet, but if it's, it's something that we know we want to do at some point, but we actually, uh uh some friends of ours uh who's, you know, the guy uh is also has spinal cord injury and has been in a wheelchair for like 10 years and uh, yeah, they, they just had their their first baby and so it's it's it's really nice seeing them you know start their family together and -

RS: Yeah, for, for me the biggest thing that I find from, from talking um with them is understanding that the feelings that we have are normal.

HT: Yeah.

RS: So being a bit apprehensive is normal and like, um, knowing that, that it's okay to feel like, it's okay to feel a little bit angry that you have to go through uh like a process with your body that you don't, that that you shouldn't have to, like it's okay to feel like that.

AS: Yeah. Because it's like, IVF for you, Rachel, will be a thing that you have to go through in your body after so much emphasis on Hiroki's body.

HT: Yeah, like it, yeah it doesn't, it doesn't sound like um the most enjoyable experience. Um, and so - well, at the same time, like, I'm, you know, I'm grateful that we can do it. Um, but the fact that that's our first option, uh sometimes it's like, it's just the reminder of of some of the, uh, some of the things that we have to sacrifice.

AS: Hiroki, when you, when you think about being a father, what do you picture?

HT: Yes. It's, it's a weird one. You always picture that you'd have a family and that, you know, it's not like I pictured it a lot before, but you know, you have these images of based on your own childhood, um of you know, playing with your kids or you know, exploring with them and, but then, but then there's been things that have helped, like, you know, when I speak to uh our friend who's just had a baby and he's in in that wheelchair and you know, I think that he said something to me that really stuck with me, which was that - because like one of the things that really worried me was that I wouldn't be able to be a proper dad to, to our children. And I remember talking to him about it and he said, we were quite drunk at the time. So I can't remember if I remember it correctly, entirely correctly. But you know, he was saying something along the lines of look, like that's, you're you're you're reflecting your own feelings about how you want to be in the situation, not what your kids would need. And so I think there's a level of like you know redefining what fatherhood means through a different lens. It doesn't mean it's worse, it's just different.

AS: And what's it like being together physically now between the two of you? When it's not about trying to get pregnant.

HT: Yeah, I mean, I'd say that's something that we, I don't think we've figured out really. I mean, I think that we, we definitely have a lot of intimacy and you know, a lot of closeness, but um, physically it's like possible, but it's like, I think that there's so much baggage around it in a way like -

RS: Yeah.

HT: - you know, um, around, yeah.

RS: It's just so emotional because it's like day to day, you know, we can be sat at breakfast and we're just chatting away and we're having an amazing time, we're laughing together and the accident isn't, and what happened isn't present. But in those moments where it's like, can we have sex? It's like suddenly, oh no, there's this huge obstacle and it's really, we have lost something. Like we really have lost -

HT: Yeah.

RS: - an element of our relationship and it's really hard. Yeah.

HT: Yeah.

RS: And you know, it's been progress, progress, progress, progress, and then like maybe the last three, four months it's kind of flattened out in terms of what you would classify as progress and suddenly it's like, oh no, this is one big topic that we still need to face. Um, and I think it's emotionally difficult for us both.

HT: Yeah, I guess not. It's one of those things where you kind of ignore a little bit.

RS: Yeah, and given, you know, we're open and honest about all the other pieces, this bit we kind of suppress.

HT: I think it's because we feel a little bit lost with it, you know. We don't really know where to go.

AS: When do you cuddle?

HT: We cuddle a lot. [Laughs]

RS: Yeah. Yeah. I love like, he gets home from work and I'll like get on his knee and give him a cuddle. Um, uh, well actually it's quite interesting, in bed, Hiroki doesn't ever a cuddle me anymore. I have, I have to cuddle him and then he, and then he'll like, roll over, I call it the whale move, um onto his front. It's like this big dramatic turn in bed. And then he's like, Rachel, come and cuddle me. So we cuddle, we do cuddle a lot.

HT: Yeah.

RS: Yeah.

AS: And where are you most often when you're putting your finger in his belly button?

RS: Oh, we'll be like, oh we, that's terrible, we watch so much more TV in bed now, it's really bad. Um, and then it will be like, we'll be laying in bed and I'll be cuddling him and I'll be stroking his chest and then I'll go down and do a little poke in his belly. I don't think he even knows.

HT: I don't know. Yeah. That might be happening every night, for all I know.

AS: I was really struck, Rachel, by what you said about progress, progress, progress. Like I imagine when you're - when you're in a period of recovering from a traumatic injury where the, the objective, Hiroki, for you was to get stronger, learn to use a wheelchair, learn to get around, learn to adapt — you had a series of, you know, things you could say, I'm going to learn how to achieve this and achieve it — and then at a certain point you're just in real life?

HT: Mm. It's more just like a, this realization that as this is it, this is what I'm living with. Um, and this is, this is what I have to accept. It's going to be the rest of my life. That - that's hard.

AS: Do you think of it as grief?

HT: Yeah, I I think so. I mean, I think it is. It's kind of a mourning.

AS: Do you think you're still grieving Rachel?

HT: Rachel's crying right now. So I think so, yes.

RS: Yeah, definitely, like definitely. Um, if I'm really honest, like there was a period where I was like, is this something, is this something I want to accept and be in forever? Um, do I want to do this? And like I really had to spend time thinking about it and processing it and being like, yeah, yeah, you absolutely do. Like, you know, like Hiroki is your husband. Like of course you want to spend your life with him and this little thing isn't going to get in the way.

HT: It's not really a little thing.

RS: No, but this is what you say. Sh. And it is little, because we can get around so much of it.
That's Rachel Swidenbank and Hiroki Takeuchi in London. There's a link to my first conversation with them on our website at deathsexmoney.org. And Rachel is really a good follow on Instagram where she's still chronicling Hiroki's recovery and their life together at hiro_myhero_. That's h-i-r-o underscore my h-e-r-o underscore.
Death, Sex & Money is a listener-supported production of WNYC Studios in New York. I'm based at the studios of the investigative podcast Reveal in Emeryville, CA. Our team includes Katie Bishop, Anabel Bacon, Stephanie Joyce, Joanna Solotaroff, Emily Botein, and Andrew Dunn. Thanks to Kegan Zema for his help on this episode.
The Reverend John Delore and Steve Lewis wrote our theme music.
I'm on Twitter @annasale, the show is @deathsexmoney on Twitter, Facebook, and Instagram. And as always, you can email us with your reactions, your story ideas, your questions at deathsexmoney@wnyc.org.
Rachel, Hiroki and I had this conversation just before the second anniversary of his accident. And they told me, they were planning a party.
RS: We call it a fuck the accident party.

HT: I'm going to get very drunk, I've already decided.

RS: Oh my God, we did it last year as well and you should've seen the carnage. Like, it was like we were like 20 year old frat house. Like we've just done up our house. We've got all this lovely furniture. We had a party, there was vomit on the floor and when I went to get into bed there were already four guys in the bed. I was like, what is going on?
I'm Anna Sale and this is Death, Sex & Money from WNYC.
Copyright © 2019 New York Public Radio. All rights reserved. Visit our website terms of use at www.wnyc.org for further information.
Music Credits:
"OneEightFour" by Blue Dot Sessions
,
"Waiting for the Moment that Never Comes" by Lee Rosevere
,
"Focus" by A.A. Alto