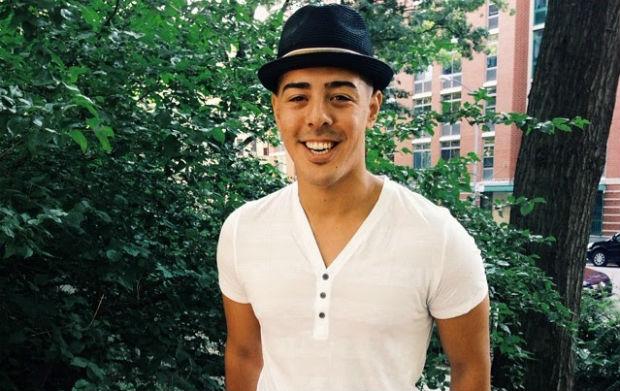 Transcript
I would like book back-to-back, like, oh I'll meet you for coffee. And then I'll do lunch with her. And then I'll do dinner here. And then I may end up with her. Or I may end up after dinner with the girl that I went to lunch with.
This is…. Death, Sex & Money.
The show from WNYC about the things we think about a lot...and need to talk about more.
I'm Anna Sale.
Let's start by pretending we're at a bar.

Okay.

I want to hear how you do this. What happens?

I'm going to find a way to get closer to you. Get into your area, kind of get into your space. Not too close. And then I just find my way in.
This is Jozen Cummings.
He's been picking up women for years. Unapologetically.
I hope that I've become interesting enough at some point where you ask me my name first.

Oh you wait for her to ask your name.

Yeah, I kind of wait…
He gets the romantic pursuit. How to approach with swagger, and just enough of a disarming smile.
How do you describe what you do?

Well, I'm a writer. And I'm a dating reporter at the New York Post and I set people up on blind dates. You don't really need to say much more than that to get people interested.
He hasn't always had a staff job. He was an editor at Vibe Magazine but got laid off during the recession.
When you're are a freelancer and you don't have a job, you can literally date 24 hours, every day.
And he did … and chronicled it all on his blog called Until I Get Married.
There's a post about getting bored with sex when you have too much. A how-to guide for being friends with someone you sleep with, and tips on using a Groupon coupon on a date without getting caught.
But how does dating work when you're not interested in finding anything serious? Jozen's been totally up front about it.
"If you want to find some dude who wants to marry you," he told the Washington Post three years ago, "Don't start with someone like me."
The paper also noted his resemblance to Drake, that handsome R&B artist.
I can't get any girl I want, but I certainly wouldn't…

The way you say that is hilarious. Cus it sounds like…most women you feel like you can.

But I do feel like, if they're going to say no to me, it's not going to be because there's something — oh man, this is going to sound — like there's something like, ew, gross. you know, it's never going to be that type of rejection.

For you, when did you first realize that oh I can get girls to be attracted to me. Where did that first confidence come from?

The confidence — I do remember a very pivotal conversation I had in high school that I had with an older girl — I was probably 16 or 17, and I worked the deli section of the restaurant. Which was right next to the host stand. And we had a bunch of pretty hosts and all of them were about — if I was 16, they were 18. and though I forget her name—

You don't remember her name.

If I saw her face, I would remember her and I would thank her, because she did say, you know Jozen, the number one thing you have to have as a man is confidence. That's when I just kind of told myself, okay, get confident. And I think my lack of confidence came from growing up and kind of being that kid that girls were like, Not him.

When was that, in your life?

Oh that was, that feeling stayed with me all throughout grade school and high school. The boys who got girls to like them, I would just see them, and say I don't have that. I'm not short, but I'm not as tall as them. I didn't have much athletic ability.

Was it kind of in your head at that age, or where there moments where you like, really were after this particular girl and you couldn't get her to pay attention to you?

I mean, I remember the first girl I ever liked didn't like me back. Now I remember her name — Roxanne, in second grade, I started coloring pictures for her at home and then leaving them at her desk, and I'll never forget one day the person sitting next to me tapped me on my shoulder and said, Turn around, Roxanne is trying to get your attention. And I turned around, and she just mouths the words, I don't like you. And I was just like so upset and so hurt. I remember afterwards, I wanted to find a way — like I wanted to dress cooler, I wanted to do something. You know, I think I cut holes in my jeans.

After that, to fix it?

Yeah, like I cut holes in my jeans at the knees because I thought that was the look. I don't even think that was a look. But—

I think it was a look.

I mean, I wore sunglasses. I think I picked up a pair of my mom's sunglasses. Just being okay with the fact that they were sunglasses.

You grew up in California. And then you move to Washington, DC, for college and go to Howard University.

Right.

At the historically black university.

Yeah.

And then you move ultimately to New York City.

New York City.

Have you dated women of all different races?

Yeah, I've dated women of all different races, but I mean, you know, black women were always the women that I dated. But I learned that that doesn't mean that I'm dating the same type of woman.

And you have a multi-racial background. What's your background?

Puerto-Rican, black, and Japanese. So I have a multiracial background, but I mean, I just, Roxanne — she was black. That was second grade. Did I like other girls? Yeah.

Was it like — when you figure out your type, you kind of know your type. Like, he's wearing the kind of shirt I like when a guy wears that shirt. Was it a choice at some point that you were like, I'm gonna date somebody else who's not a black woman and see what that's like?

No, it wasn't ever made like, I'm trying to not — date someone who isn't black. I think, what I was guilty of, and I think a lot of people that I know, a lot of men who date black women, I don't even know if it's a lot, but I've heard it enough, black women don't need the approval of men. At least the black women that I know, the black women who are my friends. My niece is black, and I would tell her this. That you cannot let a man determine your worth. Okay. I don't think that black women need men to make them the hottest thing or whatever to make them feel good about themselves. And I feel like for a while, I subscribed to this idea that I was doing a noble thing. Like that I liked black women was somehow progressive.

Instead of dating white women.

Instead of dating white women. And it wasn't, that's not. Because dating is such a personal thing. And I know some people feel differently, that it's a political — you're making a political statement by dating who you date. You can see an example of that in President Obama. And everybody talks about Michelle Obama, and how great Michelle, the first lady, makes the president look. And for a lot of people, it's so good to see this black man with this black woman who, you know — but I don't want a black woman to ever speak for me like that. I did, but like I said, I grew out of that. And that's when I, once I let that go, that's when I started becoming more open to dating anybody, because—

When did that happen?

That happened probably sometime in like 2012?

Fairly recently.

Yeah it did take a long time, but one thing that I, cus I was single long enough to kind of like, start looking at the game a little bit differently.

Is it uncomfortable for you to talk about race and who you've dated?

No, it isn't. I think what's uncomfortable is speaking, and this is a conversation I've had a lot lately, with like my mom, mostly.

And your mom, what's your mom's background?

Puerto Rican and Japanese. It's uncomfortable to feel like I am speaking about, if I talk about my dating history, and I talk about the women I've dated, I'm talking about black women. But it's very uncomfortable for me to speak for black women. Like I don't want to be the guy that speaks for black women at all.

And it's also, when you have Japanese, Puerto rican, and black background — who you're dating is an expression of where you see yourself fitting.

Yes, it does — in what sense?

When you're multiracial, which side of yourself, it's like how you're aligning. In some ways — to be very crass about it.

It is, it is, it is, it is.

And I imagine coming from California and going to Howard, and thinking about your black identity as you're coming of age, as you're dating a lot, I mean do you think that's part of figuring out who are the women you're gonna date?

I used to, I think that's when I'm speaking to. But I used to feel like very much that they were a gateway. Into, or they strengthened my identity.

As a black man.

Mm-hm.

You didn't grow up with your biological father.

I didn't grow up with him. I remember my mom dating—

Did you like, check out to see who was coming to the driveway? Or knocking on the door, or—

I had my opinions. What would frustrate me was when I saw that she liked a guy, and I could tell when she was waiting for a phone call. I could sometimes see how it was well past the time they said they were gonna call and they hadn't called. I could see that frustration, and I didn't like that, I didn't like seeing her get let down.

When you were at peak bachelor, were you ever that guy that might have maybe left your mom waiting for the call?

Yeah, yeah, I was a lot — I was various versions of the guys that were in my mom's life that hurt her.

So what, just, say you meet a girl. You have a nice time out. You exchange numbers. You suspect that she's waiting to hear from you, a text, a call. What would go through your head when you wouldn't get in touch?

There was probably somebody else that was keeping me occupied, or, not even another girl, just wanted to hang out with my friends more. Wanting to just go home in peace and not have to share my bed and not have to wake up the next morning, and in somebody else's bed and go home. One thing I never convinced myself of though was that I was the only one, and I think that kind of helped me square away whatever I needed to, in order to be okay with not texting them.

So you would tell yourself, I'm not the only guy out there for this woman.

Yeah, I'm not the only guy out there.

You wouldn't tell yourself that she's looking at her phone waiting for me to call.

If she is, it was always kind of like, well, that's fine, but I never felt like I had all the control. And I've been let down, too. So we all go through it, right? There are a couple of people, you know I had a relationship with someone who moved from California to be with me. And I let her down. Now, everything turned out alright, she's—

You mean let her down like break up with her, or let her down by doing something else that ended the relationship.

Doing something else that ended the relationship.

So you were with somebody else.

I was with someone else.

And then she found out.

And she found out. I want to be able to say that the love that I have is love that I deserve. And the only way I'm going to be able to say that is by basically living up to that idea.

Did you learn that from the experience of seeing that cheating on your live-in girlfriend at the time, seeing the damage that wrought, did that lead you to sort of examine—

Definitely, it was a difficult thing in the sense that I felt very sorry for myself and I knew I didn't have a reason. I had no—

You were sad to have lost her.

Yeah. Getting caught was what made me upset with myself, in the sense that you don't realize the damage that you're doing until the other person shows it to you and you see it on their face. You see them not being able to sleep at night. You hear them crying. You know, it's not about the way they treat you when they're angry at you, it's that you come home, and there's no music, there's no television on, there's nothing. They're just sitting there. And they're looking out the window or they're looking at a wall, and you caused that.
Seeing this made Jozen wonder if he would ever be able to commit. And it made him think about his father Harry.
What I made a connection to was, here was this woman that loved me so much, and I did something to ruin that. To cause our relationship to end and hurt her. And even if she still loved me, put her in a position where she could not be with me anymore. Well that's what Harry did to my mother, and my mother loved him so much. And even when she talked about him, you could tell she loved him.

Years later.

Years later. But she wasn't going to be with him.
Jozen's father passed away in 2009.
Coming up, what he learned from watching his dad die alone.
We got lots of responses to our last episode about money and relationships.
Maya from Philadelphia wrote in to ask about what to do when you bring different debt loads to a relationship. She's got student loans. Her girlfriend doesn't. And they're trying to figure out how to split the cost of a wedding.
Lisa Eaton wrote in on the Death, Sex & Money Facebook page, she was in the same boat when she married her husband in 1992, and they came up with a formula to contribute proportionally to a household account.
But Anaïs BéDé added, "Get over the need for perfect autonomy at all times. Marriage is about supporting each other and becoming one legal unit, you WILL become dependent on each other for so many things."
On the next episode, a woman who supported her husband through a debilitating illness and decline. Chaz Ebert on caring for film critic Roger Ebert….
When he was very sick, it felt like we became one person. There, I didn't feel the boundaries that you feel with two people. And I know those boundaries so well because when he got better and he got stronger, those boundaries were resurrected. And I became my own person again and he became his own person. But the period where we became one, I could almost feel him in my soul.
We talk about the recent documentary about her husband's life and death...and how she still feels about his presence.
I knew you were going to ask me just the standard questions. I just knew it.
This is Death Sex & Money from WNYC. I'm Anna Sale.

Jozen Cummings spent his 20s dating, and sometimes, cheating on the women he dated. Which was a lot like his father.
I had heard enough stories to know that he was somewhat of a rolling stone, and um—

What do you mean?

You know, he was just a ladies man to a fault. Made some bad decisions, and hurt the women that he loved. Including my mom. Or the women that loved him. I have two older brothers, he had two other sons besides me, we all have different mothers. And I know from talking to my brothers that their mothers felt the same way about him. But none of them showed up to his funeral. What that showed me was that you can love someone, but you can also put them out of your life, and I just thought, here was my father, a man who was loved, but nobody wanted to really be there for him. His sons felt a certain obligation but even us, we were even, like, no, we're doing this because we have to. It's a role we have to play. I didn't want to end up like that.

You didn't want to die alone.

I didn't want to die alone, I didn't want to die alone and loved.

Die alone and loved, so you're saying these women had fallen in love with him and continued to fall in love with him, but because of his actions, it was impossible for him to be his companion, be by his side, and love him.

Absolutely, yeah. And I never felt — I don't know if it's the Catholic in me, or whatever, but I never felt like just because I was young doesn't mean that I'm not gonna — you never know, that's one thing that.

So it made you think about your own death.

Yeah.

And what you wanted.

You just see him dying, and you just think about that, well how are you gonna out? I didn't want to go out like that. So I just went ahead and sought therapy.

So you have this, you had this traumatic breakup with your live-in girlfriend. As your father is ailing.

Yes.

What did you talk about in therapy. Did you talk about women, or did you talk about your father?

Um, I went to therapy thinking there was something wrong with me, that's what causes a lot of people — and the thing that you learn, one of the first things that you learn about therapy is that it's very much, like, your therapist just lets you talk. Like I think therapy is great but you have to go in there kind of like, know what you're gonna say. Or at least, cus they don't—

It's stressful when you don't know what you're gonna say when you get there.

Cus they will just let it hang there. It wasn't until the fourth visit that I brought up Harry.

Your father.

And that resonated with my therapist. He had an instant reaction when I was talking about our story, and my story, my relationship with him. And he's like, oh, you're his son, like that's you. He was self-destructive. And he said, I know it hurts you that you two don't have a relationship, but you need to get that out of your head. You needs to go down there and you just need to listen to him. You need to hear his stories and listen to the mistakes that he made. And I did that. And when I did that, he was on his way out.

What are you working on now, in yourself, when you think about what kind of partner you want to be?

I think that this will be, that this is kind of in line with the spirit of the show, but in myself, if I can put my budget in myself and my money in myself, that is the number one thing that I'm working on. My money, my finances. Trying to somehow get right and fix everything.

You're in a serious relationship.

I am in a serious relationship.

So, when was that moment when you realized, I'm gonna do this with this woman?

That moment existed pretty much when she allowed me to take her out on our first date. I mean, I—

How old were you?

This was recent, this wasn't that long ago, so I was 32. I'm 32 now. But I mean, what I see with Gina is somebody who will love me, and ride for me, like, be by my side. But I don't want her to have to have to take responsibility for decisions that I made before she came into my life. And that's kind of what, my finances are a reflection of that. And I'm really trying to get myself into a better place, because I want to take care of her. I want to be able to have a family with her and I want to be able to live a comfortable life with her. And the feeling that I have for now, it hasn't been long. Anybody can say I'm still in a honeymoon phase, but I feel like the challenge, even though it hasn't come up now, at some point it may, of maintaining this feeling that I have. This joy and not forgetting that. And carrying that with me, so that I can make good decisions in the future and not necessarily have to realize after it's too late, that I had a good thing. Yeah, that's what I think about a lot. I come from a long line of divorce. My grandparents were divorced before I was even born. And the scariest thing is they, my mom, my uncles? They all ended up with someone — you look and see that it's gonna be okay. And you see that it's okay, you're with someone after coming out of that, and I guess my fear is that I'll be okay if it doesn't work. When you know that that's the case, it's scary, so I just wanted to know if you ever see the relationship you're in now and wonder—

What if it all falls apart?

Yeah.

Yeah. That's what it is to be committed, is to face that. No, it rears its head in intense ways.

The cynicism?

Mm-hm. But then what you go back to, what I go back to, is, these are the most important qualities in a partner for me, and I could never find what I have in my partner anywhere else.

Yeah, yeah. I mean that's, and do you ever wonder why you had to take that—like go through whatever you went through to get there? Like that's kind of what I wonder. Is, like why did it take all this to get to her? I'm thankful for my experiences, but, you know, because she doesn't have nearly as much experience as I do. Right?

Baggage.

Baggage. Right, so she — sometimes I'm like, you really, you got it right the first time. You realize how lucky you are, right, like, I'm here. I'm like fully arrived, like not only do you not get to deal with other guys, you don't even get the worst of me, like, it is really frustrating. I still sometimes wonder why our journeys, why some of us have to take a more epic journey to come out on the other end and to be able to see the light, you know? That to me is always the thing.
That's Jozen Cummings. Now, his blog, Until I Get Married, is all about Gina, his girlfriend. He says, God willing, his first date with her will be his last first date ever.
Death Sex and Money is a production of WNYC. The team includes Emily Botein, James Ramsay, Jessica Miller, Henry Molofsky, Chris Bannon, Jason Isaac, Bill O'Neill and Jim Briggs.
The Reverend John Delore and Steve Lewis wrote our theme music.
If you like the show, subscribe. And write us a review.
You can find us on Facebook -- I'm on twitter @annasale -- or email me at deathsexmoney@wnyc.org.
But it's summer -- so get out there, too. Just a few weeks left. If you're looking for love…don't be afraid to stand in front of the mirror...and check out your look.
For a lot of men, that still will be the thing that they do. There's some version of cutting holes in your jeans and putting on your mom's sunglasses.
I'm Anna Sale. This is Death Sex & Money from WNYC.
Copyright © 2019 New York Public Radio. All rights reserved. Visit our website terms of use at www.wnyc.org for further information.
Music Credits:
"Take a Ride - Death, Sex & Money Theme" by The Reverend John Delore and Steve Lewis from John Delore
,
"Drops Of Water In the Ocean" by Broke For Free from freemusicarchive.org
,
"BWN Discotheque" by Jack Ventimiglia, BMI from BWN Music
,
"Still Not a Player (Instrumental)" by Big Pun from Sony