From Fan to Friend: The Unlikely Friendship Between Pico Iyer and Leonard Cohen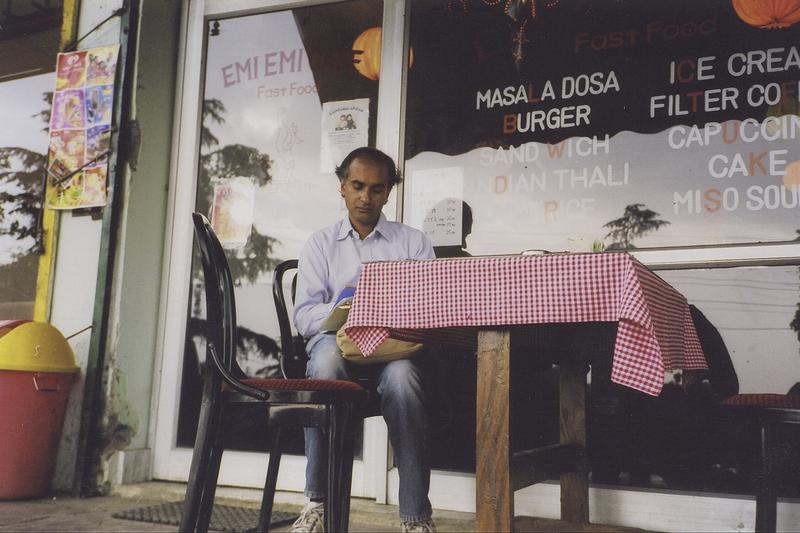 Transcript
Pico Iyer: If you were to ask me what so inspires me about Leonard Cohen, I would say that he wrote so lucidly about mystery. In other words, a six year old child could understand it, and yet it's about everything that we can't begin to fathom.
(Death, Sex & Money theme music)
Anna Sale: This is Death, Sex & Money.
The show from WNYC about the things we think about a lot....
....and need to talk about more.
I'm Anna Sale.
(end of Death, Sex & Money theme music)
Anna Sale: When I reached writer Pico Iyer at his home in Japan, it was late afternoon where I was, and early morning, the next day, for Pico.
Anna Sale: If you were going to turn on a Leonard Cohen song this morning to listen to, what, what song would you pick?

Pico Iyer: I've already answered that, Anna, because I did so with If It Be Your Will and I, that's almost the, the prayer that I begin every important conversation with, uh, takes me to the deepest and quietest part of myself.
(If It Be Your Will (Live From Austin Version) – Leonard Cohen)
Pico Iyer: Almost every single word, a monosyllable, and yet it gets to a place that we can't begin to explain.
Anna Sale: Leonard Cohen died in 2016, but he's with Pico, most mornings. Pico was a longtime fan of the singer-songwriter, and then the two became close friends in the last 20 years of Cohen's life.
(end of If It Be Your Will (Live From Austin Version) – Leonard Cohen)
Anna Sale: Pico Iyer has written more than a dozen books about travel, stillness, and spirituality. His latest, The Half-Known Life, is a chronicle of his visits to holy sites and sacred places, and we started our conversation talking about when he first met Leonard Cohen at one sacred place: at a monastery outside of Los Angeles, where Cohen eventually stayed for five years, after decades of living like a rockstar.
Pico had been assigned a magazine story about that transition.
Pico Iyer: And I will never forget driving up into the cold, high, dark mountains, uh, behind Los Angeles, and I pulled up into this parking lot and a stooped old man in this tattered black robes came up to me in wire rimmed glasses and a red bobble hat.

And I opened the door and he gave me a deep bow. And honestly, though, I'd been listening to him for 21 years at that time, I didn't realize this was Leonard Cohen.

Anna Sale: Hmm.

Pico Iyer: And he insisted on carrying my little bags to the cabin where I was to sleep. As soon as we got to the cabin, he went to the kitchen and he started cooking me dinner. Really as if, I was some great dignitary and he was just an anonymous servant there to look after me. Then after a few minutes he asked me if I needed a wife. (laughs) So that's when I had a, a sense of this is Leonard Cohen after all, as this, um, surprising sense of, of mischief and irony at work.

Anna Sale: Were you able to sort of, to, to talk with him as a, as another person, as a friend, or, or how long did it take you to, um, kind of let go of that parallel conversation that you were having, that you were noticing that you were with this musician who had been really meaningful to you?

Pico Iyer: I think Leonard Cohen's great gifts as a singer and a monk and a human being were for honesty and intimacy.

He did have that rare gift very quickly for making me feel as if there was nothing I couldn't say and that, um, really in the presence of somebody, uh, who'd known me for a long time and would forgive me anything I might say or do, and was ready to do the same.

And he, without my even mentioning it, volunteered his most recent, um, relationship. He said, oh, you know, you might have heard about my recent girlfriend, and I'm afraid I just didn't have what it took to, to make that happen. I wasn't man enough to, to be ready for the invitation she offered.

So I think there was a sense that there was almost nothing he wouldn't say. Nothing was off limits. But the other thing that struck me was the first time I went and visited his house, we enjoyed a, a nice, uh, lunch. And then when lunch was finished, he took two folding chairs out to this tiny front garden, looking out on this very unremarkable residential street. And he sat down on one chair and I sat down on the other, nothing.

And I waited for the conversation to continue, nothing. And I think maybe 20 minutes passed and not a single word exchanged. And finally I thought, well, maybe this is his gentle way of saying it's time for you to go home. So I said, 'you know, you must be busy, I should leave.' And he looked up at me, just beseeching me, and he said, please don't go.

And one of the things that moved me was that he realized that silence was the most intimate thing that we could share together.
(Take This Longing – Leonard Cohen)
Anna Sale: When I listen to Leonard Cohen, I feel, um, it's almost like I, it, it, it's, it's, there's this deep sense of romance in that I feel like he's, um, trying to seduce me into this deeper part of myself. Uh, I feel myself almost resist it. Um, because it maybe it's too, um, that kind of powerful, uh, seductive energy from a man to me sometimes feels dangerous.
(end of Take This Longing – Leonard Cohen)
Pico Iyer: That's just such a perfect way of putting it about seducing you into the deeper part of yourself. I think if you'd said that to him, he would rejoice because you are absolutely right. He was extraordinarily seductive and he was wise to everything you said about the dangers of of seductiveness for the seducer, as much as for the seduced.

When I first met him, and he spoke so spellbindingly about how he was committed to this life in the monastery, and he couldn't even remember that there was a Leonard Cohen who was a singer, I didn't buy it. I thought, this is, this is a clever thing that he's, uh, perpetrating on an innocent journalist.

But the longer I saw him, um, the more I realized that, uh, that, that he was the real thing. And he did, he knew as well as anyone what a gift he had for seduction. But I think he was going to the monastery to, um, to get past that, because a seduction isn't gonna get him anywhere with a 107 year old Japanese man, or when you're wearing a red bobble cap and wire rim glasses and a tattered robe that the teacher has told him he has to wear. He's, he's not looking so, so suave or, uh, irresistible. He would say sometimes, um, I'm not interested in people who can spin golden words and, and hypnotize us with their magnetism, partly because he knew he could do that too.

He knew that it wasn't really worth very much and if he, if he won the heart of somebody doing that, it was a trick in some ways. But I think he was pushing against that for something, um, much more honest and realistic in the monastery. Although he always had this great eye for beauty and, um, and probably couldn't easily resist beauty, he was wise enough to see that wasn't what he needed.

Anna Sale: Hmm. I wanna ask you about your own practice of spending time in monasteries. Um, how old were you? At what point were you in your life when you started trying to spend significant time in a monastery?

Pico Iyer: I grew up in English boarding schools.

Anna Sale: Mhmm.

Pico Iyer: Uh, a 15th century boarding school in particular where we had chapel every morning and chapel every evening, and very strict hierarchy, all male environment. There was no straying. So in some ways it was a good training for a monastery. I was one of those people who I only have to see a convent of any order or a monastic courtyard, and I feel this sense of longing the way maybe somebody feels when she sees a beautiful dress or when she sees a chocolate cake in the window or whatever it is, I just feel this almost irresistible pull towards it.
(Keeping Up – Blue Dot Sessions)
Anna Sale: And Pico told me, his pull toward spiritual quiet spaces persisted, as his education continued at Oxford, and then Harvard, and after he landed a big media job in New York as a young journalist.
Pico Iyer: I had this wonderful job covering World Affairs for Time Magazine. Just the job I might have dreamed of, and I was enjoying it so much. I thought, well, I could, well wake up one day and I'm 70 years old and I've never explored any other option.
(end of Keeping Up – Blue Dot Sessions)
So I deliberately left, uh, my apartment on Park Avenue South and my Midtown 25th floor office to go and live, uh, in a temple in Kyoto for a year. And as it happens, uh, my year in a temple in Kyoto only lasted a couple of weeks, but here I am 35 years later, still in a tiny two room rented apartment near Kyoto, so the intuition that sent me here was the right one. I just wasn't ready for it, um, at that point in my life and my late twenties. It was a, I had a romantic idea of, of sitting under the full moon composing haiku as I looked over a dry sand garden or whatever. And I didn't realize that being a monk in Japan or anywhere means scrubbing floors and shoveling snow, and it's very menial work.

And so when I left, I went to this single room in a really rickety guest house up the street, uh, which was just as simple as the room in the monastery, but it just came without expectations. And it, um, and without the romance that I was projecting onto that place. So, it wasn't difficult. The nice kind of Leonard Cohen detail in all this, uh, is that my third week in Japan, having gone there to live in a monastery, um, I went to a ceremony at a big temple in southern Kyoto and I sat down next to a woman. Um, and that woman is my wife who's now sitting across the room from me. So my year in search of a monastery turned out to be the year of finding my wife to be.
Anna Sale: When Pico met his wife, she was the mother of two small boys and married to someone else. Pico's written two books about their marriage and life in Japan: The Lady and the Monk was the first, a second about middle age is called Autumn Light.
Both describe the simple domestic life they've built in Japan, in a spare, small apartment they share in a suburb of Kyoto. It's intimate and close, but they don't share everything.
Pico Iyer: Whenever I would put on a Leonard Cohen song, she would race out of the room because it was much too much like the Buddhist chanting she'd always had too much of as a little girl.

Anna Sale: Yours is a beautiful love story. Um, the way you have written about it. I don't, I don't know your wife personally, but the way you have conjured her, I, um, I feel like I know her. Uh, I, I, is she listening to you as we're speaking right now?

Pico Iyer: She is, um, yes. Thank you for such lovely words.

Anna Sale: I, I have to tell you, as I was reading your latest book, uh, the Half Known Life, and it's so much about travel and going to new places and, and having encounters with people you're just meeting, um, discovering and getting to know what they know of the place where they live. Um, I was thinking so much about how, what, how you've constructed your life to be one where you are, you are traveling all over the world, you are having these incredibly deep encounters, um, with people all over the place and how it almost feels in–to me, I wonder if that feels intentioned to you to have the kind of long, um, committed relationship in a marriage that you've had where you have this life that, where you've both been sort of looking out externally and, and being on the road and being, and traveling, and then also having this long time, uh, committed domestic arrangement.

Pico Iyer: Well, yes. I think it's deliberately a balance that I, probably like most people, uh, are trying to find and, and then to maintain. I remember when I was growing up as an only child, I was thinking, well, there are two things I really want to do in the world, and one is to get to know the world firsthand, um, to see everywhere from North Korea to Tibet, to Easter Island. And the second is to get to know myself and the people around me very well. In other words, to make sure that the external world doesn't efface the internal, but also to make sure I'm not so busy sitting off in some monastic cell that I neglect the facts of the world outside. So I, I try to sustain both of those because I, I don't want to have a gated vision of the world or a mediated sense of the world, and I do feel, having traveled all this time, um, the more I travel, the more I see how much we don't know about the rest of the world, but how important it is to try to experience it firsthand.

Anna Sale: When you were talking about sort of Leonard Cohen's process of, of, um, kind of coming to be, uh, skeptical and weary of his own charisma and charm and the limits of what that could get him, it, it did make me think Pico about you as a young man, recognizing as a someone who had found success in New York City and comfort and excitement, um, that you, you knew at that point in your life, there's something else. I can stay on this path and I can see what this is gonna lead me, but I need to step off to get somewhere deeper.

Pico Iyer: Yes. I was really glad I could, I could be in New York City, which in certain ways seems like the center of the world, and that I could do that very exciting job because if I, if I hadn't, then something in me might always have thought, what would it be like to live in New York City to work for a big magazine to lead that life of seeming glamor or excitement? And that allowed me to, to leave that behind. I've, that's what I probably dreamed of when I was 14 years old. I've now done it to my satisfaction and learned what I can from it. And so I'm free of that and I'm free to try to grasp something, um, a, a little beyond that.

Um, you know, during the pandemic, I was largely staying with my mother who died during the pandemic and who, soon after she was turning 90. And I'm, I'm her only child, so as I was there next to her and seeing as so many of us do, aging parents come apart and mind and body, I was thinking, what, what do I have to bring to her? What, what can I do to help her or to support myself in this difficult situation? And it's moments like that when you realize my resume is not going to help. My bank account is no use at all. Whatever I got living in New York City is not anything I can bring usefully to this life and death situation.

The only thing probably I could bring to that is what I got from living quietly. In other words, it's that inner savings account or the internal resources that are really all we have to bring to life, whether life is a forest fire or a pandemic or an aging parent.
(Kamilah – Blue Dot Sessions)
Anna Sale: Coming up, Pico talks about surrendering to life's unknowns.
Pico Iyer: When I think of the big moments of my life, um, they've all happened, uh, with no help for me. Um, I step into, uh, a temple in 1987 and sit down next to a stranger. She turns out to be my wife. I go back to my mother's house in California and suddenly I'm surrounded by flames that are five stories high, and by the end of that day, I've lost everything in the world. Um, I come back to my apartment in Japan and an anonymous letter arrives on my doorstep one day, and there's a very, um, Generous check. And so I'm not a fatalist, but, but I hope I have a chastened and maybe humble sense of what I can and cannot affect.
(end of Kamilah – Blue Dot Sessions)
–
(Death, Sex & Money midshow theme plays)
Anna Sale: I want to thank the very many of you who sent in your stories of saying goodbye to cherished pets. We'll share some of them with you in the coming weeks.
As I reflected over the last week about my loss, I realized that for me, many of my biggest feelings came before my dog Jack was gone. It was anticipatory grief, but I think it was also FEAR. I didn't want to deal with admitting that he was declining, or researching the logistics of euthanisa, and I was afraid of being in my house without him. And as it got closer and closer, my feelings became very intense and then we did it together as a family, and it was sad, but it was okay.
So we have a more abstract question for you this week – we want to hear from you if you are experiencing fear, and want advice for how to be brave. Maybe you're fearful in social situations. We're putting together a panel of experts to consider your stories and questions about fear in a few weeks. Or of care-giving for a parent. Or looking into your finances. Or maybe you're fearful of making some other kind of change, even though what you're doing now doesn't seem to be working. We're putting together a panel of experts to consider your stories and questions about fear in just a few weeks. Is there something you're afraid to do, and wish you could just get to it?
Record a voice memo and tell us if there's something you're afraid of, and could use some advice about how to be brave. Email it to us at deathsexmoney@wnyc.org.
(Death, Sex & Money midshow theme ends)
–
(Death, Sex & Money theme music)
Anna Sale: This is Death, Sex & Money from WNYC. I'm Anna Sale.
Both of Pico Iyer's parents were academics. After he was born in the UK, they moved to California for his dad to take a job in Santa Barbara, even as Pico continued his schooling in England.
The central California coast became another home for Pico. He returns every year to spend time at a monastery in Big Sur, and he's also stayed for stretches as an adult at his parents' Santa Barbara home. He was there in 1990 when a wildfire roared through.
Pico Iyer: I was alone in the house, uh, with my mother's cat. And it was a very, very distant knife of orange cutting through a far away hillside, so I just in a very leisurely way, went downstairs and called the fire department. Uh, and by the time I came upstairs again, the electricity was gone, the phones were cut, and there was a wall of flame, uh, at our living room.

So I grabbed the cat and ran out of the house, and in fact, two friends had seen the fire and come up to, to be of help, so they got stuck too. So the three of us jumped into a car and one of us said, should we drive over the cliff? Which is a real sign of desperation. And the other two said, no, better not do that. So we went down to this narrow mountain road and when we got to the road, we saw, we literally couldn't go up and we couldn't go down. There were flames on all sides of us.

And the only thing that saved us was a good samaritan because a man who had a water truck had seen a fire in the hills. And so there he was standing in the road shirtless, um, just pointing a hose in the direction of every roar of fire that came towards us.

Anna Sale: Wow.

Pico Iyer: And the fire was so intense then that no firetruck could get up to us and we could hear the blades of, uh, helicopters above, but the smoke was so thick that they couldn't see us and we couldn't see them. So we were just alone with this man and his hose. And for three hours, essentially he, in the process of saving his life, saved our lives. Now, I was helped by the fact that I had my mother's aged, aged cat in my lap, and I was determined that the cat would survive. My life wouldn't be worth living if the cat didn't. And so we were there for three hours and in fact for 45 minutes in that period, I was literally under our house, so I could see the fire systematically destroying everything.
(Lost Stage – Blue Dot Sessions)
Anna Sale: Yeah. How old were you when that fire occurred?

Pico Iyer: I was, um, 33.

Anna Sale: 33.

Pico Iyer: So, much easier for me to start again and to learn lessons than for my parents who were, uh, 60 and 59 then. And I think for my mother, it was really devastating at the age of 59 to lose all her photos, every memento of her life, all her lecture notes, all her jewels, all her saris. Really, really debilitating. And I was relatively fortunate in my early thirties without so many possessions.
(end of Lost Stage – Blue Dot Sessions)
Anna Sale: Let me ask you, those, those key points in your life that you had no control over, um, I wanna ask you about them a little bit more in specificity. You said you'd got a check in the mail on your doorstep in Japan. What was that?

Pico Iyer: Well, I won't go into details, but a very, very generous friend who's a writer, I think makes it a practice of, um, trying to support other younger writers that she knows so that they can write as much as possible. So this check arrived, and it was completely anonymous and I had not a clue who, who it came from, and it was probably equivalent to about a year's salary for me.

And I wrote a thank you letter, a warm thank you letter to the richest person I know who was very bewildered because he had nothing to do with it.

Anna Sale: (laughs)

Pico Iyer: It must be this very successful person who had suddenly taken pity on me. But it wasn't him. It was another, it was another writer and, uh, who didn't want to be thanked for it or acknowledged in any way hence had sent it anonymously.

Anna Sale: Wow, that's amazing. How old were you when that happened?

Pico Iyer: This was only a few years ago and I, I sort of wrote my next two books on the basis of that check, and I mention it only because I think there are equivalents of that in, in every life. I mean, all of us are recipients of sudden windfalls of really good luck and sudden intrusions of, of very bad luck and however we interpret them, I think for me, the important thing is just to realize I had nothing to do with, uh, with these things suddenly, um, arriving in my, my life.

Anna Sale: That's such a beautiful gesture. Um, you know, when you say, of course you could not, you could not keep your mother from dying with your bank account. But what a bank account can do is you could provide, if you felt like you were able to, you could provide comforts and a level of care, um, that, that you hoped and, and would want her, would expect for her. And I wonder, did you and Leonard Cohen, or have you, how do you think about the ability, um, the privilege of being able to pause life, to think about going inward, to step away from the path that you're on? Um, the, how, how so often that that's enabled by having the money or at least the faith that if you pause making money, you'll be able to keep making money when you come back. Um, how do you think about that?

Pico Iyer: So I think I have a twofold answer to that, which is you're absolutely right. I've been so lucky. I've always, uh, lived in comfort. Uh, and I've always had the confidence that if I needed to, I could find a way to earn the money. So much of my life has been travel to often the most desperate, impoverished parts of the world. I know not to take it for granted, because 98% of my global neighbors are not in that position. They don't have the chance to go and stay in a monastery in Big Sur the way I do, let alone live for five years in a Zen monastery, the way Leonard did.

And the other, um, the other thing is that choosing to live simply can be as much a form of vanity as collecting Rolls Royces. Um, I have a friend who has very serious zen practice, and he said that when he was a young man, he determined, although he was living in California and he was very well educated, 'I'm going to live on $8,000 a year.' In other words, I'm going to live beyond almost the maximum degree of simplicity. And at some point he realized that wanting to live on $8,000 a year could be as much a form of self-gratification as wanting to live on 8 million a year.

Anna Sale: Do you think, um, at this stage in your life, when you think about, um, the ambition to have more money, is that something that you have? Whether it's for, um, your own comfort or just for the ability to give away money?

Pico Iyer: It's so funny you say that only because, um, two days ago I wrote down for myself in my little notebook, um, if somebody gave me 10 million tomorrow, I wouldn't change a single thing in my life, which, which is a sign that, you know, I'm lucky enough to do what I want to do, which is writing. Although we're in this $500 a month tiny two room apartment, we've been here for 30 years now, and I wouldn't want to be anywhere else. So I'm fortunate that I seem to have found the life that I have that I need and no more. And, uh, no less. And of course I worry about my wife and children if I die. So I want to make sure that, um, they're taken care of. And you know, like everybody, my, uh, my economy was, you know, shattered by, by the pandemic. And, uh, for two years revenue was probably close to zero. But, um, I had much to be grateful for, at the same time, starting with my health and the fact that I and my wife and loved ones are still alive. Uh, so, uh, again, I think we have a choice every day about whether we fasten our attention on what we don't have or what we do have.

And probably I've found if I think more about the things I do have that I'm so lucky to have, um, then I'll be much happier than wishing the world were other than it is.

Anna Sale: Mm-hmm. Yeah. And I guess my last question for you, Pico, is about, um, your experience of Leonard Cohen and listening to his music after he was gone. He's been gone eight years now. What, what, what have you observed about what it's like for you to listen to him and to not be able to be in relationship with him anymore?

Pico Iyer: My wife always maintains he never died because his music and his presence in some ways is more alive than ever. His songs are, I think, more ubiquitous now than they were 20 years ago. But, um, his death hit me really, really hard, more hard than almost any death I can remember. Partly because there was so much I felt I could share only with him. I would find love poems from the sixth Dalai Lama or I'd find a perfect description of what it is to be a stranger in the world. And I thought Leonard is the one person who will see what this is about.

I mean, of course, even as a monk, his hope perhaps was that people would still listen to parts of his songs after his death. And, and they're doing so more than ever before, which is a reminder that the best in us never dies. And for a writer like myself, it's a reminder that when I'm no longer breathing, maybe there'll be little things that I've written here and there that are still available, uh, to people.

But, um, I really miss his person. And I remember when he brought out his last album, 17 days before his death, uh, I wrote an email to him to say how moved I was. And he wrote back to me, uh, saying, 'oh, I need to hear that'. In other words, he sounded very vulnerable and fragile as I'd never heard him. And I sent him back this poem from the Japanese poet Basho, just a haiku, that said 'this autumn evening, no one on it'. Uh, and that was my last exchange with him because two weeks later he was gone. But it was the kind of thing I knew I could send him a haiku in some ways about death and that he would understand it.

Um, so yeah, I sorely miss going to visit him, but I'm so grateful that we can all partake of everything he brought into the world.
(Death, Sex & Money closing theme plays)
Anna Sale: That's Pico Iyer. His new book, The Half Known Life: In Search of Paradise, is just out this month. Pico also wrote the liner notes for several of Leonard Cohen's albums, including The Essential Leonard Cohen, an album that is worth spending a lot of time with.
Death, Sex & Money is a listener-supported production of WNYC Studios in New York. This episode was produced by Afi Yellow-Duke. The rest of the team is Andrew Dunn, Zoe Azulay, Liliana Maria Percy Ruiz, and Lindsay Foster Thomas.
Our intern is Baiz Hoen.
The Reverend John Delore and Steve Lewis wrote our theme music.
I'm on Instagram @annasalepics, that's P-I-C-S, the show is @deathsexmoney on Twitter, Facebook, and Instagram.
Thanks to Adrienne Engel in Marlboro, New Jersey for being a member of Death, Sex & Money and supporting us with a monthly donation. Join Adrienne and support what we do here by going to deathsexmoney.org/donate.
Pico did tell me, even though his wife wasn't exactly a fan, he was excited to introduce her to Leonard Cohen.
Pico Iyer: My wife didn't know who Leonard Cohen was and she didn't love his music. And then he extended a packet of cigarettes towards her and she just got weak at the knees. And to this day, she would say, that's the coolest thing she's ever seen any man do. (laughs)

Anna Sale: (laughs)
Anna Sale: I'm Anna Sale and this is Death, Sex & Money from WNYC.
(Death, Sex & Money theme music ends)
Copyright © 2023 New York Public Radio. All rights reserved. Visit our website terms of use at www.wnyc.org for further information.
Music Credits:
"If It Be Your Will - Live in Austin, 1988" by Leonard Cohen from Sony
,
"Take This Longing" by Leonard Cohen from Sony
,
"Keeping Up" by Blue Dot Sessions
,
"Lost Stage" by Blue Dot Sessions
,
"Kamilah" by Blue Dot Sessions