Our Student Loan Secrets, Part 2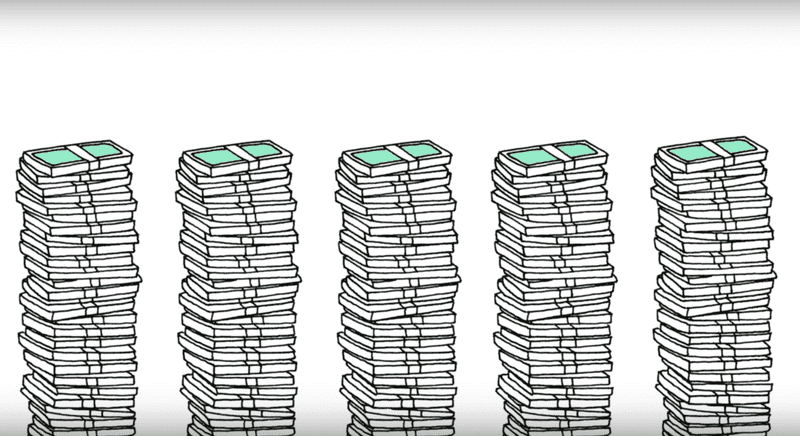 Transcript
Anna Sale: Hi Death, Sex & Money listeners. This is the second in our two-part series about student debt and how it's affecting your lives. If you missed part one, stop this episode, and go back to the first one, or you'll be missing some key details and you might get confused. And student loans are already confusing enough. Thanks.
[phone rings]

AS: Hi, Jordan?

Jordan Gibbs: Yeah, this is she.

AS: Hey, it's Anna Sale from Death, Sex & Money.

JG: Oh, hi, how are you? Let me grab a room, just one second.

AS: Do you know why I'm calling?

JG: Yes, and I did it, by the way!

AS: You did?!

JG: Yeah, I did.
This Death, Sex & Money.
The show from WNYC about the things we think about a lot...
...and need to talk about more.
I'm Anna Sale.
Jordan Gibbs has been out of school for two years and she owes more than $50,000 dollars in federal student loans. She'd never made a payment until June 15, after the first time we talked.
JG: I set a freakin' calendar reminder and I just bit the bullet. And I put down a hefty payment, so that my monthly payments aren't going to be crazy expensive like I thought they were gonna be. But yeah, I paid like four grand on the first one, and now I think I have like a $500 a month payment. So, that was a nice little chunk of change gone.

AS: How did it feel in your body, when you clicked?

JG: My body got really hot. Like it was just like, "Ohhhh, you just did it," like, "Ughhh." Just - like, seeing your bank account be like four grand less than what it was was. Like, you know when you're just like, "I know I'm doing this for the greater good," but it's just like, at that exact same time, it's just like, "Ugh, this so sucks so freaking bad."

AS: Did you tell anyone you made a student loan payment?

JG: Absolutely not.

AS: No? It's still a secret?

JG: Yeah, it's just something that's super uncomfortable. Like I actually was with my dad for Father's Day yesterday, and he kind of brought it up in like a random sentence. He was like, "Oh yeah, how's the student loans coming?" and I was like, "Oh yeah, I actually just paid a big amount off." I mean, obviously, not telling him it was my first payment in two years. But like, kind of making him think I've been being responsible and doing what I'm supposed to do. So, I haven't really told anyone about it, to be honest.

AS: Do you think you'll tell your parents that you misled them about how you were paying back your loans?

JG: Um. Maybe when they're paid off like in a couple of years. My dad is one of those people that's so Type A, so fiscally responsible, so it's like, I can't - I'm 25 and I'm still terrified of having these conversations with him about money, 'cause I just feel like he's gonna be so disappointed in me. So I don't think I'd ever tell them unless I pay off all the loans and be like, "Hey guys, in hindsight, I actually screwed this up so bad, but I got myself out of it, so don't worry."
First of all, I know a lot of you with student loan debt would kill for an extra four grand in savings to put towards it. You sent us hundreds and hundreds of stories about your student loan debt. And you said sometimes, the math just doesn't work. And you feel stuck.
It feels like I'm at the bottom of Mt. Everest in a way, I guess.
But we also heard stories, albeit a lot fewer, about how some of you have gotten unstuck.
In the beginning it was very overwhelming.

I used to worry about my student loan debt every single day.

And then there was a moment when I finally realized that didn't have to be true.

And I was like, I'm attacking those student loans.

I've managed to shave down a good amount.

I guess I feel like I've come out on the other side.

You chip away at it.

Every tax return, every birthday check, every extra penny I could find went to the debt.

I remember people always being like, you'll always have student loans. That shouldn't stop you from enjoying your life. But to me, you'll always have loans if you never pay off those student loans.

I think in some ways having this type of debt and paying it off is helpful as I've gotten older because you know you have to plan for the future.

Grayson Campbell: I was selling burritos and I was like man I got do something.
Grayson Campbell left school with an English degree and $45,000 in student loan debt. When his first payment came due, the burrito money wasn't cutting it. So he started a cleaning company. He called me from a job.
GS: I'm holding two microfiber rags, one is pink, and one is yellow. (Laughs)
Grayson wrote to us, "It's frustrating to have this debt, but I feel like I wouldn't have found this passion of owning my own business without it."
GS: In some ways, having this student debt and kind of forcing me into just making money has opened me up to understand that like, oh, there are other opportunities in the world. I can be an entrepreneur if I want to.
Grayson says he's chiseling away his debt, putting a little more than $400 towards it each month. But for others of you, that incremental approach didn't work.
Beth: In 2014, I still was over the six figure mark.

AS: Where are you now?

B: Right now I'm at just under $32,000.
Beth's a lawyer. That's not her real name. She's not the kind of lawyer who makes a ton a of money. She's a criminal defense attorney. Most often, she's court-appointed, for clients who can't pay. She graduated from law school in 2006, with 30 years of student loan payments, at eleven hundred dollars a month, stretching out in front of her.
B: I tried to pay what I needed to pay but also to live my life and not really think about it that much. And it just didn't work. I just felt like, I'm never gonna be in a situation where it's just gonna be a payment that I don't really think about.

AS: Was there a moment when you decided this has got to change?

B: I was doing yoga on my living room floor one morning. I'm big into exercise and it's always been a stress reliever, but I was so tense and so stressed because it was literally money was all I was thinking about for days on end, and I was like - I stopped doing yoga in the middle of the floor and I sat there and I started crying. And I called my mom. And she was like, "What's wrong?" and I was like, "I have to do something, I can't keep living like this." And thinking back to it, it's - like I'm right back in that mental place thinking back to it because it was just - it came to a head and I had to just do something different then the world had been telling me to do at that point.

AS: Did you know what to do?

B: No. (Laughs) I literally started Googling how to get rid of six figure student loan debt and I started listening to the Dave Ramsey Show. I don't know if you know anything about him—

AS: I do. I love listening to Dave Ramsey.

B: Oh you do?

AS: I love when you're like driving on the highway and you like can't get anything and you're like, oh there's Dave Ramsey.

Beth: Yeah!

Anna: He's going to he's going to make me feel both like terrified and also empowered.
[SHOW INTRO: This is the Dave Ramsey Show, where debt is dumb, cash is king and the paid off home mortgage...]
For those of you who haven't heard of Dave Ramsey, he hosts a call-in radio show about personal finance. He's very anti-debt.
Dave Ramsey: Adults devise a plan and follow it, children do what feels good. Everybody's all worried about everybody's feelings these days. I'm not worried about your feelings. I make a living hurting your feelings. Let me tell you what feels good. Not having any dad-gum payments, that's what feels good.
B: He can be kind of harsh sometimes and you know I don't agree with everything he says, I certainly don't agree with him politically, but the bottom line for me is that he's on the mark when it comes to living within your means and staying out of debt and being careful with your money and paying attention to your money. And that really just spoke to me in a way that nothing else had before.

AS: So how - when you made the decision to go to significantly increase your monthly payments on your student loans. Did you know how?

B: I had just - I'd never really kept a real budget. You know, I started - I think I printed out a couple of months worth of bank statements and just started highlighting things, like okay, these are all my grocery purchases, these are all my - this is gas, this is these are utilities, this is rent, this is my loan payment. And everything else I highlighted in like red and I was like, this can be cut. This can be cut. This can be cut. This can be cut.

AS: What is something that you would have bought yourself four years ago that you would never buy for yourself now?

B: Um. I never did this a lot, but occasionally, you know, I would go shopping. I felt like I needed one thing and then I would, you know, go to Banana Republic or go into Ann Taylor and be like "What do they have? What's on the sale rack?" And come out with a hundred dollars worth of stuff. And I never, ever, ever do that kind of stuff anymore. Ever.

AS: Ever?

B: Not that not that I did a lot then but no never, ever, ever, now.

AS: How much do you make? What's your salary and how much do you pay every month in student loans?

B: Last year I made just under $92,000 gross, but I'm a small business owner and my taxable income was about $76,000. And I paid - I think last year I paid about $34,000.

AS: Half your taxable income.

B: Yeah.
Beth says she's on track to pay off her loans completely by the end of this year, and she's going to hang on to the final statements.
B: Yeah maybe just frame them next to my diplomas. I mean, I look at my diplomas now and I feel more ownership over my degrees the more money I pay off. Like I feel like they're mine more. I knew that no one could take the degrees away from me and I've still been using them these many years. But I feel like, I don't know, like I'm more empowered to use my law degree in a way that - I felt like I was a slave to it for a long time and now I don't.
A listener named Kelsey also puts her debt progress on display. She and her husband are paying off $84,000 in student loans.
Kelsey: He gets really excited just thinking about the idea of being debt free. For me, I can't really picture that. You know? It's not concrete for me, so I came up with the idea of a debt tree. Every time we pay a thousand dollars toward our debt I get to put a really colorful leaf—I cut out a leaf out of scrapbook paper—and I get to glue it onto the tree.

AS: Where is the tree? Does it hang somewhere?

K: Yeah it's in our living room, so you can see it as soon as you walk in to the house.

AS: Wow. So it's right there?

K: It's right there. I love it.
Coming up, more stories about how some of have you have shifted your outlook on student debt and where you found help.
—
Last week, we shared an email in our newsletter from a listener who asked to go by Walter. It was about student loans. And I asked him to send in a recording too.
Walter: In looking or thinking about the student debt crisis, I think there's three parties that bear the blame: colleges, banks, and the borrowers themselves and I think that's where most of the blame resides. If they were smart enough to get into college, then they should've been smart enough to look at the loan documents, realize the numbers behind the dollar signs were not gifts, but in fact loans that needed to be paid back with interest.
"Walter's response comes off as very arrogant," a listener named Melinda wrote in. "It's not easy going into this sort of situation with 'eyes wide open' when you're a week into your first semester, being told that you owe X amount of money in order to continue your courses."
She went on, "I may not be a victim in Walter's eyes, but young adults like myself sure seem to be prey for lenders and not many have much of a choice in the matter."
Joel from South Dakota also wrote in, and said it's not really fair to blame borrowers. He says lenders and the federal government are at fault.
"The deck is stacked completely in their favor in this whole endeavor," he wrote, adding: "Oh, and I am a 51-year-old conservative Republican. So, don't stereotype me."
At our website, deathsexmoney.org/studentloans, a lot of you have been telling us how you feel about student debt. Sometimes, it's contradictory things. In a quiz on the site, we ask you to tell us three words that sum up your debt. Here are just a few that have come in so far:
Grateful, lost, annoyed

Burdened, obligated, lucky

Unending, useful, typical
You can take the quiz at deathsexmoney.org/studentloans. We also have links to resources there, and a map where you can explore all the stories about student loan debt that we've received. There are more than 1,000 of them. Thanks to all of you for sharing.
—
This is Death, Sex & Money from WNYC. I'm Anna Sale.
When you sent in your stories about student debt, a lot of you talked about having to make huge financial decisions when you were just a teenager. A listener named Josie is a teenager. And when we talked, she was in her last days of her senior year in high school and had just picked where to go to college. She said there was one deciding factor.
Josie: For me, it was definitely money. Um. It was down to University of Louisville and American University. At University of Louisville I would get in-state tuition and at American I would have to pay like $50,000 a year. My mom and I were sitting at the dining room table just looking at all of the numbers that we had been given that were just impossible to figure out. Like, we could not pay that much. So it was at that moment where I just said, wow. If I went to Louisville, look how much more money I would save.
AS: Do you—do you feel like you're settling?

J: Yeah...I don't know. I mean, yeah, I am settling. But that doesn't make me as sad as I thought it would, I think.

AS: Was your mom disappointed for you, or glad that you were making a prudent decision?

J: I think she was very disappointed. I think, in some ways, she felt it more than me because I think that was part of her vision for me, was to be—to have more opportunities than she had because she did not grow up with a lot of money and she didn't go to college right out of high school. And we had spent so much time looking at all of these schools and having these fantasies of how she would come to visit me in these fabulous places, and I think it really hurt her to feel like she couldn't provide that for me, even though that's irrational because I wouldn't want her to become impoverished. Like that doesn't make sense.
Even though Josie chose the less expensive school, she still has to take out some loans. And she wrote us, "I'll continue to wonder what would've happened if I splurged on my dream school."
Nathan: Hi Death, Sex & Money crew. My name's Nathan and I am a physical therapist who is in massive, massive debt. I have about $200,000 dollars in debt. I made a few bad choices financially coming out of school. The first was going to work in Montana which is beautiful and that's where I met my girlfriend, but that job paid very, very low and didn't help me to pay off any of my debt whatsoever. So, what I did was I bought a Sprinter van and I built out the inside to live in. So I now live in this with my girlfriend and our three dogs.

Mallory: Hi my name's Mallory, and I'm Nathan's girlfriend. I am the other person living in the van and I'm learning a lot from this experience. I really want to go back to grad school and get my master's in social work and after seeing Nathan's experience with debt, it's made me rethink my education path. So something that I'm doing in the van to work towards getting my education is trying to save enough money so that I don't have to get an insane amount of debt. I'm sure I'll still have to take some loans out, but I'm trying to avoid the trap that Nathan has been placed in.
This is something we heard a lot. How much your decisions about how to deal with student loans have been influenced by the people closest to you. Often, because it's not clear who else is out there to help.
Krista: I didn't know what to do. I felt really lost for a long time.
When Krista graduated, she had $40,000 in federal and private loans. She initially stayed on top of her payments.
K: I was really good at it at the first few years, until I moved to Baltimore, where I ended up working as a teacher's aide, and I didn't make enough money to do much else other than keep a roof over my head. I was on food stamps and, you know, it was a pretty hard struggle.
Krista stopped making loan payments altogether. Debt collectors started calling.
K: And I saw that you know everybody was sort of walking away from their mortgages because they felt their houses weren't worth what they paid for them and that's exactly how I felt about my college degree.

AS: Hm. Felt like "I want to walk away."

K: Yeah. it felt like it was underwater because it wasn't worth what I had paid for it.
And then, Krista met a guy named Danny.
AS: Danny, what do you do for a living?

Danny: I'm a financial aid advisor.

AS: So you are like the perfect boyfriend for Krista to meet in this moment in her life?

D: I suppose.
When they met, Krista had been avoiding paying her loans for several years. But in front of Danny, it was harder to ignore.
K: It definitely came up pretty quickly because, you know, with his professional background, he was like, "No you have to take care of these, you can make a phone call and you can talk to them." And I'm like...I didn't have the courage to do that ever in my life. You know?

AS: Danny, do you remember that conversation?

Danny: I do. And we...remember, we called one of your lenders and we made a payment?

K: Yeah, I do remember that. Yeah.

AS: Wait, the first time you disclosed your debt you made a payment together?

K: Yeah.

D: We were just like, well let's just call now since I know the lingo. And so I called for her and we made a payment together. It was like our first date.

AS: That is the most beautiful, sweet thing. Like, 'cause Krista, it sounds like you felt so alone around your debt.

K: I did. Yeah. Yeah I felt very isolated. But then you know, having met Danny I just didn't feel that way anymore. It stopped becoming my identity and it started just becoming something that was consequential but inconsequential at the same time. Something that can be controlled, and doesn't control me. And that was a huge revelation.
Student loans, though, have not always brought you closer to people in your lives.
Jessie: For him, it was a hard line. It was non-negotiable. He considered it, really, a moral issue.
Jessie is 29, and she told us about how her $63,000 in student loans were causing problems in her relationship.
AS: So you wrote in your email to us, "My student loans are currently at the heart of whether I'll call off my wedding." And that was a little over a month ago. What's happened since?

J: Um we called it off.

AS: Huh. And how were your student loans involved in that decision?

J: Um, they were a really significant component. Um, I don't know if deciding factor is really the right term but after we got engaged we started talking about planning to have a family one day and then because of some other problems we decided that we should seek a couples' counselor. And it was when we were in couples' counseling, that my ex said that he didn't think that people should have kids if they have student loans or they have debt, which was - it was a blow to put it mildly.

AS: Yeah.

J: And I guess the thing that always just kills me is that student loans are the only debt that I have. I don't even carry a credit card balance. I buy used Toyotas. I am an incredibly frugal person. I had talked to him when I made the decision to really prioritize retirement savings rather than paying as much as I possibly could on that debt. And he was a part of that conversation. He supported it.

AS: Who who called off the wedding?

J: Um, it was a mutual decision. There was literally a moment where I had to ask my ex point blank, "Is this is this something you're willing to move on, in order to stay with me?" And he said no, that he felt how he felt and we agreed that that we were going to have to call it.

AS: Where are you right now?

J: I am sitting in my car. I am sitting in my car in Cortez, Colorado on the drive back to my mom's house in Washington State.

AS: So you're moving?

J: I am. When we called off the wedding I spent a few weeks trying to take a deep breath and kind of get my emotional bearings again. But I had no support system there, he was my support system. I'd lived with him until yesterday morning when I started driving.

AS: Oh. Jessie you're right in the middle of this.

J: I am.

AS: When you think about your student loans today, and the plan that you've had to slowly pay it off and also save for retirement, do you feel comfortable with that?

J: Um, one of the things I did in the intervening weeks before I moved, I reexamined my loans and looked at my retirement plan and really took a big picture reassessment, and I felt good about where I'm at with it. I feel like I've made really smart decisions.

AS: Do you feel any shame about your student loan debt?

J: I used. I used to in a way that I think a lot of young people feel shame about about being broke, about being poor. In the last, probably year, maybe even two years though, I'm actually—it sounds bizarre to say—I'm a little bit proud of my debt. I came from a family where I was the first person to graduate from a four-year university. You know, I was born to an 18-year-old mother. I overcame a lot to do what I did. And the fact that I have these loans? Yeah, it stinks that that I'm burdened with repaying them, but it also shows that I did something.
That's a listener named Jessie. She's now settled back in Washington. And she already has a new job there that came with a promotion and a raise.
Thank you to all of you who shared your student loan stories with us. You can see a lot more of them at deathsexmoney.org/studentloans. And we're still collecting your stories. Because I have a feeling this won't be the last time we deal with student loans on the show. You seem to have a lot more to say.
Death, Sex & Money is a listener-supported production of WNYC Studios in New York. I'm based at the Center for Investigative Reporting in Emeryville, California. Our team includes Katie Bishop, Emily Botein, and Andrew Dunn, who composed original music for this series. Thanks also to Destry Sibley, Elaine Chen, Jillian Weinberger, Jenna Kagel, Marine Boudeau, Alison Morgenstern and lots of other people at WNYC who helped us with this series.
Our interns are Mankaprr Conteh and Kent McDonald.
The Reverend John Delore and Steve Lewis wrote our theme music.
I'm on Twitter @annasale, the show is @deathsexmoney, and our email address is deathsexmoney@wnyc.org.
And don't forget to check out deathsexmoney.org/studentloans. We hope you come away feeling like a listener named Sarah.
Sarah: I know I'm not alone...[laughs]...a loan...didn't mean to do that pun. But I know I'm not that the only one with this problem.
I'm Anna Sale and this is Death, Sex & Money from WNYC.
Copyright © 2019 New York Public Radio. All rights reserved. Visit our website terms of use at www.wnyc.org for further information.