Our Student Loan Secrets, Part 1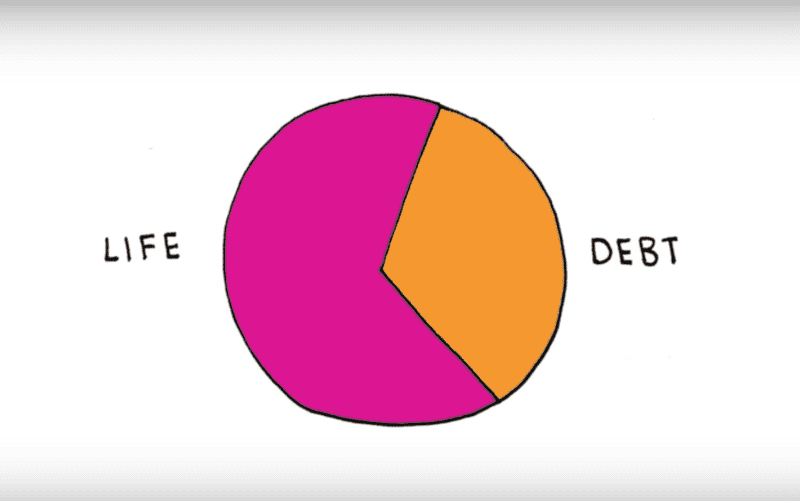 Transcript
Anna Sale: Who knows about your student loan debt?

Jordan Gibbs: Umm, the government. Actually...I...it's pretty - it's a secret for me. Definitely a secret.

AS: So you're coming out in a big way.

JG: Oh god. I'm sweating right now. Yeah, it is. And I'm hoping this is going to make me keep myself accountable to actually starting these student loans.
This is Death, Sex & Money.
The show from WNYC about the things we think about a lot…
…and need to talk about more.
I'm Anna Sale.
Jordan finished college in 2014. Then, she got her first student loan bill.
JG: I just didn't pay. Like I just felt like, how can you expect me to start paying you $700 a month? Which is just a crazy number and, like, I can't even afford to pay rent so paying $700 a month is just not feasible.

AS: How much do you owe in student loans?

JG: Oh god. $58,000.
In the years since graduating, Jordan has never made a payment on her student loan.
JG: You start getting emails all the time, like, "Hey, Jordan, your student loans are past due," and then you get like one of those pink envelopes in the mail. When it's like - when you get the pink envelope, you're fucked.

AS: How long have you been getting pink envelopes?

JG: [Sighs] See the trick is, when you call the student loan office and you say like, "Oh," like, "Give me this information, I want to start the process," they'll get off your back for like a month or so. Maybe, like, on and off for about a year.

When Jordan sat down with me, she told me it was time to stop running from her student debt. And she wants to be open about it.

AS: So first and last name, you're fine?

JG: Jordan Gibbs.

AS: Okay, Jordan Gibbs.

JG: I don't mind sharing my identity. I think it's actually a little bit of a cathartic way to get me to pay my loans, so I'm okay with it.

AS: So you want to use your full name because you think it will hold you accountable?

JG: Uh...if I actually do, it would be a miracle but I think it's the right step in the right direction.

We have a lot of student debt in the United States.

More people...

Everybody has student debt.

Are taking out more loans...

I thought I was gonna be able to pay all this off in a snap.

and taking a longer time to pay them back.

And the phone calls come and the emails come and the letters come and they treat us like criminals.

We have more student loan debt than credit card debt in this country. Over one trillion dollars, split among some 40 million Americans.

I am about…

88,000

10,000

241,000

One-three-four-zero-zero-zero

Thousands and thousands of dollars into student debt.

When we asked you for your stories about student loan debt, hundreds of you responded. It's the biggest response we've ever gotten, in fact. But even though so many of us have student loans, many of you said they feel like a secret.

My own husband, he has no idea.

I have blatantly lied to my friends about student loans.

I carry guilt but mostly embarrassment

In so many ways, I felt embarrassed.

I feel like a big fat freakin' loser.

AS: Did you talk to anybody about student loans?

Sharif: No! Because I couldn't. I felt like a total complete idiot that I put myself in this position. I think the only person I told was my mother, and she was like, ah, you'll be okay. Because she doesn't really - I mean, she didn't want to tell me how fucked up the situation was!

This is Sharif. When we talked, he was in his car, parked outside his office. None of his co-workers know he has more than $100,000 federal and private student loans.

S: I don't know how else to put it except that I almost made it. I'm still unsuccessful financially.

Sharif is a chemical engineer, and he makes just over six figures. He's married, raising a family...

S: I have two beautiful kids, a three-year-old daughter and a one and a half year-old son.

He was born in Bangladesh and moved to the U.S. when he was 13. He took out loans to put himself through college. He thought it was just what you do in America.

S: I mean when you grow up in Bangladesh, right, U.S. is like the fantasy land where everything is so easy and possible. So that was the impression I had. I had no idea that college was going to be so expensive.

AS: What do you know now that you didn't realize then?

S: Oh, that, how interest would - how compounding interest would just pile up. Like minimum payments work - it's just not enough. You'll never get out of debt. That's something I had no clue about. So yeah, that made me recalculate what America meant to me.

AS: Sharif, like—there's part of me that's thinking about, you get a degree in chemical engineering, and you have some loans as a result of that. Why do you feel like that was a bad decision?

S: Why? Because, before I went to college, right, I was working for a hotel. I was making like around $3,000 a month. And that was a very good living at that time. Versus going through school, getting a job—I don't know what to call it, let's say a "prestigious" job—my situation, my financial situation hasn't really improved. Even my lifestyle hasn't really improved that much. So when I compare the two, it almost seems like if I hadn't gone to college, I probably would have been better off.

Sharif's education has allowed him to get a job that comes with the appearance of success...but without the money to show for it. He's not alone in that.

Alyssa Savage: I'm called Dr. Savage, um, I wear a white coat, and I have a bunch of letters after my name.

Alyssa Savage is a veterinarian in Pennsylvania.

AL: There's no way to get bored in this job. You know, I can't imagine not doing this work.

AS: How much student loan debt do you have?

AL: I have $517,249.79 in student loan debt.

AS: You have half, half a million dollars in student loan debt?

AL: Yes I do. It's actually more than $200 greater than just two or so weeks ago.

Alyssa knew she'd be in debt when she finished vet school. What she didn't count on was getting divorced halfway through. Then, she took out more loans than she'd planned to, to cover her bills.

AL: It starts to feel like Monopoly money. It's $350,000 in debt and $400,000 in debt. It starts to just feel a little unreal. I mean, of course now I think about the shame I feel. You know, all these things that, you know, have kind of compounded that didn't feel like it was gonna really affect me in the long run, but it really turned out to.

AS: What's the shame about?

AL: Oh, it's just, there's this big thing, like - I have incredible privilege, you know? I make more than most people do. And here I am going, "Oh my gosh, I'll never retire," or you know, "I'll never be able to buy a home." And who am I to think that having a fulfilling career is that important?

Alyssa consulted a financial advisor right out of vet school. He told her that her best bet was to just pay minimum payments based on her income, until her federal student loans are forgiven in 20 years.

AL: That seemed to be the most efficient way to still possibly have some retirement money. Or there's always—I started working late, so 20 years from now I might not be here. I might not be alive. So then I wouldn't have to worry about it [laughs] which is such a dark and horrible thing to say but that does cross my mind a little bit.

AS: You'll be 57.

AL: Yeah, yeah.

AS: How does it feel knowing that you'll never - with the plan now, you'll never have that feeling of having your debt paid off?

AL: Yeah it's, um...yeah it just feels like a little bit of heaviness in the back of everything. I'm sure that there are so many people that live their lives that way. It's not - it's not a way that I had expected to. You know, I don't have credit card debt. This is really my only debt, um, is this student loan. So. It's something that I think of in some way every single day. I mean, even, I bought this really nice dish rack because I moved to an apartment that had no dishwasher, and just even buying that I just felt like such a jerk. Like, "Why don't you put that money toward your student loan?" And yeah, so it just kind of just pervades everything.

AS: How much did the dish rack cost?

AL: Oh my gosh, it's so embarrassing. It was $60.

AS: $60.

AL: That's an expensive dish rack!

Alyssa followed up with an email after we talked. She wrote, "I couldn't admit it while we were on the phone yesterday, but that dish rack...it was $79.99." She added, "It IS really great, though!"

Still, you told me, there are a lot of big things you're NOT spending money on, because of your student loan payments.

I'm afraid to spend money, I'm afraid to save money.

Because I'm still barely able to support myself.

With $350 a month, we could, gosh. The possibilities are endless.

That's money that we're not setting aside for a rainy day or putting into our emergency fund or saving for retirement.

I'm engaged and we are pushing off our wedding because of the debt.

I'm still not sure I'm gonna have kids because kids cost money!

But I also feel like at this point I need to live.

When I think about my future, I don't think about buying a house and I don't really think about ever buying a car. I just think about paying off the student loan debt that I've accumulated.

And your student loans...they aren't just about you. They're often a family affair, especially between you and your parents.

Isabelle: You know, I've sent them my budget. I show them how much utilities are, you know, how much my rent is, how much I spend on food. I show them all of that.

Isabelle is 27 years old. That's not her real name. She lives in Vermont with her boyfriend, and she's paying off her student loans. Her parents took out loans for her too, and they agreed years ago that she'd eventually take over their payments.

Isabelle: They pay about $600 or $700 a month on those loans. And currently I'm only about able to afford giving them a $300 check a month to help them out with that.

AS: Do they have the money?

I: Um, they both have jobs right now , um, but they're looking to retire in nine months. So, in all honesty they really need to stop making these payments so they can survive.

AS: Will you be ready in nine months?

I: I don't know. [Laughs] I'm hoping so.

AS: Do you ever feel like you have to—when you want to do something nice, when you want to do something that costs money, do you have to hide that you're spending money from your parents?

I: Yes, yeah we do. Like...I just - last Thanksgiving, we bought a TV. And we got a Black Friday deal so it was pretty good. And then like months later we were out to dinner and my boyfriend mentioned it. And my parents were like, "Oh, you bought a TV?" And I was like, "Uhh..." Like, I was caught in a lie. But I just didn't ever tell them just because I was like, you know, that was $80 that I'd spent on something that I didn't necessarily need. It's really, it's like, um, it kind of feels isolating. Like I have to remember what I haven't told my parents and what I have. You know, it's just - I feel guilty a lot about it.

Carla Rodriguez: Hi Anna, my name is Carla Rodriguez, and I went to an art school, a very expensive art school in the Midwest, and accrued about, mm, probably like, around $40,000 in student loan debt. Which I never once thought that I would be able to pay them all off. And uh, recently, my dad committed suicide. He was really mentally ill for a really long time. And he had a life insurance policy that was able to pay out even though he did what he did. And I was very well aware of this life insurance policy because he talked to me about it all the time when he was suicidal about how much better, um - sorry [chokes up], our lives would be if he was gone, and how we would have all this money, and... But yeah, to bring it back to the student loans, yeah, I was able to pay them. And the day that I decided to do that, that that was the right thing to do, because I had to think a lot about it because of where the money came from, I just kind of sat there and cried at my computer afterward. It just made me feel so bad that my dad had to die in order to pay for my education. And at this point I actually lie about still having student loans because I don't want anyone to know that I've already paid them off and why. Because I don't - I just feel so ashamed about it for some reason. And, I don't know, it's not an ideal situation but it is what it is at this point. So, uh, that's my story.

More of your stories about student debt, coming up.
—
Nearly seven in ten people who graduated college last year had some student debt. And the amount of debt for new college grads keeps increasing. According to one expert, the average amount of student loan debt for graduates of four-year college last year was $37,000.
And even those of you lucky enough to graduate without student debt feel its effects.
A listener named Forrest in Lexington, Kentucky, graduated four years ago. He didn't grow up with a lot of money but had a scholarship in college—he didn't have any loans. And that's made getting together with his old college buddies...sometimes weird.
"My husband and I don't really have to worry about money and they do, so you run into this situation where it's like, do we not invite them because we don't want them to feel bad that they can't afford it? Or do we offer to pay for part of it for them? Or, how do we go about handling that?"
Talking about money is hard. And it's always been in the years after college. Your public school teacher friend and your friend in finance start to have lives that look really different. Student loans make that gap wider.
If you feel overwhelmed by student debt, it is not just you. There's been a big change in how much higher education costs and how people are paying for it. So we made a website for you to learn more about where you fit in this new world. Go to deathsexmoney.org/studentloans.
You can enter in how old you are, how much you owe in student loans—if anything—and you can see how you compare to national averages and to other Death, Sex & Money listeners. More than a thousand people have already shared their stories so far.
Again, that's at deathsexmoney.org/studentloans.
On the next episode, coming tomorrow, stories of how some of you stopped feeling stuck because of your student loans.
Beth: I used to complain about it too a lot and it never felt good to complain and I would whine and I would cry and it felt horrible. So now when I see other people do that I say, "Okay, how much do you owe and what's your income?" But a lot of times people don't even want to go there. A lot of times it's just, "It doesn't matter, it's too much. And I shouldn't have to pay it back." And that really frustrates me.
—
This is Death, Sex & Money from WNYC. I'm Anna Sale.
Here's the thing that's so tough about student loans. You resent them, but you also took them out. You, or your parents, signed for them, and you cashed the checks—to pay for increasing tuition costs, your books, the rent on your off-campus apartment.
And of course there's all that stupid money I spent at Urban Outfitters. Oh my god.
So you feel some shame about your individual choices. But you also told us about feeling lost inside a huge system that's not looking out for you.
I feel fooled and bamboozled about the American dream.

I was just so naive.

It's a stupid system. No one talked about this.

It was probably about a half to ¾ of the way in when I realized I had been duped.

You don't really get a statement after every semester. Like, it just piles on top.

I got myself into over six figures of student loan debt as a teenager.

Even at that time though, that number didn't feel real. It was so large that I couldn't comprehend it.

I honestly don't see the way out right now.

Vivian: Those private student loans have ruined my life.
A listener who asked to go by Vivian sent in this voice memo from Michigan.
V: So, to be frank, I ended up remarrying my ex-husband because I couldn't afford to pay my bills.
Vivian is 34. When we talked, she told me she owes more than $50,000 in private student debt, despite working while in school and getting a partial athletic scholarship. She got married while in college, then graduated and had two kids.
V: But we ended up getting a divorce. And when we got divorced, I had been a stay-at-home mom for quite some time and was making little to no money and got a job working in banking, which was what I had done prior to us having children. And my private student loans, um, they wouldn't work with me. They - I mean, was getting harassed by debt collectors, so I ignored it. Fast forward a few years, the debt collectors found out where I worked. I was managing a retail bank and the debt collectors found out where I worked and garnished my wages. And, so, I lost income to the point where I was barely—$40,000 trying to take care of two kids and pay bills was not a ton of money where I'm at. And then, to have 30% of your wages taken away, um, I couldn't pay my bills. And so, I went to my ex—we were on pretty good terms at that time—and we agreed that I would move back in and we would try to make it work.

AS: Do you have any help? Like financial advising, or - is anyone helping you?
V: Um, do you wanna hear what's funny about that? I worked in banking for ten years, I now work at a wealth advising firm—um, I mean I just do support there—but I work with multiple wealth advisors who are really smart. But they don't know anything about student loans because they've paid for all their kids to go to school with cash.

AS: Yeah.

V: I feel like they're out of touch with what's going on. I don't think I'm the only - I think my generation has a lot of people dealing with this. And I feel like - I talk candidly about this with one of - I have an advisor at my firm in his 50s and him and I get along. We don't agree on anything politically or anything like that but we can disagree about this. And he went to U of M Ann Arbor and he paid $5,000 a year when he went there. So we had a conversation about that. About how different college is for my generation than it was 30 years ago, you know?
AS: And just to go back to when you were a college student—did you know what you were getting into when you took out these loans?

V: Um...I think about that a lot. I have a lot of guilt and shame over that. I had the mindset I think of I'll say a lot of 19, 20-year-olds where I had really great expectations for how successful I was going to be. And so I didn't think that I would have any issues with these loans. And so no, I don't think that I thought of the ramifications of taking those loans. I just took 'em.
AS: What's your degree in?

V: Management and organizational development.
AS: Are you glad you have that degree?

V: Hell no.

AS: Yeah.

V: I could have made every dime that I've made in my career with no college.
It's been two and a half years since Vivian and her ex got re-married...a decision that didn't solve their student debt problems. It's made it harder for her husband to afford his student loan payments. They went up because they're based on their joint income. So they've decided to split up again.
V: The papers are sitting [laughs] the papers are sitting on our counter [crying]. Um, but if we do that - I think the biggest thing is, I don't have health insurance anymore but if we do it that way then his payments will get lowered on his repayment plan and I could potentially get into a repayment program towards having my loans forgiven, so it feels like that's what we need to do, you know? It's a mess [laughs/cries].
AS: Yeah. Do you like being married?

V: Um. No. [Laughs] I don't. It's a lot of work. And um...I don't know, we have two kids together so I feel like we'll always be married in some way, right? But this, I'm sure for everybody, just finances put a lot of stress on a relationship, so.

AS: How old are your boys?

V: Seven and nine.

AS: And when you think about what you want for them when they finish high school, what do you think about?
V: Um, not this [laughs]. That - that - it scares me honestly, and I feel like there's no way to explain this to—I mean maybe there is—but there's no way to, um, to explain this to a child. I mean how do you say to a kid, "I don't know if you should go to college," or "Yes you should, but you need - ." I feel really in-equipped to talk to my kids about it because I'm doing such a poor job of managing it.

Dena: My name is Dena. You had asked how student loan debt has impacted your life, which is such a huge topic for me and my husband. We've been out of college for ten years, and we have had some very difficult times, where we did not know how to pay for...[chokes up]...sorry, this is really emotional, god, who knew? We haven't known how to pay for groceries or gas, or um, you know, we felt like we were being really bad parents [crying]. So anyway, we're at a better place now but still, looking at it, we do the math, and we are going to have student debt until our son is graduating from college. I mean, we're gonna be like, you know, 60 years old by the time we're out from under this. And so you sort of feel lost, and like you totally screwed up somehow. Because you just, like, couldn't figure it out. And the rest of the world is making money and they're paying their bills, and there's this subculture of individuals that are book smart and world stupid. Or at least, that's how it feels, because you're struggling so much to make ends meet and it just doesn't make sense because that's not what we were told. We were told that doors would open, and you would get a good job.
AS: Did your parents know you weren't paying?

Jordan Gibbs: No. They still kinda don't know that I'm not paying my student loans [laughs].

AS: Kind of? Or don't know.

JG: Don't. Definitely don't. Yeah. They don't know at all.

AS: They don't know that you haven't made a payment?

JG: Umm, I think I've actively lied to my parents about making payments too. Just like, they'll bring it up on occasion and I'm just like yeah, yeah, yeah, I got it, don't worry about it.
This is Jordan again, first and last name Jordan Gibbs. Who's never made a student loan payment. She wrote in when she heard we were collecting student loan stories.
JG: I didn't actually expect anything to come of it. Like, I was just really writing because I heard so many other people talking about student loans and I was just like, "Maybe this is just a way for me to get all of this bad juju off of my shoulders." And then when Katie emailed me I was like, "Oh my god. Ah! This is actually a real thing that I haven't been paying my entire life."

AS: Before you heard us ask for student loan stories, when you would think about your debt, what would you do to stop thinking about it?

JG: Go out and spend some money [laughs]. Yeah. It's like, um, have you ever heard the term "flexing for the 'gram?"

AS: No.

JG: It's like, oh god, it's like when you make your life look so fun and wonderful on Instagram but in real life -

AS: Oh, "'gram" like "'gram."

JG: Oh yeah, like Instagram.

AS: I see.

JG: So it's like, I feel like I'm just living for the 'gram sometimes. You wanna like keep up appearances—like in the back of my mind, like yeah, I can afford to go drop $200 at the bar this weekend. I have the money. But like, shouldn't I be using that money to pay off my debts? And it's just like, I'm really bad with making the right choice at the right time.
And Jordan says that's accelerated since she got her current job, as a recruiter at Facebook.
JG: You know, you want to fit in, and I don't feel "other" there, but, you know, being like the black girl that works at Facebook I want to project out that, like, I'm successful and I'm doing well even if I'm not doing as well as I'm projecting.

AS: So you're saying this all out loud.

JG: Yeah.

AS: Is it something that you say to yourself?

JG: Umm -

AS: Or is this a new thing?

JG: I don't think I've ever said this to myself before. I've never vocalized that. I'm feeling myself get goosebumps right now. It's like a really bad state of denial. Like, I'm like fake rich, you know what I mean? I'd rather spend money and look rich than actually like take care of the debts that I have on my own.

AS: If you started making regular payments now, what will you be paying monthly?

JG: Umm, ballparking, it should be in between $700 to like $800, but the idea of paying the same amount of money in student loans that I'm paying in rent is just like, I could be living in a nice place by myself instead of having to have roommates.

AS: Wait you're paying less than $1,000 in rent?

JG: Yeah [laughs].

AS: So that means you have extra money for student loan payments.

JG: Oh god, you sound like my mom.

AS: Except your mom doesn't know! Your mom doesn't have an opportunity to tell you this!

JG: God.
AS: When do you think you'll make a payment?

JG: Well...my goal is to make my first payment above what they're asking me. I want to do like a bulk pay down of a couple grand at one time and just get the ball rolling from there. My goal is to do that, um... oooo... June 15.

AS: June 15?
JG: Yeah.
And on the next episode—coming tomorrow—find out if Jordan made that payment.
JG: Oh god. I just. Oh god. I hope I can hold myself to it.
Thank you to all of you who shared your student loan stories with us. We have a lot more of them in our special expanded website for this episode, at deathsexmoney.org/studentloans. And we're still collecting your stories and adding them to a map. There are more than 1,000 there already. Check it all out at deathsexmoney.org/studentloans.
Death, Sex & Money is a listener-supported production of WNYC Studios in New York. I'm based at the Center for Investigative Reporting in Emeryville, California. The team includes Katie Bishop, Emily Botein, and Andrew Dunn, who composed original music for this episode. Thanks, Andrew. Thanks also to Destry Sibley, Elaine Chen, Jillian Weinberger, Jenna Kagel, Marine Boudeau, Alison Morgenstern and lots of other people at WNYC who helped build all the cool stuff for you at deathsexmoney.org/studentloans.
Our interns are Mankaprr Conteh and Kent McDonald.
The Reverend John Delore and Steve Lewis wrote our theme music.
I'm on twitter @annasale, the show is @deathsexmoney. You can email us anytime at deathsexmoney@wnyc.org.
And check your podcast feeds for the next episode in our series all about your student loans. Part two is about the things you're doing to try to deal with your debt.
NATHAN: What I did was I bought a Sprinter van and I built out the inside to live in, so I now live in this with my girlfriend and our three dogs. I couldn't imagine paying back my loans in any reasonable period of time if I had to pay rent.
I'm Anna Sale and this is Death, Sex & Money from WNYC.
Copyright © 2019 New York Public Radio. All rights reserved. Visit our website terms of use at www.wnyc.org for further information.