Opportunity Costs: An Education or Nothing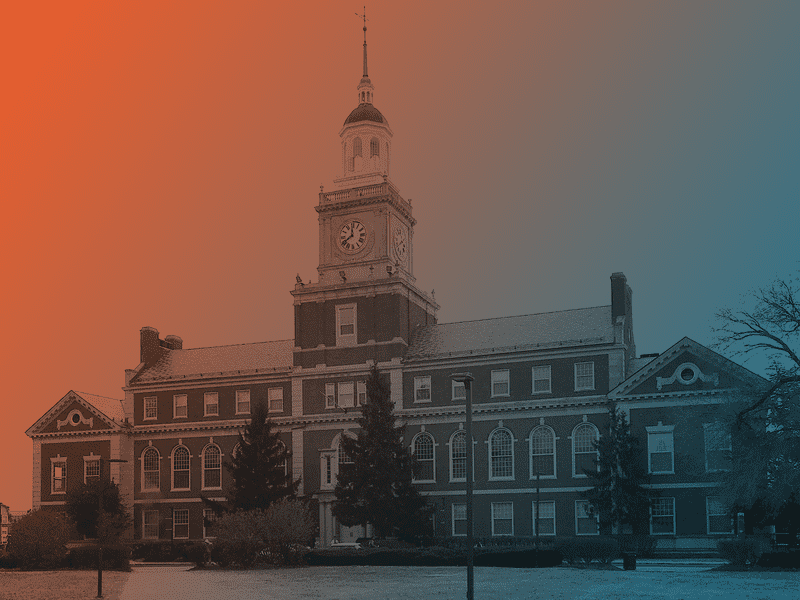 Transcript
Ramal: It's easy to move down in class, but to move up in class it's...it's close to impossible. Whatever class you're born into, most people stay in that class you know, and to move up that's—it's a challenge, it's a huge challenge.
This is Opportunity Costs, from Death, Sex and Money
A series all about class, which we think about a lot
And need to talk about more….
I'm Anna Sale.
When Ramal Johnson emailed us, he was in his first semester of a PhD program at Howard University in D.C. He's studying communications.
And he was working two retail jobs to afford rent in the Washington area—one at Best Buy and one at Express. His days were long.
R: My alarm would go off at four AM and I would spend about ten minutes thinking about how I got into this mess [laughs] and then I would get up, shower, do all of that, dress, and I would have to leave my apartment by four forty-five to get on the train, I'd take the train to Arlington, Virginia, get to work at Best Buy, work usually from six AM to twelve PM, then I'd get to Express, work there, get off at about eleven PM, and then get back home abouttwelve thirty AM, so now it's the next day, and then sleep until four AM. And then do it all over again.

AS: What did you picture your life being like when you thought about what it would be like to be a PhD student at Howard?

R: Not like this. [laughs]
Ramal laughed a lot while we talked. But the email he'd written to us was more somber. He wrote, "I don't go out, I'm considering applying for food stamps. I've sold my possessions for money, but I'm running out of things to sell."
R: I had an iPad and I sold it and I had a TV, I sold that.

AS: Did you sell them at a pawn shop or on Craigslist, or.. how did you sell them?

R: Craigslist yeah, and um, well the TV I sold on craigslist and then the iPad I sold on the app called "Let Go" [AS: Mhm hm]. Yeah I sold it on there.

AS: And right now, how would you define yourself class wise?

R: I guess you could say working class, but I come from a middle class family. So I have a middle class mentality, but as far as finances are concerned I guess it'd be working class. I had to uh do this thing a few months ago and I had to turn in my taxes, and it says you know "How much money did you make last year?" and I looked at it for the first time and it was like $13,000 last year. It's like sheesh. So, yeah.
Growing up, Ramal felt much more stable, class-wise. His mom was in the military and they lived on a base in Massachusetts. It was very clear there where he stood in relation to his peers.
R: Their parents and your parents are making pretty much or a lot of the time exactly, the exact same amount of money, so your lifestyles are pretty much identical.
But, Ramal says, it doesn't feel that way at Howard.
R: Howard is like the epitome of class differences when it comes to the African American community, you have everybody from you know celebrity children sending their kids to this school to working class people who are here on full ride scholarships going to this school [AS: Mhm hm]. So everybody has different mindset when it comes to money. We all don't think about it and respect it the same way.

AS: What do you notice like when, what's something that you notice a student doing who's maybe in your department as a grad student that you can see that their life is different than yours class-wise?

R: Um, God it's so many they...they -- a lot of them have really really nice cars. And I'm not saying all, so I don't want anybody to e-mail me "Ramal said 'all'" No Ramal did not say "all" ! I'm not saying all! A lot of them, they don't take school that seriously, and I guess it's because they don't really have to you know. With people like me it's either an education or nothing, we don't have anything to fall back on, we have nothing to go back to.
Ramal is the first in his family to go to college. He's got his masters too. And he's almost two hundred thousand dollars in student loan debt.
When he started at Howard, he thought he'd be able to defer loan payments, but he couldn't. That's what led to those long days of double shifts. And sometimes it still wasn't enough.
R: With Express and Best Buy you can go on online and see how much a paycheck will be, maybe like two days before you actually get it deposited into your bank account. [AS: Uh huh] So I would go and I would see how much I'm getting and then I would add the two paychecks and say "This is how much I'm gonna get, this is how much I need OK, I'm good" But if I didn't have it then I would say "OK what am I going to do?" I was always in survival mode you know not so much, not so much how much I owed but what do I need right now, you know?

AS: So you just moved to this place and then just a few months later you find yourself in a pretty dire financial crisis, did you have anyone in your life there to talk to about money?

R: No. I don't wanna say I kept it a secret, but I, if I wanted to talk to somebody about it, I didn't know who I would talk to.

AS: Did you feel angry at anyone?

R: I didn't feel angry, I just I felt... God, I don't know how I felt. I kind of felt like a failure, you know, I kind of felt like, I'm finally here and now I have to go home after like three weeks, four weeks, five weeks. I was just depressed, I was sad, and I went through the stages, you know, I was angry but at nobody in particular, I guess I was just angry at the situation.

AS: Why do you want to get a PhD?

R: Ummm… if I had to really answer the question I guess it's because it opens so many more opportunities and people take you much more seriously. Especially as and African American male people don't take me seriously in the first place, so with a PhD I'll have more of a chance. It's just always been something I've told myself I'm going to do.

AS: When you think about where you'll land professionally and class-wise [R: Mm hm] what do you picture?

R: Um eventually it will be upper middle class with my education and income, just not tomorrow. There's a pretty good chance I'll be making six figures in the future. You know, living in a nicer neighborhood, I may even finally buy a car, which I don't think I ever will to be honest, but I'll be able to afford a car, be able to afford really nice vacations, that's where I'll eventually land, but I think I'll always have a middle class mentality.

AS: And when you think about that job the over six figures job, [R: Mm hm] what's that based on? Like, how do you know that you'll earn that after you get a PhD?

R: Well most people who have PhDs, if not six figures then close to it, so they're making you know eighty, ninety thousand a year. Plus I live in D.C. So, you know, coming to DC there's just many more opportunities and there's so many more doors that are opening for me and so many more doors will open once I get my last degree. Because after this I'm not going back to school I'm done!
Coming up…how Ramal thinks about his retail jobs… and why he didn't invest much energy in trying to make friends with his coworkers there.
R: I guess I never really felt a strong connection because I felt this is--I'm just using this as a way to eat. I need to eat, I need money, so this is what I'm going to do until I find something more appropriate with my degree and my education.
--
The majority of Americans self identify as somewhere in the middle class…including a lot of you.
I guess I would be working middle class.

Upper middle class.

Lower middle class.

Middle class.

Upper middle class.

The lower edge of the middle class.
The median household income in the United States is just over $59,000. But as Ramal's experience shows, figuring out just what "middle class" means is complicated. For some people it's being able to own your own home...or to take your family on a vacation once a year. For others, it's what you do on the weekends, or what kinds of foods you like to eat.
If you want to get an idea of where you fit, The Pew Research Center built a calculator to help. It takes into account where in the country you live and how many people live with you…because that changes things, too. There's a link to that calculator on our website for this series at deathsexmoney.org/class.
On the next episode…I talk with one woman about how divorce affected where she fits , class-wise.
Jaimie: When I look back now I see that I was really in denial about the finances and looking back I wish that I had... I wish that from the first day I had made major changes.
--
This is Death, Sex & Money from WNYC. I'm Anna Sale.
Ramal Johnson has kept his life at school… very separate from his shifts at his retail jobs.
R: I don't tell a lot of people I'm getting a PhD because I don't want them to think I'm bragging or boasting so that's a middle-class mentality thing we -- we try to fit in, we don't like to stand out too much.

AS: Mhm hm, when you think about your your class situation right now [R: Mm hm] is there anything that embarrasses you?

R: Umm...hmm. I guess only when...OK, here's the thing about being Black [laughs]. Here's the thing. A lot of people don't realize that there is a middle-class when it comes to African Americans, because of course the only time you really see African Americans on TV is we're when we're on welfare or we're basketball stars or rap stars or music stars so they, so a lot of people believe those are the only two African Americans that exist. So sometimes when I'm talking to somebody-- an African America from working-class they think I grew up like them so they'll say things to me and I just don't understand or I've never had those experiences. You know, that can be a little embarrassing. So I try to, I try to relate to them, but after a while they can tell, you know, I did not grow up the way they did and then there are the African Americans who are wealthy families so they'll talk to me like I have all this money. So that can be a little embarrassing when people assume things that are totally incorrect about me.

AS: Yeah, and it's interesting that you mentioned in those examples how other Black people treat you. I'm sure another layer is also like white people who are even more clueless when it comes to race [laughing].

R: Oh yeah let's get into it! Just being African American, being Black you have all these stereotypes on you from the minute people see you or they hear your voice or they see your name, "Oh I bet he's gonna be really loud" or "I bet she's not gonna show up on time." And a lot of us we try to you know not fit those stereotypes. We're trying to distance ourselves from their beliefs, but then you come off, as we say in the Black community, you come off as bougie, you know, oh you think you're better than me. So it's like...you have one foot in one world and one foot in another world, and it can be really exhausting because you want to fit in with your class but then you want to fit in with your race and a lot of times they don't fit together.

AS: Yeah, so I'm struck that in the, in the midst of that that you had the courage to write us an e-mail and say "I'm having a really hard time."

R: Yeah, and at first I was a little wary, but then I thought, you know what? I should be honest, because there's a lot of people who are going through what I'm going through as far as money and class is concerned, but in American culture we don't talk about money, we don't talk about class,we just -- it's this thing that we all are you know, somewhat aware of but we're told you never talk about it so when people are having money issues, or they're having class issues, they feel alone and they feel like nobody will understand. Nobody gets it, I'm by myself in this. You know, nobody wants to be the first to say "I'm having money issues," and then once you say it everyone else is like "Oh yeah, I'm having money issues too, oh yeah me too," but we're all just kind of sitting around waiting for somebody to say it first. And I'm not the kind of person to, you know, put on airs and act like everything's fine and spend more than I have, but I see a lot of people who do that, and I know this is going to sound silly but sometimes I envy them because I feel like, you know, I wish I could say well I just spent all my money on clothes or all my money chasing skirts or whatever. In order not to have money problems I'll just stop doing that and all my money problems will go away. But my money problems were because just simply I was not born with a lot of money, I was not born to a family with a lot of money, it wasn't anything that I did. And there are a lot of people you know like that who have issues that. It's no fault of their own, it's just the card they drew in life.
That's Ramal Johnson, a PhD student at Howard University. When a professor heard he was considering dropping out because of money, she helped him get a teaching assistant job. That covers his tuition for a full course load this semester...so he's quit his two retail jobs. To cover living expenses, he's relying on more student loans.
Death Sex and Money is a listener-supported production of WNYC Studios in New York. I'm based at the Center for Investigative Reporting in Emeryville, CA. The team includes Katie Bishop, Anabel Bacon, Emily Botein, and Andrew Dunn. Thanks to Dan Dzula for his help on this series.
Our interns are Catherine Xu and Angely Mercado.
The Reverend John Delore and Steve Lewis wrote our theme music.
We're on Facebook, Twitter, and Instagram--find us there @deathsexmoney
This series Opportunity Costs is produced in collaboration with Buzzfeed News. All this week, you can read personal essays AND hear conversations with our listeners about class and money in America today. The website is deathsexmoney.org/class
I called Ramal back at the start of the semester to see how he's doing now that he's not working those double shifts. He told me he's getting a lot more rest...and his body's still getting used to it.
R: One thing I was surprised at was how long nighttime was [laughs] because I was so used to getting up at 4 I wasn't sleeping. So now that I was sleeping I would wake up and I was like, oh, it's still night time, what am I going to do?
I'm Anna Sale and this is Death, Sex and Money from WNYC.
Copyright © 2019 New York Public Radio. All rights reserved. Visit our website terms of use at www.wnyc.org for further information.
Music Credits:
"Chilvat" by Blue Dot Sessions
,
"Yours and Mine" by Ladies English School
,
"Dropped Ticket" by Blue Dot Sessions
,
"Mineral Still" by Blue Dot Sessions
,
"Low Light Switch" by Blue Dot Sessions
,
"Warbled Reflection" by Podington Bear