Opportunity Costs: I Never Felt Inferior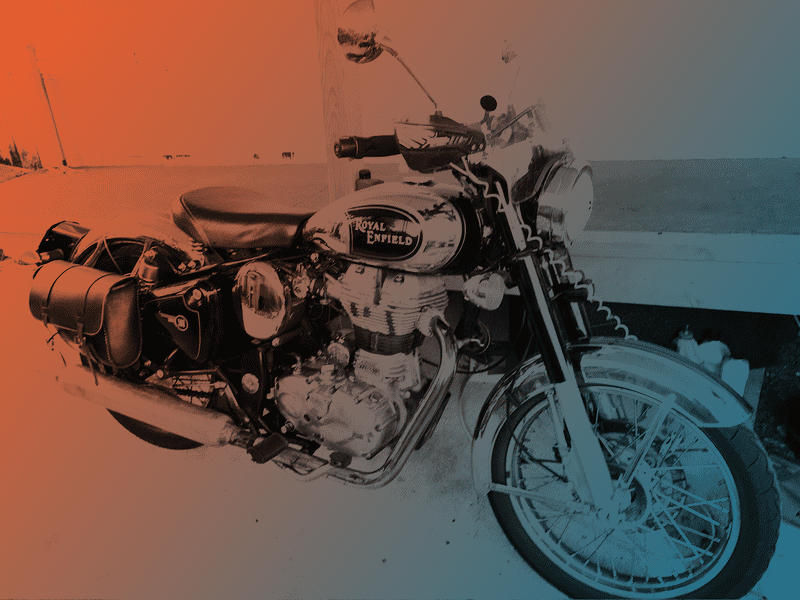 Transcript
ERNIE MAJOR: I look down on people who invest a lot of time and energy into status symbols that can just go away in a second.
This is Opportunity Costs, from Death, Sex and Money
A series all about class, which we think about a lot…
And need to talk about more.
I'm Anna Sale.
The first time Ernie Major wrote us an email was a few years ago, when we did an episode about living alone.
EM: I live in a single-wide trailer in Vallejo, California.
He emailed us again when we asked for stories about class. "I don't feel inferior to other people of higher class," he wrote. "In fact, sometimes I feel kind of sorry for them, trapped in their web of expectations."
I decided to go visit Ernie in Vallejo. It's about a 30 minute drive from where I live now. His trailer park is just off the highway. He told me to look for the lot with a couple of motorcycles parked outside.
AS: Hi Ernie!
Ernie's dog, Mindy, greeted me as soon as I got out of the car.
EM: Come on dog, come on!
We headed into his trailer and Ernie showed me around inside.
EM: A very brief tour of the high points.

AS: Yeah.

EM: (laughs) If you step in there [AS: Uh huh] and look to your right, you will see the latest addition.

AS: The washer dryer?

EM: The washer dryer.

AS: Ohhh, how long have you had that?

EM: Oh a couple months.

AS: It's life-changing isn't it?

EM: Yeah. [AS: Yeah] My mother-in-law said that uh a washer and a dryer are what separates middle-class people from poor people. [AS: Oh] I've obviously moved up.
He's obviously moved up, he told me.
Ernie is 73 and on long-term disability after a motorcycle accident a year ago. He settled into his recliner, Mindy settled into her bed right by him, and he told me about crossing back and forth across class lines many times in his life.
Until recently, Ernie worked at an oil refinery, in a control room monitoring safety gauges. That was his second career. First, he was a photographer at local papers. He worked in newsrooms for two decades. But he never felt like he fit in.
EM: There's a couple really great people that I still have contact with but uh in the, for the most part um it just didn't stick socially.

AS: How do you feel in relation to the term "middle-class"?

EM: Um I -I think I'm...I'm socially lower-middle-class, economically uh a bit better than that or at least I was, now I'm retired.

AS: What's socially lower-middle-class mean?

EM: Means the people I hang with. I usually have breakfast at Maggie's, it's the little joint here in town and uh, all my friends are bikers and things like that so yeah I don't uh I don't aspire to move up.

AS: Has that always been the case?

EM: Pretty much, yeah.

AS: Why do you think that is?

EM: Um, that's where I'm most comfortable.

AS: Does it feel - what have you noticed about how you feel class-wise now that you're not working?

EM: Well, I still live in this pretty gritty part of town. You know, I've had a burglar being chased through the trailer park run up on me while I was outside working on a motorcycle one time, and uh I pulled a pistol out of my pocket and said "Bad idea." And he turned around, went the other way, and I heard 'em chasing him down the street, but uh you know it's uh - I kind of like it here.
Growing up, Ernie wrote us, "We were often dirt poor." His family moved across the west in the '40s and '50s, following work.
EM: We were fruit tramps, we called it fruit tramping, you know. We lived in a, in a one-room place on a homestead in Arizona and before that, one in Wyoming that went bankrupt. But uh anyhow, you know my dad was always very working-class. Heavy equipment operator, worked in a gas station.

AS: You said in your e-mail to us when you were writing about class, you said "The thing about my parents is they never felt inferior to anybody."

EM: Oh no, yeah, my mom made a point of it. I remember we had uh in Arizona we had a Model A that didn't have a top, the top had been cut off, and uh sometimes when we didn't have enough gas my dad would make a mixture of fifty percent gas and fifty percent kerosene and when we drove the thing it smoked [laughs]. And I remember us coming to coming to church all dressed in our Sunday best and uh my mom never would never flinch. You know, there were people there that are way better off than we were but uh we'd go in and you know thought nothing - acted like she thought nothing of it and uh so we didn't either.

AS: Do you think of that as confidence, as pride, like what do you think that was?

EM: Pride. Yeah. She always told us even though we obviously didn't have the kind of money or education or anything of her family is that we were exceptional. We were living a pretty good life, an interesting life, anyhow, and that was the point.
Ernie's mom and dad met when they were both serving in World War II, in North Africa. His mother's parents had been wealthy before the Depression, and some of her relatives still were. At family gatherings as a boy, Ernie saw their swimming pools and their tennis courts. But his father's family didn't have much. And they didn't think much of those who did.
EM: Class cuts both ways, and uh when my father returned from the second World War bringing his uh as they saw it, fancy woman from the west coast, from Berkeley, who couldn't cook, couldn't sew, had no useful skills—they were cooking on a wood stove, you know they had no electricity, they you know used a lantern after dark.

AS: So you're saying, your dad's family, when your dad brought your mom back who was from this fancy family, [EM: Yeah] they sort of thought of her as a little bit useless. [EM: Oh a lot useless.] 'Cause she didn't know how to do anything. [Laughs]
EM: In the summer, we would travel and we would follow the harvest you know the later part of the summer. But um there were jobs that white people could get just by being white people, um my dad could usually get a job in a, in the packing shed driving a forklift or something, usually didn't have to go out and and do the picking. Us kids did, it was illegal but we did.

AS: How old were you?

EM: Um jeez, uh we were in grade school still and uh -

AS: Uh huh and were you working alongside adults?

EM: Oh yes.

AS: Were the adults mostly not white?

EM: Mostly but uh there was a certain amount of uh I'd call 'em old alcoholic guys [laughs] worked in there too. There were, you know, there was still, this was the '50s, there was still "Okies," and uh but they were being pushed out by the Mexican part, ya know.

AS: Do you think kind of thinking back to your your time as a kid working in the fields, like do you think that that ability to kind of not feel emotionally invested in, in where you were fitting in the hierarchy is related to being able to kind of move between because you're white?

EM: White, and I had a - my mom's family was upper-middle-class for sure. So I had a connection with people who were not - definitely not the same as us.
Coming up, Ernie talks more about how he thinks being white has shaped the way he sees class.
EM: Well I understood uh early on that it gave you a step up even though we were dirt poor.
—
As we've been making this series, one thing we kept hearing over and over again is that your class status can bring up a lot of feelings of pride...and of shame. Sometimes both at the same time. A listener named Elizabeth even said that's how she defines "class."
ELIZABETH: Since I was a kid, I've always had this idea about class. To me, class is a sense of pride or shame. I had this realization when I was 11, and my family moved to one part of town that wasn't the best. And we did move into a medium sized home. Most of my classmates lived in a trailer park, so because of this difference, I was teased. I kind of felt ashamed.
We've made a survey asking you to tell us what about your class status makes you proud, and what makes you embarrassed. We've gotten a lot of great answers already.
Robert in Phoenix is proud because "I didn't go to college and barely graduated high school. I was just fortunate enough to find something I'm good at that pays well." But he feels shame that "Often, I feel like a fraud."
Wendy in Florida says she's proud that she has "Stable loving marriage, my car is paid for, and I own a home in gated community. But I'm ashamed that I feel like the teenage me would consider me a sell out."
And Tisha in Rhode Island says, "I'm trying the best I can. But, I'm always broke."
Those are some of our coworkers at WNYC giving voice to your messages.
You can add your feelings of pride and shame at deathsexmoney.org/class, our website for this series. Just scroll down and click "Take Our Survey." You can also tell us a song that represents your class identity. We're putting a Spotify playlist together from your suggestions. Take a look at what's already been added. There's a link on our Facebook page.
These five episodes are it for our Opportunity Costs series for now. But given that "money" is in our name, we'll keep taking bites of this big apple. Thanks to the hundreds of you who have shared your class stories so far. You can find all five episodes from this week at deathsexmoney.org/class, as well as a link to all the essays and reported pieces BuzzFeed News has published in this collaboration. And you can email us anytime with stories about class, or anything else, at deathsexmoney@wnyc.org.
—
This is Death, Sex and Money from WNYC. I'm Anna Sale.
Ernie Major was the first person in his immediate family to go to college. He served in the Air Force in Vietnam, and went to school on the GI Bill.
EM: Rode that pony 'til it wouldn't get up anymore. [Both laugh]
Ernie got degrees in economics and political science from Sonoma State. And he became friends with people in the civil rights and Black Power movements in the Bay Area. That sometimes put him at odds with his family.
EM: I would hear my dad and some of the local um hangers-on talking about keeping the black people out. And uh um they felt threatened by them. And I go "Dad, you like every one of 'em you know" and he goes "Yeah they're the exceptions." [laughs] So, uh, and my brother who, one of my brothers who worked in construction his whole life, uh he was in in his uh late fifties hanging sheetrock and that's a hell of a job um and that's why he's hurting so bad nowadays. But he had you know, you gotta watch him, he has kind of a thing about Mexicans. He felt economically threatened by them. And he doesn't remember the fruit tramping days so much, he's seven years younger than I am. He was a very young kid during all that. So, there's that kind of kind of edge to being on, being on in the actual working class that uh that I managed to kind of be the one who got a little above.

AS: So does that ever feel, when you say you feel um, like socially lower-middle class, when things like race come up among other white people, do you ever feel like, and someone says something that's anti-Mexican or something that sounds racist to your ears -

EM: Oh I, I say something. [AS: Uh huh] I don't hide. I mustered out of the Air Force in Savannah, Georgia, worked in a bike shop for almost three years there, uh and uh people start talking bout uh n*gger-loving Yankees, and I'd raise my hand and go "Wha- here!" You know?
It was right after college that Ernie got started in photojournalism. But as he got older, he worried that newspaper jobs weren't going to take care of him. So in his mid-fifties, he changed careers.
EM: You know you start to think of pensions and stuff like that so I started applying for every union job I could, and I finally got on in this refinery and just kinda let it go.

AS: So it was, it was about trying to find a job where you'd have retirement security.

EM: Some sort of retirement, yeah.

AS: Did it feel like a, like a class transition for you identity-wise when you went from being a photojournalist to working a union job in an oil refinery?

EM: Well um, photojournalism had a cachet to it, it was fun, um sometimes terrifying [both laugh]. But uh, yeah the - I don't know, guys in the oil patch are pretty basic, they know what they're doing but they're definitely not - definitely not educated folks you know.

AS: And so when your longterm disability runs out, you'll have a pension.

EM: Yes.

AS: And, so do you feel pretty financially stable into your retirement?

EM: Yeah and um partially because I don't aspire to uh moving up. Never did so I have a twenty-six foot Winn, it's a bus conversion my dad and I did together and uh I always figure I could move into it and just be one of the guys that drift around in parking in Wal-Mart parking lots. So you know I've never felt the need for a big house or anything like that. I remember telling people when I was, when we'd BS in the Air Force, "What I want to do is when I get you know back in the real world is I want to have a small place with plenty of room to park my toys." So, that's uh -

AS: That's what you got.

EM: Yeah. That's what I got and uh of course a pretty wife and I got that too even though she doesn't live with me.
Ernie's been married for 43 years. His wife, Cindy, lives nearby.
EM: My wife and I get along a lot better if we don't live together. [Laughs]
They've got three daughters, now in their 20s and 30s. One recently moved in with Ernie in his trailer. She walked in and out, making breakfast, as we talked. His other two kids also live in the area.
EM: One of my daughters is much more upwardly-mobile oriented and uh her husband works in a refinery and they have a uh um much larger house than anything I've ever lived in. I always kid about getting lost in it. But she won't let me bring my bus up there. [AS: Oh yeah?] If I wanna take the grandkids for a ride, we'll meet somewhere.

AS: Have you ever felt, do you remember ever feeling embarrassed about where you were fitting class-wise?

EM: No. Um. I was aware, I was aware of how other people might feel. But uh yeah everywhere you go uh there's a) people who think they're better than you and uh there's uh bullies and always had to deal with them but I never felt inferior to 'em.

AS: Hm. I'm interested in what draws you to motorcycles and if it's related at all to this idea of not being invested in the rat race. Like do you do you connect those at all? That you -

EM: In a way. I don't care for the uh for the weekend biker kind of guys, you know the kind of guys who get shiny $30,000 Harley and that. I think they're idiots. I gravitate to guys who like to go fast and and uh you know have fun. It's a pure joy that almost anybody can afford. And I love, uh you know going to - two of my brothers live in Napa, I'll be cuttin' through traffic and uh they'll be they'll be a stretch limo there, I always give 'em the finger [AS laughs] as I go by, slicing through traffic [laughs].

AS: [Laughs] You do?

EM: Yes.

AS: Why?

EM: Because I think they think they're better than they than me than they are

AS: Yeah.

EM: That's the whole point to a limo, they'd be much more comfortable in a small SUV but uh a limo is this status thing so yeah. Give 'em the one finger salute you know. [Both laugh]
That's Ernie Major, at his home in Vallejo, California. I gave him a Death, Sex & Money mug before I headed out. You can see a picture of him holding it in his recliner at deathsexmoney.org.
Death, Sex & Money is a listener-supported production of WNYC Studios in New York. I'm based at the Center for Investigative Reporting in Emeryville, California. Our team includes Katie Bishop, Anabel Bacon, Emily Botein, and Andrew Dunn. Thanks to Stephanie Joyce, Dan Dzula and Natalie Jones for their help on this episode. Our interns are Catherine Xu and Angely Mercado.
This series "Opportunity Costs" is produced in collaboration with BuzzFeed News. You can find reported pieces, essays and our five conversations with listeners about class and money at our website, deathsexmoney.org/class.
The Reverend John Delore and Steve Lewis wrote our theme music.
We're on Facebook, Twitter, and Instagram! Find us on all three @deathsexmoney.
Ernie's been living in this trailer now for about five years now. And along the way, he's learned a couple of tricks about how to keep his costs down.
EM: I just have a couple of electric heaters but they're uh expensive to run so you know cook a pie, cook some bread, uhhh cook some sweet taters anything you want and uh [laughs] you heat the place up much cheaper.
I'm Anna Sale and this is Death, Sex & Money from WNYC.
Copyright © 2019 New York Public Radio. All rights reserved. Visit our website terms of use at www.wnyc.org for further information.
Music Credits:
"Chilvat" by Blue Dot Sessions
,
"Two in the Back" by Blue Dot Sessions
,
"Mineral Still" by Blue Dot Sessions
,
"Yours and Mine" by Ladies English School
,
"Low Light Switch" by Blue Dot Sessions
,
"Slow Lane Lover" by Blue Dot Sessions