Ocean Vuong on Telling Lies, Building Family and Loving the Knicks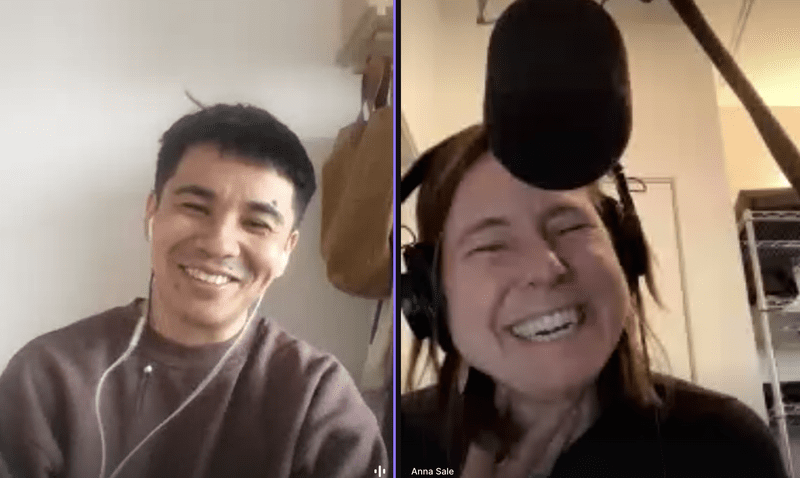 Transcript
Ocean Vuong: If poetry failed me, I wouldn't stop it, but I would really need to wise up and get a job to support my family. I was not going to be the person who just tinkered with their hobby while, you know, somebody else supports them. I didn't, I felt too guilty to do that.
(opening theme for Death, Sex & Money)
This is Death, Sex & Money.
The show from WNYC about the things we think about a lot...
...and need to talk about more.
I'm Anna Sale.
(end of opening theme for Death, Sex & Money)
Ocean Vuong is 34 years old, and one of the literary world's most celebrated contemporary writers. As of last year, he's also a tenured faculty member at NYU, which has meant spending time back in New York City, where he lived for most of his 20s.
When we spoke, Ocean was wrapping up the spring semester and ready to return home to western Massachusetts.
Ocean Vuong: I'm not much of a city slicker, so I miss the sound of crickets. I didn't realize there's no crickets in this city. My goodness. And the sound of crickets, you know, alleviates your blood pressure because crickets only sing when there's no predator around. So I haven't heard a darn cricket in months, so I'm waiting to hear one.

Anna Sale: Hmm. You're safe. It's the sound of nature telling you for now we're safe.

Ocean Vuong: Yeah. Yeah, I have a really robust community of folks in Western Mass, and we have folks really making a life, they're ready to kind of settle into something with longevity and care.

Your favorite poet, you might talk to them one day, the next day you might do a meal train for them because they've just had surgery or something. It's very different than the city. The city is a great marketplace, you know, many people can make here. I can't make here. I have to make somewhere else, and then I bring my wares to the market, and then that's where it engages with the world. But most of my best thinking happens in solitude.

Anna Sale: You're getting ready to extract yourself from the city in just a few weeks. What's on your list of things that you wanna do in New York City that you can do for fun before you, before this season ends?

Ocean Vuong: Okay. So many people don't know this about me, but I am a diehard Knicks fan. [Anna and Ocean laugh]

Anna Sale: I wasn't expecting this.

Ocean Vuong: And it's actually very mimetic of my life as a poet, being a Knicks fan. If anyone's been a Knicks fan in the past, you know, 25 years, it's brutal. It's at this point akin to, you know, sadomasochism. But we are finally good in the playoffs, and my goal is to kind of do this very quintessential, normal thing, which is to go to a sports bar.

Anna Sale: Mm-hmm.

Ocean Vuong: …and cheer for the Knicks and just be amongst people cheering for the Knicks. And I don't know if that's gonna be a good experience because I don't know if a sports bar is where I belong. I highly doubt it, but part of my fantasy is to be in a sports bar with my brother--
["PolyCoat" by Blue Dot Sessions starts]
Ocean Vuong: ...and have this weight of collective exuberance for the New York Knickerbockers, which, by the way, it's the only team I know of named after pants. And I think that's also why I love them. [Anna and Ocean laugh]
Ocean told me he became a Knicks fan growing up because he and his family could pick up their games for free if they moved the TV antenna just the right way. This was in and around Hartford, Connecticut. His mom worked at a nail salon. They'd arrived together from Vietnam when Ocean was two.
Ocean first moved to New York City in 2008 after taking community college classes in Connecticut. Initially, the plan was to study marketing at Pace University.
Ocean Vuong: I went into this marketing class and it was one of those giant halls and there was, on an overhead screen, on a projector, there was a giant laughing beautiful baby, and it had all these brands on its faces. It was just a Photoshop, funny icebreaker thing that the professor started.
["PolyCoat" by Blue Dot Sessions fades out]
Ocean Vuong: And it was like a horror movie. It was like this huge baby in this dark lecture hall filled with Coca-Cola, and, you know, Chevrolet and it was supposed to be like, haha, you know, branding is funny.

And I was like, wow, I am way over my head. It's not even that I felt superior, morally superior to everybody. I just felt completely alien. And I was more overwhelmed than disgusted. I didn't even have the wherewithal to be disgusted. I was just filled with deep personal shame.

And I just walked out and I walked across the Brooklyn Bridge and I never signed out. So I don't know how they feel about it. I guess I wanna say to Pace University, sorry and thank you for believing in me. And so also, sorry, I guess, you know, for just walking out. [Anna and Ocean laugh]

Anna Sale: So you walked out, crossed the bridge, and then soon after you started going to open mic nights to read your work.

Ocean Vuong: Yeah. I was doing that while I was a student. And I started in the back of bars, you know, at one point I read in the basement of St. Veronica's church. In Chelsea, there was a series and you just walk down and sometimes there was this, this defunct thing called the New York City Poetry Calendar, and sometimes you go to a bar that there's supposed to be a reading and it has been canceled for like a year, and then you just stand there for an hour.

Anna Sale: You've worked yourself up to perform and there's like a closed sign when you get there. Aww.

Ocean Vuong: Yeah. This is back in, you know, 2007, so no iPhone, you know, so it's very analog. You show up and you just hope there's poetry and sometimes there's just jocks screaming at each other, and then you go home. But you go down this musty basement and there's boxes of crucifixes and Bibles, and it was a mixture of like, retired, you know, Chelsea or Lower East Side weirdos. And, you know, they really took me in because I was the youngest by like 30 years.

And then there was also unhoused folks, you know, coming in with all of their possessions. We're talking entire shopping carts, plastic bags of all theirs. And they were there to be warm for a little bit, but also they had poems. Poetry mattered to those folks. And, I remember listening to my first Shakespearean sonnet out loud. I'm like 20 years old. I read Shakespeare as a high schooler. I've never heard it performed.

And it was this woman, her name was Maryanne and she collected cans, and she would bring all of her cans in, and when it was her time to come up, and our podium was just a little bandstand that the church band uses. And she would recite, you know, these incredible sonnets and she would use her finger to pace out the iambic pentameter. And, you know, and then they got to know me and, and these folks would bring paper bags full, like sandwich paper bags, like lunch bags full of old books for me to read. But I think a lot of that is just completely lost now. A pipe would burst and then it just gets, it's over.

But it's also where I learned how to write in a formal manner. I mean, I was stepping into this pantheon that I had no knowledge of, except I felt it as a person. I said, this is whatever this is. If it's in a bar or in the back of a church I want to do this. It just sustained me as I figured out what to do with my life. You know, I was so ashamed to go home to Connecticut to my mother who was telling every customer that her son is at Pace University, first generation, he's gonna be a businessman on Wall Street.

And I didn't have the heart to go home empty-handed, so I just lived this big, big lie, you know? And I told myself, marketing is basically lying for a corporation. [Anna and Ocean laugh]

Anna Sale: So I'm learning how to lie.

Ocean Vuong: It's lying for a corporation and poetry is lying for yourself. So I just figured, you know, I might, as if I'm gonna lie, I might as well lie for myself, at least have some fun.

Anna Sale: Hang on. What? How is poetry lying for yourself?

Ocean Vuong: Well, it's about myth making.

Anna Sale: Huh…

Ocean Vuong: I think the work of the poet, in many ways is to work in the same vein as the marketer, because the marketer takes language and recalibrates a narrative to get you to buy something, or to get you to vote a certain way.

The poet, you know, takes the same language and recalibrates it towards something else. Something that does not necessarily have allegiance to a company or a regime. So we're both in the same trenches, but the poet has a much more nebulous web of lies because it's hard to figure out its final function, because often the function might be wonder, bewilderment, a kind of joy for the world. Both wow, and also yikes.
["Low Coal Camper" by Blue Dot Sessions starts]
Anna Sale: Speaking of crafting your own narrative, how long did you keep that secret from your mom, about being a student at Pace? How long did she think you were doing something that you weren't doing anymore?

Ocean Vuong: The whole way until I finally graduated from Brooklyn College.

Anna Sale: Are you serious?

Ocean Vuong: Yeah…

Anna Sale: She didn't know you'd switched to English and–

Ocean Vuong: No, no…
Ocean eventually got that English degree from Brooklyn College, a public college in New York. When Ocean first enrolled, he was staying in Queens, and getting to school took a 2½ hour commute each way by bus.
Ocean Vuong: It was also how I was able to read Tolstoy on those two hour–

Anna Sale: That's what I was gonna say, like forced reading time was probably useful. When you're, when you're a student, the commute.

Ocean Vuong: Yeah, yeah.

Anna Sale: Around this time, is that when you met your partner, Peter?

Ocean Vuong: Yeah.

Anna Sale: How did you two meet?

Ocean Vuong: Oh. It's a little, I think a defunct website now called OkCupid. It's like a free dating– [Anna and Ocean laugh]

Anna Sale: I've heard of it.
["Low Coal Camper" by Blue Dot Sessions fades out]
Ocean Vuong: Yeah. It was free. That was why it was really sweet. You know, I think we just kind of really hit it off. But I was in no state of to date anybody, you know, I was trying to fool myself into having a normal New York City life, but very quickly, I said, you know, I need to get my, my crap together. So we became kind of friends.

Anna Sale: Mm-hmm.

Ocean Vuong: Just checking in on each other. And I got into Brooklyn, but I still didn't have housing. And I just started couch surfing for a few months, starting with friends, but that's very, you know, nebulous and precarious.

You know, I would just be sometimes sleeping in a kitchen, in a sleeping bag. And then that, that suddenly dried up. I didn't have any connections. And most of my friends were people who were also transient. So one day, you know, I was talking to Peter and it came up and he said, you know, I have a grandmother who lives in Richmond Hill. She's alone there. She won't, you know, she has dementia, but she has enough wherewithal to want to stay. It was a huge part of her life. And I lived there. And that's how I finished my degree, kind of being this impromptu nurse.

And Peter kept visiting. And at first I was like, are you here for your grandmother or what's going on here, you know? And then we're, we're eating like a TV dinner one night watching The Office. Which because of his grandmother with dementia, she kept thinking it was the news because, you know, there were these like interview segments?

Anna Sale: Yeah, they're talking straight to camera.

Ocean Vuong: Yeah, yeah. So she's like, when is the weather coming? We're just trying to explain to her that it's a show. And then I'm like, I looked around and said, wow, we're kind of already like a weird family.

Anna Sale: Yeah.

Ocean Vuong: And I don't remember who asked who, but I think we just kind of started to live like that for a while. And it just became a very beautiful thing because it was just like, oh, we just all love each other. And then that was 15 years ago.

Anna Sale: Wow. I am happy to report that OkCupid is still bringing people together.

Ocean Vuong: Okay. Thank goodness. Well I'm happy to be the testimony to its vibrant success. [Anna and Ocean laugh]

Anna Sale: How long did his grandmother live? How long were you living together?

Ocean Vuong: She was 84 when I met her, and she got up to about ninety, ninety one. I forget when her birthday was. And that was kind of about the timeline for frontal, you know, frontal lobe dementia, which was what she had. And so to see that full decline was very, very hard.

So many people have said it better than I can, but you really lose sight of somebody, right in front of you. But she went into a nursing home after a while, and yeah, it was like the first big hit that we felt together as a couple.

Anna Sale: Hmm. So Peter studied law, he practiced as, as he practiced as an attorney, and then became your manager. Is that right?

Ocean Vuong: I guess not officially a manager. I mean, we kind of just share, you know, we have strengths and weaknesses and he's a lawyer and an analyst, like that's kind of his strength.We kind of have a one-two punch, where I make up all the crazy dreams that are most likely not possible. And then he kind of manifests them into material reality.

You know, like when we're renovating a room, I'll say, I want a gray-ish light around 4:00 PM and then he, like I described this in very abstract ways, and then he tries to make it manifest. And so we live our life that way, you know?

Um, and, in some ways I feel kind of like a child actor. You know, my literary career happened so fast. It happened before I finished my education.
["Silent Flock" by Blue Dot Sessions starts]
Ocean Vuong: Um, my book was published two months before I graduated from graduate school. And I was already giving lectures and going on tour, you know, so I felt like I never had the chance to learn practical things. Like driving, for example, how tax works. I just put so much into my work to support my family because the anxiety after not being in business school was still like, how do I turn this into a life for my family?
That first poetry collection of Ocean's is called Night Sky with Exit Wounds, and it includes poems about his parents, love, and the legacies of violence from the Vietnam War. It won multiple awards, and The New York Times called it one of the best ten books of 2016, not poetry books, top ten of all the year's BOOKS. And again, it came out before he was finished with school.
Coming up, Ocean tells me about providing for his family, including his younger half-brother, whom he's cared for since their mother's death in 2019.
Ocean Vuong: He says, "When I go to your events, I'm your bodyguard," you know, and I'm like, we're both like scrawny, you know, five foot, five, like there's no way you're guarding anyone. But in another sense, he's absolutely right. I do feel an aura of protection… when he's around me.
["Silent Flock" by Blue Dot Sessions starts]
–
(midshow theme for Death, Sex & Money)
The warmer months are here, which means, among other things, it's wedding season.
Weddings are all about the themes of this show... till death do us part, sex on the wedding night (or not), and definitely money, sometimes LOTS of it for a single or multi-day affair.
If you are currently planning a wedding, and specifically if money is a source of tension, from how much you want to spend on your wedding to how to pay for it, we want to hear from you.
Is money a sticking point between you and your soon to be spouse, or your families? Do you and your fiance have different ideas of how much it should cost, and where do those ideas come from? Is one side of the family chipping in more than the other... and does that come with certain strings attached?
We also want to hear from those of you who are in the wedding business, whether you're a photographer, a planner, or a baker… How do you deal with couples or families who have wildly different ideas about what they want to spend? Record a voice memo and email it to us at deathsexmoney@wnyc.org. We want to hear about your wedding plans for a future episode.
(end of midshow theme for Death, Sex & Money)
–
This is Death, Sex & Money from WNYC. I'm Anna Sale.
In 2019, Ocean Vuong turned 31 years old. That spring, he published his debut novel, On Earth We're Briefly Gorgeous, a blockbuster book that took the form of a son writing a letter to his mother. In September of that year he received a MacArthur "Genius Grant" award.
And then, in November 2019, Ocean's mother died of breast cancer, a loss he examines in his latest poetry collection, Time Is a Mother.
After his mother's death, Ocean's younger half brother came to live with Ocean and Peter in Massachusetts, and they've all lived together now for about four years.
Ocean Vuong: He was her baby, and he lived with her all his life. And as much as it was painful to lose a mother, it was even more painful to watch a 21 year old brother, to watch him lose his mother. And that, that was actually what was unbearable for me. You know I have language, I have literature, I have resources, and I have a wider network because of my profession with friends and connections.

And so my grief was kind of easily understood by those around me. And my brother's dyslexic, so his grief was so private and alone, and so I had to really tend to it. It was important for me to get him therapy, right. Talk therapy, to check up on him and to sign him up for, you know, classes, workshops, the gym, help him get a job, so all of a sudden I was kind of like a father, something I never thought I would be. We're 10 years apart and all of a sudden I have a grown man who's also just starting his life without a mother, without a father really.

He's estranged from his father and I have to kind of restart everything. But he's also much more capable in many things than I am. My brother drives very well. My partner drives very well.

Anna Sale: Enough people in the household can drive well. [laughs]

Ocean Vuong: Yeah but I, you know, I did the whole thing where you practice in a parking lot and I tried to get a license. I failed five times. There are too many buttons. I get so overwhelmed. It's like now I'm in this steel torpedo. Anybody can die. And I don't know where this car ends or where it begins. So I just, I don't have the brain for it so… [Ocean laughs]

Anna Sale: You don't need to do it.

Ocean Vuong: Yeah. So a bicycle, two wheels, handles. That's as much as I can do. I don't have the mind the way he does. He's very analytical, very calculating. He has a military mind. Like he could see what's ahead, what's coming.

Anna Sale: He's a good driver, as you said.

Ocean Vuong: Yeah, very good driver. He loves his day job. He's a manager at Dick's Sporting Goods in the shoe department, and I've never seen someone who loves going to a nine to five job as much as he does. He gets to his job an hour early, just to prep and arrange things. And that's the kind of person he is. He's just wholly devoted to what he does. And in that way we actually share a lot of things.

You know, when I'm working on a project, I tell my family, if it wasn't for you guys, if it was just me, I would be in a studio with just a single mattress surrounded by books stacked from the floor up. And I would eat Stouffer's, you know, frozen dinners. And that would be a happy life for me, just mostly in the mind, living. That's a beautiful life. [Anna and Ocean laugh]

Ocean Vuong: …but because of the people I love, you know, I have to learn these things and see the limitations, and so it's very humbling for me to be, you know, Ocean Vuong, winner of whatever, whatever award, tenured professor, bestselling author, but also to be really vulnerable with my limitations.

Anna Sale: Mm-hmm. Did, and he stays in Western Mass? When you're in New York City, is he with you or is he with you now?

Ocean Vuong: He stays there. Yeah, he stays there.

Anna Sale: Uh huh. And it's interesting that you say you feel in some ways like a father. When are there moments where you realize, oh, we're brothers? Because you're describing both that there's things that he's better at than you are, and there's ways in which you have tried to tend to him and take care of him like a parent would.

And the thing I find interesting about siblings where there's a big age difference is the way that those flips can take you by surprise. Like where you feel like you're brushing up against each other, and where you do have a very clear power dynamic.

Ocean Vuong: Yeah. Yeah. A lot of the times, you know. I think the setup has a hierarchical power dynamic when we travel together, when we're kind of like up against the world, if you know what I mean. I don't travel very well. I lose sight of gates. I daydream and then the plane leaves. It happens all the time. So I don't travel alone.

So when my partner can't make it, my brother would fill in and he doesn't know where we're supposed to go. And sometimes neither do I, but he calms me down by just being there.

Anna Sale: Yeah.

Ocean Vuong: My blood pressure is much calmer with him around, I can't explain it. It's like a talisman. And we couldn't be further from each other, but there's an absolute kind of allegiance to each other that I can't explain.

Anna Sale: Hmm. When you described that fantasy life of living with a mattress on the floor surrounded by books and eating TV dinners, how that in one way could be enough for you, when did you discover, like what made you realize that that wasn't the creative life that you wanted, that instead it was important to you to live with family, to create family? Or did it sort of unfold because people needed you?

Ocean Vuong: I think definitely the latter. I'm someone that could never get bored, you know? I never know boredom. And I don't say that to boast. There are many things I can't do, but I can be with my mind and myself for unending time and be perfectly content. That scenario with the mattress and the books, it sounds like a slice of heaven to me. But we don't live in a vacuum and a lot of that has to do with reciprocal bonds.

What do we owe to each other? And I've always felt that because that mattress and the books, it's not really a choice. It's not really an option because so many people depend on me, my cousins, my aunts, my brother, my community, that while I'm here, I wanna make it the best it could be for everybody involved. And I learned that that's actually a joyful way to live. That when I decorate my home, I don't decorate it just so it's beautiful. I want it so that when my friends and my family come, they can feel at ease and relax. Like it could heal them. And I don't mean that lightly.

And when we moved to this home that we're living in, we moved in there two years ago. And we purposely chose one with extra rooms so that friends can kind of come as a refuge. You know, an artist's life is very precarious. You have to enter a lottery in a way to get a "fellowship", which gives you three to four weeks in a cabin in the woods to just get it done before you're thrown back into child rearing, work, you know, family crises.

And this happens throughout our lives. We're the only vocation where your profession and your professionalization does almost nothing to guarantee you time to do your work. And so now you know, when a friend is struggling and they need time, we just say, come on up, come on up, there's a room for you. We'll cook, we'll slide the meal under the door. You don't have to talk to us. Just rest. But also losing my mother, embracing my brother into my life, you know, it wasn't even a choice. It was like, of course my brother's gonna live with me.

It made me realize that I could build space for other people. That my success at its best is actually to create space that can protect the people I love.

Anna Sale: Mm-hmm.

Ocean Vuong: I could be satisfied with the sentence, but I don't know if that gives me true joy.
["Paper Feather Minimal" by Blue Dot Sessions starts]
Ocean Vuong: But I'm truly happy when I know that my creative work, language, which weighs absolutely nothing, is immaterial, ethereal, has created a home that can sustain and bolster the people I love. It feels like a magic trick or a dream that I'm still waiting to wake up from.

Anna Sale: How do you protect your solitude when there are needs, so many needs coming at you both from the marketplace and the reality of being a sort of cultural and literary celebrity, and also the needs of people you love and the communities you love. How do you carve out the solitude to keep making sure you have time to make your art?
["Paper Feather Minimal" by Blue Dot Sessions fades out]
Ocean Vuong: So far it's tricky, but I've always been a good compartmentalizer and I tell my students this too, because the question my students always ask is how do I send my work out there while also getting back to work? Right.

And so I think what I do is, I don't have a secretary, a real secretary, but I have a secretary of myself. So when I have to promote the books, and even when I'm teaching, when I'm doing the bureaucratic work of an institution, I send this representative, another part of me, Secretary Vuong, he comes out and he does all the things, and I kind of sacrifice him while I save my heart for my family.

So I have seasons to my life, you know, when the book comes out, we work together, my publisher and I. But there has to be an end to the season. And then I have to go into the other seasons. I said to my publisher, I'm gonna give a hundred percent, and then it's gonna be over, and then I give a hundred percent to my family, And who knows how sustainable that is, right now it works pretty well. But for me, I don't know how to give fifty to anything. I only know one gear, and it is total.

Anna Sale: I just have one other question for you and that is, when Time Is a Mother first came out, you talked about how writing this collection you felt like it was a moment in your life when you felt like you wanted to be the most ambitious and you could be the most ambitious.

You felt the most free, and "I have to do everything here," is how you described it to the New Yorker when you were thinking about this collection, and it made me wonder in this moment, when you think about what the ambition is for your next work or the work that still is to come, what is the ambition, or is that not the right word for what your motivation is?

Ocean Vuong: That's a great question. It's what I'm trying to figure out.

One of my heroes is Annie Dillard, in a very formative moment for me. She was on NPR and there was kind of like a surprise interview with Annie Dillard, who, you know, often doesn't speak to journalists, so everyone thought it was gonna be an announcement of a big book. And instead she says: "I'm finished as a writer. I've done my work."

And I remember standing in my apartment as a young writer and being absolutely enraptured, totally in affinity with what this woman was saying and this host was kind of perplexed. They said, "What, is something wrong with you?" Right. You know, it is interesting that kind of like the first response, like, is a pathological result.

And Dillard said, "No, I just, I woke up, I went to my working desk and I realized that I had nothing to add that I have not already done." And I said to myself, that's how I want to measure my life as an artist. You know, often we're told, what's your dream? How many books do you wanna write? What do you want to do? What are your plans? And I think my only plan is to write in a way that I could stop, or if I had to stop, I would be completely content.

I want to get to a point where I can get to where Dillard got to, perhaps even sooner. Sooner would be even better, right? To quickly arrive at a moment when you look at your body of work and you said, my goodness, I was put here on Earth and I was blessed with this gift and I used it all to do this thing that satisfied me to the bone.

I don't know if I feel that yet, but I strive to arrive where my hero Annie Dillard arrived at. To stop well.

Anna Sale: Oh, I just love that. Thank you Secretary Vuong. It was wonderful to spend time with you. [Ocean laughs]

Ocean Vuong: Thank you so much, Anna. Thank you, thank you. And go Knicks!

Anna Sale: Yeah. Go Knicks!

Ocean Vuong: Go Pantaloons!
(end theme for Death, Sex & Money)
That was Ocean Vuong. You can find his poetry collection, Time Is A Mother, wherever you get your books.
Death, Sex & Money is a listener-supported production of WNYC Studios in New York. This episode was produced by Afi Yellow-Duke. The rest of the team is Liliana Maria Percy Ruiz, Zoe Azulay, Lindsay Foster Thomas, and Andrew Dunn.
Our intern is Christian Reidy.
The Reverend John Delore and Steve Lewis wrote our theme music.
I'm on Instagram @annasalepics, that's P-I-C-S, the show is @deathsexmoney on Twitter, Facebook, and Instagram.
Thanks to Sierra Kacher in Richmond, Virginia for being a member of Death, Sex & Money and supporting us with a monthly donation. Join Sierra and support what we do here by going to deathsexmoney.org/donate.
And you'll want to know that before the Knicks were knocked out of the playoffs, Ocean did get to a sports bar in New York City to watch them with his brother.
Ocean says he's now rooting for the Denver Nuggets, since they've never won a championship, but his heart? Always with the Knicks.
Ocean Vuong: My whole family were into the Knicks. My grandmother, my mom, you know. My grandmother was so sympathetic to Jeff VanGundy because she just said every week, more of his hair is missing. [Anna laughs]

Ocean Vuong: You know, it is such a stressful job. And she felt such sympathy for him. And she would say things when we're not winning, "They switched the rims in, in between commercial breaks they gave us a smaller rim," you know. [Anna and Ocean laugh]

Ocean Vuong: You know, it's so funny--

Anna Sale: Oh, what a fan. That's a true believer right there.
I'm Anna Sale, and this is Death, Sex & Money from WNYC.
(end of end theme for Death, Sex & Money)
Copyright © 2023 New York Public Radio. All rights reserved. Visit our website terms of use at www.wnyc.org for further information.
Music Credits:
"Polycoat" by Blue Dot Sessions
,
"Low Coal Camper" by Blue Dot Sessions
,
"Silent Flock" by Blue Dot Sessions
,
"Paper Feather Minimal" by Blue Dot Sessions