How Nikki Giovanni Finally Learned To Cry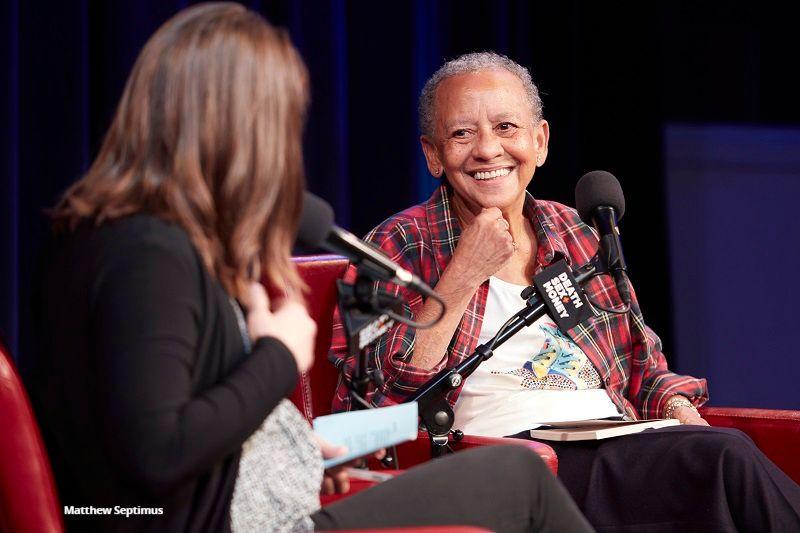 Transcript
NIKKI GIOVANNI: I have a different story to tell at 75 than I did at 25. Fifty years makes a difference and so if there's a poet listening to us right now, one of the things I would say is don't read your early poetry. [Laughter] No, because if you do you won't want to contradict yourself and if you don't contradict yourself you didn't learn anything.
This is Death, Sex & Money.
The show from WNYC about the things we think about a lot...
...And need to talk about more.
I'm Anna Sale.
Nikki Giovanni self-published her first collection of poems in New York in 1968. Fifty years later, she joined me on stage in New York in front a sold-out crowd. People in the audience clutched copies of lots of different books of hers. She's written more than 30 now.
Her latest collection is called A Good Cry. She writes about finally learning how to cry as an adult woman, and her life growing up in Cincinnati in the '40s and '50s.
AS: I want to start, um, by hearing how you describe yourself. And on the back of your new paperback, um, will you read what it says after "About the Author"?

NG: "About the author. A long time ago a little girl sat in the window of her bedroom she shared with her older sister and read by a finger flashlight. She looked at the stars when the battery gave away and when she got older she snuggled under her grandmother's quilts to listen to jazz on the radio all night or at least until she fell asleep. She first fell in love with words, then they somehow seemed to fall in love with her. She got to learn history, meet people, travel everywhere, and since this is a good fairy tale, she lives happily ever after. There may be other things along the way but the words and the stars and the music are all that matters."

AS: Mm. Thank you. [Applause]

NG: I've been trying to get them to stop saying things that [sigh] - ugh, are so - it's insignificant. And so, you know, you end up oh, she graduated from high school and then she went to college and ugh, what the hell? And I wanted to say something so that if you're reading this you might know something, but it's all a fairy tale. You live and you die, and so you may as well be happy.
Nikki's been writing nearly her whole life. Her career took off when she was in her 20s. She was at the center of the Black Arts Movement. She co-wrote a book with James Baldwin, interviewed Lena Horne on TV, and toured the country with Muhammad Ali.
It all started after she walked into the famous jazz club Birdland in midtown Manhattan, and asked if she could do a poetry reading there. She was just 25 at the time.
NG: It was an exciting period of course. That goes without saying. And so Harold Logan, as you know was a -- well you might not. Uh, Harold Logan owned Birdland. And, you know, Harold was a crook. And so I just went to - [Laughs] That's what he did!

AS: [Laughs]

NG: And so -- but he had Birdland. So I went down to meet Mr. Logan. "How are you Mr. Logan? I'm Nikki Giovanni. I'm a poet. You know, what do I have to do to, um, to get your club? I'd like to have a reading but what do I have to do?" And I think Harold just looked at me like, whoa. [Laughs] And he said, you know, well -- finally, because it goes back-and-forth -- he said, "Well, bring me a hundred people," because Sunday in New York then was - clubs were closed. And he said, "Bring me a hundred people and, uh, you can have the club. Ninety nine people and you owe me five hundred dollars." And I said "Oh, that's fine," and we shook hands. I walked back upstairs and I remembered, "Oh, I just shook hands with a murderer. [Laughs] I have to find a hundred people." [Laughs] So that was very lucky. Of course my next door neighbor was Morgan Freeman at that time. And, uh, that helped, and uh -

AS: That helped. [Laughs]

NG: Novella Nelson, that helped. Um, um, Melba Moore. And, what was so wonderful -- and this was a breakthrough -- was that people started coming to Birdland that Sunday. And they started to sort of pack in. But, I think the main thing about any career is that you have to enjoy it. And you have to ask for what you want. And so I thought, okay, well what hasn't been done?

AS: Where did that come from? That thought, what hasn't been done? I'm going to go have a meeting and do it.

NG: It was the '60s and so the first thing you had to figure out was what am I trying to get done? How do I contribute? What can I do? I'm not going to change the world. I really don't think anybody ever listens to poets so it doesn't matter what you say. Nobody ever listened to poets. If they did it'd be a whole different world. And so, I come from an incredible, in all fairness -- and this is not Nikki's lecture on black people -- but I come from an incredible people and when we look at what black Americans have come through and when you look at how we taught. Okay, I'm a poet but I come from a people who invented the spiritual, who found a way to tell a story that if people thought they could read and write that could cost them their lives. And I'm not going to get killed for writing bad poetry but there are people who have gotten killed for trying to tell the truth. And so I just think that all I wanted to do was my share and I had a story to tell and I thought that I should -- I should tell it. We've been letting people take away from us some of the most beautiful things on - on planet Earth. And one of the most beautiful things is that we - and I'm not saying white people don't, I'm just saying we in the black community have gotten along with everybody. And what you love about the spirituals is that there's not one single spiritual that does revenge, that does hatred, that does - we have found a way to love and I think it's just incredible.

AS: You know, I - I thought a lot about that reading A Good Cry and - because of the way you talk about joy and laughter and the gift particularly for black Americans about having joy and laughter in the face of humiliation, suffering, terror. Do you think that laughter for you got in the way of learning how to cry?

NG: No, I think I didn't learn how to cry because, um -- and it took me a long time to write this particular book. Um, my father was, um, I think a little on the crazy side and, uh, if you ask me what was I doing at 11 o'clock any Saturday night I was listening to him hit my mother. And it was something I couldn't deal with and so what you can't deal with you have to put away. And, uh, all of those - all of us in this room who are my age know that you have to put it away because if you try to change, you can't change it. I couldn't do anything about their marriage. What I did learn was that their marriage was none of my business and what I learned secondly is that the most precious thing on God's earth are grandmothers. And - they are, I recommend them. [Laughs] And I am one now, but I have a wonderful grandmother. And I went down, and I know now that grandmother must've known some of the difficulty Mommy was going through. But, um, I finally I said to her, you know, "Is it okay if I -- if I stay with you?" And so I lived with - with grandmother and grandpapa, uh, for a while. And so it wasn't that, it's that I held things in. Uh, most of my life I've held things in and I finally did learn to cry which is how I got to it.

AS: How did you learn?

NG: I'm 75 years old, damn, if I don't learn soon I'll be dead. [Laughs] So no, I think I learned because I -- I am, because I'm a grandmother and my dog has his shots and my house is paid for and the car is paid for. You know, the little things that matter. And so now you realize, I've done my job. So I can now -

AS: Exhale.

NG: Let that go. I mean I, uh, I went down to the African-American Museum which is just totally wonderful, just wonderful. I went down for the legacy opening and for those of us who've been, you know, it goes around and 'round. And I turned right, and when I turned right there's a picture of me and -- yeah, it was incredible. And I looked, and without thinking, to say, grandmother, "See? I did my job." And I think that that's when -- maybe the first time I learned to cry. That I felt like grandmother knew I did my job.

AS: Mm-hmm.

NG: As you can see now you learn how to cry and you just cry over any damn thing. [Laughs]

AS: Can I ask you to read a poem?

NG: Sure.

AS: Can I ask you to read "I Married My Mother" from your new collection?

NG: "I know crying is a skill. I automatically wipe my eyes even though I know crying is a skill. Maybe I will learn -- my mother did when she thought I was asleep. I think my sister did, sleep, but sleep is as difficult to me as crying. I laugh easily and I smile and withhold any true feelings except once I fell in love with my eighth grade teacher and spent most of my life trying to feel safe again. Though maybe I'm safe now after almost 30 years, which is as long as I lived with my mother. Maybe that's not a poem; maybe that's something else. Maybe I just wanted to show my father that he needn't be cruel. Maybe I just enjoyed buying the house he had to live in, showing her she should've married me instead of him. Or maybe since we will all soon be gone I should be happy I found my mother in someone else who loves me. What else really matters?"

[Applause]

NG: Oh, I love -- that is one of my favorite poems because actually I did. Um, Gus - my father, Gus, had a stroke and Mommy called me. And I was living here in New York, I lived uptown, and Mommy called and she said, "You know your father's in the hospital." Well Mommy knew I couldn't have cared. What she should've called me to say is he's dead. That's the truth, I didn't like him. And I knew that if she called she needed something. That's why I think daughters are such a good idea. I mean if you have - I don't know what you're having but -

AS: I'm having a daughter. [Laughs]

NG: Oh, daughters are just - I mean I had a son and sons are wonderful. They take care of you; they do a lot of things. But daughters you can gossip with and stuff. And daughters are just wonderful and I knew when she called my job was to go home, go back to Cincinnati. And I had Thomas then and I had a dog, Duke, and I had a little Volkswagen. And so we -

AS: You, your son, and the dog got in the car and went home?

NG: And drove to Cincinnati. And, you know, took care of him. Gus and I never did sort of get along. But once he did die, Mommy and I were sitting there. Now, we were talking one day and I said "You know, Mommy, you should've married me." You know how you just - I said, "You should've married me and, you know, it would've been really different because now we're - we're friends." I'm a grown woman and a mother and she's - you know? And she said, "Well baby if I had married you then I couldn't have had you." And I said "Well, there - there has to be a way the human egg can be laid." And, no, it really does. We have to think about that and since we're on our way out anyway if we can lay human egg we can figure out what to save and what to scramble. [Laughs] That's the truth.

AS: Did you really buy a house that your father moved into?

NG: Oh yeah. Uh, when I went back home we were still living in his house and he didn't, uh, unfortunately, die. And we were in his house and so when he got out of the hospital now we're in his house. And so he's being what he was, and I thought oh, what we need is a change. So I went and bought a house. I mean we were there in Cincinnati. I bought the house in Cincinnati and we moved and my - what I said to him was we're moving, you can move or not, because it really didn't matter to me. And he's going to move. So he and I were having -- I drink coffee and I was having coffee one morning and we were having, uh, I don't think you can call it a discussion. I think it's more an argument. And he was trying to tell me something. I said "Gus," because I'm pretty calm. "The chair you're sitting in is my chair." And so I said, "The floor it's sitting on is my floor." So this is not going to please him. He gets ready to get up. I said, "The bedroom you're going into is my bedroom. The bed you're going to stretch out in is my bed. Now let me tell you what your life is going to be for the rest of it," right? I said, "When you wake up in the morning you're going to say to that woman who put up with you all of these years, 'Honey, I love you. So good to see you. Breakfast is so wonderful.' You're going to smile, damn it, and you're going to tell her how much you care and you're going to do that every day or there's a place,' for those of you who know Cincinnati, 'called Long View. Or I'm going to put your ass in Long View and you will be there.' And he knew that there's enough of Gus in me because I always knew I'm going to hell. I'm - some people are going to heaven. Mommy went to heaven; I'm going to hell because I just - and so he did that. When he had dinner that night, oh, he said, "Honey, this is a good dinner." He learned. He's smart. He learned. And so Mommy was like, "Oh!" You know, it made Mommy's life happy and when we buried him then he's gone and that's how I ended up with mommy saying, "You should've married me." But uh, no, it was my house.

AS: Did your mother know about that conversation?

NG: I sincerely don't know if she did. I don't remember us ever having -- you see, Mommy is not going to ask questions. I don't know if she heard the conversation or not. I know who did hear it. [Laughter]

AS: Yeah. [Laughs]

NG: And I know my sister, I have an older -- I'm the baby sister. And so Gerry was saying, you know, Gus is really -- she called him Daddy -- has really changed. And I said yeah, because there's no discussion with that. If your father is abusing your mother somebody has to be protective. It's one of those - I keep saying when I - when I die I'm going to take a - I know I'm going to hell but I'm going to get a day pass to heaven. [Laughs] There are some things I want to ask, uh, about.

AS: How long did you live with your father before he died?

NG: Uh, I think he died about two years later.

AS: And how did your relationship with your mother change when he was gone? And you continued to live together.

NG: Oh, then we became happier. Um, I mean I wasn't like unhappy because I'm not an unpleasant person but once he was gone it was good because then the -- the house changes. And I don't know if - if any of you are widows or anything like - but a house -- and I mean no disrespect to any of the men in the room sincerely -- but a house without a man is a very different house.
Coming up, Nikki becomes a professor at Virginia Tech, where she's now taught writing for more than 30 years.
NG: We had an offer and I said to Mommy, you know, you want to go? Because essentially we were married and I wasn't going to live without her. I said "You want to go?" And that was a quote, and again it always brings tears to my eyes because she just said, "Whither thou goest." That's what she said.
--
Hey, it's Anabel, one of the producers. And last month, we featured your workplace transition photos over on Instagram. You sent in pictures of everything from work boots to packed up trunks to vision boards… and you shared your stories about deciding to make big changes in your work lives.
We want to continue that conversation around work. But this time, we want to talk about the work transitions you didn't ask for. We recently heard from a listener named Zoe. She's 28, and lives in Toronto. And this past summer, she was laid off from a job she loved.
ZOE: It was pretty devastating because I had never expected it. I was on a trajectory of growing, looking for promotion and a raise. So it was totally a surprise for me and I had to adjust how I felt, how I felt about myself. Because for me, it is so deep down intertwined with every single detail in your life that you know, I can't help to wonder, was there something wrong with me, personally about me, that I had to go?

ANABEL: Do you have anybody who's your age who you can talk to about what you're going through right now?

ZOE: Um, not really. I think that's probably why I wrote the email. People don't want to share the negative stuff. When I got laid off, my coworker, she was trying to comfort me, and she told me that you know, this happens to a lot of people. A lot of us have been laid off and nobody talks about it. And I was like, why don't people talk about it?
So, if you've been laid off or fired, we want to hear how you handled it. Who was the first person you told? What was the first big financial change you made after you lost your job? And how did you start to feel better about it? We've got these questions for you and more at deathsexmoney.org/laidoff.
--
This is Death, Sex & Money from WNYC. I'm Anna Sale.
Nikki Giovanni has lived in Appalachian Virginia for more than 30 years now. She started teaching writing at Virginia Tech in 1987. When she moved, she brought her family with her from Cincinnati. Her teenage son Thomas, her elderly mother, and two aunts and one of their husbands, who wanted to come too.
NG: I tried to get them to have a driver. You know, like Driving Miss Daisy, driving the Watsons, but they wouldn't do it. But I - the idea of 90-year-old women driving was, uh, incredibly frightening. [Laughs] It really was.

AS: After years of being a writer did you -- how did you become a teacher?

NG: My mother taught school, my Aunt Ann taught school, and my Aunt Agnes taught school. So I come from a group of teachers, but also think that again, writing is something that it's not what you're teaching; it's what you're allowing. I'm just so fortunate, and I'm teaching at a predominantly white school which has nothing to do with anything except that it is, but I want them to recognize what a beautiful thing it is to be black, that we learned to tell a story when we could neither read nor write, had no way to pass it along except through a rhythm. And that rhythm became the spirituals which are ultimately going to become gospel which is going to become blues, which is going to become jazz. So we learned to tell that, and this is something that Americans need to learn from us. And so everybody wants to say, "Oh, yeah, the black people want to integrate." No, what we want is to not be lynched and we would prefer not to be shot in the back. And the rest of it we can deal with, you know? And I think that it's good for everybody. It's good for everybody that we come together. Am I making -

AS: Yeah.

NG: I just think it's so important, but I think that -- that we just can't keep letting people like Donald Trump and them say, "Oh yeah, we're doing them a favor," because you're not doing them a favor; we're doing the world a favor as we come together. And I am very fortunate to live in Appalachia because in all fairness the Appalachians are the best white people in America. They are. They -- they're just wonderful people. They have stood for the Constitution. They have stood for that which is right. And we need to quit finding things that we don't want, and try to find something that makes sense as we come together. We've got to come together.

AS: I saw you speak in Appalachia, as a white Appalachian, and you - you were talking about slavery and the time of slavery in Appalachia and you paused and you said, "Sometimes I think what kind of slave would I have been?" And it's a mostly white crowd. And then you looked up and you said, "And do you ever wonder what kind of slave owners you all would've been?" [Laughs] And I thought, I haven't. And I thought, why has no one asked me that question?

NG: It's a good question. I had my students write, uh, just because I was curious -- um, I had the pleasure of knowing Rosa Parks and of course we all know who she is but she was a friend too. But I was thinking about it there, it was last semester, and I said to my students, "I wonder what the man who got on the bus - " Now the bus was ten cents. Mrs. Parks had paid her dime. And when this guy gets on, the white section of the bus is - is full. I wonder what he was thinking. And so I asked my students, "Write me a story. Not a poem, I want a story on this one. Write me a story of the white man who was standing there watching a black woman be arrested because she doesn't want to give up the same seat that she paid the dime for." I had some fabulous stories. I really did. Most of them, of course, they wanted to be nice. But what I, uh, really, really loved was the story of the jealous white man who said, "I don't know why you all are so excited about that black woman." That's not the term he - "I'm the one who started it all." He said, "Nobody even knows my name," you know? [Laughs] It's true. Nobody knows who he is, who he was. Nobody knows him. It really - really is interesting.

AS: I want to ask you about the year 2005 in your life, when you lost both your mother and your sister. How did being the youngest daughter in this family, family is so central in your life, how did becoming the oldest in your family left change the way you moved in the world?

NG: Uh, I don't know. You go from being the baby and you - and again, we're back to, we were talking about crying and not crying where you don't have time to cry because your mother's passed. Mommy died on, on, uh, uh, June the 24th and Gerry died on July - I think July 10th if I'm not mistaken. So it was just da-don, da-don, and you bury them. But then my dog Wendy died. And so it was, you know -- and you had things to do and so you got them done because, uh, I don't think women, period, of any color, I don't think women cry nearly as much as the novels that we read tell us. [Laughs] You know, in the novels they're always crying. I don't think we do. I think we do what has to be done.

AS: Your - you lost your mother but you spent your entire adult life living almost alongside her, almost your entire adult life. Did you find yourself living differently when you didn't have your mom watching?

NG: I don't think mom watched, but I don't - you know, I don't think Mommy did. I think Mommy knew that the best thing to do is to leave me alone. So Mommy didn't, as I said, Mommy didn't have any opinion, and I know she knew me well enough not to have an opinion because that would've ruined our relationship. I'm not convinced. I think death is a bad word. I'm not convinced that anything dies. I - I think death is not a good term because I think we transition. I think that anything - if I put any of us in the ground something's going to grow. And some of it, I've got bones, I've got teeth. So some of the teeth are not going to be useful but some of them somebody will find 100 years from now and polish it and it'll be a diamond or it'll be that there's something useful.

AS: If death is a word that - that you don't think is a good word, I am - I do love the way you talk about aging. Aging does not seem to have that negative connotation for you. Tell me about being 75 and feeling yourself aging. What have you noticed?

NG: Well I've noticed - first 75 is a real good age. And, you know, you turn 50 and whoever thinks I'm going to be 50? But now you find yourself 75 and you're talking to your friends. You say, "Oh, you know, when I was 50..." [Laughs] And that - that just... But, um, the chances are, and it - it's not sad or anything. The chances of living another 25 years, uh, for people like me, I've had, uh, breast cancer and I've had, uh, lung cancer. So my left lung is gone and my right breast is gone. And I have a doctor whom I love a lot too, Gregory, and Gregory's good-looking. I told Gregory, "If you weren't good-looking I wouldn't listen to you." [Laughs] But, I love Gregory. He's crazy. When we found this lump he said, you know, "Well Nikki we can do, um, chemotherapy or we can take the breast off." And I said, "Well Gregory, you're the doctor." You know? He said, "Well Nikki, you're 75 years old. What are you going to do with it?" And he was right. It's done all it's going to do, so! [Laughs] Take it off, and so we did that. But, you know, you figure the older you get there are just things that you look at really, really differently. I would've been distressed if I'd had breast cancer at 20 because I did have - you know, somebody might want to play with it or something. [Laughs] But nobody's going to be bothered with it now, so what the hell? And what you're doing as you grow older is enjoying the - you're just enjoying the - the - it's come the time. You know, you're a quilt. You're - there's pieces of you that are being put together and you're figuring out okay, and who do I embrace and how do I embrace it? It's - I think old age is just wonderful, just wonderful.

AS: Thank you Nikki Giovanni.

NG: Oh, thank you.
That's poet Nikki Giovanni. We spoke live on stage in New York, at The Greene Space, WNYC's live performance theater. Her most recent collection is called A Good Cry.
Death, Sex & Money is a listener-supported production of WNYC Studios in New York. I'm based at the studios of the investigative podcast Reveal, in Emeryville, California. Our team includes Katie Bishop, Anabel Bacon, Stephanie Joyce, Joanna Solotaroff, Emily Botein, and Andrew Dunn.
Special thanks to the crew at The Greene Space: Jennifer Sendrow, Cameron Thompkins, Merritt Jacobs, Allie Pinel, David McLean, and Ricardo Fernandez.
The Reverend John Delore and Steve Lewis wrote our theme music.
And while we were together, I asked Nikki to read one more poem of hers that I love. It's called "Choices."
NG: "If I can't do what I want to do then my job is to not do what I don't want to do. It's not the same thing but it's the best I can do. If I can't have what I want then my job is to want what I've got and be satisfied, that least there is something more to want. Since I can't go where I need to go then I must go where the signs point though always understanding parallel movement isn't lateral. When I can't express what I really feel I practice feeling what I can't express. And none of it is equal I know but that's why mankind alone among the mammals learns to cry."
I'm Anna Sale and this is Death, Sex & Money, from WNYC.
Copyright © 2019 New York Public Radio. All rights reserved. Visit our website terms of use at www.wnyc.org for further information.
Music Credits:
"Three Stories" by Blue Dot Sessions
,
"OneEightFour" by Blue Dot Sessions