Nick Offerman Can Take Directions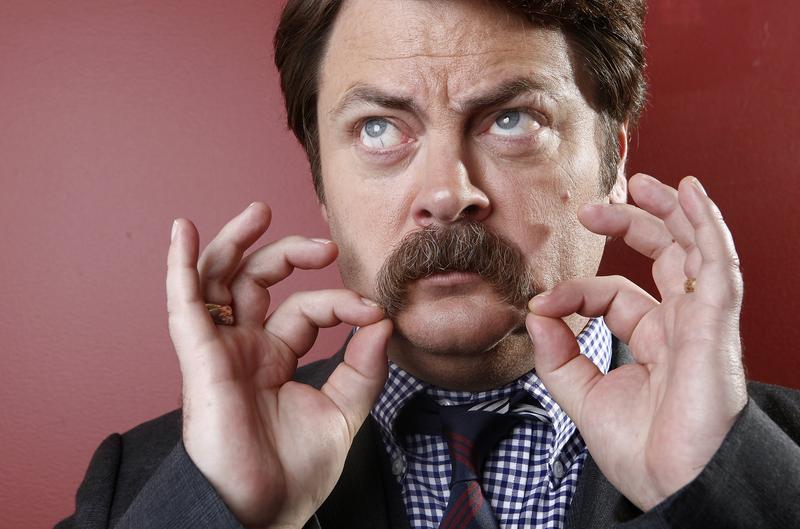 Transcript
NICK OFFERMAN: I feel like people accuse me of being something in the vein of like a John Wayne character and I and I think, oh I'm much more uh goofy and effeminate. And you know I feel like I have all the colors inside me despite this Sheriff's rictus on my face.
This is Death, Sex & Money
The show from WNYC about the things we think about a lot...
And need to talk about more.
I'm Anna Sale.
Nick Offerman is famous for playing Ron Swanson, the macho, gruff and exceedingly confident boss on Parks and Recreation. But Nick says when he moved to Los Angeles in his mid-20s after some success in the Chicago theater scene, it wasn't confidence that motivated him.
NO: A friend of mine was about 20 years older than me and he was someone someone I looked up to in the Chicago theater community and he was a bit lost. He drank too much. He was lonely. He couldn't keep a relationship going. And I had a fear that if I stuck around I could sort of end up like him.
So, he left. But the transition to Los Angeles was not smooth. Nick was living in a friend's unfinished basement, drinking a lot and taking any acting parts he could get. His first gig was on a Nickelodeon show called KaBlam!
COLONEL KUDZU (character): Hey little peanut putter. You look hungry! Here's a putter pretzel to tide you over.

NO: I played the antagonist Colonel Kudzu.

KUDZU: Okay divet-head, prepare for pulverization.
It was a kids show, part-animation, part-live action, with the vibe of writers room where everyone might've been high.
NO: There was this really funny crazy uh wonderful artist working on the art department named Pat Roberts. And uh we met when I walked in the first day he was making a picket fence and he was drawing knot holes on it with a marker and he was making them say 666 and I said "Hey man let's be friends." He was a fellow weird man.

AS: A fellow weird man. [laughs] That's a funny way to put it.

NO: A hundred percent yeah. Uh… for a couple of years that's what I did. I tried to find my way through auditions and meetings but didn't have a lot of luck. And finally the way out was I said I just have to do a play. And I did -- I found a play to do and that's where I met Megan Mullally who quickly it became clear to me um I wanted to marry and that pretty much saved my life.
Megan Mullally, who Nick would eventually marry, was just wrapping her second season playing Karen on Will & Grace.
KAREN WALKER (character): Well honey, you know if you want people to like you, you have to buy them things.

JACK: Karen, that is so superficial.

KAREN: Honey, why do you like me?

JACK: What do you think I should get him?

NO: I knew about Will and Grace but I hadn't seen it. There's a defense mechanism to Chicago theater where you look down at New York and L.A. And so of course I sort of developed these prejudices before I met Megan. And on the first day of rehearsal we get. You know there was a big cast. There was 20-some of us. And we sit in a big circle and read through the play. And so you know immediately it was like ok you look very cute but you know you're not going to win me over cause I know you're on TV. And and then uh...

AS: You were a snob.

NO: Yeah I was a dumb snob. And then we started reading the play and I said oh you're amazing. Like you're a classic comedian. You are, you're top drawer. And so after that read through I approached her and said hi I'm Nick. That was super funny. I think this is going to be really fun. And unbeknownst to me the rest of the cast was was very cowed because they did have televisions and they were star struck by her because Will and Grace was a couple of years in and so they were you know they were star struck. And so I had no idea that I was the only one that actually approached her that day and made friends with her.
Nick and Megan have been married for 15 years now. She's 11 years older than he is and despite their different circumstances when they met, they did have some things in common. They both started out in Chicago theater, and they were both big fans of Tom Waits.
NO: and she said, oh not only have I just recorded some Tom Waits songs with my band. I'm also old friends with Tom Waits and his wife. And like just...

AS: I'm also old friends with him.

NO: Yeah.

AS: That's pretty good.

NO: It was pretty. Yeah.

AS: That's a good line.

NO: And that's representative of just sort of everything went. And and it was terrifying to me because I really. I didn't, you know, it wasn't cognitive, but I held myself several classes beneath her. You know she was wealthy. She drove a Range Rover. She lived in a world that I had never, into which I had never dipped a toe, you know.

AS: Yeah, well, just thinking about like you're living in a basement struggling and falling for this famous woman. Like ho- was there a part of you that was just like... did you have moments where you were self-sabotaging and talking yourself out of making the move?

NO: No… It had to do more with... I mean looking back and analyzing it. I can see a sort of bifurcated brain. I mean, uh it was placing faith in the fact that even though I was aware of my shortcomings and my foibles and my lack of things like a cute haircut. That someone amazing out there could think I was terrific. But it really I mean I'm sort of getting sweaty remembering it.

AS: In what ways have you noticed the age difference in your marriage?

NO: Hmm. When it became clear that we were becoming an item, people in both of our circles said, you know, are you okay with her being older? Are you okay with her being so successful? Uh and in both instances, the answer was yeah, I mean I'm totally ok. Like this is it. I mean, there wasn't really a lot to consider because it felt so right. And just by nature of her being on the earth and in the business 11 years longer than I have been is something I've benefited from incredibly. She's she's tackled so many obstacles years before me, often with me on her arm, um I suppose in a male way, in a traditional male way, it would be easy to bristle at that and say, you know, don't tell me what to do, I'm a man. You know, I'll figure it out for myself. But luckily, I think thanks to my upbringing, I have I have the wherewithal to take directions from whatever gas station is offering them.
Nick grew up in a community where asking for help and pitching in was part of the deal. He's from Minooka, Illinois where his grandparents and then uncles ran a family farm. His dad was a teacher and his mom was a nurse. Nick is the second of their four kids.
NO: We had a large garden you know, they did a lot of cooking and baking. And my mom made clothes for us so I liken it to the Little House On The Prairie in the 70s.

AS: I'm having trouble picturing that a Little House on the Prairie, but in the 70s.

NO: Yeah. With the bigger bigger mutton chops. But looking back on it I'm so grateful because my family taught me so many lessons because of that and I learned to have a good time without spending any money which has served me really well. Like you'd be hard-pressed to put me in a circumstance that I'd be miserable.

AS: What were you like as a little boy?

NO: Um delightful. And incorrigible. I was... I was a brat. I spent my youth in a wonderful wholesome family uh testing the limits And so I experimented with lying to people with stealing stuff. You know I was, I did some shoplifting and I I really, in hindsight, you know, it's really weird to analyze, but I mean, but I really was just kind of like seeing what I could get away with in this world, I guess.

AS: When did you begin to have a sense that you were not going to stay in Minooka,Illinois?

NO: Probably in high school like in early adolescence I was an altar boy in the Catholic Church and that's when it began to occur to me that I was not one of this group of conformists as it were. Like just vaguely I had this idea that I 08:00 I don't know. I needed to look elsewhere for my life's path. And I knew I had a penchant to perform. I wanted to entertain people.When I started looking at colleges I found out you could go to theater school and I met some theater students who told me that you could get paid to be in plays in Chicago. And that was a massive epiphany. I mean I just ran home and said Mom Dad I want to go to theater school. I can get paid. It's a job.
The idea of studying theater was definitely a novelty for Nick's family but his parents were supportive. And even though Nick says he wasn't a very talented actor at first… it did immediately give him a sense of purpose that he hadn't felt before.
NO: Instead of just seeing what I could get away with and still be an A student I suddenly wanted to ace every class, I wanted to read every book cover to cover, like I found my jam. So when that shift happened I almost immediately called my dad and I said, Dad, I'm really sorry for how I've been. Um I would I'd say I was, as a kid, I was also scoring in the low 90s. But that 7 to 8 percent was me out like vandalizing the high school or like you know seeing how much drinking I could get away with or whatever. And I called my dad and said I am sorry about how I've bristled against your teaching. And I immediately recognized the value of what you and mom have given me. And thank you.

AS: Hmm... I'm so struck that you as you found your footing as an 18- 19-year-old kid you were moved to apologize to your father.

NO: They're just incredible. I mean they never flagged, they were, they blindly supported me, bless their souls, while I was like screwing around and you know figuring out how the the Beatles White Album would steer my life.

AS: When was that period?

NO: From college kind of through my Chicago years. I I spent a lot of time sort of shedding my um my my middle American skin as it were. And so I had to let the world know, but really it was for me, that I was, that I was not a a buttoned-up conservative from a small town. Even though that's what I was.
--
Coming up… Nick Offerman talks about sex in his marriage. Something he and his wife have been really open about...
NO: The older we get the less mystery there is around our sex lives. But the more gratitude.
Speaking of sex, one thing a lot of you have been emailing us about lately is sexually transmitted infections.
LISTENER VM 1: I just remember laying there on the table with my legs up in the stirrups and hearing him say: herpes.
Many of you told us that it's easy to feel alone after a diagnosis. But the stats say you're not. In California, where I live, rates of gonorrhea, chlamydia, and syphilis hit an all time high last year. And nationwide, STI diagnosis rates have been climbing for the last five years.
But of course, behind those numbers are a lot of very private experiences and, those can often involve shame, surprise, and awkwardness.
LISTENER VM 2: You should always disclose when everyone has all of their clothes on because that definitely leads to some interesting and negative reactions
We want to hear more of these stories. Tell us about learning to live with an STI or disclosing one to new sexual partners. We also want to hear how STIs have affected other parts of your life, like, how you talk to your kids about sex, the ways you feel about your body or how a diagnosis has impacted your finances.
Send an email or voice memo to us at deathsexmoney@wnyc.org.
On the next episode, we're wrapping up our summer dating series, Hot Dates, checking back in with the listeners we've been following all summer long, and hearing some of the stories you sent us.
CELETE: "After talking for about 2 hours, we leave the coffee shop and run into a classmate that is in the same PhD program as him. They exchange niceties and then she says 'Oh my gosh, I forgot to ask about the baby. How are you doing?' he gets visibility uncomfortable and says 'oh yeah, the baby's great, she's at home with her mom…'"
--
This is Death, Sex & Money from WNYC. I'm Anna Sale.
Nick Offerman and his wife, Megan Mullally, have a book coming out this fall, about their marriage, called The Greatest Love Story Ever Told. And a few years ago, they went on the road, to talk about their sex life, in a variety show called Summer of 69 - No Apostrophe. And warning, the show, and the clip I'm about to play... get pretty explicit.
MEGAN MULLALLY: The sun is on fire and my pussy is too. We've got a steamy fuck party for you.

NO: The moon is up and so is my dick. The bush in my pants is impossibly thick.

MM & NO (singing): Summer of 69, summer of 69...

AS: When when did you learn how to talk openly about sex?

NO: Oh gosh. Well, I feel like I've always been mouthy if you put me in front of an audience. And so I feel like I've been talking about sex publicly more successfully than I have privately. When I was a teenager there was all of this mystery around sex, and even my prospective partners, who were often older than me as a teenager. I was one of those guys who the seniors took a shine to, which was wonderful, you know, they were they gently taught me the ways of lovemaking, but they would say things to me like, I would say, you know, I would ask questions about technique or geography and --

AS: Geography. [laughs]

NO: And they would say, "sh, sh, sh don't talk about it, you'll ruin it." And you know, I would say, well I'm ignorant here, like I'm trying to, I want you to help me do better. I mean you will benefit if you, if we can talk about this. And so that I don't know, there's this weird old-fashioned sensibility that you're supposed to inherently know how to be good at love making, and I certainly wasn't born with that knowledge. But there's absolutely no shame in saying like, hey let's let's do some of these things to each other's bodies and tell me, do you like this? Do you want me to do this or what do you want me to do? You know, what do you like? And if I I feel like I would have had a lot less clumsiness in my youth if somebody had told me that.

AS: It's sort of interesting that like, to think about being a teenager who's in theater who's like used to being directed that like thinking about you're really comfortable saying I'm not really sure what I should be doing with my body right now. Help me.

NO: Absolutely. I mean if I had known I would have asked for notes after every performance.

AS: What was your love life like before you met Megan? Did you do a lot of dating?

NO: I wouldn't say no I've never been much of a dater. I saw music videos as a teenager. I remember specifically the videos of David Lee Roth that instructed me if I could make my way to California, I might find myself in a convertible with lots of ladies in bikinis. And so I had this sort of idea that when you grow up you know that's a goal. That's that's what a love life looks like. And my uh, the sort of solid relationship of my parents uh thankfully always took root in me. And so you know I always tried to be decent in my relationships. I was much more of a boyfriend type than a than a hound dog. But before I met Megan there was always that part of me that was like I'm not mature enough yet to to take this for the long haul.

AS: Having come from a family that sounds like it was pretty traditional... when you first got together, how did you talk about how did you talk about the kind of family that you could have together, and wanted together?

NO: I mean, I don't know… feel like from the get-go we were sort of two lone wolves coming together. And even though we did talk about having kids and like looking into a more traditional family in our, in the early years of our relationship, it kind of became clear that both of our lifestyles were going to be very itinerant. We were lucky enough to get a lot of work all over the place, and I don't know, we just sort of naturally settled into a life together without pursuing a you know sort of nuclear family household.

AS: And I'm I'm guessing here, but do you have a bunch of nieces and nephews?

NO: I have five nieces.

AS: Five nieces. I just want to be able to picture what it's like coming to Uncle Nick and Aunt Megan's house.

NO: Well, I I think it must be there must be a touch of like Disney meets MoMA to it. Because you know because all the households of our family you know have a similar aesthetic and vibe. They are they're rooted you know, there's the charisma of a of a working class family raising kids. Everybody has a healthy garden, you know. Everybody cooks... They're wonderfully charming. And then when they come to our house which is on top of a hill in Los Angeles there must it must be an element of fantasy to it. I would guess. That's one thing that I'm aware of, living in Los Angeles, away from my family and away from Megan's family, is that we miss out on that everyday life where you know we know the everyday habits of our families which are often infuriating. You know it goes without saying that that's not always a wonderful thing but it is a comfort that that we do without. And you know that's our choice. And we find a happy life outside of that. But even, I'm 18 years in now. To this day I wake up next to her and really everyday I think, 'I can't believe this happened to me.'
That's Nick Offerman. He's hosting a new crafting reality show on NBC called Making It, alongside his Parks and Recreation co-star Amy Poehler.
He also was in a lovely movie that came out earlier this summer called Hearts Beat Loud, in which he plays a widowed dad who forces his daughter to be in a band with him the summer before she goes to college.
And that memoir with his wife Megan, The Greatest Love Story Ever Told, will be in bookstores this October.
Death Sex and Money is a listener-supported production of WNYC Studios in New York. I'm based in Emeryville, California at the studios of the investigative podcast Reveal. Our team includes Katie Bishop, Anabel Bacon, Stephanie Joyce, Emily Botein, and Andrew Dunn.
The Reverend John Delore and Steve Lewis wrote our theme music.
I'm on Twitter @annasale, and you can find the show on Facebook, Twitter and Instagram at death sex money.
Nick and Megan don't have kids, but they do have dogs.
NO: Megan rescued a little poodle named Willa shortly before she rescued me, I like to say. And then we got her a little lieutenant named Elmo and they're both small poodles. Umm...

AS: That's surprising to me. That's not the the dogs I would picture in your household, somehow.

NO: No. I understand that. But I have to say they're really dreamy.
I'm Anna Sale, and this is Death, Sex & Money from WNYC.
Copyright © 2019 New York Public Radio. All rights reserved. Visit our website terms of use at www.wnyc.org for further information.
Music Credits:
"Farsical Thematic" by Blue Dot Sessions
,
"Even Dreams of Beaches" by Blue Dot Sessions
,
"In Shallah" by The Reverend John Delore
,
"Building the Sled" by Blue Dot Sessions