My Sex Life Became A Screenshot. Then I Lost My Job.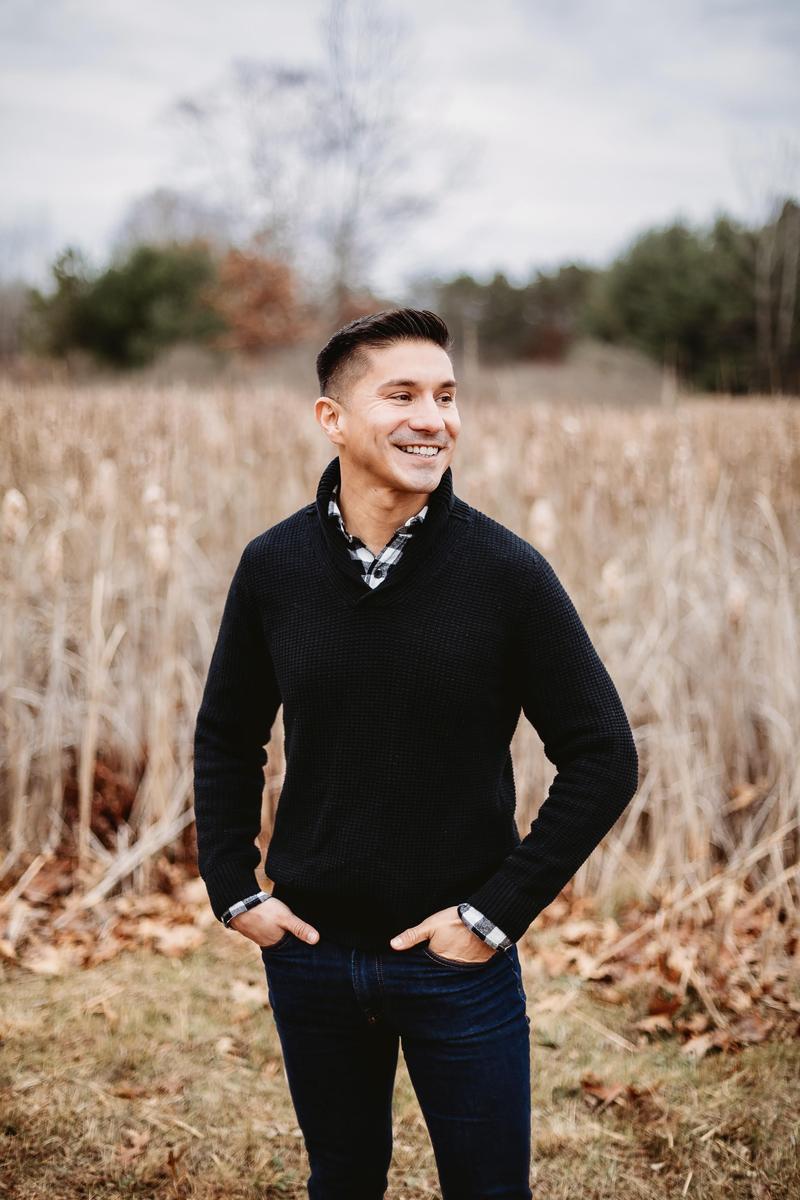 Transcript
Erick: Since my story has come out and people have seen or heard whatever they've come across, there's a mixture of support, and then you would have this random message calling me whatever name to degrade me, and then saying, you want some more? Like, I can be your daddy. I can, you know, no. Like I just lost this job that I really loved, I'm humiliated, and you think I enjoy this.
(opening theme for Death, Sex & Money)
Anna: This is Death, Sex & Money.

The show from WNYC about the things we think about a lot and need to talk about more. I'm Anna Sale.
Erick Adame was a weatherman on TV for more than 15 years.
Announcer: Meteorologist Erick Adame is here with the first look at the forecast tonight. Erick?

Erick: Yeah, this is a nor'easter that's going to be just off to our east here tomorrow night.
And then in September 2022, Erick was fired when his employer found out there were graphic videos of him circulating on the internet.
Erick had been going on webcam for many years, performing sex acts in real-time for strangers on adult websites. He did it for pleasure, not for money, and even though there were people watching him, Erick thought of camming as part of his private sex life.
After he was fired, Erick apologized to his employer, the local New York City news channel NY1, in an instagram post for acting out what he called "compulsive sexual behaviors online. But he also tried to make clear he was not ashamed of being openly gay and for having a sex life.
Erick: I don't apologize for being sex positive, but I apologize cuz as a role model, and I know that comes with the job, like there were just certain things that came with the job that I had and I personally felt like this wasn't in line with those expectations.
Anna: When he came in for our interview, it was his first time back in a broadcast studio in a long time.
Erick: Uh, it was a little bit hard to, to, to kind of experience, to see, to even the smells of a newsroom. Uh, yeah, it's, it's tough because I, I really do miss it.

Anna: That like smell like old coffee and like piles of recycled printer paper. (laughs)

Erick: (laughs) Exactly.
Anna: In the six months since he was fired, Erick has been thinking back on how it came to this, and feeling the loss of his career as a TV weatherman, a dream he's had since he was 7. His family had moved from southern California to Albany, New York, and the change in weather fascinated him.
Erick: I went as far as putting stuff on a whiteboard and, and presenting it to my family. And my mom, my mom ran a daycare out of our home, so we had parents coming in and out picking up their kids. Uh, and as the parents came in, I was like, did you know that there's a snowstorm coming tomorrow, and that we could see six to eight inches of snow?

Anna: That's, that's very sweet.

Erick: Yeah.

Anna: Um, and what, so did you have, tell me about your family growing up. So your mother was running a daycare in your home. What did your dad do for work?

Erick: So, my, my mom and dad separated when, uh, I was an infant. So I had my, my stepfather that I grew up with. And my, my, uh, stepfather was a district manager for Payless ShoeSource. And he did that for a really long time. Uh, so, you know, Hardworking family.

Anna: So I wanna be able to picture, so now I wanna move into like, Teenage Eric. Um, we, we are, um, I'm a little bit older than you, but I feel like what I remember about like the internet when it came into my school and in my life, I was in, really in like eighth grade or ninth grade, and like to at once be learning about the internet, and also at this pivotal time as a teenager of like wanting to have private space apart from my parents, it was like jackpot. Um, how did you use the internet when it first showed up in your life?

Erick: I knew probably before we even got our first computer, uh, that I had, uh, like that I was attracted to men. I knew that pretty early on. But the internet definitely opened up a whole bunch of opportunities to explore that in different ways. And one of them for sure was chatting, uh, AOL had these like very weird chat rooms and you could just chat with other men that are interested in men.

Anna: Where in the house was the computer?

Erick: It was up in their office. So they had, like, they have the master bedroom upstairs, my bedroom's downstairs. So my, my parents were really big into fitness, so they went to the gym every day. And that was like my hour and a half, two hours. So the house to myself. So I'd sneak upstairs, turn the internet on, you know, or dial in.

Anna: Uh-huh.

Erick: And uh, just kind of explore.

Anna: Yeah. Yeah. And you were talking to, do you think you were talking to both other young men and adult men?

Erick: Oh yeah. I, I mean, I remember saying, uh, that I was. You probably remember this in other chat rooms because it's not just the men for men chat rooms, they're chat rooms. in general, you would say your age, sex, and location.

Anna: And totally lie, lie about all of it. (laughs)

Erick: (laughs) And you lied about all of it. Uh, so I would say for whatever reason I thought 17, like I think I was 16 and I was, I would add a year because I like, ooh, like now I'm 17, uh, people will talk to me and it worked. Uh, and I'll add that my family, I came out to them when I was 16.

Anna: Uh-huh

Erick: Because actually of the internet, um, mom figured out that I was, uh, sending messages back and forth with someone. Uh, it got left on the computer. She asked questions about it, so we talked about it.

Anna: Oh, so it was like a digital trail that outed you to your mom. Uh-huh

Erick: Uh, my mom's actually from Mexico, and the town that she's from, it's way down into Mexico, is a very Catholic town where everyone goes to the same Catholic church. Um, I even did my confirmation there. So yeah, we were religious, I did my communion and my confirmation. So when my mom found out that I was attracted to men, she, uh, yeah, told me that I should, you know, keep this to myself for now until we figure it out, but that she went and talked to the priest at our church that we were still going to, and he was, I guess he would be really progressive because this is a long time ago. And, uh, he told her that being gay was not a sin, but acting upon it is. That's what I took from that. So, uh, you know, I think in a lot of ways that ends up contributing to the, the secrecy of everything. It's like, you know, they're telling you it's okay to have this feeling toward men, but you can't do anything with it.

Anna: Yeah, I was gonna say that doesn't, that doesn't–

Erick: So, so what, I stay alone for the rest of my life? What do I do to get this.

Anna: Yeah. Like on, on the one hand I hear you that he's not saying because you have these thoughts, you're condemned to hell and you're bad. But like, you can't, you have to hold it all and not do anything about it.
Anna: Erick went to college in upstate New York. He was the first in his family to go. That was a big deal, and for Erick, it was also a big deal to be on his own and totally out.
Erick: I didn't hide it at all in college. I went in and was like, I am a young gay man, uh, from this part of upstate New York. And that's just, that was my identity. And I, I met, um, I met some guys I was in college, um, just like, you know, a little fling here and there. But then I, within a couple of months met some, one of my, I guess one of the flings turned into a, a long-term fling and became my boyfriend for three and half years who was just someone who lived in the town where I went to college.

Anna: Yeah. And it sounds like that wasn't secret in any part of your life that was like–

Erick: No, I mean, he, hung out with my family. He came over for Christmas. My mom was buying him Christmas gifts as if she was part of the, you know, he's part of the family. And so I think maybe even just, you know, once the ice was broken and, you know, she saw like, oh, it's like, just kind of like any other relationship, right? So no big deal.

Anna: Were you always out when you were working at television stations?

Erick: Yeah. My first job was at KAUZ, which is Wichita Falls, Texas.

Anna: Uh uh

Erick: Which is, if anyone doesn't know that, is pretty much two hours north of Dallas or two hours south of Oklahoma City, right on the Red River, but yeah, I was out and openly gay on air. Although I would say I didn't really talk about it. Like, I wouldn't say I'm hanging out with my boyfriend this weekend, or I hung out with my boyfriend this weekend and we had a lovely time at the beach or whatever. Like, I, I don't think I said anything like that until years into my career.

Anna: Was there any explicit guidance from your employers at any point in your TV news career about whether or not they wanted you to acknowledge you were gay on the air?

Erick: No, you know, surprisingly, there really wasn't. The only guidance that I ever received was a little bit about my hair uh,

Anna: what was that

Erick: That was, it was too short. Uh, and I looked, uh, too young. And then I think one time, uh, a news director suggested in a, in a, I don't even know if it's a suggestion, a very stern suggestion that I not wear dark colors because, and that was a little awkward because it was about the color of the tone of my skin.

Anna: Uh huh.

Erick: So I was advised to wear lighter shirts. I can wear a dark suit, but lighter colored shirts.

Anna: I see. But it sounds like it was sort of a clumsy, convers–was it? Was the news director a white person?

Erick: Yes. I'm gonna, I'll be honest how the conversation went, because this is what this is about, right? So he actually said to me, uh, I think you should wear light colored shirts because the dark colored shirts make you look a little bit like you're in the Mexican mafia.

Anna: Oh.

Erick: Yeah.

Anna: So not clumsy?

Erick: Not clumsy at all.

Anna: Uh, not like I was picturing, like not wanting to be direct, but like no, you had the opposite experience.

Erick: No, it was that. It was that experience.
Anna: In 2017, Erick got his big break. He was hired to be a weatherman on New York City's local news cable station: Spectrum News NY1, or NY1 as most New Yorkers call it. It was a dream, and also a big adjustment.
Erick: When I first came to New York City, it was really hard to meet people at clubs and I immediately, what do I think? Oh, that must be the way I look.

Anna: Mm-hmm.

Erick: Because if I was what they were looking for, they would talk to me. So I felt a lot of blows to my self-esteem when I first moved here.

Anna: Would you like, where were you trying to talk to people at clubs or just out? Where, where was that happening?

Erick: Uh, like a, you know, at a gay bar that was not too clubby where you could actually talk to someone. So I just go there and they're in their group of friends and I don't know anyone and I just try to approach them and, uh, they usually didn't go anywhere. So I actually met most of the people that I know now on apps.

Anna: And how often were you like meeting up with people from the apps?

Erick: When I first moved here, I had a tough, I was working evening shifts, so it was kind of like, well, we can have coffee or we can hang out after I get outta work at midnight.

Anna: Oh, that's interesting. I hadn't thought about like, when you work an evening newscast, like you don't have the option of like an eight o'clock dinner and seeing where it goes.

Erick: No.

Anna: Yeah. Um, when did you start camming or how, what's the, when did you start, what's the verb that you use for going online?

Erick: I, I mean, I, I don't know if I used just a verb. I think I would use a phrase. Going on webcam.

Anna: Going on webcam. When did that start?

Erick: So, I mean, if you wanna think about it in a way of like, where did it come from and where did it start? So it's, I would say it's more of an evolution. Uh, going on cam is related to sort of an interest in exhibition. Um, so showing off. And why do I wanna show off? Well, it makes me feel better about myself. So for years, dating all the way back to my teenage years, I had some sort of low self-esteem, uh, ashamed of who I am because I'm gay. And showing off, and getting that type of praise and being called sexy, I wanna see more, like hearing that from someone on the other end made you feel so good.
Anna: Erick had started having sex over skype with people he knew in college. That escalated to webcamming in his mid twenties with people he didn't know, as he moved around from local station to local station. He'd perform sex acts, like masturbation, for other people online.
Erick: I should mention, through all of this I'm going to see a therapist because I'm noticing, in my twenties, a correlation between anxiety, depression and going on webcam. Like when I was at New York 1 at the beginning, I'm like, I don't know if I'm supposed to be here. Am I good enough to be here?

Anna: Mm-hmm. And when you, when you would hear back from, from the audience that you were on webcam in front of, what, what, like, how did, was it like comments that are like flashing across the screen? Like how did you, did you hear them? Like what, what was the way that it worked?

Erick: No, the, I mean, on these sites that I was on, it was just text. So they're just writing things and I remember being on webcam for, I mean, it'd be a couple hours sometimes, and for, let's say it's 120 minutes and 115 of those minutes were just boredom because no one was saying anything that I enjoyed.

Anna: What was, and tell me if this is too private, but what were some of the things that you really wanted to hear?

Erick: I think I just wanted direction. It switched, I think I, it switched for me, like, I think initially it was asking for praise, basically. Tell me how sexy I am, how hot you think I am, where it was just like, wanting to be told what to do, which didn't make me feel good about myself. But if I was sitting there for a while and there just, you just weren't being direct enough with me.

Anna: Mm-hmm.

Erick: You're being too, like, nice. It's almost like, almost like I felt like I wanted to be degraded or, um, maybe objectified in a way.

Anna: Mm-hmm.

Erick: And that's why I almost felt like, what, what am I doing?

Anna: I mean, power, playing with power dynamics is like a thing in sex. So I, I think that like, um, it makes sense. I think the thing that, that you're, you were doing this in an environment where you were, where the people who you were having those power plays with, like that they were strangers.

Erick: Yeah.

Anna: When you would, did you always show your face?

Erick: No. So I would always go back and forth with that. I know that showing my face, regardless of what my job is, not a great idea. But it just wasn't the same. It wasn't as fun

Anna: mm-hmm. Because you want to show, you want like that affirmation about how your whole self looks. Including your face.

Erick: Exactly. And I thought my face was handsome. So I was like, I wanna show my, this is, if I'm looking for praise, this is one of my best attributes. I was gonna show it, but I would go back and forth on it because I knew it was a bad idea. So you have those, like, you know how you have like the devil on your shoulder and the angel on your shoulder.

Um, and there were definitely times when I would go on cam and I would, like, Nope, you're not gonna show your face today. You can go on cam, you know, I kind of put guidelines for myself, um, and then inevitably, you know, maybe through excitement or whatnot, um, or not getting what I need out of it, I show my face.
Anna: Coming up, Erick's private life explodes into his public life when someone sends graphic images of Erick to boss, and his mom.
Erick: I have so much anger toward that person, cuz I just don't understand why. Why would you want to upset someone by sending that, those images to someone's mother?

(End of First Results – Blue Dot Sessions)

(Death, Sex & Money midshow theme)
Anna: As we've been hearing in this episode, how we think about sex, and what we want, is shaped by many influences outside of our lived experience, the internet, social media, pop culture, and movies.

Movies and sex is a theme we're working on for an upcoming episode. We asked you to send in stories about moments in film that awakened your sex drive. Like, did you ever see the 1984 movie Purple Rain?
Listener: I've watched the movie several times, gone back and looked at this, and to this day the way that his hand is running up her thighs, and just inside the edge of her panties, and her head is thrown back across his shoulder in abandon, and her arms are lifted – the whole thing. I cannot tell you how many times I tried to recreate that, just alone or with a partner. Craziness.
Anna: Oh Prince. Our team has loved hearing your voice memos and we want to hear more – in particular, we want to hear about the movies that showed what you definitely didn't want in sex, maybe a sex scene was too sickly sweet or too rough, or the consent was murky at best, or maybe you realized you didn't want to have sex with someone of the opposite sex. And we've been hearing from a lot of women in our audience–thank you for showing up–and we want to hear from the rest of you too! Record a short voice memo about your movie pick, what characters or scenes stand out, and how this movie made you look at sex differently. Then email it to us at deathsexmoney@wnyc.org.
(end of midshow theme for Death, Sex & Money)
Anna: This is Death, Sex & Money from WNYC. I'm Anna Sale.
Erick Adame's sexual behavior online became more risky after he moved to New York City. Sometimes he even talked about being an employee of NY1 while he was on webcam. But even as his behavior became more brazen, he still thought of webcamming as a secret, and something he'd eventually be able to shake.
Ultimately Erick did stop, but not in the way he wanted. The last time he camm'd was December 28th 2021
Erick: It's a few days after Christmas and I'm single.

Anna: Mm-hmm.

Erick: I just ended a relationship. I was well, I didn't end the relationship. I was dumped.

Anna: Mm-hmm.

Erick: Those are so much harder. Anyone who's ended a relationship, it is a lot harder to be on the "you got dumped" side than the "dumping" side Uh, there's that sense, uh, that feeling of rejection. Even though they may have been horrible to you, you wanna like beg them to come back to you. So that happened in the fall, a couple months later, it's Christmas. Um, I was home with my family, um, who I'm close to. You know, my mom, my brothers, they each had their partners there. Um, my brother and his girlfriend, my brother and his wife. and it was, and it was just me. And I always feel like I come home with a different boyfriend every other Christmas and just all these things, and compared to my friends, they have families and kids and I was just feeling a certain way. I'm in my late thirties and I just can't make relationships work. And I went home, uh, from upstate and was home alone. And I have a roommate, but he was out of town. So I was just by myself and what do I, what does Erick do when he feels this way? What can make him feel better? And so I went on webcam, but this was very different this time.
Anna: Someone watching Erick on webcam recognized him from TV, and posted about it with a link to the webcam session as it was happening.
Erick: It quadrupled every couple of minutes and before I knew it, there were hundreds of people watching.

Anna: I see, the New York City weatherman is live now.

Erick: On cam.

Anna: Go see.

Erick: Yeah.. So like, I, you know, up until then it did feel like I was private and in this enclosed environment. But then, then I, then I wasn't suddenly. I was in this very public environment, um, which is why that is the last time I've ever gone on camera. That, and I know the date and I'll probably never forget it.
Anna: Erick logged off but someone had already recorded it and taken screenshots that later showed up on other adult websites.
Erick: And I'm, you know, panicked.

Anna: Secretly. Does anyone know?

Erick: No one knows I didn't tell a soul. And I'm panicking and doing everything I can to get it all taken down.
Anna: Erick contacted the websites where the photos were posted, and the administrators took them down. A couple of months passed, and things seemed quiet until one day in June, when more photos appeared online with Erick's name. These images were from a webcam session several years before, which made Erick realize what he'd thought were private, real-time interactions, in fact, had a long digital trail. Erick contacted the site administrators to get the photos taken down, but when they did, a new batch would just pop again.
Erick: I just see new accounts are created and they're posting the same pictures over and over and over again.

Anna: Mmm.

Erick: To which I concluded or made the assumption that it's the same person that is just obsessed with posting these pictures of me.

Anna: Mm-hmm. Are the images that are being posted online, are they like, uh, do you appear like you're engaged in a sex act? Like are they–

Erick: Oh, absolutely.

Anna: They very, they're very graphic images. Mm-hmm.

Erick: They're, they're graphic. They're, I mean, just some of them are so humiliating like now.

Anna: So you have this, you're, you're frantically, and when does it like, burst through into your life?

Erick: So in June, I get called into HR at NY1.

Anna: You get an email, like, what's the way that that happens?

Erick: Uh, she emailed, the HR rep emailed me and said, uh, can I please speak with you today? And I go into the office and they said that they got an email, with a link to a video recording of you on webcam.

Anna: Mm.

Erick: And, so I was told like, can you get this link taken down? And we really need you to make sure that stops. That you get rid of everything, and a warning if anything else comes up, we might have to take action, disciplinary action, which could include termination.

Anna: And what was the rule? Like, why?

Erick: There's a part in our contract like a lot of TV people have where it sort of touches on morality. Uh, moral turpitude is a word, or a couple of words there, that are often in there, like you're bringing scandal or scrutiny upon the station.

Anna: So in your contract you are not supposed to behave with moral turpitude. I just looked it up because I'm like, turpitude, what is that?

Erick: Yeah.

Anna: Um, and it, depravity, wickedness, like, uh uh, without morals is the insinuation there.

Erick: What's interesting about that is like in moral turpitude, it's sort of determined based on the masses. So it's what, you know, it's a moving target in a way. There's no set rule for it. Like this is immoral today. It actually, with moral turpitude, it could be immoral and now moral, like fine. Um, so, uh, I have this meeting with HR because they receive an email with a video link. I get the link removed. And everything's seems, you know, for now, okay. But three or four days later, my boyfriend, and I have a new boyfriend at this point. We just started dating, and he gets an envelope in the mail with three printed images of the screen grabs of me on camera.

Anna: In the mail.

Erick: In the mail, like regular mail, with a note, with a little piece of typed out paper that says, just want you to know what you're getting yourself into.

Anna: Hmm.

Erick: And I think he called himself a concerned friend. About three weeks later, my mother gets three images in the mail.

Anna: Your mother.

Erick: My mother, and that was, I mean, we've heard the history about my mom, and our relationship, and she calls me and is very upset, not because I have these images of me that are out there, but because she immediately is like, who is doing this to you?
Anna: Erick still doesn't know, but he's trying to find out. He got a lawyer to try to get the website where his images kept appearing to hand over the poster's IP address. And police are investigating, but it's not clear if Erick is the victim of a crime. In New York and New Jersey, where Erick lives across the river from Manhattan, "revenge porn" laws only apply if the sexual content being disseminated was originally created with a quote "expectation of privacy." Like, bedroom photos, for example. Camming is different than that.
At the end of the summer of 2022, Erick's bosses at NY1 called him into HR again. They'd received more explicit images of him in the mail, and he was suspended without pay. NY1 declined to comment when we reached out with questions. A few weeks into his suspension, Erick was called in one last time, and fired.
Erick: And when I, when it was my turn to ask questions, I said that I was really upset and that I loved what I did. It was like my little speech, I'm like, I love you guys, like, it's sort of like, like what I was saying, I, I've said before like a breakup where someone breaks up, they dump you and you're begging for them not to leave you. That's what it sort of felt like. And um, I got nothing.

Anna: And I wanna just understand, you've, you described that you, at least at the end of 2021, you were living in an apartment with a roommate. Like for you to get suspended from work without pay, um, how quickly did that become a financial emergency?

Erick: So, um, it was actually September 1st, I moved in with my boyfriend.

Anna: Mm-hmm. Low pressure, time to move in together, sounds like. (laughs)

Erick: (laughs) Right? So it was, uh, that date is like, that's the day that the new lease started and that's the day that I was suspended without pay. Uh, and um, I did end up, you know, taking, doing what I have to, taking some money out of my 401k to survive and it's been absurdly hard. So on top of the humiliation, the, just the struggle to find a job when your entire existence in the professional world is on television, and you can't really go back to that right now because, it's, you have to find the right news director to look past it.

Anna: And so in the midst of that, you, you have like a couple of choices when you're put on leave, you can just kind of like, kind of go, go very private, stay quiet and wait to see what happens next. Um, or you can try to communicate publicly something about what your experience has been. Um, why did you choose to sort of speak back to what your experience had been and talk about this?

Erick: So it was, I work in a newsroom, or, you know, I did at that point, full of little investigators, (laughs) right? Uh, it's hard to keep a secret in a newsroom, and I will say I have a lot of good friends that work in that newsroom. Um, it, it was part of why going to work every day was so easy and fun for me, but from some of them, I started receiving some texts, checking in on me, and, uh, a phone call where it came up like, you know, I heard that there might have been some, you might have been in some porn, and, you know, if whatever help you need, you know, let me know if I can help. And so I'm hearing these narratives and I'm realizing they're, they're not right.

Anna: Mm-hmm.

Erick: And I kind of felt like if I didn't say something that I didn't know which way they were gonna go. So I decided to speak up.
Anna: Erick posted about losing his job on Instagram, and it was shared widely.
Erick: Just comments alone on Twitter or Instagram, 98% of them are "I don't think you should have lost your job, you did nothing wrong."

Anna: Like, when you think about the feeling of like this outpouring of like, this isn't, this isn't a good reason for you to lose your job, you know, um, like a, an outpouring of support. Like what do you, do you think you made mistakes?

Erick: Yeah, I think I, I think I made mistakes. I know that because I feel regret and it's not regret, uh, as far as um, like expressing my sexuality. That's not the regret. Basically what it comes to is, as a news person, I live under different rules. Whatever you do, everyone sees, and you're judged upon it and there's just this different set of expectations. But I've learned a lesson. Um, it's just unfortunate it was too late.

Anna: What's the lesson?

Erick: The lesson was just to be more careful and about privacy. I don't, this, this wouldn't, there's a lot of ways to, for me to have uh, received what I was seeking out. Like I was looking for this type of external validation, there's a lot of safe ways to do that, a lot of ways that didn't put privacy at risk.

Anna: Mm-hmm.

Erick: And the internet is, you know, a place where I don't think privacy exists anymore at all.

Anna: Yeah, I mean that's, because you're making me think about like, and one on the one hand when you talk about moral turpitude, it sounds like you, um, are facing consequences for your sexual behavior. Um, on the other hand, if you, you know, for years and years and years had regular hookups with people you met on Grindr that weren't online and you, you know, you got the same sort of like, sexual release from, from a sort of power dynamic in those exchanges, like it wouldn't have had the same outcome because there wouldn't have been a link, you know.

Erick: No, exactly. The fact that I chose to kind of fulfill these needs in this sort of public way just didn't work out for me. I will say too, one of the other things that has come up, what I hear from gay journalists, gay men that are journalists, uh, because you brought up meeting a lot of people on Grindr and often there's an exchange of nude photos pretty quickly.

Anna: Mm.

Erick: And some of the concern I've heard from journalists, they have said to me, I'm so sorry that this happened to you, because this is actually a huge fear of mine. Because I'm on Grindr and I'm trying to meet people and I just never know who's gonna take my face pic and somehow, you know, tie it to a nude photo that I send and do something like this to me, where they expose me or they try to get me fired or try to make it public and humiliate me.

Anna: What do you say back to them?

Erick: I've said, uh, one, I appreciate the support because they're, you know, they're always so supportive and, you know, and, and saying they're so sorry that this happened to me, but I, I tell them that they're absolutely right. I don't, I don't think that there's a way to say, no, you're worrying about nothing or it's gonna be okay. The reality is someone can prove that it's you. There are websites out there that even if you didn't even tell them your name, facial recognition, they just put that picture and that facial recognition and they'll know everything about you. And if you've sent any nude photo and they can tie it to you, it can happen. And it's not that hard.

Anna: What's it, what's it like on a, like on a regular weekday living with your boyfriend? I mean, it sounds like it's been a stressful, stressful time to learn how to live together.

Erick: So right now, um, I try to get regular sleep. Even though I'm not working, I try to get up. It's certainly not the 3:00 AM or 2:45 AM wake up call that I used to get. Uh, it's more like 8:30, which is amazing. Uh, but I get up, I have my coffee, uh, boyfriend gets up, uh, he has his coffee, gets ready to go to work. I stay home and I look for jobs. So I keep busy. I'm going to the gym. I am taking a computer science course right now in data analytics, and so I'm trying to learn a new skill because I know that if I can't get a job in weather, that I can, uh, fall back on this new skill that I'm learning. A lot of people, if this happened to them, they might've just rolled over and been like, I'm done. Uh, I wanted to. I wanted many times to quit and just give up. I've cried, lots of crying, but I keep going and I am trying to rebuild, reinvent myself. And weirdly enough, no longer do I need that external validation.

Anna: Hmm.

Erick: Uh, you know, if there's, there's a silver lining in this, it's, I need, I'm finding validation from within because this rebuilding and reinventing, you know, I'm working towards something.

Anna: Mm-hmm. And in your sex life now, like is the internet part of it? Do you find things on the internet?

Erick: No. Nope. Nope. Uh, it's kind of like if you had a burrito and it, and then you got sick the next day of food poisoning and you don't long and you don't like burritos anymore. Uh, it's kind of like that for me. You know, maybe that'll change in the future, but there's definitely a PTSD.

Anna: Yeah.

Erick: Uh, from this, that happened. It has really changed a lot about who I am as far as like, the way I express myself sexually. Uh, and again, that might change in the future, but right now that's where I'm at.
(end theme for Death, Sex & Money)
Anna: That's Erick Adame, meteorologist and broadcaster, who's still looking for work.
Death, Sex & Money is a listener-supported production of WNYC Studios in New York. This episode was produced by Zoe Azulay. The rest of the team is Liliana Maria Percy Ruiz, Afi Yellow-Duke, Lindsay Foster Thomas, and Andrew Dunn.
Our intern is Baiz Hoen.
The Reverend John Delore and Steve Lewis wrote our theme music.
I'm on Instagram @annasalepics, that's P-I-C-S, and the show is @deathsexmoney on Twitter, Facebook, and Instagram.
Thank you to Emma Hollister in Brooklyn, NY for being a member of Death, Sex & Money and supporting us with a monthly donation. Join Emma and support what we do here by going to deathsexmoney.org/donate.
Erick told me he still works up a weather forecast for the New York City area most nights, and he schedules it on Twitter for early in the morning.
Erick: My thinking is all these people who, you know, were depending on me to tell them what to wear when before they get ready for work, that they're still seeing those posts.
I'm Anna Sale and this is Death, Sex & Money from WNYC.
(end of end theme for Death, Sex & Money)
Copyright © 2023 New York Public Radio. All rights reserved. Visit our website terms of use at www.wnyc.org for further information.
Music Credits:
"Lo Margin" by Blue Dot Sessions
,
"Morning Glare Slow Train" by Blue Dot Sessions
,
"Lo Margin Short and Light" by Blue Dot Sessions
,
"First Results" by Blue Dot Sessions
,
"Alarm Cycle D and B" by Blue Dot Sessions
,
"Median Point Prism" by Blue Dot Sessions