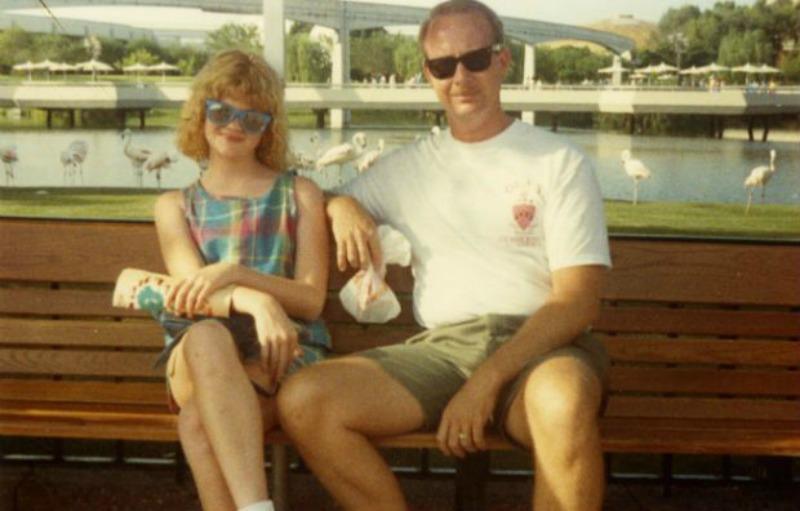 Transcript
Every once in a while, he would say these very strange things, like, if anything ever happens to me, you guys will be taken care of. Out of the blue. And it's kind of like, what would go wrong? Why would anything happen to you? But, underneath, there's this very unsettling feeling of like, I don't know what you're trying to tell me, dad.
This is…Death, Sex & Money.
The show from WNYC about the things we think about a lot, and need to talk about more.
I'm Anna Sale.
I have this photo here of my dad, asleep.
This is Whitney Joiner...we're sitting in her Brooklyn kitchen…and she's just pulled this picture off her refrigerator.
I don't know whose porch this is. He's taking a nap.
It's probably somewhere in Kentucky, where they lived when she was growing up.
No date on the back. But I like this because it's just him in repose.
Having photos of her dad around the apartment—this is new for Whitney.
Only in the last year or so, has she's really looked at what he left behind…
I have his family bible. I have his copy of Gone With the Wind, which he apparently only read 17 times.
Whitney's father Joe died in September, 1992, and there are a lot things she doesn't know about his life before that.
I just have little pieces here and there, like I have this card from somebody who is talking to my father. Who obviously knew my father is a gay man.
She doesn't know the person who wrote this Christmas card—a guy named Marty—or how he knew her father. That's a history she's just beginning to piece together. And like a lot of family of history, there's what she's been told about what was really going on, the big silences around what was never discussed, and what she does remember from childhood.
He loved to play the piano, he was a deacon at our church, and his father had been a Baptist missionary. So, his parents had both died when he was 14. So he grew up in that world. When I was really young, he wasn't really around that much. Mom was certainly the main parent in my life, and I think around the time of the divorce is when things switched. A lot of times when parents get divorced, you choose one or the other. And I chose my father. Partly because my mom, we were living with my mom, and so she was dealing with all the ups and downs of our daily lives. So it was just kind of easier to be annoyed with her, you know? We're teenagers—pre-adolescents. Whereas my dad's house felt calmer, he would take us to concerts and restaurants and he loved to cook.

So you're the oldest sister, and your brother's five years younger than you. When you felt closer to your dad after the divorce, was it a feeling of, this is where life is more fun? Or, I feel like I want to make sure he's taken care of as the responsible kid?

It was kind of both. I didn't know why they'd gotten divorced, but I got the feeling that maybe it was my mom's fault. And I didn't know exactly why that was. She also had a new relationship with someone who was now her husband, they'd been married for however long, 25 years. And my dad never had anybody else. He never dated anybody else, it felt like I had him all to myself, and it did feel like I needed to take care of him in some ways, because he was pretty hard to deal with out in the world, in a lot of ways. He could be really vain, and quick to anger. Like he would be kind of quick to get angry with service people or wait staff, that kind of thing. I always felt like I was running after him, kind of cleaning up after him. I always had this feeling of like, oh you guys don't understand, like, he lost his parents when he was 14 in this car wreck and he was in the car. His life has been so hard. Like, I just felt very protective of him.

And he was your dad and you loved him.

Of course.

And you wanted to help people in the world love him even when he was difficult.

Yeah absolutely. But then yeah, his house also just felt calmer and more, just more fun to be around. Yeah, I mean later, my mom would say things like oh, he was creating false memories for you guys. But, I think that's not a very nice way to look at it necessarily.

What do you think she means when she says that?

Oh, well he knew he was going to die, and he was kind of stacking things up.

What do you remember about him first getting sick?

It was in kind of spurts. He seemed very healthy for a long, long time. I didn't know anything was wrong with him. The only thing I knew was wrong with him was we would go to the hospital in Lexington and see this doctor. And he would get his blood drawn.

And you and your brother would hang out in the waiting room?

Yeah, we would just be in the waiting room. Because it was kind of like, oh we're going to the mall. And the movies. And just stopping off at the doctor. And he explained that he had a blood problem, and I said at one point, like, oh, Leukemia? And he was like yeah, something like that. And then the next thing that happened was, every other weekend, mom would drive us from outside Louisville where we lived to Frankfurt, Kentucky, and drop us off in this hotel parking lot with dad, like they would—

The drop off.

The drop off. They would meet us. So, we pull in, he's not there, we're like, where's dad, he's not here? He like careens in in his little black BMW, he careens in, gets out of the car, and is just out of his mind. He smells weird. He's wearing two different socks, which is very strange for him because he's a very vain man, he always looked very nice. He was acting really strange, and I thought, oh my god, my dad is drunk. And I've never seen him drunk. They never, my parents never really, they didn't drink. They weren't partiers in any way. So I was like, oh no, my dad's drunk! What if he's an alcoholic!? Like I just started to go off in my mind. And my mom, I had never seen my mom do this, she got very mamma bear protective and she was like, kids, get in the car. Her tone was so terrifying, it was just like, okay, okay, okay. Drew and I got in the back of her car. So they're arguing, I can hear him say, they're my kids too. And I hear her saying, Joe you're not well. And then he zips off. I knew something very serious was happening. And we get back to the house and I go to my room, my mom goes to her room, and spends like the next five hours on the phone. I don't even know what she's doing, but I keep knocking on the door and she's like, I'm on the phone, I'm on the phone. And I can tell she's crying. And I don't know why, I thought, lept to the worst possible conclusion. But finally I went into her room and she's surrounded by these Kleenexes, and I'm like, is dad dying? And she said, yes.
Whitney's father had developed dementia, from lesions on his brain. It was a complication from AIDS. Coming up: how 13 year-old Whitney learned he had the disease, and what she's just discovering now, 22 years after he died.
One of my favorite movies is Alice Doesn't Live Here Anymore. For anyone who's ever had their life fall apart and they have to start back at zero, it's a must-see. And I recently got to talk to the star—actress Ellen Burstyn. You may know her from The Exorcist or from the most recent season of Louie. She 81 years old and she lives in a beautiful apartment overlooking Central Park.
Hello.

Hello.

You're so kind to come back.
We recorded a long conversation there, in her bedroom actually.
It's full of crystals because they catch the light and reflect the light.
And then, I heard afterward, she wanted me to come back.
That was such a good question you asked me -- how do you think of yourself and I realized after you were gone that I had never asked myself that question nor had anyone else and I answered you kind of superficially.
She wanted to be more precise...about the good, and the bad.
That's our next episode...an extended conversation conversation with Ellen Burstyn. You don't want to miss it. I'm telling you -- you will be quoting her back to yourself for years. Like, how she spends her days off.
I have what I call shouldless days. Today is a day when there is nothing I should do. So I only do what I want to do. And if it's nap in the afternoon or watch TV and eat ice cream, I get to do it. Shouldless days, I recommend them.
And I have an update to share. Our last episode came out on September 24. You might remember, that was the same night Chris Gethard was either going to resume his public access show, or just not show up. Come 11pm Eastern time...he was there.
I realized...this is what I like to do with my Wednesdays. Hang out with all my best friends.
This surprised me, because when we talked, I really thought he was done. But then, something changed.
It was actually at my wedding, I was there and just looked around and realized how many people in my life were actually attending this wedding were people I'd met through this thing, and it kind of felt like it was like, arrogant of me to feel like I had a choice. These are all people who have stepped up in my life over and over again.
Plus, he heard from fans that they were totally fine if he spent less time on the show.
They were emailing and calling and saying like, put less work into it. We don't care if it's not as good as it used to be. We just want it around.
He was talking on his cell from LA, where he was staying in a buddy's apartment. He went out there to look for work.
Like jobs, I'm trying to find jobs and stuff, that's what I'm doing in LA. Trying to live and feed myself.
This is Death, Sex & Money from WNYC. I'm Anna Sale.
In 1992, when Whitney Joiner was in the ninth grade, her father was becoming very sick.
With some people it goes on for years. And with dad it was very very quick.
She didn't know what was happening. She learned later that he'd been living with HIV for five years. At first, he only told her mom.
He contracted it in 1987. He told her right away.

Were they just divorced, then, when he found out?

No, they didn't get divorced. The story goes that he found out in 1987, he told her right away, he told her not to tell anybody. So she didn't tell a soul for a year, they only talked about it to each other. And apparently my dad, I mean this is an example of why my dad was kind of, he was a wonderful parent but not a good husband in any way, and not a good person in some ways, but he told her not to get tested. Because if she got tested, she wouldn't be able to live with himself, he told her. So—

Did your mom not get tested?

She didn't get tested.

For him.

Yeah, she didn't get tested. I mean she told me this just a couple years ago. But finally she was like, I got to get tested. because if I'm positive, we're going to do this together. And if I'm negative, I'm getting a divorce. And that's when they got divorced. But I didn't know any of that. It's only now, you know, over the past couple of years that she'll be telling me little by little, the little things, because I think she doesn't want to remember. It's so painful. So he told her right away. And they dealt with it together, just the two of them, not telling anyone in this small town in Kentucky.

At the height of the AIDS crisis just kind of becoming part of public awareness.

Exactly, so that's when she was worried about, if anybody finds out about this, she only recently has been like, Whitney, I was so terrified that if anybody found out, I would lose my job. Your dad would lose his job. You guys would be kicked out of school. That people would attack us somehow. Our house would be—we wouldn't be able to sell our house. You know, like we were both so terrified. I was oblivious to this at the time—I was just thinking my parents were getting divorced because parents get divorced.

I remember sitting down with her on our couch in the living room and saying, do you think dad's gay? Because I didn't know any gay men, I didn't really know what that meant, but I did know he never dated since the divorce. He never had any girlfriends. And he just was different from all my friends' dads. These things are all so stereotypical now, but like, he loved taking me shopping. I remember going to the Limited Too, in the mall, and him picking things out for me, being like what do you think about this, what do you think about this? And the clerk being like, oh this is so funny, a dad into clothes for his daughter. And me being like, you just don't know him. You know like, just kind of being, like, protective of him. So I asked mom, and mom said oh I don't think so. I think he just doesn't like sex that much. And that was the only time we ever talked about their sex life, ever.

That's what your mom said to you when you were 12?

I don't know if she remembers this, we've never talked about having this conversation. Now she's like, Whitney, I was so naive. Of course he was gay, I just didn't see it. Anyway, so she didn't know. Until after he died. And then a very close mutual friend of theirs who was out, that they all went to college with, told her that he was. And that he had been going to gay clubs in Louisville and Lexington, and I think it all started coming together for her, like, oh, so that's kind of where he might have been all those times that back in the day, because those times, like earlier on, I was talking about him not being around. There were a couple of days where he was just like gone. Like a couple of like, she put out an APB for him once, and just him being gone, and she thinks that's what was going on.

How long after he died did she have that conversation with their mutual friend?

Like right after. I don't even know if it was before the funeral or after the funeral, but it was pretty much immediately after his death, because he had sworn up to his death bed basically that he was straight. I don't know why he was so fixated on lying about this. But he had, I had asked him.

Tell me about that conversation.

We were back at his house, it was the first weekend we were spending together after all of this had been happening, since he'd been in the hospital. And he sat me down in the room that I shared with my brother. We had these matching beds. And we sat down. And he said, so I've been sick. And we were like, yes. I don't remember all the details, but he basically said, I'm HIV positive. And, you know he's emotional, there's tears welling up, and at some point he said, can I have a hug. And I was like, of course.

He asked you for a hug.

Yeah. And I said, I asked mom once if you were gay. Cus I just thought, well of course. Of course you're gay. And he said, I'm not gay. In this kind of like, pff. Scoffing way, like what, I'm not gay, obviously. And I said, Oh. Oh, okay. He was like no, I got it from a woman. You can get it from women too, you know. Oh, okay. Part of me at the time was relieved, honestly. Because I was still so young, I didn't want to have to deal with the gay dad. At 13, in rural Kentucky. And I hadn't totally, the idea of having to think about your dad having gay sex and da-da-da-da-da, like I just, you know. Hadn't gone through that whole process yet. I mean now I'm super cool with it, but at the time, I was kind of like, oh, okay good. But I was also like, but you're lying.

So you knew he was lying to you.

Yeah. It was just like, but you're lying! This is not—

But in some ways it felt like a relief that you weren't going to go there together.

Right. Exactly. It felt like a relief, but just in that, ugh, we don't have to have that conversation. But really, we should have that conversation. Because that's the important one. And we both know that's really what's happening here. Kind of feeling.

When he told you he was HIV positive, did he say, and I have AIDS and I'm gonna die. I'm not well.

No. He said I hope, I really want to make it to see you graduate from high school. But he died 5 months later. You know my family was very angry at him.

Who was angry?

My mom, my step dad, my grandparents, just my whole family was very angry at his for lying about his sexuality, You know my family was very angry at him.

Who was angry?

My mom, my step dad, my grandparents, just my whole family was very angry at him for lying about his sexuality. To me it felt like our family was almost glad that he was gone. Like I would bring him up, I just felt like any time I brought him up, there was this eye-rolling on the part of my family. So I felt like I just shouldn't talk about him. And I would feel ashamed of loving him, you know, even though he's my father, and why would anybody have to feel ashamed of loving your father?
So for years, through high school and college, Whitney wouldn't talk much about her dad. She would tell people he died from AIDS, but not comfortably.
It was nearly ten years later, when she was living in New York, before she met someone else who lost a parent to AIDS. A writer named Alicia Abbott.
It felt like, so shocking there was someone else out there with the same story. ANd we just started talking about—it was so weird that we don't know more people, there have to be more people. Not everyone who died of AIDS is a gay man with no children!
Now, Whitney and Alicia are trying to find others. They just launched a website called The Recollectors this month, to collect stories and to remember the parents lost to AIDS.
It's prompted more conversation within Whitney's family. Her cousins gave to a Kickstarter to support the project. And that old Christmas card to her dad from Marty? Whitney only discovered it last year while she and her mom were going through old photos together.
And it was really interesting to read this last year, last Christmas, before I got this card, I just assumed that my father probably just had like, restroom and park sex. Like very reckless—

Anonymous.

Anonymous yeah. Do you want me to read it? Dear Joe, sorry for neglecting to keep in touch for such a long time, but it was certainly a pleasant surprise to hear from you. Sorry to hear that there is nothing new in your life, especially on the romance front. Haha! Of course, there's nothing new in my love life either. But my life has not been boring. Jim and I have been to Key West three times this year. May for Memorial Day, October for Fantasy Fest, what a blast! And November for Thanksgiving. As for his friend in New York, it's history. And of course in my opinion, he's not ready for a commitment yet to anyone but himself. And maybe not for a long time. I hope the kids are fine, I'm sure by now they're really growing up, do you still have close contact with them? I hope the New Year brings good things for you and possibly a new romance. If this is what you want. Again, please have a great holiday, keep in touch. Marty. So this is, so he died ten months after this card. So this card blew my mind because obviously, like the fact that my dad is like, nothing new in my life! No new romances! What about—how's that guy, what about Jim's friend in New York, what's going on with him? My dad's friend had all these questions.

And Marty knew about you.

Yeah. Yeah, exactly. I have to find this Marty. It changed from just like, down and dirty that's cool, to like, awww, you're like me. Liking people who don't like you back.
Whitney Joiner. She's an editor for Marie Claire in New York and co-founder of The Recollectors, with Alicia Abbott. More of stories from the children of parents lost to AIDS are at TheRecollectors.com.
Death Sex, & Money is a production of WNYC. The team includes Emily Botein, James Ramsay, Jessica Miller, Jenna Weiss-Berman, Chris Bannon, and Jim Briggs. Thanks also to Alison Wortman.
The Reverend John Delore and Steve Lewis wrote our theme music.
You can send story ideas to deathsexmoney at wnyc dot org. And you can see a picture of Whitney with her father on our website at deathsexmoney dot org.
I'm on twitter @annasale. And Death, Sex & Money is on Facebook -- if you like us, like our page, or share this episode!
When Whitney and Alicia started sharing their stories, they immediately found others who had a parent die of AIDS. More than 50 so far, from all over, who described details they didn't know they shared with anyone else.
Somebody mentioned their father being really weird and awkward about razors, you know, like you can't borrow my razors. And we were all like oh yeah, me too.

I'm Anna Sale, and this is Death, Sex & Money from WNYC.
Copyright © 2019 New York Public Radio. All rights reserved. Visit our website terms of use at www.wnyc.org for further information.