The Movies That Taught Us What Sex Could Be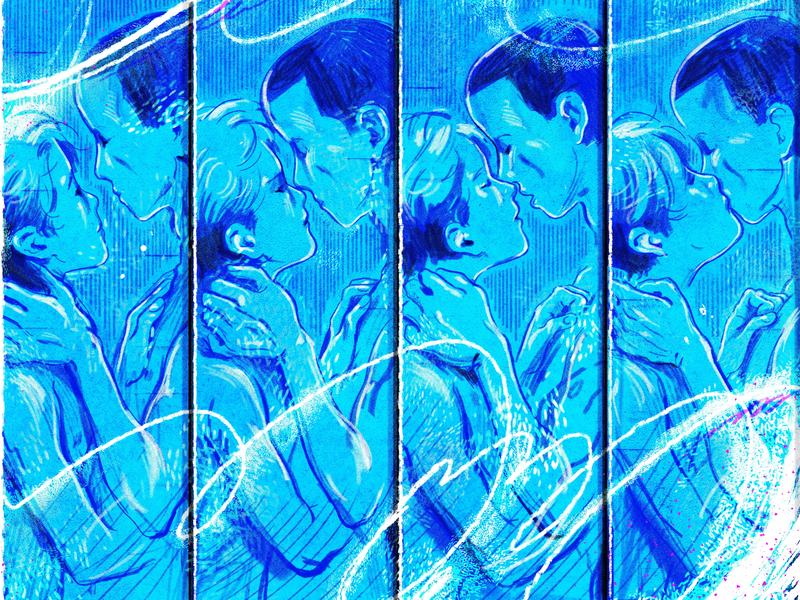 Transcript
Hi everyone, just a heads up that this week's episode features candid and sometimes graphic details about sex and pleasure, so you may want to be more careful about when and where you listen to it.
Amber: My friend was like, you have to see this movie.

Erica: My babysitter told me to close my eyes during that first big sex scene...

Darryl: I just thought they had some awesome sex scenes in that movie,

Erica: …but I was peeking through the cracks in my fingers, over my eyes.

Shay: That scene really made me say, Hey, this could be life. This could be real.
(opening theme for Death, Sex & Money)
This is Death, Sex & Money.
The show from WNYC about the things we think about a lot....
....and need to talk about more.
and I'm not Anna Sale, I'm Liliana Maria Percy Ruiz, or Lily Percy as I also go by here in the States. I'm the executive producer of this show and this episode is a personal one for me.
(The Sermon Mellow Boy – Blue Dot Sessions)
It's about movies – movies have shaped and defined me more than anything else in my life. Growing up in a Colombian immigrant family, one that was culturally Catholic but conservative and evangelical in practice, I turned to movies to learn about the outside world and myself.
For example, Barbra Streisand in Yentl taught me that my options in life were not limited by my gender; Jodie Foster in Contact taught me that faith, mystery and science could co-exist; Sleepless in Seattle showed me that magic was possible – in and outside of a romantic relationship; and Bull Durham, well, Bull Durham is where I first learned that sex could be something that a woman not only wanted but initiated.
CLIP: These are the ground rules. I hook up with one guy a season, usually takes me a couple weeks to pick the guy's kind of my own spring training. And well, you two are the most promising prospects of the season so far.
Until I saw Bull Durham as a teenager, I didn't know that any of that was possible. I had been told by my mother that sex was something women didn't enjoy but instead did out of obligation, for their husbands. So what I saw in the movie was a complete revelation.
Susan Sarandon's character, Annie, not only pursues sex with the different men that she's interested in, but she's also clear about what she wants and when she wants it.
CLIP: So is somebody going to go to bed with somebody or what?

Honey you are a regular nuclear meltdown, you better cool off… [laughs]
(The Sermon Rhodes – Blue Dot Sessions)
Bull Durham showed me a future sex life that my 14-year-old brain couldn't fully process at the time, but when I was ready to start having sex it was right there with me.
And that's what we heard from all of you as well when we asked you to reflect on the movies that showed you what was possible in sex.
Traci: The jazz in the background, the soft candle light.

Kelsey: And first she reaches up and grabs the headboard, and then he reaches up and grabs the headboard.

Vic: Vivid. Visceral rolling around the bedsheets and like just so full of emotion that you cannot help but sing.

Sharon: And even though I've had sex thousands of times in my life, I always want it to look like that.
Nearly everyone who reached out to us shared stories about the movies that they saw when they were coming of age as well. That's when many of us are discovering our sexuality for the first time, so it makes sense that the sex scenes and romance that we saw then, would leave such a big impact.
And judging by your voice memos, no movie left a bigger impact with you than Dirty Dancing.
Baiz: Dirty Dancing was an unbelievably influential film.

Erica: Dirty Dancing,

Sharon: Dirty Dancing,

Shay: All the way, Dirty Dancing. I mean, every scene.

Erica: He's like this bad boy, you know, hot and unattainable, right? Like he doesn't follow the rules.

Nikki: The goody two shoes. Smart, sheltered girl.

Baiz: But she has a lot of power in this relationship.

Shay: When she went to Patrick Swayze's cabin, yeah she did.

CLIP: Most of all I'm scared of walking out this room and never feeling the rest of my whole life the way I feel when I'm with you.

Shay: And then that song came on. [singing] Don't you feel like I'm crying…
(Cry to Me – Solomon Burke)
Shay is a listener in Tampa, Florida, who you just heard singing in her voice memo.
When Shay first saw Dirty Dancing, she couldn't tear her eyes away from Patrick Swayze, or his hips. He plays Johnny, a dancing instructor at a resort in upstate New York, who has to teach Baby, an inexperienced young woman played by Jennifer Grey, to dance.
Shay: You know, my cousins would come over and I was like, watch, you know, check this movie out. And then we would try a dance scene. Especially the one where he like raises, uh, Baby up, you know, into the air?

Liliana Maria: Yes. Hold on. Were you Baby or were you Patrick Swayze? Who are you in this?

Shay: Oh yeah. We, we both like, we would take turns, like, oh, we'd switch it up.

Liliana Maria: One of the things that I love about Baby's character is, she starts to become more confident in herself and her sexuality, the better dancer that she becomes, right? The more she's learning from Johnny, from Patrick Swayze's character to dance, she gets to be more confident. And so by the time we get to like the pivotal love scene, like Baby's the instigator.

Shay: I know. She took control. You know, she got that confidence. She, she had a light on her and before like, it was always Johnny, you know, every time he walked into a room. I was a nerdy girl. I was a shy girl. I kept my head in the book cause I, I, you know, I really didn't do anything with my body or, you know, or wasn't really comfortable with it. I was just like scared away about it. And my mom was like, Sex is bad, is wrong. And I know if you're gonna do it, if you're gonna do anything, I can smell it off you, you know, kind of thing. So it shied me away from doing anything as a teenager.

Liliana Maria: When you rewatched it again like what is it giving you now? Like what does Dirty Dancing give to you now?

Shay: I think, um, that I made it, I mean, right now I can go to a bar and just take any man that Iwant. And, you know, we just start dancing, you know, and I just feel so much of being empowered and being a woman, being so confident and then knowing my body and knowing what ways and how to use it. Yeah. Um, Dirty Dancing has definitely been a part of my story.
(Overlook on Fairview – Blue Dot Sessions)
Trevor is 50 years old and lives in Missouri. When he was in junior high, he had a crush on his classmate, Kathy.
Trevor: And as you do when you're a junior high boy, you kind of hang out in the area where your crush is. And one time I overheard her saying to one of her friends, I just want a guy who can kiss me like Tom Cruise in Top Gun. Well, I never dated uh, Kathy, but I did always keep that in mind, and I will say that that scene has greatly informed my approach with girls and women throughout college. My now current wife, and after 20 years of a monogamous marriage, about seven years ago, we decided to, uh, open our marriage and it's served me well with many partners since then. I think what Kathy was getting at and I think what a lot of women want is a sense of connection and intimacy, which I think that scene in Top Gun was pretty rare in depicting.

Thank you, Kathy. Thank you Tom Cruise. And thank you to the original Top Gun.

CLIP: I was afraid that everyone in that TACs trailer would see through me, and I just don't want anyone to know that I've fallen for you.
Like Trevor, I was in junior high when Top Gun took my breath away. And I remember rewatching it over and over again, rewinding it on my VCR whenever I was home alone. At the time, I also thought it was the most intimate thing I'd ever seen on screen.
But that all changed when I watched Shortbus in my early 20s.
Shortbus was surrounded by controversy as it featured the actors actually having sex with each other, and the sex they had was raw, explicit and extremely intimate. So of course, I went to see it with my roommate on opening night.
Many people walked out of the theater at various parts of the movie, including my roommate. But I stayed. I was transfixed by what I was seeing, not just the sex, but how each character in the movie used it as a tool for exploration and connection, with other people and with themselves.
CLIP: I think I have some sort of clog in my neural pathway somewhere between my brain and my clitoris.

That's disgusting, don't think of it as a clog! Think of it as some sort of like magical circuit board - a motherboard - filled with desire that travels all over the world that touches you that touches me that connects everybody. You just have to find the right connection, the right circuitry.
Shortbus came out in 2006, and was written and directed by John Cameron Mitchell, a former guest – and guest host of this show. 5 years before Shortbus, he made one of my all-time favorite movies – the rock musical Hedwig and the Angry Inch.
CLIP: It is clear that I must find my other half, but is it a he or a she? What does this person look like? Identical to me? Or somehow complimentary?

Mel: It spoke to me as a queer youth, as, as a misfit, as someone on the outside, no matter, you know, how that presented.
Mel is 40, works at a coffee shop, and she often plays songs from the movie for her younger co-workers.
Mel: So I'm like, guys, this is a super important movie and we play one of, uh, one of the Hedwig songs at work a lot.

Liliana Maria: Oh, so good.

Mel: Yeah, I know. And I'm like, do you guys know what this is from?

Liliana Maria: How do you describe the movie when you talk to them about it?

Mel: I tell them it's a movie from the early aughts that was extremely important to me. And it is a musical and it is, uh, a piece of queer art. And then I always have to say and Neil Patrick Harris played Hedwig on Broadway. And they're like, and they're like, oh yeah, Neil Patrick Harris. And I'm like, no, no. I mean, yes, yes, NPH, but no. Yeah, that's how I sell it. And they're like, okay.
Hedwig centers around a genderqueer East German singer in a rock band full of misfits and punks, including her backup singer and husband, Yitzak.
Hedwig's story is told through a series of flashbacks and the songs that she sings, often in front of audiences who have no idea what to make of her.
CLIP: Hedwig playing "Tear Me Down" in a bar.

Mel: So right off the bat, the first scene that opens up is, um, Hedwig in, uh, the bar and this beautiful burst of femininity, but it didn't, doesn't matter like what gender the person is, you're just intrigued by the big hair and the big look and the, the, the anger and the, the, you know, the fire behind that.

Liliana Maria: The humor too, right? Like the sense of humor.

CLIP: After my divorce I scraped by with babysitting gigs and odd jobs. Mostly the jobs we call blow.

Liliana Maria: So how do you think it affected you when you first saw it, you know, this idea of your sexual being and how do you think it's continued to affect you?

Mel: So I think when I first saw it, I was just seeing the characters and knowing that I found the, the standard of beauty and, and my attraction to different things, um, that were outside the scope of the normal standard of beauty, right? Mm-hmm. The gender bending was very, very important to me to be like, wow, that's really cool. Miriam Shore's character Yitzhak, who is in drag as well. Um, I'm just gonna say this because it's Death, Sex & Money and we gotta bring it out there. We were rewatching it with my queer family. And I looked over at my wife and I was like, she looks like Yitzhak. Like in drag. Like I was cracking up. Like, I was like, oh my God, . Oh God.

Liliana Maria: Oh my god. Had you not realized that before?

Mel: I had never realized that until I was like, oh my God.

Liliana Maria: That's amazing.

Mel: And, and she doesn't even know that.

Liliana Maria: You were having this very internal realization and you didn't even express it to her.

Mel: It's interesting because it did bring me back. Um, I met my wife when I was in my very early twenties and this movie was still very fresh, you know, as part of my core being.
(Champman – Blue Dot Sessions)
Gemma is 32 and lives in London. And when she was in her early teens, she discovered the movie, Soul Food, in her family's DVD collection.
Gemma: And I watched this movie so many times and don't get me wrong, it's a good film, but one of the main reasons was the sex scene between Nia Long and Mekhi Pheiffer.

CLIP: So good…

Gemma: The sex between them was about how much they loved each other. They were newlyweds and they felt insatiable towards each other. So they have to run upstairs to the bathroom. And Mekhi Pheiffer can't control himself, he's too loud and so Nia Long shoves her knickers in his mouth. And looking back in hindsight I can definitely see how for me, growing up Black and British, uh, growing up in the nineties, I did not get to see people who looked like me engage not just in sexual activity, but in loving sexual activity. That wasn't really something that was portrayed on television and not in things that I was necessarily allowed to see, And I think that is one of the other reasons that that scene has really stuck with me.
(Eyes on Everyone – Blue Dot Sessions)
Coming up… the sex scenes that left a mark in movies that are now harder to watch.
DeAlva: After a 20 year break, I went back and watched the movie and I could not believe the amount of times that there was physical violence toward women in the movie. I had completely blocked that out.
This is Death, Sex & Money from WNYC. I'm Liliana Maria Percy Ruiz.
For many of you, so much of what makes a movie–and the sex in it–memorable also has to do with what you're bringing to the movie, from the life stage you're in, to the sexual experiences you've had.
That was certainly the case for Darryl. He lives in Queens, New York, and he's been married to his high school sweetheart for 17 years.
Darryl: So the movie for me is called Unfaithful uh, and it's starring Diane Lane. And there was something about this movie, and I think it was the fact that she was cheating on her husband. So it was like secret and they had to sneak around. After watching that movie, I watched it a couple of times admittedly. And then I started kind of thinking about the scenario, right? Because this was a married woman, but she didn't seemingly have any problems in her marriage, right? There was no communication with her husband that maybe the sex was lacking or that she needed a spark or anything like that. She just kind of stumbled upon this guy, got a little flirtatious, and then they ended up in this affair.
(Dognell – Blue Dot Sessions)
As a married man, it kind of made me think like, damn, I, I feel. My sex life is great, but I don't know, maybe my wife doesn't feel that way. When we step out or she steps out, people are always trying to holler at her. So, you know, it just kind of made me think like, damn, maybe I'm in an Unfaithful situation and, and just don't know it.

I hope not though.

Kelsey: A mixture of excitement and fear surrounding queer sex has stuck with me for a really long time. Even now in my relationship with my husband who's a transgender man, I find that even though I am experiencing deep love, joy, and connectivity with him, I still feel flickers of fear for him and for myself from time to time.
For Kelsey, the movie Boys Don't Cry holds a complicated place in her life.
Liliana Maria: When you talk about Boys Don't Cry now to people who've never seen it. Like what do you say and, and how do you even, like, do you recommend it? Like what is the sell for you?

Kelsey: I have talked about it before. Mostly the sell is the sex scene, but I definitely, I don't think I ever recommended it to anyone, especially not anyone in the queer community. I think it just is in a lot of ways, like too jarring, too violent, and I sometimes think about if I were to have a child and if I were specifically to have a queer child, I don't think I would recommend this movie to them. I think I would want to be able to shield them a little bit more from the violence of it. And you know, that's a great privilege, but it's also just trying to prevent like this, this deep fear.
Kelsey was just starting high school when she watched Boys Don't Cry for the first time. She was at a sleepover with a group of friends.
Kelsey: And we had just finished watching Grease. And then I think we were in this mindset of Grease holds like a little bit of scandal. So I think we were kind of in this place of, this is an adult movie. They smoke cigarettes, they drink, um, they talk about teen pregnancy. So what's another movie that's like in that vein? And I don't remember who suggested it, but someone said, have you seen Boys Don't Cry? And we just popped it in and the first time I watched it all I remember being struck by was the sex scene.

CLIP: I feel like I'm in a trance…

Kelsey: You know, it also had some nudity. So a lot of us were, I think were just feeling adult and sort of feeling like scandalous.

Liliana Maria: Yeah. It's also interesting that you went from Grease, which like touches upon all those things that you talked about, but shows no nudity doesn't go further. Like it's very PG. You know, it's like pushing the envelope a little bit, but you know, it doesn't go further. And then you went to a, another kind of level.

Kelsey: And it also, I mean it just, the whole room shifted too. We sort of went from this place of literally dancing on couches and having, it was one of those sleepovers where we just had like mattresses on the floor and we're kind of all like rolling around each other, to a place of just everyone sitting in silence. There was just such a starkness to turning on all the lights and getting up to get snacks and drinks and not talking about it all. Almost like ignoring it, almost pretending it hadn't happened. I think it bummed us all out, so we wanted to just like let go of it and I remember just wanting to watch it again and going back to sleepovers or going back home and saying, can we watch this movie? And everyone else being really not into it, like not wanting to watch it again. When I was in college, I would re-watch certain parts of it on YouTube. So I would specifically YouTube like the sex scene.
(Trajectories – Blue Dot Sessions)
Liliana Maria: Yeah, I was gonna say, yeah. That on its own, hot and great.

Kelsey: Exactly. Like that's all you need.
Kelsey's experience illustrates something that is true more often than not. That the movies that awaken us sexually – that we often see when we're younger – haven't always aged well and sometimes we don't remember them fully.
One of my favorite sex scenes growing up comes from a movie called White Palace with James Spader and Susan Sarandon. That's right, Susan Sarandon again – clearly she was my sex teacher in the late 80s and 90s.
In the movie, they're both grieving the deaths of people they've loved and they find comfort in losing themselves in each other during sex. And the raw desire that they embody onscreen is hot. But sex is kind of all they do in the movie. They barely talk to each other, and looking back, James Spader's character is pretty awful for most of it. But of course, that's not what I think of when I think of the movie.
And that happened to our listener DeAlva as well. She's 52 and when she went back to rewatch the 1984 Prince classic, Purple Rain, she was surprised by what she had forgotten.
DeAlva: I mean he, I think he slaps her like two or three times.

Liliana Maria: Yeah. And then he stops himself finally toward the end because he realizes, oh, I'm reenacting my father's sins. Yeah. It's so campy and great.

DeAlva: Yeah. And I think probably 13 in the eighties isn't the best time to see that.
Seeing violence at that age isn't ideal, but I can understand why DeAlva blocked that out. It's hard to see Prince as anything other than a sex god when he's onscreen. But that's sort of the point.
DeAlva: He's just such a sexual being I think, and I think a lot of people You know, they're like, wow, that was like sex in the eighties. You know? That was, he embodied that. He did things on stage that people had never seen before. His lyrics, I mean, it was darling Nicki from that movie.

CLIP: Prince sings Darling Nicki

DeAlva: Talking about masturbating in a magazine. It's shocking. My friend and I, we did not turn away from that screen. We didn't talk, we didn't talk about it after. We left that theater in complete silence. Yes! You know? And I remember when we saw The Goonies and everybody's like, oh my gosh, what's your favorite character? And oh my gosh, do you remember when they did such and such? And. with this, it was like, I've probably done something I shouldn't

Liliana Maria: So tell me about that sex scene. There's something about this sex scene that sort of fills in all of these gaps in my imagination, and I'm just so curious about what it did for you and how it made you feel.

DeAlva: Well part of it is the setup, the first thing you do is you go through those weird doors into the basement and it's super cool. Everything. The eighties was, it was the mannequins and the clown masks and the weird noise on the radio. And you know, that's the first time your brain is like, oh, what's about to happen here?

CLIP: Do you always treat your women like that?

I don't have anybody right now…

DeAlva: They've set the scene for you so you're like, oh yeah, the good stuff is about to happen. And then I can't remember if there's a cutaway, but just the next thing you see is the abandon that she is, you know, she's got her head thrown back. He's, he's clearly in control even though he's behind her in the situation. Yeah.

Liliana Maria: But that control is so clear.

DeAlva: Yeah, she's, she has, she has opened herself up to him in so many ways and she's just, she's going with it, and then you get his hand just to start to come up her thigh and just the edge of his fingers, right into the side of her panties. That's when, you know, you asked me how I felt, uh, on fire. I was, I came out of there being probably a little horny.

Liliana Maria: Yeah, yeah. No kidding.

DeAlva: You know, and it was, like I said, it was just so there. It was there. It showed you, you know, it was not, , you know, you still get kind of the fade away, you know, above their heads type thing.

Liliana Maria: But it was sensual.

DeAlva: It very much was, and that's what our little romantic young people hearts probably needed. Like this isn't a scary thing. This isn't like, you see porn now and it's industrial strength, it's closeups, it's smacking, it's noises, it'sfluids, and back then that, just, that sensuality, again, it was safe, but it let you be able to explore, you know, how you felt seeing something like that and you're like, okay, this isn't like a takeover, or you know, somebody bending me to their will forcibly. This is two people enjoying it even though he might be the person that's in control, but that you can open yourself up to an experience and just throw your head back and enjoy it.
(end theme for Death, Sex & Money)
Thank you DeAlva, and thank you to everyone who shared your stories and movie memories with us. You made my movie-loving heart so happy.
Death, Sex & Money is a listener-supported production of WNYC Studios in New York. This episode was produced by Andrew Dunn. The rest of the team is Anna Sale, Afi Yellow-Duke, Zoe Azulay and Lindsay Foster Thomas.
Our intern is Baiz Hoen, who you also heard talking about her beloved Dirty Dancing in one of our montages.
And special thanks this week to Lauren Cooperman for her help and to Jackie Ferrentino for her illustration, which captures the vibe of this episode perfectly. You can check it out on our instagram @deathsexmoney.
The Reverend John Delore and Steve Lewis wrote our theme music.
Thanks to Olivia Coyne in Broomfield, Colorado for being a member of Death, Sex & Money and supporting us with a monthly donation. Join Olivia and support what we do here by going to deathsexmoney.org/donate.
And despite what this entire episode has attempted to demonstrate, it's also okay to enjoy a movie just for the eye-candy.
Shay: And Patrick Swayze goddamn his ass looked incredible. Okay, I mean… [laughs]
Anna will be back next week. I'm Liliana Maria Percy Ruiz and this is Death, Sex & Money from WNYC.
Copyright © 2023 New York Public Radio. All rights reserved. Visit our website terms of use at www.wnyc.org for further information.
Music Credits:
"The Sermon Mellow Boy" by Blue Dot Sessions
,
"The Sermon Rhodes" by Blue Dot Sessions
,
"Overlook on Fairview" by Blue Dot Sessions
,
"Cry to Me" by Solomon Burke
,
"Champman" by Blue Dot Sessions
,
"Eyes on Everyone" by Blue Dot Sessions
,
"Dognell" by Blue Dot Sessions
,
"Trajectories" by Blue Dot Sessions