Miguel Gutierrez's Strongly Worded Emails About Art and Money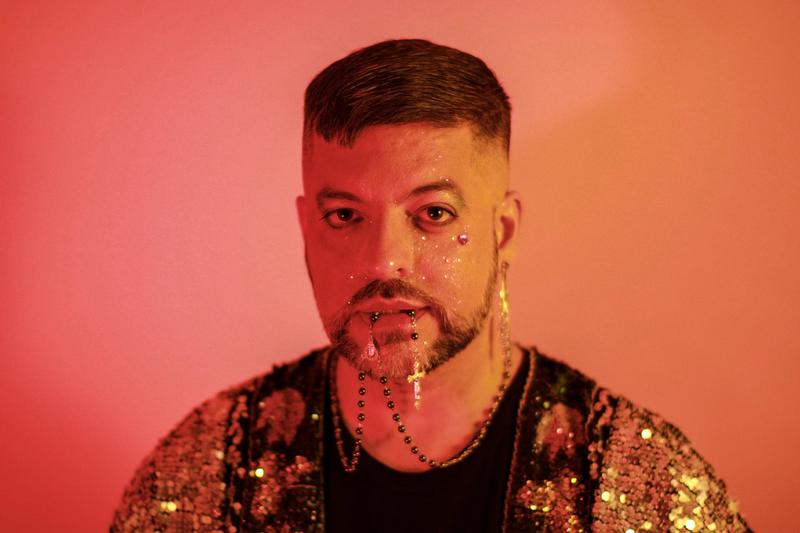 Transcript
MIGUEL GUTIERREZ: I like sent the professional email, like, you know, "I understand, you know, but I really am disappointed that you have not acknowledged whatsoever your financial commitment to this gig," you know? Like, you guys were going to pay me, right? Like you have the money in your budget, right? So pay me.
This is Death, Sex & Money.
The show from WNYC about the things we think about a lot, and need to talk about more.
I'm Anna Sale.
I first saw choreographer Miguel Gutierrez perform around this time last year in San Francisco. He was presenting a piece called "Unsustainable Solutions: Duet With My Dead Dad," a solo dance where he interacts with video recordings of his late father, who died last year.
The piece ends with the audience lights up, and Miguel staring into the eyes of the crowd, while he scream sings along to Bruce Springsteen's "Downbound Train."
BRUCE SPRINGSTEEN: Last night, I heard your voice

You were crying, crying, you were so alone

You said your love had never died

You were waiting for me at home
I've thought about that piece a lot since, its anger and grief.
That performance was also one of the last times that Miguel was onstage. All of his onstage gigs since March have been cancelled. And when we talked over FaceTime, I asked how that's felt.
MG: Um, in very honest terms, my first feeling is one of relief. [Laughs]

ANNA SALE: Oh, interesting!

MG: Um, you know, performing for me is not necessarily the romance that I think so many people make it out to be. It it's like a, it feels like a necessary component of the work, but it's not always the most pleasant part of it. There are so many kinds of components of, uh, you know, interaction that are challenging or, or just like vulnerability. And, I, I think it's been like a reprieve, honestly, just to be like, okay I'm just taking in this very different reality. But I'm not sitting around everyday being like, "Oh my God, I can't wait to get back to the theater!"


AS: [Laughs]
Miguel is 49, and for his entire adult life, he's been a professional artist. He's a musician, who's been in a few bands and he has a project called Sadonna, where he sings Madonna songs, but in a sad way.
But Miguel is best known for his work as a choreographer and dancer, and has received some of the field's highest honors. And like many people working in creative industries, he's lost a lot of work and income this year.
A report from the Brookings Institution found that fine arts and the performing arts have been particularly hard hit. Overall, 2.3 million jobs and $74 billion in average monthly earnings were lost in the creative fields between April and July of this year.
And while Miguel was less concerned about not being on stage during the pandemic, he was concerned about how he'd get paid.
MG: The first thing I noticed was all the cancellation emails and their complete, uh, lack of acknowledgement of a financial component to the interaction or the transaction that was like, you know, binding us. And, and, and I just, so my first reaction was anger. It was just—

AS: Wait, so those were emails from like dance festivals and venues, or like, what were those emails?

MG: Venues, I mean, you know, there were venues, there were, you know, I, you know, my work is interdisciplinary. It was a variety of of kinds of work, you know, in what I do, teaching and performing, um, and kind of across the board, you know, these cancellation emails were coming in, uh, and all with the exception of one, uh, made no mention of the loss of income.

AS: What did they say, if they didn't mention money?

MG: They were like, oh, you know, as you can understand, the situation's changed and we have to, you know, close the season early, or we won't be able to do the festival or yada, yada, yada, um, you know, we're so sorry about this. You know, we look forward to talking to you again soon, or wish you the best right now, and it was this very kind of like formulaic cordial thing. And you know, some of these institutions were people I'd been talking to for months. Some, you know, some of them were institutions I'd known for years, uh, or had worked at for years.

AS: Did you respond and say, can we talk about the money?

MG: Yes. Like first, like a kind of like strongly worded email. And then I also, then I wrote this like Instagram rant, I kind of went off, you know, uh, like what the heck's going on here?

AS: I have it in front of me, this particular post. It's in all caps. "Short term work is my work. My bills are not being postponed and my food isn't free. Hashtag gig economy, hashtag pay independent artists, hashtag honor commitments, hashtag not disposable, hashtag I'm in your budget." [Laughs]

MG: [Laughs] Girl, she went off in those hashtags! Hashtag, hashtag, hashtag.

AS: I loved it in the moment. I was just like, you know, it wasn't, it, I think this came out the week where everything was shut down and it was like, oh my gosh, what is happening to creative people who are living gig to gig?

MG: Yeah. Yeah. You know, like, like even though I'm doing pretty well, I mean, I've done very well in this field. I'm very, very fortunate. But I'm still going gig to gig, you know? And, and, and I have no job security. I'm still completely at the whim of whether a presenter or a festival wants to hire me this year or not. And, and, and so, you know, the there's, uh you're always stitching together your income in this profession and, you know, you're, you know, you're using April to pay for May, you're using June to pay for July. Um, you know, if, it would be one thing, if I hadn't had those commitments, right? Like, yeah. Then I would have had to just figure it out. But given that there were these things lined up, um and I, and I think it's one of the things that is so confusing to me about this field, because there's this kind of purported friendliness and this kind of like, you know, we're all in this for the, for the love of it, you know, we're all in this for the, you know, the beauty and the love of art and the belief in the huh, blah, huh, huh, huh, you know? And it's like, and it's like, yeah, but then push comes, push comes to shove, I'm also in it to get paid. Like, this is my work. And yeah, I I felt, I felt, I, these were strongly worded emails, but I felt really like clear that I had to send this message. And then of course, all of the people were like, oh - oh yes, of course, of course.

AS: Oh really?

MG: You know, like, oh uh yeah sure. Money.

AS: So then they wrote you some checks?

MG: Yeah, for the most part.

AS: Wow.

MG: Yeah, then they, then they wrote me back and they're like, oh yeah, well, let's, uh, we're, we're going to have a meeting and we're going, you know, suddenly it was like just like save your ass kind of response and I was like, no, this is where you should have started.

AS: Yeah.

MG: This should not be like, it is not my job as the person that you've contracted to hold your feet to the fire on such a basic aspect of our commitment to each other. And, and then the other thing I would say that I noticed right away was also how many sort of like - first that like individual artists were setting up like relief funds. Um, and then of course, foundations as well were were were suddenly coming up with these kinds of relief funds and I, and, and I had very mixed feelings about, well, I mean, I applied for all the things I could apply for, uh, you know, 'cause let's be honest, I'm a hustler and I'll take the money where I can get it. But, uh, I, I felt frustrated. Like the people who are the most vulnerable, you know, uh, contribute the most to their own ongoing survival. And I just, it makes me so angry that, that, that we have to immediately uh fend for ourselves 'cause we have so little protection from the government.
AS: Do you have a sense of how much money you lost due to COVID?

MG: Uh, probably somewhere from 15 to $20,000. That wasn't just going to go to me, but just also, also the people that work with me.

AS: So your whole sort of operation, people who work with you.

MG: Yeah.

AS: Um, is that a loss that you are going to be able to absorb without big changes?

MG: Well, you know, like I said, I applied for everything I could. I got a lot of that stuff. Um, you know, I of course eventually applied for the unemployment that I could and the, which came with the, with the extra little boost the, of the $600. Um, and then I, I hustled and I got a lot of like uh virtual guest artists gigs throughout the spring. Like, March, April, May. I was, I was suddenly visiting schools and institutions all over the world, uh you know like I—

AS: Uh huh. From your apartment, yeah.

MG: From from like my, I was like actually in my mom's house in Florida—

AS: Oh.

MG: and I was like hole, holing up in my father's old office. So there was all kinds of feelings about that. None of those things were like paying some crazy amount of money, but they paid decent and, and, and, you know like I just, I just did what we always do. I haven't done, sat down and done the numbers. Like I don't, I can't tell you exactly if I recouped the exact amount, but I I did, I did okay.

AS: And did you, you've been a professional artist for decades, like did this—

MG: Yes. [Laughs]

AS: Did COVID um, did COVID like lay bare some of these labor dynamics in a way that you - like did you see them in a new way?

MG: I mean it made it very plain, but it's nothing, it's no. No, completely not new. You know, there was a kind of concentration to the, to the uh experience of, you know, losing a gig and, you know but gigs fall apart all the time. And precarity is sort of the ground floor of this field, uh, and this idea that you don't know if you're going to you know, be okay next year, that feeling, that is, I mean, that's a constant and that's been a constant for me kind of my whole professional career, you know? Uh, I mean, I've been lucky and I, and I kind of in general, I'm like, I'm, I'm like, okay, it's gonna be okay. It's gonna be okay. It's gonna be okay. But you know, part of how it was okay was certainly for the first, you know, two thirds of my professional career, part of it, how it was okay was that my life was relatively cheap and I very foolishly did not pay my debts. So, you know, that's, that was kind of my strategy.

AS: Uh huh.

MG: For a long time and and that was not, not a great move on my part, but it's the move I made.
Coming up, more about how Miguel got into debt as a young adult… and how an unexpected windfall got him out of it years later.
MG: I knew I was like, okay Miguel, this is your chance. Like fucking pay this shit off now. Don't even look at this money. Don't even, you know, touch it. You don't look at it, you know, you just, you just, boom, uh, pay this debt off, get it out of your life.
—
As COVID-19 cases and hospitalizations rise across the country, we've been thinking about the healthcare workers we've heard from this year.
The nurse named Lindsay, who sent in a voice memo about struggling to give people a "good death" during the pandemic, wrote in to say that in right now, in her Philadelphia hospital, the mood is tense.
LINDSAY: Something I feel like we've been dealing with on our end is just exhaustion. I think that everyone is tired of all the pandemic restrictions, but we as healthcare workers feel this collective anxiety, as if we're all holding our breath waiting for the next wave to affect us.
Lindsay worked in an ICU with COVID patients last spring. She's now back working in a pediatric oncology unit.
LINDSAY: It's really hard for my pediatric patients to have limited visitors, especially around the holidays. I know for me personally, not having the therapy dogs can be challenging.
But, Lindsay also said that work has felt like reprieve at times… keeping her busy, and away from consuming too much news. And she told us that a Death, Sex & Money listener who heard her story this summer donated an iPad to the ICU where she'd been working, for COVID patients to connect with their families.
You can find more updates from the health care workers we've gotten to know during the pandemic in our newsletter. Like from Sharron, the CNA in Virginia, who's now working on getting her associate's degree. Read those updates and sign up to get our newsletter at deathsexmoney.org/newsletter.
On the next episode, your stories about living alone. At a time when a lot of us are feeling isolated, we reflect on some of the drawbacks of solo living, and what's awesome about it.
LISTENER 1: There's nobody to tell me not to have a dance party late at night.

LISTENER 2: It's actually quite pleasing.

LISTENER 3: Curl up, roll a joint, and watch Golden Girls, by myself.

LISTENER 4: And I love it to the point of writing sonnets about it, if I were the sonnet type.
—
This is Death, Sex & Money from WNYC. I'm Anna Sale.
Miguel Gutierrez's parents immigrated to the US from Colombia. His mother worked as a draftsperson, making technical drawings for city planning, and his dad was an electronics engineer.
Miguel started dancing at an early age, but his parents made clear that being an artist was not a career path they envisioned for him.
MG: They completely did not understand it. They, they were fearful of it I think from two perspectives. One of course, as immigrants, they were, you know, their plans for me and my sister were, you know, to have professional lives in in sort of traditional professional careers. You know, that was sort of what they, I think were hoping for as the lab, like the product of the labor that they'd gone through as immigrants in this country. And then the second thing was just, uh, homophobia. They were just, you know, when I, you know, decided I wanted to go into dance, they, you know, I didn't know this expressly at the time, but later when I came out to my parents, my dad was like, I knew if I let you take ballet, you'd turn out this way, you know?

AS: Really?

MG: [Laughs] I was, yeah, oh yeah. And I was like, oh, okay. So yeah. Uh, you know, fears confirmed. Now I know why you were being such a hard ass about me doing that. I was the kind of classic story of like the young, like, sort of girly homo boy who doesn't want to do sports. I mean, dancing was one of the first places I experienced my body as my own. My sister and I would improvise for each other uh when we were kids. Like one person would put on music, the other person would just go dancing and and dance for the other person. So, so there it very like personal and also very like treasured, this experience with my sister. And then, and then, you know, I think that, like I said, there was a kind of almost like defiance, you know, because I, I fought to do it. I did fight my parents to get to be able to dance as a kid. And so, by the time my dad and my mom came around to accepting that I was doing this. You know, and my dad started trying to be like, "Maybe you should audition for like uh Disney, you know and and be on a, a cruise boat." And I was like, ooh, not really what I'm doing Dad. You know, you know, no hate on those people. Those are amazing artists. They have to dance all freaking day, but that's like, that wasn't the path, the path I was going on.

AS: Uh huh. Uh huh. And so, and, and did your parents talk to you about money?

MG: No, no. It's like, my sister and I talk about this all the time. It's like, they really did not teach us, uh, any kind of financial literacy and you know, they, my sister and I are five years apart. So, uh, and she skipped a grade. So she essentially was six years ahead of me. And the economic life my parents were living was much better by the time I was a teenager than when my sister was one. And I think maybe their, unfortunately like they they were trying to protect us from a conversation about money and and the precarity that they experienced because my father worked for himself eventually in the eighties, he, he, he started his own company and it was just, you know, he was kind of like me. He was freelancing essentially, getting, getting, uh, you know, gigs. And but they never, they just didn't talk about it at home, and they didn't, you know, my mom was like, you know, "You have to remember to save money." Like, you know, I think that was like the kind of extent, but like, I didn't know what, I didn't know what credit was. I didn't know what uh, you know, paying a bill on time looked like. It was like things just kind of happened, you know, it was this kind of privilege that I had, that, that, that, that actually kept me out of the world of knowing of what things actually costed.

AS: And when you think back on your younger self and the choices you made um creatively, like do you think that that privilege or that silence around money helped you be more brave?

MG: I wouldn't characterize it as brave, because brave would suggest that there was real courage involved. It was like a combination of like, I was dumb about money and, you know, I, I knew that if the shit really hit the fan, I could go stay with my parents. You know, like there was, or my sister could help me, you know, like I, I did have back up. It's, it's this thing where you, you, you know, you'll have a place to turn if, if things go really south. I mean, you know, they went south financially for me in that, like, I started accruing debt really quickly, and I did not deal with it for years and years and years. And so by not dealing with it, it of course just ballooned. But, but I, I do think that instead, really what was happening was because I had forged somewhat of a solitary path as an artist without a ton of support from my parents for a long time, there was this kind of single-mindedness on my part of like, this is the thing that I will make happen. And if it means that I go into debt, if it means that I don't pay certain things on time, if it means that I don't open that letter from the loan collector, you know, so be it because I'm going to do this fucking thing, you know, and, and, and there was, there was that, that was a a very clear drive.

AS: How did you decide to leave school? How did you know that you didn't, you didn't want to be in college when you first went?

MG: Well, I think I had kind of talked the talk in high school, even, of like that maybe I wasn't going to go to college at all, you know? And, and I would just kinda like right away, try to have a professional life and I was very, um, caught up in kind of classical notions of dancerly success, which meant that by the age of 17, you're a professional in a ballet company. And I thought that to be like a 25-year-old dancer was already old. And then also, because of my, you know, closeted-ness in high school, I got to college and I just exploded sexually. I was just like voraciously sexual. And you know, like the, the school slut, you know, I was just like, I was like, here I am, let's do it boys. You know? And, and, you know, let me screw all the gay boys. And then now I did all the gay boys. Good. Let me screw all the questioning boys, you know, like let me be the conduit to gay, you know for for, doing the recruitment work uh for the community. And, uh, any ability I had had to be an academic person literally left me. Like I would literally look at a book and it was, it was like, suddenly the words were jumbled up. Like I couldn't, I couldn't focus. All I could do was like party, hookup with guys, and go to rehearsal. Like those were the things I was good at.

AS: Oh, uh huh.

MG: That's what I could show up for.

AS: You still went to rehearsal? Rehearsal was still important.

MG: I still went to rehearsal.

AS: Uh huh.

MG: Rehearsal was still primary for me. Like, no matter what else I did, I was always present and I was always, you know, fully in. Um, and, and so I spent, you know, spent a year at Brown. I took a year off to do a bunch, bunch of queer activist stuff in California. And then I went back to Brown and by the second year that I was at school, I was like taking four dance classes a day. And I was like, what in the hell am I doing here So I transferred to NYU, and I went there for a year, but again, the sort of panic of my age really kicked in. Uh, I was 21. So I was like, you know what, fuck this. I'm going to like, you know, I'm going to like freak my parents out by dropping out of college because ooh, that's such a bourgeois rebellious act, right? That's like what I thought was like super rebellious. Um, and I knew that it would, I knew it would hurt them and I, and I think I, I wanted to hurt them.

AS: As you were having these conflicts with your parents, did financial support come and go?

MG: Uh, they were paying for school to what they could, you know, and I would got, I had some loans, but once I left, I was kind of on my own.

AS: When you talk about the foolhardy um money management of your younger years, um and the debt, what, what was the debt made up of?

MG: Oh, I, I, I literally went into collections like a week after I started college cause I got a subscription to Newsweek that I never paid, like it was one, like that's like the most pathetic credit score fail of all time, like fucking Newsweek, like, sorry Newsweek, but like really? Um, and then I had, I'd gotten loans of course, and, you know, knew nothing about what defaulting on a loan meant or, I didn't know how to, you know, ask for an extension. I didn't know any, I just didn't understand. I didn't really understand what like a loan was, uh so I didn't deal with that. I mean I was able to pay for my life and I was able to pay for for my rent and, you know, and we haven't even gotten into this whole other beautiful part of the prism, which was my alcoholism, which was a whole other, uh, fun, uh, part of the picture, which, which also helped me to be financially irresponsible.

AS: Was there a crisis that led to you getting sober?

MG: Oh, yes, uh there are multiple crises. One was a physical one. I was 27 - 26, 27. And I couldn't, like, bend my foot. I was diagnosed with gout. Um, and I was like, I'm 26 years old. Like I am a professional dancer. I probably should be able to bend my foot, you know? Um, I was six months behind on my $250 a month rent.

AS: Uh huh.

Miguel: Uh, I was working at B Bar, this like fancy restaurant and making, you know, probably anywhere between 150 to $200 a night and coming home with like 20 to 40 bucks being like, where did all my money go?

AS: Uh huh.

MG: Um, yeah, it was, it was a, it was a, it was a lot.

AS: So you, for you, like part of the crisis of, of your alcoholism was related to money running out.

MG: Absolutely. It was a total abdication of financial responsibility. It was a ton of shame. It was just like, I just, I just didn't tell people, you know, I just didn't tell people. And even for years after I got sober, I still couldn't open those letters from the, from the loan collectors.

AS: And so, so this is like early 2000s. When, when you think back on, was there a, was there a year where you're like, that's the year I started to feel like I was financially making it as a, as an artist?

MG: Well in 2010 [laughs], I, I was, I was really lucky. I got three different awards. I got a Foundation for Contemporary Art Award, which I used to pay off my credit card debt, uh which was, you know, my card was maxed out. I got a United States Artists Fellowship,

AS: Uh huh.

Miguel: which I used to pay five years of back taxes.

AS: Wow.

MG: And then I got a Gugg, I got a Guggenheim. [Laughs] Sorry, I'm laughing. I mean, I'm laughing just cause its like, and the Guggenheim, I I was able to like live off of, you know, like I, I, but those other two awards. I mean, I was so lucky that that happened, and so kind of, you know, and like what, I was what 39 when that happened? Uh, and, and so from there forward, I was able to kind of build a, a, a, somewhat of a debt-free life. Um, but it wasn't until I got another award in 2016, when I got the Doris Duke Artist Award, that I was able to gather enough money to like, for my future, you know, like I bought an apartment last year, which was a huge deal, uh, and only possible because of that award.
AS: So I, I, I'm just kind of struck, like it seems like in 2010, like you were the thing—

MG: Oh yes.

AS: That everyone turned their head to and were like, let's give him money this year!

MG: Yeah. I got lucky. Yeah.

AS: And does that like, like when that happens, does it make, like, was the feeling like, how do I make this moment not go away?

MG: You know, I, I, I've been lucky 'cause I know that that kind of fortune favors you for a brief amount of time. Uh, you know, it's just the case in, in, in any art field that there, that there are moments when a certain artist or certain person is sort of, you know, living high on the hog, you know, like, like, like doing doing better, right? There's a, you know, you'll see the funding cycles like the same names for a couple of years, and then, you know, they fall off the map and then the next crop of names comes up, you know? And, and I talk about it as like the promiscuity of the field. It's like, you know, you're in this kind of constant promiscuity, uh, of, of commitment. You know, you're like fucking this venue this year, then you're fucking that venue the next year. You know, it's like, like that's kind of the the nature of the work is is that you, you have these brief, quite intense, uh, sometimes quite emotional, uh, connections that, that dissipate. And that, that becomes exhausting over time. And, and, and, I mean I think that is something also that coronavirus has absolutely sort of, you know, it's fucked with my head of like, okay, you know, there's also a whole, there's a whole other part of me that's like, do I ever want to tour again actually? Do I ever need to spend one more lonely night in a hotel room in Bumfuck, Wherever? I know this is so like, maybe this is like so gross to say, but like, I actually crave certain kinds of normalcy that maybe are just part of other people's lives sometimes. And, and, you know, these are things that I thought were, um, indicators of some kind of, uh, arrival or, uh, you know, success that I wanted. That I, that I, that I fought for, that I tried to get, um, that I want, and I did get. And so there, and there's definitely a, a, a part of that where I'm like, maybe that's not the, that's no longer the ambition.
That's Miguel Gutierrez. You can see his rant on Instagram about getting paid, and get updates on his work by following him @aboylikethat. Miguel is teaching at Princeton this year... and he's a student again. He re-enrolled at Brown to finish the degree he started in 1989.
Death, Sex & Money is a listener-supported production of WNYC Studios in New York. Afi Yellow-Duke produced this episode. The rest of our team includes Katie Bishop, Anabel Bacon, Emily Botein, and Andrew Dunn.
Thank you to Dr. Melissa Bell for taking me to the dance festival and introducing me to Miguel's work last year.
The Reverend John Delore and Steve Lewis wrote our theme music.
I'm on Twitter @annasale, the show is @deathsexmoney on Twitter, Instagram, and Facebook.
And thanks to Karen Capen in Alameda, California who is a sustaining member of Death, Sex & Money. Join Karen and support what we do here by going to deathsexmoney.org/donate.
As Miguel's been working from home, and thinking about art and commerce, he's also decided to make a podcast about it.
MG: It's going to be called, Are You For Sale.

AS: Okay. Are you for sale?

MG: Yeah, Are You for Sale. Yeah.

AS: No, are, I'm asking you.

MG: Oh! [laughs] Honey, I'm for rent. You can sublet this shit. [Laughs] I don't even know if you want to buy me, but you can certainly rent me.
I'm Anna Sale, and this is Death, Sex & Money from WNYC.
Music Credits:
"Downbound Train" by Bruce Springsteen from Columbia
,
"A Certain Lightness" by Blue Dot Sessions
,
"Jog to the Water" by Blue Dot Sessions
,
"Funk and Flash" by Blue Dot Sessions
,
"Alchemical" by Blue Dot Sessions