Michael Ian Black's Middle-Aged Angst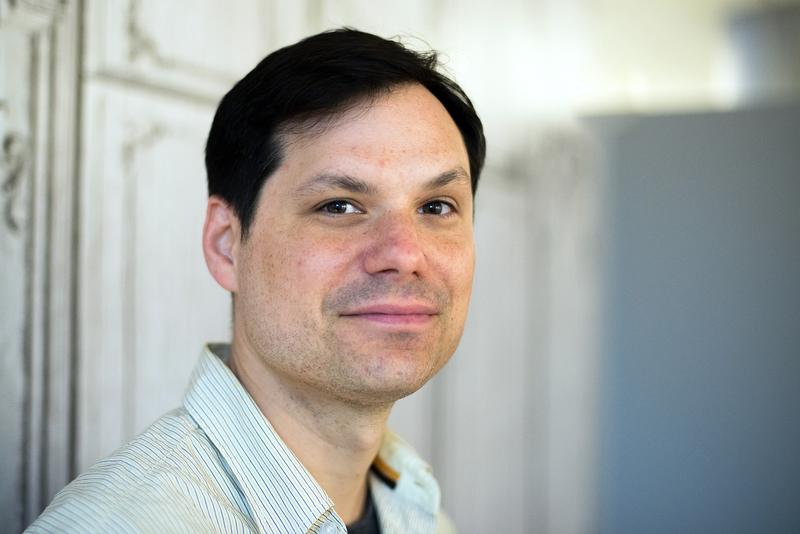 Transcript
Michael Ian Black: You get to a certain point in your life where you go, oh, like I'm just not a star. And that's either going to be okay or it's not. And in my case I have no choice, so it's gotta be okay.
This is Death, Sex & Money.
The show from WNYC about the things we think about a lot…
…and need to talk about more.
I'm Anna Sale.
MIB: I was a smartass.

AS: When did you realize you were funny?

MIB: Well, I always found myself funny. Nobody agreed with that assessment until maybe college.
College is where comedian Michael Ian Black met the people he would collaborate with for the next 20 years. It started with The State, the MTV sketch comedy show. It was defined by a kind of absurdist, detached Gen X cool.
MIB: Barry, baby, you see what I got here?

Actor: What have you got there?

MIB: Well, it's a box of pudding, Barry.

Actor: What does it say?

MIB: It says "Cook and chill." And baby that's what I do every night. I cook, and then I chill. Aww yeah.
Michael's worked steadily in TV shows and movies ever since. He's become a go-to guy for jokes with a particularly acerbic bite, like on The Jim Gaffigan Show.
MIB: Jim have you lost weight?

Jim Gaffigan: Uh, no.

MIB: Yeah I didn't think so.

--

MIB: There are times when I think I'm being funny and I hurt somebody's feelings. I always regret that. And it happens less now than I think it used to. But I always assume that they know—incorrectly assume, by the way—that I wouldn't say those things unless I absolutely adore you. Once I called the head of MTV a drunk. And she was very offended.

AS: Were you working with MTV at the time?

MIB: Oh yeah. Uh huh.

AS: Mhm.

MIB: I mean, we - I mean, arrogance was just our calling card and I said horrible things to people all the time. Again, always assuming that they knew that it was in fun and an act. And they didn't, and why would they? Why would they, if somebody just calls you a drunk, why would you just assume, "Oh, what a terrific jape that was"? No, you're upset, which I understand now.
Now, Michael Ian Black is solidly middle-aged. He's 44. He's been married for 17 years to his wife, Martha, whom he met on "The State." They have two kids together, who are both in the thick of adolescence.
MIB: I only exist to them in terms of what I can do for them. I'm only their father, and that's fine. I like that.
So for Michael, detached cool…is getting harder to pull off. Because his family depends on him. The stakes feel higher.
MIB: I'm tired of being somebody who has had a nice "little" career but hasn't ever found any sort of mainstream success. I don't particularly want to be famous in any real way, but I'd like to have just a little bit more control over the kind of things I do. For me to walk into a network and say, "Hey, I've got a great idea. I want to do this show and guess who's the star, it's me!" You know, there's - there's not a lot of enthusiasm for that, you know. Which I understand, I mean, I'm not a bankable commodity at this point, and may never be.
Michael grew up in suburban New Jersey…the middle of three children. His parents divorced when he was young…and money often felt tight.
MIB: Whether or not it actually was, I don't really know. It always felt like we were about to get kicked out of the house. I felt like child support was always an issue even though I feel like my dad regularly paid child support. It always just felt like a huge deal. Money just always seemed to kind of hang over everything.
Michael and his siblings lived with their mom, who came out as a lesbian.
MIB: And then she tried to out me as gay, which I hated because I was not gay. She and her partner sat me down and they were like, "You know, it's perfectly normal to be gay." I was like, "Did I say something to make you think that it wasn't?" You know, meaning I thought they were talking about themselves. And they - they had got it into their heads that I was gay and that they were going to reassure me that it was fine. And I wasn't, knew myself not to be and, you know, told them so in not so delicate a way. They thought, "Well, he wants to be an actor and his friends are girls and clearly - clearly he's gay." And I wasn't.

AS: Did it make you angry?
MIB: Oh, furious. Furious, because who wants to be told that? Who wants to be told anything about their sexuality from their parents? Not I.

AS: Especially when it's not true.

MIB: Particularly when it's incorrect. And I knew that. I mean, I - you know, I had already had some relations with girls. Not full relations with girls. But I knew I liked it. I knew I liked girls.

AS: How did you dress as a teenager?

MIB: A lot of black. Baggy pants. Pajama pants. Oversized t-shirts. Black bracelets. Black nail polish. That sort of thing. In my mind I was dressing punk. But I wasn't. I was dressing like Duckie from Pretty In Pink, which, uh -

AS: Is a great look.

MIB: It's a fine look. It wasn't quite what I was going for. I wanted menace.

AS: You wanted punk in pajama pants.

MIB: Kind of, yeah. I wanted some level of intimidation, which is absurd because I weighed all of 65 pounds. I mean, it was not going to happen.
As a teenager, Michael was also absorbing the impact of his father's death. When Michael was 12, his father was attacked by a stranger in a parking lot. And while he was being treated for a severe head wound, he had an allergic reaction to medicine and suddenly died.
MIB: And he died just as I was sort of emerging from childhood. So I regret that we didn't get to know each other better.

AS: Was that known? Did you become known as the kid at school whose father had been attacked?

MIB: Well interestingly, when he died and my mom had to inform the school, I begged her - I don't think I begged her but I asked her if she could make up some different reason why I wasn't in school precisely because I did not want to be the kid whose dad died. And I remember the sort of aghast look she had on her face because she couldn't comprehend why you would lie about something like that. And I didn't quite have the words to articulate why. Um, but that was the reason. I didn't want to be seen. I already felt self-conscious. I was already the youngest in my grade. I'd skipped a grade. I didn't feel like I fit in particularly. And I did not want to be known for this.

AS: Did she lie?

MIB: Oh no. No. She told the truth, which is the right thing to do. She told the truth. And I did receive a very nice card from my classmates a couple days later. You know, a sympathy card, which was nice. They didn't mean it, but it was nice.

AS: How old were you when you started sort of telling people—disclosing voluntarily how your father had died?

MIB: Years. Years and years and years and years. I'm still not at ease talking about it. And that has to do with, I think, a sort of immaturity in the way that I handled it when it happened. You know, I just shut down for - for years.

AS: Until when?

MIB: Probably until I got on antidepressants in my early 20s and then went off antidepressants and went back on antidepressants and went off and went back on. And now I have been on them for many years and I do not see myself ever getting off them again. I don't even know that I believe in them, but I know that I'm better when I'm on them than when I'm off. And I still have bad days. I had a bad day earlier this week. But I guess I trust now that it won't - it won't last.
Michael's been paying close attention to his mental and physical health lately…more specifically, to his aging body. It's the subject of his latest collection of essays, called "Navel Gazing: True Tales of Bodies, Mostly Mine (But Also My Mom's, Which I Know Sounds Weird)."
AS: How are you feeling about your body today?

MIB: Today? Um, mezzo mezzo, which is about the best that I can hope for on any given day.

AS: Is there a particular flaw in your body that's at top of mind?

MIB: Well, currently top of mind always is my waistline, which I feel like is either grotesque on any given day or totally fine on any given day. And rarely anywhere in between the two.

AS: Has it always been that way?

MIB: No. No.

AS: When did it start?

MIB: Probably - probably around the time I hit 40. That's when it starts for most people who are slim by nature. And then around 40 you go, oh, something has changed. And what has changed physiologically couldn't tell you. But I know what the results are. And the results are I now have what we delicately call a paunch.

AS: A small one.

MIB: Yeah. And I saw you look down at it. As you said it. Now, keep in mind, I'm wearing a bulky sweater.

AS: You are wearing a bulky sweater.

MIB: So you can't really tell what it looks like.

AS: When you started noticing that your body was changing at 40, did you feel immediately kind of comfortable talking about it or did it take a while before you could say out loud like, "I think I need to watch what I eat"?

MIB: I am happy to talk about these things in public, less so in my private life. Less so with my wife, for example, because I don't want her finding me grotesque. And I feel like if I discuss it with her, she will then find me grotesque.

AS: So when you - when you decide to change a routine to try to be more healthful, do you announce it at home or do you try to do it kind of -

MIB: I generally do it on the DL. And then sometimes it's - and then eventually it becomes noticed and then - and then invariably when I fall off the wagon, anywhere from two days to, let's say three months later, it becomes the subject of conversation—a conversation I do not wish to have.

AS: What happens in those conversations?

MIB: Um, "Oh you're eating bread now?" "Yeah I'm eating bread now, can we not talk about it?" "Oh so I guess you don't want pizza tonight?" "No I'm gonna have the pizza tonight." "So you're not - you're just not taking care of yourself anymore? You just don't care about yourself anymore?" That's not the way the conversations go. But that's the way I hear it. "So you're just going to be fat now? You're just going to be disgusting?" That's how I hear it, which is why I don't like having the conversation.
So he has the conversation with himself—and, as he writes in his book—often while he's staring at his body naked.
AS: Did you stare at yourself naked in the mirror this morning?

MIB: I may have caught a glimpse while getting into the shower. Just to make sure the pepperoni pizza had not expanded my stomach to the point where it was going to be alarming to people, and it hadn't. When was the last time you stared at yourself naked?

AS: Uh, it's actually been - I'm pregnant so I'm doing it more than usual.

MIB: Oh, I see. Congratulations.

AS: Thanks.
--
Yep. I'm having a baby. Due in June.
So…when I said I really needed your songs for big life changes this year, I was not kidding. A baby and a big move are coming. So keep sending in those voice memos and videos with your anthems to deathsexmoney@wnyc.org.
My husband Arthur and I are really excited to become parents…though Arthur's already had his first anxiety dream.
Arthur Middleton: It was a few weeks - I guess it was a few weeks ago. And I, I had our baby on my finger.

AS: As you do.

AM: And our baby was a small, maybe like an inch long and maybe the width of a hair. But it was crying and making the sounds that a baby makes. And I dropped it. And it was like lost in, I think in a carpet. And um, it was just terrifying.

AS: So you were on your hands and knees looking for a crying baby in a carpet.

AM: Yeah.
On the next Death, Sex & Money…a couple who have three children. They fell in love as teenagers…with each other, and with getting high.
Susanne: A lot of our relationship revolved around heroin.

Mike: There comes a point where the addiction comes first and like, everything else is secondary. And that includes our relationship even though we were together all the time.
--
This is Death, Sex & Money from WNYC. I'm Anna Sale.
Michael Ian Black has an older brother, Eric, and a younger sister, Susan.
AS: How much older is your brother than you?

MIB: Two years and change.

AS: Are you competitive with each other?

MIB: No, I wouldn't say so. We're very different. He's in a very different field. I will say, he is totally bald. (Laughter) And I'm taller.

AS: But you're not competitive.

MIB: No. There's nothing to compete with because I've already won.

AS: You have a beautiful full head of hair.

MIB: Yes, I do.
Michael and his older brother are close…you can sometimes catch them sparring with each other on Twitter.
They've been making big decisions together since they were kids. Their sister Susan has Down Syndrome. After their dad died when they were young, the family received life insurance money…and a settlement from the hospital.
Michael and his brother took enough of that money to get them through college, and left the rest for Susan.
AS: How did that decision get made?

MIB: It was first raised by my mother, who sat us down and said, "Look, here's what I think you should do." And we readily agreed. We both felt like it was the right thing to do. So it was not a long conversation. We said, "Sure." I mean, I didn't have any - you know, she said, "Look, you'll be able to make money throughout your lives and your sister won't." And I had no faith that I would be able to make money in my life because I knew then that I was going to be an actor. But her argument was the correct argument and although it was scary for me to say yes to that, I didn't argue with it. I knew it was the right thing to do. I'm a - I'm a - I'm a really good person. I'm like a hero.

AS: (Laughs) That is a good thing to do.
Michael's also pitched in money recently to help cover his mother's medical bills. She was diagnosed with uterine cancer years ago, and for a long time, she couldn't get on her partner Sandy's health insurance.
Michael admits, he didn't offer any money…until she asked. It's something he's not proud of. "Once I did start giving I wanted to be glad to do it...but was not," he writes in his book, adding, "Families are meant to take care of each other, even when if feels unfair."
His mom's now cancer-free, but her health has never really recovered from all the treatment.
MIB: It will never not be terrible from this point forward. But she is home, which is good. And she is stable, which is good. But it's awful. It's awful. I mean, she - she is largely confined to bed. But her, you know, her spirits remain really good.

AS: How often were you able to see her in person while she was going through various treatments?

MIB: Um, not often, I mean a couple times a year maybe. But every time she would undergo something it would be like, "Oh don't come down, I'm fine. It's fine. I'm fine. Don't worry about it, it's fine." And I would allow myself to be like, "Okay, well it's fine. She doesn't want me to come down, then I won't." Then I - you know, I would come down for various - this was when she was living in Florida. She just moved to San Diego a couple of years ago. And there have been times where I have gone to her when she's had like a major surgery and stayed with her for a few days, but I don't see her that much. I mean, we talk a lot. But just for geographic reasons it's very hard to see her.

AS: What's that been like because I - I don't live in the same place as my parents and I see them a few times a year, and when they're aging, just that alone can be kind of startling, when it's been six months since you've seen your parents. When your mom is physically diminishing with each visit, what's that been like?

MIB: Um, (long pause) it is…I mean, it sounds glib to say it's tough but it is. It's tough, but - I guess the thing that keeps it okay is that her brain is the same as it always was. You know, mentally, she's all there, she's fine. It's just, you know, all the indignities of her physical self that are, you know, an affront to her and to the life that she wants to live. So it's difficult but, you know, it - the way I respond to it largely comes from the way she presents herself mentally.
With Michael's sister Susan, it's more complicated. She's currently in a home with other adults with mental disabilities.
MIB: Annoyingly she lives in Florida. I say 'annoyingly' because now she's the only one of us who lives in Florida. My mom can't travel. We're not down there very frequently. And so it seems to make sense to bring her up here. On the other hand, she's been living there so long it may upset the apple cart more to move her than to keep her where she is.

AS: Did your sister make the choice to stay in Florida when your mom left?

MIB: Oh no, my sister's incapable of making decisions like that. She has Down Syndrome but not in the, like McDonald's commercial kind of Down Syndrome where they're just sort of quirky people who can overcome anything. She is very severely disabled and, you know, she can - she can walk and talk and all of that but she can't take care of herself. And she is incapable of making those kinds of decisions. And this has been a source of much discussion and conversation between my wife and I, and my brother and I, and my mom and I, and we have no good answers. And also, just to deal with the different states. To figure out even where she would go or how that would work, it's incredibly complicated and frustrating and you never seem to get the right person on the phone. And so it's sort of in stasis right now. And I just sort of feel paralyzed. I don't know what the right thing to do is. It's been really - I mean, that's the thing I feel worst about, is just the situation with my sister.
Michael now lives in the Connecticut suburbs with his wife, kids, and their dog. In other words…with all the trappings of stability. But it doesn't feel that way to him.
MIB: Now I have a house I can't afford. I had another house that I was affording fine. Now it's just, the end is nigh.

AS: When you chose to build the house in Connecticut, how were you feeling that you felt like, "Yeah, I can make this major investment and built a house for my family"?

MIB: Well I was running numbers and - which is something I sometimes do. And I looked at how much we had in the bank and our investments and how much I'd set aside for retirement and how much I'd set aside for the kids to go to college, and I - I have always saved money. And it was occurring to me that I didn't really know why I was saving money to just save. And I felt like, this is something that my wife and I want to do at some point in our lives, we want to like build our own house and it's sort of like a dream. So if I feel like I can do it now, why not do it now? And the answer, as I found out, is because I couldn't. But I didn't know that when I made the decision to move ahead.

AS: How much does the new house cost?

MIB: Um, how much does the new house cost? More - much more than I thought it would when I said to my wife, "Hey I think we could afford to build a house!" Nope. No, no I couldn't. The back of my mind is always like, "Well this is great, but how are you going to pay for it, idiot?"

AS: Are you saying yes to things that you might have said no to before?

MIB: Probably not. I'm probably saying yes to the same things I would've said yes to. Um, my prerequisite for taking work right now is, is it fun or does it pay enough that I can't say no? And that has served me well. Like this interview for example. So much money I could not say no.

AS: (Laughs) Not fun.

MIB: Not fun. But so profitable.
Michael Ian Black. You can read more about Michael's family, his slight paunch and long-delayed date for a colonoscopy in his new book, "Navel Gazing."
He's also the host of a couple of podcasts, including "How To Be Amazing," and "Mike and Tom Eat Snacks."
And he's got a new game show on POP TV.
MIB: It's called "The Easiest Game Show Ever." And it's not. I mean, it's hard. But I don't care. I get paid either way, whether it's easy or hard. I get paid.
Death, Sex and Money is a listener-supported production of WNYC Studios. The team includes Katie Bishop, Chester Jesus Soria, Emily Botein, Hannah McCarthy and Andrew Dunn.
The Reverend John Delore and Steve Lewis wrote our theme music.
I'm on Twitter @annasale, the show is @deathsexmoney.
And subscribe to our weekly newsletter at deathsexmoney.org/newsletter.
MIB: So you got pregnant right away.

AS: Yeah.

MIB: Oh purpose?

AS: Mhm. Sort of.

MIB: What do you mean, sort of? Oh I think I understand what sort of means. Sort of is like, "Well, either it'll happen or it won't." And then it did.

AS: Yeah. And I'm 35, I think it's going to take a while. And then it didn't take a while. And then it was like, "Oh, get ready."

MIB: Put on your big girl boots.

AS: Yep.

MIB: Good luck.

AS: Thank you.

MIB: It's horrible.

AS: (Laughs.)
I'm Anna Sale and this is Death, Sex & Money from WNYC.
Copyright © 2019 New York Public Radio. All rights reserved. Visit our website terms of use at www.wnyc.org for further information.
Music Credits:
"Wild Ones" by Jahzzar
,
"Decompression" by Blue Dot Sessions
,
"Pageantry (Earth)" by Schuyler Peterson
,
"Pelt" by Carl White
,
"Marianne" by The Losers
,
"Dissimulation of Birds" by Stephen Clinton Sullivan
,
"Thoughts of You" by Ketsa