Michael Arceneaux On Love, Liquid Courage And Letting Go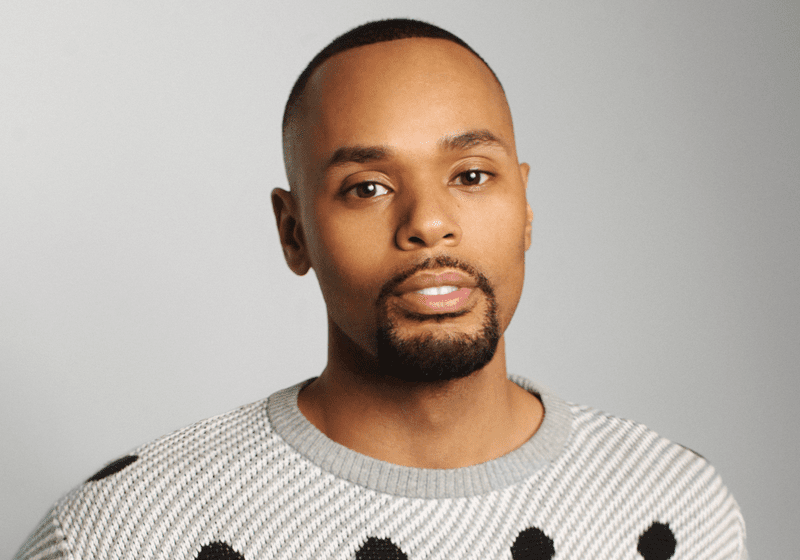 Transcript
MICHAEL ARCENEAUX: I'm usually a happy drunk. But I clearly had a relapse of like rage and all that stuff. And so I had to really sit myself down and be like, you gotta get your shit together.
This is Death, Sex & Money.
The show from WNYC about the things we think about a lot…
...and need to talk about more.
I'm Anna Sale.
When writer Michael Arceneaux was six years old, his Uncle Daniel died of complications from AIDS.
MA: So that was when I was introduced to what AIDS meant and what, by extension, I was introduced to the word faggot.

AS: Where did you hear the word faggot?

MA: At home. It was a drunken rant from my dad after the funeral.
Around that same time, Michael was starting to figure out that he was gay. He didn't tell anyone.
MA: You know, this is 1990 and the, you know the early nineties. My only points of references are my Uncle Daniel dying, Men on Film and In Living Color, which was the effeminate gay male stereotype, so they were to be mocked and laughed at. And then movies like Philadelphia, where again, you die of AIDS. So it wasn't - that's all I had. So imagine, and I grew up Catholic, so I was screwed up to say the least.
Michael's religious upbringing—and later conflicts with his parents about his sexuality—inspired the title of his first book. It's called "I Can't Date Jesus: Love, Sex, Family, Race, and Other Reasons I've Put My Faith in Beyoncé."
MA: I went to church recently, like a year ago, the first time in five Beyoncé albums, which is about about 15 years for people who are not familiar.
Michael is a walking encyclopedia of '90s and 2000s R&B, and he's really funny. But his book also goes into deeply personal and painful territory. About having to hide being gay from his Catholic mother, and having to endure physical abuse at the hands of his dad.
Michael and I talked soon after his book came out last year, right after he'd taken a trip home to Houston.
MA: I drove to my parents' house. I talked to my mom. And so I was saying, you're like, I, you know, not to be a braggart, but I made The New York Times bestseller lists. And her response was like, "I don't want you to go to hell." [Laughs] And I was like, well, I want you be proud of me. And she then, she checked me. She was like, "Number one, I'm always proud of you because you're intelligent, duh duh duh duh duh." So, as of now, that's just where we are.

ANNA SALE: Yeah. Well I want to go back to - to when you were a kid in Houston. Um, and - and I want to be able to picture, can, can you describe the neighborhood you grew up in? What was it like?

MA: Uh, it was one of those neighborhoods, I think maybe like 30, 40 years ago white people lived there 'cause, and then they left. And so, you know, what happens typically when they leave. Um, around, you know, uh, it was, you know, not the worst, but it still was like the hood. You know, we had burglar bars um on the house. You know, I've heard a few gunshots, a lot of ruckus, although a lot of time the ruckus was coming from my house. It was a chaotic setting because of my father, um, his drinking his anger. People would come to our house. They would smoke, drink, play dominoes, sometimes fight. Apparently sometimes knives will be pulled or other things, um. And then usually when something happened outside, it would come into the house. Or something from his childhood or something else would be triggered, then all of the chaos in our house would happen. And by chaos I mean my dad being drunk, angry, yelling, screaming, arguing with my mom and it potentially getting violent and us jumping in.

AS: With your mom?

MA: Yes.

AS: Were you afraid of your father as a boy?

MA: Um, yes, but I would fight him off my mom. Um, I had this recurring nightmare where my dad is attacking my mom and he goes to kill her because he would threaten to kill her or sometimes us. And I'm reaching to stop it, but I can't. And so then I wake up and that's - it ends. So like in the night, she dies and I wake up and I'm stuck. So that was a nightmare that followed me. Um -

AS: You couldn't, you couldn't save your mom in your dream?

MA: Yeah, I couldn't save her. Um you know, despite how a lot of that sounds, there was still some joy in the house. I'll say my - you know people are complicated. My dad would take us fishing. I have really good memories of that. Um, he tried. I don't think he had the language or the capability to do a lot of things because of how he grew up. He was abused um himself, trying to actually defend his mom. Usually sometimes he would break down and cry after an episode and try to explain what happened to him. While that definitely added context, I also kind of, even as a kid, found it—maybe I didn't use the word "manipulative," but I that was the feeling because what does it matter if you're then in turn doing the same thing to my mother and to us? I have complicated feelings obviously about my dad, but—I love him, but he was a terror, I would say. But there was a tenderness there, but it's just the, um the anger always kind of superseded because of the alcohol and because of the not really dealing with any of that stuff that happened to him.
Michael's been trying to deal with the stuff that happened to him as a kid, and it hasn't been easy. Therapy's been hard to afford regularly. It's expensive just living day-to-day in New York, where he's based now.
And Michael's writing career took some time to get going. It started with media internships, during a summer when he was in college. But they were unpaid, which meant he had to take out more in student loans. They got him to New York though, where he'd spend his nights going to gay clubs for the first time.
MA: I did not sneak out like people in high school 'cause again, I was fighting the obvious for a long time and, but then when I was an intern at 20, I was 21, someone, uh the younger brother of a high school classmate, uh, took me to a gay club in the Village. I remember walking in and being like, "Why are they dancing together?" And he was like, "Bitch, because they're gay, like, we're in a gay club. Did you forget where I - I take you?" I'm paraphrasing, but I did get a, "Bitch, like, are you serious?" So I was a little confused at first and then I got drunk and Beyonce came—well, excuse me, Destiny's Child came on, "Lose My Breath," and select B'Day tracks. So it was both. Um, and I remember when I finally let go, I started dancing because I used to be uncomfortable dancing in public because I think it gave it away. Um -

AS: That you're gay.

MA: Yeah. One of, once one of my friends was like, "Ooh, you dance like a a faggot." And she meant that as a compliment, um because she's of the community. But uh, at the time I was like, "Ugh, why did you tell me that?" Um, but once I was in the club—and, you know, liquid courage—I felt free and I felt less inhibited. Um, I was less aware—like I, I enter a space and I just look at everything and I just get so caught up in my head. That also might just be some hood shit to watch your surroundings. But that's what it was, and once like you get the liquor you're like, oh, stop thinking, just go twerk. So, um, yeah, I was dancing, had fun -

AS: Were you dancing by yourself?

MA: By myself at first and then just with friends and then back to myself. But that was the first time I actually felt joy with that part of myself, um, because it was like really the first time I got to experience it and not have to worry about anything. It felt really nice.

AS: When you think about yourself as a young man in your early twenties, out starting to go to gay clubs, when you were kind of scanning the crowd and - and checking people out, was it, were you thinking about who you wanted to have sex with or who you might fall in love with or a combination?

MA: Uh, I was called out recently about being apparently a bit of a romantic. I was like, oh, forget - fuck you for saying that. But it's actually kind of true. So, um, I'm horny all the time, but you know, I do prefer I - for the first time I had sex, I wanted it to be a lovey dovey situation with somebody I really cared about because if I love you, then that means I'm more comfortable, if I'm more comfortable, I have more fun. Um, so there was a boy that I liked around that time who I wanted to have sex with. Um, he - well I gave him head. I was like, "Teach me." Um, and he laughed at me, but that's -

AS: Did he teach you? Did he give you tips?

MA: He did. I thought I did a good job, first effort. Um, but he, he wouldn't let me do more and we didn't have sex and then I found out he was dating somebody. I was like, "Oh, here we go." A girl and a dude. I was like, oh God, I'm a Mary J. Blige album mixed with like a '90s, like Ricki Lake episode. Ain't this some fucked shit? Um, this is ridiculous. And so yeah, how I lost my virginity was very anticlimactic, but ideally I wanted to, it wanted to be lovey dovey.

AS: Does it feel like now, now you're in your mid thirties, when you think about -

MA: Ooh, mid? Am I - oh wait, 34 is mid. I, just, okay, go - go ahead.

AS: [Laughs] Sorry!

MA: Sorry. I I just had a c-, I had a mini crisis. I was like, "That's next year, excuse you! Anna!"

AS: You're not at the exact middle, but you're approaching -

MA: I am barely 34. I'm approaching mid-thirties. Yes.

AS: The bridge from early to mid-thirties.

MA: Yes.

AS: Um, so you're in your mid-thirties now. When you, when you think about what you're, what you're looking for in your love life, is it the same? Is it that same kind of tenderness?

MA: No, I mean, you know, it wasn't, it didn't necessarily have to be. I just wanted tender - like, I just wanted someone to be kind and understanding for the first time. I mean I don't necessarily need, you know, tender kisses. Uh, why am I quoting Tracy Spencer? The whole - I don't, um, I don't need that at all times. But, in the, in in the beginning, yeah. I think for now the thing is I would actually like to finally have, um, a boyfriend and not just situationships in dating and I think one thing that I don't like about myself in the past is that I am so good at turning it off. Um, and I also thought marriage was something that might trap you. So even, you know, before it was like a legal right finally, um I questioned whether I would even do such a thing because I saw what it did to my parents. So I - it was sometimes easy for me to kind of create this false sense of intimacy with unavailable people. Because I did have a moment where I finally had to admit to myself, you are attracting unattainable people because you are unattainable. You are vocalizing that you, you, you, you purportedly want a boo thing and to have a boyfriend and do all those things. But look what you surround yourself with. Look who you ignore. Look how easy it is for you to cut people off. And so the physical intimacy issue was one thing, but it was also like, I wasn't giving a real fight to have a meaningful connection. Changing my mindset has already yielded different results. I'm not that far away from having something that is finally real and mine.

AS: Can you give me an example of how changing your mindset has concretely changed your behavior? Are you, are you looking in different places?

MA: Yeah. I treat um - I treat dating and the men I might meet with more effort I guess? I will still clip you, you know, but -

AS: Wait, what's that mean?

MA: Like clip somebody, like just get rid of him, like, we're done and it's not going to work. Um, and it's not so much because I'm looking for a reason to get people out, but it's also like, you know what, I don't think you'd be good for me or I wouldn't be good for you. So like, you know, let's move on. If I know it's gonna be a headache, if I know it's going to have me ended up listening to, I dunno sad Mary J. Blige albums, or like Sadé, or like Amy Winehouse, 'cause I don't want to be curled up in a ball listening to, I don't know, "Wake Up Alone." No, I don't - I don't need those problems or like trying to hit Faith Evans' notes on Mary J. Blige's "I Never Want to Live Without You." It's like, no. If I, if I see something, I'm like, let me get out. Mm-mm. That's growth for me.

AS: It's interesting because you like, you're at once describing yourself as someone who would like shut it down when you felt vulnerable or could feel someone not responding to you in the way that you wanted to be responded to and not be emotionally available and also wrapped up in the fetal position listening to Mary J. Blige.

MA: Yeah, well you know I will say it takes a, it - it takes me a long time to get to that point. I have a high tolerance for pain. It takes a while for me to cry and I don't say that as um to be something to be proud of. I actually think that's not a good thing. But I think growing up the way that I did, I already kind of knew how to suspend stuff sometimes. Because again, like stuff was happening in the house and I had to go outside and go to school and present so I kind of have built up, you know, certain endurance and for all of that and tolerance. But you know, I'm human so when I finally get to that point, oh, I'm there.
Coming up: More about Michael's dating life today, and why he always carries a condom. Well, almost always.
MA: I used to keep a condom in my wallet all the time and was not having sex. And then when I finally got over it, I didn't have it in my wallet. Um. I was so mad recently about that. I blew it. I blocked my blessing.
—
Last week, we shared some of your stories about your relationship with alcohol. What's working for you when it comes to drinking, and what isn't.
For our listener Brandy, the timing of our episode really hit home. She just started talking more openly with friends about her drinking habits.
BRANDY: I did not realize how much I'd been consuming. And having me share that I may clear a whole bottle of wine a night and not even think about it, and the shock on their faces like, oh girl no, you know, that's not what we do, has been a real eye opener.
Brandy say she's looking forward to hearing your answers to the follow-up question we asked, which is: What do you do when the craving for alcohol strikes, and you don't want to indulge? Here's a little of what we've heard far.
I've gotten really into craft non-alcoholic beer...

I'll usually splurge on something.

I go out on the balcony and take some time to actually relax, instead of just chemically relaxing.
We still want to hear from more of you about this. Send us a voice memo about what you've done instead of drink when the urge hits. Keep it to 30 seconds or so. And you can email it to us at deathsexmoney@wnyc.org.
—
This is Death, Sex & Money from WNYC. I'm Anna Sale.
After losing his uncle to AIDS when he was a young kid, Michael Arceneaux was hyper-aware of the health risks that can come with sex. And, he says, the threat of HIV and AIDS continues to hang over his dating life.
MA: When people talk about the HIV/AIDS crisis, they tend to talk about it as if it's like past tense, particularly for queer men. I am black, so black and Latinx men have really high rates, as do black women, but it they - it's - it's it's overwhelmingly high for people like me and my dating pool is a lot smaller as a result. So it's very much still a crisis for me and I, you know, I've, I've quietly seen many people drop off and people still don't talk about it.

AS: Really? Die of AIDS?

MA: Yeah. Die of AIDS, um -

AS: Who are your peers?

MA: Yeah. People younger than me or people around my age.

AS: This might be a personal question, but I, given that how you learned about sex and gay sex was, was during the AIDS crisis, um, have you chosen to to use PrEP?

MA: Uh, I have not. Well, so that's - [laughs] when I first moved here five years ago, I went to the doctor and asked about it. She said I wasn't the ideal candidate basically because I wasn't fucking enough.

AS: [Laughs] Oh no, are you serious?

MA: Yeah, it was kind of the equivalent of -

AS: You're not having enough casual sex?

MA: Yeah, yeah, I wasn't having enough sex apparently. Now I just kinda need to figure that out. I think I am open to that. [Laughs] Because it came up in conversation recently cause I um, didn't have a condom so I didn't have sex. So yeah.

AS: Have you, and this is another personal question, but, um, have you ever had sex without a condom?

MA: No.

AS: No?

MA: No, no, no, no, no. No I have not. And no judgment to people who have had, whatever, whatever, whatever. When you see someone die like that very early, and then you see other people die along the way, and you see people die that are still your age, and then in some cases where they don't have the money to bury someone, so it's like in a wooden casket—when you know of these things or have seen these things, for me at least, that doesn't leave you. So I have never had sex without a condom. Um, there was one instance where it almost. But that was stopped. Like it was stopped. Yeah it was stopped because I quickly -

AS: You stopped it?

MA: Yeah, I was, I, I had to catch myself. Because when you drunk and, or at least tip, even tipsy, you know, some stuff happens. But no, that was, that's, that's how it happens, you know? And while you can, you know, lead a full healthy life, all those things. I, if I can prevent it, I will prevent it. So I've never had sex without a condom.

AS: You've described like over, you've described over your sort of childhood and adulthood, like basically like the coping mechanisms you've formed and then how you've tried to adjust them as you, as you've gotten older and one of the things you talked about with your dad's drinking and his violence, um, how have you thought about alcohol and - and what feels comfortable for you in terms of when it feels fun to let go and, and when does it feel scary?

MA: Um, so I've never, not—well I I've been constantly reminded. So I'm never not cognitive of the fact that um Arceneaux men can drink. Um a lot of them have, a lot of us have really high tolerances or so we tell ourselves. Um, well, yeah we do. And but - but subsequently I'm very much aware of how addiction runs in the family. Um, so I didn't drink until 21, the same way I didn't really go, I didn't go to a club until 21. And for the most part I've been fine, but I, I have been concerned in the past because I'm reminded that that can lead to something else. And so a couple of years ago, there was a moment where I was drunk and I became incredibly angry at somebody. Um and I removed myself from that situation. But I was so enraged. And then I am kicking over trash cans. I'm pushing like the newspaper stands down. I, I was, I was kicking white people's bikes in that area down—and I'm assuming they're white because it was the Village um, but I could be wrong—I was kicking somebody's bikes down. I was, I was losing my shit and mind you, I'm black, lanky, in the Village. I could have easily been arrested or something, and then who knows what could've happened. And so I was really um ashamed of that and it scared me because it reminded me that no matter what I tell myself, I am still human and thus susceptible to falling into patterns of those who have come before me. Um, I have not had an incident like that since then because I'm actually more of a fun drunk. But again, I grew up in a house with a lot of anger. And so I, you know, for me, I'm actually more like my mom. She can be chill and just take it and take it and take it, and then when she blow up, duck. And so that's how a lot of times I can be. So I, it it it takes a while. But when I blow up, I blow up. But then, I have a bit of my father in me, and I wasn't, again, I wasn't proud of that, it was very scary. Um but I had to learn from that 'cause at that point I was 30 so I knew better, but I still did it. And that's when I had to be on and really pause and be like, you can't be acting like this um and you need to watch what you drink.

AS: And did you change the way you drink after that night?

MA: Yeah, I never got that drunk again. But also I just took better care of my emotions. My mom is the strongest person I know, but she comes from the school of thought that you don't really tell your business. You don't, you keep that in and you deal with it because that's what she was taught. My dad clearly, he just blurts out stuff in anger. But I didn't want to continue that cycle. Um, it didn't necessarily change overnight, but eventually I had reached this point where I thought I needed to make peace as possible with them because if I don't, I'm going to carry this with me. I think in order to truly forgive people, you have to just meet people where they are. And so with my dad, what I started doing was just to call him. Just he - we don't talk long. He, he talks like a mile a minute, "Hey there boy, you alright? Blah blah blah, alright, love you bye." And even like, "Love you," I got him to say love you, 'cause I would be like, "Love you pop," and then hang up. We would only talk for a minute. He would ask about the weather, you need anything, you alright? But I think even just calling and ending with "I love you" means a lot to him. And so it's good for me that I do that because it shows that like, I have forgiven as much as, you know—well no, I have forgiven, I don't even want to quantify. I've forgiven. I've made peace with it as much as I can. I'm not carrying with me all that anger. You know, this is very, you know, early Celine Dion ballad of me, or Mariah Carey, but you can heal from that. You can grow and you can be happy.
That's Michael Arceneaux. His book of essays is called "I Can't Date Jesus," and he's working on his next book, called "I Don't Want to Die Poor."
Death, Sex & Money is a listener-supported production of WNYC Studios in New York. Our team includes Katie Bishop, Anabel Bacon, Xandra Ellin, Emily Botein, and Andrew Dunn.
Stephanie Joyce and Joanna Solotaroff also worked on this episode, and our intern is Emily Nadal.
The Reverend John Delore and Steve Lewis wrote our theme music.
Thanks to the Buffalo Bill Center of the West in Cody, Wyoming for the use of their studio.
I'm on Twitter @annasale, the show is @deathsexmoney on Twitter, Instagram and Facebook. And you always email us at deathsexmoney@wnyc.org.
Michael also wrote a piece in The New York Times last year called The Student Loan Serenity Prayer. It's wonderful, and there's a link on our website at deathsexmoney.org. Michael owes about $50,000 in student loans, and he told me, he regrets borrowing so much⁠—and not telling people back in high school that he was gay.
MA: In hindsight, I wish I came out sooner because I won one of my best friends in high school like at least $20,000. It was a queer scholarship. And she...ain't dated a woman since the nineties. Um and so literally -

AS: Wait, so you wrote, you wrote an essay for your friend

MA: Yeah.

AS: who got a $20,000 queer scholarship - [laughs]

MA: Yeah, a PFLAG scholarship actually, and that was money, 'cause it was, we had a hood high school. So it was like, oh no, black, gay, at this place? All the money!
I'm Anna Sale, and this is Death, Sex & Money from WNYC.
Music Credits:
"JoDon" by Blue Dot Sessions
,
"Thoughtful" by Lee Rosevere
,
"Let That Sink In" by Lee Rosevere
,
"Going in Circles" by Lee Rosevere