In Sickness and In Mental Health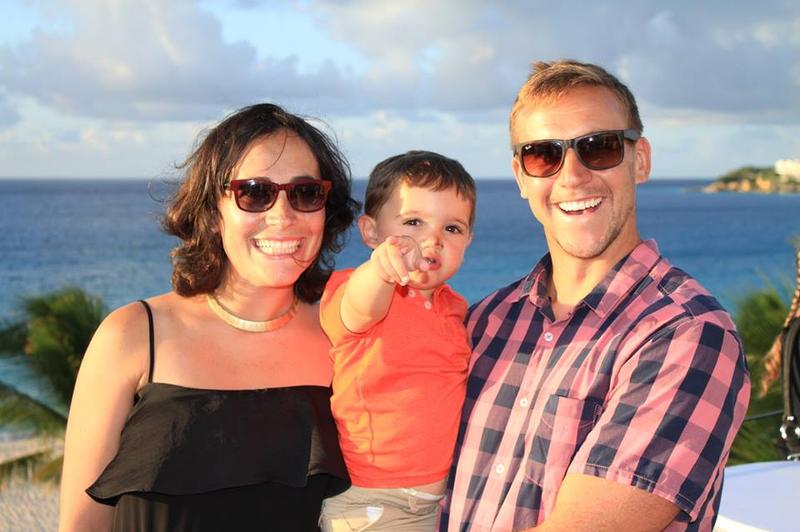 Transcript
For him it was just so new because I've always been the happy girl, that's what he had known all his life so he didn't understand it either. So we were just both clueless.
This is Death, Sex & Money.
The show from WNYC about the things we think about a lot…and need to talk about more.
I'm Anna Sale.
Mark and Giulia Lukach got married on a hot day in Washington, D.C. in 2006. They'd met in college, at Georgetown.
ML: I mean, we were really young. We were just barely turned 24.

GL: We met when we were 18. So at that point, we were together for six years, yeah.
The day after their wedding, Mark and Giulia packed up their things. They'd decided to start their new life life together, across the country.
GL: We didn't even know where we were sending the trucks to, we just were like "Let's go to San Francisco."
Mark was going to teach history at a private school. Giulia found work after they moved...but it was 3 years later, when she landed what felt like her dream job, doing marketing for a hip manufacturing startup.
GL: I remember applying out of the blue and writing this really cool cover letter and they called me and I was in total shock that they even got to my resume. I did not last there long.
Because soon after starting, Giulia had paralyzing anxiety -- a kind she'd never felt before.
GL: I was only a week or two into this new job and I would look at an email I would receive, and I'm very efficient, I usually write back, respond, I'm doing a million different things and for some reason this time around I would just look at the email and stare at the email and re-read my response ten times and call Mark and read him my response before hitting "send." I would just blank stare at the wall and people I remember were looking at me like "What's going on?"

AS: And Mark when did you notice that this wasn't just stress of starting a new job?

ML: Within the first week it was clear that the stuff she was complaining about was bigger than "oh this is a busy job" where I was like, maybe this isn't actually what we thought it was gonna be. I recognize, looking back, I was pretty impatient and could get pretty easily frustrated, like, "What's going on? Why are you so freaked out? Stop calling me. I'm at work, I gotta do my job too."
Giulia went to a doctor and was prescribed an antidepressant. But she didn't get better.
GL: What made it real was when I was given the pills and I was on Skype with my mom and I told her, "Mom, I think I'm gonna take all these pills, I think I'm gonna commit suicide." And that was just within like a month. It just spiraled so quickly.
About one in five American adults has a diagnosable mental illness in a given year. One in 23 lives with a serious condition -- one that can cause major impairments and disruptions to daily life. That includes Giulia.
AS: How did you get to the hospital that first time?

GL: Yelling and screaming and being carried by my husband and by my dad, and basically trying to open the door and fly out of the car.

AS: Because you felt...why were you trying not to go to the hospital?

GL: It was just because that's not the person I was, you know? Coming to terms and realizing that you yourself are crazy or you yourself are experiencing this, coming from my background where I was like the straight A student and just having the most friends, and being the first to get married, that's who I was, you know? I would not accept this as my reality.
Giulia was eventually diagnosed with bipolar disorder -- sometimes called "manic depression." People with it experience extreme emotional highs…and extreme lows. And in Giulia's case even the highs are really dark.
ML: That's one of the big distinctions they made. Usually mania is super fun and you're up late and partying but your mania is just like really scary and psychotic.

GL: Mmhmm.

ML: The only thing she could talk about was the devil and that she basically needed to protect the world because the devil was inside her. And so, she didn't specifically say I am going to kill myself but it was basically like her being alive was keeping the devil alive.

AS: And what did they tell you at the ER?

ML: I still was under this impression that a doctor was gonna walk in the door and say, "Okay, here's exactly what's going on, and here's this pill, and as soon as she takes it, it's like taking a Tylenol for a headache, she'll be totally fine within an hour, no problem." And that was like such a naive expectation, but it's what we thought, and that is not at all what happened. Instead the doctor came in and said, "We have no idea what's going on, she's clearly dangerous, so we can't keep her here in the ER, we're gonna take her to the psychiatric facility where she's gonna stay for a minimum of 72 hours because that's what the law mandates. And after that they'll reevaluate if she needs to stay longer.

AS: At what point did you hear the words psychosis or psychotic break?

GL: I think I remember it most clearly when I was put next to the nurse station because I was "completely psychotic," and that's what I remember the nurse saying is, "This girl is completely psychotic and she needs to stay right here next to us." That's kind of the room where the craziest of crazies stays because they just didn't trust me anywhere else in the ward. I think it was very much early on.

AS: And it wasn't said to you, it was said about you.

GL: It was about me, I was right there in the room looking over, completely lost and confused, and they were like, "That psychotic girl needs to stay right there."
She did stay there...for 23 days. Mark was at home, frantically making phone calls to doctors, to the insurance company, to his job, trying to manage as best he could...until visiting hours from 7 to 8:30 each night.
ML: And so it was literally like spend all day on the phone and then gear yourself up to go visit her not knowing what the hell's gonna happen when I get there. Any range of Giulia being super affectionate or Giulia screaming at me to not come in her door, or Giulia just ignoring me. It was completely unpredictable. I'd have to prepare things to talk about because Giulia didn't necessarily…all she wanted to talk about were the angels and demons that were in the world and I'd be like "Oh well the weather was nice today, let's talk about… I talked to my brother…" Just try to keep her in this reality somehow.

AS: Giulia I heard you giggle a little bit when Mark said the visiting hours and not knowing what to expect.

GL: Yeah, I just look back at all the stuff I said during those visiting hours and like what I believed and I still remember it all so vividly, but I'm not in that state of mind anymore. So I could see how for him it was so scary, but for me it was reality. Like I believed all the nurses were actors and they all set up this huge scheme against me and this was gonna be like how I would get to heaven is to figure this all out, it was all a game. And I would tell Mark like, "Ha! I get it now, this nurse is playing this person." And he was just like, the center of the plot, because that's what I believed. I believed that he was out to get me, and he was one of the bad guys.
Coming up, their long process of finding a treatment that worked...and how that affected other big decisions.
ML: All the medical advice we were receiving was that this was probably only a one time thing and that was why we did make the decision to go for it with wanting to have a child.
Their son Jonas is turning 3 next month.
Of course when there's mental illness it's not just romantic relationships that can get strained. We've heard about it in your sibling stories, about the particular pain of feeling like you're losing touch with the person you've lived your whole life alongside. Like for Rachel in St. Louis, whose younger sister struggled with mental illness and an extreme eating disorder beginning in their teens.
"And it was something that was very difficult, obviously for her, but selfishly for me because I wanted to be close to her and I couldn't. And she couldn't talk to me, she couldn't talk to anyone, she couldn't be honest, she couldn't be vulnerable. And I wasn't very understanding."
We're still collecting your sibling stories. Email a note or record and send a voicemail to us from your smartphone. The email address is deathsexmoney@wnyc.org.
On the next episode. W. Kamau Bell, the comedian and former host of the FX series Totally Biased.
We talked about how his family's financial situation changed after his TV show was cancelled. And about how being a large black man has shaped how he moves through the world.
"There's just all these ways in which I sort of make sure that the world knows I'm not intending to pose a threat other than the threat that I am posing because of the body that I'm in."
Kamau will also be at our first ever live show. It's in Brooklyn on Friday, May 8th. Kamau's wife Melissa Hudson Bell will also be there -- along with other guests and our house band for the night, Luscious Jackson.
Tickets are on sale now. You can go to deathsexmoney.org for more information.
This is Death, Sex & Money from WNYC. I'm Anna Sale.
After Giulia Lukach got out of the hospital, she was enrolled in an outpatient rehab program where she had a support group, art therapy, yoga. Her husband Mark took a three-month leave from work to help with the transition. But it ended up being nine months before she was feeling better. Giulia remembers it as the hardest time of her life.
GL: I was just so suicidal and I was like why would God do this to me, why would he abandon me? Why would he get me to go through all of this? Basically I believed I was in hell so why would I have to go through hell in this lifetime? I've always been a good person, he doesn't love me.

AS: And how did you feel about Mark during that nine month period?

GL: He was a lot of times "the pill Nazi." That's what I called him for a little bit. Basically he was like, "Take your pills, take your pills, take your pills," and there were times when I took myself off the pills, because on one specific pill I gained 70 lbs in six weeks. I mean it's horrible what some of these pills do to you, and some of them are so mind-numbing and I couldn't live that way. I'm still a human being, you know? So we were not connected at all because he hadn't experienced it, and he always sided with the doctors and the medications and I needed him to side with me.

GL: Looking back obviously it's so hard, what he experienced as well. It's just a hard role to play, to play the caregiver to your own wife.

AS: Mark, when she was released into your care from the hospital, what did they tell you your responsibility was?

ML: Basically to like not let her die, you know? They said you gotta keep her safe and she has to take her medication. Because if she's not taking her medication, you can't keep her at home, she's gonna have to go back in the hospital. It was really tough you know. And it's tough to hear Giulia say this stuff now because I really, I really… You know when she says stuff like, "I'm the devil," I can't take her literally anymore. I just couldn't… It's not to say that I didn't trust her, but I guess I kind of didn't trust her. So when she's saying like, "You don't know how these pills make me feel," it was really easy for me to say, "You're right I don't, but it's worth it because you're not thinking you're the devil anymore and you're not actively trying to throw yourself out of a moving car." But that's because I didn't have to take those pills. And the problem is since this was her first time she had no baseline understanding of how medication impacted her. So they didn't know what meds were gonna work and what meds weren't gonna work, so it was this like long drawn out science experiment of, "Let's try these pills for 3 weeks, oh they didn't work, okay, let's just switch 'em out."

AS: So Mark, this is a difficult question but during that period did you fantasize about leaving the marriage?

ML: The reality is no. I did not. Because it felt…it just felt like it was too intense to leave, but after when things got normal and then you just start to bicker about who did the laundry and this little stuff, this little crap basically. That's where I was like, what's going on here? That's where I started to get more frustrated with the marriage, where I was like don't you realize what I did to help you? And how much I love you and how much I sacrificed to try to take care of you? And I got really frustrated for a while you know? I just didn't feel like it was reciprocated. Not that I was fantasizing about leaving the marriage…but that's where the impact, the negative impact on our marriage really came to life and we had to just navigate the normal things that couples confront with this very unbalanced power dynamic. It was really sloppy and we fought about it a lot.

AS: And Giulia do you...it sounds like you were frustrated with Mark because you felt like you had had this profound experience that he was totally outside of, he just couldn't understand.

GL: Yeah (laughs). I mean, yeah he was not in a psych ward, and I will never be the same. This changed me forever and so I see the world differently. It's like yeah, I'm sure the world is beautiful and everything happens for a reason. When you're on the other side of that spectrum, it's really tough to come to terms with that. That it's you that's gonna be the one suffering and questioning your life and questioning your existence, and I thankfully met a lot of friends that experienced similar journeys that I did, that I was able to grasp onto during these last five years that have really helped save me.

AS: Can you tell me about the decision…how did you decide to start a family with Mark?

GL: So that was like, I've always wanted to be a mom. Actually before my first episode I remember going off birth control like literally that summer and then I got sick and everything changed. I remember my mom visiting me in the hospital and me telling her, "Mom, I'm never gonna be a mom, I'm never gonna get to be a mom," and she's like, "What are you talking about?" I said, "No, this is my life, this is what I'm gonna be, I'm gonna be in psych wards, and I'm sick, and I'm not gonna be a mom." And I think after…It was after two years in talking obviously very closely with my psychiatrist, my therapist, my gynecologist, that they thought it was gonna be okay for me to get off the medications and try to get pregnant safely. And so we were blessed, with this beautiful baby boy.

AS: And then you did get sick again?

GL: Two more times, yeah. Same triggers, I was starting a new job and I was breastfeeding, trying to do it all, and I stopped sleeping which is my number one trigger and even after 24 hours I called my therapist, my psychiatrist and they put me on the meds and it's already too late. I just go into my psychosis and my big thoughts of...this time I thought heaven was a place on earth and we were all just angels. That was when Jonas was only five months old.

AS: And how long were you hospitalized at that point?

GL: The second one was my longest hospitalization, I was there 33 days.

AS: Mark, after the second hospitalization, did you feel like you had more tools?

ML: Yeah, definitely, I had a better sense of my bearings, I didn't feel so disoriented but now I had a kid at home. I wanted the two of them to be together so badly because it was so important for both of them but I also felt like I had to be really delicate about protecting him and protecting her. For a long time if Jonas was up in the middle of the night, Giulia wasn't able to get up. She needed her sleep first and foremost. And so I did all the middle of the night stuff for much of his first year and a half or so. I felt like there was a lot of the middle of the night stuff where it was just me and him.

AS: Did anyone advise you about whether or not Jonas was at physical risk?

ML: Yeah, I mean they were definitely evaluating that. The doctors were really keeping an eye on that and there was never a concern about that at all because of Giulia's specific case. I can honestly say I never thought Giulia would hurt Jonas. I've never had that fear.

AS: Have you decided to have no more children?

ML: That's a pretty weighted question.

GL: I think it's more of, my psychiatrist has told me probably, that Jonas will probably be my last child, yes, because she wants to keep me on meds forever and that would mean not having another child because you don't want to be on those meds during pregnancy especially through the first trimester.
So this is their family. It's not the one they envisioned -- Giulia always pictured having lots of kids -- but neither is this life, keeping track of Giulia's sleep, her medicine, her grasp on reality.
And stability can still be tenuous. Giulia works. She's a senior online marketing manager for a national housewares chain. But last fall she had one night where she couldn't fall asleep and that turned into twenty consecutive nights. Mark tried to take care of her at home at first. But then realized she needed to go back to the hospital again.
ML: I took Jonas to daycare. I said, "Giulia you need to tell him you're going on a business trip," and I was crying so hard watching them say goodbye. And I took him to school and came home and packed up the bag and went to the hospital.

AS: So this is all very fresh.

ML: Yeah this third one is like October 2014 so we're not that far away from it

AS: Yeah and I'm catching you both in the midst of figuring out how you're managing this, how stable you are, Giulia, how to parent when there's this question of your health. I just kind of wonder, Giulia, when you step back from having gone through these very intense experiences of being hospitalized and then the reentry back into regular life and your marriage. What have you learned about your marriage through the course of this?

GL: We learned a lot about through sickness and in health like what you sign on to, you say that when you're up there and looking beautiful and you have all your friends watching, but you don't realize what that means until you're put through hell basically. You know, with me getting sick three times and then the recovery time takes a year after each of these episodes usually. Marriage is not always glamorous, but there are glimpses of light that are unexpected and it's the little moments that you need to live for. And I think that's what we're doing. At night we have our dance parties with Jonas and we dance around and turn up the music and we just laugh and have so much fun and it's carefree. It's moments like those that no one can take away, and for me the illness goes away just for that two minute song. I think that's what we need to live for.
Mark and Giulia Lukach. And this is one of the songs they dance to… Bright Whites, by Kishi Bashi.
Mark is working on a memoir about their marriage. Last fall, he had an essay called "My Lovely Wife in the Psych Ward" published by the magazine Pacific Standard. He wrote it before Giulia's most recent hospitalization… in fact, Mark was getting texts about photo captions while he was in the ER. There's a link to that essay on our website at deathsexmoney.org.
We also have links there if you or someone you love is struggling with suicidal thoughts or mental illness. Again the website, deathsexmoney.org.
Death Sex & Money is a production of WNYC. The team includes Katie Bishop, Emily Botein, James Ramsay, Caitlin Pierce, Zachary Mack and Joe Plourde.
The Reverend John Delore and Steve Lewis wrote our theme music.
I'm on twitter @annasale, the show is @deathsexmoney.
Also -- if are you're not getting the Death, Sex & Money newsletter, sign up. Every week in your inbox you'll get recommendations on other podcasts, hear stories from other listeners, And -- you get first notice when we have a surprise for our listeners. Sign up now at deathsexmoney.org/newsletter. Something is coming soon.
And here's one last thing Mark told me -- about a key piece of advice from a friend when Giulia first got sick.
ML: When you're on the airplane, they tell you if the mask popped down you have to put on your mask first. So if you can't take care of yourself first, you can't help anybody. And that's a key piece of advice I really tried to stick with. Because if you can't, you're gonna be too tired, and just not up for the fight.
I'm Anna Sale, and this is Death, Sex & Money from WNYC.
Copyright © 2019 New York Public Radio. All rights reserved. Visit our website terms of use at www.wnyc.org for further information.
Music Credits:
"Take a Ride - Death, Sex & Money Theme" by The Reverend John Delore and Steve Lewis from John Delore
,
"Immobilessence "
,
"Long Fingers" from BWN Music
,
"Futurism" from BWN Music