Meet the First Family...of Podcasting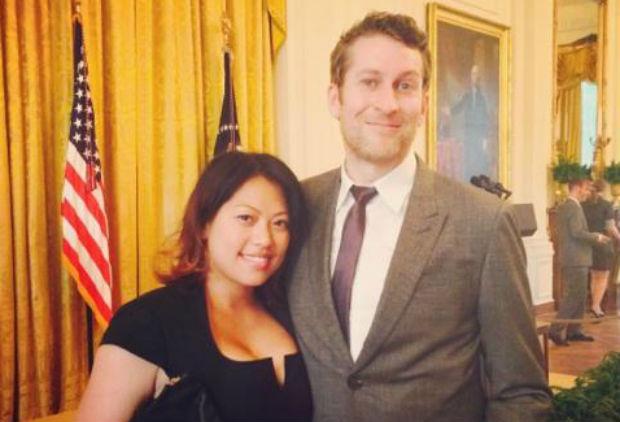 Transcript
So this show, Death, Sex & Money – are you familiar with it?

SA: I'm familiar with those three concepts.

KV: Sure.

Well basically…

SA: Together? It's a surprise to me.
This is…Death, Sex & Money.
The show from WNYC about the things we think about a lot...and need to talk about more.
I'm Anna Sale, here this week with a special, unscheduled podcast episode—surprise!
In some ways, the podcasting world is huge—and expansive. I'm hearing from folks in India, South Africa, the UK. But in other ways, it can feel very small. Like you're part of a special club. Here at Death, Sex & Money, I'm still figuring out where we fit in all this. But if you were to draw a venn diagram of all the various podcasting scenes, Scott Aukerman and Kulap Vilaysack would be very close to the center of it all.
Kulap and her husband Scott Aukerman both have comedy podcasts on Earwolf. Scott co-founded that podcasting network, and he hosts Comedy Bang! Bang! – as a podcast, and now, a television show too. Whatever the platform, it's a show that mocks the interview format.
Yes, his humor does make me a little self-conscious. Kulap's podcast is called Who Charted. It's a show with a lot of cracking wise about the week's top charts in pop culture. Unlike her husband, Kulap will go anywhere with her listeners. Into her neuroses, her inner demons, her disappointments in life. And she's not always playing for a joke, and she's twice been a guest on a podcast called Mental Illness Happy Hour.
Kulap is working on a film about her family now, called Origin Story. Her parents were refugees from Laos, and it's about her strained relationship with her mother, the father who raised her, and the man Kulap later found out is her biological father. She's raising money for it through an Indiegogo campaign that ends this week.

So – Scott and Kulap are a little different. Scott's a little buttoned up, and she'll take her listeners anywhere. They told me they don't listen to each other's podcasts. But theirs is a relationship that's endured. They've been together since 1999.
When you met you were 18, Kulap, and you were 28, Scott?

SA: Oh boy. Try to make it sound less creepy. I can hear the judgement in your voice. Okay we met, I used to hang out at the bus station, the Hollywood bus station and just be looking for girls with a dream.

KV: I was coming from Minnesota.

I mean you had just moved to the west coast right?

KV: That's right. I was 18. And we met at a Mr. Show taping.

SA: I was a writer for a television program, HBO's Mr. Show. And Kulap's roommate knew one of the other writers, so she came to a taping. And I met her.

KV: That's right. But—we did not begin our love affair until a year later.

SA: I thought dating—yeah—an 18-year-old would be untoward, so I waited until she was 19.

KV: He did dump me when I was 21, but we got back together when I was 22, 23.

How long did the break-up last?

KV: I think about a year, year and a half?

SA: It was just about a year.

Okay.

SA: Yeah, I dumped her.

KV: Hard. Just threw my heart on ground and stomped on it, that is exactly what happened.

SA: Come on. We split, it was a mutual thing.

KV: No it wasn't.

SA: I said I wanted to break up, and—

KV: I disagreed. Because I was so young, I didn't know what I was doing. And I really, I realized that I became very dependent on him. By the time we got back together I thought it was over. And in that time I learned how to be more independent.

What specifically, when you think about that time, what was different when you got back together that hadn't been a dynamic that you had before?

KV: I think it's important when you sit at the figurative table that you bring—you talk about different things. My interests were embarrassingly, mainly him. So I didn't really have much to add.

SA: Yeah I think when I first met Kulap, she seemed like a really interesting person with different interests, and that's what I really liked about her. And then slowly she seemed to just kind of assimilate into my life and kind of not want to do much more than whatever I was doing. I think I read when I was younger that the best relationships are ones where the two people have really interesting separate things going on and then when they meet at the end of the day they can talk about them and be excited to see each other. I think we broke up because that wasn't happening at the time. I was working, and then I would come home and find that Kulap had broken into my apartment.

KV: Look, that happened one time. Don't make it a big deal.

SA: Just so she could hang out. And smell my clothes.

So you broke up, but then you—Scott what pulled you back towards Kulap, what, why did you get back together?

SA: Well like she said, she really started developing her own interests. And became—just sort of rediscovered her interesting self, in a way. Even though we have podcasts, they're both very different. And Kulap is off doing hers, and I don't really know what shes up to when she's off doing it, and she doesn't know what I do with mine.

KV: We don't listen to each other's podcasts.

So the reason I wanted to talk to you two together is, you kind of intrigue me as a couple. Because Kulap, I know a lot about your background and your family history, and the story that you are putting together and exploring for your documentary. And Scott, you're sort of everywhere, but I know very little about your inner life. And your family history.

KV: That's us two in a nutshell. What are Scott and Kulap like?

SA: That's a statement, by the way. That was not a question. So just because I'm being silent doesn't mean I'm evading it.

Does it feel like that, Scott, are you less comfortable making your own narrative part of your public profile?

SA: Well I think the shows that I do, especially the TV show, there's really no place for it in the TV show. I'm playing a character on the TV show, I'm playing a fictionalized version of myself with a fictionalized wife and family. I think I'm much more revelatory on the podcast that I do, I think you get a better sense of my personality. So it's not that I really evade it. It's just, in most cases, the art that I'm doing, this silly sketch TV show, it's not really based on the truth of my personality.

Kulap why did you say that feels like it encapsulated some dynamic about you two?

KV: It speaks a lot to how we enter a room. Scott is very warm but he is more reserved. Where I come in sort of like a yellow lab.

SA: That's not an Asian reference, by the way.

KV: It could've been a black lab.

SA: No I think Kulap's podcast, she's very revealing of herself, and that's why people really respond to it.

KV: I've also done other podcasts that go kind of more in-depth into the past and all of those things made me realize that I wanted to tell Origin Story.

So let's talk about Origin Story. You were born in Washington, D.C., but your family immigrated from Laos. You grew up in Minnesota. And yours was not a happy childhood. Is that how you'd describe it?

KV: Yeah, I mean there were moments of happiness and fun but my parents were immigrants. What they went through was a lot, to get to America. Laos—this was post-war—and been very young in new country. My mom was 20 when she had me. So there was a lot of like, cultural issues, between my parents and I. I grew up in two sort of environments. At night it would be traditional Lao; at school it would be American. There was always conflict.

And you grew up working in your mom's restaurant.

KV: I sure did, I was a—let's see—I was washing dishes around 7, 8. And then I was a waitress at 11.

SA: And she was also taking the money down to the bank. She would be charged with carrying the day's deposit bag—

KV: Clearly a deposit bag.

SA: Blocks away to the bank.

KV: Oh yeah.

SA: How old were you?

KV: I was like 5, 5 or 6. Skipping. Just skipping down Minneapolis, not in the greatest part of town. I think to be fair, I was probably 6 or 7.

SA: That's really different.

And then you left as soon as you could, right out of high school.

KV: Couldn't have left faster. 18, like I graduated, and by June, July 5, I started school.

And why did you want to go so far?

KV: I was probably responsibly running away. I have two younger sisters, I love them so much, they're nine and eleven years younger than me, but I was in charge—I took care of them, I was like a second mother, and it was a lot of pressure on top of the fact that my mom and I did not get along. And she always threatened, if you don't like my rules, then leave. So I did.

Why did you want to make a movie about your family at this point in your life?

KV: I've been thinking about some way to tell a story about my family. These like, extremely loveable, but flawed people. And I include myself in that description.

And to be clear, your story is, you had a difficult relationship with your mom. You've talked about some physical abuse, some emotional abuse, and you found out as a teenager that the man who you thought was your father is not in fact your biological father.

KV: That's right. I was 14. I always, I just preferred my dad, I thought I looked like my dad, I got along better with my dad. And they got in another horrible fight, I defended him, she looked at me and said, Why are you defending him, he's not your real dad. And that's how I found out.

And is this the first time you've really dug in and tried to establish your relationship with your biological father?

KV: It is. I was t old that he didn't want anything to do with me for fear that I would want child support from him.

SA: When I first met Kulap and she told me this story, she said that if he ever showed up at the door, she'd slam it in his face and not ever talk to him. And then over the years I think trying to figure out what ever happened made her realize that, wow, some of the stuff I was told was not true.

KV: Yeah, my mom has a very fluid relationship with the truth. And as the years have gone by, she's become less and less reliable. She has a gambling addiction. And there, so the weird thing, the truth weird. I'm looking for—I just need to see for myself.

Scott, as you watch Kulap go through this, will you be in the film?

SA: I mean if I survive the final edit, I imagine I'll be in the film. I'm not a huge part of the film other than talking about our experiences together.

KV: I mean you're a huge presence in the film because this movie is also about family. And you're my family now.

Has it come up in your marriage, how you've worked through what your relationship is to the family you came from, Kulap?

KV: Has it come up, between Scott and I?

Yeah.

KV: Oh sure.

Like in what ways? Were you at all hesitant to commit to someone for a lifetime knowing that having people in your past with whom you had a frayed sense of trust?

KV: Yeah absolutely, even though maybe outwardly it seemed like that's all I wanted, inwardly not having a great example of marriage, having a lot of trust issues, and more than anything having intimacy issues.

SA: I think Kulap also developed a temperament wherein she's quick to anger from her mother. And very defensive about stuff, so it took a while to break that down. And when we first started going out, our communication skills were way different than they are now. I think Kulap has done a lot of work on herself over the years of figuring out how she feels about stuff and how to communicate.

KV: Yeah. And not like I'm the only problem person in our relationship. But I did realize—quit making that face—that through therapy and various therapies, that all I can do is sort of take care of my side. I did learn better communication skills. I think I'm able more to draw—to get you to talk more about your feelings. That is something that I have done, Scott.

SA: No comment.

KV: Alright.

That's interesting. What sort of role do you have in your family?

SA: I grew up in Orange County, California. I have a pretty traditional family in the sense of a traditionally United States of America family, suburban existence where I have a mother and a father who will have been married for 50 years next year. They have three children. And very stable, church-going—you know I grew up in that type of environment which is really interesting because I think when Kulap comes over and visits my family, I think she can stand it way more than I can. Because it's not something that she's really grown up in. So I think—

KV: Yeah but it's like, there's drama but it's like—

SA: It's all emotional drama.

KV: Yes but his family doesn't really raise voices like my family. You guys are at a lower volume.

SA: Yeah, there's a lot of drama in my family, but it is a very supportive family, and it's a couple people who've decided through think and thin to stay together. You know, that's a decision these people made, and it's not something that they take lightly.

When you decided to get married, Scott, was your parents marriage a model for you?

SA: I think so. 10 years ago, I made a documentary film about them, a short documentary—fifteen minutes—about their marriage. And about how they met. I didn't really know that much about them. And it was really enlightening for me, and then part of the film, I talked to them about what they viewed marriage to be. You know it may not be something that makes them happy all the time, but it's something that they decided to do.

KV: But you're happy all the time now.

SA: Constantly happy. No, I mean people do say to me, what's the secret of marriage, I say it's, be married to Kulap.

KV: Aw, you're so cute.
The secret to being married might be marrying Kulap…but a secret of marriage is how much you start to feel like family.
And if you think it can be hard to draw boundaries with your family – it's even harder with in-laws. Figuring out that line of how to support your partner has he or she negotiates an adult relationship with their family can be tricky.
I've been thinking about this a lot – because my parents are about to be new in-laws. I'm getting married! And nothing makes you think about the ways your families interact more like planning a wedding. More on that to come --- for sure.
On the next episode, we get back to the regular cycle with Domonique Foxworth – the former NFL player, who used to lead the players' union. And at a time when a lot of football fans are feeling disappointed, he talks about the ways his sport let him down.
This is Death, Sex & Money. I'm Anna Sale.
Scott Aukerman is supremely deadpan as a comedian. Always seems like he's nodding to the audience that yes, he's not taking this too seriously, either. But he got his start in showbusiness in the most earnest and comitted artistry there is. Musical theater.
SA: I loved musical theater because I love singing. And that said, I think it was a real challenge for me as an actor to be that emotionally bare. They say that when you sing a song in a musical, it's because the emotions are overflowing to the point where words are no longer enough. And you have to sing them! And, so that was, I think, a challenge for me as an actor. I mean I only did it until I was 22 or so, just because I had a love for the art form. You know, and I did do certain roles like Curly in Oklahoma. And you know, I think I sort of tried to break through those walls as actor. Especially physically for me, because I'm a very tall person. I've always, sort of—being tall and thin growing up, you know, I'm not the most -- I don't flail my body around very comfortably. So to be on stage and just sort of have to do choreography and really just even open up my arms, they're so long and lanky I just, growing up always felt very insecure about that. So I think that was one of my main challenges in musical theater.

So it's something you love, but just kind of physically, it's not your natural inclination. But you're drawn to it.

SA: I'm really lucky because the job I have now, I get to sit in chair for approximately three quarters of the show. So yeah, I mean just being as tall as I am, any time I'm standing next to someone in a picture, people just go, Oh wow, you're really tall. It makes you feel insecure about it, like, you're not normal. So. I always think that actors who are short have it better. You know like Tom Cruise has it really great because he just has this wiry compact frame that looks great in a picture. Meanwhile, I'm towering—I'm like three Tom Cruises stacked on top of each other.

KV: You act like you're a giant.

Kulap, you have talked about being ready to have a family.

KV: Yes.

Are you trying to start a family now?

KV: We are.

SA: Are you talking about having sex? Yeah. I'm with, you sister.

When you've talked together about what kind of parents you want to be, at a time when both of your careers are expanding at a very rapid clip, how do you talk about how your family will work?

SA: There's a word that I love: absentee.

KV: Oh jeez.

SA: If I could describe it. No, you know I'm trying to cram a lot of work into my life right now to sort of get a lot of it out of the way. That said, I don't think either of us will stop working. But you can either really slow down, or you could not slow down at all. And I respect the people who don't slow down. Everyone grew up with parents with career, usually. Kids understand their parents need to work, you don't need to be there holding their hand every second of the day, I think.

KV: I think what will change is there will be a desire to want to hold that hand as much as possible.

SA: Sure.

And is that how you think about motherhood, Kulap? In similar terms?

KV: How do I think about motherhood, I think about it, naturally, in terms of my own upbringing, and wanting to do better. I think about—I don't know I think about Christmases, that's what I think about. I think about firsts, and stuff.

SA: That's only one day a year, you got to think about more than that.

I'm struck that you mention Christmases, because that says to me that you're thinking a lot about the rituals, and a sort of stability in your family. And creating tradition, and what that looks like for you two.

KV: That's absolutely right. For me, this documentary Origin Story is sort of getting a handle on the past, basically. To start a new future with Scott and hopefully our child. Like, I very much want to put and end chapter to what my life has been to start anew.

SA: I think Kulap has always been very worried about how she'll act with our kids. And trying to make sure that she doesn't do what her mother did with her. I think Kulap's gonna be a great mom.

KV: I still struggle with just wishing that the past was different. Like I still—even after all the therapy, after travelling miles, I still—it's still very difficult for me.

What kind of relationship do you have with your mother now?

KV: It's kind of non-existent. We haven't spoken much since I—ah, we last spoke in June.

SA: I think your mom follows what you do.

KV: Literally. On Twitter, Facebook and Instagram.

SA: And she listens to your podcast.

KV: Yup. She does.

So she knows how you publicly, how you tell the story of your growing up.

KV: Yeah, yeah. Now this very private thing is public, now they know a little bit more of where I'm coming from. And I was really nervous about that.

Scott, do you have a relationship with Kulap's parents?

SA: I Know them. And we've got back to their house for holidays, and for graduations. I think her mom is really funny, and I like her mom as a person. If she were to want help, I think we would really want to be there for her. But But the kind of help she wants right now is money. She wants a lifeline.

KV: She wants an account—from our account straight into Mystic Lake casino. That's what she wants. It's hard to have a relationship with that.
Kulap Vilaysack and Scott Auckerman. Scott's podcast and IFC Show are both called Comedy Bang Bang. Kulap's podcast is Who Charted, and the Indiegogo campaign for the documentary about her family, Origin Story, runs through September 19.

Death Sex and Money is a production of WNYC. The team includes Emily Botein, James Ramsay, Jessica Miller, Chris Bannon, and Jim Briggs.
And thank you to the first ever Death, Sex & Money intern, Henry Molofsky, we wish you the very best.
The Reverend John Delore and Steve Lewis wrote our theme music.
We're on Facebook. Like our page. I'm on twitter @annasale. If you like the show subscribe on iTunes, or your favorite podcasting app.
I'm Anna Sale. This is Death Sex & Money from WNYC.
Copyright © 2019 New York Public Radio. All rights reserved. Visit our website terms of use at www.wnyc.org for further information.