I Can't Fix It: A First Responder and Heroin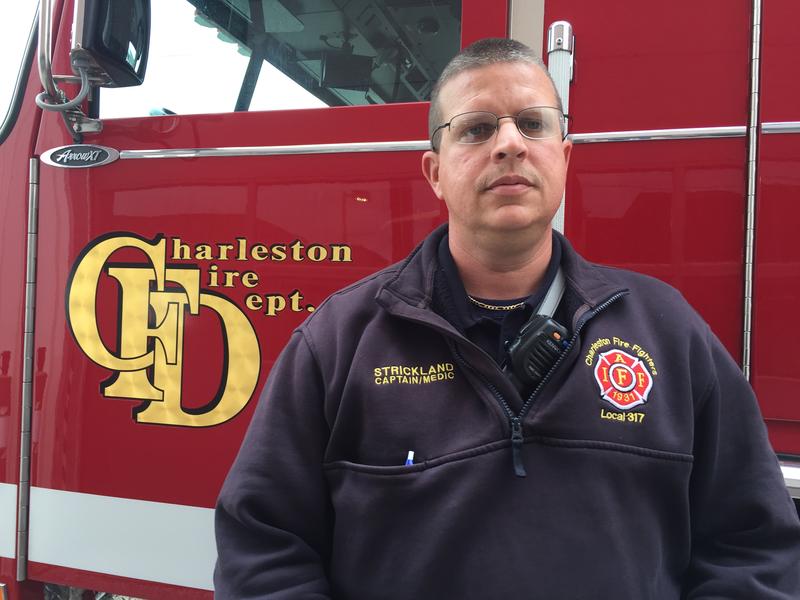 Transcript
MARK STRICKLAND: I can't fix it. I'm treating the symptom of it. You know, my wheelhouse is dead or alive. I walk in, you're almost dead [whistle], give you some medicine, oh well now you're alive. That's pleasant. But you're still addicted. The problem still is there.
This is Death, Sex and Money.
The show from WNYC about the things we think about a lot...
...and need to talk about more
I'm Anna Sale.
ANNA SALE: How how much is heroin a part of what you do?

MS: Daily.

AS: Daily.

MS: I think our high watermark day was eighteen overdoses within 24 hours.
This is Mark Strickland. He's an EMS supervisor for the fire department in Charleston, West Virginia—where I'm from. These days, he spends a lot of his time reviving people who've overdosed on opiates, and dealing with them when they wake up.
MS: Havin' to wrestle with people, fight because they've come out of an overdose combative. They're scared they don't - the last thing they knew they're committing a felony because they're shooting heroin up their arm. So, I mean we all roll up dressed in navy blue, hell we look like cops. So we have to be able to calm people down because if they get up and run out in the middle of the street scared and get hit by a car, we've not done our jobs.
I talked with Mark at a firehouse in Charleston. He's 41, and has been a first responder for nearly 20 years. He typically works 24 hours on, then 48 hours off. With his wife, he's raising three boys, not far from this firehouse.
MS: I decided that I want to be a fireman when I was five years old. My dad was a volunteer fireman in the small town where we grew up, Clendenin. And I would always be with him when he'd go to the firehouse or go on calls and I thought that was a pretty exciting life.

AS: Uh huh.

MS: Anyway, I got into that and it was, not to sound like a - a Hallmark card but it was, it was a way to help people. You're giving everything you've got to help people in distress no matter what it may be. And our job is very simple. You listen to a voice to come out of a speaker in a radio and they tell you where to go and what they presume to be wrong. So you find out what's going on with whomever and you address their emergency, and you stop loss right there, whether it's a fire, a heart attack, an overdose, um whatever is wrong in their life. Um you...

AS: You said stop loss?

MS: Stop loss. You put the fire out where it is.
Drug overdose deaths in the U.S. have skyrocketed in the last five years. But they're the highest in West Virginia. The overdose death rate here was nearly three times the national average in 2015, the last year complete CDC data is available.
It wasn't like this when I lived here. And it also wasn't like this when Mark was first training to become a paramedic in the late '90s. He learned how to use Narcan, a lifesaving drug that blocks opioid receptors, but back then he rarely used it.
MS: It would expire on the shelves. We didn't go to heroin overdoses or opiate overdoses all that often. And now I'm keeping preloads of Narcan in the in the driver's door of my cruiser at work.

AS: When did you notice that the job of first responders in this community was starting to change because of drug use?

MS: Hm. Um, in the late 90's, early 2000s, clandestine meth labs became all the rage. Meth moved into the community. The uh, shake and bake cooking, one pot cooking, the clandestine labs, um we started encountering those.

AS: I remember that. That's when I was living here [MS: Right] and there was the issue of not only like fires but they were hazardous waste zones too [MS: Absolutely] for you as...

MS: It - yeah if you didn't go in and get exposed through the smoke, um if we went in a lot of times people would call in an an odor, a chemical odor. Uh it was just awful.

AS: So when did that - when did you notice that shift into something different?

MS: As - as that was being addressed, the trend of prescription drug abuse was raring up, was ramping up. Some doctors with ill-gotten gain in mind would open pill mills. And they'd just rent a building and put a sign outside that said you know, "Dr Smith, Pain Clinic," and you could come in and say, my back hurts here's a hundred dollars and he'd write you a prescription. And the DEA, local law enforcement, state law enforcement and a bunch of people started talking back and forth, said, "Hey we're having all these people overdosing on opiates - the hell? We gotta, we gotta do something. Oh I know what we'll do, we'll stamp out the pill mills." And they did. The bad thing was the addicts remain. Um, but my ah, if you will, patient zero for this heroin—people use the word epidemic—my patient zero was in a house on the west side of Charleston...

AS: Not far from here then?

MS: Not far from here at all. Picture if you will, the white-sided, wood frame house, swear to God, white picket fence. Morning glories growing in it, right? Car in the driveway, nice and washed, nice home. Uh, we get called for the for the possible deceased person, and this is like four in the morning. And I go into this house, lights are on, and a woman's sitting at the kitchen table, of course had been crying. My ambulance crew beat me. They were there and standing over top of this gentleman in the floor, laying on his right side, obviously deceased. And one of the the young guys we had on the ambulance said, "Hey Captain, what's this?" and he pointed to the desk and there's a cap of a needle, two other needles that were unused, a tourniquet and then an open and two unopened bindles of dope. They'd crimped off two ends of a drinking straw and there's dope in the middle of it. Now I look back to the patient and I look back at the wife and I said, "Ma'am how long has this guy used heroin?" And she started crying.

AS: Mm.

MS: I said, "Look, I'm - I'm not judging, I'm just asking a question. I mean I got heroin here on the desk, I got a needle cap. I'm going to guess when I roll him over, I'm gonna find a needle in his arm. How long's he done drugs?" And she started bawling, crying. Said since he came home from Vietnam, he's used—therapeutically—heroin. He's always gone out of town to get it. He's never sold it, he doesn't deal it, he doesn't get—just keeps him stable. So I asked her, I said, "Where did he get this? Where did he get this? This his usual stuff?" And she told me, "No, his dealer gave him those for free and asked him to use 'em and that it was something new and wanted him to put the price on it." And it registered in my head if this guy has done heroin since 1970 God-knows-what, but this stuff killed him lickety split—half of this stuff killed him, he didn't get the whole shot in his arm—what's new about this stuff compared to anything else? And from there, I noticed it being an everyday event.

AS: Specific to the calls where you're watching people who are nearly dead, you're bringing them back to life. And you find them again, nearly dead. Does it feel like you're - you have a really close-up view on something that's like kind of breaking down?

MS: Very much so. Um on those calls, um, a lot of times I've walked out feeling as much of an enabler as the dealers on the street. Because if I just show up and shove some Narcan in your arm and, "You better now? You're good? You're going to be sick later. See ya." And walk out. What the hell have I done? Now given the only thing you need to be to go to rehab is alive—gotta have a pulse to get in to rehab. That's handy. So if I don't go out and do my job assessing the human body in front of me and give Narcan to an opiate overdose and get them alive, then they're never going to have the chance to go to rehab. And we've heard the commentary, both locally and nationally, "Aw, you shouldn't do that. You're just wasting money on these people. Just all let 'em die. If they've overdosed twice, you should just not have to Narcan 'em again. You get three strikes in life right?" Well I don't know do you? How many diabetics do we go to that, "Well you know what you let your sugar drop again 'cause you didn't take your insulin right, now I've got to give D50. I've done that to you twice. Time for you to die." Seriously? How many of those patients do you say, "Mm-mm, two bites of the apple [tsk tsk tsk] you're done." So who are we to judge a person—rich, poor, black, white, Jew, Christian, Muslim. I don't care. They're a human being.

AS: Do think you're stopping loss?

MS: I don't know. I don't know. The left side, right side. The left side, the - the - the bleeding heart, save the world side says you're giving people the chance to go to rehab to change their ways, to be a productive citizen. You're giving that kid his father back—even if for another day. You're helping that family recover. EMS is doing their part to stop loss. We're preventing deaths from overdoses. That's the left side, bleeding heart, unicorns and rainbows. The darker side says, yeah. All we're doing is perpetuating a problem. We're keeping more addicts on the street. If there weren't as many customers, there wouldn't be the industry for dealers because all their patients would be dead. So why should we pay our taxes for our cities, our counties, our states to buy Narcan to put on ambulances because you want to go commit a felony and you want to go shoot heroin. We've had many people, many patients that we've run two and three and four times. Uh, my high watermark on repeat offenders or, uh, frequent flyer customers, however you wanna look at it was eleven. I ran a guy eleven times.

AS: Did he make it?

MS: Uh yeah. Yep. Probably the thing that makes me the the most mad and the ones that - the ones that piss me off are the ones involving kids, when kids are home. And…

[RADIO - 911 dispatcher]

MS: That's an overdose. I'll be back.

AS: You need to go?

MS: Yup.

AS: Okay.

MS: That's a heroin overdose. I'll bet you a paycheck.
—
I met Mark for the first time when I was back home in Charleston last month.
When he got the interview request from us, at first, he thought the email from "Death, Sex & Money" was some kind of prank from the guys at work. In a follow-up email, I proved my local cred by telling him where I went to high school.
I've become used to updates from home about someone I knew, or someone I knew's little brother or sister, dying of an overdose. It's not just in West Virginia, of course. But the current opioid epidemic has its roots in this part of the country. And it's been this way for years now, so much so, that you can almost become numb to it. I wanted to hear from someone who can't ignore it. And that led me to Mark.
Next week, we have another episode about opioids. It's a story we don't hear often enough, about life after heroin. I talk to my dear friend Danielle, who's been sober for more than eight years. She grew up on Long Island, and I met her in Brooklyn after she'd stopped using. But I asked her to come in to tell me about how her addiction started, and how her habit ended—beginning with her first 12-step meeting in Manhattan.
DANIELLE: I saw like a sort of celebrity there and I saw people get into a chair fight. I, they were like throwing chairs at each other and I remember thinking, "This is the coolest place I've ever been in my life." I loved it.
—
This is Death, Sex & Money from WNYC. I'm Anna Sale.
[SOUND OF FIRETRUCK LEAVING FIREHOUSE]
After the call came over the radio about the 27-year-old man in cardiac arrest, Mark jumped into a firetruck with some of his colleagues and they were gone. We waited at the firehouse, and Mark was back within an hour.
MS: Sorry about that.

AS: Don't apologize.
Mark told me a woman had called 911 when she found her boyfriend unconscious.
MS: Boyfriend was sleeping over at his girlfriend's house and she went to check on her three-year-old son in the other room and noticed that he wasn't breathing too well. Called 911, thought he was dead and he was breathing about four times a minute and ashen and grey looking and sweaty. And his percentage of blood, percentage of oxygen in his blood stream was less than 50%, so we controlled his airway and used the bag valve mask and breathed for him and started an IV. Pushed some Narcan and he woke up.

AS: And, um, you said there was a three-year-old in the house?

MS: There was. He was in the other room. He was in his room playing and his mom kept him away and didn't let him see and what have you. But that's just - those are the tough ones for us is this well-intentioned mother trying to make it, her boyfriend's in there shooting up heroin in her house and now we've gotta report that to CPS.

AS: To Child Protective Services?

MS: Right.

AS: Had you seen this particular guy before?

MS: No he just got out of prison. For drug distribution charges.

AS: Mmm.

MS: Yeah.

AS: So I wanna talk a little bit more about, like, how you integrate what you see every day at work into your life. What happens when you go home? What happens when you're off the shift?

MS: Since I live in Charleston, it - it's hard to it's hard to take it off you know? You can take your boots off when you get in the door and you can change uniforms. But it's hard to go to the same grocery store where you've run overdoses in the bathroom and it - it's hard to go there and take it off you know? It's kind of hard to take it off. We're very frank with our kids.

AS: Like do they know - if you're in a grocery store, you flashback to to reviving someone in the bathroom, is that something you'll share with your kids?

MS: Yeah. Yeah, I'll tell 'em about it. Because I want them to know without a doubt what drugs will do to you. And we tell 'em, look if you're ever approached, "Hey buddy you wanna try this?" Tell 'em no, my Dad makes me pee in a cup, you know he's a he's a bastard. He's just mean.

AS: Do you?

MS: No.

AS: But you said that's a that's a thing [MS: That's a way out] you can say.

MS: It's tough to say - it's tough to say no. It's tough to face the peer pressure of, "Hey buddy why don't you? Come on." You know. And it's tough to say no and I'm like blame it on me, blame it on your mom. Be the person to say, "Hey look, you know you know what my dad does at work?"

AS: So when your - your oldest is sixteen?

MS: Sixteen.

AS Your youngest is how old?

MS: Almost almost twelve.

AS: So you almost have three teenage boys.

MS: Mhm.

AS: And you're trying to be a good dad.

MS: Mhm.

AS: And you're trying to prepare them to make good choices.

MS: Right.

AS: And then in your job, you are having to take care of people who are making choices that you think are bad choices.

MS: Right. That's tough. That's...I've identified that. It took several years but, um. I'm not real big on the whole huggy, touchy-feely side of things, right? I was taught by old school people in fire and EMS both that said, Hey look kid, suck it up and you go on and do it. We do this job cause nobody else can, mkay. So you suck it up and you don't cry about it, you don't bitch about it. You do your job, go get your paycheck, go to your next job and go on. Um. Crawling in a bottle is usually a, um, okay reason to just deal with job stress and we all know that's not. That's a crutch. It's that's an addiction of another sort.

AS: But that was like the culture that you came up with, [MS: Yeah] old school was sort of like...

MS: It's choir practice. We're gonna have choir practice down at Joey's at 8 o'clock. Come on down. And you went choir practice and...

AS: Throw back a bunch of beers?

MS: Yeah. Yeah.

AS: Talk about work or no?

MS: Yeah. Yeah that's where you do it. 'Cause it's okay then, 'cause ah, we were just drinkin' and carrying on, that's why I got emotional man, it's all right. And that's okay. That's how you deal with it. I don't want this generation of kids coming up behind me in the fire service doin' that, um.

AS: Do you still drink?

MS: Yeah, socially.

AS: Do you drink - do you do the choir practice thing anymore?

MS: Um, no. Thanks to iPhones and technology and Facebook and stuff, you can't get people off their hind ends to come out and do stuff like that anymore [AS: Oh.] People just sit and Facebook about stuff. I'm not a Facebook fan. I'm not a social media fan. Um I think it's anti-social because we're noticing that the generation of people, generation of Americans that have had phones in their hands since they were babies, have a very hard time having interpersonal communications eye to eye with people. They can't do it. They'll text you. They'll tweet you. They'll email you and that's fine. But to sit down and hold conversation or to have to assess a patient and ask them questions is awful.

AS: So you - so on the one hand maybe it was slightly unhealthy behavior to drink maybe a little too much [MS: Mhmm] to get rid of work stress [MS: Mhmm] but at least there was some sense of community in while you [MS: Right] were...

MS: Right.

AS: And and now is there that at all?

MS: There is there is to an extent. We've learned that addressing the possible tie-in to PTSD is something we should do. But by and large, most first responders will shun away from the PTSD phrase. That's what guys get from coming home from Afghanistan and Iraq because they've earned that. If you're in a foreign country, taking hostile fire, yeah I can totally get down with whatever you need to do to deal with your demons. That's - that's awful. You know I got a couple people shootin' up the West side and a whole bunch of dope in town. I'm still here. I'm still in America. I'm good, brother. I can go to the store to get a six pack. So [coughs]. I - I'm not big on sitting and talking job stress and stuff. You should know it's gonna be kind of tough. I mean if this job was easy, everybody would do it. But it's not. It's tough and it's supposed to be tough. Tough is what makes it good. But you go out and deal - you know that you're going out here in the community to help people. People call 911 because they don't know what else to do.

AS: Do you talk to your wife about a hard day at the end of the day or do you want to [MS: Some] not talk about it?

MS: There's some.

AS: Yeah.

MS: Um. There - there's there's some things I won't discuss with anybody that hadn't been there. There's just some things unless you lived it, smelled it, tasted it, touched it, that you're not going to understand and to try to have to sit and explain it aggravates me even more. So instead of doing that, "What'd you do at work today?" "Eh. Ran a couple calls, busy day. Couple overdoses, whatever." And go on.

AS: How would you feel if your boys wanted to follow in your footsteps and do EMS [MS: Smack 'em right in the mouth.] and fire department?

MS: Smack 'em right in the mouth.

AS: Why?

MS: The job's changing. I guess the parent in me wants to shield my kids from bad things. Um you know what see on TV's okay and we'll talk about it but you know there's some details and grisly things that - that unless you've been with me going down that hallway or going down that dark alley or in that attic or in that upside down car or minivan or whatever, you don't know it. You can't smell, it you can't feel it. You can't relate to it and you don't need to. But other people that have that shared experience, we can talk about and I know what that guy's been through and he knows where I have been. So yeah. I'd, ah, I'd rather my boys not, not have the potential for physical injury nor um mental, psychological, emotional...issues.

AS: Have you had a moment where you thought, I'm not sure I want to do this job?

MS: No. Um. I mighta just lied to you. I've had days of why in the hell would anybody do this job? But it's quickly countered with - with just a quick look around the room at the guys with me and, oh yeah that's why. Because 'cause we're here, 'cause if we don't who in the hell's gonna? Um and it gets back to the challenge. You know the tough makes it good. The toughness of the job. The you know, hey you wanted to do this. Remember that little kid always wanted to do this. Well here you are. So do it.
That's Mark Strickland. He told me he used to plan on retiring at 65. But now he thinks he'll retire as soon as he's eligible, when he's 50.
Death, Sex & Money is a listener-supported production of WNYC Studios in New York. I'm based at the Center for Investigative Reporting in Emeryville, CA. The team includes Katie Bishop, Anabel Bacon, Emily Botein, and Andrew Dunn. Thanks to my former colleague Bob Wilkinson for helping out on this recording.
The Reverend John Delore and Steve Lewis wrote our theme music.
I'm on Twitter @annasale, the show is @deathsexmoney.
And for more on how one West Virginia community is grappling with heroin, check out the great Netflix documentary called Heroin(e), produced by the filmmaker Elaine McMillion Sheldon along with my officemates the Center for Investigative Reporting. That's Heroin(e) with "e" in parentheses at the end, because it's about three incredible West Virginia women.
Mark says his kids like that he's home for 48 hours after those 24 hour shifts. But, he says, keeping track of where he is in the week can be challenging.
MS: I know if I pass a church and the parking lot's full in the morning, it's probably a Sunday. If I pass a church and it's full in the evening, it's either Sunday or Wednesday. If I pass a bar and that parking lot's full, It's either a Wednesday, Friday or Saturday. And Mondays and Thursdays and Tuesdays I have no idea how to keep track of.

AS: What happens at bars on Wednesday nights?

MS: Working Women's Wednesday. It's just Wednesday night. It's hump day.

AS: [laughs] Working Women's Wednesday! I forgot about that...

MS: Yeah. It's hump day. Time to go to the bar.
I'm Anna Sale and this is Death, Sex and Money from WNYC.
Copyright © 2019 New York Public Radio. All rights reserved. Visit our website terms of use at www.wnyc.org for further information.
Music Credits:
"Periodicals" by Blue Dot Sessions
,
"Parissi" by Blue Dot Sessions
,
"Our Fingers Cold" by Blue Dot Sessions