Margo Price After Cheating and Drinking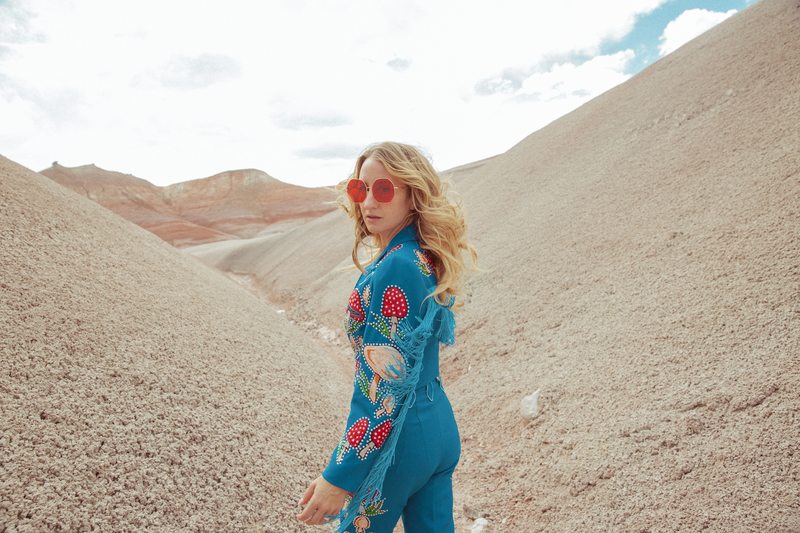 Transcript
Hey, it's Anna. I want to let you know that in this episode, I talk with Margo Price about losing a child soon after childbirth. If that's not something you want to listen to right now, you might want to skip this one.
Margo Price: I thought, you know, this is like, this is karma and I deserve this. But he doesn't, umm, my son didn't.
(Death, Sex & Money theme music)
This is Death, Sex & Money.
The show from WNYC about the things we think about a lot....
....and need to talk about more.
I'm Anna Sale.
(end of Death, Sex & Money theme music)
Margo Price was nominated for a Best New Artist Grammy in 2018, 15 years after she moved to Nashville when she was 20.
This year, Margo turns 40, and her new album starts with the song Been to the Mountain, where she writes about the jagged path of her musical career, and her different personas. They've included a classic country songstress, the female lead of an all-dude rock band, a solo artist who turns up her own amp.
(Been to the Mountain – Margo Price)
Used to be a lover, queen and a drifter

A cowboy devil, a bride in a box, and

A pilgrim and a thief, but it was me underneath

I just know who I'm not and that's alright with me
(End of Been to the Mountain – Margo Price)
When Margo and I spoke, she was at her home outside Nashville where she lives with her kids and husband, musician Jeremy Ivey. It was a rare moment of quiet.
Margo Price: Well, my children are at school.

Anna Sale: Uh-huh.

Margo Price: My husband is outside with a chainsaw chopping up a tree that fell in our yard and I am just kind of in our little den here. We have a kind of a makeshift recording studio music room, it's connected to our laundry room and it's where my cats hang out.
It sounds cozy and sorted, the life of a musician who has made it after years of uncertainty. Like the central question of her memoir, which she called, Maybe We'll Make It, has been answered.
But this is actually a time of major upheaval for Margo, one of the biggest during her nearly 20-year relationship with her husband. In large part, she says, because she gave up alcohol two years ago.
Margo Price: It's been really the most challenging thing that we have went through since we have lost a child.
Their child, Ezra, died a few days after he was born. He was a twin. His brother, Judah is now 12, and they also have a 3 year old, Ramona.
Back when Margo was about Ramona's age, she was going through the first big upheaval of her life.
(Hands of Time – Margo Price)
Times they were tough growing up at home

My daddy lost the farm when I was two years old

Took a job at the prison working second shift

And that's the last time I let them take what should be his
(end of Hands of Time – Margo Price)
Anna Sale: I wanna go back to when you were a kid, um, to another transition. And when you were really little, um, when your family and your extended family lost the farm, um, that they had worked, um, how many generations had that farm been in your family?

Margo Price: I think my dad would've been the fourth.
Margo's family lost their farm in Illinois in the mid-1980s. They couldn't cover their debt payments and keep the farm running.
For them, it was a new grain silo they'd had to build with borrowed money, but thousands of farms also went under in the US during this time, as interest rates went up, and the price of major farm crops collapsed.
Margo Price: There was just such a sense of shame around it. And, um, even now some of my uncles and, uh, some of my family back home, it's like, they just prefer that I just shut my mouth and, and not talk about it.

Um, but, it was always there. It was the elephant in the room for sure. And there were a lot of elephants in the room. It wasn't, that wasn't the only thing that it affected, you know, it was, I don't think that, um, I don't think a lot of their mental health was being taken care of. I think there was, um, there was a lot of stuff that was really swept under the rug, and that is kind of still how a lot of my family is today.

It's like, just put on a smile and pretend like it's not happening. Just like, what did Kurt Coban say? A denial.

Anna Sale: Uh huh. Do you think of like for your family, was losing the farm and that betrayal by the system, by the bank, like, did it create a sort of sense of like, screw it, just do what you love and try it, um, because this system isn't built to help people like us succeed?

Margo Price: Oh, without a doubt. I think I always say there's a lot of, uh, similarities kind of in farming and in being a musician because it is a path that is kind of paved with uncertainties. But I also saw that you could work your whole life building something and that it could just slip through your hands, you know, within seconds. And I think that that all probably started my, um, my distrust and my disdain for authority, for the government, for politicians, for all of it.
(Twinkle Twinkle – Margo Price)
Gettin' by, gettin' high

Feeling like a low life bum

Racked up debt, couldn't pay the rent

Pissin' off 'til kingdom come

Pissin' off 'til kingdom come
(Twinkle Twinkle – Margo Price fades out)
Anna Sale: When you were first drinking as a teenager, like, how did you, like when you were going out, what did you learn about how you were as a drinker?

Margo Price: Well, I felt like it was the ultimate rebellion. I did not feel very popular, um, many times in my youth. And I wanted to, uh, you know, to be well liked and to be funny.

But I just loved it. It gave me confidence. It, you know, people would talk about how, how wild I was the night before and you know, how I was, um, this character in a book or in a movie.

Anna Sale: Oh, a character. Like what? Like what kind of character? Like, like fun? Like the one that was sort of like, the middle of the action?

Margo Price: Kinda like, yeah being, being everybody's entertainment like, uh, a bit of a protagonist where it was like, oh, you never knew what she was gonna do, and I started building that, um, that persona very young.

And so that was why it was incredibly difficult to eradicate from my life because it was just so deeply ingrained in my personality. I had really worked hard to become the bad girl and to, um, you know, I mean, I think even when I go back and I look at my early press cycles, it was always like, uh, country badass, American badass. Like, you know, I'm just, I was so tough because I could just hold my own and just keep up with the men.

Anna Sale: Uhhuh. And at the same time, it's interesting that you think of it as a way of rebelling because it sounds like, um, another thing you, you mentioned in your book is when you started drinking, people commented that you could hold your alcohol like a Price, like it was something that was part of your family culture. Like your parents liked to party too.

Margo Price: Yeah. Yeah. I think it just, it was something that I'd always kind of seen modeled to me. And it's like, if you needed to relax, if you needed to, um, blow off steam, then that was the way to do it.
(Hurtin' (on the Bottle) – Margo Price)
Been searching for a key outside your door

I put a hurtin' on the bottle…

Baby, now I'm blind enough to see

Been drinking whiskey like it's water

That don't touch the pain you put on me
Alcohol was also around a lot, when Margo arrived in Nashville after dropping out of college. There were shift drinks at her waitressing jobs, boozy open mic's, and lots of parties with fellow musicians. That's where she met her husband Jeremy. They were both young and pretty new to town, and sparks flew between them romantically - and creatively.
(end of Hurtin' (on the Bottle) – Margo Price)
Margo Price: It was all the, all the emotions like of just, you know, really. Intense love, but also passion for the same, all the same things. And, you know, a lot of competitiveness as well.

Anna Sale: Yeah, what was that like?

Margo Price: I was, you know, I think it was mostly healthy in the early days. It would be like, if he wrote a song, then I would have to sit down and try to write one that was way better.

Anna Sale: (laughs)

Margo Price: And then, you know, we'd always be like, the ultimate compliment would be like, ah, I'm so jealous. I wish I wrote that song. And, um, we definitely, once we started working together more, it was really cool because it was like, okay, now we have a band, we are teammates. We are like, you know, compatriots and we're gonna, it's us against the world. It was just so nice to have somebody in my corner.

Anna Sale: Do you think that, like when you think about the early years of your career, when you both were living hand to mouth, you know, working, working jobs for wages, then selling all your stuff, then hitting the road, then coming back, um did it feel in a certain way, like that, um, like teaming up with him gave you permission to take more risks because you both, you had like a partner in living a sort of very tenuous life.

Margo Price: Yeah, I think, you know, him and I, we knew at times that our parents would be worried about us or that they wouldn't approve of, you know, where we were living, if it was a place of squalor or, um, you know, whatever it was. If it was me deciding that I was going to dye my hair almost black and grow out my armpit hair and, you know, I knew like, that's really gonna make my mom upset. But he would be like, I love your armpit hair. (laughs)

Anna Sale: (laughs)

Margo Price: Your hair can be whatever color you want. And he was still there for me. You know, and, and vice versa. He had, he has, very religious parents. They're beautiful people and they've softened a lot in their older age. But, um, you know, they were always kind of coming to preach to us and, and tell us like, "we better get right with God or we were going to Hell" and we were like, "hey, well at least we're going to Hell together." (laughs)

Anna Sale: (laughs) Yeah. I mean it sounds like, growing up in a town where it felt like you didn't always feel comfortable and it felt ill-fitting like to find somebody who could cheer you on as you like, tried on different realities, it sounds like it must have felt really fun.

Margo Price: Yeah, it was. I look back on those days with a lot of fondness. And you know, I think when we were in it and when we were living it, there was a lot of embarrassment and shame because people from our hometowns were just like graduating from college and getting great jobs and having children and weddings and, you know, buying the nice house and having the nice car.

And we were, you know, at times we didn't even have enough money to make rent or we would, you know, didn't have enough money to buy groceries and we were just like determined to be some kind of like, um, anarchist version of ourselves. And we really lived in this, um, in this kind of bubble that was, um, maybe a little bit of a denial ourselves into how bad it was or what was going on. But to me and to Jeremy, I know it was just like, well, this is just gonna fuel the art and give us more, more fodder for the songs, for the music.

Anna Sale: Uh-huh. Yeah, the idea of something that is gonna fuel the art can be an excuse for a lot of bad behavior. This is good for our creative juices.

Margo Price: Oh yeah, that old myth.
(Hell in the Heartland – Margo Price)
In my heart there's a hole

Twice the size of God

Try to fill it up with so many things

But still I just feel lost

Can't please 'em all all the time

And who would want to fake it

Love gets you hurt

Being real gets you hated
Coming up, Margo talks about the death of her son Ezra, days after she and Jeremy first became parents.
Margo Price: And then I just got blackout drunk because that was the only way that, again, I was taught how to cope with anything.
(end of Hell in the Heartland – Margo Price)
—
(Death, Sex & Money midshow theme)
A few weeks ago, we asked you to share your current dilemmas about fear—to tell us about the things that you're afraid of or have been putting off, even though you really want to do them. Some of you have already responded to share your fears around some big life decisions—whether or not to have kids, get married, or leave your job.
Thank you for sharing your questions, and we'd love to keep hearing from more of you. No fear is too big or too small. Maybe you want to try something new, like running a marathon, but it feels too hard to try. Or maybe you want to go skydiving, even though you're afraid of heights. Or maybe you're thinking about a dramatic life change and you seize up with panic when you think about carrying it out, but you can't figure out if that's your fear or your intuition talking?
How do you know what fears to listen to, and which ones to push through? We're putting together a panel of experts to give us advice and we want to share your stories and questions with them.
So record a short voice memo—no more than a few minutes long—and tell us if there's something you're afraid of, and if you could use some advice about how to be brave. Email it to us at deathsexmoney@wnyc.org.
(end of Death, Sex & Money midshow theme)
—
This is Death, Sex & Money from WNYC. I'm Anna Sale.
Margo Price was in her mid-20s and still very much trying to scrape together a music career, when she and her husband learned they were having twins. Then, they discovered in a routine scan, there was a problem.
Margo Price: Those, um, yeah, those conversations were the most difficult of my life. I mean, me trying to explain what the doctor said to me as I was still processing it was almost impossible. It was almost like they had, you know, prepared me at that moment, um, for his death.

And I was only, yeah, about 17 or 18 weeks pregnant. And, um, you know, he just, he kept trying to calm me down and say like, it can't be that bad, you know, we'll go get a second opinion or, you know, whatever, um, he was trying to say to me, but I knew that it was a very serious diagnosis. And um, you know, they just, they gave me a bunch of pamphlets and the doctor came into the room and, um, you know, he said that he was immediately going to have to have surgery after, after his birth. But then they said that if he did make it through these first surgeries in his young life, that he would only live to be 30. And that was the part of the conversation that was just the most difficult swallow. I just, you know, thought, how do you explain to your child that they probably won't live past 30? I just didn't, I didn't want him to have to go through that.

Anna Sale: And when you think back on those, um, those first days after you gave birth to your twins, um, you have one twin who you're able to hold and breastfeed and another child that's in the NICU preparing for surgery and you've just gone through c-section, this major surgery, do your memories look like hazy? Like, how do you, when you think back on that and where your mind was, like what, how many ways did your attention feel divided?

Margo Price: Oh yeah. It was, I, oh, it was, um, one of the most painful times in my life, and I was just not even able to kind of comprehend everything that was going on. It all just, it didn't seem real.

It seemed like I had kind of like woke up in this like, warped reality where, you know, it sounds cliche, but it just, it was just this nightmare that you could not wake up from. And, um, there was a lot of shame and a lot of, um, me thinking that it was something that I did, that it was my fault and that I was being punished. But it was almost just like I was just numb, and then when they told me that he didn't make it through the surgery, um, this was, yeah, 11, 12 days after, um, that was when I, it was almost like I woke up then, and I, I just could not, um, I just could not cope with anything anymore. And came back to the house and my sisters took care of, um, of our surviving son and just absolutely, um, just, you know, wanted to shut everything off. It was just, it was just too hard. And, and then that was, yeah, just the, the start of kind of pushing everything aside and not going to therapy because only damaged crazy people went to therapy.

Anna Sale: Wait, who taught you that?

Margo Price: Oh just society. My family. My small town.

Anna Sale: Everyone?

Margo Price: Yeah, everybody. Yeah. So I, I wish that I would've dealt with things in real time, but I was nowhere near capable. I just didn't have the tools.
(Landfill – Margo Price)
Catastrophe that is yours and mine

They say it takes time to become timeless

Time is all I've got this time

Once in a while you stop to notice

Something that's been there from the start
(End of Landfill – Margo Price)
Anna Sale: How, how do you talk about your son Ezra, with, with his brother Judah, with your, your daughter Ramona, who's much younger. How, how do you, how do you talk about that as a family?

Margo Price: Well, we, we always just kind of told Judah from the very start, like before he was even big enough to comprehend, you know, we would say, you know, we had a photo album and we would say, this is, this is your brother. You were twins, you were in mommy's tummy at the same time. But, you know, Ezra died and that was just kind of it, you know? And um, so it was kind of all, we didn't want it to come as a shock when he was like a teenager or something, because we knew that he was probably already feeling that loss. Um, you know, as deeply bonded as twins can be, um, we knew that, that he was feeling it, whether or not he knew what he was experiencing.

And recently, actually it was just last week, I was, um, going through an old China cabinet that belonged to my grandmother and I had a bunch of things in there and I had the photo of the two of them framed and it was just hiding in this China cabinet because I could not look at it and just, not feel angry and not feel sad.

And so just last week I hung it up on the wall and, um, and my daughter Ramona, she saw it and she was pointing to all the photos and saying, who is this? And, you know, she's three and a half. But I said, well, that's, that's your brother. And you know, hopefully we're, we'll meet him someday. But, um, yeah, I usually don't get too choked up about this anymore.

But it's, uh, sometimes, you know, sometimes it just hits you.

Anna Sale: Yeah. You just pull the photo out and put it on the wall Margo. You're not hiding it.

Margo Price: Yeah, it only took me 12 and a half years.
(Learning to Lose (ft. Willie Nelson) – Margo Price)
Won't you tell me how long must I pay off these dues?

Won't you tell me is winning learning to lose?

You said it, you said it

Oh but say that it's not true

Is winning, is winning, really learning to lose?

Is winning, and is winning, really learning to lose?
(End of Learning to Lose (ft. Willie Nelson) – Margo Price)
Margo co-wrote this song, Learning to Lose, with her husband Jeremy. That it became a duet with Willie Nelson shows how spectacularly Margo's fortunes shifted after she was signed by Jack White's record company in 2015.
Her son Judah was school age by then. Before that, there were years of patching together gigs, rent money and crash pads on the road. For much of the time Margo and Jeremy played in a band together called Buffalo Clover, until Margo started sleeping with their guitar player, who was also married.
She writes in her book: "We were like Fleetwood Mac without any of the success."
Anna Sale: In your memoir, you wrote about after, after the death of your son, um, an affair you had and you described it, um, and it's something that you had disclosed to your husband, um, years ago. But I wonder like, what's it, how often does that come back up and did writing about it again, force new conversations or revisiting conversations that you thought you'd gone through?

Margo Price: Yeah, a bit. Um, you know, I think a lot of people were shocked when they heard that Jeremy, um, was, you know, kind of not only just okay with me sharing those kinds of personal details about our marriage, but that he encouraged me to be really transparent about what we went through.

Because I think up until just recently, I think a lot of our peers and a lot of our, um, acquaintances and people on the outside probably were just looking at our relationship and saying like, oh wow, you guys have such a perfect marriage and you just support each other through everything. And, um, it was, a lot of it was due to how often and how much I was drinking and, um, I think that he has, has forgiven me, but it's harder for me to forgive myself. Um, we did end up kind of talking about it when we went into, um, therapy together because it was just something that, you know, we did work through, but it's, you know, it's my biggest regret.

I wish that I could take that back, but, um, I am really grateful that he has shown me… um, he actually just popped his head in here and asked if he should go pick up the kids.

Anna Sale: Aww.

Margo Price: I said, no, I will. Um, but yeah, I think, you know, it's something that's, it's there and it can be a little bit of a, um, difficult hurdle to work through. But it's not as turbulent as it used to be. I mean, there's, we have taken off the divorce word from the table. It's like, you know what? Let's just not threaten each other with that, because we know we're not gonna do it.

Anna Sale: When did that happen? When did you say, let's stop threatening this?

Margo Price: Uh, I think it was only about nine months ago.

Anna Sale: Uh-huh.

Margo Price: You know, we've went through a little bit of a tumultuous time with me quitting drinking, um, we have had more fights since I quit drinking, um, than we have in a long time. It's, uh, I mean, you know, friendships have, have dissolved. There's people that I used to spend time with that I just don't anymore. And, um, and then there's other people that I've kept my friendships with, and they still drink. And it doesn't feel weird because, um, you know, I don't live with them, I don't sleep with them. Um, so with, yeah, I think with Jeremy and I, it's just that we are so used to doing every single thing together. Like, you know, BFFs, like if, if I'm doing something, like he's there with me and with eradicating alcohol from my life, I've realized like this is a solo journey and like, you're in it on your own.

I mean, of course it's nice when you can have a buddy, I'm sure, to quit with and like, you know, couples that quit together, like, I'm sure that's really wonderful. But I've done the growth on my own and, you know, I've ultimately had to realize that like, even though I have been in this partnership for half of my life, I am still my own person. And, it's been the best decision I've ever made.

I had a, this woman who's quite a bit older than me, her name is Cathy and she is in this death metal band called The Great Sadness.

Anna Sale: Oh, I wanna rock to some Cathy music. That sounds perfect. (laughs)

Margo Price: (laughs) Cathy is like in her sixties and she actually played the devil in my music video, um, from "Been to the Mountain", and we got to talking and she just turned to me. And, you know, she's like, so what's your story? What's your deal? And you know, I started kind of giving her the cliff notes of my memoir and whatever, and she goes, "Yeah, I've been sober for 26 years. Sobriety ain't for pussies." (laughs)

Anna Sale: (laughs)

Margo Price: And I just was looking at her and I was like, you were the coolest, most beautiful, unapologetic person I have ever met, and I wanna be just like you when I grow up. Hell yeah. That's where I wanna be.
(Death, Sex, & Money end theme plays)
That's Margo Price. Her latest album is called Strays and her memoir is titled Maybe We'll Make It. You can see a list of all of her songs in this episode on our website at deathsexmoney.org.
Death, Sex & Money is a listener-supported production of WNYC Studios in New York. This episode was produced by Andrew Dunn. The rest of our team is Afi Yellow-Duke, Zoe Azulay, Liliana Maria Percy Ruiz, and Lindsay Foster Thomas.
Our intern is Baiz Hoen.
The Reverend John Delore and Steve Lewis wrote our theme music.
I'm on Instagram @annasalepics, that's P-I-C-S, and the show is @deathsexmoney on Twitter, Facebook, and Instagram.
Thanks to Molly McCullough from Baltimore, Maryland for being a member of Death, Sex & Money and supporting us with a monthly donation. Join Molly and support what we do here by going to deathsexmoney.org/donate.
And speaking of money, Margo's now on the board of Farm Aid, the group Willie Nelson and others started during the 80s farm crisis to support families like Margo's who were losing their farms. She and Willie have become friends and play together a lot, and she's nonchalant about it in a way I would not be.
Margo Price: On my wall I have a lot of family pictures, you know, all happy photos. It's like both of my kids sitting on Willie Nelson's lap.

Anna Sale: That's a good one. How, how large is it? Does it take up a whole wall? (laughs)

Margo Price: (laughs)
I'm Anna Sale, and this is Death, Sex & Money from WNYC.
Copyright © 2023 New York Public Radio. All rights reserved. Visit our website terms of use at www.wnyc.org for further information.
Music Credits:
"Been to the Mountain" by Margo Price
,
"Hands of Time" by Margo Price
,
"Twinkle Twinkle" by Margo Price
,
"Hurtin' (on the Bottle)" by Margo Price
,
"Hell in the Heartland" by Margo Price
,
"Landfill" by Margo Price
,
"Learning to Lose (feat. Willie Nelson)" by Margo Price