Margaret Cho's Sex Education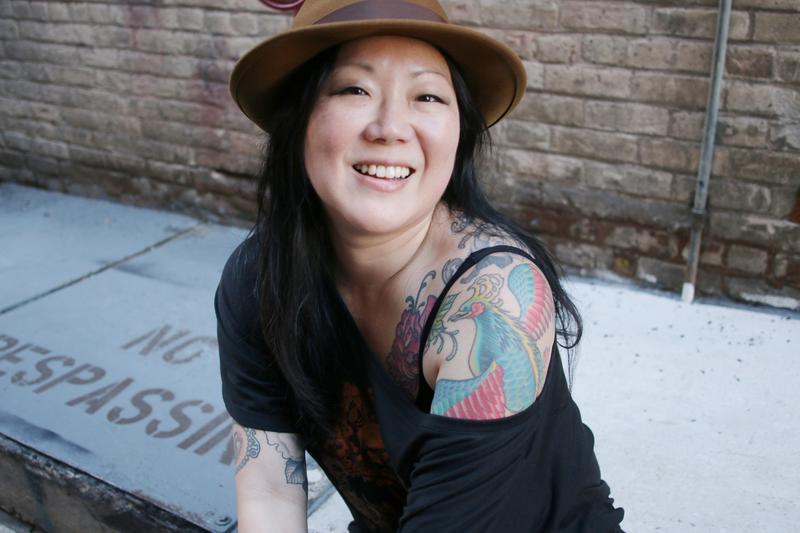 Transcript
I think when you're a gay kid, other kids sense that you're different. So it's a really terrifying experience. But around adults, they accepted me as one of their own.
This is Death, Sex & Money.
The show from WNYC about the things we think about a lot, and need to talk about more.
I'm Anna Sale.
"Hi, my name is Margaret Cho and I'm Korean… I'm SO Korean."
Margaret Cho has built her career around how she feels different.
"It's hard when you're a child of immigrants, you spend half your day in America and the rest of your day in a foreign land."
Early on, her Korean immigrant parents were often the punchline.
"You get fucked up shit in your lunchbox. All the other kids would get granola bars and Capri Sun. I would get dried fish."
This made her famous.
By the time she was 25, she'd won an American Comedy Award for Best Female Stand-Up...and she had a sitcom. She was the star of All-American Girl, the first prime-time sitcom with a predominantly Asian-American cast.
"What do you think your mom would say if she could see us now?" "Oh, I know what she'd say. 'No tongue kissing! no tongue kissing!'"
It was cancelled after 19 episodes. Critics panned it, for among other things, "butchered Korean language and pseudotraditions." Margaret says network execs asked her to lose weight...in part because her face looked too wide on camera.
In 1999, she returned, triumphantly, with a show called I'm The One That I Want.
She was done with trying to fit into neat categories.
"I went through this whole thing. Am I gay? Am I straight? And I realized, I'm just slutty."
The special was filmed in her hometown of San Francisco.
"...where's my parade?"
Her sex life has been central to her act ever since. She makes fun of herself, yes, but she also makes fun of how uncomfortable it makes most of us to talk about sex.
She's intent on filling those silences...and has been since she was a kid.
I identified as gay very early on.

Like how old?

Oh probably 9 or 10 and this is the time before AIDS which I think the world would never recognize now. It was a time where really, gay men had a hold on the world that was really magical and they could do whatever they wanted and it was really an amazing thing to witness.

Who'd you first learn about sex from?

Oh gosh. I have not had the talk from my parents yet so according to my parents they have not told me where babies come from. I think I learned the majority about sex when I was a very young girl. My father owned a bookstore in San Francisco that catered to the gay community. It had all sorts of art books and photography and quite a large gay literature section so I actually saw a lot of different kinds of sexuality in front of me. It wasn't dramatic and it wasn't odd. It was a little bit mysterious because it did not include women. So I witnessed it and I thought, wow. I was really understanding the male body, understanding from afar and around me and it sparked a natural curiosity. And it sparked a desire to lean more towards the female sex. I wanted to learn more about women so I really thought I'm queer -- we didn't have those terms then -- or, I'm different than other girls.

You started by saying you've never talked about sex with your parents to this day.

We still haven't talked about it.

How did that work where your father, an immigrant from Korea, opened a book store catering largely to the gay community in the 70s....How does that occur alongside a silence around sex in your home?

Because he was encouraging the gay men to talk to me about sex. He wanted them to explain everything about life. He wanted them to tell me what art was, what music was. Everything. He sort of thought this was going to be my finishing school because all he knew about was to clean a fish. He didn't know that much about culture but he knew that these guys did because these guys were very cultured. They were white, they were young and beautiful and from very diverse backgrounds. My father understood he only had so much to give me but he knew other people who could give me more.

Are you close?

Yes. Yes.

How often do you see each other?

We see each other every couple of months. We talk a lot and we had this period where we were talking several times a day because he was trying to make me do a show in Korea in Korean. And it's very hard to communicate comedy in Korean. And so everyday we would try to go over Korean and I still never really got it. It's not an easy thing to do. Comedy is very hard to do in any language but if it's not your native tongue it's doubly hard.

Do you go to Korea often?

No I haven't been there in a really long time and that has to do with my own desire to live my own life and break away from my family for a bit. It's a country that baffles me, the culture baffles me. It's a very weird culture because there's so many great things about it, yet its still extremely sexist and racist and kind of in both worlds at once. It's very new and very old at the same time.

Why do you think its important to him that you do a show in Korea in Korean?

I think he just wants me to bring what I have here over there. In Korea, the gay community, they struggle a lot. There's a lot of shame around it. They have gay pride parades but they are still very small and people still cover their faces. They don't want to be identified as gay, and the homophobia in the culture is intensely suffocating. So I think he would like some sort of solution for that. My mother and he go over there often. They sort of are in their own way a very small version of PFLAG, which is very sweet.

That is sweet.
Back in the 1970s when Margaret was just a kid realizing she was queer, what it meant to be gay in America was dramatically changing around her.
I was around a lot of gays and lesbians who at the time were very politically active, they were big supporters of Harvey Milk. His assassination was an incredibly devastating thing for the community. I remember the candlelight vigil. I remember it being this huge thing that I was not allowed to go to because I was too young and it was too sad. My family said I couldn't participate in it because it was too sad and tragic. But I remember all of the people that worked for my father at the time were there, and they were just overwhelmed with grief. It was a weird time in San Francisco. And then I witnessed the community absolutely destroyed by AIDS. You would see beautiful healthy young men and then you would see them looking a little bit off and under the weather, then you'd see them walking with a cane. Then you would see them in a wheelchair, and then you would never see them again.

When you see that, you go, now we understand that sex is a deadly thing so that was the age of sex education, safe sex and we were doing a lot of AIDS fundraising. So that was the point where I became a comedian.
Because, otherwise, it was too sad. That's how Margaret's career began, when she was still a teenager. She quit high school...she was hanging around grown-ups. She was an activist and a rebel.
I had a pretty good relationship with my parents off and on. We would fight but then I would go off and do my own thing and then I would come back. I left maybe when I was 15 or 16 and came back when I was like 18. Left, came back when I was 20 so back and forth. Not so much a runaway but I just wanted to be an adult.

So you were financially independent at a young age?

Yeah, which was great. I was once almost a female wrestler. I did phone sex for quite a time but this was so long ago, it was phone sex that was recorded. And there was a class system because the whiter you sounded, the more apt you were to do the recordings then talk to people on the phone. So if you didn't sound white, I guess as I do, you were relegated to another room where actually had to talk to people who called you. But because I sounded white I was able to get the good job.

Which is just a long monologue?

You would describe who you are and these different fantasies. We got some sort of contract called Hot Girls USA, so it was specifically for foreign businessmen to learn English. It was very simple sentences, you know, noun, verb, where you describe the foreign looking man, and how you were blonde, and tall and had blue eyes and large breasts. Very very simple sentences so they could understand English and also have some kind of sexual encounter. I don't really know.

There's plenty of incentive to call again and practice your English. At what age were you when you were supporting yourself with comedy?

I think I was supporting myself with comedy in my late teens or early twenties. Maybe 20. Living this very advanced life for a teenager. I was trying to escape being a child.
Coming up…how Margaret tried to find her place in real life, and on stage, through wild sexual adventuring.
I was really trying to figure out what I liked and what I wanted in sex. And when I was a little bit older I was able to go to play parties and see and I kinda thought, oh this is interesting to me because this is very adult.
I've been listening to your stories about cheating... and being cheated on.
"It's like I'm a sideshow to the main event a circus."
What's a learning experience... and what's betrayal.
"Trying to put myself in the shoes of the other man that is getting cheated on is what led me to break it off."
Thank you for sharing. We're still collecting stories. Record a voice memo on your smartphone and email it to deathsexmoney@wnyc.org, or just write out your story. We'll use some of them in a future episode.
And we're also including your stories in our weekly newsletter. You've heard me talk about this before. Every Wednesday morning I send out an update about what we're working on, other audio we're listening to, and some emails from you. It's great! But I want more of you reading it. So we're having a contest. Everyone who signs up for our Death, Sex & Money newsletter between now and February 18th will be entered to win 3 books from the Death Sex and Money reading list. You'll get a package in the mail with a thank you note from the whole team. If you're already subscribed, you're automatically entered too. Sign up today. The contest ends February 18th. Go to deathsexmoney.org/newsletter.
On the next show, siblings Teddy and Kami Thompson. They're the children of British folk rock icons Richard and Linda Thompson whose very public breakup in 1982 was chronicled on their album Shoot Out The Lights. We'll talk about what happened when the entire musical family -- Teddy, Kami, Richard and Linda -- reunited on an album called Family.
This is Death Sex and Money from WNYC. I'm Anna Sale.
Margaret Cho's comedy is marked by a certain fearlessness. Part of the act is how she's constantly subverting expectations about Asian-American women. Demure, she is not.
It was an S&M themed sex club. I don't know if I'm a bottom because it turns me on or if I'm a bottom because I'm lazy."
S&M, sex parties with multiple partners. Margaret has done all of it and has talked about it. Including on her current television show "All About Sex" on TLC where she gives advice about wearing socks and orgasms.
"I think there's something to ankles and orgasming."
She's proudly outrageous. Part of that impulse, she says, comes from being abused as a kid. She doesn't like to talk about the details though, to protect other young people who were hurt along with her.
My childhood was really very odd. I had a lot of sexual molestation and I had a lot of very inappropriate things happen as a teenager too that really wrested control from me. So I was eager to become an adult, and become involved in this alternative sexuality to gain some control and power over my life, which is what I did. Where it could be kind of fantastical, and it brought fun back into sexuality. It wasn't threatening anymore. And in there, there's quite a danger as well. Because once you do that, and you claim your sexual adventuresome side, you can really actually be victimized again. And that's a really terrible thing. You have to be careful because you still gotta protect yourself within these liberated communities because it's a difficult world. I think women's sexuality is often considered public space and it's very hard to get people to understand even though we claim we want sexual freedom that doesn't give anyone the right to come and take it. It's a very complicated thing. It's very hard.

The murkiness of consent even when you're in a liberated environment.

Exactly. Consent becomes very very diluted in environments where we're encouraged to be sexual and encouraged to be open and we're talking about play parties and BDSM. We're talking about these communities that thrive in their negotiation. The most successful kinds of relationships in these communities are built on intense negotiation, but when there's not a great level and commitment to that it can go very wrong.
Negotiating boundaries and trust. That was also part of her marriage. Margaret married artist Al Ridenour in 2003 and throughout their marriage they acknowledged that they had other partners but were committed to each other. Until last year when they announced their divorce.
Your marriage was an open marriage, and you talked so much about how you managed that as a couple. Has there been any sort of feeling of pressure that you had presented this alternative arrangement as way that could work, and now the relationship is ending?

Yeah, but the reason for our split has nothing to do with that part of our relationship. It is actually completely outside of that and there were other issues. It's unfortunate but people just grow apart and that's the truth of relationships. Sometimes you're only meant to be with somebody for a certain period. And it's like the point of fall and winter. We need to get rid of things so that we can regenerate for the spring. It's a cyclical thing and if you can accept it as that, that is the real truth of it all.
Margaret is 46 years old, and she's been surprised that, in relationships now, she craves something simpler.
I would say I'm retired now because it's not as appealing to me.

You're retired.

Well, retired from swinging, sex parties, orgies, huge group sex situations. The weirdest thing was I realized now I just want someone to hold my hand. I just want to share a milkshake with somebody and the horror, me, this great sexual adventurer realizing that all I want are these really simple things that I never really had as a kid. It's kinda fun. It's really funny.

When did that come to you?

Pretty recently, I realized I never had that sort of time where everything was very innocent and you took things really slowly and I realized I need that now. I have to go back and do that part. It's kind of like going to get your GED. I did all this advanced stuff, I got a Masters, Doctorate or whatever but I never got past 3rd grade. So I have to go do that preparation work.

It's interesting, I've never thought about how when it's slower, there can be so much more vulnerability involved, because you're not sure if you initiate this one step, if that person is ready for that. It's not an agreed upon sex party. You have to nudge your way.

It's very scary. It's really scary to just be a person with another person. That is the truest kind of intimacy that I'm learning about. Which is really, touching and holding somebody's hand and really finding out what is sexuality, what is exciting. What is true intimacy and what is a true turn-on as opposed to what is flashy and dynamic and seems like it's cool with props and a lot of costumes but really, maybe that's not the solution. But I can tell people who are looking for that how to get it.
That's Margaret Cho. She's on the road this winter and spring -- with stops in California, Tennessee, Pennsylvania, Canada and elsewhere. Details are at margaretcho.com.
Death, Sex & Money is a production of WNYC. The team includes Katie Bishop, Emily Botein, James Ramsay, Chris Bannon, Greg Rippin, Caitlin Pierce and Zachary Mack.
The Reverend John Delore and Steve Lewis wrote our theme music.
I'm on twitter @annasale. So is the show @deathsexmoney! Sign up for the newsletter at deathsexmony.org/newsletter.
So Margaret Cho's career has been one reinvention after another. But she says, compared to her extended family in Korea, one thing has stayed the same.
All of my relatives have had some form of plastic surgery. Like I'm the only person beside my parents that look like we're from that family, so it's really weird. We're like the only ones who look like us still. I'm not sure what that's about.
I'm Anna Sale, and this is Death, Sex & Money from WNYC.
Copyright © 2019 New York Public Radio. All rights reserved. Visit our website terms of use at www.wnyc.org for further information.
Music Credits:
"Thoughts" from BWN Catalog
,
"I Still Can't Believe"
,
"Pines"