A Prison Guard In Transition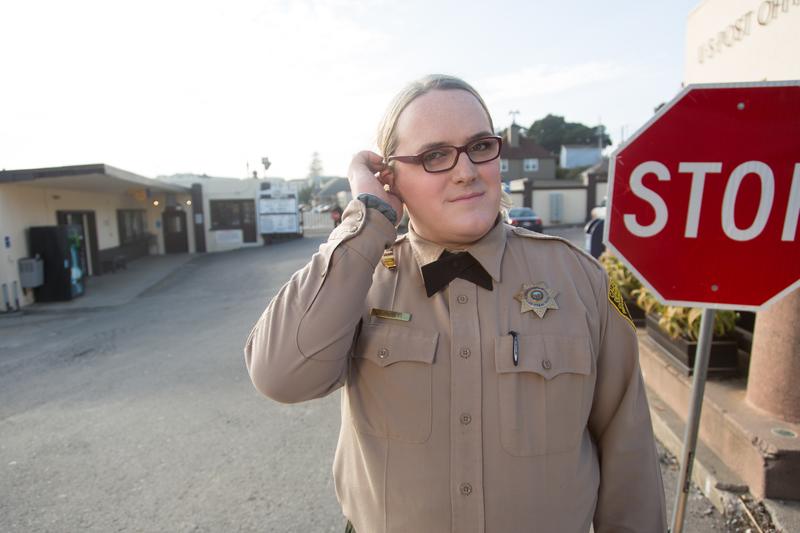 Transcript
MANDI HAUWERT: I was done for. I was ready to basically call it quits and die. 'Cause at that point obviously I didn't imagine coming out as a prison guard.
This is Death, Sex & Money.
The show from WNYC about the things we think about a lot...
…and need to talk about more.
I'm Anna Sale.
I met Mandi Hauwert at her home in Petaluma, California. It's a bedroom community north of San Francisco. It was a Thursday—her day off of work.
ANNA SALE: Hi, how you doing Mandi?

MH: Hi. Come on in.
She showed me around the split level house that she shares with three dogs, two cats, and four roommates.
MH: We have our landlady and then we have another trans woman and a couple who lives downstairs.

AS: How much is your rent here, if you mind?

MH: $700. That's it.

AS: That is a deal in this area of the country!

MH: Yeah! And it's a great house. My parents were so happy when they saw that I was living here. I tried to get an apartment before and I kept getting turned down even after they told me I made enough money to get in. When I'd get in there to view the place and meet the manager all of a sudden they were full. And the only thing I can think of is once they realized I was transgender, all of a sudden they didn't want to rent to me anymore.
Mandi's been openly trans since 2012. The summer that she came out, she was 32 years old, living in a hotel, and feeling nervous about transitioning for a lot of reasons. For one, she was afraid she was going to lose her job as a guard at San Quentin—one of America's most notorious prisons.
MH: I felt like I had a couple options: leave San Quentin and transition somewhere else. Or stay at San Quentin and never transition. There was never transition at San Quentin because who would do that? That's insane.
But Mandi stayed at San Quentin. And transitioned while working inside.
For any prison guard, work can be a hostile and dangerous place. Monitoring inmates is tense. But Mandi says that since she came out as a trans woman, she's also had to worry about her fellow guards.
MH: The harassment really didn't start until after I came out officially, until the rumors spread around.

AS: Have you thought about quitting?

MH: Uh, every day. I think about quitting every day.
Growing up, Mandi sensed there was something different about her. She was uncomfortable in her body. But she didn't put a name to what she was feeling until she was 19. It was in a psychology class at a local community college.
MH: Well, like many psychology students, I thought I had everything. I thought I was a schizophrenic, I thought I might be a serial killer. Because, some of the things they talk about, like in psychopaths is that they don't have the ability to recognize or process emotions in the same way people do, but they learn to mimic, people mimic emotion, so I did that with boys. I learned to talk like them, walk like them, act like them. You know, I'm six foot, six feet even with broad body and shoulders, so it's not hard to fit in. (Laughs) And so I thought when I read this in abnormal psych that, that—I thought that was me. I didn't recognize that it was at the time something else completely different, but, um.

AS: So you read that and thought, "Maybe I'm a psychopath."

MH: Yeah.

AS: Was that prior to hearing the term transgender?

MH: Yeah, we eventually got to gender identity disorder, and the professor would talk about transgender issues. But at the time I still wasn't sure. I thought maybe I was just a cross-dresser or a transvestite or just some kind of weird pervert.

Around the same time is when I had my first suicide attempt. And it basically just ended up with me in the hospital. It was, um, getting to the point of feeling like you're never, you're never gonna be normal and you're never gonna be yourself so what else do you have other than dying?

AS: How did you get to the hospital?

MH: A friend of mine.

AS: You took pills?

MH: Mhmm.
That friend who took Mandi to the hospital covered for her. He told her parents that she just drank too much. Mandi didn't tell her family the truth either. Instead, she enlisted in the Navy.
MH: It's this thing of trying to escape. So, maybe if I go into the military I'll be a little more manly. Not want to be a girl anymore.
Mandi moved onto a ship based off the coast of Japan. She worked in maintenance and repair and quickly started dating a fellow petty officer named Katie. Things got serious, fast. And Mandi proposed.
MH: We were going to get married. And I figured before we did that, I should probably tell her that I liked to wear women's clothing. You know, you phrase it as if you're just some kind of cross-dresser. Which goes over easier for most people for some reason. Like, oh, if you're just doing it in private, that's okay.

AS: It's a hobby, as opposed to your identity.

MH: It's a hobby, just like to doll up for myself, you know (laughs). Um, she could have reported me, and I would've been kicked out of the military at that time. Um, and she didn't, and she accepted it. And she kind of, thought it was interesting (laughs). Um, But over the years what ended up happening is she realized I was using her—in the trans community, we call it a beard. I was using her as my beard, I was using her as an excuse not to transition, and she knew, or at least recognized that I would be unhappy. And we ended up eventually breaking up. But we were together for like seven years.

AS: She broke it off.

MH: She broke it off. Because, because she was my excuse to be normal. Or at least what I thought of being normal.
By the time that relationship ended. Mandi had decided to leave the Navy. She was working a series of odd jobs, setting tiles, driving limos, teaching martial arts. It was Mandi's martial arts teacher who encouraged her to apply for a job in corrections.
MH: I thought he was referring to the idea that I was Kung Fu master, expert, and I'd be good at like using Kung Fu to handle inmates, but what he meant was that my attitude and my demeanor is very calm, very precise, and, you know, I could handle, the stresses and rigors of a job like that without becoming, a, complete, um, a-hole (laughs) to put it bluntly.
Still, because of her build and height, Mandi presented as a very physically imposing man. Through training academy and her first years at San Quentin, she kept her trans identity a secret...up to a point.
MH: I do really great eyeliner. And so I would put on the liner and put on the mascara, just, like a little bit. Just to have some sense of feeling when I went to work that I was being secretly feminine. Uh, everyone thought I was secretly a goth. Because it was just liner and like black liner and like, oh, he's a goth, right?
Mandi wanted to be open, but didn't think she could. She started having suicidal thoughts again. Then, one night, four years into her career at San Quentin, she confided in a female colleague.
MH: She was super accepting, like, right away. And then it got me thinking, like, maybe, maybe I could come out, but I still didn't feel like it was possible, and I still didn't really intend on fully coming out. Like, maybe I would just, get to the point where I could wear little bits more makeup and stuff like that. And so I talked to a supervisor, and the supervisor told me that she felt that it wouldn't be an issue wearing the makeup and stuff like that.

AS: You went to a supervisor and said, "May I wear makeup?"

MH: She wasn't my direct supervisor, but she was somebody I trusted. Um, and so I started wearing makeup, and one night I'm sitting in another unit down in H Unit, which is a dorm setting, it's 200 inmates, two officers—

AS: So there's 100 inmates for one officer—

MH: Per one officer. Yeah. And I was sitting there, and my partner noticed I was wearing like, a lot of makeup, and asked me questions about it, and it was dark, so the inmates didn't really see me, 'cause I waited till they turned the lights off for the night to actually go in, so the inmates wouldn't see the makeup. And I intended on wiping it off before the lights came on in the morning. Um, then I got a phone call, from what they call the watch commander, which is usually a lieutenant. And they said they wanted to see me in his office. And they told me people have been, complaining and reporting that I'm wearing makeup and all this other stuff, and I immediately told them that I was transgender and their immediate response was that they don't allow cross-dressing.
Coming up, Mandi keeps reporting to work. And waits to hear more from her bosses.
MH: A month or two goes by, and nothing, nothing, nothing, I hear nothing.

AS: Did you stop wearing makeup?

MH: Yeah. I cut my hair military cut, down to the skin basically. And uh, I became even more depressed.
—
We heard from a lot of you about our most recent episode about Tony and Victor, two men who were brought together by a case of mistaken paternity, and a little girl they both love.
A listener named Jessica wrote in from California to say she was that little girl, except she found out as a teenager that the man she knew as her father was actually her stepfather. Her biological dad died before she found out. And she's always wondered what he thought about the situation.
"Hearing Victor talk about the shame he felt not being there sooner definitely struck a chord," Jessica wrote. "[It] kind of gave me an answer I've been wondering about for a very long time."
And Brit from Indiana related for another reason. She called in with this message.
BRIT: I'm almost officially one year into me and my husband's first foster child placement. She's an amazing, adorable little girl.
Brit says she and her husband wanted to adopt their foster daughter, but the girl's family members have been working hard to keep custody.
BRIT: I'm thankful—I'm so thankful our girl will have an amazing biological family and hopefully a really healthy and safe relationship with her mother in the future. But there's still the heartbreak of my daughter not really being my daughter anymore. And there's no, like, sad, tragic reason for it other than somebody else's family is becoming whole again.
Also, we want to thank you for all your tips for Ela. We asked for your advice after she tweeted us asking for a survival kit to feel less lonely after moving to a new town. We're sharing some of your advice in our weekly newsletter. And if you don't already get it, you can sign up at deathsexmoney.org/newsletter. There's a link to past newsletters there, so you can read up on all that you've missed so far.
On the next episode, I check in with Rashema Melson. When I last talked to her on the show, she was adjusting to dorm life at Georgetown after moving there from a homeless shelter on the other side of D.C. In the year since, Rashema got married. And decided to leave Georgetown.
RM: You know, like when we talked about how I feel about when people call me the homeless valedictorian—

AS:Yeah.

RM: I think with leaving Georgetown, I felt like I was leaving that life behind. But then it occurred to me, you know, why run away from what I'm destined to do, just because people are showing me that they're on my side?
—
This Death, Sex & Money from WNYC. I'm Anna Sale.
In the weeks after Mandi got called out for wearing makeup at work, rumors were flying around the prison.
MH: Like, I figured I was gonna, about to lose my job, and then my life would be done. I wouldn't have anywhere to go. Because at the time my parents weren't accepting of me, as far as—they didn't disown me, but they didn't want me dressed at home or anything like that. So I would have nowhere to go. And uh, at one point, um, one of the officers I used to work with asked me if the rumor was true, I said, "Yeah." And he goes, "So why aren't you—you know, coming to work as a woman?" And I said, "They won't let me." And he goes, "What?" And it turns out he was, what they call a job steward and they—

AS: With the union.

MH: Yeah, with the union. And so he went, I don't know what he did, and next thing you know, I had permission.
On July 14, 2012, Mandi reported to work for the first time, as a woman.
MH: I get to the, to the prison, I drive into the parking lot, and I sat in the parking lot for awhile. Just super incredibly nervous. Nobody had seen me, at least not fully made up. And I had to walk past all of these different people, and there were a few comments that people made under their breaths. And—um, I don't know, it just felt—it's a really awkward situation. Nobody knows how to behave.

AS: During that transitional time, did you get bullied or harassed by any guards?

MH: Um, early, early on it was really bad. There were—

AS: What sorts of things would happen?

MH: There were officers who would openly, like, basically start speaking to me and start voicing their concerns and they would talk about me going to hell. And I would have officers do the really juvenile, like, cough and yell, you know, "Faggot."
Mandi was the first trans prison guard at San Quentin. And the male inmates also responded to her new look and identity. She told me about a time she was working in a cell block and monitoring a rush of inmates as they headed to a meal.
MH: And there's hundreds of them coming down to go to chow and I figured I'm going to stand—because this is still early on in my transition—I was going to stand there in the doorway to monitor them, because you're actually supposed to do that, but I felt it as like a way of challenging myself. I'm going to stand in front of all of these inmates, and they're going to do what they want to do, and I'm going to do, you know, I'm going to stand strong. And they come down and the slurs started coming and the yelling and the laughing and, at one point I can see the other officers are looking at me, and trying to like signal me to go back inside because I was causing a disturbance and it could've ended up really badly, and what ended up happening is I ended up going back inside and crying, because, even though they're inmates, it still hurt to have those insults being thrown at you, and hundreds of them.
Work was miserable. But it's also how Mandi got her health insurance. And in 2014, she got some unexpected news. It would now cover gender reassignment surgery.
MH: I had come to terms that I would never have a gender reassignment. It was just an impossibility. It was way too expensive. I'm horrible at saving money, so I'm never going to save that much money. And then all of the sudden, they were like, here you go, you can have your surgery, and on top of that, it's pretty much for free. And instead of being incredibly happy all the time, I became even more stressed and depressed because, once you realize that you can have it and you have something to lose, you realize how important it really was to you.

AS: It's frightening that you'll lose that opportunity.

MH: That I'll lose it, that I'll do something wrong, that I'll screw something up. Um, I'll not, I'll not get the time off of work, or work won't approve the time off, or—at the time I had to drop like, 40-some pounds. I was like watching the scale and crying every time I gained a pound.
Mandi ended up losing 50 pounds. And she got the time off work… 7 weeks. She had surgery two years ago this month. By then, her family had become more accepting. Her parents and her sister were there as she was wheeled into the operating room.
MH: You literally go to sleep with a penis with a penis and wake up with a vagina. Right? Or you wake up with not a penis, because it doesn't look like a vagina when you first see it. And they first take the bandages off and it looks like nothing really, it doesn't look like much. It looked horrible. (Laughs) It's just this mess of black and blue and, but the following Monday they um, they take the catheter out and then right afterwards, they want you to go, to go pee. And, so, I don't know, it's just super—like I cried sitting on the toilet and peeing, which sounds like a bad scene from a soap opera or like some Hallmark movie, but it was, it was a beautiful moment for me, just being able to pee like that.

AS: Has there been anything about your life after your surgery and after coming out at work, has there been anything that still, that, you've been surprised that that wasn't a complete feeling of liberation?

MH: Yeah. I mean of course, it's not—coming out is not a one-and-done process. Some people—for me, it's frustrating because I am, like I said, six-foot, broad and all that, and I do get misgendered by people every now and again. Not as often as I used to, but I do get misgendered. I can't fix my height, I can't make my shoulders less broad. I could go out and get big huge breasts and get facial feminization surgery, but that's only going to do so much. Not every trans woman is super petite and looks like a little flower. There are a lot of us who are never going to look like that, no matter what we do.

AS: What's your romantic life like now?

MH: Zero, nothing. It's been almost ten years now since I've had a serious relationship. I've been on dates and I haven't had any like boyfriends or girlfriends or anything like that but I've had a—I've been hit on by a few people most of them are other transgender people and mostly trans women and I don't want to be with a woman anymore even though some of them are like, you know, they'll keep their male parts for me. And I'm like, no. (Laughs) That's not why I want a guy for. It's more than just male parts. I don't care what the guy looks like at all, I just care that he's intelligent and he's smart that he watches South Park and that's about it.

AS: (Laughs)

MH: And if he watches South Park then he's perfect.

AS: It it strikes me that you're, like—thinking about your social life, um, it's like you are openly trans in the San Francisco Bay Area where there is a community.

MH: Yeah.

AS: And you are openly trans in a prison.

MH: Mmhm.

AS: Does it feel sometimes like you are crossing between completely different cultural environments in terms of the safety you feel or the sense of community you feel? It seems like it might feel pretty stark.

MH: Yeah, well, one of the things I found out is that the trans community really hates peace officers. They hate cops, they hate - not the whole community, obviously, but there's a lot of discontent and anger between the two. And to be fair, law enforcement has historically, even in this area, treated trans people very poorly. Sadly, the trans women we have in our prisons they're bas- they're housed based on what genitalia they have, not how they identify. Which I think is wrong but, um, you know that's not my decision to make. And I got a lot of hate mail from my own community, the trans community, after I came out for being a cop. I had one transgender woman write to me and tell me that I was just another white man oppressing and beating down black trans women. And that really hurt. The way I look at it is we need is we need more trans people as officers in the prisons. We need more trans police officers. You have to have people in the system before it starts to actually make a change.
Mandi's still the only trans correctional officer at San Quentin. But the prison says she's not the only transgender employee there. For the most part, Mandi says the inmates have come around…they've even profiled her in the prison newspaper. But Mandi says not a lot has changed with her fellow guards.
MH: I mean, not only did I have bad experiences, but I continue to have bad experiences. It's not as open, um but it's in the way people, um, treat you and when they're working with you in person either they don't talk to you or they talk to you very sparingly. It's walking into a room full of officers, sitting in a hallway and having everybody move their chairs over to one side, away from you. And turning away from you, not talking to you. It's having people continue to misgender you almost every single day you go to work, and no matter how many times you correct them, they just, they just don't get it.

AS: When you wake up in the morning and know you have to go into work does it feel heavy?

MH: Yeah. And it's not even that I hate the work itself. I just hate the feeling of being there. I hate the negativity.

AS: Do you think you'll leave corrections?

MH: Right now I don't want to put myself in a position where I'm having to struggle financially. Last year I earned around $70,000, so I'm definitely—as far as trans women goes—I'm definitely in the higher bracket as far as money earned. I think the average trans woman, if they have a job at all, earns between $15-20,000 a year, so very, very low. And a lot of them don't have work whatsoever or are struggling to go from job to job and just trying to make ends meet so I'm very lucky. So at the moment my goal is to do ten years total right now. Ten years is where you get some locked in benefits. However if I end up having to stay longer than ten years, my goal is to promote and become a sergeant, no longer an officer, become a supervisor. And start taking a more active role in making things a little better at the prison and in the department. At 15 years I'll get locked in medical, but—I can't think of doing that much more. But who knows? I say that now maybe I'll be there another 15 years. Um I could be the first transgender warden. (Laughs)
That's Mandi Hauwert. This August will mark ten years for her at San Quentin. In her spare time, she's been doing a lot of writing—including a biography of another trans woman—in case she feels ready for a career change when she hits that ten year milestone.
Death, Sex & Money is a listener-supported production of WNYC Studios in New York. I'm based at the Center for Investigative Reporting in Emeryville, CA. The team includes Katie Bishop, Chester Jesus Soria, Emily Botein and Andrew Dunn.
Our intern is Adriana Rush.
The Reverend John Delore and Steve Lewis wrote our theme music.
I'm on Twitter @annasale, the show is @deathsexmoney. And don't forget to subscribe to our weekly newsletter! That's where we're sharing our tips for Ela, who asked for your advice on how to feel less lonely after moving to a new town. Sign up for our newsletter at deathsexmoney.org/newsletter, or just text the word "newsletter" to 69866.
And, some exciting news—Death, Sex & Money is now also on Spotify! Look for us on the Spotify app. Our entire archive is there, including my first conversation with Rashema Melson. If you haven't heard it, or you just want a refresher before we catch up next week -- just search for the episode episode titled "Stop Calling Me the Homeless Valedictorian."
Mandi didn't start going by her new name until she came out in 2012. But she picked out the name years ago, back when she was still in the Navy.
MH: I actually got my name from a guy. My favorite, one of my favorite actors, Mandy Patinkin.

AS: Oooh!

MH: And I decided it's a girl's name too, so—but like, I like the name (laughs).

AS: I love Mandy Patinkin!

MH: Yeah he's great right?

AS: Yeah!

MH: "You killed my father, prepare to die." So how great is that? I'm a transgender woman who got her name from a man.
I'm Anna Sale, and this is Death, Sex & Money from WNYC.
Copyright © 2019 New York Public Radio. All rights reserved. Visit our website terms of use at www.wnyc.org for further information.
Music Credits:
"Worry Nerve" by Nic Bommarito
,
"Cold Feet" by Will Bangs
,
"Ritual One" by Jason Leonard
,
"A Storm At Eilean Mor" by Jon Luc Hefferman
,
"Ritual Eleven" by Jason Leonard
,
"The Gasoline Dream Instrumental" by Michael Howard
,
"Homecoming" by The Invasion