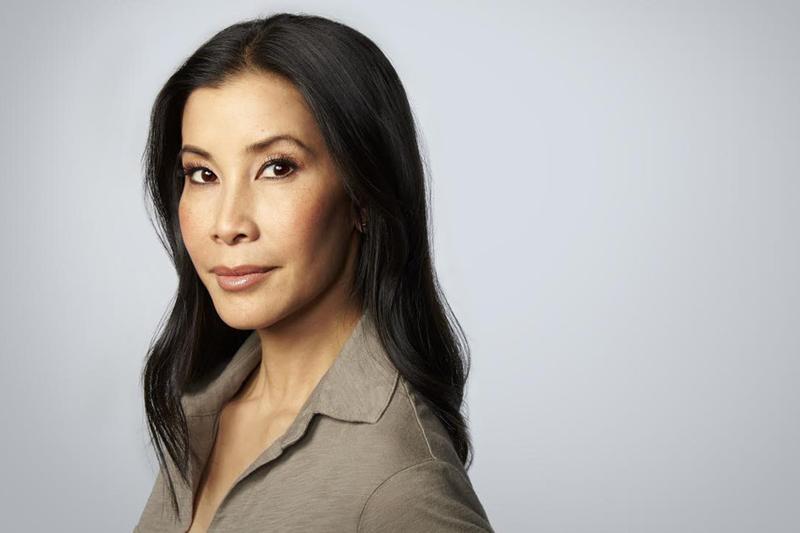 Transcript
Lisa Ling: Being raised primarily by a man made me very, you know, man-like in many ways. Like, I never really felt inhibited about just going up to a guy and asking him if he wanted to have a drink or whatever. And I think that one of the reasons why I always was able to date the guys I wanted to date was because I didn't wait for them to ask me.
This is Death, Sex & Money.
The show from WNYC about the things we think about a lot...
...And need to talk about more.
I'm Anna Sale.
When journalist Lisa Ling was in her mid-twenties, she vaulted to national fame as a co-host on The View--the youngest one ever. She'd been working in television news for almost a decade, but on her first day at The View, she realized she was in for something really different.
LL: On national TV, Meredith Vieira asked me my first day if I was still a virgin.

Meredith Vieira [on tape]: Are you a virgin? We have to get to what matters [laughter]...first let's get to what's important for The View!

LL: Because that's just how The View was!

AS: Did you know that was coming?

LL: Oh I had no idea. I had no clue. And at that moment I was thinking, oh man, I wish I was still covering the refugee crisis in Kosovo right now. [laughs] The thing that was most challenging for me was as an Asian girl-- young woman-- you know, I've always been very guarded about my personal life.

That very moment I blinked and I saw my father's face, with a raised eyebrow going, "What are you going to say to that?"
Lisa now hosts a show on CNN called This is Life. It's hard news, about personal topics. The show is pretty unvarnished for cable news. The stories she tells can get messy.
That's how Lisa thinks about her life too, starting when she was a kid.
LL: It was just-- it was a very...ugly maybe too strong a word, but it was just not a pleasant childhood that I had.
Both Lisa's parents are immigrants-- her dad from China, her mom from Taiwan. And she says their marriage was not easy.
LL: My parents had a tumultuous relationship throughout my life. They had a bit of an arranged marriage. My dad had actually been dating a Caucasian woman, which was kind of frowned upon by his parents. And so they kind of pushed him to... to marry my mom.
Lisa's parents got divorced when she was 7. Her mom moved to L.A., and Lisa and her younger sister Laura would spend summers there. But during the school year, they lived with their dad and grandmother in a suburb of Sacramento. Lisa says going through puberty while living with with her dad was tough.
LL: It was not easy. And my grandmother was a very very pious Christian woman. And so I could never talk to her about anything pertaining to sex or even really my body that much. I found comfort in talking to an older cousin of mine, my cousin Diane, who was only two or three years older but she was definitely more experienced than I was. And she was always-- she always just had an open door to me. But you know when I started menstruating, for example, I had a conflict because I didn't know how to ask my dad to help me buy these things. So my cousin Diane was the first person who I called for everything and she supplied me with the necessary feminine products in the first, I would say the first year.

AS: Oh really? Diane would show up with a new supply of tampons and maxi pads in her backpack? [laughs]

LL: Yeah. Yeah! That her mom paid for, because her mom kind of, you know, had sympathy for me.

AS: Would you-- would you feel like you'd have to hide that it was happening?

LL: No I didn't hide it. But it was just-- you know, we just didn't talk about those things. Our family spoke so little of sex that my mom later on asked me about things.

AS: Oh, really?

LL: Like what it felt like and how you're supposed to French kiss. Yeah! Because I don't know if she ever kind of learned how to do it the right way, because her relationships with men were very kind of submissive, you know. She sort of, you know, didn't feel like she had any control in a lot of those relationships because, you know, she just never really had anyone to talk to about it.

AS: How old were you when you had that conversation?

LL: Probably 18, 19.

AS: When did you start dating?

LL: I never dated throughout high school until uhm I met a Japanese-American boy my senior year who went to another school. And I'd never really thought that I would date an Asian guy because I went to a school in Carmichael that was completely non-diverse. So when I met Jeff Yoshimura and his family was just very open and welcomed me, it really felt very comfortable and it felt like home. I had a bit of an identity crisis growing up because I never felt totally American, because I looked so different from everyone else. And whenever kids would come to my house it smelled like Chinese food and they would make, you know, they would make remarks as such. And while the kids were never malicious, and I can't go as far as to say that I was bullied, I was definitely made fun of regularly. Boys on a daily basis would come up to me and call me "Risa Ring."

AS: Ugh.

LL: So this happened every single day. And again it wasn't malicious. I was a perfectly popular kid. I had a lot of friends. But it just it... you know, when you are that young and popularity is so important you just want to fit in and not be different. Those things really hurt me. And on many occasions I would go home crying about it and I just was really embarrassed of looking different and being different and being Asian-American.

AS: And you're in high school still when you start appearing on television, right?

LL: Yes. And that actually helped me a lot. I auditioned for a local show called Scratch and the...

AS: 90's! Scratch! [laughs]

LL: 90s! Exactly [laughs] They held the the audition in a big mall in Sacramento and they chose four hosts out of hundreds of applicants. And I was chosen as one of them. There were two boys and two girls, and the other girl who was hired, a girl named Rachel -- lovely beautiful girl -- she was always considered the beautiful hot one. And I was considered kind of the, you know, the smart one with the good personality [AS and LL laugh]. And...and that really affected me a lot.

AS: How were you aware that that was your role?

LL: Because whenever people would talk about us they were always making remarks about how hot Rachel was and I was just kind of there [laughs].
After two years at Scratch, Lisa landed a reporting gig for Channel One...
LL: Hi everyone, I'm Lisa Ling…
It was a news show for teens, broadcast into school classrooms.
LL: Channel One for Friday, October 1st is next.
That's how I got to know Lisa Ling. In junior high, we'd watch Channel One newscast in homeroom. Lisa was on it...so was Anderson Cooper. They shared an office.
LL: It was such a unique opportunity for these young kids to go out and experience the world. And I covered things like the civil war in Afghanistan and the drug wars throughout South America and I covered stories about globalization in China and India.

AS: Do you remember-- how important to you was it that you were earning money as a teenager?

LL: It was very important to me. I actually stopped taking money from my parents completely right after I graduated high school. You know I didn't make a ton of money, but I was a big saver and because I was under my parents' watch I could save every penny that I made. And so I ended up putting myself through a private university. I went to the University of Southern California and at the time the tuition was about $25,000 a year and I paid for every penny of it and that was a huge source of pride for me.
Lisa didn't end up graduating from college...she left USC after three years to work full time for Channel One. Then, she got the job at The View. And it wasn't an easy transition.
LL: Here I was at 26 years old on this national stage and the expectation of me was to be totally open about every aspect of my life. And I really struggled with that in the beginning because I was so out of my element.

AS: Did you--did it teach you something about the kinds of boundaries you wanted to set?

LL: Yeah because when you--when you're on that show in front of an audience, you are under pressure to generate a reaction from the audience, and that's all you're thinking about when you're at that table. And sometimes you say things, or I have said things, that I wish I could retract, but once it's out there it's out there. You know I said something once that was really hurtful about Monica Lewinsky. You know, she was on a college tour talking about her experience, and I-- we talked about it on The View, and I said something like, "You know, I don't know what she's talking to college kids about. I don't know what's so educational about being on your knees."

AS: Oh whoa!

LL: And as soon as I said that Anna...I know. It's so out of character for me to assail another woman even at that time. But I was going for the laugh.

AS: Yeah.

LL: And hey I got one. I got a huge one. And at the moment, you know, it felt really good to get that laugh. But after I said it just, you know, it was like a dagger through the heart because I realized how hurtful and disparaging that was. And I went back to my office after we finished taping and I got a message, I had a message from Monica. Just expressing…

AS: She reached out to you?

LL: Yeah. Expressing like I don't-- how could you say that? And you know I apologized to her then, and I apologized to her many many years later. And so-- you know, I was young and I sort of realized, I need to really exercise much, much more caution. And I have since then, I think, been a lot more careful.
Coming up….Lisa talks about her wild single days in New York City ...and how her parents' divorce made her skittish about commitment.
LL: Even when my husband asked me to get married, I wasn't totally sure but I knew I really loved him. And, you know, I had kind of a defeatist attitude about the whole thing and I thought look, if it doesn't work, I'll just get divorced.
--
Last week, we asked for your stories about class, and the moments when you're most aware of where you fit economically and socially--and where you don't fit.
One listener told us about a visit to a coffee shop with her husband's family...that shocked her.
Everybody starts a ordering a latte or a Frappuccino...they're ordering a size medium--not a size small! A size medium. And in my head I'm thinking oh, my God, this wasn't a once in a while treat no, this was almost a daily occurrence and I just could not believe it!
So whether it's latte sizes, the kind of car you drive, or something else--tell us what's made you most aware of your class...and how that's affected things like relationships, or even what you think is possible for your life.
Email us, or send us a voice memo, to class at death sex money dot org. There's also a link on our Facebook page.
On the next episode, I talk to a young couple who met on Tinder. And after only knowing each other four months, one gave the other….a kidney.
Lori Interlicchio: I mean it definitely was there, that like, this is obviously gonna affect our relationship romantically, but, I also remember like, "If this entire relationship goes to crap because of this then like, whatever. A person has a kidney!"
--
This is Death, Sex and Money from WNYC. I'm Anna Sale.
Lisa Ling never had ambitions to be a daytime talk show host. For her, joining The View was a calculated move.
LL: I knew that if I wanted to continue doing substantive journalism I'd have to raise my profile a little bit, so that I could better dictate the kinds of stories I could do later on.
But it was a choice that came with tradeoffs. She moved across the country from her family, and sold a house she'd bought for herself when she was 24.
LL: I had to extricate myself from my life and my job and everything in Los Angeles. It was crazy! All within the span of like two weeks.

AS: What was your what was your romantic life like in that point in your life? You're in your late 20s, early 30s, you're living in New York City. What was it like? What do you remember about that time?

LL: Oh. That... hmm. That's... this is going to probably generate kind of an emotional response because when I--when I got the call that I had been chosen as the co-host of The View I had been in a very serious relationship with the person that I considered the love of my life at the time. You know, we started dating when I was 21 years old. And we decided that we would stay together and just try it because I didn't know what it would mean. I didn't really know many people in New York, so I thought I'd be coming back all the time. And as soon as I got to New York, I--this whole world opened up to me and I was invited to every party. I was kind of an "It Girl." I was being written up in gossip columns. And given where I grew up in this kind of middle, lower-middle class home and community, it was it was exciting for me. And my boyfriend at the time was sort of watching this from the sidelines, and so it really affected our relationship.

AS: Hm. Do you remember how you eventually-- how did you two agree that the relationship was over?

LL: You know I think that because he was kind of lonely in L.A. and you know I was having all these other experiences, we just decided to part ways. Because it just was--it was really unfair. You know in retrospect now, it was really sad because he really, really loved me, and I kind of--you know, I in many ways sort of abandoned the relationship. And I still, you know, I still love him, probably more than any man I've ever loved. I just love him in a different way. Like my regard for him--you know, goes beyond the ability to express in words.

AS: Hmm.

LL: And I shared with him, you know, so many pivotal moments in my life. And, we are still very, very close friends to this day, but I still feel really bad that all of that happened.

AS: So you ended that relationship, you're living in New York City… was dating in New York at the time did it feel... like, exciting? Were you into being a single woman in New York?

LL: I was, I really was! I mean, I think that when I was living in New York and sort of coming into my own and feeling...feeling a little powerful, I became more uninhibited and I became resentful at the notion that women who decided to have sex when they wanted to were considered sluts. I think I was just starting to feel really good about myself. I also started to hang out with a bunch of girls who, you know, became my kind of party girlfriends and we just...we really did it up. Like, my time in New York, you know, when I think back on it I see myself, you know, dancing on tables sometimes.

AS: Really?

LL: And...oh yeah! Oh yeah!

AS: Yes!

LL: I was living a life that I could never imagine. And I found that empowering because that was what I grew up thinking men always did and that I could do that too was something that I felt perfectly fine about. I didn't have to have an emotional connection to someone. If I wanted to just have fun with someone, I just could.

I would never wanna go back to it at this point, but for that little window it was really... it was really exciting and fun. And you know I also realized after kind of doing it for a couple of years that, you know, it's not that I was was extremely promiscuous, but I was reckless because I can't say that I always had protected sex or that I was regular with birth control. And I was so stupid about it because I could have contracted any number of STDs or could have become pregnant.

AS: Did you have a time when you thought you might not choose to get married? Might choose to be a single woman?

LL: Oh yeah. Yeah. The...my parents' divorce, their relationship and their divorce was so ugly, and I was so traumatized by it as a kid, you know, being sort of shuttled back and forth between my parents and their constant fighting over money that I just--I just never really wanted to deal with it. And after I left The View and moved out of New York and started working for National Geographic and traveling all over the world, I sort of took that same attitude with me. And you know I would be in these distant corners of the earth and I would meet incredibly intriguing people and it was exciting to establish, you know, relationships out there in the world where no one knew what I was doing and so on. I felt very empowered throughout it.
In 2007, Lisa married someone with a very different work life, a radiation oncologist named Paul Song.
And just as they were settling into their lives together, Lisa found herself on the other side of a breaking news story. Her younger sister Laura, who's also a journalist, was was reporting in North Korea, and she was arrested.
LL: That call that I received from my brother in law in the middle of the night that my sister had been abducted by North Korean officials was... I mean, it was the most terrifying moment of my personal life. And even today when I think back on it, that a former U.S. president went to the most isolated country on earth to go secure the release of my little sister. It's like... it's just like, you can't write this stuff.

AS: And I'm, like, thinking about how all of that was happening and where that fits in-- you know, you're 35 years old at the time, your sister is 32. You're recently married. Like, do--how did it change what you thought was important and what your priorities were?

LL: It changed everything. I mean I...You know, my sister and I spent many years going to places that were dangerous. That were unpredictable. And while I don't rule out the possibility that I will, you know, visit those kinds of places again because I still feel as strongly about the need to report from those places, because we now have kids, and because of what happened to my sister, we are a lot more cautious about any place we choose to visit.

AS: Mm. Did you--were you trying to become pregnant during that time?

LL: I wasn't quite there yet, even after my sister was returned it took a few more years before I felt like I was ready, because I mean, I never really had that biological desire to have a kid. It was just something that that wasn't on my list of things that I had to do. And then after I had been married for a few years my husband and I, after many discussions, decided that we wanted to try, and I thought you know, maybe I-- maybe I do want to have a kid with this man you know. And it certainly wasn't easy-- as easy as I as I thought it might be at at my age.

AS: To get pregnant?

LL: Exactly.

AS: You've talked about having had miscarriages. Did you--did you consider not trying anymore after those?

LL: I didn't consider not trying. So... but it was a big blow to me in many ways when I had those miscarriages, because up until that point, I felt like I could do anything [AS: Yeah] you know, I'd been such a hard worker all my life, and I thought, "Well, if I put my mind to anything I can do it." And so the first time I had a miscarriage it was just sort of like... I felt like I had lost control, and that it was my fault and that I did something. And then the second time it happened it just really kind of sort of shook me to the core. But being the persistent person I am, I didn't rule out that I could become pregnant. I...you know, in a way I became more determined than ever to keep trying. We didn't--we didn't exert the kind of effort that a lot of people did. Like we weren't rushing home when I was ovulating, but we just, you know, were were by no means trying to prevent it from happening.

AS: Yeah. Trying.

LL: Yeah we were trying. We were trying.

AS: And...this is a big question, but when you mentioned that you... like, what you wanted and and your career was has sort of never stopped since you were a teenager, you've been traveling, you've been working... what was it in 2007 that made you feel like you wanted to [LL: I was ready to...] marry?

LL: ...get hitched?

AS: Yeah.

LL: You know I think it was just something that kind of came with age, Anna, really. And it was-- it was hard, because we both came into our marriage fairly late, you know, I was 36 and he was 41, and we were very independent and very set in our ways. And we thought that we could maintain these kind of independent lives and and be married. And you just can't do that when you get married. You have to learn how to compromise. And we didn't know how to go about doing that. And so the first three or four years of our marriage, I don't really even consider a marriage because we really started to drift apart. And our mutual therapist once said to us, if you were in a business, you had a business partnership, you would do everything in your power to make sure that that partnership worked. And you need to apply that same work ethic to your marriage. And that really kind of resonated with us. And we have since really made an effort to make our partnership a real priority. That doesn't mean that we don't have problems. That doesn't mean we still you know don't have communication issues I mean we're both Asian after all [LL and AS laugh]. Didn't have the most communicative relationships with our own parents. But we are committed to making our partnership work and... and listen, that doesn't mean that we are going to stay together forever but right now we are committed to our partnership.

AS: Those are all my questions for you, Lisa Ling. I so appreciate...

LL: Whew!

AS:...your openness.

LL: I need a cigarette and I don't even smoke [AS and LL laugh].
That's Lisa Ling. She's the host of the CNN series This Is Life. She also has a new web series called This Is Sex. There's a link at deathsexmoney.org.
Death Sex and Money is a listener-supported production of WNYC Studios in New York. I'm based at the Center for Investigative Reporting in Emeryville, CA. Our team includes Katie Bishop, Anabel Bacon, Emily Botein, and Andrew Dunn.
The Reverend John Delore and Steve Lewis wrote our theme music.
I'm on Twitter @annasale, the show is @deathsexmoney.
And don't forget, keep sending us your stories about how you've experienced class in your life. Send a note, or record a voice memo, and send it to class at deathsexmoney.org
Lisa's daughters are now four and seventeen months. And she says, she's already got a plan in place for talking to them about sex.
LL: The most important thing is I want them to be able to feel comfortable telling me anything. Uhm you know my my eldest is only four and I'm ready to have those [LL and AS laugh] conversations with her.
I'm Anna Sale, and this is Death, Sex & Money from WNYC.
Copyright © 2019 New York Public Radio. All rights reserved. Visit our website terms of use at www.wnyc.org for further information.
Music Credits:
"Discovery Harbor" by Blue Dot Sessions
,
"Odd Wand" by Podington Bear
,
"A Path Unwinding" " by Blue Dot Sessions
,
"Lullaby" by Mobster
,
"Pulsars" by Podington Bear
,
"Cylinder Two" by Chris Zabriskie
,
"Cloud Launching" by Little Glass Men