Lisa Ling & Awkwafina: Shut Up, Let Me Shine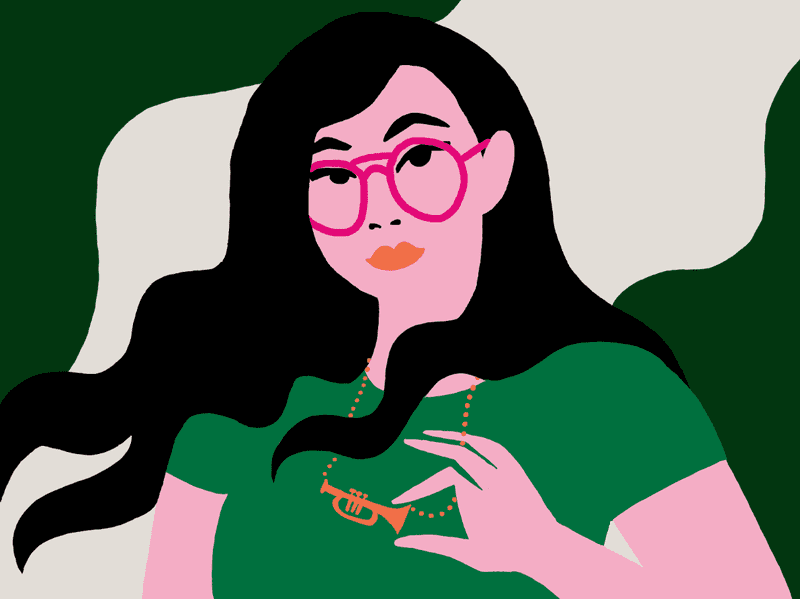 Transcript
AWKWAFINA: I remember seeing kids in school, their mothers would like write them notes in their lunch, and everything was so perfect, and they'd, you know, come and park hours before they got out of school just to wait to pick them up. But like, my Dad - it wasn't like that. He would let me taste his beer when I was young, and we watched Howard Stern together, and like the Howard Stern on E, like the crazy one!

A: This is Death, Sex and, and what? What is it? Money! Money.
The show from WNYC about the things we think about…
...and need to talk about more.
I'm Lisa Ling, in for Anna Sale.
And when I was asked who I wanted to interview for this episode, there were a lot of reasons that rapper and actor Awkwafina was at the top of my list.
Like me, she was raised primarily by her dad. And like my kids, she's of both Chinese and Korean descent. And I absolutely loved watching her in last summer's hit rom-com, Crazy Rich Asians.
NICK YOUNG: Thank you very much for bringing Rachel.

PEIK LIN: Oh no worries.

NICK YOUNG: Do you want to stop by for some dinner?

PEIK LIN: Oh no, I couldn't impose.

NICK YOUNG: No, it's not a problem.

PEIK LIN: You know, I had some dinner plans.

NICK YOUNG: Seriously, we've got a -

PEIK LIN: Yeah, I'll fucking come to dinner!
That movie was just one of the things that made 2018 a big year for Awkawfina. She also turned 30, she co-starred in the all-female cast of Ocean's 8, dropped an EP called "In Awkwafina We Trust," and hosted Saturday Night Live—only the second Asian-American woman ever to do so.
A: I'm so stoked to be hosting Saturday Night Live. My name is Awkwafina...
But when she was growing up in Queens, New York, Awkwafina went by her birth name, Nora Lum. And her family was not crazy rich.
A: My Grandma lost her restaurant, she went bankrupt. The electricity got cut off from her house, that's why she had to move into Queens, to raise me. She would lie awake, sometimes and you know, we'd be next to each other, and I asked her, what is your only wish, Grandma? And she was like, just being able to pay my bills this month. Like that was her wish. It was something that ate at her, um and I remember, as a kid, thinking that we don't have money. Like, we don't - it's not like that.
But money was just one reason why Nora's grandmother moved in. When Nora was only four, her mother died from pulmonary hypertension. And her dad needed a hand raising his only kid.
A: My Grandma was my Mom. She filled that void, for me.

LL: Yeah, there aren't a lot of kids today who are being raised just by their dads. So back then, what was that like for you as an only child, Asian kid, being raised by a single dad?

A: I think that there were certain things that I missed. In many ways I was raised, you know, like a boy, right? I was taught catch before - , I was never given dolls. Like literally, there's pictures of me, as a baby, playing in the bathtub, and I'm playing with wrestling, like Hulk Hogan, these little Hulk Hogan figurines. Those were my dolls. Um, and I think that it instilled in me, like, a certain confidence that is masculine at its core like, but not in the ways that you'd think. But at the same time, I think that you miss out on things. You know, this is kind of a sad story, but I remember this so vividly. At my mom's funeral, my Korean relatives had bought me this like beautiful dress to wear, and I just threw the biggest tantrum, I was like, I'm not wearing that. And I showed up in like a raggedy old t-shirt and like shorts. You know? Weird things like that.

LL: What did you know about your mom? Like do you actually remember her much?

A: I do. Um, I remember, like, little things. I think I can imagine what it would've been like to be raised by her. I think - um, like tteok, she used to feed me tteok when I was a kid. Um and I was like—

LL: And you're talking about tteok, you mean the Korean rice cake -

A: Right, the circular rice cakes. Exactly, yeah, yeah, yeah.

LL: Okay, okay.

A: And so I remember those things and she was sick for a lot of the time when I was growing up, yeah.

LL: Even though your dad, uh, was he born in the U.S.?

A: He came over very young, like extremely young. Like a baby.

Lisa: Okay, so very very western, Americanized dad. But he probably was not as communicative as actual like white American guys, right? Because Asian culture in general is pretty closed off and incommunicative?

A: Oh, especially with dads. There's always that one dad or grandpa that's like holded up in a study and hasn't talked to anybody for like, days. That was my grandpa. And I think my dad, it wasn't, I don't think, like a way that an Asian grandpa would deal with it. You know?

LL: How did he deal with it?

A: He talks about her all the time, still. You know? Laughs about things. I don't think he ever really got over her. You know? He would have dreams where she would come back and he would be like, mad at her.

LL: And did you two talk much about what had happened, or talk much about, um, their relationship?

A: Uh - when you're four years old, how do you process something like that? So the way I was able to understand it is I was watching Bambi, and you know, that scene where—the most horrible scene in Bambi, and there was this silence after he calls? And I remember that that silence really spoke to me—just the silence. And that's when I, like it really kind of hit me. And I think I internalized it in a lot of ways, but I also think it affects me every day. Um, when you go through adversity at such a young age, you learn embarrassment. And I think it's embarrassment and humility that really drives humor, and in some ways creation, you know? Um, and those feelings, I was so in-tune with at such a young age. I didn't like crying adults, I didn't want to be the source of like why people were crying. You know? I don't want to see like family members crying, and you know, holding a crying adult is just—it's not something a kid wants to do. You know? So.

LL: And at what age would you say, you kind of realized, like, I need to be funny to get over all the hard shit that I'm experiencing and feeling?

A: Yeah. Um, four or five.

LL: Well that's really incredible at such a young age you recognized that if I'm funny, I don't have to, kind of address those emotional issues.

A: Yeah, yeah. I think that I wanted so badly to bring joy, um and I really felt validation through bringing joy, through making people laugh, you know? But I think that it directly ties into not wanting to get to the meat. You just want to kind of make it light, and you know, get in, duck out of there.

LL: Do you think that there's been a benefit, for you, of being raised by a man and having him kind of raise you like a boy, because that's the only way he knew how to raise a kid?

A: Sure, yeah. Yeah, and there definitely are benefits. I think that it's just a different kind of support, safety, a different kind of feeling of your support network, right? You don't have that person to like teach you how to do your make-up, or dress, or take care of yourself, or how to deal with that. Like, when I first got my period, my grandma, she used to work at the Exchange Cart Department of Stony Brook Hospital and would steal so much—I'm sorry, I don't want her to get arrested—but she would steal! Like she took full advantage. And so, you know, first time I got my period, she was like, okay, I have a thing. And it was one of those pads they give to pregnant women after—it had a belt—

LL: (Laughing) Those massive things -

A: And I was like, wow, like you—I have to be belted into this thing, bro. So it was, it was quite an eccentric way of learning how to be a woman.

LL: This podcast is called Death, Sex and Money.

A: Oh great. Awesome. So we're just going to talk about sex now? Okay great.

LL: So, we're going to talk about sex now.

A: Okay great.

LL: Because I wonder who you talked to about sex. You know because with girls, very often, it's kind of the mom's role to talk about sex?

A: Yeah, yeah. Yeah, my dad like—I wasn't even alluding to the conversation. He just like, brought it up like really randomly. He was like, anything you do, just wear a bag. Wear a bag, all right? And I'm like, why use this lingo with me, right now?

LL: How old were you? Do you remember?

A: In my early teens, like 13, 14. I was like, I don't want to hear about it. And then like, my grandma's whole thing—it always becomes more graphic than I need it to be. It's like, you know, "Nora, when I, when I was in China, we didn't have birth control. We didn't have con-damns." Um, so don't - the moral of the story, don't go to Chinese parents for any sexual advice. Because it never ends well, it's always weird, it always ends weird.

LL: Well, okay, so you didn't get very productive information about sex -

A: No!

LL: But when did you start, like, I don't know, becoming curious about it? Or thinking about it? Do you remember those first memories?

A: I - I yes. I always used to think it was hilarious, like, you know, in the same way a 7-year-old boy thinks that sex is hilarious. You know? Like I think that, um, moreso than sex, it was hitting puberty and realizing that everyone around you was starting to become obsessed with sex. I remember my first day of junior high school, I showed up in like an AND1 sweatsuit, I don't even know if you know what an AND1 is, it's like this basketball brand. And I remember this also so clearly, a guy came up to me and was like, man why are you wearing that? You're a girl. And it was the first time, the first time that I was ever corrected for what I wore. It was never a thing. And then I realized, like, oh, okay. All right. So now I have to learn how to be a girl. Actually, you know, I found a journal that I would write in when I was that age, and I was reading it and, yes, it was cringey, but I like started crying, because I remember feeling like, so inadequate. You know? And it's not just me, it's like everyone at that age. The inadequacy, the not being sure.
Nora ended up going to LaGuardia Performing Arts high school in New York, and in her free time, she rapped and wrote her own songs. It was while she was there, when she was 15, that she started performing under the name Awkwafina. But her dad had concerns about her pursuing a career in the performing arts.
A: You know, I was a bad high school student, I was a bad kid. Bad kid. So I think he was always really used to the idea that I would let him down, in some way. He never wanted me to become rich so he could move in with me, or anything like that. He just wanted me to be self-sufficient, and if, God forbid anything happened to him, that I would be okay.
So after high school, Nora left New York City for SUNY Albany, where she majored in journalism and women's studies. Then, she got a job in a publicity firm back in Manhattan. But from the beginning, it wasn't a good fit.
A: I was diagnosed ADD/ADHD at like seven. The office world, it just was never something I understood how to do. You know, I don't understand how people can just sit there, and know what they're doing, and have purpose. Like, how is that possible? I didn't know - I, to this day, I don't know what a publicist is. And I was one!

LL: You were working as a publicist, or a publicist's assistant, right?

A: Yeah, but let's be honest. I was bad, bad at my job. I would go to work. I would go home, and then that was my time. And I would get home by like 5 or 6 on the - you know, rush hour. And I would open my computer, and I would make beats until 4 in the morning, I would wake up at s - and then, not go to sleep. Six, go to work. That's how much I needed that, because every day I spent wondering, like, what am I doing here? What is this? Why am I so useless, like why do I not understand? So, going home and making beats like that was me, that was my life.
And then, on her 23rd birthday, Nora shot a music video for one of her original songs. And put it on YouTube.
[AWKWAFINA - "My Vag"

My vag like an operatic ballad

Your vag like grandpa's cabbage

And my vag effortless

Your vag post ads on Craigslist]

A: It was the craziest thing I've ever done. Um, and my boss—you know how they have obligatory office birthdays—I went in and she was like, oh, so what did you do for your birthday? And I told her, and then I told her what the video was called, and immediately got this kind of e-mail that, you know, wasn't really malicious in nature, but was just kind of just like, be careful, be careful what you put on the internet. It stays out there, you don't want, you don't want to embarrass—kind of like that kind of e-mail. And it was just kind of like a slap in the face. Like if I can't have that, like, what do I have? Like, I have nothing, I have nothing. But then also I forgot to send out The New York Times bestseller list. Which is basically just spam mail to the entire company. So I was really bad at what I was doing, right? And I think that was the last straw. It was like, "My Vag," New York Times, and that was it. I really wish that it was a situation where it was like, fine, I quit. But it wasn't. I just got fired!

LL: How did that affect you? Getting fired?

A: It traumatized me. I still don't think I'm really that over it. Like I still think it makes me feel, like, completely inadequate. I don't think I ever really gotten closure. And I think that my dad, at a certain point, stopped believing, and I think that was the biggest letdown. You know, when he lost hope in me. It was kind of just proof of something that he already knew. That I would not be good at adulting, you know, this is not—I couldn't do it. Um, and then, around that time, when I got fired, he would like send me these jobs, and they weren't like, lit jobs. They were like, meat inspector, air traffic controller. Like, I don't want to disparage those jobs, but like, medium-hanging fruits compared to, like, why don't you go to law school or something? You know, like a sonogram technician was another one. Which is fine. I actually did apply to become a sonogram technician, like uh, you know. But I hoped that he wanted more for me.
Coming up, Nora hits it big as Awkwafina. And along the way, realizes that she's seeing some patterns in her personal life.
LL: A lot of the guys that I've dated have had one celebrity crush, and that was Janeane Garofalo, so there's a type. And I love Janeane Garofalo, but that's the kind of guy.
—
Hey, this is Katie Bishop, one of the producers here at Death, Sex & Money. And this episode with Lisa Ling and Awkwafina is the kickoff of our 2019 Maternity Leave Lineup. It's a series of guest hosted episodes we're featuring while our regular host, Anna Sale, is out for the next couple of months.
We asked a bunch of our favorite former Death, Sex & Money guests—and some new folks, too—to take a turn in the host chair. You'll also hear Jason Isbell, Ellen Burstyn, Damon Young, John Cameron Mitchell and some others, talking with the people they're most curious about….about the things in life (like death, sex and money) that don't usually come up in polite conversation.
DAMON YOUNG: I weigh myself when I get out of the shower and that's how much I weigh.

NIKOLE HANNAH-JONES: I mean, my family doesn't ask me for money, but I know that they're struggling.

JASON ISBELL: Just getting sober didn't make me all of a sudden happy. Everything - the world did not change.

WILL WELCH: Yeah, it doesn't fix you.
And if you're just discovering our show...welcome! If you want to hear more of what we usually do here, check out our episode when we had Lisa Ling as a guest. She talked about being raised by her dad, dancing on tables during her single days, and going through two miscarriages.
LISA: Up until that point, I felt like I could do anything [AS: Yeah] you know, I'd been such a hard worker all my life, and I thought, "Well, if I put my mind to anything I can do it." And so the first time I had a miscarriage it was just sort of like, I felt like I had lost control, and that it was my fault and that I did something. And then the second time it happened it just really kind of sort of shook me to the core.
To get a link right to that episode, just text the word "Lisa" to the number 70101. And to hear more of the stories we tell on our show about everything from student loan debt to pornography, make sure you subscribe to Death, Sex & Money at deathsexmoney.org, or wherever you're listening to this episode.
Coming up next in the maternity leave lineup...John Cameron Mitchell. He interviews jazz legend Marilyn Maye about her eighty years in the entertainment business, and loving and leaving several alcoholic men along the way.
MM: There was bad stuff going on behind the scenes, you know.

JM: Yeah, were you a - were you a saver? Were you a helper?

MM: Didn't I think I could, could -

JM: Save.

MM: - didn't I think I could make him quit drinking? Couldn't I just uh, fix him?
—
This is Death, Sex & Money from WNYC. I'm Lisa Ling.
After Nora Lum lost her office job, she spent her early twenties going all in on her alter-ego Awkwafina. She kept releasing music and comedy on her YouTube channel, and she covered her bills in Queens by working a series of odd jobs, including one at a vegan bodega.
Then, in 2018, everything finally came together in a big way. Ocean's 8 and Crazy Rich Asians made her a movie star. And with all that fame came a lot of money.
A: Like, I don't splurge on—literally anything, except for karaoke nights, if I'm treating like a whole group of friends. I'll drop like, 3G's on a group - on a night of karaoke, but like for myself? No! These pants are from Target dude! I'm literally wearing Target pants! What my Grandma instilled with me, with all that money worrying, is that, like, an anxiety that—that it's gonna be gone.

LL: Does that kind of mentality - do you feel like you need to accept anything that is offered to you?

A: What do you mean?

LL: Well I mean, people don't grow up with a lot, when they start getting opportunities, it's hard for them to say no—

A: Sure, oh I -

LL: Because they don't think something's going to come along tomorrow.

A: For the record, I have no problem saying no if it's wack, right? Um, that's the thing, that's where my relationship with money gets weird. It's like, I'm not going to do something that I don't believe in for money, you know? Even if I was broke, I wouldn't do that.

LL: Like what are some of the things that you would never do?

A: A panty liner commercial, a rapping lunch lady, for like a really big brand, a lot of things like that. Like things that, you know, that just don't make sense. Why? Because this is a long game for me, this is a long game. You know, I don't care if I go broke playing the long game in the meantime. I just—I think that, when I think about my career, I think 50 steps ahead. I'm not thinking about right now.

LL: I'm sitting across from you, wearing your Target track pants—

A: Yeah.

LL: (Laughter) And I also see these images of you constantly in designer dresses. At what point would you say you kind of got in touch with that feminine side of you? Or - or are you in touch with that feminine side? (Laughs)

A: I'm not in touch with it. I'm still not in touch with it. That's long gone. I gave up, I give up. You know, like the tomboy—I was reading this book, and like, what do you do with a tom-man? What happens when you are tom-man? I think, uh, it's a perpetual feeling of difference, always. When I go out with my friends in K-Town, like, they get all gussied up, and I just don't understand. I can't harness that.

LL: Well what's it like for guys to date a woman who in some cases could be more, like, boyish than they are?

A: I mean, it's a certain kind of guy, for sure.

LL: And so, did you—how old were you when you had your first—

A: My first—

LL: Relationship.

A: Um, maybe like, 16, 17, high school boyfriend, and then like two other ones that were really serious.

LL: Do you remember when you first felt love for someone else?

A: Um, two different kinds of love. I think I felt that kind of like crazy love, like the kind you drive across the country in a diaper for, which I don't believe—

LL: I - I'm not - I'm unfamiliar with that kind of love, but—

A: Oh, you don't put on a diaper and you drive across the country to make sure that they're not cheating on you?

LL: (Laughter) No, no!

A: Oh, okay, that's weird. There was this astronaut lady, remember that astronaut lady that did that?

LL: Yes, yes yes! Okay, that's right.

A: She did it, man. She did it. Um, there's two kinds of love. That love that I first experienced was not love, it was infatuation. It was like a projection of what you believed is like - someone that's totally out of your league and then you finally got him and you have to do whatever it takes, because—you know, that's not love, that's games. That's mind-games. The first time I felt love was probably in my last relationship. It was a cooperative thing. It wasn't like, oh my God, like, I have to make sure I take a bird bath before like, like we—oh my god, I have to make sure I shave my sideburns. It wasn't that kind, it was like, this is really me. And the feeling of having someone there, and not having to worry about any of that stuff. That was real love to me. And I think that, in the relationship that I'm in now, it's like an unconditional love. It's unconditional, there's no airs, there's none of that. And that's that's love for me. And it's very rare. I haven't experienced it a lot.

LL: I know you recently moved from your beloved New York to—

A: I know dude. I know.

LL: To LA!

A: I know.

LL: Yeah. Has your Grandma been out to visit?

A: We're, we're working on it right now. She wants to - she was like, yeah, I'm gonna come to visit California. I'm so excited! And maybe I'll stay for three months! And I was like, WHAT? You know? It's like, damn, you want to stay for three months, okay! In my open loft, yeah, that's cool. But you know at the same time, I don't really—

LL: You can't say no to Grandma.

A: Yeah, you can't say no to that, so.

LL: What does, what does your Grandma think of your life now, and what does your Dad think of your life now?

A: They're all about it, man! My dad's such a, my dad's such a hypocrite. I call him out all the time, he's so against it. And then he became like my, the tour manager I never, like on my first tour, he finally got on board and was like, you know what? I'll be your tour manager! And he would book me on a flight from like, New York to Philadelphia, but like, I'd stop in like Atlanta on the way, and wait there for four days. Like those were the flights he was putting me on. And now he just wants, just wants to be like, my business manager. And I was like, no, no, no, no, no. No, no, no, no. I've seen way too many Behind the Music stories about - like no. So they're on board. My grandma supported me from day one. She bought me singing lessons. She never, ever told me that a dream was too big. Ever. And she always, that same thing that always made me feel weird or out of place, she encouraged that. She knew that that was what made me special.

LL: What does it, what does it mean to you, given where you are now, that you had this woman who was in your corner, who was like rooting for you, and who knew you could achieve whatever you wanted to achieve?

A: I think that it, uh—in combination of being raised by my dad—I was never introduced to any kind of role of the Asian stereotypical woman's place, because my grandma was not any of those. My grandma was the neck of my family, the financial neck of my family for a long time. My grandma worked four jobs while my grandpa was out gambling. You know? I only knew of an Asian woman being a strong woman. And my grandma taught me that.
That's Nora Lum, a.k.a. Awkwafina. She's currently working on a Comedy Central pilot about her life growing up in Queens. And you can also see her in her first dramatic role, in a great movie called The Farewell.
Death, Sex & Money is a listener-supported production of WNYC Studios in New York. The team includes Katie Bishop, Anabel Bacon, Emily Botein, and Andrew Dunn.
The Reverend John Delore and Steve Lewis wrote the theme music.
I'm on Twitter @lisaling and on Instagram @lisalingstagram. New episodes of my show, This Is Life, are coming to CNN this fall, and you can find past episodes right now at cnn.com/thisislife.
If you're not subscribed to this show, Death, Sex & Money, make sure you hit that subscribe button, because it is a really good podcast. And if you don't know where to start, they've even got a starter kit of some of their favorite episodes just for you. Find it at deathsexmoney.org.
LL: I want to go back to something I read - and this is way back, and I know it's a little bit of a tangent. But, I know that you went to LaGuardia School of Performing Arts for trumpet. And is it true that you chose trumpet because it was a loud instrument?

A: It's the loudest in the band. I don't want a piccolo.

LL: Why am I not shocked?

A: No, but also, do you know what—no. I was a ham. And we played "Living La Vida Loca," and I got yelled at by my band teacher, because I wouldn't let the woodwinds shine. And I was like, um, "Living La Vida Loca"'s like, the brassiest song you could ever choose! Woodwinds have no place in this song, right? Shut up! Let me shine!
I'm Lisa Ling, and this is Death, Sex & Money, from WNYC.
Copyright © 2019 New York Public Radio. All rights reserved. Visit our website terms of use at www.wnyc.org for further information.
Music Credits:
"Stucco Grey" by Blue Dot Sessions
,
"Elmore Heights" by Blue Dot Sessions
,
"Setting Up" by Blue Dot Sessions
,
"Junca" by Blue Dot Sessions
,
"Um Pepino" by Blue Dot Sessions