Lena Waithe Says Have a Dream... and a Sponsor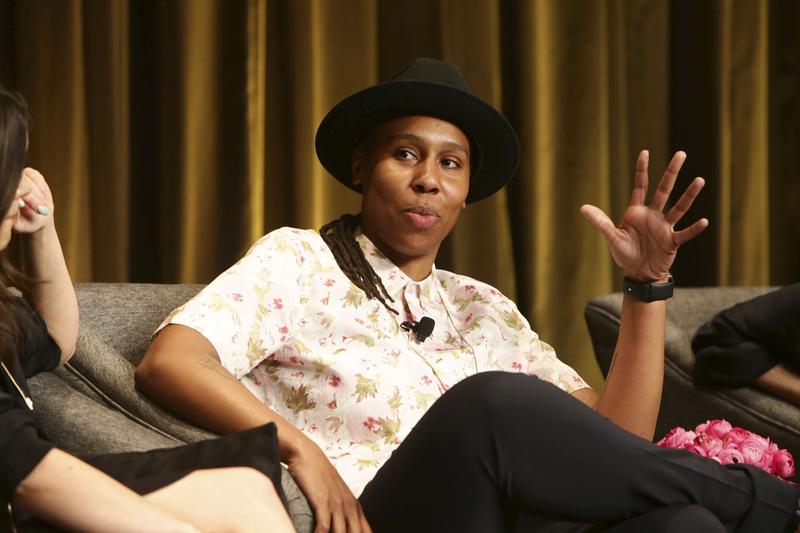 Transcript
LENA WAITHE: My mom named me for Lena Horne and when I was a kid, I remember being pissed that I had a little two syllable boring name. I want to be Taquisha or Daquana or something. I wanted to have one of those names. And my mom was like trust me, you'll thank me later.
This is Death, Sex & Money.
The show from WNYC about the things we think about a lot...
...And need to talk about more.
I'm Anna Sale.
When I talked with writer and actor Lena Waithe in early January, she was in the middle of packed press tour around her new show The Chi.
AS: You are in the middle of it man.

LW: I am.

AS: Everywhere I turn it's Lena.

LW: You know what and that's a good thing.
The Chi is just the latest project from Lena that's getting a lot of attention. Last year, she became the first black woman to win an Emmy for comedy writing. That was for an episode of Master of None that was based loosely on her own experience of coming out to her family.
This is a moment that Lena's been working toward for more than ten years, since she moved out to LA from Chicago in 2006, right out of college, to try to make it as a writer.
LW: I lived deep in the valley, like Van Nuys deep, valley. There was a roach or two that lived there with me. And I was working at Blockbuster. I transferred my Blockbuster job from Chicago to LA. That's who I was. I remember we would work late nights and we would have to swap out the old releases with the new releases and I remember listening to Dane Cook's album over the intercom while we would swap stuff out. I know what it's like to be at the starting line of a marathon on your way to a dream.

AS: And you were living all by yourself?

LW: Living by myself. Living by myself. But I was happy. I was happy, I was a little scared. I felt really small. You feel really small when you first move to Los Angeles. And also you feel like a nobody, because you're like nobody cares about me. 'Cuz that's the thing about LA. It's all about who are you? What do you mean to me? And what can I get from you? What can you do for me?

AS: Do you know how much you were getting paid an hour?

LW: I mean, maybe a dollar or two above minimum wage. Maybe? It was definitely you know you know dues-paying time. I wasn't even paying dues yet. I was just out there figuring it out. And uh, I was really broke and I was really grateful to have a family that was willing to pay my rent for a year. That's the funny thing. Whenever I talk to people who say, oh, I want to move out to LA, and do this, I say it's good to have a dream but you also gotta have a sponsor. You gotta have somebody who's going to pay your phone bill when you can't afford to. You gotta have somebody that's willing to supplement your income because your job is not paying you enough. I mean that job—I don't even know what that check was doing for me. My mom was like here, okay, I went from paying the college tuition to the rent. We were going to figure it out.

AS: What was it like negotiating that sponsorship from your mom for that first year of rent out in LA?

LW: It wasn't awful. You know, she was just happy that her daughter was making something of her life. I think she really took pride in that and was happy to pay whatever she needed to. And I think for her it was an investment. She was like Lena's going to be somebody. She's trying to do something. I don't get it, I don't understand it, but I'll take it.

AS: Did that raise the stakes for you to succeed in LA?

LW: I think the stakes were high no matter what because people were counting on me. Like a lot of people in my family had dreams—of course they did—but they didn't have the opportunity to chase them with everything they had. So I sort of put not just my clothes and my belongings in my bag but I put their deferred dreams in my bag as well.
Lena grew up with her mother and older sister in Chicago. They moved in with her grandmother after Lena's parents divorced when she was young. Her dad wasn't around much after that.
AS: Did it feel like you had enough money when you were growing up?

LW: We didn't—that's what I always say. We didn't have everything we wanted but we never wanted for anything. It was working-slash-middle class. I never felt like, oh, we were struggling. Now what I did know was that not everybody lives with their grandmother. That I knew but I never minded. I loved my grandmother. I was never embarrassed of that at all. Umm, but that I got older I kind of realized like, oh we kind of had to because my mom needed the help emotionally and financially. But I enjoyed having her there. So I'm grateful for that chapter as well, but I do—the thing I remember—which is so interesting because I have Jordans on my feet now, that was what I could never get. I would be like, can I please get a pair of Jordans. And she was like the amount I would spend on Jordans is how much we have to spend on groceries. For the month. So there you—that's when I kind of realized, huh, okay, we don't have what we like to call disposable income. Got it. And that was frustrating. So for me, that was the only thing. But now of course it's like, I mean I have an entire wall in my office that is just like boxes and boxes of Jordans. It's just a thing. It's a culture.

AS: You're like, I am starting my collection.

LW: I'm starting my collection. But Jerrod Carmichael says it so well in his special. It's just like—it's a trauma. We can't help it. We just have to have it.

AS: It's a trauma.

LS: Yeah. Yeah. Because I remember being at school and seeing other kids with them on the day they came out and it bothered me that their parents were you know going the extra mile to get them these sneakers and my mom was like nope. Deal with it. K-Swiss or nothing. K-Swiss? Okay great. That's what—it humbled me man.

AS: How old were you when you started writing?

LW: I started writing just very young. I wrote about my family. I wrote about things I saw. I wrote about things I heard and I wrote about things I dreamed up. I'll never forget my fifth grade teacher Mrs. Tarbunes [sp] at Turner-Drew Academy in Chicago said, Lena I always look forward to your papers and I said why is that? She said because you write the way you speak and I didn't know what that meant really at the time, but I was very grateful, I mean for an adult to compliment a child about something they're good at is life changing.

AS: Were there any real world role models in your life growing up or someone who was writing creatively?

LS: No. Not really, but I remember the—which is obviously still popular now—but the American Girls series. So my mom was like, oh there's these American Girl books and I want to get Lena the black one because that's the household we live in. And I remember she handed me a book and it said Addy and I remember reading it very quickly and she took me to a book signing of a black woman who had written that particular series of books. And that was the first time I really put a face to words where I said, oh this is the lady that wrote this book that I read about this black girl and her family. And that was the first real, like okay, somebody wrote these words and I enjoyed them. But then I learned eventually that writers also could write TV shows and movies.
That was something Lena wanted to do when she grew up, especially compared to the kind of work she saw her mom doing.
LW: I could never explain to you what she did for a living. We never kind of had those conversations. I just know she left every morning at 8 and came back at 7 and kept the lights on. She always was working in an office and she worked downtown. I could never differentiate what one office cubicle person did from the other and I just remember it never interested me. I was just like whatever this is—this is hell. This is what hell looks like. Whatever it is y'all do all day long. Because I remember I did for a little bit because I really needed some money and so she got me to work in her offices like every good mother worth their salt does. But I always remember entering data into a computer. An I just was like -

AS: Yeah, it wasn't your calling.

LW: - this is horrific.

AS: Did you have to dress up?

LW: You know, it's interesting because that was a big thing for my mom. She didn't like the fact that I dressed like a boy. I was basically dressing like a lesbian in training at the time and it was just like she was just not happy about it. I wore a skirt like once and I almost like keeled over. And I never did again. It's interesting too because home represented a place where I couldn't be myself. That's what I think she started to represent for me, that's what almost Chicago started to represent for me, until I really moved to LA and found myself in a real way—away from my family.

AS: When you had a moment of doubt when you were trying to figure out your early career, who could you talk to about it?

LW: I tried to talk to my mom about it but she—it's such a unique business and it's one that if you're not in it, you don't understand it. So I kind of started to realize oh I can't really talk to them about it because they don't really know it. They don't live it everyday. They're not in it all the time. And I think I started to build my village. Like Justin Simeon who went on to create Dear White People or Ben Jones who's currently writing on Insecure. Umm, you know, Dime Davis who I met through Justin who's a filmmaker and an amazing writer. The people that were also chasing their dreams and had their family deferred dreams in their backpacks. We could understand each other. We spoke the same language and we could push each other. We could hold each other up. And I think that's wha really kept me going. It's the chosen family that picks you up and carries you through once your birth family sorts of drops you off and says this is as far as we can take you. Your chosen family is taking you the rest of the way.

AS: How much did you talk about money with that chosen family and how to manage what you made and how to make more?

LW: Well there wasn't much money to speak of. So we were - I think we bonded through our brokeness to be honest. And I think with Justin is someone, because Justin—I always say his life is one year ahead of mine. He got success, he fell in love, he started doing all of that about a year before I did. He was like the guinea pig. Like I remember distinctively when I got cast on Master of None, I was on my way to New York and he was like, you have to get incorporated now. Like, you have to get a business manager now. He said because, yeah you're doing a little staff writer gigs, you're making money, you're alright, you're good. But now this is a different game. You'll be making a certain amount of money. You'll be in a certain tax bracket so you need to behave as such. It was just a level of maturity that you have to gain when you start making a certain amount of money that I think people don't often think about. There's a level of maturity that has to go with it.
Coming up, Lena talks about how falling in love has made her more bold in her career.
LW: When I walk into a meeting now like, I don't care what you think of me because Alana thinks the world of me and that's fine. That's enough.
—
Since we launched our series about class last month, called Opportunity Costs, you've continued to send us stories. And you're still filling out our class survey. We asked you to tell us one thing about your current class status that gives you pride…
The only reason why I even made it into my industry is through a lot of serious hard work.
...and one thing that makes you feel shame.
I'm making more money than perhaps my father ever did, and I'm only at the very start of my career.
More than 800 of you have responded to the survey so far—you've told us about the mixed feelings you have about the car you drive, the debt you have, the kinds of cheese you can afford at the grocery store.
We wanted to find a way to share these responses with all of you. And two of our listeners, Katie Broida and Emily Theis, helped us create a website where you can click through and see the interesting contrast of what people feel pride and shame about. You can go see it for yourself at dsmclass.community. That's at dsmclass.community.
And you can still add your own feelings about class pride and shame to our survey. There's a link to that on the site as well.
On the next episode, a woman who took a mail-in DNA test to learn about her family history, and got bigger news than she was expecting.
AMY: There was a part of me that was really fighting saying no, no no, this can't be true. This is not possible. Another part of me was sort of starting to dive into the like, "Oh my gosh, this means that my father was not my biological father."
—
This is Death, Sex and Money from WNYC. I'm Anna Sale.
Lena Waithe's new show The Chi takes place on the South Side of Chicago, where she lived until she she was 12 and moved to the suburbs. Lena created the Showtime drama, and she says, after all the years in LA, it felt good to focus on home.
LW: I got to a place where I wanted to write about that place and I came back triumphant. I came back as someone who had sold a show to a network that was about that city. This city is a part of me and I'm going to help paint a picture of it through my lens. Because I still think it's beautiful.

AS: When I was watching The Chi, I thought a lot about the emphasis on the black male characters and it made me wonder were you thinking about your dad while writing it?

LW: Not as much. No. Maybe more my uncle, my mother's brother, who also struggled with substance abuse. My father did as well. But it's funny because there's father figures in the show and there's a theme of fatherhood for sure and what it means to be a father and that responsibility and what that looks like and what that means to different people. But no, but I think for me I was thinking about the guys I went to high school with. I'm thinking about the guys I grew up with when I was writing. I was thinking about my uncle and I'm really grateful to all of them for being in my life because. I don't—I'm not the person who says, oh I which I could have had a relationship with my father. My father passed away when I was 14. Um, I wasn't—God must not have needed that for me. Because if that's what he wanted that would have been my life and it wasn't and maybe I didn't have my father in my life so I could write things that people who also didn't have their fathers in their lives would relate to.

AS: You are recently engaged, right?

LW: Yep. Mhm.

AS: Congratulations.

LW: Thank you so much.

AS: When did you know that marriage was something you wanted in your life?

LW: I think, you know it's interesting because I never thought about marriage a ton growing up. Maybe it's because I'm a child of divorce and my parents divorced when I was like two years old so—and also because I was never a girly girl. I never thought about wearing a wedding dress and all that kind of stuff. And it took me such a long time to come out to myself that when I did I didn't think about, oh maybe I'll wear a suit. Also too because marriage wasn't legal for us for a large part of my life. So it was just never a thing I thought about. But when you fall in love, which I did properly with Alana, I just started to think, oh all I want to do is be with this person all the time until the end of my days.

AS: Why did you say properly? What does that mean?

LW: Because I think you fall in love a lot in your life but I think until you fall in love with someone whom you are equally yoked with it's hard to really gauge what falling in love feels like. Because you may think you're falling in love or you may think you're in love but until it's a situation where both parties are on the same ride going the same speed and saying the same things I don't know how proper that falling in love is. So for me, it was really, Alana and I were dancing the same dance to the same song and there was something really proper about the love into which we were falling into.

AS: Did it feel like it was all happening at once—your career exploding, your love life transforming?

LW: I - I think it was a culmination of things. It was, I was clocking in the 10,000 hours, still clocking them in honestly.

AS: So you mean like you're like working, like this is my practice, this is my work.

LW: Absolutely.

AS: I'm putting in the time.

LW: And I think falling in love with her gave me a real safety net and a real foundation that it made me feel like, you know what? I'm just gonna swing for the fences and try to do this thing and if it doesn't work out who cares because Alana is here to catch me if I fall.

AS: What did that mean in terms of, if you both feel like, my dreams can be even bigger because I'm in love—what did that mean in terms of how you spend your time? If you both are feeling more ambitious and also like you want to take care of your relationship.

LW: Well I think the great thing about Alana is she always put her well-being before her career because she's an exec so she's on the other side of business. But she has always known that your family, your personal life must always be a priority and that's a thing that rubbed off on me and also too, just also taking time for yourself. So I think for us, both of us are still two very driven people and she just took on a new gig. She's now the head of production for Michael B. Jordan's production company.

AS: I saw your Instagram post, #TheTakeoverBegins.

LW: Yes it does. It does. It has. And I think we do help each other navigate the business and navigate decisions. Because I can talk about the business all day. My friends come over and because a lot of us are all in the business we—that's what we talk about. You know, she goes do you guys ever stop talking about this? No because it's our favorite subject. We're talking about the movie we just saw, we're talking about the TV show we just binged, we talking about this actress that needs to make better decisions like we're—that's what we talk about.

AS: This actress needs to make better decisions. (Laughs)

LW: It's true. We're like what is she doing with her career? She had just a great moment and now what is she doing? Aw Jesus why is she doing that movie? Like okay, you're going to do the superhero thing now. That's what we talk about. And I think for Alana, her favorite thing is to sit across from someone who says, oh I'm not in the business. Fantastic. She's someone one likes to kind of shut off and I think we really—that's how we can really balance our time. You know, where—and sometimes we'll be at home and be on our computers and I mean just firing off emails and I'm making tweaks to a script and she's making notes on one next to me and then other times she's like put your laptop down. Okay. Put that away. I'm putting my phone down and we're going to watch The Crown. And it's a beautiful combination. But even I'll always tease her because when we're watching a movie she'll go like, why did they shoot that on a stage? Why didn't they just go on location? And I'll always go is that your note, is that your note? Okay great, thank you. I always tease her like the exec is always there. She can't help it.

AS: You're like just watch The Crown, okay?

LW: Just freaking watch the movie. Okay. Let's—alright. It's not a job. It's a lifestyle. It really is. It's your life.
That's Lena Waithe. The Chi is airing on Showtime right now, and it was just picked up for a second season. You can also see Lena in the Steven Spielberg movie Ready Player One coming in March.
Death, Sex & Money is a listener-supported production of WNYC Studios in New York. I'm based at the Center for Investigative Reporting in Emeryville, CA. Our team includes Katie Bishop, Anabel Bacon, Emily Botein, and Andrew Dunn.
Our interns are Catherine Xu and Angely Mercado.
The Reverend John Delore and Steve Lewis wrote our theme music.
We're on Facebook, Twitter, and Instagram. Find us @deathsexmoney. And sign up for our newsletter! It's where we tell you every week what we're working on, other podcast episodes we're really enjoying, and what you're telling us in our inbox. Sign up at deathsexmoney.org/newsletter.
Lena told me she hasn't officially paid her mother back for financing that first year of rent out in LA. But she's making it up to her in other ways.
LW: What I started to do when I started making money every Christmas I would send her a nice sizable check.

AS: When you send that check, do you tell her it's coming? Or do you have it arrive in the mail?

LW: No, it just arrives. She's like, it's tradition now.

AS: But you don't talk about it?

LW: No. I mean she sends a text like, and I thank you.

AS: "And I (laughs)."

LW: And then now she's got the emoji with the money on its eyes and tongue.
I'm Anna Sale and this is Death, Sex & Money from WNYC.
Copyright © 2019 New York Public Radio. All rights reserved. Visit our website terms of use at www.wnyc.org for further information.
Music Credits:
"Summer Spliffs" by Broke For Free
,
"Nothing at All" by Blue Dot Sessions
,
"Smooth Actor" by Podington Bear
,
"Willow Belle" by Blue Dot Sessions
,
"Heart Ache" by Broke For Free