Leaving the Extreme Right, and a Marriage, Behind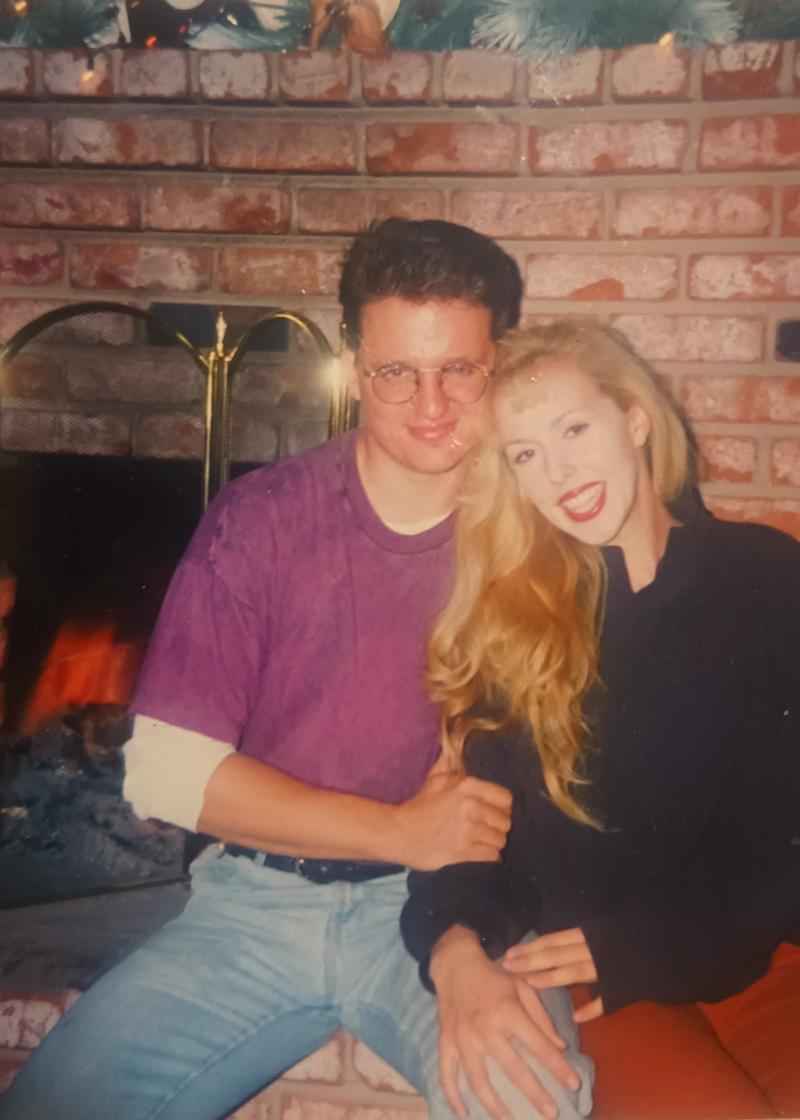 Transcript
Anna: Hey, it's Anna. We co-reported this week's episode with my colleague at On the Media, Micah Loewinger.
Micah: Hey Anna.
Anna: Micah is a star reporter here at WNYC – and through the last few years I've followed his accolades in the company chat about his many scoops, many of which have focused on the digital platforms right-wing extremist groups used to communicate, including in the run up and during January 6th. He's figured out ways to listen in and report on conversations that not many other journalists were paying attention to. And then, at the WNYC holiday party last December, Micah told me about another conversation he found interesting. Do you remember what you told me, Micah?
Micah: Yeah, I think I was telling you about a source of mine, Tasha Adams. She's the estranged wife of Stewart Rhodes, who's the leader and founder of the Oath Keepers, one of the groups that broke into the capitol on January 6th and, she had told me an intense story about what it took to leave their marriage, and in fact, when she was planning her escape from Stewart Rhodes the only person she told was Kelly Jones, who used to be married to Alex Jones.
Anna: That Alex Jones.
Micah: Yes, that Alex Jones–the two of them had messaged online, but they'd never spoken. And I wondered what it would be like to get them on the phone together for the first time.
Anna: And you said, do you think that would be interesting for Death, Sex, and Money? And I said, yes. And within a week or two, Micah and I had started making plans to travel to Montana, and report out this story, and get to know a lot more about Tasha Adams, how she wonders to this day about the responsibility she bears for the January 6th insurrection.
Micah: And – ALSO – what her story can teach us about the private origins of some of the far-right violence that feels more and more present in our country.
Anna: This to me is the kind of journalism that I most want to be part of, that's exploring a big national story of critical importance to democracy, and also treats the personal dimension of these stories, the motivations at play, the human costs, with equal importance. So if you'll indulge us, I also want to remind you that this kind of reporting takes resources. Like for this one, travel, and also, time to make sure we're telling this story ethically and with the proper context. Ambition to followup on a holiday party conversation takes money. So, if you'd like to support more of this Death, Sex & Money, we need your contributions. We do, right now.
You can become a monthly sustaining member, or make a one-time donation at deathsexmoney.org/donate. There's also a link in our show notes.
And Micah, thanks for reporting this with us. I'm really so honored to bring it to our listeners. And for you listening, I want to tell you that this episode includes in-depth conversation about leaving a controlling, often scary relationship, and also details about physical abuse, miscarriage and infant loss. Please take care while listening.
Tasha: people died that day and I, you know, the first words outta my mouth were, I helped start this. I helped start this, it turned into that and people died that day. And would this have happened had I not supported Stewart? You know, I guess that's impossible to trace.
(opening theme for Death, Sex & Money)
AS: This is Death Sex & Money, the show from WNYC about the things we think about a lot and need to talk about more. I'm Anna Sale.
ML: And I'm Micah Loewinger from On the Media.
(end of opening theme for Death, Sex & Money)
AS: Several weeks ago, Micah and I traveled together to a small town in northwest Montana, not far from the Canadian border.
Anna: It's beautiful and there's lots of ice.
Micah: Yes.
Anna: Yeah.
ML: We were there to meet Tasha Adams, who for more than 20 years, was the wife of Stewart Rhodes. He is the founder of the far-right extremist group The Oath Keepers, a man you may have seen on the news wearing an eye patch.
Tasha's divorce from Stewart is not yet finalized. It's taken years to work its way through family court, but she and her six children left. They snuck away, in 2018. At the time, Tasha felt very alone.
Tasha: I had never spoken out loud to anyone about our plans, our, our secret basement and LA plans that I had with the kids about getting out, you know, except for, um, um, um, Alex Jones's ex-wife, I had texted her.
AS: Alex Jones, host of Infowars, the one who was found liable last year in court for his lies that the Sandy Hook shooting, and the losses of those families, were fake. We'll get to Tasha's connection to Kelly Jones, Alex's ex-wife, later in this episode.
Micah and I met Tasha in the small town where Stewart moved their family in 2010. We talked for hours in a conference room at a local business. It had been hard to find a place to record. Tasha's landlord didn't want reporters coming by her place, another business we'd called didn't want to get mixed up in any coverage of the Oath Keepers. It made me wonder how isolated Tasha feels in town.
ML: But she's been getting a lot of attention from reporters, including me. We'd texted and spoken on the phone as I was digging into the Oath Keepers after January 6. I was actually called to testify by the government about my reporting in the big criminal case against Stewart Rhodes.
Micah: Do you remember who I am?
Tasha: Yeah, I do. I remember we talked a little bit early on, I think. Yeah or not long after J6. I think we–
Micah: That's right. Yeah, exactly.
Tasha: I listened to all the pretrial hearings. I listened to all of that. Anything I could listen to, I listened to.
Anna: Why?
Tasha: Uh, I just, yeah, I don't know. I just was pretty obsessed with the whole thing. I just, um, just needed to. Also, the idea of seeing Stewart face consequences is so huge for me, and then it's like sort of a process of Stewart's about to face consequences, okay, he needs to face consequences. And then I kind of take a deep breath and sit with it and just let myself get hit with the fear that I can't stop it, because there's nothing I can do with this internal voice that says if something bad happens to Stewart, something bad happens to me.
(Fifteen St Rhodes – Blue Dot Sessions)
AS: Tasha was 22 when she married Stewart. She was just 18 when they started dating. She was teaching ballroom dancing in Las Vegas where she'd grown up, in a tight-knit Mormon family.
Tasha: I really wanted to do everything. You know, I had a really busy schedule. I was taking tons of other dance classes in addition to the ballroom. Um, I was always running to auditions. I wanted to be a journalist and I wanted to, I just wanted to do everything.
(end of Fifteen St Rhodes – Blue Dot Sessions)
AS: And before she met Stewart, Tasha had found dating kind of boring.
Tasha: I had gone on a date earlier–Mormon boy, arm around the shoulders during the yawn at the movies, you know, no kissing on the first date. Okay, that's fine, and, but it just wasn't, it wasn't the exciting, it wasn't the adventure I was looking for.
ML: Then came Stewart. He was 25, an artist who'd grown up in this big multicultural family with Filipino and Mexican relatives. He caught her eye, because he was a single guy in a dancing class at the studio where she worked.
Tahsa: Stewart was so assertive and he just seemed so worldly, you know? And he lived everywhere, and he'd been in the military, and he brought me pictures of the times he'd gone hang gliding while he was in the military, but he was very, um, you know we went on a few dates, there was a bit of a culture clash because he was just so assertive, and, um, you know, our first date was planned for a weekend, but instead of waiting for the weekend, he actually called me the next night–first time he ever called me was at 10:30 at night. My family's home, you know, back in the days of home phones, right. So the whole house is waking up, who the heck is calling the house at 10:30 at night? And he said, let's go out to dinner. Well, this is Las Vegas, so you can do that. You know? He picked me up at 11:30 at night and we had dinner at midnight. It seemed odd and it made me a little uncomfortable. But at the same time, I sort of gave myself a talking to over being uncomfortable with that. Like, how am I going to, you know, go on adventures all over the world if I'm uncomfortable, like going out to dinner a little late?
Anna: And then how quickly did you all become serious?
Tasha: Um, pretty quickly. Um, I mean, I was pretty much staying over there within–to me it was quick–within three months or so, um, which was a huge, obviously this is a huge no-no in my life and in my family, my culture. Um, but around that same time, about three months in his, uh, possessiveness, um, his controlling, his constant, his possessiveness–not so much over the kind of things I read about that at the time were seen as red flags in relationships, like jealousy of, you know, who you, you're looking at him–it wasn't like that. It was more possessiveness of my personal time. He wanted my time and all of it, and he seemed very jealous of me going to school. He seemed jealous of the dance classes I was taking. He was jealous of my friends. He was, he wanted that time for himself. And even at that point, I started to think, I don't know, maybe, maybe this isn't for me. Which, you know, at that point, it's turned into a sexual relationship and stepping away from it at that point is a big risk for me. You know, because it, I'm, I'm now downgraded in this world that I grew up in. You know, I'm not, I'm not going to be anyone's dream girl right at this point, you know, if, if I stay inside Mormon culture, at least that's how I viewed it. But I was really on the fence and I was really thinking maybe, maybe I need to break this off. And I was really actually pulled into a parking lot and was just mulling it over, just sitting there thinking, which way do I drive? Do I drive back to my mom's house and just go home or drive to Stewart's place where I'm supposed to go? And I was really kind of back and forth. I wound up going to his place, but I was still, you know, the next day I was still kind of in my own head about, man, I don't know. And then I get a call that he's been in this really terrible, there's been a terrible accident.
Anna: Oh.
Tasha: He's accidentally shot himself in the eye.
Anna: Wow.
Tasha: This completely changed everything in my relationship. I mean, it, if I had just been a few years older, if I had been maybe 25, I probably would've been like, wow, that's, that's really unfortunate timing that I was about to break up with you and you've had a devastating accident. But at 18, I thought, well, now, now what am I gonna do now I'm trapped.
Anna: I have to take care of him.
Tasha: Yeah. And it, and it changed the dynamic completely. You know, I was taking care of him. I was cleaning out his empty eye socket. I was just like being pulled out in a tidal wave.
Micah: And also kind of ironic because a lot of the militia guys preach this like gun safety thing and how they're like well trained and they don't slip up you know and then…
Tasha: Yes, it, it really struck me a lot–this is jumping forward just briefly–but, um, during our divorce hearing, it came up, he talked about what, how safe he was at handling, handling weapons and honestly, I had been so conditioned for so many years to never bring it up. I just, I thought to myself, wow, too bad. I can't bring up the fact that he shot himself in the face. And I don't know why. It just was so conditioned to not bring that up that I just didn't, and I just let him sit there, you know, with an eye patch on and tell the judge how safe he is with firearms I just didn't say a thing.
Anna: Conditioned because if you ever brought it up during the course of your marriage, it's so humiliating and embarrassing to him that it would be dangerous for you to bring that up.
Tasha: He would shut it down and so you just couldn't even hint at it or just almost didn't even talk about that he was missing an eye, you know.
Anna: Wow. Okay. So he has this terrible accident and it also has this hugely consequential, uh, huge consequence for your life and your ability to feel like this is a relationship you could end after three months.
Tasha: Yeah
Anna: And when you married, um, had that period of doubting, um, changed into something else?
Tasha: Yes. It, it changed into I have to fix this.
Anna: Fix what?
Tasha: Fix him. He said, you know, during his recovery, he was, became more open about the kind of abuse he experienced as a kid. That his mom had not been mentally stable. That there was a lot of physical abuse, and I, I felt so bad and I felt so guilty for my own upbringing. You know, I'd had this, uh, board game family life, I had this great life and so whenever there was something I didn't like about his behavior, he would remind me of this horrible childhood he'd had and how difficult he'd had it. And, and, you know, not everyone has this perfect life and he was, you know, very intelligent and he was very good at manipulating me, honestly. And, and he was very quick to pick up on the fact that I was, um–a, a real hot button and sort of trigger for me was any implication, any, anyone implying that I might be, uh, entitled or selfish or kind of a spoiled brat that always bothered me. And he just knew that all he ever had to do was just push it.
Micah: Um, you've said a number of times that you thought that he was very intelligent. What are some ways that, that you picked up on that? How did he express his intelligence?
Tasha: Oh, he was very well read. Um, and so was I. Um, but he had read, um, you know, for example, he read the Rise and Fall of the Roman Empire at 13, and he was always reading something. He was very good at, um, absorbing things he had read. Um, for me, I'm not like that. You know, I'll, I'll read something, but I'll remember the summary of it. He almost doesn't even use the quicker, more summary, um, way of, taking in information. He's very heavily focused on the mental, on the deeper mental process. Um, now after many years, I've come to believe maybe it's, it might be somewhat common in narcissists or sociopaths to be like that because everything about himself is a, is a deep mimic of other people and the people around him. And he's very good at memory work. And so I think some of that might have been part of his need to constantly memorize the things around him as a way of coping and mimicking how other people act.
(Gemeni City – Blue Dot Sessions)
AS: Soon after they got married, Stewart enrolled at University of Nevada Las Vegas. Tasha never got to finish college. Stewart urged Tasha to quit her job teaching ballroom dancing and become a stripper to bring in more money. She says Stewart made her turn over her earnings to him at the end of her shift. But, they agreed it was temporary to get him through school, which became a joint family project.
(end of Gemeni City – Blue Dot Sessions)
Tasha: He graduated summa cum laude because he took two honors classes. Um, one is a history of Spain and one was a history of France and he had to write these papers. And so he did write the, the main paper to get his summa cum laude status. But these two honors classes were extra classes. And he just explained to me, you know, I'm doing all this work and he had these papers due, and if he doesn't get these papers due, you know, finished in time, then uh, he's not gonna graduate summa cum laude and, you know, all these things we've worked so hard for aren't gonna happen, and so I just wound up doing all his work for his honors classes.
Anna: You did his homework.
Tasha: Yeah. Did his papers for him, um, and so that he could graduate with that.
Anna: While you're doing the job at the club stripping.
Tasha: Yeah.
AS: When Tasha was 25 and they had their first son, Dakota. She says she stopped stripping when her pregnancy started to show.
Tasha: My agreement with him back when I first started stripping was, I will do this. But once we start having kids, um, and I put you through school and I, basically making it so all you have to do is wake up and walk out the door, that's it. You know, clothes are laid out, you know, everything, food, everything is there. Um, um, and then he's also not doing any parenting either, you know, so, he's doing nothing. He's doing nothing but school. In exchange, I want, this seems so silly, but I was very emotional about this at the time. I want a house. I want my own house, and I want a damn tree house before Dakota's too old to wanna play in it. and that's the agreement. So by the time he was about eight years old, I want a little house. It doesn't have to be fancy, just a regular house with a yard. And that's what I want out of this deal. Um, that never happened.
ML: Instead they moved around a lot. Tasha had their second child in 1998, and their third in 2002 while Stewart was enrolled at Yale Law School. Stewart's world was expanding and hers was shrinking.
Tasha: I think the last time I ever went to a doctor was when I was 19. I didn't go again until I was 50.
Anna: And when you were having babies, were you, what kind of health insurance did you have?
Tasha: Oh, no, I never, never had any health insurance.
Anna: Would you go into hospitals to have the babies?
Tasha: No, no.
Anna: They were all home births?
Tasha: Mm-hmm.
Anna: Did you have help?
Tasha: Um, generally I had a midwife friend who would help.
ML: After Yale, Stewart got good jobs, like a prestigious gig clerking for a judge in Arizona, but nothing lasted. Tasha says he would come up with a reason for why they suddenly had to leave town. Y2K was coming and they needed to prepare, or he suddenly craved a fresh start.
AS: Tasha told us she now looks at these stories differently, that maybe there were other reasons they had to get up and move so quickly.
Tasha: Half my life I was playing detective. So sometimes I'm able to solve the mysteries, especially, especially now with his name being so public, it's easier for me to find people and get responses from them and, and they remember who, you know, they've been paying attention.
Anna: Oh wow. His notoriety is helping you understand your personal past.
Tasha: I mean, they're just things I had no idea about. I had no idea there was an argument between him and the judge. I had no idea he was fired – just that we're, oh, we're moving, okay, here we go again.
Micah: It sounds like he had a really hard time working for people.
Tasha: Yes.
Micah: And with people, was the Oath Keepers a kind of way for him to be the leader, to have the autonomy that he wasn't finding in his life up until that point?
Tasha: Honestly, in some ways, that's what I was hoping for. Um, when he said he wanted to start an org, I thought, wow, then he could just talk for a living, right? And then he can't get fired and maybe we can pay the rent. Because another thing is when you live like that, I mean, at this point, there's no doubt he's abusive. You know, he's physically abusive, he's emotionally abusive. Um, and I still think I can fix him, you know. Um, again, back to his intelligence, and his gift for manipulating, is he seemed to be pretty aware, looking back, it seemed, he was very aware that I wanted to fix him. And so he would constantly say things like, um, 'I feel so much better about myself and about our relationship and our family when I'm on my path and I don't know what my path is, but when I'm on it, when I'm–I don't know where this path ultimately leads–but when I'm headed in the right direction, when I'm doing what I'm supposed to be doing, then I'm not getting as angry. Yeah, this, if I start a nonprofit, if I focus on this group that's just focused on, you know, the constitution, these things that I love, then I'm on it and I'm in the zone, and, and I'm not being drugged down by this, the, the lesser me. You know, I'm, I'm, I'm who I should be, you know, which is a good person.
Anna: I wanna ask a few questions, you've used the word abusive a few times, do you wanna just guide us on what feels okay to talk about? Um, but when you say he was physically abusive, how, when did that start in your relationship?
Tasha: Um, you know, it's funny as if he were to ask me, and in fact, I was asked four years ago, three years ago, was Stewart physically abusive, did he ever hit you? I would've said no, and did say no many times. Um, but at the same time, I was physically afraid of him. I was afraid he was gonna kill us all. I was afraid of being shot, afraid of being choked, afraid of him grabbing the kids, hitting the kids, um, afraid for our lives, for sure. Um, so he would never outright punch you, but he would do other things to hurt you, you know, because he always wanted deniability, you know, he always saw himself as a great man. Um, and being undeniably abusive didn't fit into that, though he would break outta that sometimes, um, but he would always, most commonly he would want to do martial arts with you, and then you would just get beat to shit really, you know, with sticks or whatever, you know, and just, oh, 'Sorry about that! Oh, sorry about that!' But how often and how hard you got hurt correlated directly to how upset he was with you over something. He was more abusive to the kids than I realized, um, until later on, and we've been talking about it more. There was a lot of things I did not know, and there's a lot of things I didn't, I think I probably just didn't wanna know, and I also have a lot of, I have a lot of blank spaces in my memory. There's just missing time that I think maybe I'm just not ready to deal with yet. You know, I can remember screaming and running from him. I remember my dad, who was really old and had bad knees coming to the back door because we lived in sort of a little apartment in the back of my mom's house asking me if I was okay. I have no memory of why I ran. I have no memory of why I was afraid.
(The Kishner Method – Blue Dot Sessions)
AS: We sent a detailed list of questions about topics we discussed with Tasha in this episode, to Stewart through his lawyer – including Tasha's allegations of abuse by Stewart, They declined to comment on anything.
Coming up, in 2009, Stewart starts the Oath Keepers.
Tasha: He definitely would target people who had issues, PTSD issues. Um, a lot of people who had drug addictions, they tended to do a lot of mma. They did a lot of shooting, but they were all people who viewed themselves as the great family man, the great protector.
(end of The Kishner Method – Blue Dot Sessions)
AS: This is Death, Sex & Money from WNYC.
I'm Micah Loewinger.
And I'm Anna Sale.
Micah: Can I ask you just a really basic question? Um, what was the oath?
Tasha: So Oath Keepers is, uh, the oath is based on the idea that everybody, um, in the military, even post office workers, even lawyers, um, police officers have all had to swear an oath by law, have to swear an oath to the Constitution before they can go into office. Um, and so the idea is that sometimes these guys swear an oath to protect and defend the Constitution and they're not doing it. And it's, it's a pretty easy sales pitch, you know, right outta the gate. Right. Especially, um, timing wise, we're talking about the end of the Ron Paul movement, um, not too far off in time from the Occupy movement. And so his original pitch, which is how he pitched it to me, was very much this idea of what if, um, police in particular had a support group? Fellow officers who they could go to if they saw corruption, that they could say, Hey, you know, things are going crazy in my, my department. They're not acting right and I don't know what to do. And they would offer legal counsel and, and, you know, just backup.
Anna: Like, just like imagining when you said, when he pitched it to me, I'm picturing like, I have this idea, like, it, it starts like, do you think you were the first person he talked to about it?
Tasha: So, um, we were at a Ron Paul event. Um, it's when he was doing some legal work for the Ron Paul, uh, campaign. 2008, I guess it was. We were in Promp, Nevada. And uh, he went outside to talk with some veterans and I'm, you know, by then I have a million kids, so I'm just entertaining kids. That's all I'm doing at these things.
Anna: Mm-hmm.
Tasha: And um, he comes back in with a notebook with some names written down and he said, uh, there's a kid out there, return veteran from Afghanistan. He had some ideas for names, and there's a whole list of names. And one of the names on it was Oath Keepers. And I said, we'll just stop right there. That's the name. That is the name. No other. It doesn't really matter. I said, that is, the name is so marketable. It's just a good name. You know,
Anna: You said that, yeah, you're playing with the kids at this event and then you're like, that's it.
Tasha: yep, that's the name. I said, that's marketable. It could be a cigar club. It doesn't matter. It could be, it could be a cigar club, it could be a motorcycle club. I could see it on jackets, you know, sell t-shirts. People are gonna love it.
ML: In the first couple of years of the Oath Keepers, Tasha helped out a lot. She was selling T-shirts, answering emails, and posting on the blog. She really wanted them to succeed.
AS: Maybe she was naive, but Tasha understood the Oath Keepers as the opposite of what it would become, that this was a group who would root out corruption, racism, demagoguery in the military, police departments and so on. Tasha didn't think any of the political organizing was dangerous.
ML: But others saw it for what it was, especially as Stewart's profile grew. Tasha remembers an early interview, when Stewart was invited on MSNBC in 2009 to be a guest on Hardball with Chris Matthews.
Tasha: And Chris Matthews said, I think you want a war.
CM: So you're putting people together on a kind of a war footing, preparing them to be vigilant. It's not, it's not to be ready to be ready to challenge the imposition of foreign troops in this country. The creation of concentration. You know what I think you're up to? Is creating a mindset, getting, I heard some people the other day talking about the battle we have to keep the battle going. You wanna have people in a militant environment where they think militant with this sense of perhaps taking steps at some point against the governor or, uh, taking, not taking orders or in some way rebelling.
Tasha: I don't think Stewart's ever been called out so accurately
Micah: So early too.
Anna: And did you, as like his wife at the time, who also feels, I don't know what your mix of feelings were about him at that time. Were you, were you, was it like satisfying to watch him be called out? Was it, were you feeling, did you feel protective of him? Like what–
Tasha: I felt angry. Um, and a part of me was like, am I mad because there's some truth to this? I was afraid there might be truth to it. And I really, really didn't want there to be truth to it. And it made me even more sort of focused and determined, like I've, I've really gotta hover over this thing and keep it on this path. And, but I had a lot of fear myself at that time. Like, oh man, cuz I, you know, you know, I know what Stewart is underneath, you know? And I, and I keep thinking that deep down at his core, he is a good person. Um, but then there were a couple things that happened in our personal life around that time, 2010 and then 2012, that I just sort of stepped away from all of it. And I, and I, my whole facade fell apart. And, you know, my life, his life is all politics and what he's doing and my life was all babies.
Anna: Mm-hmm.
Tasha: You know, at that time I had a, a miscarriage and, you know, again, not going to doctors, just going into midwives and stuff. And, you know, he pulled this stunt where he basically orchestrated, um, a board of director's call during my midwife appointment to see if I was losing the baby or not. Um, and it turned out I was, and he, he used the, the baby, me losing the baby as sort of a tool and, and the board of directors not voting him into a forced hiatus because he was sort of acting unhinged even around them. And, you know, he put his phone on speaker while we're finding out that we're losing the baby. And, oh look guys, we lost the baby. It was, it was like me and like 10 guys in the, basically on speaker phone while I'm learning that my baby– and I had a pretty serious physical reaction to, to that miscarriage. Um, I almost died and he just left me bleeding out on the floor, you know, and just walked away and made the kids, you know, help me to walk again. And, and it was, and it was a real shake up moment because I always told myself that deep down under the surface, Stewart is a kind, loving person with this gruff exterior. And when it really, really counted and I really needed it, this kind person would show itself. And then when I really needed it, um, he's just irritated that I'm, you know, staining the carpet with blood, you know. And then again, two years later I had a, um, a full term little girl who didn't live, and it was the same thing. Again, he didn't care. And, um, it is, that was, that was the very, very ending of, of thinking that he had any type of emotion whatsoever toward other people.
Anna: And it changed the story for you about what your obligation was to him.
Tasha: It changed everything. Um, it was sort of a whole other morning process because I realized, I mean, I lost my husband because, because the person I thought was my husband never actually existed. Everything I thought he was, um, was entirely made up, really, you know, his actions certainly never backed that up. I just believed beyond reason that there was a, a true loving, kind person under the surface of this, this extreme damage and abuse and all the things he's suffered, but there really was no one under there, you know? So that was, that was hard. That was a hard process.
(Minesterio – Blue Dot Sessions)
ML: Coming up, Tasha plots her escape from her marriage. She left in 2018.
AS: The woman who gave her inspiration that she could leave? Kelly Jones, who divorced right wing firebrand Alex Jones. Tasha watched the national coverage as they battled out custody in family court.
Tasha: Sometimes just the loudest, most outrageous voice can win. And that can even work in a court of law when the judge says one thing and your ex says another and they just ignore it. Sometimes the loudest voice is so much hassle to deal with that people don't wanna deal with it. And they would just rather make the, the victim suffer more than to have to deal with this person who's gonna broadcast live from their, you know, courthouse lawn if they, if they make their life too difficult.
(end of Minesterio – Blue Dot Sessions)
AS: This is Death Sex and Money from WNYC.
ML: I'm Micah Loewinger.
AS: and I'm Anna Sale.
ML: We invited Tasha and Alex Jones' ex wife Kelly Jones to meet on a video chat.
AS: It was the first time the two had ever spoken outside of a few online messages. They both were recording from home with high quality microphones, which Micah noticed as soon as we were all on the video together.
Micah: I wasn't expecting to have two professional mics, so–
Kelly: How about us? Go Tasha.
Tasha: Yeah. That's how we roll, man. I just stole this out of the Oath Keeper pile when Stewart left.
Anna: Whoa.
Kelly: And an old Infowars engineer has been trying to help me get up and running, so he lent me this.
Anna: What this equipment has seen.
Micah: And heard.
ML: Kelly Jones was married to her husband Alex for 12 years. They have three kids.
Kelly: To have like the most, probably broadly loathed, notorious, insane person as an ex-husband, um, to be just perceived instantly, like as if people would ever know or understand who you are. I don't know how many times I've responded to the message, well, why, you married him, or why'd you marry him?
AS: By the time Tasha was ready to leave she and Stewart had six kids and the family was living in an 800 square foot cabin in Montana. Tasha was homeschooling them, and some of the younger children didn't have social security numbers or birth certificates. And she says Stewart had at least 20 guns in the house.
ML: Leaving, and starting a new life, felt really hard, and risky.
Tasha: Though we left in February, 2018, the planning started in 2016 and saving money and trying to get things in place like a car. I mean, you live in the middle of the woods, no cell service, 20 miles from nowhere, just trying to be able to even, you know, get out of the cabin. Um, but I started following Kelly's situation very closely, um, with her, her battle, um, with her children. And I'm, I'm watching her, you know, legally get her kids back, but not physically get her kids. I'm just, it was mortifying and I'm just sitting there, was just kind of crying with her without even speaking with her, just seeing her go through this. And I thought, oh, well, you know, this is a similar situation.
ML: Tasha watched and thought, if I left Stewart, he might act exactly like this, bullying me in public, disregarding court orders and fighting me at every turn.
AS: It scared Tasha, and also made her think: this woman will understand. She wrote Kelly a message online telling her she was thinking of leaving, Kelly encouraged her.
Tasha: You know, between me not having cell service and living in the woods and, and you being so busy, we just kind of, I don't know if we ever chatted. I don't recall us every chatting
Kelly: I sure hope we will in the future because I think we have a lot in common. And a similar experience to share.
Tasha: Yeah. I think so.
Kelly: But, um, that's sort of my recollection. I have a lot of people reach out to me, not only from the extremist community by any means, but just generally people going through tough divorces.
Tasha: Yeah.
Micah: And what did it mean to have that conversation?
Tasha: It was, um, reassuring in a way that's hard to articulate because there's this, you know, you've been told for decades that you are wrong and crazy and to feel like you're being abused or to feel like you're being controlled. And it's this moment. It's just a couple lines. You know, I, I, I think I'm gonna get out and we're going to plan for this. And for someone not, someone on the outside, not to then say, oh, he's your husband. You have to stick by him. You're married, you know, the, you had vows and he's a good, he's a good man. You're so lucky.
Kelly: That's, can I just say like, that's so like, moving to me that, um, that, that was so significant to you. Tasha it really is, it's incredibly moving and, I just, I admire you tremendously, and I just wanna remind you how strong you are and how important you are and how beautiful your kids are, and what a tremendously fantastic mother you are for extracting yourself from that hell against all odds and under the horrible circumstance that you were in. I'm, I'm just, I'm, I'm really moved by that, Tasha.
(KeoKeo – Blue Dot Sessions)
ML: Kelly Jones filed for divorce from Alex Jones in 2013. Ten years later, they're still entangled in court battles.
Kelly: And if I can lose my kids to Alex Jones, anybody can lose their kids in an American family court, and the point is, it's not just about me and what's happening to me and my family, it's about America and how all this came to transpire and, um, like if you're protecting an abuser, a violent abuser, and an extremist in court, think about the impact, how that, how that resonates out to America.
(end of KeoKeo – Blue Dot Sessions)
ML: Kelly left Alex Jones back during the Obama administration. Tasha was still with Stewart Rhodes when Donald Trump became president.
AS: That was a busy time for Stewart, so much so that Tasha says he was pretty distracted when she left and filed for divorce in 2018. Still, as we talked in that conference room in Montana, it was clear that Tasha is still thinking about the role she played during the Trump presidency and the leadup to the insurrection at the US Capitol in 2021.
Micah: Can I ask about January 6th?
Tasha: Yep.
Micah: And what were you doing?
Tasha: Um, January 6th, glued to my laptop.
ML: On January 6 2021, she was watching the attack on the capitol from home like the rest of us.
CLIP NYT DOC: The Oath Keepers, a far right paramilitary group, are also here. They're organized, staging their military equipment neatly on the ground, and later they put on body armor, talk on radios and chat with their supporters on a walkie-talkie app called Zello.
ML: Tasha noticed a line of men and women wearing battle rattle and Oath Keeper patches in the crowd.
Tasha: You know, there's nobody else, you know, that's not the proud boys. They don't run around with, you know, full military gear and helmets and, and you know, the, even just right down to the, to the types of radios and the, I knew that was Stewart's people, and then it, you know, kind of even reverted to my own programming where I thought, oh, maybe they went off, you know, they went off mission. They must've went off mission. Stewart wouldn't want them to do this, right? You know, but that, and that, that's, that thought was like about a half a second long where it's like, oh, what am I thinking? That's, you know, the Stewart talk.
Anna: Oh, and you're, you're just like taking this in on your phone and on your laptop by yourself? Are you talking to anybody?
Tasha: Um the kids are in and out, you know, um, oh my God, this was all Stewart. Maybe this was all Stewart, you know? And then, Dakota's got his, what is happening, you know, when Dakota's gets off work, he comes in with his laptop. Do you see this? Do you see that? Yeah, I see it. And um, that's when we realized, you know, the extent of it, or at least everything that was known at that point. And it, and it became sort of a reveal day by day, like how instrumental Stewart really was in this.
​​Micah: When, when did you start hearing from reporters?
Tasha: So, it definitely started right after J6, I started talking with a lot more press for sure. Um, and it was kind of slow, like I was really guarded about the kind of stuff I would talk about initially. Um, and um, definitely even listening to my original interviews, it's almost like a, a really different perspective. Like if you read the LA Times article, it's, it's really clear. I'm telling this man, it's all my fault, and he's just writing down, it's all her fault. Headline: it's all her fault.
Micah: What was all your fault?
Tasha: All of it. Oath Keepers, Stewart.
Anna: Because you, you hadn't prevented it?
Tasha: Yeah you know, people died that day and I, you know, the first words outta my mouth were, I helped start this. I helped start this, it turned into that and people died that day. And would this have happened had I not supported Stewart? You know, I guess that's impossible to trace. You could say Stewart was gonna become a two bit criminal with or without a Yale law degree, and maybe he would've hurt people in some other way, maybe he would've been some other type of criminal. Maybe he just would've been somebody easily recognizable as a dirtbag had I not been back there, you know, let's fix you up, you know. Through me he learned, he learned how to deceive people a little better, I think, because he learned how he was supposed to be, you know, I showed him how he was supposed to be and he learned how to mimic it, you know, so I, I, that kind of guilt really wears at me, and it's still still really hard for me to talk about J6 in particular, as I still feel like, I feel like I do own a piece of that for sure.
ML: A federal jury agreed that Stewart Rhodes bears a lot of responsibility for his group's role in January 6. He, along with 5 other Oath Keepers, have been found guilty of sedition – the most serious conviction brought against anyone involved in the insurrection so far.
In his trial in late 2022, the government said that although Stewart himself never entered the capitol, he stood outside of it "like a battlefield general." That's a quote from one of the lead prosecutors. They also pointed to a message Stewart sent to his followers in the lead-up to January 6. It said: "We are not getting through this without a civil war… too late for that. Prepare your mind, body and spirit."
AS: Stewart testified in his own defense and said that the Oath Keepers were at the capitol to provide security to Trump supporters, and that there was no plan to storm it. Tasha she was actually asked to testify in the trial, but she was never called and the thought of it was terrifying.
Tasha: I just didn't wanna see him. I mean, that was the main thing. I didn't wanna walk past him. You know, there's no way. He's gonna leap up from that table and strangle me before they can get to me. That's all I could think. Really, that was my main thing, is there's no way I'm gonna get past him. But yeah, I, I followed very closely. Um, I think the reason I didn't wind up coming in is because he did such a terrible job in his, in his own, um, when he testified. It was really bad. It was really, really, really bad. Um, I wasn't sure how it was gonna go because he sees himself as this showman and you know, get up there and talk and let's, come on kids, let's rap about this. You know, let's all talk and go like, oh yeah, let's discuss. He loves that kind of stuff, you know, he's basically like a 1980s television guy.
Micah: Blowhard.
Tasha: Yep. That's how he grew up. That's his whole family was public speaking and multi-level marketing seminars, and you know, and the problem with that sort of feign honesty, let's just talk, you know, is it, it looks like it could be honest, but if you're going to put that up against reality, you can see the difference and you realize what a gifted liar this person is. So that was really fascinating to me because I, I, I knew we were going to see that, you know, TV face, Stewart. But he's always been able to pick and choose his audience. So that was really interesting to see him with people who are not his choice people, you know, he chooses the people who are around him very carefully. He chooses who works for him. We were constantly moved every year to change his audience, you know, for, for over a decade. And moved to Las Vegas where the audience changed around him because of the transient population, you know, and his board of directors flipped every few months. And the people who work for him, complete turnover every few months. So always a new audience. And the, the, that one's no good. They see through me, they're outta here, you know, here's the next, but for the first time ever, he's seeing, he's having to do his thing in front of an audience who just witnessed the real him.
AS: Tasha was watching so closely, because she also wanted to know how long Stewart might be put away.
Tasha: I was really nervous, but I really, on a personal level, I really needed that seditious conspiracy. My youngest kid is 8, you know, I need him in there 10 more years, you know. On a purely personal level, uh, that that's what I feel like I need. I need him to stay locked away for the next 10 years so my kids can legally cut contact with him.
(Gaddy – Blue Dot Sessions)
ML: It's been 5 years since Tasha filed for divorce, and it's not a done deal. There have been delay after delay.
AS: She says she's ready to be done with their marriage, but also there were a lot of ways she started to move on as soon as she left him.
(end of Gaddy – Blue Dot Sessions)
Tasha: Um, well, for one, I could sleep. And that sounds silly, but I was so sleep deprived, uh, just being able to think, um, being able to, um, um, just interact with my kid, have my kids in school, enjoying the world. Um, putting the kids in school was huge. It changed everything. Um, now the, I live in this town, you know, and I'd lived just barely outside of this town before. Um, I didn't even know where the high school was. I didn't know where anything in the town was. It never came here, you know, it never interacted with people, um, at all. And I'm still, even though it's been so long, um, it's just like uncovering, uncovering every day the layers. You know, my, I was talking with a friend of my attorney the other day and she was asking my, what my politics are now. I said, I, I don't know I have, because my framework is so off and I, I, I wish I could remember my lawyer's exact words, but I think she said, you have your political framework is dog shit. Yes, it is. My political framework is dog shit.
Anna: I'm not sure I directly track that metaphor, but I'm trying. Doesn't sound good.
Tasha: Because I don't know, like, I don't, if you'd asked me five years ago, three years ago, I said, oh, I'm a libertarian. I don't know what I am like, I don't know. I just went back to that because that's what I was when I was 18. It's, it's kind of like, it is like being 18 except old and fat. And with bad credit.
(end theme for Death, Sex & Money)
AS: That's Tasha Adams. She lives at home with three of her children, who are still in school. The other three live nearby.
ML: And, after his conviction for sedition and other crimes, Stewart Rhodes is currently awaiting sentencing in a federal prison. He faces up to 60 years. He'll be sentenced on May 25.
AS: Thank you for working with us on this, Micah.
ML: Yeah, thank you.
AS: Two other things you should listen to:
Micah has an episode he's working on about testifying in that Stewart Rhodes criminal trial. Subscribe to On the Media to hear that as soon as it comes out.
And one more thing you want to check out: our friends at the podcast This is Uncomfortable from Marketplace did a series with Tasha Adams, and her oldest child Dakota, that dropped last fall, before the criminal trial. There's to that in our show notes.
This episode was produced by me, Anna Sale, Micah Loewinger and Zoe Azulay. The rest of the team is Liliana Maria Percy Ruiz, Afi Yellow-Duke, Lindsay Foster Thomas, and Andrew Dunn.
Our intern is Baiz Hoen. Who we are saying goodbye to this week. Thank you, Baiz, for all you have done for our team, and best of luck.
The Reverend John Delore and Steve Lewis wrote our theme music.
I'm on Instagram @annasalepics, that's P-I-C-S, and the show is @deathsexmoney on Twitter, Facebook, and Instagram.
Thanks to Christine Kemp in Amherst Mass for being a member of Death, Sex & Money and supporting us with a monthly donation. Please, join Christine and support what we do here by going to deathsexmoney.org/donate.
I'm Anna Sale, and this is Death, Sex & Money from WNYC.
(end of end theme for Death, Sex & Money)
Copyright © 2022 New York Public Radio. All rights reserved. Visit our website terms of use at www.wnyc.org for further information.
Music Credits:
"Fifteen St Rhodes" by Blue Dot Sessions
,
"Gemeni City " by Blue Dot Sessions
,
"The Kishner Method " by Blue Dot Sessions
,
"Minesterio" by Blue Dot Sessions
,
"KeoKeo" by Blue Dot Sessions
,
"Gaddy" by Blue Dot Sessions