I Killed Someone. Now I Have Three Kids: Updated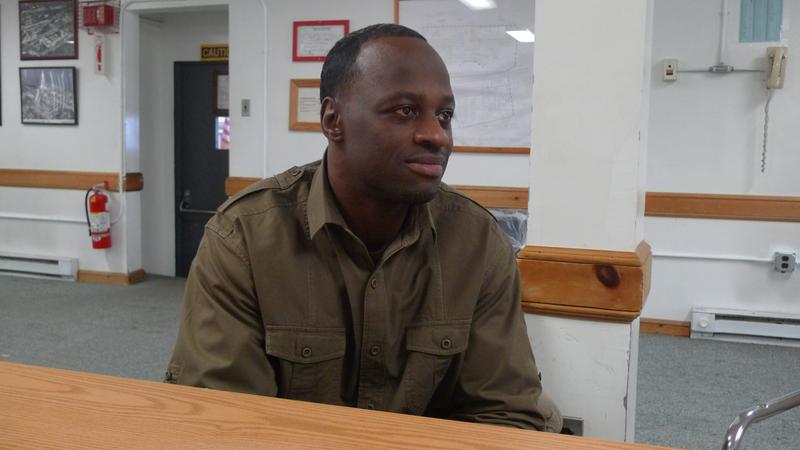 Transcript
Hi, Death, Sex & Money listeners. This week, we are re-releasing our episode with Lawrence Bartley. I first met him almost three years ago…inside Sing Sing Prison in New York. Lawrence has been behind bars for 27 years, and next month, he will be up for parole for the first time. So we thought we'd share his story again… and give you some updates, too...so listen all the way to the end.
Here's our episode with Lawrence, which first came out in December 2014.
One thing I would say about prison is that prison is a very, very tough place to live.
This is Death, Sex & Money. The show from WNYC about the things we think about a lot, and need to talk about more.
I'm Anna Sale.
Sing Sing Correctional Facility is a hulking maximum security prison along the Hudson River in Ossining, New York. It's been here, in some form, since 1825. A historical marker at its entrance says "the big house" and "up the river" were both coined here.
Lawrence Bartley lives here. He grew up in Queens. He was arrested on December 27, 1990—after he was involved in a shootout on Christmas night on Long Island.
He'd gone to see The Godfather III with a group of friends. A fight broke out between Lawrence's friends and another group of teenagers.
Someone fired a gun. Then, others shot, including Lawrence. Police say 25 shots were fired.
Tremain Hall, a 15 year-old bystander, was killed. Prosecutors found that the bullet that killed him matched Lawrence's gun.
Lawrence Bartley was 17. He was sentenced to 27 to 30 years to life in prison.
I met him in a conference room just off the prison's main gate. A guard walked him in. There were no handcuffs, just the same dark green pants I'd seen on another inmate.
Lawrence is now a husband, and a father of three.
And he admits, he is guilty. He's had 24 years to think about that.
I've been here so long, I kind of ignore my birthday, 'cause it's a reminder that I've been here for such a long period of time. In prison, you might come across some individuals during your prison stay. You might not reconnect with an individual until about 8 to 10 years later. And if I notice they're full of gray hair, it makes me look in the mirror. Am I getting old? I was a teenager. I was in high school, my God.

And when is your birthday?

I hate to even say it. My birthday is February 10th.

You were 17 when the crime occurred.

Yes.

You were 19 when you were sentenced.

Yes.

And how old are you now?

Right now I'm 41.

Forty-one. So thinking of the passage of time is difficult.

Yes, it's tough to do. When you watch so many things change in the world. Through TV, and you weren't there for it, but I did something to land me here, so.

Is it—over the years, is it something where you wake up in the morning and you realize, I'm in prison again this morning, and you think about it? Or does it come in waves? Like, reflecting on what happened.

It comes fairly frequently, you know. Many times in my mind I say, I want to go home, I want to go home. And you know, sometimes I wake up, and I say, what if I wake up, and I'm in my bedroom? And I wake up and I always see the bars there. And I wonder the day when I'm going to wake up and I'm not going to see the bars there. And that forces you to think about what you did to get here. What I did to get here. The moment just before I pulled the trigger. And how my mind was telling me that—something in the back of your mind is always telling you, just don't do it. Don't do it. But then part of me said, if I don't do it, everybody gonna think that I'm soft or something. That I did nothing when someone was shooting at me. So let me just fire one time—bang!—and then I can at least say I did something. I didn't hurt anybody, I just fired real quick. But sometimes, that real quick can turn out to be the worst, worst thing you can ever do in your life. And it was for me.

Why did you have a loaded gun on you that night?

It was 1990. And during that time, the inner city was, I mean, it was a lot of chaos in the neighborhoods that I came from. And it became, like, for kids my age, when I was 17 years old, there would be an argument about something and the end result would always be violence. So for me, it was pretty much, it was like, I have this, so don't mess with me. It wasn't one of those things where I set out to do harm, or set out to hurt or kill. It was one of those things that, you know, I have a gun, so stay away from me. But if you challenge me, I will have to do what I have to do. But you couldn't say it like that. You have to pretend to be someone you're not. But the problem with that is when someone calls your bluff, then what're you going to do?

How long had you had a gun?

I haven't had it long. I had it maybe, just maybe a month or two before.

When did you realize that someone was dead?

I realized it—well first, let me back up a bit. After the incident took place, it was a big deal. It had got a lot of media coverage. After seeing it on the news, I saw that a boy was hit in his head. And I remember watching the newscast, and just saying, someone heard me say it out loud, I hope this kid doesn't die. I hope this kid didn't die. I didn't sign up for this. And my mind is like, this is really for real. I hoped and prayed that he wouldn't die, but then the next day, I heard on the news that he did. That's when I realized that this is something big to other people other than us.

Because the public is seeing it as, people are going to the movies after Christmas and gunfire breaks out.

Right, a place that's supposed to be safe.
It was a time when New Yorkers did not feel safe. This random shooting in a movie theater came at the end of a violent year in New York, with the highest number of murders on record.
Lawrence was part of a surge in the state prison population. He could feel it.
During that time, the system was packed, and not many people took the time out to say, look at this young boy, he doesn't even have hair on his face. I'm going to show him how to be a man. So I had to figure these things out on my own. I made some errors along the way, you know, I got into a lot.

What does that mean?

It means I didn't want to be victimized. So there were a couple of times that I had to defend myself. There's a couple of times I had to behave as if I was someone that, I don't want you to mess with me. It was sort of like, the same thing I had to do when I was a 17 year-old out on the street. I had to at least put on that image, as if I'm an individual, that although I'm young, y'all don't want to mess with me.

Lawrence has mostly stayed out of trouble during his time. His most serious violation was ten years ago, when he was caught with $60 in his cell. That earned him a stint in isolation as punishment.

You can't have money anywhere on you, so I end up getting locked up for that, and then went to the special housing unit, which is The Hold. For having $60.

What was that like?

It's crazy because, you hear people banging on walls. There's other individuals who, if you don't talk to them, they'll bang on your wall all night long, and that vibrates all of the galleys, so everyone can hear it. It's like, nerve-wracking, and at the same time, you're dealing with a situation where you're locked away for something that—a rule that you broke, and that's psychologically challenging as well. So dealing with all that and sort of reflecting on where you came from—you came to prison—what brought you there in the first place, then to go into prison, then be in a prison within a prison, you start to think, what type of man are you? And then you start to think about the individuals around you and how they are just acting wild, for lack of a better term. Then you start comparing yourself to them. You start wondering, am I really like this? Is my mind playing tricks on me? Am I really just one of them trying to think that I'm not? But I was able to pull myself together and I was able to get out. Coming out of the SHU was like how I imagine a person would feel when he's coming out of prison. It's like, almost being free, but you're not free.

How do you keep track of what's going on in the outside world? What do you have access to?

We have access to television. And we have a lot of civilians who come in from the outside, and they may make mention of things like Twitter and Facebook or what do you call, the one where you send pictures—

Instagram?

Instagram, on Instagram. And some family members have mentioned that. And that sparks a lot of conversation because that's fascinating to us. You have a little computer as a cell phone. When we were out there, cell phones were these big clunky things.

Have you been on the Internet before?

Never. Never seen the Internet. I've seen pictures of it.

You've seen pictures of it. That's interesting, I've never heard somebody say that.

I've seen a picture of it, a black and white picture.

What did it look like?

It looked like, if someone might want to do a research paper on something, and you see the page, the website that they go on, and then they download, it says click or something. There's these little icons on it, on top of the page. And from the description everyone gives me, I know that this is what you need to do in order to get from one screen to the next.
Lawrence has seen the impact of new technology. People don't write letters as much anymore, except for his dad. Lawrence says he still gets a letter once a month from his him. But mostly, it's phone calls now. And visits.
I've been blessed enough to have some people, a special woman in my life, that despite my circumstances, she decided to come into my life for the last eleven years now, and she comes to visit me every week, and that's how I maintain contact, mostly, with the outside world.

How did that romance happen?

Well, her name is Ronnine. I met her when I was about 13 years old, and she was 12. We met through a friend, we were friends at first. But being young, we started to sneak out and to see each other from time to time. I would walk her from my house to her house, and then, she would say, no I want to walk you back to your house, we'd walk back to my house. Then I'd say, I'm going to walk you back to your house...so we;'d just spend the day walking from house to house. Stayed together for about eight months. And that seemed like an eternity for a 13 or 14 year-old. When I came upstate, she was the first person to come see me upstate, which is about nine hours away from New York City. She got on a bus on her own.

Which prison was that?

That was Wende Correctional Facility. That's near Buffalo, New York, in Erie County. And she would get on a bus by herself to come up and see me all the way up there. And I knew that she was dedicated, she always called me her soul mate. And you know, I felt for her too, but I just knew that we couldn't be together because I was here. And she took her time out there to see what was out there, try to find a career. She had boyfriends. I get jealous but I don't tell her that. I try to have a straight face, be a man about it. You know, I understand you had your boyfriends, and it's understandable, you know. You had to live your life as a young woman. But it was in 2004, April 7th, and she looked into my eyes and told me that she lived her life, she had her share of relationships, but she realized that it wasn't working and she questioned herself as to why, and she came to the conclusion that the reason why was because none of those individuals were her soul mate. And her soul mate was in prison, so at that point she asked me, can she get into a committed relationship with me. She decided to at least give it a try. And I was a little bit resistant at first, because I was in another relationship at the time.

With whom?

I was in a relationship with another individual that I met over the years, but that relationship was during a rocky period. And then she just made clear, I know you're in a relationship, but it doesn't look like it's working. So how do you think about us being together? And I said, that's perfect to me. I felt honored. And we ended up becoming an item, and then about three years later, we got married. And she's been with me for about eleven years now, and it's perfect.

So that's not what I was expecting, that she would come and profess her love for you and you would say, actually I was in another relationship. Wow, you were getting it done! How—were you single?

I had a few women I was getting in touch with and had a relationship with, but, in comparison to the amount of years, it wasn't a lot. It was maybe three or four. And this was like, within a ten year period, you know.

What was your wedding like?

Hm. My wedding was small, as you'd imagine. It wasn't the white dresses and the throwing the rice, it was, just, her and I in a room—in a prison visiting room. She had her cousin as a witness. And I had a friend of mine as a witness. So we just stand there. And we exchanged our vows, the vows we wrote. On a piece of paper. We read it off to each other. It was simple, but it was sweet.

When's your wedding anniversary?

My wedding anniversary is, ironically, December 27. It was the day I got arrested for this crime.

Did you do that on purpose?

Yes, my wife did it on purpose. She said that it was, that date is such a traumatic date in my life, so she just wanted to at least turn it into a positive if she could. And she chose that wedding date to turn it into a positive.

That's heavy.

Very.
Coming up, why Lawrence and his wife decided to have children...while he was locked up.
Even before we got married we talked about it. She was about 34 at the time, she hadn't had any children, and you have to have children around that time.

I'm 34, I know.

You know. So you understand, you have to have children around that time.
Since we put out our episodes about student debt last month, you've continued to flood our inbox with your stories -- and with encouragement and suggestions for some of the people in our episodes.
Several of you have written in about Josie, the high school senior who chose University of Louisville, a public school, over American University, a private school, so she wouldn't have to take out as many loans.
A listener named Alyssa, who did choose to go to American University, wrote in: "I just wanted to tell her that she should feel confident in her choice. It will be hanging over my head for the next 20 years that I made what will hopefully be the worst financial decision of my life at age 18."
And we heard from a listener named Kelsey, who said she heard her own story reflected in Josie's -- she chose a local public college over an Ivy League school after she was accepted to both.
Kelsey: It's been the best decision I've ever made. I bought my first house when I was 24. I've been able to pursue careers that I normally wouldn't have. Everything worked out, and so to Josie, you made the right choice. You can always transfer in a few years or whatever, but your future is there no matter where you go to school, and you make that happen.
We hope that you'll keep sharing your own stories on our website, deathsexmoney.org/studentloans. Almost 3,000 of you around the world have put yourselves on our map -- and close to 15,000 of you have taken our quiz about where you fit in the student debt landscape. It's changed a lot out there in recent years -- and our public conversation about the cost of education and who is most on the hook...just hasn't caught up.
Tell your friends about the series and the website if you've already checked it out. Again, it's all at deathsexmoney.org/studentloans.
On the next episode…
Ronnine Bartley: We just try to focus on what he's going to do when he comes home. As opposed to if it doesn't work out.
We hear from Lawrence Bartley's wife, Ronnine Bartley. We talk about how she's feeling leading up to Lawrence's parole hearing next month… and about what she wants for their future together.
Like the things that married people do. Waking up. Together. In each other's faces. In each other's faces. You know, the little things. Like I'm married, but...this is not like how married people live. So you know what I mean. It's like I'm stepping in to real adulthood.
This is Death, Sex & Money, from WNYC. I'm Anna Sale.
Lawrence Bartley earned his GED in prison. And an undergraduate degree in behavioral science, and a master's in professional studies.
I first heard about Lawrence from my WNYC colleague Robert Lewis, who was covering another graduation at Sing Sing. From a parenting class.
Lawrence became a father for the first time 7 days after he was arrested, when his daughter Zimmery was born.
She grew up without her dad. Her dad wasn't there for her whole life, and the times that she would come to visit me, it was always like a—we were starting over. Because I didn't get that attachment period with her. You know when you're very young, and you're feeding your baby a bottle and you're hugging a baby and your baby's nudging you, smiling at you, you make that sort of connection. I didn't get that connection with her at a young age. So it was like, every time I see her, someone new, a little nervousness at first. And when we begin to talk, we begin to talk. But now when we have a conversation, like adults, I always tell her you're always going to be my little girl. I hug her when I see her. I feed her. She even lets me feed her when I see her from time to time. I just wish things could've been different.

You said you feed her sometimes?

Yeah, when she comes to visit me, you know I haven't had a chance to feed her as a baby, so she allows me to take a spoonful of whatever we're eating on our visit and put it in her mouth. She feels a little embarrassed but she does it anyway.

Becoming a father while you're in prison, how does that work?

Well, the thing you need to know about prison is that prisoners don't open up to one another much. You know, it wasn't much talk about having children and things like that. So I wasn't prepared for exactly what it meant to really have a child, another child, while incarcerated. And my son, he happened to be born premature. So that was kind of tough. And he had—the first two or three years of his life, he went through so many physical ailments, it was a traumatic experience for my wife and I, and dealing with that was like, one of the worst things I ever ever had to deal with. It kind of made me really, really, really, really think about the crime that I committed, because the person that was killed was someone's son, and here I am, I have a son. And it's like, what if he was taken away from me? Part of me told myself, do I even deserve to have the opportunity to have a child? But, I'm thankful that I did. You have to put someone else before you. You have to be concerned with matters of your family before you're concerned with matters that relate directly to you. That makes you a man. And that made me a man. And it made me a better person. Made me more sympathetic to other people.

Is he healthy now?

Yes, he's healthy, and he's 7 years old, and that's my little man right there.

Did it take a while for your wife to get pregnant? Or were you lucky?

Actually, our first family reunion visit she became pregnant, the very first one. So we were lucky.

And family reunion visit is what you sort of hear as a conjugal visit—

Yeah, people call it conjugal visits.

How much time do you get together in those visits?

Approximately 48 hours.

That's nice!

That is nice.

Where do you go?

If we have, they used to be called trailers, people still call them trailers, but they look like modular homes that they have here, and it's about—there's six units, they're about three modular homes that have two sides to them and you have to be a model prisoner in order to be allowed to go out there. You have to have no misbehavior reports. You have to complete all your mandatory programs. Your violence programs. Your drug programs. So it's not easy. Very few people get the opportunity. But those that do usually cherish them, because once you lose them, it's very hard to get them back.

Did you and your wife talk about the very key ethical question about choosing to have a child when you knew you couldn't be there every day?

We talked about it. My wife is a dean for a middle school. So she doesn't get the top notch pay, but she gets enough to get by, but it's very tough when you're—she calls herself a half a single parent. She calls herself a half a single parent because although I do as much as I can, it's still not enough, as if I was there.

Do you feel like with your son, you were able to have that period of attachment that you missed with your daughter?

Absolutely, absolutely. From the beginning, when he came into the visiting room with his nasal canister and his oxygen, when he had his little—something on his toe to monitor his oxygen saturation level and his heart rate, and because of that, he started out as a premie, he had those ailments, we kind of coddled him more than normal. And every moment that she got a chance to bring him to see me, she'd bring him every week, and I would treat him like he's the most precious thing in the world. And we created that connection. Before he could even say my name, I knew he was calling me daddy by the sound he was making. And we always had this connection, I mean. When he comes into the visiting room, he runs to me, "Daddy!" And gives me such a big hug. That's my boy. They don't really realize—they're still a little bit young to realize that their dad is in prison, but.

So you have a second son also.

Yes, yes. His name is Lawson.

Lawson. How old is Lawson?

Lawson is 18 months.

Little.

Very little.

And was that also a planned pregnancy?

Yes, this one was a planned pregnancy. This one, we decided to do it because we were older parents for my son. My wife thought that when we're gone out of this world, our son Lawrence wouldn't have anybody because we're so much older than him. And so we figured that if we had Lawson, at least when we're gone they'll have each other. So. That was the biggest reason that we had him. That kind of tipped me over to having him. Cus financially, I would've tried to wait. But she also was older, so we couldn't really wait, so that's what we decided to do.

When partners are bringing in newborn babies for the first time to visit, is it just in the visitors room with everybody else?

Yes, but one of the things this prison has to offer is called the family center. It's child friendly, the colors are amazing, it's just like, appealing to children. You have these blocks, and you have these mats for the infants to lay on. They have a lot. And in that room is where my son walked for the first time. And I was allowed the opportunity to witness that. Just this past Halloween, I had a chance to have a pumpkin and cut a jack'o'lantern out for my sons, and dress them up in little costumes. Make-shift costumes. Whatever we can do. Have candy, have them knock on doors as if they're trick-or-treating to try to make their experience with their dad something special to them. I did something wrong, and they didn't, so I try to make their life as blessed as possible.

And what do you and your wife tell the boys when they come here, how do you explain it?

Well, for Lawrence, I explained to him, daddy did something bad, and daddy's in prison. But when I told it to him, he didn't really get it.
So, he says things like, why does all the daddies in here wear green pants? Why do the daddies have to stand up? We have to stand up in the visiting room in order to be counted. I explained to him one time but he didn't get it, so I'm waiting for that moment when he really, really gets it, so I can really explain it to him. Because I don't want to shatter his world right now. But I don't want to lie to him; that's what I don't want to do. I learned that in parenting class, you don't want to lie to a child and tell them you're away at school or something like that. But when the time is right, I'll explain it to him where he can really understand it.

When you think about that conversation, is it something you dread?

Yes. It's not a conversation that I really want to have. Because to me, I'm his hero, you know. But I know it's something that I have to do. But it doesn't make it any easier.

For someone who's never been in prison, what are the dark moments like?

Be more specific.

When does it feel hopeless?

Hm. It feels the most hopeless when your family's going through a lot, and you have to hear it on the phone, that I don't have enough money to pay for the bus this month, or rent might be late. And hearing that as a man, you're like, wow man I need to be there to do something. And it's the toughest when my wife may go out and other husbands are with their wives, and her husband isn't here. And I hear the pain in her voice. The toughest is when she has to juggle between leaving work to go take her child to the doctor, which happens to be the same day as the parent teacher meeting for another child, knowing that I'm the one that's supposed to be there at the parent teacher meeting while she goes to the doctor. That's when it's the toughest.
Lawrence has a job in prison. He earns 15 dollars every two weeks, and saves up to buy things out of catalogs for his sons. He recently bought a winter coat, and a motorized scooter.
He doesn't know when he'll get out. Or if.
It's up to the parole board whether they let me go or not. They could let me go, or they could keep me here for the rest of my life.

Do you know when you'll go before the parole board?

Approximately two years and nine months.

Is that something you think about a lot?

Lately, yes.

Why lately?

Well because it's been getting closer. You know? And when it's getting closer, you have to realize that this really could happen—being in prison for 24 years, it's a bit of fear, going to the parole board. Like, what am I gonna say? You know? Am I gonna be myself? Or will I be too afraid to be myself—these people are here judging me, and how am I supposed to say that, I did this time, I was involved in an incident in which someone lost his life and I should be let go. I'm like, asking for something. And, I don't know if I have the blessing from Tremain Hall's parents. The family—how do they feel about it? I wonder. If he's in heaven, I wonder what he feels about it. So those are things that I think of, and I don't know the answers.

If the family of the young man, the fifteen-year-old who died, hears this interview. What do you want to make sure they hear you say?

I would tell them that I'm sorry. I would say—I'm sorry.

It's okay.

I would say it wasn't my intention to harm their son. I would say, that's nothing I would ever want any parent or any family member to go through. I would say, I wouldn't ask them to forgive me because that's up to them. But I would just hope by saying sorry that they would have some sort of closure. And know that it's just not something that I take lightly. Know that it's not something that I just did, and I want to get out of prison for some selfish reason. Know that I think about it, and know that, it's hurtful to me. And it's a blight on my life that I can never get back. And I just wish them a good future and hope that they was able to have some type of happiness after what I did.

Tough to say. Sorry.

It's okay.

So you have two sons growing up in New York City, and it's a different time. But when you think about them becoming teenagers and trying to figure out how to make sure they've got the respect of their peers, and also making good choices, how do you think you'll talk to them about that?

I will have to give them very detailed examples of what happened to me and how I handled it and the mistakes that I made. I remember, there was a friend of mine, his name was Malik. And we were young. We'd be hanging out somewhere we weren't supposed to be, at 15 years old, about ten o'clock at night. We're not supposed to be out that late on a school night. And his mom would just appear out of nowhere. "Malik, get your behind in this car!" And pull him in the car. Years later, he's out there, successful, he has a family on his own, and I look at the tactic that his mom used, and I always tell myself, that's what I'm going to do with my sons. If they're out of my sight, I don't care how tired I am coming from work, I'm going to go look for them. I'm going to put them in that car. And make sure they end up being like Malik, as opposed to like me.
That's Lawrence Bartley, speaking to me inside Sing Sing prison in 2014. He's up for parole for the first time next month and I recently talked with Lawrence briefly by phone. He told me he's counting down the days until his parole hearing… and trying not to get his hopes up.
Since this episode first ran, we have gotten regular emails from you asking for updates about Lawrence. And we've heard from people who knew Lawrence before he went to prison.
"We grew up in Queens around the corner from each other," Ulysses from Phoenix, AZ commented on our website at deathsexmoney.org. "I often think about him. Now I have a starting point to reach out to make contact."
A man named Chad Hall also wrote on our webpage earlier this year... about the Lawrence's effect on his family. His brother, Tremain Hall, was the 15-year-old boy who was killed in the shooting in 1990.
"He acts as though he's really suffered but he's been able to wake up and breathe every day," Chad wrote about Lawrence. "He can never repay the destruction he has caused my family. Things were never the same after Tremain's passing, and will never be."
When we first ran this this episode, we tried to get in touch with Tremain's family, but we didn't hear back. So when I saw Chad's comment, I reached out -- and he gave me his phone number.
Chad Hall: I just can't get over how the media is making him seem out to be this great guy who made a mistake. But at the end of the day, he killed somebody.
Chad's a high school dean now…he lives on Long Island. He was seven years older than his brother Tremain. He told me they were just starting to become close when Tremain was killed.
CH: Tremain was just coming into himself. He was just discovering things that he liked, who he was gonna be, what he wanted to do. He had just gotten into high school, he was just discovering girls. You know, my mom had a tight rein on both of us. And the one night that she let him go out, he loses his life.

Anna Sale: If you remember there's one point in my interview with Lawrence when I asked him if Tremain Hall's family was hearing what he was saying, what would he want them to hear him say? And I want to ask you the same question, if Lawrence hears what you're saying to me, what would you want to make sure he heard you say?

CH: Um. I would just want him to understand that the damage that he did and even though it's been a lengthy amount of time, all the damage that he has caused -- it hasn't been fixed. I don't hate him. I don't have any malice in my heart for him. I don't wish him any ill will. I just do know that because my brother can't come back and my brother doesn't have the ability to be free, neither should he.


That's Chad Hall, the older brother of Tremain Hall. Lawrence Bartley was sentenced to 27 years to life for the murder of Tremain Hall -- with the possibility of parole. And next week, hear my conversation with Ronnine Bartley, Lawrence's wife, about how their family is preparing for his parole hearing next month.
Death, Sex & Money is a listener-supported production of WNYC Studios in New York. I'm based at the Center for Investigative Reporting in Emeryville, California. The team includes Katie Bishop, Emily Botein, and Andrew Dunn. Thanks to James Ramsay, Chris Bannon, Greg Rippin, Jim Briggs, Lesley Malin at Sing Sing, NBC 4 New York and WNYC's Robert Lewis for their help with this episode.
The Reverend John DeLore and Steve Lewis wrote our theme music.
I'm on twitter @annasale. The show is @deathsexmoney. And if you listen to us through Apple Podcasts, please leave us a review there. It really helps other people discover the show. Just search for us on the podcast app, and hit review, then, write a review.
A few years ago, Lawrence participated in a documentary called Voices from Within. In it, he and other inmates talk about their crimes… and their regrets… in the hopes of reducing gun violence. There's a link on our website, at deathsexmoney.org. And Chad Hall, Tremain Hall's brother? He told me he's shown it to a group of at risk students at his high school.
CH: That video, do I think that it's gonna prevent somebody else, another teenager maybe from picking up a gun and making the same mistake that Mr. Bartley and those other gentlemen made? Maybe. Maybe.
I'm Anna Sale, and this is Death, Sex & Money from WNYC.
Copyright © 2019 New York Public Radio. All rights reserved. Visit our website terms of use at www.wnyc.org for further information.
Music Credits:
"Jefferson Parrish" by Daniel Paul Kramer, BMI from BWN Music
,
"Quiet Smile" by Cullen Fitzpatrick, ASCAP from BWN Music
,
"Quiet Horizon" by Daniel Jensen from BWN Music