'It Just Denies Reality': Abortion Access and the Law After Dobbs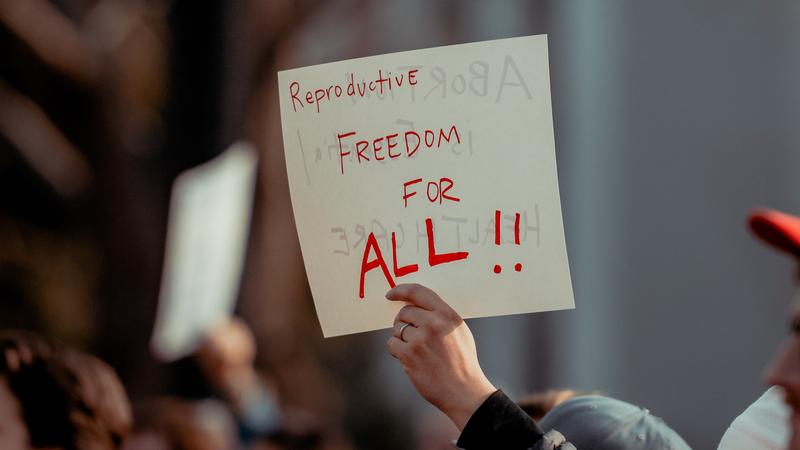 Transcript
Anna Sale: Before we get started, just a heads up that this episode contains some explicit language and also discusses pregnancy loss.
Laurie Bertram Roberts: We're forced to be put into places of being the abortion gatekeepers or the food pantry gatekeeper or the diaper gatekeeper. Because there's this scarcity of resources that's a fake scarcity. There is no scarcity. There's just people hoarding shit.
(opening theme for Death, Sex & Money)
This is Death, Sex & Money.
The show from WNYC about the things we think about a lot…
…and need to talk about more.
I'm Anna Sale.
(end of opening theme for Death, Sex & Money)
It was a year ago this month that in the United States, the Supreme Court overturned Roe v. Wade, totally remaking the policy landscape for abortion.
Last summer, I talked to Laurie Bertram Roberts, who runs the Mississippi Reproductive Freedom Fund in Jackson, Mississippi.
("Checkered Blue Fast and Loose" by Blue Dot Sessions starts)
Jackson, a city whose abortion clinic was at the center of the Dobbs case that overturned the constitutional right to an abortion, and where that clinic is now closed.
Laurie is a single parent of seven kids, and disabled, and they've lived in Mississippi most of their adult life working on abortion access. But a year ago, Laurie emphasized how they see their work is much broader than that…
Laurie Bertram Roberts: I became a reproductive justice activist because my life has been full of reproductive injustice, not just my reproductive health life, because reproductive justice is broader than that, but in just my right to parent my kids and be recognized as a full, you know, responsible, adequate human being as, not just a teen parent, but as a teen Black parent. And just as a Black parent, single parent at all.
Laurie also told me a year ago about working in the abortion rights movement in Mississippi, about the frustrations that have come with that over the years ...feeling dismissed, talked down to, and generally unsupported by a lot of the national activists and big donors…
Anna Sale: Do you ever get a phone call where they say 'Laurie, what do you need? Tell us what you need… [Laurie laughs] and we'll give you the money to do it?'

Laurie Bertram Roberts: [continues laughing] No. [even more laughter]
("Checkered Blue Fast and Loose" by Blue Dot Sessions ends)
That was a moment I have not forgotten. You can listen back to our conversation last year with Laurie – there's a link in our show notes.
We got back in touch with Laurie a few weeks ago….
Anna Sale: Hey, Laurie.

Laurie Bertram Roberts: Hey, Anna Sale!
…to hear how the work of funding abortion access has changed.
Laurie Bertram Roberts: The need is higher, right? It takes more to access abortion care. So people who would've been able to access abortion care without our assistance are now calling us.

Anna Sale: What's the cost driver there? Why is it costing more money?

Laurie Bertram Roberts: So the most common places to get an abortion if you lived in Mississippi would be Little Rock, Arkansas, Memphis, Tennessee, Tuscaloosa, Alabama. New Orleans, Louisiana, and Jackson, Mississippi, right? All of those places were within five or six hours of most people in Mississippi. Now, the closest place for someone to go get their procedure is Carbondale, Illinois.

Anna Sale: Whoa. That's the closest.

Laurie Bertram Roberts: Yeah. [chuckles]

Laurie Bertram Roberts: So you're talking about day drives, just to go for an appointment at seven weeks pregnant, eight weeks pregnant, plus the cost of, you know, your $700 appointment or whatever. So someone who might have been able to afford a $700 appointment plus, you know, a hundred dollars of gas, now can't afford that.

Anna Sale: Yeah. And I'm imagining if I drive 10 hours the next day I have an appointment for an abortion, uh, I'm not sure I'm gonna feel like getting right back in a car for a 10 hour drive back. But then the question is can I afford another night, overnight?

Laurie Bertram Roberts: Exactly.

Anna Sale: And, you know, you're speaking from a state where there wasn't abundant abortion access before Roe was overturned. So do you feel like that has accelerated, or does it feel like now it's just harder and the people who were gonna work harder to get to a clinic outta state, it takes more money to do it?

Laurie Bertram Roberts: No, it feels like for, for folks who were already on the edge of not making it to a clinic, that access is just gone now.

Anna Sale: Can I ask you, do you have a sense of the percentage of abortion calls that you get that you're able to provide some kind of funding?

Laurie Bertram Roberts: Probably about… half to 65%.

Anna Sale: Mm-hmm.

Laurie Bertram Roberts: Depending on the month, and depending on what's going on, you know, it only takes, like, a couple of high amount callers because unlike… one thing about our fund that's been different than a lot of funds is we don't have a funding cap. Some funds have a funding cap, like they only give fifty dollars per caller, or they only give, they give a range, right? So if you're between X number of weeks, you get fifty to a hundred dollars, or if you're further along you get however many dollars. We've just never been, first of all, we've never been that formal. I don't have time for that. Like it's just, it's too much like white. And then, secondly–

Anna Sale: Wait–

Laurie Bertram Roberts: I'm just being honest, that's–

Anna Sale: Wait. So what's the way you wanna be? You said "too much like white." Is that what you said?

Laurie Bertram Roberts: That's what I said!

Anna Sale: Yes, so what's the way, what's the culture? What's the way that you wanna be when you talk about the available resources and think about how to distribute them?

Laurie Bertram Roberts: You know, like, we have a conversation with you. Like, "Hey, um... what do you need?" Right? We're usually having a conversation with someone instead of having this formal conversation of: "What's your income, what are your resources?" We're just conversing, like, "When is your appointment? What, what does your family look like?" Anna, I know you understand this. If you talk to someone, they're gonna tell you what you need to know, right? To me, to then turn around and be like, "Oh, well we have this funding range. You can have $500." [laughs]

Laurie Bertram Roberts: It's kind of strange!
("A Common Pause" by Blue Dot Sessions starts)
Laurie Bertram Roberts: Because, if they then can't get to their abortion, what have we done? Right? Fiscally on our books, we've then been able to give away $500 to say ten people. But have all of those ten people been able to go get their abortion? I'd rather one person get to their procedure, than we say we gave out to ten people and only four of them got to their procedure because they weren't able to get the rest of their damn money.
That's just one way there's more need than there was a year ago. Inflation has driven up costs for families so people also need help for just about everything else in Mississippi, the poorest state, with the lowest per capita income in the country.
("A Common Pause" by Blue Dot Sessions ends)
Laurie Bertram Roberts: Our free pantry is at the highest demand it's ever been at.

Anna Sale: Ever?

Laurie Bertram Roberts: Like, ever. Ever. And that's food and cleaning supplies and period supplies. And then we distribute diapers, you know, every week. And water, let me just also say water. We always have water out there. We keep out cases of bottled water all the time and we have been for years before it became the thing to do, because pregnant people and children under five are warned not to drink our water and have been for nine years.

Anna Sale: And how does that affect your daily life? Do you drink water out of the tap?

Laurie Bertram Roberts: Absolutely not.

Anna Sale: And how long have you not drunk water out of the tap?

Laurie Bertram Roberts: Over a decade.

Anna Sale: And that bottled water is something that you pay for out of your pocket?

Laurie Bertram Roberts: Yeah. We buy our own water on top of mind you, we have outrageous water bills in Jackson too, our city water bills are high, so you get to pay for your city water and then pay for additional water. So that you can drink and eat, you know, and cook with it.
("Checkered Blue Steady Pulse" by Blue Dot Sessions starts)
The issues with Jackson's water infrastructure go back years, poor maintenance has led to old, leaking pipes, and lead and harmful bacteria have been found in the water. Mississippi's department of health has recommended that pregnant people and young children not drink it.
Then last summer, after my first conversation with Laurie, flooding shut down a water treatment plant, affecting the city's nearly 150,000 residents, who are more than 80% Black. An official state of emergency lasted until November, and a lot of people still don't trust what's coming out of the tap.
("Checkered Blue Steady Pulse" by Blue Dot Sessions ends)
Anna Sale: Um, our conversation about a year ago, uh, has stuck with me. You called out the way that it was so familiar to know when you were a flash in the pan moment, whether it be on social media or in the national spotlight. The money spigot turned on, it came flowing, and you also knew that it would turn off when something else came along.

Laurie Bertram Roberts: And has.

Anna Sale: Uh-huh. [Laurie laughs] And what did you notice? What was the life cycle of the spigot over the last year?

Laurie Bertram Roberts: Yeah, I mean, you know, Dobbs happened, and we were a blip in the Dobbs event. And we weren't a big blip. People were like, "Oh, well, Mississippi was mentioned in there, so maybe we should think about Mississippi." But I feel like a lot, well, I don't feel like, I know a lot of the focus for a lot of people was, "Oh, well, what, where are all these people gonna be going now that all this abortion access in the South is gone? Let's send our money there!"

Anna Sale: Mm-hmm.

Laurie Bertram Roberts: Right? You know, clearly the South don't know what to do with themselves. They've made their choices. Let's send our money to these blue states that have their lives together.

Anna Sale: Uh-huh.

Laurie Bertram Roberts: And the argument seems to always be coming from people who have a lot of resources. But... my thing is like, what about all of the folks who we serve who are stuck here... gestating pregnancies that they didn't want to gestate, right? Who, no matter how much money we throw at them, getting 10 hours away is never gonna happen for them. Staying pregnant and having the baby is going to be the option for them. So y'all just gonna be like, "Oh, well, too bad for them."

Anna Sale: Mm-hmm. And I, I just wanna... we talked a bit about this a year ago, but given that this year is the 50th anniversary of Roe, and going through what you've gone through since Roe was overturned, when you think about the major blind spots of the political movement and the money that funded that political movement to secure abortion rights, what do you wish people had paid closer attention to?

Laurie Bertram Roberts: Access. A right without access is no right. I mean, the very first mistake was just being like, "Oh, well we don't have to care about whether or not Medicaid funding exists." Right. To acquiesce, and just go, "Meh! Poor women don't really need that access. They'll still be able to go to clinics. They'll just have to scrounge up their money. Pull yourself up by your bootstraps girls!" You know what I mean? It was such a white feminist way of thinking. I mean, abortion funding wouldn't even really be a thing, let's just be honest, if that first initial screw up hadn't happened. So whenever I think about what mistakes were made in the abortion rights movement, it starts with that.

That was one of the first very visible, very blatant silencing and ignoring of the voices of people of color, because we were the ones saying, listen, this is going to impact communities of color. This is going to impact, you know, marginalized communities who rely on Medicaid.

So I mean these things are not without consequence, and folks need to own it. The people who made those decisions are still with us. People with great power in the feminist movement who are still walking this earth, still making decisions, still sitting at tables. Still being seen as leaders who do not own those Ls.

Anna Sale: Those losses, those consequences,

Laurie Bertram Roberts: Sorry. [laughs]

Anna Sale: And what would owning that look like in your work? What would that repair look like?

Laurie Bertram Roberts: I mean, for one, it would look like more investment in organizations that are not led by them and their friends. And for those of them that are still hanging around in leadership maybe they could sit down. You know, sometimes an apology means apologizing and going away. You know, honestly, sometimes it means stepping back. It means apologizing and passing the mic. It means apologizing and sending over some money, connecting people to donors.

What I see is lip service. What I see is people saying, "oh, I support reproductive justice" without investing in reproductive justice beliefs and policy positions. It's so surreal. I mean, it really is surreal. A lot of the stuff that I was saying, about how anti-abortion activists aren't gonna stop at Roe. If Roe was ever overturned, that's not their end game.

And now, it's like some of these same folks are coming back to me like I'm some kind of abortion sage. You know, like I'm some kind of abortion crystal ball. No, you didn't need a crystal ball. All you had to do was look at what they said and did. Look at what the policies are that they've been putting in writing and placing into bills. And, might I add, is the playbook that they're using to restrict trans healthcare.

I mean, I wasn't doing any, you know, meditating and then coming up with wild predictions here. All I did was read.
("Dialtone 11 Beat Lead" by Blue Dot Sessions starts)
Coming up, another read on abortion rights.
The framework for Roe was based on viability, when a baby in utero could exist outside the womb. But for two women legal scholars, one who had a stillbirth, and the other who had a baby with a fetal abnormality that led to an abortion, that word "viability" left out a lot.
Greer Donley: Viability essentially functions as this on/off switch, right? Where the fetus or the baby is one thing one day and then a whole other thing the next, right? And that's just not at all how people experience pregnancy, right?
("Dialtone 11 Beat Lead" by Blue Dot Sessions ends)
–
(midshow theme for Death, Sex & Money)
We are working on an episode this summer… about wedding planning. We've been asking for your stories about the kinds of issues, and stresses, that planning your big day has churned up.
Like for a listener named Giuliana from Hamilton, Ontario.
Giuliana: I'm currently a resident doctor with six figure debt, and the idea of spending a down payment on a wedding is quite overwhelming and crushing. My partner on the other hand, his mom really values these big Italian weddings, inviting pretty much everybody you know, and my partner feels that because it's only a one time thing we're ever gonna do that it should be a big party, and he's more than willing to use his savings to be able to pay for our wedding.
We want to hear from more of you if you are currently planning a wedding, and perhaps having more direct conversations than ever about money, or how you make decisions, like, nailing down your expectations about what's a group family decision and what's a decision for the two of you? We'd also like to hear from couples planning a wedding who come from different socioeconomic backgrounds. What has this made you notice for the first time? And how are you explaining your wedding day choices to each of your families? Record a voice memo and tell us about it, and send it to us at deathsexmoney@wnyc.org.
We also want to hear from you if you're a wedding professional, to hear about the patterns you've noticed on where there's tension, or to hear some of your most memorable moments of helping intended's through a tricky emotional decision. If you're a photographer, a baker, a florist, a venue manager, an officiant, a premarital counselor, tell us in a voice memo what you think fiances of the future might benefit from thinking about, or feel comforted to hear.
And if you, like me, were married a while ago, how do you think about the wedding you planned? What was money well spent? What do you think you could've done without? Record a voice memo and send that to us at deathsexmoney@wnyc.org.
(end of midshow theme for Death, Sex & Money)
–
This is Death, Sex & Money from WNYC. I'm Anna Sale.
The end of Roe versus Wade has meant that states have been free for the last year to come up with new rules, and new language, to regulate pregnancies and available health care.
There's another podcast at WNYC Studios that is all about the way the Supreme Court – and its justices – affect our lives. It's called More Perfect, and they have a new season just out this spring. There's a link to it in our show notes. Please listen, the show is great. They've taken a close look at abortion this season, and the idea of fetal viability, and what comes next... now that that framework is gone.
So we want to share some of that reporting with you from More Perfect producer Gabrielle Berbey who tells two very personal stories about what the old legal framework of viability around abortion overlooked.
Gabrielle Berbey: Okay, so let's review for a moment: Last year, the Supreme Court threw out the viability line. And putting aside the chaos we're living in because of that, which is hard to do, some legal scholars who we talked to are weirdly sort of… relieved? Because viability made no sense. They said, now the creative solutions are endless.
And for people who believe in the right to an abortion, there's a pair of lawyers I talked to who've been thinking about this a lot. So. We'll start with a tale of two pregnancies from these two legal scholars.
Jill Lens…
Jill Lens: I am a professor of law at the University of Arkansas School of Law.
And Greer Donley…
Greer Donley: I'm a reproductive justice scholar.
…at the University of Pittsburgh.
When Jill and Greer each got pregnant, they were in separate parts of the country. They did not know each other. Both were lawyers, and both in their 30s.
After both of them had prepared for their babies to arrive… both Jill and Greer's pregnancies went horribly wrong. For Jill, who lived in Texas at the time, a thing that so many pregnant people fear happened… at almost 9 months.
Jill Lens: They couldn't find a heartbeat. The nurses all left the room and I just let out this scream.
Her son was stillborn. For Greer in Pittsburgh, the trouble came earlier in the pregnancy, at the 20-week scan.
Greer Donley: The doctor basically told us that our son had a pretty profound brain anomaly that was preventing brain tissue from forming.
Greer is a cancer survivor, so her pregnancy was already considered high risk.
Greer Donley: The first thing the doctor said was that some people in this situation choose to have an abortion. And, someone once told me that people faced with this decision... can choose life for their child, or they can choose peace, but they can't choose both. And what does it mean as a mother when you have to make that choice between those two things, right? When you want desperately to give your kid both of them. But you know, for me and for many women who came before me, I chose peace. And, you know, in some sense felt like... it was the only gift I could give him, to not suffer in this world. But it was also a gift that came with profound pain for me.
She had an abortion at 22 weeks.
Gabrielle Berbey: If you're comfortable with sharing, like, what did you do after?

Greer Donley: I came home, and um, you know, I, I was in a really dark place for a while. The loss part of my abortion felt like I didn't know where to go. And the thing that was so strange about it was that I've been pro-choice my whole life, and not just vaguely, right? I was actively involved in causes related to this issue when I was in law school. So I was not expecting to feel the kind of things I felt. Like, I was losing, you know, a potential child. Like, I felt like I was losing a son, right?
Like so many people who've lost a pregnancy, she did not feel this was a clump of cells. She was mourning her baby.
Greer Donley: I remember someone sent me a book and I know this person, right? This person is someone who supports abortion rights. And the book was, um, like, was clearly an anti-abortion book. Like, this is your baby. It's been your baby from the moment you've, you've carried this baby your whole, its whole life. There was a part of me that was reading this with the emotional experience, I had just been through thinking, oh yeah, like, this resonates.
She couldn't find this kind of comfort in any of the pro-choice literature she came across.
Greer Donley: I was feeling this conflict within me. On the one hand, I was someone who had had an abortion at 22 weeks, right? So you can't go through that experience and not – or at least I didn't go through that experience and feel like people shouldn't have access to abortion. On the other hand, I also had never valued fetal life so much. Um, and that was the part where I felt very confused.
Over a thousand miles away, Jill, after her stillbirth experience… she was also conflicted.
Jill Lens: When I walked out of the hospital, someone said to me that we would get Caleb's death certificate in the mail. And in my head I specifically thought, what about his birth certificate? Because I literally just gave birth.
After Caleb was stillborn, Jill wanted a memorial birth certificate – which is something abortion rights groups have resisted. And when she wrote about the legal recognition of stillborns, her work also got… a reaction.
Jill Lens: So something as simple as the language that I would use when writing about stillbirth, especially… that could be threatening to abortion rights.
For Greer in Pittsburgh, her experience led her to write a paper, which made the case that abortion should be a parental right.
Greer Donley: But that necessitates right, that there is a child for whom the parents can make decisions about.
And she got a similar reaction.
Greer Donley: I got a lot of pushback from abortion rights people because they did not like that I was using parental frames to talk about abortion.

Gabrielle Berbey: What did that pushback look like?

Greer Donley: It was basically, "This really scares me because it's gonna create a slippery slope to personhood." You know, I think there is every reason to be terrified of personhood. Because once a fetus is a person under the law at any point in pregnancy, it will trump the woman's rights over and over again. So it's not at all that the, the fears around this are unfounded. It's that… what do we lose by not recognizing something that is very intuitive to so many people who've been pregnant before?
Jill and Greer were both mourning, and feeling alone. They'd heard about each other in the world of legal scholars, but Greer was afraid to reach out.
Greer Donley: I see so many pro-life narratives within the stillbirth community and the pregnancy loss community. Like, I'm, I don't, I'm not comfortable reaching out to Jill. Because what if she actually thought, "Well, you know, I lost my kid. You didn't, you know, killed your child. Like, I judge you. I don't wanna..." You know, I was afraid of being judged.

Greer Donley: Jill, I'm gonna read this. This is a very interesting paragraph in an early email you sent me.

Jill Lens: Oh, no! [Jill and Greer both laugh]
Jill was the first one to finally reach out…
Greer Donley: "The personhood argument is always difficult, but I really do think the pro-choice side is overreacting. It's just reality that women see their unborn children as children. When the woman wants the baby, she calls it a baby. When she goes in for the ultrasound, the doctor points out the baby's foot, not the fetus's foot. It is a baby to the woman, even though the baby is still unborn. Denying this doesn't preserve abortion rights, it just denies reality." So…

Jill Lens: Yeah, it's a little strong, but I don't think it's wrong!
A friendship was born almost immediately.
Jill Lens: And I had always thought about it but I don't know that I've ever necessarily really told you this, Greer, but it's amazing to me how similar our situations are? Greer gets it, Greer gets it.
Jill and Greer get in touch with each other on the anniversaries of their sons' deaths. To them, it's important to honor the babies that they lost.
Greer Donley: For a lot people who are not steeped in one side or the other, the fact that the abortion rights movement doesn't really have a way of thinking about fetal value is alienating because, you know, the, these are the average people who, you know, feel, you know, feelings of love for their children before they're born and experience loss that leads to profound grief, questioning what that grief is about. You know, she and I really wanted to write a paper that dove into that exact tension. And we hadn't felt like we had seen that anywhere.

Jill Lens: Because we hadn't seen it anywhere. [laughs]
("True Shape Alt Runner" by Blue Dot Sessions starts)
Anna Sale: That's Jill Lens and Greer Donley, talking to More Perfect's Gabrielle Berbey.
Their personal losses led them to a new legal theory, and the More Perfect episode goes on to explore their thinking. It's less about when, legally, a pregnancy becomes a baby with rights, and more like personal injury law, where defining and calculating a loss can be a more personalized process. Here's how Greer Donley puts it:
Greer Donley: The central idea is that the pregnant person gets to decide at what point that pregnancy matters to them. It's a way of thinking about a new framing for fetal value that allows an opportunity for the movement to say, we're going to defend whatever the pregnant person views about their pregnancy.
Anna Sale: Again, you can dive deep into that More Perfect series about the origins of the viability line, and what might come next. Truly, as a non-legal person, I have never felt so invested in a story about tort law.
So, one year after the Dobbs decision, this kind of high-level rethinking and reevaluating abortion law is ongoing in legal circles, not to mention in political campaigns and state legislatures.
Also ongoing, is Laurie's work on the ground in Mississippi, sometimes relentlessly so.
("True Shape Alt Runner" by Blue Dot Sessions ends)
Anna Sale: Are there days, Laurie, when you're noticing the pantry has this rush of demand and the amount of money you need to disperse to a person in need of an abortion is higher than it was before and you wanna sit down and take a break and you have to get a bottle of water? What is the cumulative effect on your spirit of all of those things happening at once?

Laurie Bertram Roberts: You mean the days that I want to just go build a tiny house in the woods and never come back? Yeah, I have those days all the time. It's hard. It's hard. It is. It's a choice to do this work. It's not a choice to fight for our own livelihoods, we live here, right? It's funny because recently someone said to me, "Oh, I thought you did this work because you just love the people." And I just blatantly laughed in their face.

Anna Sale: You don't love the people.

Laurie Bertram Roberts and Anna Sale: laugh

Laurie Bertram Roberts: Because it's not that I don't love the people! I mean, I love the people. Obviously I love my people, but I mean, I'm also trying to save my damn self. Are you, are you fucking kidding me?

Anna Sale: Huh.

Laurie Bertram Roberts: laughs

Laurie Bertram Roberts: What in the, what in the savior-itis type shit is that, oh, yes, I just woke up one day and I wanted to help the people. I'm doing this for my own family as much as I'm doing it for everybody else. I live here too.

And there are also times that we close for our own, you know, to reboot and I don't have any shame in that. And it's something I try to make sure to tell our team which is, you know, we are not responsible for fixing everything that's broken with this system, right? We are here as a stop gap, right? We don't hold ourselves responsible for not being able to fund every abortion when we shouldn't be the ones having to fund abortions to begin with.

We are here to do what we can, how we can, when we can, and not cause harm. And as long as we're doing that, then we're doing what we're supposed to be doing. I'm not going to beat myself up. At least I'm gonna try not to.
(end theme for Death, Sex & Money)
Anna Sale: That's Laurie Bertram Roberts of the Mississippi Reproductive Freedom Fund in Jackson, Mississippi.
Just last week, the federal government announced an initial $115 million dollars to begin rebuilding the water system in Jackson, that's part of $600 million dollars Congress earmarked for repairs in the city last year, but it will take years to fix.
Death, Sex & Money is a listener-supported production of WNYC Studios in New York. This episode was produced by Afi Yellow-Duke. The rest of the team is Liliana Maria Percy Ruiz, Zoe Azulay, Lindsay Foster Thomas, and Andrew Dunn.
Our intern is Christian Reidy.
The Reverend John Delore and Steve Lewis wrote our theme music.
More Perfect is also a production of WNYC Studios. The excerpt you heard was produced by Gabrielle Berbey and Alyssa Edes. It was edited by Jenny Lawton, Whitney Jones, Emily Siner, and Julia Longoria, and fact-checked by Naomi Sharp.
If you want more stories about the Supreme Court, you can find More Perfect in your podcast app and subscribe.
I'm on Instagram @annasalepics, that's P-I-C-S, the show is @deathsexmoney on Twitter, Facebook, and Instagram.
Thank you to Sarah McIntosh in Lakewood, Ohio for being a member of Death, Sex & Money and supporting us with a monthly donation. Join Sarah and support what we do here by going to deathsexmoney.org/donate.
I'm Anna Sale, and this is Death, Sex & Money from WNYC.
(end of end theme for Death, Sex & Money)
Copyright © 2023 New York Public Radio. All rights reserved. Visit our website terms of use at www.wnyc.org for further information.
Music Credits:
"Checkered Blue Fast and Loose" by Blue Dot Sessions
,
"A Common Pause" by Blue Dot Sessions
,
"Checkered Blue Steady Pulse" by Blue Dot Sessions
,
"Dialtone 11 Beat Lead" by Blue Dot Sessions
,
"True Shape Alt Runner" by Blue Dot Sessions