Kevin Powell Doesn't Fight Anymore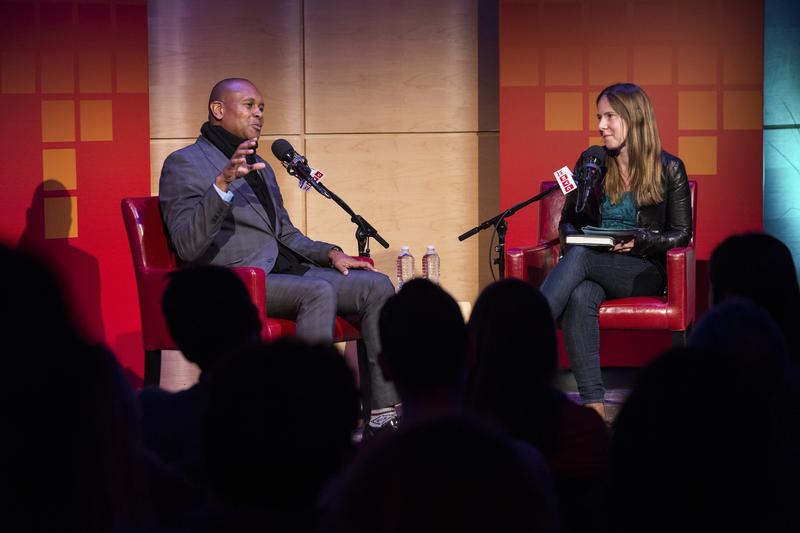 Transcript
This is Death, Sex & Money.
The show from WNYC about the things we think about a lot and need to talk about more.
I'm Anna Sale, and this episode is a little different. I talked to writer Kevin Powell in front of a live audience here in New York City a few weeks ago, and I want to share that conversation with you. I first met Kevin when I was a kid, watching MTV in West Virginia, and getting to know seven strangers who moved into a house and changed television forever. Kevin was on the first season of the Real World. He's also an activist, writer, a chronicler of hip hop – but our conversation focused on his latest book. It's called "The Education of Kevin Powell: A Boy's Journey into Manhood." And it focuses on a part of his past he's not proud of – his quickness to anger and violence, including against women. I wanted to ask him about that. We started in Jersey City, where Kevin was born in 1966.
(Applause)

KP: You know it's interesting. I have no memories of the sixties. The seventies is when things became real for me. But I lived with my mother and my Aunt Kathy. They had migrated from the South together along with my other aunt, Birdie. And my mother and Aunt Kathy ended up living together with my cousin Anthony. He was literally born three days before me in the same year. It's almost as if my Aunt Kathy was coming out of the hospital after giving birth as my mother was going into the hospital.

And we were tremendously poor. You know, I would say to people – people see me now and they think I come from some different background. I'm like, "No, I actually come from tremendous poverty." Cause can you imagine two single mothers, you know, young women in their 20s, their early 20s, raising two sons and, my Aunt Kathy had a bed in the living room and my mother and I shared a bed in the bedroom. This was the first eight or nine years of my life. That was my family. That was what I knew. That was my reality. And – and we did the best that we could with limited resources, you know.

AS: So your mom moved up North as a teenager, what was she looking for? Where was she leaving?

KP: Money. I mean, opportunity, money. She was leaving South Carolina. She came to the New York metropolitan area in 1964 – She was from literally rural South Carolina. She grew up, you know, working farms – picking cotton. Things like that. They brought the values of the South with them. A work ethic. My mother always told the stories of how she started picking cotton at the age of eight. So when my cousin Anthony and I were eight years old our mothers did what they were taught. They put us to work. So we started packing groceries as little boys in Jersey City. And, you know, to this day my friends out there know what I'm talking about, I'm probably up at 5:30, 6:00 every morning working. This is just ingrained in me because of how I was raised, you know?

AS: Where was your dad?

KP: He was a rolling stone. You know, my father was at least about 11 or 12 years older than my mother. He had money, you know. He was actually a truck driver. And so he was driving. I remember he had a house. I saw him probably two or three times when I was a little boy. He bought me my first bike, my first watch. Only because my mother asked him to. You know, and back in those days in the '70s and '80s, it wasn't really like this thing around child support. You just kind of said, "Hey, can you help us?" And I'll never forget the day, as I describe in the book, you know, when I was eight years old. It was a rainy day and, you know, just to put this in context, folks, you know, things we take for granted now: We didn't have a telephone. Not only did we have a – a situation where it was two mothers and two sons in a one-bedroom apartment, we had no house phone. We – I didn't even know what a color TV looked like until the '80s. You know, I remember going to friends' houses and their TVs were different than ours. I was like, "What's wrong with their TVs?" It was color, you know.

And my mother on this day, you know, went to the drug store and she took me with them. It was a rainy day. And she asked my dad, you know, "Can you help us? You know, can you help us?" And he actually caught a really bad attitude and said, you know, "You know what? You lied to me. He's not my son. I'm not going to give you a near nickel." That's the phrase that he used to my mother. Cause he was also from the South so I guess that was a Southern term or something. And he hung up the phone on my mother. And what I remember is that it – it devastated her because I think the reality kicked in that "I've gotta do this by myself."

Keep in mind I'm eight years old, so that meant the next ten years – because the way I was raised, and I think this is a lot of families I've seen, you know, 18 is kind of like that cutoff. Like, you've gotta go to college or go to the military or do something. But that's when you're an adult. And my mother realized, you know, "I've got to do ten years of this by myself now." And we were on welfare and food stamps and government cheese.

When I think about some of the money I make now as a speaker at colleges or corporations, I literally make in one speech what my mother made in one year raising me by herself.

AS: Did you realize as an eight-year-old boy that that was gonna be the end of your relationship with your father?

KP: (Sigh) Yeah. There was a finality to it, you know? And it was the beginning of this hole in me as a – as a – as a child. Feeling like there was this void. And you start to do what a lot of children do. You start to blame yourself for that situation, you know. And that's what I felt a lot. And not only was I a voracious reader as a child but I watched a lot of TV and so when I - every year at school they would ask, "Well what's your mother's name?" I'd say, "Shirley." And then they'd say, "What's your father's name?" One year it would be like James, like James Evans from Good Times. Another year it'd be like Michael, like Michael Brady from The Brady Bunch. You know what I mean? I would just make up names of people that I saw on TV because I didn't want to say, "I don't have a father." You know what I mean? And it was a – it was a profound loss that I carried with me into my adult life, as I talk about, you know.

AS: You were a brilliant little boy. Stuck out. Your mom took you to the library. You took to reading. Your teachers, you write, in you report cards noted that you excelled in school. And also noted that you had trouble getting along with other kids.

KP: I had problems (laughs).

AS: Where do you think that came from?

KP: It's a good question. I mean, I think there's a lot of things. One, my mother was incredibly strict. Let me put it this way. My mother did the best that she could with what she had. And so, you know, you think about it. She's a poor black woman from the South. She's in the North, which is technically like a foreign country for her. It's like an immigrant coming from, you know, a foreign country. And you're trying to adapt culturally to this space. You know, the first man that you fall in love with you get impregnated by him and then he just disses you, kicks you to the curb. And now you've got to deal with, you know, a northern environment, which is foreign. You've got to deal with the abandonment. You've gotta work. You've gotta survive. And so my mother was angry. And my anger came out of that. It came out of the abandonment by my father. And so, I think I began to believe that it was just a part of my life, you know, because it was everywhere. It was inside the household. It was outside the household. My Aunt Birdie and my mother always argued and cursed each other out and things like that. This is what they knew.

AS: How old were you when you first landed a punch on someone?

KP: When I landed a punch on someone? Probably three years old. Probably my cousin Anthony. Part of it - it's crazy to say this to some people – but part of it is it's drama. It's theater. It's entertaining. But at the same time you realize, that should not be normal. You know? That we are just violent people and this is the way we deal with things, you know? But growing up that's all I knew.

AS: So you get into Rutgers.

KP: Yeah.

AS: After graduating high school.

KP: Yeah.

AS: You and your cousin were the first in your family to finish high school?

KP: Yes. Immediately – right – to literally go right after – to go right through grade school to high school. Cause my Aunt Birdie went back and got a GED at some point. Yeah, yeah.

AS: So two high school graduates out of your household. You get a scholarship to Rutgers.

KP: Yeah.

AS: It's a huge accomplishment for you and your mom.

KP: It was free, that was great.

AS: Yeah. So let's talk about what happened at Rutgers. And in particular back on the theme of violence.

KP: Yeah.

AS: And you didn't graduate from Rutgers.

KP: No, I got kicked out of school.

AS: And there were a series of incidents. And I'm just gonna name them and you can describe them in detail. A woman – you hit a woman in the head with a stapler.

KP: Threw it, yep.

AS: You – your first roommate, you came to blows with him after arguing in the room and you were assigned to a new room. And then the final incident was –

KP: Pulling a knife.

AS: You got in an argument with a woman and pulled a knife on her. When you think back on those moments, what do you remember happening in your body when you chose to do those things?

KP: Well let me say it like this. What people need to understand, just because someone is now in a college environment, you know, or in a corporate environment or any environment, you know, that's supposed to be a positive space, doesn't mean that they have healed at all from where they came from. Do you know what I'm saying? You know, the thing that people need to understand is that you are carrying around literally all the pain and trauma that you had experienced in the first 18, 19 years of your life. In my case, you know, what I experienced, you know. And it was deep. It was deeply engrained. There had been no therapy. There had been no yoga. There had been no meditation. There'd been nothing. It was like, okay, you work hard. You know, you've had these incidents growing up, you know, and things that you also – we didn't talk about is – the violence inside the household, the violence I experienced outside the household. I was brutalized by the police when I was 15 years old, which I describe in detail. A white police officer in Jersey City. All of that had been a part of my reality.

And to me, you know, when I got to that space, you know, you're going to act out. You know what I mean? You're going to act out, cause there was no healing going on at all. There was no concept of self-love at all. You know, those things were actually foreign to my vocabulary at that time. And, you know, what do you do when you get upset, at least when I was growing up? You get angry – you lash out, you know? And it's inevitable that there's going to be a series of explosions cause it's like we're walking time bombs. Do you know what I'm saying? It's me, I don't deny who I am, who my – what my past was. And the reason why I put all that in the book is because you have to be honest about all this stuff and take people through the process of it, you know?

AS: Yeah, so I – I'm just – if you could take me back to that moment when you were arguing with the woman and you chose to pull the knife, like, what was going on?

KP: We were arguing. And it's ironic. We were in the same student organization, the Black Student Union – it was called the African Student Congress. But actually, you know, in my mind, because this is my – if I can use the term – my – my 'hood mind,' which is, "I'm not going to use the knife. I'm just like, 'Yo, back off, homie.'" You know what I mean? I didn't even think anything of it because the world that I came from that's how we rolled. And so for me, the context of it: We had just brought Louis Farrakhan to our school. I was getting death threats as the leader of the Black Student Union – the African Student Congress organization. And that was why I was carrying a knife, you know what I mean?

AS: Cause you felt threatened.

KP: I felt threatened. Cause we were getting literally death threats from fellow students, anonymously. "Oh, why would you bring this person to the school?" Well the reason why we brought people – him to the school was cause folks told us that we couldn't bring him to the school. And us as students of color we're not gonna let anyone tell us who we can and cannot bring to the school because we know we pay as much tuition or we have as much rights to student organizations as anyone else. And then you couple that with the fact that you have students of color who literally are going to a majority white school for four years and we can't just be normal students. We actually have to also be advocates against racism. Or in the situation of women of color, advocates against racism and sexism. So it was almost inevitable that I was gonna explode in some way because of what I was feeling.

That doesn't excuse it. But at 18-, 19-, 20-, 21-, 22 years of age, you're not thinking about that, you know?

AS: So you were already activated, or you were an activist.

KP: Racially.

AS: So did – was there not a flash of, "I see that I'm trying to dominate this woman"?

KP: No. Not at that age. Most men are ignorant. Let's be honest about it. Most men are ignorant. You know? All I thought about was race. That was my transformation, as I talk about in the book, where I became aware of who I was as an African person – an African American person. And that had a profound effect on me. And as I say in the book, I remember how women student leaders would say, "Hey, what about how you relate to us? To all of us," you know what I mean? But it was just not a part of our reality. And I just didn't think about that. It wasn't until later I was like, "Oh my god." You know. And I even say, you know, I would even say some of the male speakers – most of the male speakers we brought, none of them ever brought the issue up.

AS: Do you remember telling your mom that you were kicked out of Rutgers and why?

KP: Yeah. (Laughs) You know, my mother said a couple things to me. You know, "You need to keep your hands to yourself."

AS: She's right. (Laughs)

KP: Yeah. And also ironic, given what I experienced at her hands. But then my mother also said something very profound. She said, "You went further in school than I ever did. Just go work." And that's what I did. I just went and worked and I never went back, you know.

AS: Do you think your mom was ever afraid of you after you'd become a man?

KP: Yeah. She actually changed the locks and kicked me out of the house. You know, and it wasn't so much – I don't think it was a physical afraid. My mother is a hardcore person. She does not play, you know what I mean. What my mother – she wasn't afraid of me, but what she was afraid of was me becoming dependent on her for the rest of my life the way a lot of males never learn how to take care of themselves, you know?

AS: So that's different. Not physically afraid of you.

KP: No. She – she was like, "I did everything I could. What else do you want me to do? You've gotta figure this out for yourself." And at the time I was angry at 22, 23. I was like, "How could my mother turn her back on me?" But she was trying to tell me, you know, teach me how to fly on my own. I think my mother just was tired, you know what I mean, and she just really, you know, "What else am I supposed to do? I've raised you to 18 the way I was raised to 18 and you've gotta figure this out for yourself." And she was right about that. I realized that years later. She was absolutely right about that.
Before we go back to my conversation with Kevin Powell, I want to remind you to add your short story idea to our crowdsourced list! We are collecting ideas for an upcoming collaboration with the public radio show Selected Shorts. We're looking for your favorite short stories about death, sex or money that are 20 pages or less. Add them to our list at deathsexmoney.org, and check out what other people have suggested there too.
On the next episode…your stories about why you're not having sex.
I'm not having sex, because, because like the old Barry Manilow song, the feeling's gone and I don't know how to get it back.
-
This is Death, Sex & Money from WNYC. I'm Anna Sale. After Kevin Powell got kicked out of Rutgers, he tried to find work as a writer. At first… it was rough.
AS: You moved to New York City after sort of – you were in Newark, you're moving around.

KP: Yeah, I lived in a lot – I slept in a bathtub. I was sleeping in – yeah.

AS: Yeah, like basically, I mean, functionally homeless in some moments.

KP: Yeah, definitely functionally homeless, yeah.

AS: Then you get to New York City in the early '90s. And I wanna ask you first about a piece that ran in Essence in September 1992.

KP: "The Sexist In Me." Yep.

AS: Called "The Sexist In Me." And it starts with another encounter, this time with a woman who you were in a relationship with.

KP: Yep.

AS: What happened?

KP: Same thing. Anger. Explosion. We had a disagreement and being the typical male that I was at the time didn't want to have a woman disagreeing with me and so I pushed her into a bathroom door. You know, and she ran out of the apartment. And I remember standing there saying to myself, "What did I just do?" You know. And now I'm in my 20s, you know. And here I was, this person who had all this stuff to say about racism and, you know, racial injustice and racial oppression, but had no vocabulary for what I was doing, you know what I'm saying? And, you know, she ended up coming back. I ended up staying there a little longer, then I moved out, you know. And then I saw her on the street, you know, maybe a couple of weeks later and I disrespected her on the street badly, verbally, you know what I'm saying. And that's when I realized that I needed to get some help.

And what I always think about, there were women of my generation who actually did not abandon me. They actually started embracing me and saying, "You've gotta deal with this thing." And I remember a couple things happened. I was introduced to a book called "Mad at Miles" by Pearl Cleage. The book was a small pamphlet. It was a response to Miles Davis's autobiography. For those who don't know, Miles Davis we know as a dynamic musician, you know, one of the greatest musicians ever. But he also was brutal toward women. That affected me. Because as I was reading "Mad at Miles" I was shaking literally because I was like, "My god, is she talking about me?" I was now in my 20s and I was like, "Wait a minute. You're saying that I'm a patriarchal misogynistic sexist man?" You know what I mean? And you have to process that.

AS: And how did that hit you when one of the kind of primary stories that you had learned kind of emotionally growing up and then intellectually at college was that you had been systemically disempowered by this country, to then be confronted with "here's the ways that you're violently trying to dominate women"?

KP: You feel your contradiction. You feel like a hypocrite. You feel it – you feel it blatantly, you know what I'm saying. And it's interesting because I couldn't grasp – I couldn't grasp that at the time, you know what I mean? And so when I was in college, if I could take a step back, us ignorant men would say things to the women when they raised their voices, you know homophobic stuff: "Oh you must be a lesbian," quote-unquote, stuff like that. Just dumb stuff. Just really dumb, ignorant, backwards, caveman-like stuff we would say. Anything to justify our power and our privilege, you know.

And I don't regret anything in my life at all. I feel bad for people I have hurt, as I talk about at the end of the book. But I feel like I had to go through all those experiences because there's no way I would even begin to think about deconstructing manhood if I hadn't sunk so low. Do you know what I'm saying?

AS: And that's what's interesting about 1992 in your life, because you're grappling with these quite complicated issues of identity.

KP: Yeah.

AS: And then you're also on this new reality show.

KP: This little thing. (Laughter)

AS: And – and I just want to ask you a few questions about that, which is that you note in the book that you were paid $1300 when filming began, you were paid $1300 when filming ended, so $2600 in total. Was it worth it?

KP: I want a royalty check. (Laughter) No, I mean, it's an interesting question because at the time, you know, I was like, "Okay, I'm in New York." I had probably like five jobs, I felt like. You know what I'm saying? And I thought to myself, the only thing I thought was like, "If I end up on this show, maybe because I'm on TV I'll get some speaking gigs and some poetry gigs," you know, cause this was the beginning of the poetry scene exploding in New York as well, at the Nuyorican Poets Café. I had no idea that all these years later everybody and their momma would have a reality TV show. (Laughter)

AS: Thank you. Thank you.

KP: Literally.

AS: It's because of you, yeah.

KP: Yeah.

AS: Trailblazer.

KP: We created – we created the Kardashians.

AS: Yeah (laughter).

KP: I really want to apologize for that. (Laughter) But I certainly don't have the Kardashian money.

AS: Yeah. And just on balance, when you think back in that decision and the effect it's had on your life, does it feel positive or negative?

KP: Nah, I don't regret anything. I don't regret the arguments. I don't regret the stuff that we talked about on the show around race. You know, Norman became the first openly gay person on a – on a – on a national TV show, which was significant. You know what I mean? Julie, who I had the famous argument with – no, infamous argument with, worked with a homeless woman on the show. There were so many different things going on that I thought were important. And I learned over the years – even though I sometimes cringe when people bring it up, you know – that I had no idea how many people actually watched this thing and said, "Hey, I was either your age when I was watching this" or "I was ten years behind you and this had some sort of impact on me in some way." You know, I can't – I can't tell you how many people have said to me – they still come up to me and say, "Your line: Racism is race plus power." People say that to me twenty-some odd years later, which is profound. And I realized the power of popular culture.

And the irony for me is that I'm a television kid. I grew up loving television. Loving pop culture. I really hit me after we finished taping the show the producer said, you know, "Y'all are not going to be able to go to the malls for a while." We're like, "Okay. What are they telling us?" And then all the media came in. We were in Entertainment Weekly and People and, you know, all these different publications. Then we went to the Video Music Awards, and they were screaming for us like we were The Beatles. It blew my mind. You know what I mean? And then some folks – our handlers, I guess they call them – gave us – this is in LA – they said, "Here's some kissy candies, some Hershey's Kissies, throw it to your fans." So we throw it to our fans and they were like, "Oh my god, I just got a kissy from Kevin!" And I was just like, "Who are these people?" (Laughter) You know what I'm saying?

But then I learned very quickly, as fast as this fame happened, this celebrity happens, it ends. Because they started taping the second season, and someone I went to college with, Bill Bellamy, who's a comedian, as you all know, he ended up hosting something called MTV Jams, and so within about six months I'm walking around New York, like, "Okay, I'm Kevin Powell from Vibe and MTV," and people would come running up to me, "Hey! Bill Bellamy from MTV Jams!" They actually called me Bill Bellamy. I'm like, no, I'm not Bill Bellamy, but I am black.

AS: I'm the other black guy!

KP: I'm the other black guy! So I was fortunate that I had a real career.

AS: It did begin this white hot period in your career where you're writing for Vibe, you're going to industry parties. It's – it's a moment when hip hop is becoming mainstream in America and you're chronicling it right in the middle of it. I want to skip over that period to when it ends in 1996.

KP: Wow! (Laughter)

AS: Because we're running out of time but I –

KP: You're smooth.

AS: Because, that moment – that's when you're fired from Vibe.

KP: Yeah. For arguing.

AS: For arguing.

KP: Yeah.

AS: You're broke.

KP: I am broke.

AS: You start drinking.

KP: I was drinking. A lot.

AS: What did you learn about money that you hadn't learned when you had it?

KP: Spend it as fast as possible. I didn't learn anything, you know. I was making a tremendous amount of money for a writer in his 20s. You know, the 1990s was a – I mean, Clinton was president of the United States. You know, it was – it was a lot of wealth being created out there. And some of y'all – you know, the dot com stuff that we see today, that was actually created in the late 1990s. There was so much money flowing in and I just didn't know what to do with all of that stuff. And it crashed and burned. And I was also –

AS: What's that mean crashing – did that mean like credit card debt? Did that mean – what did -

KP: Nah, I just – I just spent money. I just spent money, you know. And I mean at a certain point depression kicked in, it was something that I talked about in the book that I battled a huge part of my life, you know. And, you know, I felt embarrassed that I had gotten fired. I felt like a failure all over again. The same feeling I had for a period of time when I got kicked out of college – I mean, yeah, out of college. I felt – but this was actually bigger to me, cause I was like, "This is a bigger platform." You know. And I remember people making fun of me, like, "Well Kevin Powell, he fell off. Hah hah hah." You know and, you know, again, this still, but still you're that person carrying around that same lack of healing, that lack of self-love, the low self-esteem, you know, the pain and trauma. And it's all resurfacing, you know, because you don't have this thing to fall back on which was this – this – this career, you know.

And people who know me well remember that during that period I – not only was I drinking and smoking cigarettes and hanging out and just highly irresponsible – but I would wear my hats down low and not really wanting to show my face. And it went on for a few years. I call it my dark years and I remember, you know, I felt like Kurt Cobain must have felt, you know. I was affected by his death, by Tupac's death, by Biggie's death, by River Phoenix's death. Cause I saw people of my generation dying. You know – I didn't want to live. I really didn't want to be alive. I didn't want to be alive. I – I just wanted to go somewhere. I didn't know where to go. You know. I didn't love writing anymore. I didn't love really anything. And it wasn't really until 9/11 hit that I felt like I was shaken out of this stup- this thing, man. And to know people who died there, and to see it. If anyone who's a New Yorker remembers – is old enough to remember, I remember walking around. Remember how they had pictures up of all the people? "Did you see my mother? Did you see my father? Did you see my sister and brother?" And that had such a profound effect on me, you know.

And I was like, "Kev, you've gotta get yourself together, man." You know. I never did AA or anything like that. I don't know if I would – I don't know – I don't think I say in the book that I thought I was an alcoholic but I definitely used to drink to go to sleep. I drank every chance I got. You know, I didn't care at times. But I actually just went cold turkey. You know what I mean? You know, I remember for a while I couldn't even go to a bar or anything. I just didn't go. You know, and then when I finally went I just drank cranberry juice and had no idea I'd be a vegan and a marathon runner all these years later. I'd've been like, "You crazy, I ain't doing that stuff."

But it was the beginning of – of – of figuring out what self-love is. You know, and, Kev, not only you can't hurt yourself, you can't hurt other people, man. You can't keep doing this. You know what I'm saying?

AS: And that's what your book kind of – what I like about it is it doesn't – doesn't tell the story that you get kicked out of Rutgers and you go to therapy and then you're fixed.

KP: No.

AS: It shows that this has been something that you're constantly sort of confronting in various ways and if life doesn't go your way new things surface again. When you feel yourself getting angry?

KP: Oh, I've –

AS: In – in – like what – what have you – what has changed in behavior and what happens now that didn't happen in 1991?

KP: I don't fight anymore. I'm too old to fight. You know, I do yoga. I just - I can't do that. Do I get angry? Yeah. There's nothing wrong with being angry. There's a difference between proactive anger and reactionary anger. And I learned, okay, proactive anger means, "I'm gonna write this stuff out, you know. I'm going to speak it out." That's the way I look at it - that's how I deal with it now. The reactionary anger is when you not only lash out, you try to hurt people. I'm very conscious. And even when it seems like I'm not listening, I really am listening, you know. I've learned to be a better listener. And I really am serious about healing, man, and self-love. And – and I think about something that Maya Angelou said, you know, "People may not remember what you said to them but they remember how you made them feel." And I think about that a lot now in a way that I didn't before. Maybe it's cause I'm in my 40s. Maybe it's cause of all the stuff I described in the book that I've survived, you know. And maybe it's just basic common sense, you know. Something that – that – that Jane Fonda said that oh my god that I love about her father: She said, "I've evolved past him." And so I think – I think to myself now, "I want to keep evolving." I take the best parts of my mother and my family. I love them forever. They're my family. My mother's had my back in a way that no one has ever had my back in my life. Do you know what I'm saying? You know? But there's certain things I've had to evolve past. And I also say that I've also had to evolve past those other Kevins.
Kevin Powell. His new book is The Education of Kevin Powell. We spoke at The Greene Space at WNYC's studios in New York.
Death Sex and Money is a listener-supported production of WNYC. The team includes Katie Bishop, Emily Botein, James Ramsay, Destry Sibley and Andrew Dunn. Special thanks to Jennifer Sendrow and the whole team at The Greene Space at WNYC.
The Reverend John Delore and Steve Lewis wrote our theme music.
I'm on twitter @annasale, the show is @deathsexmoney. Don't forget to sign up for our weekly newsletter! All you have to do is text NEWSLETTER to 69-866, and we'll text you back to get you signed up then and there. Again, text the word NEWSLETTER to 69-866.
I'm Anna Sale, and this is Death, Sex & Money from WNYC.
Copyright © 2019 New York Public Radio. All rights reserved. Visit our website terms of use at www.wnyc.org for further information.