Dating Was So Hard, Until It Wasn't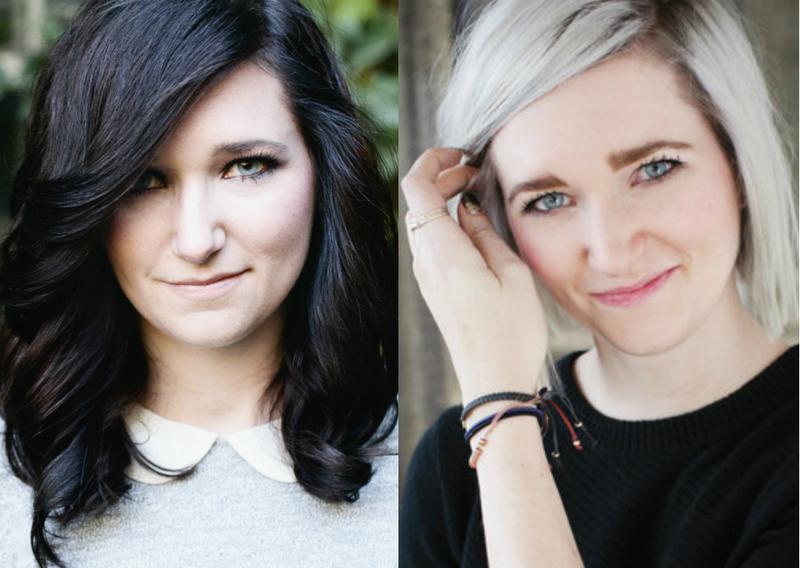 Transcript
Katie Heaney: Being away from home, and just experiencing new things and making myself do things I was uncomfortable with, I would have to believe made it easier to come to these realizations about myself.
This is Death, Sex & Money.
The show from WNYC about the things we think about a lot…
…and need to talk about more.

I'm Anna Sale.
When I first met Katie Heaney, she was 27 years old and totally freaked out about dating.
KH: The points that stress me out are everything up to the date. And then like towards the end where I start worrying about, like, "Are we going to kiss each other? I can't tell what this guy thinks." You know, "How are we going to decide whether we want to do this again? This was exhausting, I want to go home." (Laughs)
This was two years ago. She'd just published a memoir called Never Have I Ever: My Life (So Far) Without a Date. And she'd recently left her hometown to work for BuzzFeed in New York City.
AS: So you move from Minnesota to New York City —
KH: Yes.

AS: — and what's — what is different?

KH: Can I — can I say a swear word?

AS: Yeah.

KH: So people don't say — people don't say "fucking" for sex at home. People do not do that. And so the first time that I heard someone be like, "Yeah, this guy I'm fucking," I was like, "Oh my god!" Like I had this — and I'm not religious. I'm not conservative. Like I swear all the time. But it just - I just was a little bit - you know, that little knee-jerk former Catholic schoolgirl thing where I was like, "Oh my goodness!" (Laughs) I'm just from the Midwest! I don't talk like this!

AS: And now you have a book out. And now you're having to talk to strangers about it face to face.

KH: Mm-hmm.


AS: So, you don't — you don't talk about sex very much.

KH: Mm-mm. Well it hasn't — it wasn't really applicable. (Laughs)

AS: In your life.

KH: Yeah.

AS: Uh, are you still a virgin?


KH: Yes.

AS: How — how does it feel to talk about that publicly at 27?

KH: I don't — I don't like it. (Laughs) I really don't like it. Um, and I also hate that I don't like it. Because that feels like conceding that it bothers me and that I am susceptible to the opinions of others. But I am. I try not to be. And I think in a lot of areas I succeed. But I also feel like since the time frame of the book has ended, I've, you know, dated a little bit more where I feel like, well, I'm not so inept as maybe I worried. I still worry...

AS: What taught you that? Talk more — walk me through that.

KH: You know, hanging out with people and realizing that I can spend a pretty substantial chunk of time with them and be able to just have it be normal. Just being, like, I can make myself stand still at the end of the date and kiss this person and not accidentally run away because I'm worried about what might happen like I might have done in the past. Like, when I want it badly enough, I can - you know, like, really steel myself and just be like, "Don't freak out, just stay still, kiss them. Just do it!" And —

AS: I love that being aggressive is, "I can stand still." (Laughs)

KH: Well, you know, baby steps.

KH: That's so weird. (Laughs)
This is Katie, more than two years later.
KH: Like, as I hear it. It's very weird because it feels like me, but also like someone I used to know.
She came in to give me an update.
KH: Now, I hear that and I hear myself talk about all the fear and like the dread and "making myself," and I'm just like, "Ugh, you don't have to feel that way."

Katie's lived in New York three years now. She's become a senior editor at BuzzFeed, and her hair that was dark brown is now platinum blonde.

AS: When you think back to when we talked before, it was January of 2014, what do you remember about what was going on in your life and how you were feeling?

KH: Um, I feel like I was a little bit miserable. I was still adjusting to living in New York and did not realize that I had at least a year of adjusting to New York left to do. So, I think it was - that was a hard winter.

AS: What happened in that year that made you feel that sadness?

KH: I think that I just wore myself out worrying, in a way. I had a hard time with anxiety that year. I think I dated very, like, briefly in the beginning of that year and it ended in a way that was like, completely out of my hands, where I just felt abandoned and just really pissed. Like I was so, so angry. I just felt so confused about what I was doing, quote-unquote wrong, or why - I - I don't know. I just felt like I was really desperate for advice that year, and like kind of turning to all these friends and you know horoscopes, bullshit like that, and being like, "What am I supposed to be doing?" Like I - I wrote this book where I say, "You should be yourself, you shouldn't feel bad about being single," and I felt bad about being single, and I felt bad about being myself.

AS: It's funny that you mention horoscopes, because when I think about my first year and a half in New York, I think of all of the psychics and all of the like horoscopes and all of the grasping at straws to find groundedness. Because my life was going - undergoing a lot of change too. Do you still read horoscopes?

KH: No, I gave them up. I had to give them up. I eventually realized that looking up my horoscope gave me more anxiety than it erased. Like it just, because it, you know, it'll be like, well, "These are your most romantic days all month, these are your luckiest days all month, you're gonna have this great career thing." And it's like, well, none of that happened. Pretty much everything is the same. So, I just don't need that on me. Like I would rather just take personal responsibility.
Coming up, Katie describes her dating life...now.
KH: I feel like I end up saying queer, more than most things - or like, gay. I don't know. Like, my girlfriend doesn't say "lesbian" that much. Or we only say "lesbian" when we're like walking down the street and we see other lesbians and we're like, "lesbians!"
KATIE BISHOP: Hey, this is Death, Sex & Money producer Katie Bishop...
CHESTER JESUS SORIA: And this is producer Chester Jesus Soria. And Anna's still out on leave, but we wanted to catch you up on a story that you might have heard earlier this year.
KB: This spring, we talked with people about their near death experiences for an episode that we called "When I Almost Died."
CS: One of those people that we spoke to was a 32-year-old Australian woman named Elizabeth Caplice. Elizabeth wrote about life with Stage 4 cancer on her blog, called Sky Between Branches.
KB: Yeah, and when Anna talked with Elizabeth this spring, she'd just recently been told by her doctors that she only had a few months to live. In July, Elizabeth entered hospice. And two weeks ago, on July 12th, Elizabeth died.
CS: But back when Anna spoke with Elizabeth, she asked her what she wanted to have happen...after her death.
EC: I want to donate my body to science or have an eco-burial. Which means I don't want my body in front of a room of people. That grosses me out. I'm comfortable with memorial services.

AS: Have you picked out music or readings for a memorial service?

EC: Um, I have picked out some music. I'm a bit of a terrible person. I really like the idea of starting with Madonna's "Like a Prayer." Because I'm really fond of the line "Life is a mystery." I use it a lot in like whatever ridiculous new thing happens with my cancer, like "Well, that wasn't supposed to happen but life is a mystery." And then I break into singing "Like a Prayer."
KB: We're planning on sharing more of Elizabeth's conversation with Anna in the coming weeks. So look out for it in your podcast feed.
CS: And on the next episode, Anna Chlumsky...
KB: ...the actress.
AC: Everybody knew that I was the girl from My Girl and stuff, but the nice thing was that he didn't care.
Hear how the Veep co-star met her husband in college after leaving child stardom behind...and how he helped convince her to try acting again.
AC: And I'm like, "I don't know, maybe I need to go to therapy 'cause I obviously am so desperate for answers." And he's like, "Well, what would a therapist ask you that you don't already have the answer to?"
This is Death, Sex & Money from WNYC. I'm Anna Sale.
Katie Heaney published her second book this year. It's called Dear Emma, and it's about a dating advice columnist in the Midwest. For this one, Katie didn't have to confess the details of her dating life, like in her memoir. This one's fiction.

KH: Yeah. I needed a break from myself.

AS: When did you realize that you might be interested in dating a woman?

KH: I think - I mean, the truth is that I had curiosity about it for a while. But it was always in like, waves. I'm so neurotic that I would sort of like get in these mental tailspins where I'd be like, obsessed with the idea for like a week and then something would happen and I would just kind of give it up entirely. Like, I'd be like, oh, well yes, I do think — I don't know, like, Zac Efron or somebody — I do think he's hot. So I guess that that means there's nothing else going on. Or I would think, well, I don't wanna act on this unless I'm a hundred percent sure, because I don't want to hurt anybody else or I don't — I don't want to claim something that isn't mine to claim. So I think that that kept me from doing anything for a long time. And then, I don't know, something last year, just, I feel like there was this sort of like... you know those, um, meters, like when you're doing a strength test at a carnival?

AS: Uh-huh.

KH: I felt like it was like, inching up towards the top and then finally it just kind of like hit the full other side.

AS: Hit the bell.

KH: Yeah. I remember being on the subway and looking around at all the guys. And being like, "I don't want to date any of you. Like, I just don't - I don't want this." And I felt like my, the attraction like fell out of my body. And it sounds, like, so dramatic. But I think it was enough of a sense that I just thought I should finally actually commit to the idea and like put myself out there in a real way.

AS: What did it mean to decide to put yourself out there?

KH: Oh, go on stupid OkCupid. I messaged my girlfriend like four days after being on it. So.

AS: Really?

KH: Yeah.

AS: Was she the first woman you dated?

KH: Mhm. Yeah. So that's a whole other thing to like, worry about. (Laughs)

AS: (Laughs) No, it's beginner's luck.

KH: Um, yeah.

AS: Did you feel clumsy on your first date with your girlfriend?

KH: No. Um. I was nervous. But. I was excited. And I was excited in a way that I had not ever been for a first date with a guy.

AS: Hm.

KH: And I had a feeling beforehand that I was gonna like her. She had a really good profile. And she texted me back so quickly.

AS: (Laughs)

KH: And I really liked that. So yeah, we - no, it was pretty easy. I mean, there was still like, the thing of when she came in, like do we, you know, shake hands or — like I think she would have - she - I went in to hug her and later she told me that was like, awful, because she hates hugging someone she doesn't know. And I'm, you know, like, five inches taller than she is. So, it's - it was a little tricky. But besides just the general sort of like, awkwardness or nervousness, I just wasn't — I didn't feel uncomfortable to my core in a way that I had in the past.

AS: What did you notice about her profile that you liked?

KH: She talked about having written Harry Potter fan fiction in which all the girls were gay. (Laughs) And I thought that was funny.

AS: Was she more practiced in dating women than you?

KH: Yeah, she's been out since she was 14. So. I, you know, I think early on that made me nervous but she never made me feel, you know, weird or wrong or too late or anything like that. It never has really been — I mean it's only been an issue in the sense that I, you know, I envy in some ways, her past. Just - just in the sense of, I think, having the experience to know what she wants or doesn't want through relationships. But also, you know, she envies me my history of no terrible shitty exes. So, I think it's a little bit of a grass is greener situation.

AS: Was there anything that you felt like you had to be taught?

KH: Not really, no. I mean, I — well, not taught. I think that I — and I am still learning this. But I - I have to learn how to not catastrophize every disagreement or every feeling that comes to me that isn't a 100 percent joyous one. You know, I always thought that I was above the sort of "white knight" narrative and thinking that a relationship was going to improve my life. I don't think I thought it was going to improve my life, but I thought that I had struggled so long to find it that once I did, it would just be perfect or easy. And, you know, I just, I was naive about what it really means to spend that much time with someone and still be happy, but still have days where you're just like, "Uh," like "I just, I don't feel good today. This is not my favorite thing that's going on today." And I think early on I would really get very nervous about that because I was putting a lot of pressure on both of us.

AS: I've never heard the word "catastrophe" turned into a verb.

KH: I don't know if it's real. I feel like it is.

AS: I feel like it's very descriptive. I understand.


KH: I feel like my mom accuses me of it. So maybe that's where I got it from.

AS: Your mom coined the term.

KH: Yeah.
Katie didn't immediately plan on telling her mom that she was dating a woman. She started by telling her coworkers over Gchat and her brothers. But then, she got a text from her mother.
KH: I think after I had had two dates with my girlfriend, she texted me to say that she had a dream that I met this guy named like, Jamie, or something, And she never really — like she or my dad never really put pressure on me about dating, they never have been like, "When are you gonna get married" or anything like that. And this text wasn't even that sort of thing, but it was just so eerie to me that I called her right away and was like, "I just wanna let you know I did meet someone that I like. And it's a girl." And my mom was like, "Oh." (Laughs) And it was a pretty short phone conversation, I think. And then I had to call back separately later that day to tell my dad, um.

AS: Did your mom tell you that you needed to tell your father?

KH: Yeah. Yeah. Cause a lot of times, with most things the way it works is it's like, telephone tree. I'll tell my mom, she'll tell my dad. But obviously this is like a little different than describing like, a day at work or something, so. Um. I was - I was more nervous to call him. Just because I don't - I never talk about like, dating or anything with my dad. Like the last time I remember my dad being aware of who I had a crush on, it was Jonathan Taylor Thomas. And he would always be like - he would always give him other fake names, he'd be like, "Jonathan Diller Dollar." I'd be like, "Dad!" (Laughs)

You know, it was - it went well. I - I didn't have anyone react...I almost was a little annoyed that people weren't more surprised. It felt a little anti-climactic.

AS: Do you think that you were uncomfortable with men because you were gay?

KH: Uh, yeah, I mean I feel like that has to be part of it. And instead, now, I feel like I can be like, well, "I was not pleased with the offerings," you know, like I was not into what was - what I thought was available to me.

AS: Are you glad you didn't have sex with men?

KH: I mean...I — that's the thing. It's like - can I even say that? I - I - it's one of those - it's just another dumb classification thing. Because my girlfriend's like, "Well, technically that makes you a gold star." Which is like, a lesbian who's never had sex with men. And I'm like, alright. But what is the line? Like I did "stuff." That's what I...I still can't talk about it. So there's the Midwestern still there, I'm like, "I did stuff." Um.

AS: You did stuff and you get to be a gold star.

KH: Yeah, I guess that's —

AS: That's pretty good.

KH: I guess.

AS: You feel happy now?

KH: Yeah. I do. I still get stressed a lot. But I - I feel at ease in a way that I have not felt in a really long time. I just spent so long feeling like there was something wrong, or missing, or something that I had to get done in order to move forward with my life and now I sort of just feel more content to live in the present.


AS: Yeah, or a little less, um, feeling of gripping with all of your might to try to figure out something that you haven't sorted through.

KH: Yeah. I don't feel so compelled to ask everyone else what's gonna happen to me because I will - I'll find out what's gonna happen to me.
That's Katie Heaney. Her novel, Dear Emma, came out earlier this spring. And her memoir of not dating — at least up until she was 25 — is called Never Have I Ever.
Death, Sex & Money is a listener-supported production of WNYC Studios. The team includes Katie Bishop, Chester Jesus Soria, Emily Botein, Andrew Dunn and Rick Kwan.

Our interns are Carson Frame and Brandy Gonzalez.
The Reverend John Delore and Steve Lewis wrote our theme music.
I'm on Twitter @annasale, the show is @deathsexmoney. And if you like the show, please go to iTunes and leave us a review. It helps other people find the show.
Katie Heaney has figured out a lot of things in the last few years, but that hasn't made the prospect of turning 30 any easier.
KH: It's scary in a way that I didn't really anticipate. Like, I thought that I would be very cool about turning 30 because I'm a feminist and I don't care about aging or wrinkles. And then of course it happens. Like, this year I was compelled to buy eye cream. And that upset me.

I'm Anna Sale, and this is Death, Sex & Money from WNYC.
Copyright © 2019 New York Public Radio. All rights reserved. Visit our website terms of use at www.wnyc.org for further information.
Music Credits:
"Swagger" by Dave Depper
,
"Denmark" by Portland Cello Project
,
"Gravestones" by Robin Allender
,
"What True Self? Feels Bogus, Let's Watch Jason X" by Chris Zabriskie
,
"Wholesome" by Dave Depper
,
"Cabin" by Jon Luc Hefferman