Katie Couric on Death and Dishonesty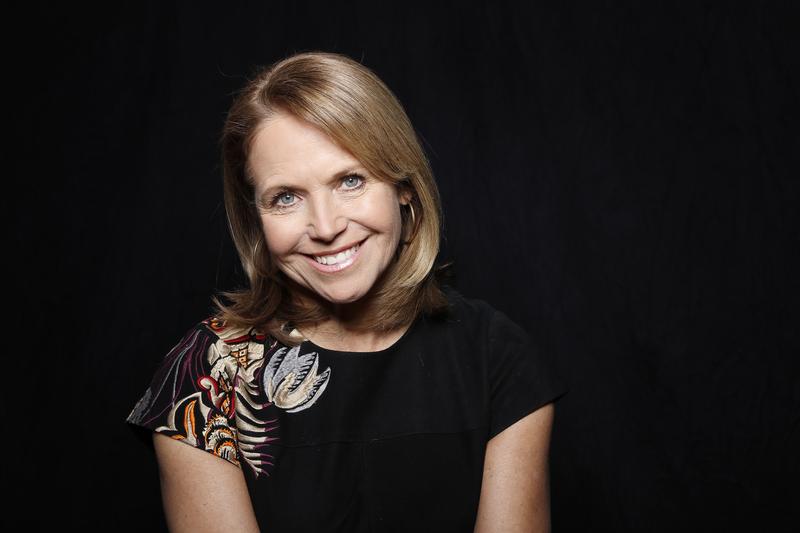 Transcript
KATIE COURIC: In six hours my life went from complete contentment to complete chaos. And that period of hearing, refusing to accept, accepting, you know, preparing, you know the grief started there.
This is Death, Sex & Money.
The show from WNYC about the things we think about a lot...and need to talk about more.
I'm Anna Sale.
Katie Couric was 41 when her husband died of colon cancer. She was back in front of the Today Show cameras a month later.
Matt Lauer: I'm Matt Lauer and nothing makes me happier than to say, along with Katie Couric, we missed you. Welcome back.
KC: Thank you Matt, for all your support. I just wanted to say a few things about my absence. Many of you know that I lost my husband, Jay Monahan, my loving and beloved husband, last month after a courageous battle with colon cancer...
AS: I just re-watched your first broadcast after his death, when you returned to the Today Show. Have you watched that recently?

KC: No, but I remember it. I can tell you everything about it. And I - and I remember - I remember what the sentiment was, about so many people going through this similar experience and it does put you in an alternate universe.
KC: For all of you who may be struggling with a life-threatening disease right now and wondering how the world can keep going, business as usual, just know that my heart goes out to you.
KC: It's almost this underground society in a way and I wanted to reach out to those people and say, I'm in the land of the living but I know what it's like to be in the land of the almost dead, or the land of the dying.
Katie's husband, Jay, died nearly twenty years ago now. She was a single mom to her two daughters for sixteen years. She married her second husband, John Molner, in 2014.
KC: It's funny because both of them are John Pauls. He's John Paul Molner and Jay was John Paul Monahan. I thought about if I ever get a tattoo I would get a "JPM" on my ass.

AS: [Laughs]

KC: And I actually don't like needles or pain so I probably will never do it anyway. But I thought if I did... Anyway, what were we talking about, Anna?

AS: This is sort of a big question, but I'm wondering, how does marriage feel different for you at this stage of your life after spending so many years unmarried?

KC: Well I think it's - it's um, you know obviously I'm in a different phase of my life. So it's a little - I mean I think it's building a life together but in a different way, under different circumstances. You know, the horizon isn't quite as far as it was when I married Jay. You know, we had children together. Our careers were kind of growing together. I was a local news reporter in Washington when I met him. He was a young associate at a very, you know, fine law firm in Washington. And so we just had, you know, the whole world before us. We had never bought a house together. It was sort of these firsts that were very exciting, but also a lot of challenges because suddenly I catapulted into this job, which I never imagined in a million years I would get. All of a sudden I was on a magazine cover. It was like what?! This is insane. I think that was hard for Jay and it was hard for me and it was hard for us to kind of wrap our heads around and deal with. And no matter what, I think it is harder for men, a little bit, to suddenly feel like they're in someone else's shadow. And Jay was a very proud, you know hugely intelligent and it wasn't like he liked to be in the background. He liked the spotlight too.
When Katie got the Today Show job, she was 34 years old, and pregnant with their first daughter, Ellie. She and Jay had their second child, Carrie, four years later.
KC: My hours on the Today Show really afforded me a lot of time with my girls. So, you know, I could get home most days around 1 o'clock. I remember Jane Pauley once saying that the Today Show is the perfect job if you have children because, yes, you miss making them breakfast, that's for sure, and Jay used to get Ellie dressed and braid her hair, well maybe not braid it but try to comb her hair and walk her to school. Some of my favorite photos are with Jay, and Ellie has her little backpack on and they're walking to school together and he's making sure she doesn't step on the cracks. And then of course he got sick.

At first it was the diagnosis that really came completely out of the blue, and I remember everything about that day. And then Jay was sick for nine months and that was excruciating. And, you know, I mean you can ask me anything about it but it's just - it is so, it is so painful.

AS: Did you have an opportunity to ever fall apart?

KC: Oh yeah. I fell apart all the time. But I fell apart when I was in my office. I really tried to not fall apart in front of Jay and I think, you know, looking back on it there's probably a lot of dishonesty, you know, about the whole - the whole thing. I did try to follow his lead. He wasn't one of those people who wanted to learn everything about his disease, his prognosis. And I think I overprotected him and, you know, when the cancer was all over his liver I tried to say, oh, they're just shadows and we can get it. And I encouraged the doctors to not tell him how incredibly bleak the prognosis was, because I think Jay was a little more of a, sort of darker and a little less glass half full, than I am. And I don't know I didn't want to ruin the time he had left with just hopelessness.

AS: Is there anything that you think back in that time of your life that you wish you'd done differently?

KC: Yeah, definitely. I wish that I had had the courage to really talk to my husband about the fact that he was probably gonna die and I just... it was too... it was too terrifying. It was too terrifying for me to admit. And I think I felt so protective of him and you know that wasn't really - that wasn't really my responsibility. You know? I think that prevented - that sort of cockeyed optimism prevented me from ever really, you know, saying goodbye.

AS: You were basically at the pinnacle of of broadcast journalism when you became a single mom but did having that responsibility of being the only one to provide, did that change the way you thought about what you needed to earn and the role that work needed to play in your life?

KC: I, first of all, was really, really happy that I had that job, because I think it's very important for women to be financially independent, because you never know what's going to happen. And I thought that if I had stopped when I was pregnant with Ellie and decided I was gonna, you know, be a stay at home mom—which I have a lot of respect for stay at home moms, but I don't think it's a great, necessarily, insurance policy for, you know, unforeseen events. And I had to adjust. And in some ways embrace a new normal because my daughters were six and two.

AS: How did it work? What was your child care situation?

KC: I had a fantastic caregiver/wife/co-parent. You know the words that exist don't really seem to, you know, I think do justice to everything that Lori Beth—who I hired—did for me and for my girls. I remember she taught Carrie to recite "My Life is Like a Loaded Gun" by Emily Dickinson when Carrie was like four years old. And she did—[AS: laughing]—so funny. No, but it was great, you know, and and I just couldn't have done it without her. A lot of times she was the bad cop. I remember she walked out - walked down the street when Ellie and her teenage friends were, you know, going somewhere looking really slutty and maybe a few were smoking cigarettes, and basically Lori Beth, you know, yanked Ellie and said, "Get back in here!" and sent her back in the apartment, and you know, she was just she was my co-parent. She really was in every, in every way.

AS: I like that. I like the weight by calling her a co-giver and a co-parent...and a wife.

KC: Yeah. Yeah. Well she she was wonderful. It was a weird story. You know, I hired her, and she later—about 6 months later—told me, this is a weird story, and I don't know if people listening to this believe in stuff. But she said that before I hired her, that she woke up in the middle of the night one night. And she saw a figure at the foot of her bed. I know you guys are probably thinking this is so weird...

AS: No, go there. Tell the story. I want to hear it. I want to hear it.

KC: She said one night she woke up in the middle of the night, like bolted up out of her bed, and there was this, like, this filmy figure at the foot of her bed. And the person said, "Please help Katie."

AS: Oh.

KC: This is crazy right? And so she got a call from her agency. She had another job, and I interviewed her. I think I met her at the playground. And then we went home, and I basically said, why don't you guys spend some time together? Because I thought, well, let's see how they hit it off, and so she went into Ellie's room and they were playing like computer games and she looked up at Ellie's bulletin board. And she said, not to Ellie, but to herself, "That's the person I saw."

AS: Was it a picture of Jay?

KC: It was a picture of Jay. And we, she told us this story and we were like [singing "Twilight Zone" theme] doo doo doo doo doo doo doo doo doo doo.
Coming up:
KC: I'm not very good at alone time and just sort of being.
Katie talks about growing older, and about resisting the pull to slow down.
KC: Maybe deep down inside I'm afraid of being still, and I'm afraid of just being alone, and just, um, having that time, because—I don't know what I'm afraid of, but that may be one of the reasons I stay so busy.
__
It was interesting putting together these two episodes back to back—last week's with Rachel Ward about being a widow in your 30s, and then this week with Katie Couric. Rachel's husband died suddenly. Katie's husband faded over several months. Rachel's been sorting out her grief for four years; Katie for nineteen.
And we heard from a lot more of you who are mourning after we put out Rachel's episode.
Doug: Hi Anna. I'm writing because I just listened to the latest podcast. I lost my wife in May to cancer, and I could relate a lot to what Rachel had to say.
This voice memo came from Doug, from outside Providence, Rhode Island.
Doug: I understood her thoughts on dating. It's weird. Everything is weird, really. Going to a store and back to school shopping for my kids, seeing a movie, walking on the beach. It's all weird. I can't explain it any other way than it's a feeling when you're leaving the house and you feel like you're leaving something but you just don't know what.
We've been getting responses about starting over after death alongside advice questions from people in their 20s, who are just beginning their adult lives. And a lot of the sentiments are the same. You feel awkward, and don't know what you're doing. Some of this gets easier as you live through it, but it also helps to ask for advice from someone who's been there.
People in your 20s: keep sending in your life advice questions. We've been getting a lot of emails but send in more voice memos! Record yourself with your voice memo app on your smartphone and send it to us, at deathsexmoney@wnyc.org.

We're collecting these questions for our live show at the Werk It women's podcasting festival in LA on October 4. Ticket information is on the Death, Sex & Money Facebook page. 2 Dope Queens and Another Round will also be doing live shows.
And on our next episode, I check in with Another Round co-host Tracy Clayton, who told us about her long list of New Year's resolutions back in January.
Tracy Clayton: You know at the top of the year, you've got, like, hope and energy. You know, it's, like the slate's being wiped clean, and now you can do anything. New year, new you! Um, I'm in a much different place today than I was at the top of the year.
__
This is Death, Sex & Money from WNYC. I'm Anna Sale.
Katie Couric was reported to be among the highest paid people on television while she was at the Today Show, and after she moved to CBS to anchor the evening news. But she still considers herself thrifty.
KC: You know, I could loosen the wallet a little bit, Anna, and spend more [laughing] but I also have that bag lady thing, and by the way, P.S. I hate ostentatious people. I hate people who have to kind of present themselves and remind you how wealthy they are. I find that so repulsive.

AS: What do you enjoy spending money on?

KC: Experiences. I'm very millennial that way. [AS: Laughing] I thought—really, I don't really love stuff that much. I do like clothes. I do like deals, though. I don't like spending a lot of money on things. I think it's really because I like value. And you know, it's not like I'm that that frugal. You know, I have a really nice apartment. I bought myself a house in East Hampton about 10 years ago. So it's not that I don't spend money. It's just that I want want to be smart about it.
Katie left her latest job, as an anchor for Yahoo News, last month. She's working on documentaries and hosts a podcast. Her husband, John, spent his career in finance and is slowing down now. That's another way her second marriage feels different from her first.
KC: I think, you know, we're both at a phase in our lives that, he's worked really hard and now he doesn't want to work so hard. I'm the crazy one who still wants to work hard because it's just in my DNA. But, you know, we think about things that we want to do together. And, you know, we have tussles and arguments sometimes, and I'm very bad. I always you know clam up and I'm very passive aggressive, and I -

AS: You are?

KC: I just don't talk. Well I'm not as much pa- I'm just sort of passive or aggressive probably. [AS: Laughing] And I just I kind of clam up and I give the silent treatment which is so bad and immature. And, so we kind of work things out in a more mature way. We have obviously our kids we care deeply about, but we don't have the day to day kind of structure of taking care of kids, which I actually I miss, because that does give your life a certain rhythm when you're taking care of kids.

AS: Was it intentional to wait to remarry until they were out of the house or nearly out of the house?

KC: No. I mean it wasn't it wasn't really intentional. You know I—I was very open to sort of finding a father figure for for them, finding a partner for me. It just happened that, you know, the relationships that I had while they were little weren't right for the long term. You know, I was sort of in some cases hoping they would be right. But for a variety of reasons they weren't. And I'm so glad I didn't make a mistake and get into a relationship that wouldn't have been good for them or good for me in the long run. I'm a very traditional person so I loved being married to Jay and I wanted to be married again. My parents were married for, gosh—gosh, 68 years I think? But I wish I had met John earlier. Now, he's got two kids and I've got two kids obviously. And I think blended families are tough, especially when they're younger, and in a way we skipped that step. You know, when kids are grown up it's a little less cohesive, you know.

AS: Do you feel like a stepmother?

KC: A stepmother? No. Not—I mean, I feel like I'm an additional adult figure in Allie and Henry's life and that, you know, sometimes it's hard for me because I'm the only parent, right, for Ellie and Carrie so I feel probably I overparent them. I feel very, very, very, connected to them because we're sort of the three musketeers and there's not like another person who's helping them. So, you know, Allie and Henry are lucky they have their mom and their dad. So I think, you know, I sometimes probably overemphasize my kids.
AS: I noticed that you had a milestone birthday this year and turned 60.

KC: I did.

AS: And has there been anything that's surprised you about being 60 that you didn't expect?

KC: I think how hard it's been actually for me to turn 60. I think for whatever reason, you know, who knows what goes on in our weird little heads. 60 has been a much tougher birthday for me than 50 was, and I don't know whether it's, you can rationalize that 50, "Well, ya know, half my life is over. And maybe I'll end up on the Smucker's jar for the Willard Scott birthday announcements." Which I don't think he even does anymore. But, you know, 60, I think you double that and you're like, you're pretty much guaranteed to be toast by then. So I think it's been a lot a lot harder and a little - little depressing for me. Although you would never know that from my Instagram.

AS: [Laughs] Is it a sense of running out of time?

KC: Yeah.

AS: Or is it a sense of being afraid of becoming irrelevant that comes with age?

KC: I think it's running out of time. I think it's not so much the irrelevant part because I think now there's so many ways to be relevant, whatever that means even. But I think it's sort of—I lost both my parents. I lost my mom two years ago, my dad, I lost in 2011. And I think it's the whole idea of not having parents, of being the oldest generation in your universe, and just feeling like the march of time is, is continuing and there's just not a whole hell of a lot you can do about that. And it's scary honestly.

AS: Yeah. You mentioned that this is not something that's evident in your Instagram feed. And I did notice looking at your Instagram, you appear to have the most fabulous life. You are either with your very good looking husband, your grown daughters, or with celebrities, or you're on a beach! [Laughs]

Katie Couric: Yeah, yeah. Well isn't this true. You know once in a while—my husband and I were talking about this—you know wouldn't it be great if if Instagram was more unvarnished? You know, you can show all these beautiful moments in your life and give people the impression that you're a fairly one-dimensional happy person, when the truth of the matter is it's much much more complicated than that. Wouldn't it be great to be able to share kind of shitty moments on Instagram. I know I did a selfie when I had the stomach flu a while ago and I was in my bed. I felt horrible. I had—

AS: You had just thrown up in the street! I read in the caption!

KC: Yeah, thrown up on the street in New York. I mean I had no make up on, it was—honestly it was not a pretty picture. And the story was so funny, 'cuz I had really - I had been at an event and I left early because I really wasn't feeling well, and I ran to the car and I realized I just wasn't gonna to make it, threw up all in the curb of the street. And these two girls were like, "Are you Katie Couric?" Like, right after I totally "blew lunch" as we used to say. [AS: laughing] And I remember thinking, oh god, this is just one of those really scary celebrity moments. And I didn't know what to do you know because I always try to be nice. And I was like, I'm so sorry! I'm throwing up. You know, who knows what they might have thought! And I think they were so like, oh my god, what do we do in this situation? That they felt the nicest thing to do was kind of to turn away and keep walking.

AS: Give you your privacy.

KC: Yeah exactly. Let me throw up in private. Yeah. It was a beautiful thing.
That's Katie Couric. Her podcast is called Katie Couric. She is the co-founder of Stand Up to Cancer, which she co-founded after her husband and older sister both died of cancer. It's raised more than $480 million for cancer research.
Death, Sex & Money is a listener-supported production of WNYC Studios in New York. I'm based at the Center for Investigative Reporting in Emeryville, CA. Our team includes Katie Bishop, Anabel Bacon, Emily Botein, and Andrew Dunn. Thanks to Destry Sibley and Northwest College in Powell, Wyoming, for their help with this episode.
The Reverend John Delore and Steve Lewis wrote our theme music.
I'm on twitter @annasale, the show is @deathsexmoney.
And don't forget—people in your 20s—we want your life advice questions! Send your emails and voice memos to us at deathsexmoney@wnyc.org.
AS: I want to thank you so much for your time. I know there are a lot of demands on it.

KC: It's been fun! This was much better than the therapy session I went to this morning.

AS: Yes! It's always good when you beat out the therapist.
I'm Anna Sale, and this is Death, Sex & Money from WNYC.
Copyright © 2019 New York Public Radio. All rights reserved. Visit our website terms of use at www.wnyc.org for further information.
Music Credits:
"Cases to Rest" by Blue Dot Sessions
,
"Basurera" by Blue Dot Sessions
,
"Waterbourne" by Blue Dot Sessions
,
"Slow Casino" by Blue Dot Sessions
,
"Are We Loose Yet" by Blue Dot Sessions
,
"Hickory Interlude" by Blue Dot Sessions