When Breast Cancer Pauses Life At 35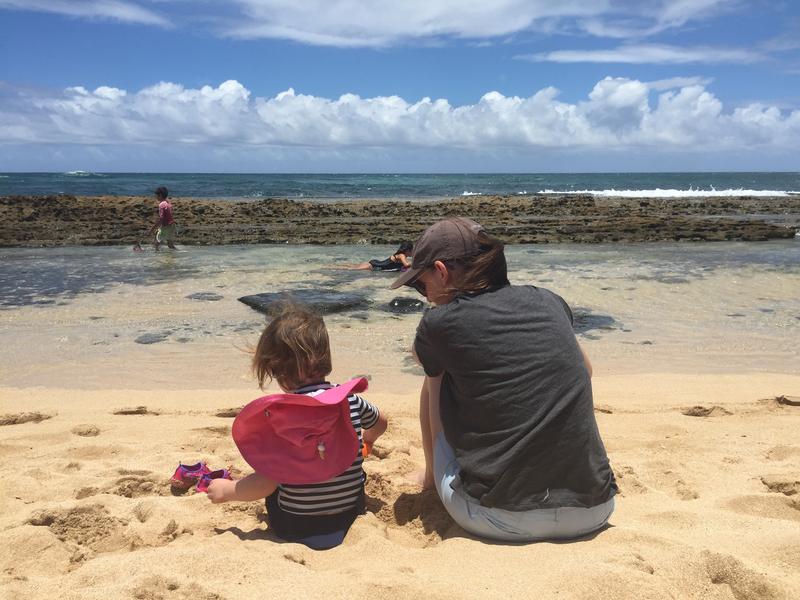 Transcript
KATE PICKERT: We would get in this elevator with other people and you, I would kind of watch to see if anyone hit six. So, you know, you would kind of look around, is anyone else here for chemo treatment? As people would get off the elevator, it was like who stayed on to go to six? Oh, okay. You're here for that.
This is Death, Sex & Money.
The show from WNYC about the things we think about a lot…
...and need to talk about more.
I'm Anna Sale.
Four years ago, I was visiting LA, and I had a beer with my friend Collin Campbell. He and I had worked together in New York, but then he moved to the West Coast. And it had been a while since we'd really caught up.
But I did know that he was supporting his wife through breast cancer treatment.
KP: I mean, Collin's a producer. So he sort of — kind of produced the cancer experience for me.
That's Kate Pickert, Collin's wife.
KP: I was 35 when I was diagnosed with breast cancer.
At the time of her diagnosis, Kate was a healthcare reporter for Time magazine. But she'd had very little experience being a patient. Her instinct as a journalist was to learn more. But when she went to look for a book that talked about the history of breast cancer and the ways we treat it, she couldn't find it.
KP: The fact that this book didn't exist and women didn't know this story is like, something went wrong.
So, she wrote that book. It's called Radical: The Science, Culture, and History of Breast Cancer in America.
Kate first noticed something was wrong in the summer of 2014, soon after she and Collin had moved to LA with their then-three year old daughter.
KP: I had some nipple discharge. Most women discover they have breast cancer because they find a lump. Um, the second most common way to find out is through a screening mammogram. Um, but nipple discharge was not something I had ever heard associated with breast cancer.

AS: And describe for me just to, when you noticed this discharge, like what did you notice?

KP: Yeah, I just noticed like a few spots kind of inside my bra. I was like, oh, what's that? Did I like spill something? Like what is that? And just like tiny spots. Like it wasn't that much. It was just a little, and, um, I had breastfed my daughter and I had stopped a while back. But you know, your, your breasts are kind of never the same, um, after you breastfeed a baby, as you know. Um, and so it didn't really concern me very much and I waited to go to the doctor about it.

AS: How long did you wait from when you first noticed?

KP: I think it was like three months. Um, maybe a little bit more. Yeah, it was a while. I think that, you know, I was a healthcare reporter at the time, but I was not someone who regularly went to the doctor. Um, I, I was, and I think it was in part because I was a healthcare reporter. I just, I just thought, you know... this is so unlikely that this is something bad. I, I look back on it and, and, and that was actually the, the really source of the extreme, I think fear and trauma I had right after my diagnosis was, I... waited to get this checked out, and my punishment is that I'm going to die. I'm going to destroy like my entire family, um, because of this dumb procrastination.
But Kate also knew the statistics. It's really rare to be diagnosed with breast cancer as young as she was. Only 4 percent of cases occur in women under 40. And Kate didn't have a history of breast cancer in her family.
When she finally went to the doctor, she found out she did have cancer ⁠— a really aggressive kind. But she had to wait on more tests to learn just how sick she was.
KP: There was this very fraught period of I guess like a week or two where I knew that I had an aggressive invasive cancer, but I didn't yet know if it had spread all over my body. Um, so I was going through this series of scans, so I had a bone scan to see if it was in my bones. I had an abdominal CT, um, to see if it had spread anywhere in my torso. And if you're diagnosed with stage four disease with metastatic breast cancer, um, it's possible to live quite a long time in some cases. But, um, in almost all cases, you will die of the disease ultimately. Um, and you will be in treatment for the rest of your life.

AS: How did you talk about the possibility of your death with with your husband, with Collin?

KP: I mean, this might sound weird, but we really talked about it kind of matter of factly. It was like, I might die. And he was like, you might. Um, and so we would really discuss it in a really honest way. Um, I remember um having a beer with my husband at a bar. Um and trying to get him to promise me that he would, you know, figure out a way to move on with his life and get married, get remarried. Um, and he said, I'm not going to promise that. And I said, I know it feels that way now, but like, it's really important to me that I know that you will, you know, be okay ultimately. And so this went on, it was raining I remember, and we were talking over beers at this bar and after like 45 minutes of this, he said, look, maybe I'll get remarried when Evie is grown up. Evie's our daughter. Um and I, that satisfied me. I was like, okay. You know, because when you think you might die, you're kind, like at least for me, I was just thinking how can I like influence, um, life after I'm dead? I think when you have cancer you feel like you have no control over anything. So I think I was also trying to exert some control. You know, I think my husband was trying to comfort me, but also knew that it was no use to try to tell me everything would be fine, um because we both knew, um, that it was possible that it would not be fine. So that was a really brutal period, um between finding out I had cancer but not knowing, um, if it was everywhere yet. It, it's, it was the hardest period of my life for sure.

AS: What time of year was it?

KP: It was December.

AS: The holidays.

KP: Yeah, the holidays. Yeah. Um, in the middle of it I went to San Francisco to spend Thanksgiving with my, um, in-laws. And you know, I think that after I was diagnosed with cancer, one experience I had was that everything in the world kind of seemed instantly like Technicolor. Like everything about being alive seemed kind of amazing. Colors, scenes, like moments with my daughter, moments with my family. I, I think that probably sounds a little cheesy, but like it was so instantaneous that I could, I was actually observing this emotion in myself. Like, oh, suddenly everything seems like I want more of this.
Not long after the holidays, Kate got some good news: her cancer was only in one breast and her lymph nodes. It wasn't anywhere else in her body. But she did have to start chemotherapy immediately, at UCLA.
KP: I would get there around eight o'clock in the morning and probably leave, um, around 4 PM.

AS: Where would you sit? What was the chair like?

KP: So they try to make you pretty comfortable, at least at UCLA, when you get chemotherapy. So, there were usually two rows of kind of pleather recliners facing outward, facing the windows. Um, it was this light filled, kind of airy space with gorgeous views. Um, we could see the Pacific Ocean from the floor. Uh, and um, and it was, it was interesting because you're there for this very terrible thing, and so to be in this kind of beautiful, um, environment while poison is being you know literally pumped into your body, um, was a really weird, uh, juxtaposition. And, uh, to be honest, I mean it was also kind of a nice time with my husband. And I guess that sounds weird, but it was just this quiet time for us to kind of just talk and be together. And oftentimes we would both be working on our laptops kind of in parallel, but there was something, um, there was something kind of peaceful, um, about being there with my husband. Um, you know, and to really kind of be in it together.

AS: So you have some privacy?

KP: A little bit, yeah. And, and there's sometimes chatter between the patients, but in general, everyone there is pretty self contained. I, I didn't really, I didn't ever talk to another patient uh while I was getting chemotherapy.

AS: Why do you think that is?

KP: I, I don't think that⁠ — this is I think different than a lot of cancer patients, but I did not have a strong desire to talk to other cancer patients while I was in treatment. I felt like, um, I wanted to talk to my husband about it and my family and some close friends. Um, but I— I didn't really enjoy the experience, when you're a cancer patient, of sort of giving your stats, which is something you kind of do on a regular basis, you know, people ask you the specifics of your diagnosis, uh what treatment you've had, or what treatment is coming up. And that was not an experience I enjoyed so much, so I did kind of keep to myself.
And there were other ways Kate wanted to keep her cancer diagnosis private, which meant, keeping it less visible.
Like, when she was starting chemo, her doctors recommended getting a IV port implanted in her chest to make it easier for nurses to administer chemo drugs.
But Kate knew she didn't want one.
KP: I did not want to get a port in my chest because I knew it would leave a scar. Um, and I knew that the scar would be visible if I was wearing like a v-neck shirt or a scoop t-shirt. Um, and I, I just so badly wanted to be able to return to normalcy afterward, um, that I really didn't want that reminder of the scar. But I, I had made an appointment to go get a port because everyone recommends it because the chemo drugs, um, can really destroy your veins if you just get a peripheral IV. Um, and while I was there, the, um, interventional, uh, radiologist, um, said, okay, we're going to put this port in. And I said, okay, can you put it low because I don't want the scar to show after. And he said, well, I can't put it that low. What are your concerns? And very few people kind of asked me that question, um, in terms of, you know, kind of like superficial things like this. And I told him what I was concerned about and he said, well, we can give you a picc line. A picc line is sort of, um, is also a catheter, but it can go on the the lower part of your bicep. Um, and instead of a long cut, um, it's just kind of, uh, a dot that the, that the tube goes in that runs through your veins to your heart to deliver the drugs. Um, so I ended up getting that instead. And I don't have a scar.

AS: When he said, what are your concerns, did that feel like, um, a nice invitation to articulate some things that you wouldn't have otherwise articulated to him? Or did it feel like he was questioning your wishes?

KP: No, it felt great. It felt like here is an MD who's busy, whose time is worth a lot of money, who's going to stop and pull up a stool and sit down and ask me what I wanted and what I was worried about. So I think it was a really great moment and I, um, I don't even remember the doctor's name, but I — I'll never forget him asking me that.
It was at a different doctor's appointment that Kate learned about another way she could keep her treatment private... something called "scalp cooling."
KP: Basically like freezing my head literally, um, while I underwent chemotherapy. So my hair follicles didn't get damaged and I didn't lose my hair. I remember walking out of the appointment and just saying to Collin, we're doing that. Like, I don't care what it costs. If I don't have to go bald, I really don't want to.

AS: What, do you know, were you surprised that that was such a thing that you knew so quickly and would, would pay any price to keep your hair?

KP: It just seemed obvious. I mean, she had told us I think that it was like a few thousand dollars, um, which is not nothing. And I — you know, we put it on a credit card like we did with many, many, um, expenses during my cancer treatment. I had great insurance, but we still incurred I think about $10,000 dollars um of expenses for various things, um, on, on credit cards. Yeah, I mean, I think that keeping my hair, uh, just felt like keeping myself, um that, that that might be possible. And so, you know, I didn't really look like a cancer patient. And so what that meant was that, you know, I just looked in the mirror and I could envision, you know, kind of a life beyond what I was experiencing at the moment.

AS: How do they, how do they work? Is it, is it just like your head is very, very cold?

KP: Yes. Um, they're sort of like you know those blue and white ice packs that they might give you in the hospital? Um, so they were kind of soft and they were filled with this white gel, um, and they kind of looked like, um, almost like a helmet that like a water polo player would wear.

AS: Uh huh.

KP: Um, and it looked so crazy. It looked nuts! And then the, the, I mean the, and you kinda, I kinda had to laugh at this, but like, you have to keep putting the caps on even after the infusion is over. So I would have to leave the infusion center wearing a cold cap. Um, and, um, on most of the chemo days, I had a very close friend that lived nearby and we used to go over to her house for dinner, um, after each infusion, and I would arrive looking like a water polo player, um, with this cold cap on and kind of wear it, you know, do the the final, like, 10 minutes or something, um, at her house. But yeah.

AS: How amazing that you had a place to go. That was like a safe place to eat dinner in a cold cap.

KP: Yeah. I mean I - Yeah, I mean I told her recently too, like that that I don't know that she fully, she and her husband who used to cook, um, I don't know that they fully understand how much that meant to me to have something to look forward to on those days. And somehow we like managed to have fun dinner parties and great conversation, um, you know, despite the fact that I arrived looking kind of like an alien and, you know, was in the middle of, you know, really aggressive cancer treatment.
Coming up… one other benefit of scalp cooling.
KP: I also knew that that would allow me to get through treatment without my daughter realizing that I was very sick. Um, and so that was extremely meaningful to me.
⁠—
Most cases of breast cancer — including Kate's — are not hereditary. But testing for mutations of breast cancer genes is on the rise. Especially among women who don't have a family history of cancer.
A recent study found that the rate of low-risk women opting to get BRCA testing, as it's known, rose 37 percent between 2004 and 2014. Testing positive does not mean you will get sick — but it does mean you have a higher risk of developing breast and ovarian cancer.
A listener named Amy does have a family history of cancer— her mother died from ovarian cancer at age 54. But she told us... that she still really wrestled with the decision of whether to get tested.
AMY: I really didn't want to know if there was any kind of genetic link between her ovarian cancer and what I might face. I didn't want to get sucked into the medical industrial complex of cancer screenings and fear and worry, and I didn't want to know how I was likely going to die
Amy is 45. And initially, she decided not to get tested. But then her aunt tested positive for a BRCA mutation, and Amy changed her mind, and then found out that she too is positive.
Amy had surgery to remove her ovaries, and now gets screenings for breast cancer every six months. And she's finding that the fear and worry she anticipated... is real.
AMY: I thought that these screenings would be routine after a while, but they haven't been that way...

And I also have this countdown clock in my head. My mom died at 54. That's less than nine years from now for me. And I think I'm going to be hearing that clock for the next nine years. Counting down and wondering if I'm going to die. I could get prophylactic breast surgery to have my breasts removed. But I really am afraid of losing another body part, of losing another part of what it means to me to be a woman, and to be a sexual being in the world.
You can read more of Amy's story in our weekly newsletter. You can find it and subscribe at deathsexmoney.org/newsletter.
On the next episode…
ANGELA: You know, you say to somebody, they're like, oh, what do you do for a living? Well, I'm in collections. Oh, you're one of those.
71 million Americans have debt in collections. And I talk with someone whose job it was… to get people to pay their overdue bills.
ANGELA: I actually, even today I still feel like I was serving a really important purpose.

AS: Which was what?

ANGELA: Was to recoup the funds into the economy that the banks and the lenders have let go to the wayside. The dirty little secret is that this debt that these people have... somebody has to pay for that.

__

This is Death, Sex & Money from WNYC. I'm Anna Sale.
Kate Pickert's daughter Evie was three when Kate found out she had breast cancer. Having a young kid heightened all the anxiety of her diagnosis.
KP: I remember saying to my dad, like, if I could just get Evie to kindergarten, then this whole thing would be maybe slightly less horrifying. Um, and he said, okay, well let's focus on that then. Let's focus on keeping you alive for two years. Like, that's an achievable goal. Um, I was also thinking, like, will I survive long enough that my daughter will remember me? I mean, the idea, having a daughter and dying and her never remembering you is, was just devastating, you know. At the same time, it was like, is that better? Then she won't have to go through the pain of, like, seeing me die. Like how do I, what, what's the least terrible scenario here that I can imagine?

AS: Did you tell her anything about your cancer?

KP: We didn't, we didn't tell her anything. Um, she knows now, she's eight now. Um, but no, I knew that it would affect her, um, and that she wouldn't brush it off and that she would take it really seriously, even as a three year old. And I also knew that there was no way I could explain the complexity of what was happening, um, to her at the time. And so we decided not to tell her anything.
And when it was time for Kate to have surgery⁠ — a double mastectomy and breast reconstruction⁠ — Kate and Collin decided to send Evie to stay with her grandparents for a few weeks.
KP: The night before surgery, um, I, uh... I had a couple drinks. Like by myself, like kind of sneaking into the kitchen, which is kind of a dumb thing to do. But my anxiety was, um, you know, incredibly ramped up.

AS: When you were preparing for your surgery, which you knew was going to change the way your, your body looked, um, for the rest of your life, how did you prepare for that?

KP: How can you prepare for that? I mean, there was no way to be prepared. Um, it was really hard to go to the hospital the morning of the surgery. We arrived at five o'clock in the morning, as you often do for, uh, surgery. And, um, you know, they, they started an IV, I changed into a gown, I had no-slip socks on. Um, you know, I was sitting in a small room, um, my plastic surgeon arrived and my, my breast surgeon arrived. Um, and I think the thing that was... the hardest moment I think was, like, lowering my hospital gown and the plastic surgeon drawing on my chest with that purple marker, um, that they do before plastic surgery um, and uh, you know, just realizing like this is it. Like one final look down, and that's it.

AS: Did you consider not having implants?

KP: Not really, although I wish I had given it more thought. Um, I don't feel that anyone pressured me, but there was definitely an assumption on the part of my healthcare providers that this was something that I would want. But I think it's also rooted in kind of how we think about young women, how we think about, um, a 30-something woman, um, as this... you know, a 30 something woman is many things. But I think there's an element of, you know, a 30-something woman is also a sexual object, and that this is, um, a way of kind of restoring that. Um, I think looking back, I mean, there's kind of like no point in having regrets, it's done now. But the reconstructive surgery, because of the techniques used, um, my pectoral muscles were kind of sliced up and stitched back together to create, like, pockets for the implants, and that left me afterward very weak. And I've regained a lot of my strength, um, in the years since, but I will never have, sort of the pectoral strength that I had before. So it's always going to be a little tricky for me to, like, pull down the hatchback on the back of my SUV. Um, like it's really hard for me to open a jar because I just don't have that strength. And I've often thought that back when I was making this decision, if someone had asked me, would you rather have breasts, or would you rather be strong? I don't know what I would have said! Um, I grew up on a farm. Like I am a person that really likes to work outside and so, that's a really important part of who I am. And there was kind of a mourning process of going through that. I remember going, um, for a post-op appointment with my plastic surgeon and saying like, okay, when can I do, like, downward dog again? Like, when can I, like will I, when will I be able to do like push-ups? Not that I was doing push-ups all the time, but I, I knew that my pectoral muscles had been affected. And he said, oh no, that's over. And um, I was like, what?

AS: That's over.

KP: Yeah, that's done.
In addition to both of her breasts, Kate had 22 lymph nodes removed. And the recovery after surgery was painful ⁠— more painful than she thought it would be.
KP: I think it was six days after my surgery. I was on all these opiates. I was like living in a recliner in the middle of my living room because to lay flat was so excruciating. Um, and the phone rang, and the person on the other end of the line was my oncologist, um who was calling to tell me that, um, a pathologist had sorted through all the tissue removed from my body during surgery, and found that all of the cancer was dead. Um, which meant that the chemotherapy and targeted intravenous drug treatment I got had worked. So I knew that my chances of surviving without a recurrence were very high, um, higher than 90 percent. Um, so it was the best piece of news I possibly could've gotten. It was a huge relief. But just also on a personal level, I thought, okay, if the cancer was all dead, then why did I just have this surgery, um —

AS: Yeah. I mean did the doctor know to mention that? I mean, is that, is that something that people ask?

KP: No, I - I think it's just, no, I don't think that they, I don't think doctors are yet sort of thinking about it in that way. They're just like, this is great news. You're gonna live. Um, and —

AS: Which is great news, it's fantastic news. Yeah.

KP: It's fantastic news. Sure. Yes. Um, but that occurred to me. And I thought, why am I going through what I'm going through right now then if it worked so well?

AS: And looking back at being diagnosed when you're 35, in your life and and in many people's lives, like your mid-thirties is this time of just like increasing momentum, kind of? Like, there was a lot happening in your life. You were a relatively new parent, you were working, you were married, you're — there's a lot just propelling you forward. Um, and your treatment happened during all of that. Um, did, did it feel like it sort of paused life, or did it feel like something you had to just fit in?

KP: It paused life. Um, yeah, I, I did feel like we had all this forward momentum. We had just moved to California, which we had wanted to do for years. I was in the middle of a really thriving career. We had this little kid, we had a great marriage, we had a lot of friends. It was a, it was a life full of a lot of life. Like there was so much, uh, happening all the time, you know. And, um, it did pause, and I was very cognizant of the pause because I saw all around me my friends continuing forward. Um, and uh... yeah, I mean, I kept working and, you know, my daughter didn't know and our relationship, you know, stayed great. But yeah, it did feel like that momentum just like [machine noise], it just kinda like powered down, um, and kind of paused.

AS: Right now in your daily life, how much are you aware of your mortality?

KP: Um... I think about recurrence of my breast cancer every day. Um, when I ended treatment, it was like 20 times a day. And now... it's been almost five years since my diagnosis. I think I'm down to, like, once a day I think about it. Um, about dying, about it coming back, about what that would be like. And... I think about it because it's an increasingly remote possibility, but it is a possibility. Um, I think one of the reasons that I think about it a lot is because a big part of the trauma of my diagnosis was not just the information and the news that I had cancer, but part of the trauma was really rooted in the pure shock of it. Um, it was so surprising to me, it was so shocking, um, that I think I never want to feel shocked like that again. And I think there's a part of me that feels like, if I think about it coming back, then I will never be shocked if it happens. And so it almost feels to me like to think about that is sort of protective. I mean I don't, I don't want it to recur cause I don't want to die either, but that, but the shock feels like something I can control.
That's Kate Pickert. Her book is called Radical: The Science, Culture, and History of Breast Cancer in America. She's been in remission for five years.
Death, Sex & Money is a listener-supported production of WNYC Studios in New York. I'm based at the studios of the investigative podcast Reveal in Emeryville, CA. Our team includes Katie Bishop, Anabel Bacon, Afi Yellow-Duke, Emily Botein, and Andrew Dunn.
The Reverend John Delore and Steve Lewis wrote our theme music.
I'm on Twitter @annasale, the show is @deathsexmoney on Facebook, Twitter, and Instagram.
Kate and Collin always planned to have another kid. Cancer put that on pause. But a couple of days after Kate got her diagnosis, they decided to do IVF, and froze some embryos.
KP: I don't know what we're going to do with them, but I'm really glad that they're there and that I still have that choice. And it, and in a weird way, whatever kid is there, like if, if we decide to use those embryos and have another kid, it sort of feels like the kid I was going to have anyway, because we kind of like froze time. So there's all kinds of of things I think about it that feel... quite miraculous.
I'm Anna Sale, and this is Death, Sex & Money from WNYC.
Copyright © 2019 New York Public Radio. All rights reserved. Visit our website terms of use at www.wnyc.org for further information. New York Public Radio transcripts are created on a rush deadline, often by contractors. This text may not be in its final form and may be updated or revised in the future. Accuracy and availability may vary. The authoritative record of New York Public Radio's programming is the audio record.
Music Credits:
"Remsen" by Blue Dot Sessions
,
"The Kennicott" by Blue Dot Sessions
,
"Clatl" by Blue Dot Sessions
,
"Paving Stones" by Blue Dot Sessions
,
"Thoughtless" by Blue Dot Sessions