Kate Bowler on Shame, Productivity, and Living with Chronic Pain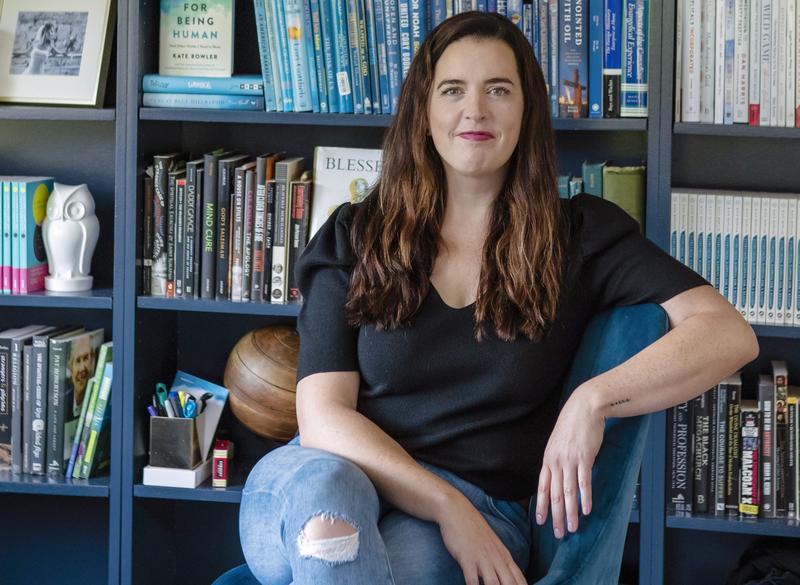 Transcript
Kate: It's totally shame.

Anna: Uh-huh

Kate: Like it's, something that was always in me that goes, oh, I guess a bad thing should probably happen to me. Like I didn't learn it later. Just felt weirdly true. And I mean like a large part of wanting to really hold that up to the light has informed a lot of my choices since is what a weird response.
(opening theme for Death, Sex & Money)
This is Death, Sex & Money.
The show from WNYC about the things we think about a lot....
....and need to talk about more.
I'm Anna Sale.
Kate Bowler is a best-selling author, professor of American religion at Duke, and host of the podcast Everything Happens. She also is a survivor of stage IV colon cancer, and she lives with chronic pain.
(end of opening theme for Death, Sex & Money)
Kate: When I wake up in the morning, I have a few minutes before I can tell how much pain I'm in. So the first question is always, do you take pain meds before it starts to get bad? How long, what's that runway? Basically, I feel like I'm trying to just like, scaffold my body as much as possible to get through the day. So I'm kind of riding right on the edge of what I can do.

Anna: Oh, so it's like when you're thinking about, because you, you won't know how it's gonna show up, so you are like, you treat with anticipation, looking ahead at your schedule and what the, what the demands on your body are gonna be.

Kate: Yes, I'll like bring a set of props to a play that I'm gonna have to act out , and I'm not sure when I, if I, my props will be enough.
(Tan Mountain – Blue Dot Sessions)
Kate is also incredibly industrious. She works and keeps working as a way of coping. Part of this comes from growing up in a largely Mennonite community in Canada and being the child of two academics. And then it was reinforced when she was diagnosed with a joint laxity disorder when she was in grad school in her 20s. Figuring out ways to keep working through her pain helped her feel like there was something she had control over.
(end of Tan Mountain – Blue Dot Sessions)
Kate: The most generous version is I treat myself like a behavioral experiment. But it's a terrible experiment because when I, if I do something slightly wrong, as in wrong, as in it creates more pain, it can be a five to seven day cycle of just like, uh, I just have one unbelievably solid cry, uh, a day because I can't, because I just, the performance kind of gets to the edge of what I can do. And then I'm like, okay, and we're back. And then I'm back in the game.

Anna: Uh-huh. And, um, who, who in your life besides you, knows the level of pain that you're experiencing day to day? Does anybody?

Kate: I, I try to tell my friends, um, I have improbably, I have three best friends. I just, uh, I've, I've often not lived in the place where I had my deepest friendship, so I am on the phone or, you know, that kind of thing a lot. And I have, so I try hard to tell someone who loves me that much semi-regularly, how much pain I'm in. But the truth is, I find it to be such a boring topic for, just like I hear how boring it is. Like right now, Anna, I already wanna apologize to you. I wanna be like, look, I know, I know you asked me, but this is actually extremely boring.

Anna: I'm not bored, just so you know, but I–

Kate: Well, I think you're bored by no one.

Anna: I think, I think that that feeling of boredom, like when I, I relate to that because when I hear myself complaining or saying something that is, I'm having difficulty with in a way that is the same words I've used before and it suggests that this is an unrelenting, unresolvable thing, I feel so sick of myself. Is that what you mean by boring? Like, can we just talk about something else?
(Sticktop – Blue Dot Sessions)
Kate: Well, yeah, I like that. It's a good idea. Yes, this is not new information to me is a, is a solid argument for what feels boring, I think. Um, it feels like complaining. I felt this way with cancer too, is just the, like, intractability of these problems. Like, if, if I thought it was gonna end, whoa, I'd be, I'd get in the weeds of it. But this, it feels like a forever problem.
(end of Sticktop – Blue Dot Sessions)
Anna: Do you remember, did you have, have this joint condition, was there a way that it manifested as a kid? Did it, did it make you feel like not athletic or not excited about kind of stretching and using your body in, in kind of kid ways?

Kate: Since I was little I was such an, I was such a feeler and would disappear into books easily, but I never really thought about my body very much in time and space. And that, that made it harder and harder when I started being someone who was in pain regularly. Because it was a lot, I think it took me a lot longer to notice I was in pain.

Anna: Mm-hmm. Did, um, do you remember grownups using the word clumsy about you?

Kate: I was very uncoordinated. Yes. I remember when I couldn't make time in the track and field events that we did as an elementary school, and then they eventually just like left one person behind with a timer. And I was like, huh. It feels like, it feels like I was supposed to have finished something by now.

Anna: Well, it makes me, my kid. My older kid is in elementary school and, and I'm aware of, like, it seems like the first way that social hierarchy is established in elementary school is with like, athleticism, and then there's, it's like the sorting of like personality and, and that like, you didn't know that your body worked differently. You just knew that you sort of, the word clumsy got thrown around and you, and you liked reading books.

Kate: Yeah. Let me just do something I'm good at where I'm seated and alone.

Anna: And, when did you start attending church regularly?

Kate: I was baptized in the United Church of Canada and I think I was going to church pretty regularly. I can always, I can mostly track my church participation by what animal I was in the nativity play every year. So whether I graduated from a sheep to a shepherd, from a shepherd to an angel. So yeah, I was, I've been going to church in one form or another all my life.

Anna: Do you have a, like when you think back about what you think you picked up as a, as a girl about, um, like the body and your body and the relationship to living in a body, what do you think were the first lessons that you picked up there?

Kate: Well, I didn't learn that my body as a girl not yet a woman. I hadn't, I only learned that it was probably a bad and embarrassing thing, something that needed double tank tops, something that needed, um, mod modesty bathing suits when I first, uh, started attending a Mennonite Bible camp that was heavily influenced by evangelicalism. And before that, my body was pretty neutral. I mean, going to a largely Mennonite church, Mennonites are these, as I'm sure you know, wonderfully, they love pacifism and simplicity and, uh, fixing things. And then I went to this summer camp where I got a very strict list of rules for what, how, how girls were to dress. And I looked at, I remember circling items with great, uh, interest and concern. Wait, spaghetti straps?

Anna: Like they weren't allowed, spaghetti straps?

Kate: Yes. Uh, and, and all the talk about, um, that men are visual and therefore that my body was something that had to be, um, hidden and policed in case it would be overwhelming, uh, for, for boys, was, was something I learned.So it was quite, um, I didn't realize that spiritual authority and bodily embarrassment were gonna come. Um, we're, we're gonna be introduced to me. It was the sense of a thousand small indications that. I was unacceptable in some way. A little bit too loud. Um, too unself-conscious, uh, too quick to give an opinion, if you can imagine. And, I remember this very sweet, um, enormous man who was the camp director, Merv. And uh, when I was 16, I sat him down, he was so nice to tolerate that. When I was like, I sat him down to have all kinds of questions about the limits of my spiritual authority, I said, look, I've been hearing things about all kinds of things I'm not allowed to do, and I have a lot of questions about you and your relationship with your wife, who was the, um, who was the camp nurse? And I was like, is she allowed to operate outside of your authority? Does she have to ask for your permission? And I wasn't being a dick. I was like, what are the boundaries on this thing? And, and I, I, I left, I left with, um, a sense that I would be allowed to do anything if it was indirect. But I felt the really deep embarrassment of not really knowing, just not really knowing enough about my body, about gender rules, about what was okay, whether I should feel embarrassed all the time. I was dating what, who's now my husband who had that Bible camp and we, I mean, we were taken aside for hand holding in the car ride up on, to the bible camp. I mean, stuff that like is, is, is insane to me now. It just, but I, I felt like, uh, I felt like oh man, I must be a really dangerous person if there's this much attention being paid.

Anna: And like where, it sounds like what you're describing is this sense of like really wanting someone to be clear about what the rules were with you because you were picking up on things and you were like, and, and that you were doing wrong, but it wasn't, it wasn't as explicit as, um, for you to sort of like, evaluate. Is that, is that what, how you're describing it? Just this like…

Kate: Yeah, yeah, yeah. I think when I moved from being an early teenager, like through the teenage years, I just felt deeply confused about whether my, yeah, what I was allowed to be proud of. Like, you're certainly not allowed to be pretty . It's the funny thing to say, but no, Mennonite is gonna be like, congratulations, you're very pretty, or like, because you're supposed to cultivate humility. And I was like, well gosh, am I, I'm looking at 17 Magazine and I really do wanna be pretty. And then I was in this religious environment where I wanted so much to belong but uh, in that version, I couldn't be that smart. I couldn't do what I like doing, which is to have spiritual opinions about everything, which is now my job, so good luck them. Um, but I felt like a lot of desire and a lot of confusion about where, what, whether, whether there was any acceptable direction for it to go in.
(Ojufemi – Blue Dot Sessions)
Anna: And how did you sort that out with your boyfriend at the time? Like did you, when you wanted to kiss each other, what happened? How would you talk about it?

Kate: We both followed all the rules. We were. Oh man. We loved rules. We just loved them, Anna.
The "rules" Kate and her boyfriend were trying to follow were from books written by Dr. James Dobson, the founder of the evangelical Christian group Focus on the Family.
(end of Ojufemi – Blue Dot Sessions)
Kate: All the Dr. Dobson books about, uh, they're these, they're these, um, evangelical instruction manuals that were popular in the, well, really popular in the nineties. And, uh, but had been a growing body of literature, frankly, since 1970s and, uh, out of Colorado Springs. And it somehow made its way to these subcultures in Manitoba. And so everybody's parent had a book. I'll never forget looking at a list, being given a list. Uh, that said for my, um, Christian high school group that said like, um, eye contact, fine. I was like, we had a lot of work to do if we're gonna move our way up from eye contact. And then it went to like the line now, uh, the line was peck kissing and underneath the line, oh boy. I learned a lot of things about it. I was like, mouth to what? No one had even told me about that. Toban and I, my now husband. We just like, we both remember all the lists, so just as a joke, um, for our anniversary this last year, you know, you can order these cute little maps that have, um, like a little heart over, like a black and white map of a place so it looks decorative. I, I got a map of where we went to high school, where we were dating and obviously had all these conflicted sexual experiences. And I just put a heart over our high school and then I put under the caption "hugged too long," because that was exactly what we were worried about.

Anna: Oh, so a lot of hugging. Wait. I wanna goback to when you think about like what you both really liked about rules. Like what, what felt good about that?

Kate: I think we felt like we were being really responsible. I mean, by high school, I was really invested in my faith and I, and it seemed like a very, like totalizing view. I am, I am this person in all parts of my life. I think what was frustrating about that though is humility or, or a modesty, sexual modesty in dating felt a lot like humility, which is also a Mennonite virtue. Good for me. But it felt a lot like embarrassment and shame and it didn't have to. I mean, I, I was really made fun of throughout my, gosh. I, I did not enjoy, uh, being a teenager that much. So by the, I just was trying to get through it all with the right number of rules and just try to keep a, a rough version of myself kind of intact. I'm not, it's funny because I'm not unhappy with the choices I made. But it, it, when I look back, I think, um, how very, um, how very innocent I was, which is to say making choices without knowledge. Honestly, Anna, this is partly why I'm like stumbling around talking to you is because I spent so spent most of my life being like, could we just not talk about sex and drinking? And I could just tell dumb stories at this party.

Anna: Yeah. Oh, I'm sorry to bring back those high school feelings. [laughing]

Kate: No, no, no. Everything's great. It's great. I had a great time. I loved it and it was wonderful. Thank you.
Kate and her boyfriend Toban stayed together through college, and they married a few months after she graduated. She was 22.
Kate: Honestly, I was so, I was really relieved to get married. It was so nice to have a, a really steadying friend and you know, also a person I thought was very hot, but like it was really nice to have someone to feel like, okay, we can grow up together. Like, we got this.

Anna: Mm-hmm. Yeah. Like a teammate.

Kate: Yeah. But, um, I really liked it . It felt like then my life was my own in a way. I, and I almost immediately, I started making choices that no one would have agreed with. I didn't take my husband's last name, which was not a popular choice, and then, and about a year later, moved away so I could go to an elite school and be fancy in a way I felt like I had to apologize for before.

Anna: Uhhuh, was it important to you to wait to be married before you had sex?

Kate: Yeah, yeah. I'm not, I wasn't the person who like handed out pamphlets about it, but yeah, it was. And not to be like, and do you regret it, but I really, I really don't regret it. Uh, but it's certainly like a, it's a high cost proposition.
(Golden Grass Powerdrive – Blue Dot Sessions)
Anna: What do you mean by that?

Kate: Hmm. Well. There's not a version in which my 22 year old self had like, other options, but I was just, uh, had known other options, but I was. I was pretty happy with my choice and I kind of stayed happy about it.
Coming up, how Kate made sense with a series of health challenges, including when she was diagnosed with cancer at 35.
Kate: There was no reason why I should have thought that I had cancer. There's no cancer in my family. But there was a, um, oh, I've done this before. Oh, I've been here before. Oh, I've let go before, that in simultaneously felt like, weirdly felt exactly like shame.
(end of Golden Grass Powerdrive – Blue Dot Sessions)
BREAK
This is Death, Sex & Money from WNYC. I'm Anna Sale.
After Kate Bowler got married, she went to divinity school at Yale, and started a PhD program at Duke University. Initially, she and her husband felt no rush to become parents.
Kate: I was pretty indifferent about it. I was like, well, I really, I really like my academic work and I like, I really enjoy the life I have. I can imagine doing a million more interesting things. But, uh, I didn't wanna miss the window on having on, on having a child. The second I started imagining being able to have a kid, then almost immediately we were struggling with infertility.

Anna: Mm-hmm. I remember a similar, um, like from all of my twenties, when I was in, when I was married for the first time, I was very clear I wasn't ready to become a parent. And then I remember when I was trying to get pregnant in my mid-thirties, I remember just the shock of like, I spent all this time and energy trying not to get pregnant and now?

Kate: No, totally.

Anna: Now I'm not in control of when I get pregnant? And I was pissed.

Kate: Yes, yes. That's such a good description. It was, uh, it was already two years– in my late twenties. I, I was, I was, my brain pauses before saying this sentence, because it sounds so dramatic. But I lost use of my arms for a couple years at the end of my twenties. And so I, I had already started feeling like my body was not exactly something I was going to get a lot of say over.

Anna: Uh-huh. Um, and when you say you lost the use of your arms, like what, what happened? Like what, on a day where your arms were not cooperating, how did they work?

Kate: In my mind, it happened so fast. Uh, it felt like just one day I was this type-B, prodigious person, and the next I had these limp arms. It started with like a strong kind of tingling, and then it became shooting pain down my arms and then they lost most, sort of power. So it was like having something that only had a really limited battery with super limited charge. There were times when I couldn't like turn a doorknob. Shaking people's hands was unbelievably awkward, because I was like, ow, ow, ow, ow, ow. Please, please. Um, yeah, on the worst days I couldn't, I couldn't make dinner, I couldn't wash my hair, and I couldn't work except with voice dictation, which at the time was like all that Dragon Soft program where you yell hello comma and it just comes out like hell. Space. Oh. Space.

Anna: How long did it take you to get information about what was happening?

Kate: Oh, it was years. I, I think, I went to, I mean, if you count all the people who interview you on the way in the, you know, the PA, the other doctor. The other doctor. And then finally when they let you see the person that you signed up for, I think I saw maybe a hundred people. I went to student health and they said it must be a yoga injury. And I thought, I don't think I'm athletic enough for for, for that diagnosis. And then they said, well, maybe it was, maybe it's because. Uh, eyes flitting down to my chest. You have a very large pantomiming breasts on the doctor's chest. And I was like, this is not, this can't possibly be an official diagnosis. Uh, and then I was diagnosed with thoracic outlet syndrome, which is what they diagnosed baseball players with, with a sort of, uh, pitching arm that, and wanted to take out my top rib.and then eventually they just, I agreed to a surgery where they would cut through the tendons in my arm. So I've got this huge long scar down from my elbow to my wrist from when they just kind of snippy, snipped. They thought, oh, that'll free up the nerve. And, um, yeah, none of it, i, I, none of it did anything except put me back in a significant pain spiral.

Anna: Mm-hmm. And were you doing that work of learning how to, to manage your arms while you also were beginning to try to get pregnant? Was that simultaneous?

Kate: Yeah, yeah, that's right. I, I had gotten just a couple glimmers on the horizon that maybe I wouldn't be disabled forever. Uh, and then, I found out I was pregnant at the hospital, getting ready to have a procedure that would help fix my arms. Because they go, you know what they do before surgeries? And they go, any chance he might be pregnant? And I was so sad. I was like, nope. And then they did a pregnancy test and came back and there was just a whole bunch of nurses and they were like, congratulations. And it, like, it was one of the happiest moments of my life. And so I like packed up all my stuff and went home. And then later that day I started miscarrying and it just, uh, I was so embarrassed. I was so embarrassed to have been so happy. Because I'd only known for two seconds and I was so angry with myself for being so hopeful, uh, for having skipped so far into the future and made all these plans and, uh, and then it unraveled so fast.
(Blue Wind Blow Low Cloud – Blue Dot Sessions)
Anna: When you thought about feeling embarrassed, was it because you were so happy in front of this like medical team? Is it because you were happy with your husband? Why were, who were you embarrassed to have shown your, your happiness to?

Kate: Embarrassment is like such an intense, uh, grab bag for me. I just, I'll. It's like the bad Mary Poppins bag. I'll put everything in it, you know, and I'll just, like, I can be embarrassed about everything, but I think it's just me. I fold in like an imploding star.
After her miscarriage, Kate finally got a diagnosis for the source of her pain and weakness in her arms, with the help of a physical therapist. Having a name for her joint condition didn't fix anything, though, and she had to reconsider some of her ideas about productivity, and confront the pain that came with that.
(end of Blue Wind Blow Low Cloud – Blue Dot Sessions)
Kate: I was very desperate. So there was a lot of, god help me, help me, help me. A lot of, uh, anger that I couldn't, I, that I had lost so much control over my life. I, I lost a lot of important relationships during that period because I was, you know, I'd just gotten this, I'd gotten my first job. It was a dream job. No one had that job. Uh, Duke professor, 29 years old. I mean, I thought I've made it to a place that no one I know has ever gotten to. And, uh, and then almost immediately was unable to do most of the work required to keep that job. And people around me, there's some, some lovely people, but like, geez, I, I lost a lot of, like, people who used to be proud of me. Mentors, people who'd helped get me that job, were like, wow, what a, like, what a disappointment. And they, the fact that they said it, I immediately folded into my heart and I was like, I'm such a disappointment. I wish I had been more mad, but I had mostly just like I had fully folded in, into like a deep horror and shame.

Anna: Yeah. Yeah. And I'm like aware that it's like, it was a, it was something you couldn't hide. You can't hide when your arms aren't working.

Kate: I had these like double arm casts. It was really, it was really quite something.

Anna:And in the moment, like when you were in your arm casts, did you, would you joke about it?

Kate: Oh, man. I was a song and dance number about, yeah. All yeah. Smile and deflect. Joke, deflect.

Anna: Uh-huh.

Kate: Nothing to see here. Everything's fine. I'd, I'd wanted so much to, to just be an intellectual. I could just go because having ideas has always been my escape. And it's like I'm the person who keeps my hand on the stove element forever. Just if, if I need to get, if I have to, I would do it. Then I was just the person who was always physically coming apart. And I, uh, I hated it. I hated it because it drew attention to my feeling like I was a failure to everybody. Uh, and I couldn't control who had that information. But also because when I'm in pain writing and thinking has always been the way I can just go on vacation. And so to have all three taken away was, my only coping skill was, uh, not coping at all, was just embarrassment.

Anna: You said keep your hand on the stove element. If you were told to, you mean you would keep your hand on a hot stove for as long as somebody told you to keep it there?

Kate: Yeah. Well, it's my, a long time ago, um, my dad said the key to being a historian is the ability to sit on your bum for a million hours at a time. And that's kind of been my attitude about everything is like, I will outlast everything. I will sit forever. I will work forever. I have this like treadmill or die attitude about ideas. And so, yeah, it's what I picture when I, when they do those pain tolerance tests and they interview people who can't experience pain, and they're like, if we put your hand on a stove element, how would you feel ? And I'd be like, nothing.

Anna: I will win your stove element contest. Thank you very much.

Kate: Exactly. Yeah. I would rather do everything by myself and hide my problems. But I have, like, I haven't been able to live like that for over a decade now. Like all my problems are obvious. All my problems are expensive. All my problems involve every single week, I spend at least 15 hours doing awful health stuff. So.

Anna: Is that right? Like 15 hours?

Kate: Yeah, it's, I am a, I'm a part-time job. Yeah.

Anna: Huh. It's interesting to me that that's not visible consuming you on Instagram, for example.

Kate: Yeah. Partly because I feel, uh, like, well, yeah, I, uh, it's funny too with, um, social media because in the moment in which I'm suffering, I would love it if everybody felt, I hate the lie that there's somewhere that everybody out there is having a, beautiful, effortlessly, perfect life. I hate it. But in the moment in which I'm suffering, all I can believe is that, uh, it's, it's gonna go on forever. So I'm like waging my own thing all the time and I can't like, uh, I can't even, I can't narrate it till it's over, know? I see people who like video their waiting for an MRI result. I'm like, I can't do it. I can't do it. I'm already just struggling not to be devastated, you know, by the life I have.
(Dust Digger Short – Blue Dot Sessions)
In addition to work and taking care of her health, that life includes raising a son with her husband. He's now in elementary school, and was a baby when Kate was diagnosed with cancer.
(end of Dust Digger Short – Blue Dot Sessions)
Kate: I used to have to do chemo every Wednesday, and I did it for two years. And Wednesdays were just purgatory. It was so awful. And you get hooked up to machines and you can feel really claustrophobic, and you, you have to, you have to let it happen. I can control all kinds of things about, um, like the music I listen to and the people I talk to, but then you have to let your body be a part of things that you're not picking or you wouldn't pick, like right before I get wheeled into surgery, is one of the scariest moments, it's always one of the scariest moments, and you can't try to crawl off the gurney when you're scared and they're putting a mask on you. But you have to just say, "Hey, I'm sorry," to the nurse beside you, "I know I just met you, but do you mind holding my hand?" And then you just, then you gotta let go.

Anna: Do you do that with God?

Kate: I guess I really run the gamut with my spiritual responses, which is, Hey, you horrible monster. This really seems like a design flaw. You're letting us all suffer like this. Explain hurricanes. There's a lot of that. Um, a um, when I'm in the middle of a huge pain wave, it's always just kind of like, save me, save me, save me, save me. Just be here. Please make this stop. It's just like simple pleading and also wanting to feel not alone. I also think, um, I feel so differently about God based on, you know, it's like being at a church service. I used to, uh, travel around to interview megachurch pastors and, and attend healing rallies and miracle chasing experiences. And I would feel the inherent tragedy of it all if I was sitting with, uh, you know, in the wheelchair section with people who are desperate for a miracle. And then very different if I was sitting near the choir and I thought, man, this is, this is super uplifting, and all of it feels very true. There's so many notes to that scale and, but almost none of it to me looks like resignation.

Anna: Huh. Um, and is, is remission a word you use for your relationship to cancer now?

Kate: You know, I haven't, I've been really always struggling with how to describe uh, having had chronic cancer for such a long time and then I've had some good scans and so I think every good scan, but they've been very up, they've been very mixed. And so I think that's what I've been, this is part of the breakdown of language after people are not just getting chemo. People like me have had immunotherapy where, you know, uh, the body is supposed to keep being able to fight cancer actively. So it's not like you just had cancer and then you cut it out. Your body is sort of an ongoing, um, battleground. So I haven't said remission, but I'm like, I'm getting there.

Anna: Yeah. In your life, when you think about moments that are kind of like sitting close to the choir, you know, we've spent a lot of time talking about the particulars of, of what it feels like when you're hurting. Um, and, and when you feel like, uh, relief from that or like joy, um, is it like, for you, is it like rest?

Kate: Oh, it's so, no, I'm just like emotional. I'm emotional all the time about stuff that, sorry, gets me so upset, but like, oh, it's so like, I get so overwhelmed. But like, I still cry when the plane lands. Because I didn't think I'd get to take another trip and I'm positive I'm the only person crying in like Pittsburgh. But like, I'm just like, I do get really like it. bubbles up and I'm like, Ugh, ugh. Thank you. Like, I'm no longer reliable at family dinners because I can, right after the prayer, I'm like, okay. And I have to like, excuse myself to go to the bathroom and like lean against a wall. Cause I'm just like, didn't think this would happen

Anna: Because you're crying, you're just like, so overcome.

Kate: I'm so happy. I'm so happy, but it just looks like I'm losing my everloving mind. But yeah, I get, uh, joy makes me super, sorry. Joy makes me super emotional.
(end theme for Death, Sex & Money)
That's Kate Bowler. Her interview podcast is called Everything Happens. Her latest book, just out last month, is called The Lives We Actually Have: 100 Blessings for Imperfect Days.
Death, Sex & Money is a listener-supported production of WNYC Studios in New York. This episode was produced by Afi Yellow-Duke. The rest of the team is Liliana Maria Percy Ruiz, Zoe Azulay, Lindsay Foster Thomas, and Andrew Dunn. Our intern is Baiz Hoen.
The Reverend John Delore and Steve Lewis wrote our theme music.
I'm on Instagram @annasalepics, that's P-I-C-S, and the show is @deathsexmoney on Twitter, Facebook, and Instagram.
Thanks to Jing-Yu Pan in New York for being a member of Death, Sex & Money and supporting us with a monthly donation. Join Jing-Yu and support what we do here by going to deathsexmoney.org/donate.
And as I said, Kate does interviews on her podcast too, and I have to tell you, I do love conversations with fellow interviewers for funny observations like this:
Kate: You know, I ask questions all the time, and I'm so jumpy. And you're just like, "La la la la, and now we'll walk to the edge… of this… and then I'll ask it." I love it.
I'm Anna Sale, and this is Death, Sex & Money from WNYC.
(end of end theme for Death, Sex & Money)
Copyright © 2023 New York Public Radio. All rights reserved. Visit our website terms of use at www.wnyc.org for further information.
Music Credits:
"Tan Mountain" by Blue Dot Sessions
,
"Sticktop" by Blue Dot Sessions
,
"Ojufemi" by Blue Dot Sessions
,
"Golden Grass Powerdrive" by Blue Dot Sessions
,
"Blue Wind Blow Low Cloud" by Blue Dot Sessions
,
"Dust Digger Short" by Blue Dot Sessions