Joy Williams' Public Breakup and Private Grief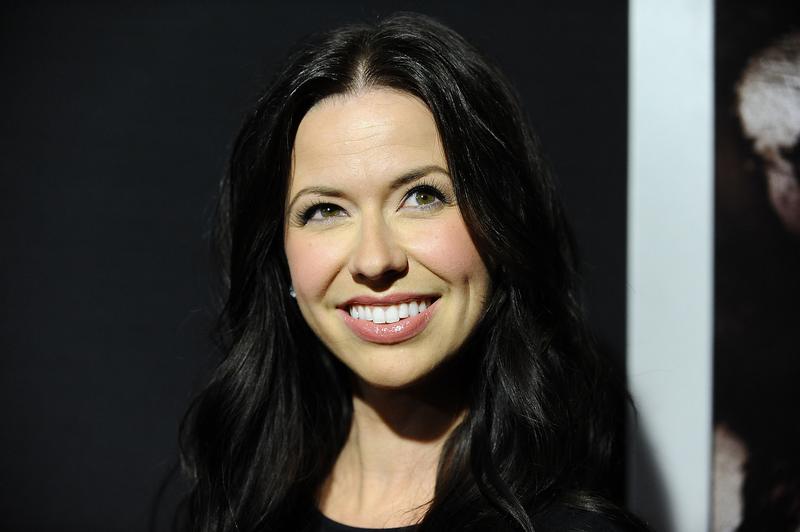 Transcript
Hi. This is Anna, and before we start, I need to share some sad news with you. In our siblings episode, you met Alix Sugarman and her twin Katie, who had cerebral palsy and was quadriplegic.
Alix got in touch to tell us that her sister Katie died early this month. Katie had a heart attack, she was taken to the hospital and put on life support, but her condition continued to deteriorate.
Katie was an organ donor, and her body -- which she could feel so confined by -- helped save the lives of five people, including two children, the family was told.
It was a privilege to meet Katie and to capture her honesty and acerbic sense of humor on tape. I've heard from many of you who connected to some part of their story as sisters.
And Alix told me that hearing from you now, might help. So if you have a reflection to share, email us a note or send a voice memo to deathsexmoney@wnyc.org, and we will share it with Alix and her family.
Rest in peace, Katie.
Now, here's the latest episode.
JW: I used to clean before I would song write. It was sort of like a way of ordering my inner world. But life doesn't work that way.
This is Death, Sex & Money.
The show from WNYC about the things we think about a lot…
…and need to talk about more.
I'm Anna Sale.
Joy Williams is most famous for being half of the Civil Wars -- the folk rock duo known for their spare ballads and timeless roots music. But when she was 18, Joy had a different sound. Her first album had that early-2000s pop sheen, and it was all all about God.

[SONG: "It's All Good"]
I've got the love of my Lord
and I should (I should)
Trust when I don't understand
'Cause even when it seems that it's all bad
It's All Good
JW: I was like full on in that.
Joy's first four albums were Contemporary Christian music.
JW: You know you can find that on YouTube and it' s-- You know, for me it's almost like if you were to have a high school yearbook...like video taped...like if everybody had that, that's what this feels like to me. You know it's like you look back and you go,"'Oh my g-- What was I doing with my hair?" And like. "Wh-- really? Really though? That sparkle tank top?"
Joy grew up at Christian family camps. Her dad ran a religious retreat center in California.
JW: There were, you know, group dinners offered, and hiking trails, and rock climbing, and ropes courses. And I worked at the daycare when the kids would come for all the family camps. I would work like 12 hours a day. You know. It was a very peaceful place to grow up.
Joy's dad had been an executive at a technology company before she was born, but he felt pulled back to the church.
JW: My dad left, like a seven-figure job to go clean toilets and lead dining room prayers at camps.
Joy started singing at those camps, and by her late teens and early 20s, she was touring the country as a Christian artist, scoring #1 singles on Billboard's Christian charts, and living in Nashville to be closer to her record label.
That's where she met her husband, at an Italian restaurant. Her friends encouraged her to flirt with the charming waiter; she tried to demure.
JW: I think I was suspicious that somehow this wouldn't be an opportunity but rather some sort of like, temptation.

AS: Temptation, like a temptation...sex?

JW: Oh, just any kind of temptation.

AS: Ok.

JW: At that point it was like making out was a temptation. Like I was-- You know. There was-- Pure as the driven snow would have kinda been the moniker at that point in time when we met. And um...So he brought appetizers out to us for free, which was very charming, and then he told me that he'd been interning and going to college and I had just come off of a tour and was pretty flushed considering my age. So at the end of the dinner I gave him a really big-- I gave him like a 120% tip because he was super cute. What I didn't know is that when I went to the bathroom, my girlfriends wrote my number on the back of my receipt and made it look like it was from me. So when I left...

AS: You're giving him a wad of cash with your phone number... [Laughs]

JW: I know! I'm like, God, I may as well have just given him like a like, "For a good time call this number" and like a room key. I was like-- I was mortified when I found out what they'd done. So I was like, "Oh dear God." Like "Please don't...please don't call me."
He did call her. And they married quickly.
JW: I was actually 21 and Nate was a week shy of 23 when we got married.
Nate was interning at a record company. He slowly moved up in the music business while Joy's started questioning whether Christian music was a good fit.
JW: Over time, I started going "Why?" And, "Really?" Some of that restrictive language and-- I felt like sometimes it was more about a culture than it was about actual, like, personal journey. And so, personally for me, I just felt like there was-- I had more questions. And so, I felt like the questions needed to be dealt with, um, outside of making music.
She started earning money by selling magazine advertisements and writing commercial jingles.
JW: I actually wrote the new theme song for Oscar Meyer.

AS: How does it go?

JW: Um [sings] "It doesn't get better than this." Thank you Oscar Meyer.
Then, in 2008, Joy met a musician named John Paul White at a country music, songwriting workshop.
JW: And it was, um...it was like meeting somebody that I had known for a really long time.
[SONG: "Barton Hollow"]
...Please forgive me father
Ain't going back to Barton Hollow
Devil gonna follow me e'er I go
Won't do me no good washing in the river
Can't no preacher man save my soul

Together, they formed the band The Civil Wars. Joy's husband Nate became their manager. Their first album went gold. They won four Grammys in three years.
JW: It was a very powerful creative connection that John Paul and I had.
[SONG: "Barton Hollow"]
Or that unmarked hundred grand?
AS: When you connect with someone creatively, who's a man, when you're both married...Did it if feel dangerous?

JW: Yeah it did. And Nate and I talked about that a lot. Not in the sense in, you know it-- Something can't cause you harm unless you allow it to, you know. But, it was more about, "How do we stay connected as a couple in order for that to not be something that get in the way or gets in the middle." And that was something that we worked really hard on in our marriage throughout the existence of the Civil Wars. And I think that-- A lot of...a lot of times that's what people, I think, are gravitated to on top of the music itself was this sort of fascination of, "But their not married, but there's this...there's this creative connect that's very strong." And um...And it was very strong. Until it wasn't.
In the midst of all of their commercial and critical success, tensions between Joy and John Paul were escalating. And in 2012, the Civil Wars abruptly cancelled all their shows in the middle of a European tour. On their Facebook page, the band cited: "Internal discord and irreconcilable differences of ambition."
[SONG: "Poison & Wine"]
...your mouth is poison, your mouth is wine

JW: I wanted one thing, and he didn't want that. Um and a professional difference of opinion can feel very personal.
That tension between a personal and professional relationship is something Joy and John Paul played up in the The Civil Wars music.
[SONG: "Poison & Wine"]
I don't love you, but I always will…
The video for this song, Poison & Wine, is ALL about longing with very sexy, and very close shots of them looking at each other.

[SONG: "Poison & Wine"]
...I always will…I always will.

AS: When you look at old music videos of the Civil Wars and how it captured the chemistry that you two had together, how does it feel now?

JW: [Sighs] I'm sad because we don't speak anymore. And, yeah, I feel like I'm looking at a ghost in a way. And I think rumors, rumors, rumors, so many rumors were...were, you know, circulated...

AS: Rumors of like romantic entanglements that blew up?

JW: Umm huh. Umm huh. Um you know when I-- Again, there were...there were tensions. It...it...it wasn't clear at times and um I think that's when you have to be so careful and that's when you have to ask yourself what is it that you truly want in life, and make decisions out of that. Um but that being said, that means that you can...you can lose. Saying yes to something means saying no to something else. Saying no to something means saying yes to something else. You have to weigh...you have to weigh those questions very deeply. And um...that happened for me.

AS: I want to pause and just say you know, I am...I am divorced and I know what it is to be asked to talk about a break up when you're the only one narrating and you're very aware that there's another side to it...

JW: Yeah. Yeah. I do want to be sensitive to that. I didn't go, you know, I didn't go through a relational divorce, but I went through a creative divorce. But it is difficult place to be in, trying to move forward in the public eye when there is a sense of entitlement that people have about something that is nuanced, way less dramatic than I think people would like to think, and difficult when I'm the only one sitting in this chair.

AS: How was your marriage in that moment?

JW: Rough. So rough. Um bedraggled. When the family business of, you know, of The Civil Wars when it collapsed, it collapsed on multiple fronts for me and for Nate and...And we almost gave up. We almost quit on each other. Um we didn't make any grand declarations that we would stay together. We kind of took that off the table. Um, I went to, you know, a therapist on my own, and then Nate and I went to couples therapy, and it was huge. It was huge for us. It was like...it was like, "Oh." You start doing reverse algebra and your realize, "This is how we got to this place. I was so busy trying to be perfect. You were so busy trying to hold it all together and be strong. And isn't it interesting what happens when we only try and give each other the best versions of ourselves."

AS: What's it like now? What's your marriage like now?

JW: God. I'm so much more in love with the man sitting across the dining room table than I have ever been. And I think I'm more loving towards myself. And...Man, we...I mean, god, do we know each other's ins and outs.
The Civil War's very public breakup was just one strain on Joy and Nate's marriage at the time.
Coming up, what happened when Joy leaned she was pregnant, just when she got news that her father had terminal cancer.
JW: I remember my dad asking if he could touch my pregnant belly, and us having to ask the doctors if it was okay because he'd had chemo. But he got to meet my son.
The Death, Sex & Money team just traveled to New Orleans to talk with people about the upcoming 10 year anniversary of Hurricane Katrina next month.
On the next episode, you'll meet some of them and hear their stories.
Person 1: When it gets hot I tend to have more dreams. And you're thinking to yourself 'I gotta make sure I have a tank full of gas.' I have to have these things in place in case I need to evacuate.

Person 2: I will never forget the debriefing session that I had with a volunteer psychatrist. And I'll never forget bawling my eyes out at the end of that.

Person 3: Definitely in like the two years after the storm, I was lashing out at all things at all times, but not knowing why. Like I was just really distr-- Like we used to go to New Orleans East and like light cars on fire because you could do that.

Person 4: The money was plentiful. You know, a lot was happening after Katrina. I mean, money slinging everywhere. You know everybody has FEMA checks, girl.

Person 5: I couldn't leave my parents. I wasn't leaving the city. I didn't know what opportunities were here. It was really just a...a...a situation of, you know, blaze your own trail or leave.
We're working on this now. It's all coming to you the week of August 17th.
--
This is Death, Sex & Money from WNYC. I'm Anna Sale.
When Joy Williams and her husband Nate found out she was pregnant with their son Miles, they kept it very quiet at first.
JW: Nate and I had lost two other children prior to that so I was very...I was very protective of the pregnancy with Miles. Like we didn't tell anybody about it until I was almost six months. We announced it on the Grammy-- the red carpet.

AS: Wow. So you have-- You'd had two previous miscarriages and then you announce a six month pregnancy on the red carpet of the Grammys?

JW: Yeah. Um there's always more than meets the eye isn't there, Anna?

AS: So as all this is happening in your professional life and public life, you're losing your father.

JW: Mmm hmm. [Laughs] Yeah. Um. I'd experienced loss, you know, um...in a way of, you know, being pregnant, but I didn't know what it would feel like to be pregnant and hear "The cancer's back." It was almost too much. You know? Like the band...I mean the band being under strain, being pregnant, and I was-- I had horrible...I had horrible um -- I can laugh about it now -- I had horrible morning sickness, which was not morning sickness, it was twenty four hours a day. I couldn't stand up without projectile or having the inclination to do so. And I found out...Nate and I found out we were pregnant 2 days into what was like a fifty-city tour. So I learned how to not projectile on stage. Which is really funny when you talk to other female musicians. They are like, "You too?! Me too!" [Laughs] We are bad asses, women by the way...

AS: Do you just hold it? What do you do?

JW: You literally have this instinct of like, "This cannot happen. This will not happen." I didn't have it...It's not like I even had a band. I couldn't be like, hey you take a long drum solo. I'm gonna go find a bucket. It was like John Paul and me on stage. So you just literally go-- You learned in between phases to swallow accordingly um...But yeah, there's was just a-- There was-- I just felt like there was so much happening at the same time that it was all I could do to stay present.

And when we were off the road, I would go fly...and Nate and I would go fly and see my dad. My husband, Nate, would give my dad haircuts in the hospital. We would read to each other. We would sit. There was just so much sitting in that moment. It's like you're-- There is so much birth analogy in relation to death. All the waiting. And the, "When is this going to happen?" and "How is this going to go?" And...um, "I'm so scared." But I want...but I want him-- I want my dad to be out of pain. Um and then they-- he...he lost his power of speech. And all he could do is blink. And so I...I started singing him the songs that I'd been writing. And um...and we made a joke of like, "Blink twice if you like it and blink once if you don't."

AS: What song did he really like?

JW: He uh...He loved a song I wrote called "Welcome Home" and um..."From This Valley," which was a song that John Paul and I wrote. And uh...And I would sing that to him. I sang that...I sang that to him many times.

[SONG: "From This Valley" (solo version)]
Oh won't you take me from this valley
To that mountain high above
Oh I will pray, pray, pray till I see your smiling face
I will pray, pray to the one that I love
JW: You know it ended up being part of the memorial service.

I miss him. Yeah. And, my parents and I don't agree, or didn't agree on everything, but that was also what made our relationship really rich and still does with my mom. Being with my dad through the process of his passing through, as I like to say, really did, I don't know...While it untethered me I feel like it also rooted me back in a way, to the things that matter the most to me.
[SONG: "From This Valley" (solo version)]
Oh won't you take me from this valley
To that mountain high above
Oh I will pray, pray, pray till I see your smiling face
I will pray, pray to the one that I love
Oh I will pray, pray, pray till I see your smiling face
I will pray, pray to the one that I love
Musician Joy Williams. Her solo album, Venus, was released last month.
Death Sex and Money is a production of WNYC. The team includes Katie Bishop, Emily Botein, James Ramsay, Rachel Aronoff, Benjamin Franklin and Joe Plourde.
Special thanks to Daniel Guillemette for his help with this episode.
The Reverend John Delore and Steve Lewis wrote our theme music.
I'm on twitter @annasale, the show is @deathsexmoney.
The next time you hear from me during the week of August 17, I'll be married...Very exciting.
You can keep in touch until then by signing up for our weekly newsletter--that's at deathsexmoney.org/newsletter. And you can also email us anytime at deathsexmoney@wnyc.org.
One last lesson from Joy Williams' father: If you're going to baptize your daughter in the Pacific Ocean, just make sure you keep your eyes on the waves coming in.
JW: The joke that we've always had was, my dad's voice like went up an octave from the Pacific Ocean water that had just crept ever so slightly up. So it was like, "I baptize you in the name of the fahhhhhther and the son and the..." [Laughs] And then, I laughed and we laughed and we fell in the water and that was like my favorite.
I'm Anna Sale, and this is Death, Sex & Money from WNYC.
Copyright © 2019 New York Public Radio. All rights reserved. Visit our website terms of use at www.wnyc.org for further information.