José Andrés Googled 'How To Be A Father'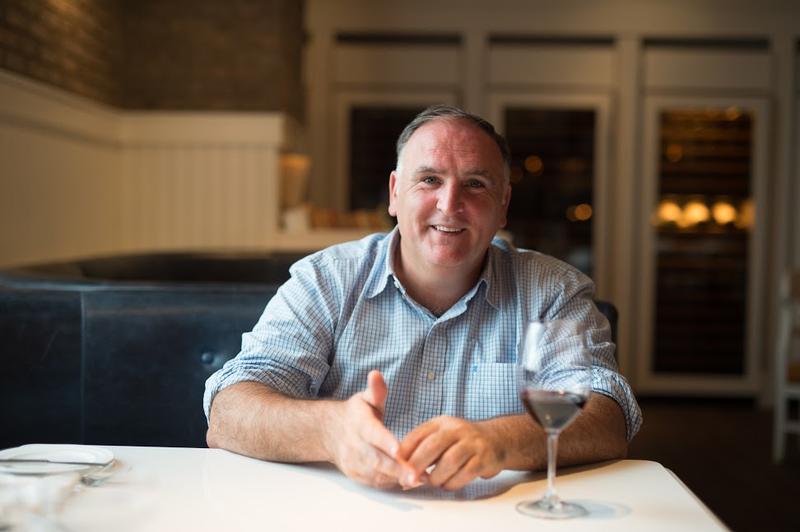 Transcript
José Andrés: Always I had very clear that as I move in life, that at the same time I will find the time to help others that maybe didn't buy the same lottery ticket I bought.
This is Death, Sex & Money.
The show from WNYC about the things we think about a lot...
...and need to talk about more.
I'm Anna Sale.
José Andrés is the chef credited with making tapas famous on this side of the Atlantic. He moved to the U.S. from Spain and opened his first restaurant in Washington D.C. by the time he was 23 years old.
Today, José is just as well-known for his humanitarian work as he is for his cooking.
JA: We are about, about to be serving our two millionth meal!
He set up emergency kitchens after the earthquake in Haiti and in Puerto Rico after Hurricane Maria while still running his more than two dozen restaurants, including one that's been awarded two Michelin stars.
JA: There is where I want to be an artist and there we feed the few, but at the end feeding the many and feeding the few is not really so different one from each other.

AS: You have seen suffering very close up as part of your work with philanthropy and service, and then you are also in these very rarefied elite environments in Washington and other places. Does it ever feel uncomfortable or jarring to come back home to Washington and to be surrounded by wealth?

JA: Hm. Um, yep. Um, you know, you don't need to go to an African country, uh in Washington, D.C., we have neighborhoods where people and children sometimes go hungry. And that's America, 21st century. And you go to a place like Haiti, there you see what real need is and especially after the earthquake that happened. So those are the moments that you say, I think the new American dream should be to try to work hard to provide for the others that you don't know. Success cannot only be about I the person, but success should be always about we the people, and moving everybody along. I have a hard time believing that I'm gonna have successful restaurants and then two, three streets down the road I have families that don't know how to feed their children. That's not success.
José has thought a lot about the American dream. He became a U.S. citizen in 2013, 23 years after he immigrated from Spain. At the time, he exclaimed to the Washington Post, "I feel like a virgin—in a good way," and said that immigrants "given the right opportunity like I was given—we can have a positive impact in this amazing country."
José grew up in a village in the hills outside of Barcelona. That's where he first learned to cook, from his parents.
JA: Our kitchen was very small, I will say small for a family of five, sorry six, and I guess that we will only be able to be like three people at most in the kitchen.

AS: Oh really you couldn't all fit?

JA: Well we could be four but not, very small. But what I remember was all the smells and aromas that always came out from the kitchen.

AS: You have three brothers?

JA: Three brothers. I am the big boy, the first one.

AS: The oldest.

JA: The oldest.

AS: Did you feel like when you were growing up, were you treated like the first born son? Was there sort of a pressure on your shoulders?

JA: Yeah, I think always was pressure on my shoulders. Um, I think to this day when you are the oldest, uh you - you carry certain responsibility with that, it's not written anywhere, uh but I think everybody that is the first daughter or the first son we - we - we kind of have to grow up quickly because - because is moments in life that's necessary our leadership to protect our brothers or to push your mom and your dad to let you do the things they are trying to protect you from.

AS: Did you feel like you protected your little brothers?

JA: I - I think when I was young, yes, um you know my relationship with my mom was not a easy one. She had somehow hard childhood on her own. so I always felt I was there protecting my brothers when somehow the amazing love that my mother was able to give us somehow disappeared in certain moments.

AS: It sounds like you're sort of describing needing to sort of fill in some of the nurturing or the - the tenderness, which is not how I usually think of older brothers protecting their little brothers.

JA: Yeah and especially boys with boys right?

AS: Yeah.

JA: At the end every boy, every man has a very feminine side but what happens seems that society is trying to, you know, protect us from crying from looking weak. But my mother don't misunderstand me was a very genuine person, hard worker, she gave her life for us, working hard and always taking care of us. She kind of became a nurse already pregnant with my fourth brother because you know she saw the necessity of bringing an extra income home. So my mom was really a woman of determination, but sometimes life um - uh, make - made her in certain moments in the person she actually was not. And that's why maybe I had to have this kind of feeling like I had to be, yes, a little bit like a mother in some ways.

AS: When you think about your childhood, do you use the word - do you think of it as an abusive environment?

JA: Um. Yeah, in relationship with my mom probably. Um, but sometimes it's not physical itself, but also can be - can be used verbally or certain actions, but I believe everybody should try always in the moment you feel you are growing up to try and put yourself in the shoes of the other person, especially family, that is the people we don't choose. Um, we have a harder time understanding certain relationships with the people we don't choose, seems sometimes we are much more permissive with the people we choose, why? Because we chose them.
José moved out of his family home when he was 15. He'd never been a great student, and his dad thought he should learn a trade, so he enrolled José in culinary school.
JA: At the beginning I was coming from my little town into the heart of Barcelona, but this was almost like a one hour, one hour and a half trip, everyday almost three hours. And very quickly I kind of managed to say, "Why I don't rent a little bed here near the school and so I don't have to come back home?" You see to a degree I was already trying to to move away from a place I loved but the place I had the sense I had somehow to remove myself from if I wanted to become the person I needed to become.

AS: Hm. Did you live by yourself in a little room, or did you live with other people?

JA: Uh well it was this kind of situation where it was a little apartment with little rooms and you had your tiny room with your bed and a bathroom you share with others. But for me was just a place to go to sleep. My days would begin early in the school that will start at 8, but then by 10 I found this job in a nearby restaurant so I would began skipping classes without nobody knowing. Well the teachers knew but not my mother. I fail on cooking, on English, you can sense it why, and on accounting.

AS: You failed at cooking also? I just - that's the more surprising one.

JA: I failed cooking and at business which some people say I'm very good at, and at English too, so my goodness it's very funny that I, now people say how good a businessman I am, I cannot believe now I'm trying to express myself somehow in English and I cannot believe that people say I'm kind of actually a very good cook.

AS: Were you hanging out with, like were your friends older co-workers and older people during that time?

JA: Yeah, and it's so funny you're asking me about this because I got this summer job in a little town in the Mediterranean, north of Barcelona in the Catalonian region. I will go to work during summer, uh three, four months. So I, you know, I met this this waitress that she was older than me but she was working in a nearby discotheque and me, the only thing I did was giving her roses every day. And I would give her a rose and I gave her a rose. And I was in love with her. But my friend who was older and I guess had more life experience than me, he was into other games that is what young men and women do when they are young and their body's asking them for action and procreation. And so he broke my heart because I was too naive and too young and I was like, "Great! Why you didn't tell me before because I spent half of my salary buying roses to that woman, and I thought I was in love with her and she was in love with me." Me, I was used being the romantic one, and you were the effective, let's not waste time kind of guy.

AS: Wait I want to make sure I understand, so did your friend, your friend ended up with the woman who you were giving roses to?

JA: Yep.

AS: Uh huh.

JA: So I've not been a man of many women at all. I make a lot of friends but me I was always very - I don't know how to tell you, more interested in making friends than making uh finding lovers, and in life this has served me well quite frankly.
José never finished school—he found work in restaurants instead. When he was still a teenager, he was hired by Ferran Adria, one of Spain's most famous chefs. Then, José moved to the U.S. when he was 21 and worked in top kitchens in New York and California, before landing in Washington.
JA: When I moved to D.C. I was 23, I was outside - I was outside this restaurant in Adams Morgan and I saw that woman from Spain her name is Patricia, who few days before, I saw dancing beautiful flamenco with her arms up in the air like she was a tree in a very windy beautiful day. And that moment, that second I thought, "Well this is the woman I'm gonna be keep sending flowers for the rest of my life." This I had very clear, on that I had a very good eye, and here 25 years later here we are.

AS: Did you send her flowers, was that your first move?

JA: Oh yes, oh yeah I did send her flowers very quickly.
Coming up, José Andrés talks about learning to be a father to his three daughters.
JA: So I don't know before Google how dads did it.

AS: Wait, what have you Googled? What have you Googled about parenting?

JA: How to be a father.
--
Hey, it's Katie, one of the producers here at the show. And a little bit of business for you students and recent grads in our audience—we're looking for our next intern! Come spend the summer here in New York and help us make Death, Sex & Money. We've got a lot of big plans for after Anna gets back from parental leave, and we need all hands on deck to make them happen.
We especially want to encourage you to apply if you think the job isn't for you. If you're an older student who's trying to make a career switch, or if you're from a background that's underrepresented in the media industry, throw your hat in the ring.
The deadline is March 21st. You can also find a link to the application in the description of this episode, or on our Facebook page.
And speaking of jobs, we're still hearing from a lot of you about what happens when you lose one. We recently got a email from a listener named Stephanie. But it wasn't about her layoff. It was about her dad's. He's been out of work for two years.
STEPHANIE: At first my dad was hopeful to quickly get a new job, but as the time passes I can tell that he is losing hope.
Stephanie said that the stress of her dad's layoff has been extra hard, because it happened right as she was graduating from college.
STEPHANIE: My dad and I would commiserate about applying for jobs, preparing for interviews and negotiating salary. My lack of experience was what I was fighting, yet his overqualified resume was his biggest limiting factor.
And on the next episode…
STEPHANIE: Hey dad.

DAD: Hi peanut.
They talk about all of that...together.
STEPHANIE: I would be lying if I said I didn't feel some sort of guilt.

DAD: Well, you shouldn't feel guilty because you need to start your life and have your life be the best it can be.
--
This is Death, Sex & Money from WNYC. I'm Anna Sale.
In 2004, after a decade of running successful restaurants in D.C., José Andrés opened a restaurant across the Potomac, in Crystal City, Virginia.
He was in his mid-30s, married, a young father, and for the first time, he had a restaurant that was not doing well at all.
JA: And this is technically the first restaurant that really I put a big chunk of money, of my own money.

AS: Your own money.

JA: And we had a lot of problems, and the lawyers and our financial people very much at one moment they were saying, "Well, we - let's do chapter eleven, let's protect the business and yourselves."

AS: I - I mean thinking about the timing of that, like you you had young daughters, um, and your own money invested...

JA: And friends, friends that invested in the restaurant.

AS: So, how long did the period of uncertainty, of not knowing quite if you were gonna get out from under the debt, how long did that last?

JA: [Laughs] I think it lasted forever because, you know, at the end you can say they are investors, but they're not investors, they're your friends, and they believe in you. When you go bad and you are thinking like, forget about me, but man, you care about them and is not a lot you can do, you are - you are kind of in this moment of almost trauma of saying, "I'm letting my friends down and this cannot happen. I'm gonna work hard to make sure that one day my friends get their money back, and their investment back." I think that was a moment that I'm very proud of my partners and I, we we kind of said "You know what? We can save this." We kept Jaleo, we refinanced the debt, we refinanced the lease, and twelve plus years later, Jaleo in Crystal City, Virginia is doing very well. We didn't have to fire anybody, and quite frankly I can tell you many, many moments that I was very happy because real success, but I was so happy that we were able to fight that moment. We had a lot of enthusiasm and a lot of belief that we should try to pay the debt we had, and to this day this is one of the happiest accomplishments in my life.

AS: How did you try to teach your daughters about what success is or what hard work is, um kind of knowing that they were growing up in more comfort than you did?

JA: Well I mean, I don't know but don't you realize sometimes that you go through life and almost nothing comes with instructions?

AS: Uh huh. [Laughs] I have a two-year-old. I definitely feel that, yes.

JA: It's almost like, like I remember being there with my wife uh at Sibley Hospital having our first daughter, Carlota. And I was there uh, just waiting and helping her push and - and I'm waiting for this amazing moment seeing my daughter coming out and I think it's one of the first time I realize I barely learn how to be a grownup. I barely learn how to be a husband. And now I have to learn how to be a dad. And I think men somehow, I don't know what is, because we've been taught or because we don't know where to look for the information, maybe I have a feeling we have a harder time understanding what a dad should do and I've always felt kind of uh - uh somehow a failure because I have initiative for a lot of things and I have initiative to try to be a father but I fail miserably compared to the nurturing that my wife has been able to do. I felt sometimes I was like a puppet where my wife would have to tell me on the ear uh, "You should talk to your daughter about this and that because she would love to have a conversation with you about it." But if I didn't had that beautiful voice of my wife on my left and right ear, guiding me, uh, I don't think I will claim I've been a successful dad.

AS: She told you when you needed to step in?

JA: Often. Not how being a father in the sense of changing diapers, I was very good at changing diapers, that's technicalities I don't mind and I was good at it and I was proud of it but how to be a dad in the in the soul-nurturing way, in the - in the knowing when to say something, knowing when to smile, knowing when to put maybe a face of uh of - of - of seriousness, but you know, meanwhile me having my wife obviously, me next to her, uh always gave me a lot of comfort. Not like saying, "That's your problem." But watching her, about learning from her.

AS: When I think of what it is to be in a kitchen and part of a restaurant team, what your particular task is is very clear, it's a very concrete task, how you can achieve the goal. Um, and parenting is not like that.

JA: You never know what's the meaning of success. They grow up and one moment you are not the center of their universe anymore. Now we have a nineteen year old, a seventeen year old, where before everything was, "Let's do this and this and that with Daddy and Mommy." And now I feel like I'm competing and I'm competing with friends and I'm competing with other dads that takes them to with their friends to a hockey game and I don't even know the rules of hockey. And they have kind of a boyfriend, a boyfriend? And all of the sudden you feel like you know out of the game and it's other people that become the center of their universe, and I'm going through that process right now.
As José has been figuring out how to be a dad to his now almost-adult daughters, he's also still wrestling with his relationship to the family he grew up in. His father is still living in Spain but his mom died a few years ago.
JA: With my mom always the reason maybe I was away from home is because the relationship I had with her. You know when she passed away I cried and I cried with the regrets of what you wish had happened. I wish I had a better relationship, I wish I saw her more often, I wish I - I - I had deeper conversations with her, but didn't happen. And - and the only thing forever for me is why lately I tell more and more stories about her cooking, or the recipes I learned from her. Because at the end you always want to concentrate in the very good moments. The bad things that happen in our lives probably in many ways are more important than the good ones. But those we need to learn how to live with them, but make sure they don't become a weight that they don't let you to move forward. And you should make sure that those negative moments become part of your essence, to make sure that you don't repeat those same mistakes, and then put them away and forget about them. And concentrate in the very good moments and the moments in life that you really enjoy fully.
That's chef José Andrés. He has restaurants in Las Vegas, Los Angeles, Texas, Miami, Mexico City, the Bahamas and all over the D.C. area. But not in Washington's new Trump hotel. He famously pulled out of a deal there in 2015 after Donald Trump called Mexicans "rapists," which José said would make it too difficult to attract the right workers and customers to a Hispanic restaurant.
He has a new book out, about his service work in Puerto Rico. It's called We Fed An Island.
Death, Sex & Money is a listener-supported production of WNYC Studios in New York. I'm based at the studios of the investigative podcast Reveal in Emeryville, California. Our team includes Katie Bishop, Anabel Bacon, Stephanie Joyce, Joanna Solotaroff, Emily Botein, and Andrew Dunn.
The Reverend John Delore and Steve Lewis wrote our theme music.
I'm on Twitter @annasale, and you can find the show on Facebook, Twitter and Instagram @deathsexmoney.
José told me he went home to Spain for his mother's funeral. But usually, he skips them.
JA: I simply don't like funerals. I have other ways to honor the people. Me, one day, I pass away, I hope we'll do a big party, because that's what I would like. A party to celebrate life. Not to celebrate the death.
I'm Anna Sale and this is Death, Sex & Money from WNYC.
Copyright © 2019 New York Public Radio. All rights reserved. Visit our website terms of use at www.wnyc.org for further information.
Music Credits:
"Children of Lemuel" by Blue Dot Sessions
,
"Valantis Vespers" by Blue Dot Sessions
,
"Jat Poure" by Blue Dot Sessions
,
"Curious Case" by Blue Dot Sessions