John Green Thinks Adulthood is Underrated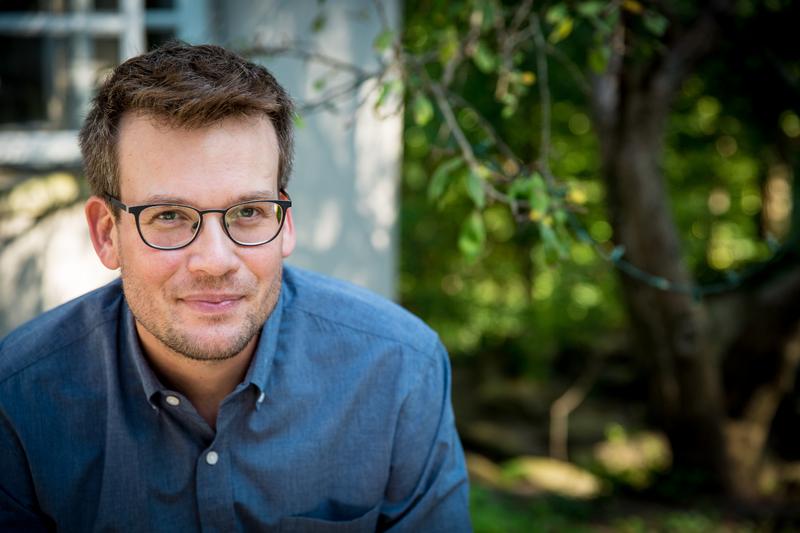 Transcript
ANNA SALE: Have you always been comfortable talking to people who are not your age?

JOHN GREEN: Um, I've always been comfortable talking to um, well... don't know how to answer that question honestly. I've never felt like I'm particularly good at talking to anyone I guess is the answer!
This is Death, Sex & Money.
The show from WNYC about the things we think about a lot...
And need to talk about more.
I'm Anna Sale.
Author John Green is 41, but he's built a career on his ability to connect with teenagers.
His best-known young adult novel is The Fault in Our Stars--a story about two teens, both dying of cancer, who fall in love.
Even before that book came out, he had a huge following of teenagers online. He reaches them where they already spend a lot of time...on Youtube.
JG [from YouTube]: Good morning Hank it's Wednesday, August 31…
Back in 2007, he and his brother Hank started an experiment where they posted weekly videos for each other...and soon, other people began to watch, too. Now, more than a million people subscribe to their channel, many of them teenage fans looking for advice, and a sense of community.
JG: So Hank, I want to address the people who have recently ended or will soon end their formal education and enter what is known as the real world. OK the first thing that you'll notice upon entering the real world is that it is neither more or less real than the previous worlds you have encountered.
When John was growing up in Orlando, he didn't feel like he had a real sense of community. He was close to his parents and to his younger brother Hank, but he also spent a lot of time alone with his thoughts, and his head wasn't always a comfortable place to be.
JG: I always understood that when I was a kid kind of intuitively that a big part of who I was was what I was thinking, and the feeling of not being able to choose those thoughts, not being able to decide, well that's an irrational worry, let's leave that one behind, not being able to reassure myself and not being able to be reassured by people who loved me and cared for me was really scary in—in part because it meant that my self was built on a foundation of sand on some level. It meant that there was no bedrock.
John was diagnosed with obsessive compulsive disorder in his twenties, but he struggled with anxiety long before that. When he was 14, he asked his parents to transfer him out of public school to a boarding school in Alabama.
JG: I was really struggling socially, was really struggling academically, I was a really poor student and it seemed to me like a—like a way out. Like a chance to reinvent myself, a chance to become a different person and not be stuck with all of the memories that everyone, you know, in my school had of me.

AS: Did you changed the way you dressed? Starting to change the way you presented yourself when you started boarding school?

JG: I did a little bit. When I was in public school I kind of wore like a trench coat, and I wore a lot of black, and then when I went to boarding school I tried to be more--I tried to transition from like The Cure to like The Grateful Dead, kind of [Anna: Uh-huh] throw more a hippie vibe, more like tie-dye shirts. It didn't really work, but I did give it a go. I mean I really was never remotely successful.

AS: Well, what do you mean what was not—how were you not successful in sort of casting that image?

JG: Well, for starters I did not particularly like The Grateful Dead [laughs] so, there was that problem. But also I'm not somebody who can convey like laid back and comfortable you know that's not the--that's not the vibe I give off.
When John graduated from high school in the mid-nineties, he went on to Kenyon College in Ohio, where he majored in English and religious studies….and planned to become an Episcopal priest.
JG: I didn't have a particularly wide understanding of possible careers, you know? Like I thought that I could be a professor or a lawyer or a doctor or a minister [laughs]. So, of those jobs minister seemed like the one that was like the best fit for me because I liked going to church and I was Episcopalian, I still am, and so...it was not very well thought out if I'm being honest.
John was accepted to divinity school, but before he started, he spent six months ministering to sick children at a hospital in Ohio.
JG: It was in Columbus, but I was living at the time in a little town called Mount Vernon, which was near where I went to college, and then I would kind of commute and hour and a half to Columbus every day.

AS: What was that work like for you?

JG: It was hard. It was tough. I had a lot of admirations for people who work in children hospitals for longer than 6 months because I couldn't it takes a certain kind of a fortitude that I didn't have.

AS: Were many of the children that you worked with, were they dying?

JG: Yeah. In a lot of cases they died um, in some cases they didn't, but as past of the job while you were on call--you'd have these 24 hour on call periods--and while you were on call you would get called to any serious trauma case. And so, sometimes that meant a kid had rolled over on their four wheeler and they were sick but they were going to be okay, and sometimes it meant that kid had rolled over on their four wheeler and they were going to die. And you know, all of my fancy ideas gleaned from theology about why bad things happen and why there's evil in the world... Like, all of those ideas meant very little to me, when it came to actually being—being with people in those situations.

AS: Do you have any memories of what—what would you do when you were driving home?

JG: You know it varied. A lot of the times I'd just listened to music and kind of scream along to it sometimes I would drive in silence. On difficult, you know, in the hard—I remember the hardest days, you know I would drive home and—and have to stop uh, a lot of times. I'd have to stop and just cry for a while, cry until I fell asleep and then wake up and drive back to my apartment. Most days I would drive home and take that time to separate myself from the hospital, and you know be in my—my real life but... some days that wasn't possible.
John decided divinity school was not going to be the right choice for him. He moved to Chicago without much of a plan...started writing his first novel...and got a day job at Booklist, a trade publication for librarians. But after a few years of that work, John was feeling stuck. For the first time, his anxiety and obsessive thoughts became debilitating.
JG: I had a really bad period of mental health in 2001 and I tried—I tried to quit my job and very generously my boss um, told me to go home for a couple weeks and see if I could um, recover in enough to return to work. But I'd been unwell for a long time, and I'd been getting worse for a long time, and it was one of those things where I didn't notice how desperate the situation was until, you know I was in real danger and I was, you know, not eating. And—yeah, I mean there was like a two or three week period where I consumed no calories except for in the form of Sprite, so that's not great like [laughs] I probably should have recognized a little earlier in that period that things were not uh, firing at all cylinders. But yeah, I mean it was uh, it was awful. It was awful. I wouldn't wish that on anybody.

AS: Did you say, "I'm sick" to your boss or did your—the people you worked with recognize that you were sick?

JG: Uh, the people that I worked recognized that there was something wrong but you know I needed—I'd already needed a lot of support [laughs]. So, I don't know that it looked from the outside like a crisis because I was still going to work, I was still getting my work done, I was still productive. But you know I—I didn't —I didn't accept that there was a problem until uh, I mean I did I knew—I knew that I was in bad shape but I didn't—I didn't accept kind of the scope of the size of the crisis until uh, one night I called my parents and I told them that I needed to uh not [sighs] not be alone and— sorry.

AS: It's okay.

JG: They—they were there in like 12 hours.

AS: It's good you made that phone call.

JG: Yea, I mean the uh—it is good. The —the—you know, the kindness involved on the part of my parents in that is uh, something I'll always be very grateful for. And then I went on this weird road trip with my dad. The craziest part about that trip was that we stopped in Indianapolis, a city where my dad was from but I had no relationship with, you know, I didn't think about Indianapolis one way or another. We stopped at Indianapolis at the Borders Bookstore downtown. I just remember walking around that bookstore and just thinking like my life has—I have no future, I'm never going to be able to get a handle on this, I'm never going to be okay, I'm never going to have any stability in my life, I'm too much of a fuck up, I'm too much of a disaster. Youu know, and now I live in Indianapolis and I...yeah. I think about that all the time. I think about that almost every day.
Coming up….John Green on writing a bestselling high school love story...even when he didn't have a lot to go on from his own life.
JG: I wanted to fall in love, I wanted to have long term relationship it just kept not working out you know, I—I think for a lot of reasons, maybe largely because like being 15, 16 years old is not particularly conducive to um, you know, stability.

_____

For the past few weeks, we've been collecting your stories about sex ed fails...the things you learned about sex when you were young...that you later found out were totally wrong.
This voice memo came in from a listener about a terrible sex ed class he had in high school...the instructor brought a boy up in front of the class...
And then he starts talking about how condoms prevent pregnancy 90% of the time, which isn't even true, it's more like 98% if you use them correctly and then he puts this boy on a table, like he has him lay down, and then out of nowhere he pulls out this cinderblock and he's dangling it over this boy's crotch, and screaming, like red-face screaming, how do you like those odds now? There's a one in ten chance I'm going to drop this cinderblock on you!
Is there something you learned about sex—either in a class, or just something you picked up from a friend... that makes you cringe now? Record a voice memo and share it with us at deathsexmoney@wnyc.org.
And also — I want to let you know that John Green and his brother Hank host three different podcasts that are now part of WNYC studios..where we produce our show...one of them, Dear Hank and John, is basically a podcast version of their long-running youtube videos….they take listener questions and give advice. It's a really fun listen. Find it at dearhankandjohn.org.
On the next episode...I check in with Rachel Swidenbank and her husband Hiroki Takeuchi...I first talked with them last year...after Hiroki was paralyzed from the waist down in a biking accident. They've made a lot of progress since then...and gotten more used to the things that won't ever be the same.
RACHEL SWIDENBANK: We used to be those, like those loser people who'd like try and get through the airport as fast as possible and turn up as late as possible and then get off the plane as quickly and you know, be the first to passport control like it was some sort of race. Um, and now it's like we're always the last people off the plane.
_____
This is Death, Sex & Money from WNYC. I'm Anna Sale.
A lot of John Green's books are about young people experiencing the all-consuming rush of first love. For John...that first happened in college.
JG: I was 19, it was my sophomore year and um, this was—this was long before meeting people on the internet was a normal thing to do but, I was a very early internet adopter because my dad brought home CompuServe [AS: uh huh] in like 1992 or 1993. And it was a friend of mine from the student forum of CompuServe in the early '90s. We just talked on the phone and became friends and then I drove out to meet her one like fall break or something and it was pretty immediate. I think most of the work—most of the ground work had been laid before we even met in person and then we fell in love and had a really lovely and complicated and difficult and good romantic relationship for a few years and then eventually broke up.

AS: Yeah. I imagine it must have felt so exciting—it sounds like you are a person who from a young age liked loved the idea of love [John: Exactly] and then to feel it [John: Yeah.] must have been like yes, here it is.

JG: Oh, yea, no and I mean and of course the great thing about falling in love for the first time is that it feels totally unprecedented, you know? It feels like nothing like that has ever happened before in human history. Um, and so its—its extremely intoxicating.
In his mid-twenties, not long after his mental health crisis in Chicago...John started dating a woman named Sarah.
JG: We had this like one year long email correspondence before we actually uh, hooked up for the first time. I was trying to think of the proper word, I was gonna say dated but we didn't—we didn't go on a date, so... [laughs]

AS: That's a pattern for you, seducing— seducing people from long distance with your words over the internet.

JG: Oh, I don't know about that [Anna laughs] I mean I would say—I would say that it was a mutual seduction. You know, one of the best gifts I ever received was: when we got engaged, Sarah had all of those emails printed and bound and gave them to me. And we do occasionally go back and look at them and--oh my gosh, talk about two people who were stunningly oblivious to the fact that they were um, clearly interested in each other! Uh, but yeah, it worked out eventually.
They got married, and when Sarah got a curator job at an art museum in Indianapolis, they moved there.
John settled into a comfortable routine...writing full-time and making YouTube videos with his brother. Then, in 2012, when he was 34, he and Sarah had their first child…..and John published The Fault In Our Stars.
It has sold more than 23 million copies, and was made into a movie in 2014 that grossed more than $300 million.
JG: And when that happened it was really exciting, and it was also a little bit intimidating because it felt like there was a lot of attention on that story and kind of by proxy on me, and I had always wanted that, I always kind of sought that out, but when it happened it was definitely a little bit overwhelming at first.

AS: I—I want to ask you about 2015 um, and after the sort of scope of the incredible mass of success of "The Fault in Our Stars" was clear or had become more clear um, and you're working on trying to work on your next novel... was that the—the first mental health crisis you'd had since you were in your early 20s?

JG: No, but it was definitely the worst since my early 20s. I'd had a few, but on some level that's to be expected. I don't think that there's like a magical way out of having difficult periods for me, even with the techniques of therapy and the medication I take and stuff... but yeah, what happened in 2015 was definitely much—much worse than anything else, except when I was in my early 20s.

AS: How was it different to feel yourself in crisis when you're now not a single man, you're married you have kids did it... [John: Yeah.] feel different?

JG: It did, I felt ...I felt horrible and I felt ...I felt like a total failure as a—as a dad, as a husband... I felt totally lost and it was difficult for me to, you know, engage with the outside world enough to read a menu let alone try to make breakfast for my kids or whatever.

AS: And this might sound off but—but I'm wondering just what you described in Chicago it was—you sounded so alone when you were in crisis [John: Yeah.]... Did it in some ways make it easier that you had people around or did it compound the feelings of isolation that you couldn't feel connected to them?

JG: To be honest, I don't think either. I think the isolation in both cases was kind of absolute because at its core it was so internal. I mean part of what made both of those experiences so terrifying and so painful was the fact that I couldn't describe it to anyone and so when I was in that terrible, constant mental anguish, that—intense psychic pain. It felt very isolating and alone, you know, because I was the only person who had that pain.

AS: Were you still posting videos on the Internet during that time [John: Yeah.] when you —when you think I was at my lowest point at that point?

JG: Oh yeah, no I look at those and um, actually just watched one the other day for...that doesn't matter…

AS: I'm interested that you're watching it, I was looking back trying to sort of pinpoint when you—when it was—

JG: Yea, I talked about it in one video um, and—but if you watch any of the videos from like the few weeks around there you can see there's like or at least I can see there's like something in my eyes, there's like something visible like a—like a fear, a panic almost um, that I can see in my eyes. And I mean I would edit those videos and upload them and just that would be the only work I did all week um, because you know at this point my brother and I had been making these videos back and forth to each other for 12 years now I've made a video for 4 or 5 hundred Tuesdays in a row um, and so I—I wanted to you know I wanted to continue that it was important for me to continue that, I also knew that it's not good for me to withdraw, you know I felt the urge to withdraw but I know from experience that um, that's not healthy for me to—to withdraw further from the world. You know, that only compounds the problem even though it feels like a solution. And then—and then I got on the better medication that started working, I started to feel better right near the end of the year like right at Christmas.

AS: You're now in your early 40s...

JG: Very early!

AS: Very early 40s um, [John: Yea]. How does it feel to be a middle aged man?

JG: Oh, good. Yeah, it was about 5 years ago that I put a pair of pants before a cocktail party and I said to my wife, "I feel like I look like a middle age man in these pants!" And she paused for just like a second too long and I realized--it happened. [Anna laughs]

AS: You're like, it was a joke and she's agreeing with me.

JG: Yeha, and she's not laughing because she's looking at me and she's seeing a middle aged man.

AS: What kind of pants were they?

JG: [Laughs] They were khakis. I threw them away! I was like, no! [Anna laughs] This was before I had accepted it. But if you double my age it will be a very reasonable age at which to die. So, I guess—I think that's the definition of middle age. Um, I'll just answer the question honestly. I love my life right now. I don't know if I'll love it tomorrow, but I love it right now. I have this sense of stability that I didn't have for a lot of my life. Yeah I don't know! I totally underestimated adulthood when I was a kid. I thought adulthood was something that you ran from and then eventually it overtook you and then and you had to just like stay still until you died, I thought that you stopped changing.

I remember when I was a little kid looking at my dad's shoes, you know. my dad had had the same pair of shoes for like 10 years and I remember thinking, what it would be like to have your feet not grow for 10 years? That sounds awful! And now I have 10 year old shoes and they are so comfortable. How could I have not understood how comfortable they are, and how nice it is to feel comfortable? And how when you feel comfortable in parts of your life, that allows you to take risks in other parts of your life? And I think adulthood in general is totally underrated.

That's John Green...his newest book, "Turtles All The Way Down," is about a teenage girl who struggles with OCD...and you can find his and Hank's full slate of podcasts at wnycstudios.org
Death Sex and Money is a listener-supported production of WNYC Studios in New York. I'm based at the studios of the investigative podcast Reveal, in Emeryville, CA. Our team includes Katie Bishop, Anabel Bacon, Stephanie Joyce, Joanna Solotaroff, Emily Botein, and Andrew Dunn.
The Reverend John Delore and Steve Lewis wrote our theme music.
I'm on twitter @annasale, the show is @deathsexmoney on Twitter, Facebook and Instagram.
And don't forget to send us your stories about sex ed fails...we're collecting your voice memos. Email them to us deathsexmoney@wnyc.org.
One thing I loved about making this episode is it allowed me to tell the team about my love of the country song Strawberry Wine by Deana Carter…. Because believe it or not, strawberry wine came up when I talked to John.
JG: When I was in boarding school I drank a lot of Strawberry Hill and Boone's Farms [Anna: Oh yeah, I know that!] I don't think that they're legally allowed to call it wine, I think that they have to call it a malt beverage.

AS: It's like Kool-Aid with like just gross booze inserted at the very end if I remember.

JG: That's exactly right. [Anna laughs] I recently had some and it—it does not hold up [Anna laughs].
I'm Anna Sale and this is Death, Sex & Money from WNYC.
Copyright © 2019 New York Public Radio. All rights reserved. Visit our website terms of use at www.wnyc.org for further information.
Music Credits:
"Lead Shroud" by Blue Dot Sessions
,
"Elmore Heights" by Blue Dot Sessions
,
"Welcome" by Jahzzar
,
"Allston Night Owl" by Blue Dot Sessions
,
"A Pleasant Strike" by Blue Dot Sessions