Hedwig, Older and a Little Less Angry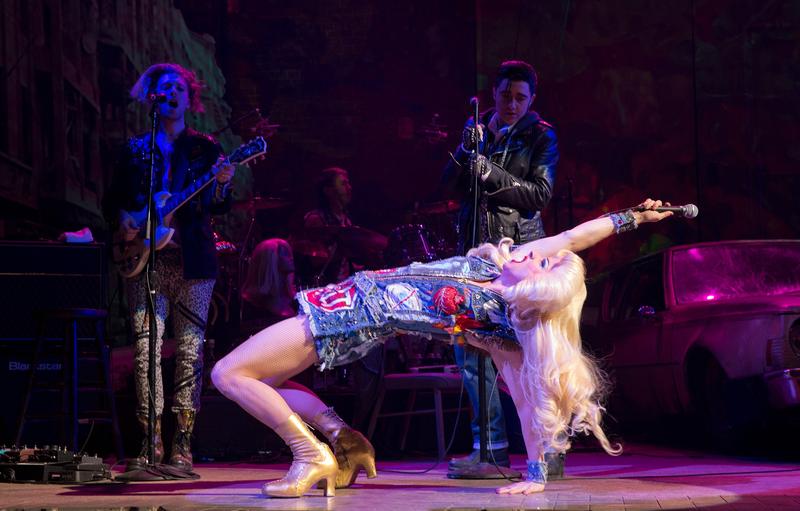 Transcript
I don't believe in paradise. Or heaven. But I do believe in beauty and beauty requires a dark underbelly for it to be really beautiful to me.
This is Death, Sex & Money.
The show from WNYC about the things we think about a lot... and need to talk about more.
I'm Anna Sale.
My conversation started with John Cameron Mitchell started with him cleaning out his freezer.
JCM: Let me just take this ice out. I don't need this anymore. It was for my injured leg.
He took out two large packs of ice for the leg he injured on stage in Hedwig and the Angry Inch, the off-Broadway musical turned movie turned Broadway revival that he created and is starring in now.
We were sitting on the couch in his living room...which is also his kitchen. It's a small apartment -- so I'd asked him to turn off his refrigerator for the quiet.
JCM: Phones off.

AS: Phones off. Since we're here, can you describe the apartment that we're sitting in?

JCM: It's encrusted in the '90s, when I got it.
He moved in in 1993, when he was just turning 30. It's rent stabilized.
JCM: You have to keep things a certain way or your rent changes.
And the way he's kept it, it's a style I'll call home-y punk rock.
On the walls are album covers…
JCM: Sex Pistols. Signed. Signed by Johnny Rotten. Diana Ross Live, The Homosexuals, which is a post-punk band.
There are movie posters.
JCM: An action movie I was in in the 80s called Band of the Hand.
Above the couch, there's a big framed photograph.
JCM: That's my mom and dad in their courting days.
They're smiling, with arms wrapped around each other, dancing the Charleston.
John Cameron Mitchell's the oldest one of their boys. His brothers have kids.
JCM: The kids were just here this weekend, with my mom.
His mother, Joan Cameron Mitchell, is Scottish. Her family crest hangs behind her son's television. His father was from Atlanta, and moved the family around with his Army career. His last post was in West Germany, where he was commander of US Forces in Berlin just before the wall fell.
John Cameron Mitchell's most famous character Hedwig is from East Germany. She has this platinum Farrah Fawcett hair, but was born male and comes to America after a botched sex change operation. That's the "angry inch." He developed the character with his friend, composer Stephen Trask at Squeezebox, which was this metal punk drag party held regularly at a New York club in the mid 90s.

JCM: Steven and I really were aware of using all the elements of things that we liked and tried to ram them into this character.
In the 20 years since, he directed the films Rabbit Hole and Shortbus and acted, most recently in Girls.
But he's Hedwig again, this time on Broadway. Neil Patrick Harris opened the revival...and it won 4 Tonys. John Cameron Mitchell took over the role last winter, at 51 years old...and he injured himself onstage. But the show has gone on.
JCM: I had an accident because I was doing Neil Patrick Harris's superhuman choreography and took a wrong move and ripped a meniscus so I had an operation and took a week off, now back in a knee brace which makes that show kind of rawer and more spontaneous despite the lack of movement. I was just talking to someone about Beckett's play Endgame which is someone in a wheelchair who's blind and ordering someone around. It's one of my favorites plays, so weirdly it's become more like that. It's much better now. I can't do certain things but I keep the brace on because I actually like the show much better with it. Also, I don't have to do as much dancing.

AS: You get to sit with your leg propped up on a crate. What was it like putting the fabulous blonde wig and full makeup and full costume on for the first time since...

JCM: Well I'm kind of an average looking person but weirdly when I put drag on I think I'm cuter. It was weird how it affected people because I was rehearing with just a fake wig and no makeup for most of the time and had a couple shows with makeup, a couple rehearsals and it really kicked in for a lot of people, not as much for me because I'm not looking at myself but there was that, "Oh, there she is."

AS: Did you see that you had aged in a way you hadn't noticed?

JCM: No, I think I actually looked a bit younger in drag, weirdly. I'm aware of my having aged, for sure. And I always looked younger than I am, so people always treated me younger which I think made me have to be more assertive sometimes. Maybe being gay was some understanding that that was somehow weaker or second class so that also made me more active in asking for what I wanted and stating who I was.

AS: Can you give me an example of that? It sounds like you're describing a certain…

JCM: I remember being... like in that action movie on the wall... it was de rigueur to have homophobic comments among the crew in the 80s. It was a very difficult time to be gay with AIDS and general homophobia of all kinds. As an actor I was told for a career I should remain anonymous about my sexual orientation the way a woman is told they shouldn't talk about their age. But I never liked being told what to do, so on a set if I would do that movie or MacGyver or whatever thing I would kind of drop a comment about someone I was going out with just to sort of clear the air of homophobic comments and then most people were a little bit surprised because it wasn't common, but it was a way of putting aromatherapy in the room. It would just kind of calm that down and whoever was tense I didn't really wanna deal with anyway

AS: I love that you think as aromatherapy and not as a sort of challenge, you think of it as cleansing.

JCM: Yeah there's a certain calm that comes into a room when someone comes in and goes, "Oh I'm having a horrible day." When someone just sort of says what is, it kind of relaxes everybody. "Oh well that's not a big deal, if he's gay, that's not a big deal." Maybe it's an example for other people who have other things that they might be ashamed of that they really shouldn't be. Like, "I've been depressed lately." Kind of saying it defuses it of negativity.

AS: Now I'm picturing the MacGyver set smelling like lavender.

JCM: MacGyver. I have much memory of MacGyver. I did a lot of TV in the 90s alternating with interesting theater.

AS: How'd you learn how to manage your money during that time?

JCM: It was just a matter of spending it when you had it and not spending it when you didn't have it and not buying anything on credit.

AS: Really? Nothing?

JCM: No. I mean I use a credit card but I pay it off right away so I never pay interest because I just never knew when I'd have it. I never did things for money. I wasn't dumb. I had low rent and I always found that if I did good work then enough money came along.

AS: You've mentioned your low rent a few times, how much is your rent?

JCM: Well it's higher than anyone else in the country would like but it's about $1800 for a one bedroom in the West Village which is the most desirable spot for most people, certainly single people. There's a lot more young people in the building than there has been in the past. I don't know if it's a trust fund situation or young financial people, so there's been a little bit, you know, dorm room partyish here, which is unusual. I hate to have to be the guy who's like, "You guys...please...it's 4am." "Oh my god, you were on Girls!" "Oh god, here we go."

AS: How old were you when you moved to New York City?

JCM: I first moved in '85 to do Big River on Broadway and I was 21. But then I got that action movie and moved to California later in the year and came back in '90. So I was, whatever, 26, 25.

AS: When you think about the AIDS crisis in New York City does it feel like something you lived through?

JCM: Yeah I was bit younger. I was the first generation of people who kind of came out into it, so it was always there. I would never want to go back to that time but there was a strange vitality and you knew what people were worth by how they reacted to that.

AS: What people were worth. That's…

JCM: Yeah it taught you what you were worth, as a person, what you could handle, what you could give, and also what those people's parents were worth. Having disowned their kids, some swooped in and grabbed their apartments and pushed the lovers out and it was a very cruel time.

AS: You said your mom just visited last weekend? What's your relationship with her like now?

JCM: It's better than it's ever been. We just laugh a lot. She gave me jokes that were in Hedwig.

AS: Tell me one.

JCM: Well she gave me the joke when Hedwig puts on a fur coat and someone says, "What poor unfortunate creature had to die for you to wear that?" And Hedwig says, "My Aunt Trudy."

AS: That was from your mom?

JCM: That was from my mom. Which came from her mom. Both of my parents were very funny. Mom would just be, "Can I borrow the car?" She's like, "I never saw a banana 'til I was twelve and you want the car? When I was your age I was being bombed and you want the car. Well, okay." She was a very demanding woman in terms of standards and she was very religious and remains that way, but it's become much more tender and loving. She grew up in a hard time during the war, lost her father young, had to take care of the kids. My being gay was kind of a challenge religiously but then mortality truly does clear away the brush if there's love. My dad passed away a couple years ago. He had Alzheimer's. Both my father and mother, our relationships got better and better as we understood that there was less time. And health crises and such. It does get better for families when there's issues like that that are just irrelevant to love.
John Cameron Mitchell's father died in 2013 in Colorado Springs. Eight years earlier, in the Denver Post, he talked about being a devout Catholic whose son came out. "It was difficult then, and it's still difficult." He added, "The most important thing is that we love him, and we do not ever want to become alienated from him."
Coming up, what John Cameron Mitchell learned from his ex-boyfriend Jack Steeb.
JCM: He was half Jewish, Jewish humor is always in me too. There's a line in the Hedwig sequel: "Jews are like gays but related." Because there's ideas of appearances, ideas of hypocrisy, ideas of passing and there's ideas of exaggeration as a non-dominant subculture.
I've heard from a lot of you after our episode with Mark and Giulia Lukach about living with her bipolar condition. Many of you relate. Sarah in St. Paul has two kids with her bipolar husband. "Being in this situation I am so hungry for stories like these while at the same time understanding all too well why they are rarely told," she wrote us. "My husband is going to be applying for jobs in a new field soon and we both know being public about his diagnosis could hurt his chances. I am in awe of Giulia and Mark's courage in light of risks like that."
So again, thank you, Mark and Giulia.
We are also busy here getting ready for our first live show in Brooklyn. I'll talk on stage with Poet Tracy K. Smith, comedian W. Kamau Bell and his wife Melissa Hudson Bell, and fashion writer Simon Doonan and home décor designer Jonathan Adler. Luscious Jackson is our house band for the night. It is going to be fun.
The show is Friday, May 8 at BAM in Brooklyn. Ticket information is on our website at deathsexmoney.org.
This is Death, Sex & Money from WNYC. I'm Anna Sale.
In the Broadway playbill for Hedwig and the Angry Inch, John Cameron Mitchell calls his ex-boyfriend Jack Steeb "the best man he ever knew." Hedwig composer Stephen Trask introduced them in 1994.
JCM: Steven was living with him and he thought that when we met something was gonna happen and it did. Jack was a wonderful wonderful friend and boyfriend and he had his own demons with addiction but he taught me so much about what it was to truly be cool which was not caring to be cool it was just knowing and feeling what was good. He was kind of like an old man in a young man's body. He kind of wanted to skip the middle part. He liked to just hang out with old guys in the bars and just laugh. He would turn me on to old man actors in terrible movies and just laugh. I was like I could grow old with this guy, I already have. But he had a drinking problem and it was deep seeded early when I met him. But we thought we could fight it together and I didn't know much about it. It was a rough ride but it was so valuable. He was very much a part of the creation of Hedwig in terms of his sensibility. Some songs were written for him and he just made me laugh.

AS: Which songs do you think of?

JCM: Long Grift specifically. Stephen wrote for him when he was in rehab and we sang it for him outside his rehab.

"You know that I loved you hon and I didn't wanna know

That your cool, seductive serenade

Was a tool of your trade, you gigolo."

JCM: He cracked me up. He defended me. I was kind of a hot head.

AS: Really?

JCM: I'd be the kind of person that would kick cabs on the street if they cut me off on the street. I think AIDS radicalized me. I wasn't an activist in that way, going to meetings, but I was angry. I remember the last time I kicked a car that tried to cut me off the guy got outta the car and started beating me up and Jack tried to defend me and got clocked. The guy just felt bad that he had to beat me up. He was like, "Don't do that, I have to beat you up now," and Jack said don't ever, ever do that again. And I didn't. It took him getting punched in the head. I was able to bob and weave enough not to get hit in the head.

AS: How long were you and Jack together in a relationship?

JCM: Six years.

AS: Why did it end?

JCM: It was a lot of stress with the drinking but when you're with a person who has addiction issues you can be as much of the problem as the person who seems to be the obvious troubled one because you're…. not necessarily enabling but you're part of a dynamic. I didn't have it in my family but I realized I was good at taking care of and wanting to save. The problem with it was also that I never had to face my own problems which were very deep seeded too about intimacy and trust because his problems always seemed bigger. It was safer to be with someone who had concrete issues but he was so much more sane, not sane but kind of clear. He loved me. He loved me more than anyone had and that was an incredible skill which I wasn't able to do the same way and hadn't and still haven't quite in the way that I want to. There's a learning curve that comes, and he was so much more together than I was in many ways. It's just this one way which… ultimately it took him. It took his life and we were not together then.

AS: How did you find out that he had died?

JCM: His mom told me. I was on this couch actually. And my two buddies came to kind of just shore me up and be here on this couch for awhile to just get through the initial shock. So that all informs the new Hedwig. But there's also a lot more fun. I always think, would he have liked this new line, and...

AS: Tell me about how it feels more fun, but there is this history and this sadness that's part of this experience.

JCM: I think things are dishonest if they are not aware of sadness. Humor without sadness underneath it feels cheap and aggressive. That's why Richard Pryor was so brilliant. Any of the people you think of as great performers have that other side, you know, the Judy Garland or the Tina Turner, it may not be evident in people like David Bowie but it's underneath there. Under the pose is a deep awareness of death and sex and, I don't know, money -- but there's a sense of, you have to, because that's the purpose of the humor is to deal with those things ultimately. Hedwig is the, I get to write the person who to me is the ultimate kind of performer who is working in different realms that I like, stand up, comedy, drag, punk rock, performance art, all in one. With the basis that came from Plato's Symposium of the origin of love where we were cut in half by the gods and we're always seeking our other half which is sad. It's a sad view of love. I'm incomplete and you will fix me.

AS: How's your love life now?

JCM: You know I'm kind of married to Hedwig now so it's like not really. The last couple years it's not a priority. I meet nice people but I'm much pickier, the sex drive is lower so it's not as big a deal.

AS: What are you picky about?

JCM: You know I've met a lot of kinds of people so the thing the initiates excitement sometimes you realize is maybe part of a pattern that you don't want to repeat. We all know the person who keeps going out with that same kind of person and that can not always work, so it has to be someone extremely firing on more than one cylinder.

AS: On love, you described it as a skill that you're still working on?

JCM: Love, yes, it totally is. Sex was a skill, it intersected with love at times but a big mistake people make is equating them. I always thought when I was having a lot of sex in the 80s and 90s that a one night stand could be like a poem whereas a relationship was like an incredibly long...incredibly long...novel, no, a series of books in a continuing story and that was incredibly satisfying too or could be. But to denigrate one or the other is too simple. Is there a way to have both? I don't know.
John Cameron Mitchell. He's on Broadway, as Hedwig, through April 26. Darren Criss from Glee takes over after that.
Death, Sex & Money is a production of WNYC. The team includes Katie Bishop, Emily Botein, James Ramsay, Caitlin Pierce, Zachary Mack, and Bill Moss. Thanks to listener Grant Shprintz who emailed that he'd like to hear John Cameron Mitchell on the show.
The Reverend John Delore and Steve Lewis wrote our theme music.
I'm on twitter @annasale, the show is @deathsexmoney.
I left John Cameron Mitchell's apartment in plenty of time for that evening's curtain. Hedwig's ruby red lips and sparkling blue eyes take care…to put on...and to get off.
AS: I love seeing the flickers of glitter while we talk, the light catches it.

JCM: Yes, glitter doesn't go away. It's like plutonium.

AS: It's exactly like plutonium.

JCM: Yeah, it's got a half life.
I'm Anna Sale, and this is Death, Sex & Money from WNYC.
Copyright © 2019 New York Public Radio. All rights reserved. Visit our website terms of use at www.wnyc.org for further information.
Music Credits:
"Take a Ride - Death, Sex & Money Theme" by The Reverend John Delore and Steve Lewis from John Delore
,
"Auld Lang Rok" from http://bwn-music.com/catalog
,
"Contemplative Cocktail" from http://bwn-music.com/catalog
,
"The Long Grift" by Stephen Trask