Jenny Slate and Dean Fleischer-Camp Talk About Their Divorce, Anxiety, and Slowing Down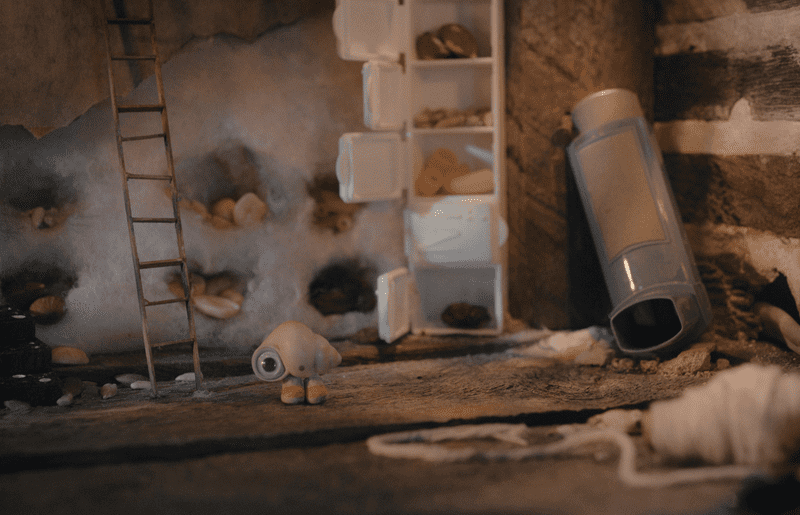 Transcript
Dean Fleischer-Camp: We talked to one another and told ourselves, well, we are killing our romantic relationship to preserve our creative one. That did not feel like what was happening the entire time. But I think we've arrived there through this process in a way that I really am like grateful for.
(Death, Sex & Money theme plays)
Anna Sale: This is Death, Sex & Money.
The show from WNYC about the things we think about a lot....
....and need to talk about more.
I'm Anna Sale.
(theme ends)
Dean: Rolling, give me some levels.

Marcel: Give you some levels?

Dean: Like… just like talk.

Marcel: Oh! Hello my name is…
Anna Sale: Marcel the Shell with Shoes On is one of our favorite movies of the past year here at the show. If you don't already know him, Marcel is a small animated shell…
Marcel: …I also have shoes and… a face!
Anna Sale: He lives in a big empty home with his grandmother, after most of his extended shell family has gone missing. The movie is a meditation on change, aging and loss, told through Marcel's precocious optimism.
Marcel: Guess why I smile a lot.

Dean: Why?

Marcel: Uh, cause it's worth it.
Anna Sale: The house Marcel lives in has become an AirBnB after its owners broke up…and during the movie, the guest staying there, is a documentary filmmaker named Dean…who himself is recently divorced.
Marcel: Somehow this has kind of turned into like a computer hotel?

Dean: Sort of, yeah.

Marcel: Why did you decide... why are you here?

Dean: I had to move out of my old place so I'm staying here until I find a new one.

Marcel: Why did you have to move out?

Dean: Uhhhh, that's personal.

Marcel: Ohhhh-k.
(music starts)
Anna Sale: For Jenny Slate and Dean Fleischer-Camp, the creators of Marcel, much of the movie is personal. They were once married, and are now divorced.
Jenny Slate: What if we just both start crying really hard, like– (laughs)

Dean Fleischer-Camp: That's a great episode.

Jenny Slate: Like, like that's our answer. When we don't want to talk about something, we just, we cry like a baby kind of though, not like a sad cry but a disgruntled–

Anna Sale: Yeah, like I want a full throttled, yes, like, deep, deep cry. Yes.
Anna Sale: Jenny voices Marcel, and Dean directs and plays the character named Dean.
They first met when Jenny was 24 and Dean was 22. After they started dating, they moved in together quickly, and Dean began making the short films that defined Jenny's early comedy career in Brooklyn.
In 2010, they released their first short film featuring Marcel, and it went viral.
I remember watching the original Marcel short. I was at work, sitting at a computer, and when I watched this Marcel movie years later, I thought back on how much of my own life has changed since that first internet video. And I wanted to talk to Jenny and Dean about the shifts in their own lives since they created Marcel.
DFC: Wow.

JS: Yeah. It's a lot.

DFC: It's 10 years of, of changes and shifts.

JS: It's a lot.

Um, in 2010, we lived in an apartment in Brooklyn on Henry Street. Um, it was a three room apartment. Like a railroad apartment. I lived in there first and then, uh, Dean had moved in with me. We were a couple, and we made this short film, um, in the summer, early fall of 2010. Is that correct?

DFC: Yeah. We were in the habit of making like videos together f or comedy shows. Like Jenny and her friends were, you know, a driving force of the like alt comedy Brooklyn scene at the time. And so we did a lot of I don't know, just like random, funny or weird shorts for comedy shows, live comedy shows.

JS: Yeah, you know what I'll say? Just because, um, I've thought about this a lot, is like, you know, I'm a listener to your show. And, um, I, I don't mean to interrupt, I'll get back to the timeline, but, um, I li, I like to listen to shows where people talk about their lives and sometimes I'm like, wow, they're like talking about this as if it. They're like, safe from it now or it doesn't hurt. Sometimes I'm like, wow, I guess they made it through, I don't know how, like they, they don't feel any active feelings about it. Like it can still be sad, um, to talk about it. And it is a gigantic thing, all of the things that happened, and, and I don't wanna say anything that oversteps in terms of, like, what Dean would share, and we're two different people and I often like, weirdly just like explode the valve. Um, I do blurt stuff out or sometimes I say something and I wish I hadn't said it that way. Like, those are the things that stick with me where I just don't wanna like, um, yeah, after all this time, I, I, I just want to, I want to celebrate Dean and be respectful of him. And that's, that's like the privilege that we have now with each other, you know? So anyway, this is actually not a super simple task, but, um–

AS: Yeah. Well, well actually we can like… well, go ahead Dean. What do you wanna add?

DFC: Thank you for saying that first of all. I think you're right. Good call.

JS: Okay, good. Okay, cool. (laughs)

DFC: Um, and, and because I was feeling that way too. It, but it didn't occur to me to be like, I should mention this, and we can, it can be out in the open. Um, I was just gonna say, if you're, if you're talking about something that is uncomfortable or if I am, you can say that. Then we'll move on

JS: Sure. For sure, for sure. Yeah.

DFC: Cool. Uh, I don't feel, I don't feel afraid that you're gonna like blurt something out that I'm like deeply hurt by. I think,

JS: Yeah. (laughs)

DFC: I think when we talked like a bajillion years ago about. Our, our hopes for like, working on this film together. It was, you know, it was like, uh, it was to focus on the functional parts of our relationship and, you know, let the, let the ones that were dysfunctional fall aside.

(ethereal music plays)

AS: I wonder for the two of you, like as you were thinking about, like, what this movie could be, like, there was a lot of shifting that was happening over the course of you making this together. Like, were you in your personal lives, like you're in your thirties, you know, you're, you're, things are changing in, in your relationship to one another and your careers. Like, were you doing kind of personal reading or journaling about, like, change?

JS: There, there definitely were things that I went to, to try to, part of it was trying to, um, to soothe the, um, like soothe scary feelings. I feel like so many of us have anxiety and depression, like it also, the word anxiety is said so much now that like we're, we've forgotten like the physical descriptions of it or like the real everyday feelings of it. And, um, I'm, I'm fascinated by them now because I luckily have arrived at a place where, you know, currently as I guess Dean said everything will change, um, and change again. Um, but at the time, you know, would feel those kind of like physical, the physical things that you can feel with anxiety and the way that the mind can feel like it's just always crouching in a small space, things like that where you're just like, oh my God, I need to stretch. Like why am I the only person that can't stretch out mentally?

AS: Yeah. When you, when you think about the time that you, you described crouching in your own mind, like when was that period for you?

JS: I was in a pretty crouchy, very uncomfortable, impulsive, uh, ill-advised decision making place, probably, I don't know, like my, my mid-thirties felt like that. Like, it, it was years. It was years.
Anna Sale: By her mid-30s, Jenny was already famous. She'd been on Saturday Night Live and Parks and Recreation, and then in 2014, she starred in her breakout role in the hit movie Obvious Child, a great rom-com that's also about abortion.
But after that success, Jenny says she felt… a little lost.
JS: Part of it was something like I still struggle with, which is. What am I doing here in this enter entertainment industry? Like, what am I, what, what do people think that I am? Like why are my jobs so random? Um, like, you know what, how, what am I? How am I showing up? I don't get it. And I just like, I don't know, I, I, it felt like I had this huge chance when the movie Obvious Child came out and it was like an inflation in a way of like aggravation, inflammation of, of the ego. I didn't handle it well. And um, and then there was kind of like a… nothing seemed to really happen. Um, you know, I kept steadily working and I'm, I'm glad for that. But, um, I think, I think I was dealing with a lot of like, those kinda like ego problems and, um, and I think I was really unhealthy about the way, like, I saw myself physically.

And, um, it just was reflected in that I like, just went towards the most, um… like sometimes the things I think that'll really soothe your deepest pains, they just don't speak that loudly. Like, they're not like, "Serve me first!" You know? It's, it's like the, the stuff that will make you feel big and bright, 'cause that'll make me feel really important. It can leave you at a loss. And it's really, that's what I think bums me out the most when I look back is I'm like, "Oh man, you, you know, you didn't need to be that, um, grabby."

AS: Grabby, interesting.

DFC: When you say, um, sometimes the things that soothe your deepest pain don't speak very loudly. I was, I was gonna say that I often, I, I'm just as a director generally, I often think about what are the shortcomings of film. And I think that movies are not the best utensil usually, or don't have the best tools to show. They show immediate change really, really well, um, and urgency, but they're not great at depicting the kind of, like, soft change that comes with time and distance, and the stuff that like has no real answer but gets kind of like tumbled and smoothed out as you age. That sort of thing I don't see depicted in films very much or very well and… I hope our film does that, 'cause I think we were, I think we were, you know, experiencing that ourselves.

AS: Yeah, and there's this, it's, it's kind of was interesting to me that I found it so moving and profound. But, um, that makes me think about the scene where Marcel has these hopes that getting a lot of attention and exposure for his need to find his family is going to, the more people who see it, and the more people who know his story, the more helped he is going to be.

Marcel: There's all these people and we're all looking at the same thing and we're all doing the same thing. It's beautiful and it feels like, I don't even know how to describe it, it feels like something.

AS: Um, and then there's this scrolling and scrolling and scrolling, which like, and it's just these inane comments from people who consume the internet.

Marcel: You know, there's nothing in here about finding them. There's so much nothing…

AS: the line is like, They, there's so much nothing. And it's, they say this is a community and it's just an audience. Um, that like, took the breath out of me, like this idea of like, I thought I was gonna be comforted by, by being exposed to you, and instead I feel more exposed and alone in front of you.

JS: Yeah. It's really not appropriate having an audience all the time.

AS: But the other thing you're making me think about is that moment, um, in your film when Marcel turns to the character Dean and, like, chastises him for only being an observer with a camera. Um, do you know the moment I'm talking about, do you remember what Marcel says?

DFC: Oh, of course. Have you ever thought that–

JS: Your life would be a little less lonely and a bit more integrated.

DFC: A little bit more integrated… (laughs)

JS: If you took the time to, what was it like? Actually connect with someone, not just make–

DFC: Connect with people instead of– yeah, exactly. I've like been my, I've been in audiences where that just like slays one knows I'm in the audience. And it's so funny because I'm like (laughing), I'm like sinking in my chair. That's been said to me. I mean, hundreds, something to that effect has been said to me like hundreds of times over the years, not just by Jenny, but numerous friends and family members.

JS: Do you also feel like though, Dean, like it's a relief to kind of repurpose it? Like it is exactly what it is, you know, like that's how that conversation goes, but it's put into this other thing now and, and it's light on its feet. And

DFC: Oh yeah, totally. No, I don't, I'm sinking in my chair, not cuz uh, I mean, I guess I'm probably like, my cheeks are very red when that happens, but it's also so delightful. Like, I'm not, I don't feel, uh, I dunno–

AS: So it, so it's, that didn't just resonate with the character Dean. That also, uh, hit, hit the real person, Dean.

DFC: Oh yeah, totally. Um, but I was also gonna say that, uh, Jenny, I, I'm not sure this is what you're saying, but like, when we started making the movie, and, and by the way, it like had a lot of the stuff that it's about before Jenny and I got divorced before, I know, like definitely before I had lost my grandparents, uh, or we had lost any grandparents, and it was about these themes even well before that. And at the time I, I guess, you know, people, of course friends or whatever would ask like, oh, weird, you're like getting divorced, but you're still making the movie together. It it, um, at the time I wasn't sure whether we were weirdos or being, like, brave art heroes.

AS: Mm-hmm.

DFC: (laughs) or, or being, uh, you know, cowards. And ultimately I think there's, I mean, there's an element of all those things in it, but it ultimately allows you some control over something that, a process that can sometimes feel completely chaotic and out of control.

AS: Why did you say cowards there? Why would it feel cowardly to keep working together?

DFC: Um, I think that, I don't know, I haven't assessed my like, um, , self hating, self hating internal mono, like internal monologue in a long time. But I would say that I feel confident about my artistic, uh, you know, output, craft, sensibility, all those things. And I feel invulnerable when I'm working within those constraints. So taking something that is chaotic or might be painful or just like confusing and repurposing it or dealing with it on those terms is actually, I think probably something like many artists do as a way of avoiding, um, going, going into battle completely naked, you know,

AS: Mm-hmm, mm-hmm.

DFC: It's self-defensive in a way.
Anna Sale: And you hear that in the movie, in Marcel's observations, and in the wisdom from his grandmother, who's voiced by Isabella Rossellini.
Connie: I think he's afraid of change. Scary. Especially after what we went through. But life's not going to go on unless, if you don't, if you don't open up, right? Do you know that, Dean? (chuckles)
Anna Sale: Coming up, Dean and Jenny talk about making Marcel… while navigating the end of their romantic relationship.
DFC: Often, self-expression can be a way to work through pain and grief in a constructive way that might be more, you know, it's emotionally taxing probably to have to face down those things when you wanna bury your head in the sand. But, it ultimately allows you some control over a process that can sometimes feel completely chaotic and out of control.
–
Anna Sale: This is Death, Sex & Money from WNYC. I'm Anna Sale.
Jenny Slate and Dean Fleischer-Camp divorced in 2016, while they were making the movie Marcel the Shell with Shoes On. They are both in new relationships. Jenny is married, and is raising a 1 year old. Dean lives with his girlfriend in Los Angeles.
But before all that shifted, they had to have an awkward conversation with the people they were making this movie with, and announce that they were splitting up.
Jenny Slate: We had to tell them over dinner at a French restaurant that everything is fine. Um, but like, we're getting separated. And I don't know, I feel like they all were kind of poker faced about it, but like, you know what? I don't feel like someone was like, oh, may I have a shot of like, you know, like nobody was like, hold on.

Dean Fleischer-Camp: Check, please! (laughing)

JS: Yeah, yeah. That would've been really great if someone did do a huge check, please! But they didn't. And, um, the thing was, there were a lot of people that we both were connected to that had relatively, like, smoothed out, non-acidic reactions to like what we were throwing down. And I, I don't, you know, so we just kept going and like, um, I don't know. I, I, it didn't disrupt the schedule. Um, we did just keep working.

DFC: Yeah. Yeah, that's true. Yeah, it's a bit, it's pretty compartmentalized. it's not like we were, uh, talking every day. Although in the times when we were editing, I'm essentially listening, listening to my ex-wife's voice.

Anna Sale: Yeah. Like talking about change in loss and like, I mean, it's like, uh, It's a lot. Um, it's a lot. A lot. Uh, and did you ever have a conversa, like in my mind it, it sort of is, um, kind of feels like you figured out how to help really healthfully co-parent this thing that you had created together. Um, and, and I just like, did you ever, did you have a conversation where you were like, we both love what we have made together, and we are going to figure out how to honor this thing and…?

DFC: Yeah. Yeah. I. I think we had a few conversations, but I, I don't know if you agree with this, Jenny, but I always felt like… I, and people, friends ask me all the time, like, especially back then, they were like, you know, like that's a crazy decision. Um, and I get it. I totally get it. But, uh, we met, Jenny and I met working together. We are big fans of each other's work, and sensibility, and we were sort of just returning to that in a way. And it was very, a familiar gear and dynamic to be in, but it also felt like a, an easy decision because it felt like the choice between, uh, like this is probably too dramatic, but life and death because, because, you know, divorce or any breakup or any loss is, um, divorce is, you know, a mixture of pain and sorrow and grief, blended with like the weird, uneasy, weightless feeling of liberation.

AS: Mm-hmm.

JS: Mm-hmm.

DFC: And you're gonna go through that anyways. And at the end of that, do you want to have channeled that into a beautiful film that both, you know, grieves loss or, um, shows, uh, a meaningful depiction of loss and also celebrates the joys of life? Or do you wanna go through that and, you know, not have made anything out of it? Other than maybe personal growth? (AS laughs)

It just, that just seemed like such an obvious decision to me. I knew going in like, okay, it's gonna be a little more like emotionally taxing to do this, given that we haven't had time to process all of that, and given the content or the type of story we were telling, but it felt, it felt like an easy choice.

AS: Hmm.

JS: I remember thinking like, am I, am I really weird? Am I really unwell? Because I don't think this is intense. Like, I think there maybe was one day that, in terms of intensity, that you and I got it. Like in we, we had a disagreement—

DFC: Yeah. I remember that.

JS: We get out of the house and we had to like walk away from everyone. I don't even remember what it was about.

DFC: Yeah, I remember that.

JS: But it wasn't, yeah, I just felt, I mean, looking back on it now, I'm like, oh my God, that was the one thing that I was doing in my life over a period of four super dark years where I was myself. I was like my real, essentially like cleaned off real Jenny self. You know, just like being Marcel, I don't have to think about it. And you can't be Marcel unless you're with Dean. You know, also, like Dean's like not an asshole. You know, like, he's like a nice person who's a genius at art. So it's like you do, you know, you're like, I don't wanna, like, lose that. I just have to just keep coming back and like hope that we figure out like where we sit here.

AS: Hmm. I, I mean, I think that's something that you all model in figuring out how to work through, uh, divorcing is like what I'm hearing you… like, I, I definitely hear that somehow like letting go of the container of marriage for your relationship. Like, it, it gave more room to the parts of your collaborations and your relationship that, um, that like–

DFC: Yeah.

AS: Really sing. I mean, is that how it feels? Like what, what did you notice about when you let go of the parts that weren't working? Like what did other parts work better?

DFC: So, like Jenny and I know each other so, so well at this point. And so like anyone, any two people that know each other really well, we could also drive each other totally bonkers. Um, but, but sometimes the, what this has, I guess taught me is like, uh, sometimes the things that wear on a day-to-day relationship, can actually be the same things that make a, that are very constructive and fruitful for a creative endeavor. And this movie taught us, you know, both how to do that in like a really beautiful way.

JS: I totally agree.
Anna Sale: While the movie is about ending romantic relationships, it's also about losses of other kinds that come with age, something a lot of the production team experienced during the seven years it took to finish the movie.
DFC: We were making the movie for so long that if you look at the in memory section of our film, you would think that it's a cursed film, because there's like a hundred people listed.

AS: Hmm.

DFC: But it really just means that it was gestating for a really long time. Um, I lost both my grandparents while we were filming. Um, several other people on our team like that core, you know, brain trust me, Nick, Liz, Jenny, and the producers at Cinereach, you know, I would say probably all of us lost somebody during that period.

Um, I think it's, um, it is a gift to yourself as a creator to make a project that… can be something you grow around as you're making it. And I, I feel like we all felt that way about, about this film.

AS: I know this was constructed before we knew a pandemic was coming, but so much, so much around about how he coped with loss with, by just piddling around the house.

JS: Yeah.

AS: And, um, finding wonder in small tasks and quiet moments. Was that something that was a part of you all before the pandemic?

DFC: That is an overlooked, I think, silver lining of the pandemic. I was taking a walk with my dog, this is like very early pandemic days. I was taking a walk with my dog and I just started feeling like, there was a, there was like a stiff breeze, kind of like blowing this like tall grass and I was just like feeling it with the top, like feeling the top of it move against my hand. And it was such a nice little moment. And then I looked across the street and realized that there's a guy across the street with his dog doing the same thing.

AS: Oh!

DFC: And I was like, that is so funny and cool.

JS: It's such a New Yorker cartoon.

AS: Yeah!

DFC: Yeah, totally! (laughing)

AS: Did you wave to each other?

DFC: He didn't see me. No. I was completely socially cut off and awkward at that point, so.

AS: Yeah.

JS: Um, I was gonna say, I do think if you're like, okay, I, I like grew up in, in this world, in this patriarchy and, um, identify as female. And it can make you feel like the domestic arts are like, they're degraded. But I love the domestic arts. I, I love puttering, I like tidying. I like, I like doing that in the face that of like, the fact that we will all like totally die. You know, like, I, I like what is the point? You know, like, What is the point? Obviously the, the point is just to do it and it, that it feels good and, you know, it feels good to make a nest work. It feels good to draw things in and, um, to figure out how much is satisfying and how much is too much. And I like that we showed Marcel doing that.

(music plays, begins to fade)

AS: Um, Jenny, have you noticed anything about, do you see Marcel in a different way now that you're a parent? Do you identify with him in a different way?

JS: Um, I don't actually, I'm not sure. I mean, Marcel is not a child. You know, I think generally one of the things that has come in for me being a parent is, like, I mean, on the one hand it's like you are often put in situations where you're like, you feel so reactive. Um, but what that has revealed to me is like, actually there are a number of choices that I can make. I really actually can decide on what my daughter thinks is, like, relationally acceptable and normal, and like what she thinks people are to each other.

Um, and uh, one thing I that's come in for me is like, oh, everybody was a baby. Everybody, even people that are such upsetting adults, they were babies, and they just were babies and they were children and, um, they had moments where things happened to them and it just wasn't up to them, how they were treated. And uh, that just kind of kills me. Like it's this weird tenderness for all of us, like we all had a breakable, really good heart at some point.

AS: Mm-hmm. Yeah. Um, when you say you have thought about the choices you make when you're parenting, um, and how you react, can you just gimme a sense of like, what happens in your brain when something happens where you have an instinct to respond, a way that you then choose not to? Like, what, what is it? What happens?

JS: Yeah, I think, yeah, it's a, it's like a blink where I understand that like, oops, manipulation is always available and like, it's not good to do it. Don't do it! Like, don't, if you don't like something that she did, uh, and you don't want her to do it, don't, like, pretend to be sad over it. Like, I don't know how to describe it, but it's like a weird moment of softening and falling away in my mind where I'm like, you don't have to grip. You do not have to grip. Like, soften, soften, soften. And that doesn't mean that occasionally I'm not like, what are you doing?

Like last night she, she like experimented, like, she like stuck her finger down her throat while sitting in her high chair. I mean, you, you know, you see something like that and you're just like, "Don't do that!" Um, and like, I wish I could have just seen it, watched it, watch her experience what it's like to, like, gag and then just been like, "Ooh, that was new!" You know? But, uh, I didn't have that softening because like both my and my husband's backs were turned. So it was like a terrible surprise to watch your baby do something, like that's just a crazy act. I can't believe she did that. It's so weird! But it is all about, it's like, what… it's just modeling something that, uh, for better or worse… was not what I saw and what, like my parents didn't mess up or anything, but what I need. I need to be like someone that's like, I can handle it. Um, I, I understand what feelings are. And just to like, keep being soft, soft with her. Like my grandmother was so soft. That was like one of her best things. She was like being in the company of like a half whale, half toddler.

(music starts)

JS: Like she was just so soft, like big and soft and big and soft and like soft, strange accent. Like soft, soft. I, I just want soft adults and I want to be one.

(music continues)

AS: Um, I don't know if this is appropriate, but is there anything that, is there anything that Marcel would wanna [00:31:00] say about what it was like to do this together over Zoom?

(music fades out)

JS: You explain that one, Dean. (laughing) We have kind of a rule.

Dean: Yeah.

Jenny: Do you think that that's stuck up? Do you think we're being hard asses?

DFC: Are you asking me or Anna?

JS: I'm asking you.

DFC: Oh… uh, I guess, I don't know, wh, it just depends on how it's contextualized to me. I'm, if you wanna do it, I'm fine with you talking as Marcel.

JS: Uh, the one thing that's like a, uh, what is a, it's like, it's like a feeling like when you try to put the wrong ends of the magnet together is like when Marcel would comment on something like, if I exist, Mar, like, Marcel doesn't, he can't know about me.

AS: Mm-hmm.

JS: You know, that's like the one thing that breaks the world.

DFC: Right, right, that's true.

JS: Um, and we've been kind of like careful about it. But, um, I guess if Marcel were here and he was like a listener, he would be like, "Oh, I guess what I most appreciate is, um,..." (JS coughs)

JS: Hold on, let me start over to clear my throat. (As Marcel) "I guess what I most appreciate is listening to people doing their best at trying to stay supple while being, um, you know, touching the blade of honesty."

AS: Oh, Marcel! God! (laughing)

DFC: A blade of honesty. Yeah, totally.

JS: (As Marcel) It's dangerous. It's dangerous. Danger, danger, danger. Do you dare?
(Death, Sex & Money closing theme plays)
Anna Sale: That's Jenny Slate and Dean Fleischer-Camp. Their movie Marcel the Shell with Shoes On is available to stream…and is nominated for Best Animated Movie at the Golden Globes on January 10. Good luck!
Death, Sex & Money is a listener-supported production of WNYC Studios in New York. This episode was produced by Afi Yellow-Duke and Andrew Dunn. The rest of the team is Liliana Maria Percy Ruiz, Zoe Azulay, and Lindsay Foster Thomas.
And thank you to my dear friend Catie Talarski for introducing me to Marcel so many years ago.
The Reverend John Delore and Steve Lewis wrote our theme music.
I'm on Instagram @annasalepics, that's P-I-C-S, and the show is @deathsexmoney on Twitter, Facebook, and Instagram.
Thanks to Danielle Pickard in Richardson, Texas for being a member of Death, Sex & Money and supporting us with a monthly donation. You can join Danielle and support what we do here by going to deathsexmoney.org/donate.
AS: Uh, I mean, Marcel could have a grand future in podcasting. I, I don't know, I would listen to Marcel's bedtime meditations to put me to bed.

DFC: Oh my god, absolutely.
Anna Sale: I'm Anna Sale and this is Death, Sex & Money from WNYC.
(Death, Sex & Money theme music ends)
Copyright © 2022 New York Public Radio. All rights reserved. Visit our website terms of use at www.wnyc.org for further information.
Music Credits:
"Dognell" by Blue Dot Sessions
,
"Forner's Churn" by Blue Dot Sessions
,
"Trajectories" by Blue Dot Sessions
,
"Hensteeth" by Blue Dot Sessions
,
"Treeliner No Slide" by Blue Dot Sessions