Why Governor Jennifer Granholm Cut Her Hair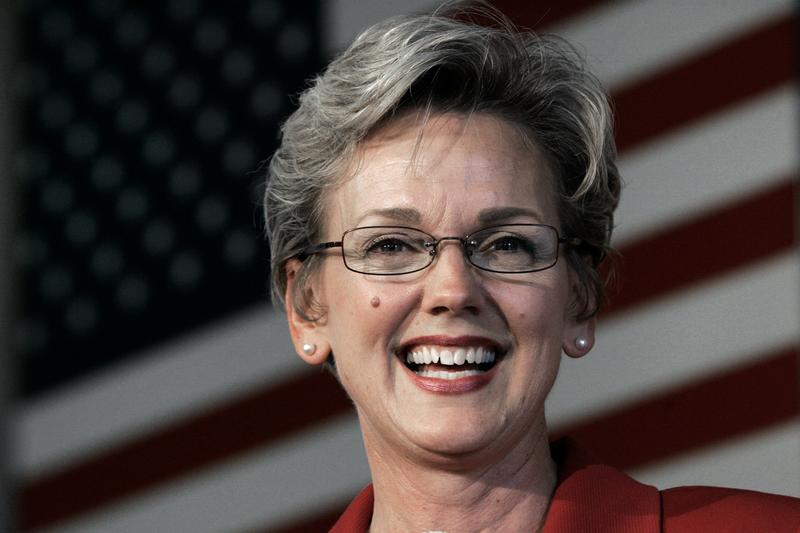 Transcript
JENNIFER GRANHOLM: I was never thinking about running for office. And like so many women, the only reason why I began to think about it is because I was asked.
This is Death, Sex & Money.
The show from WNYC about the things we think about a lot…
…and need to talk about more.
I'm Anna Sale.
Jennifer Granholm was the governor of Michigan from 2003 to 2011. She was the first woman to hold the highest office in her state. But she was raised in California, where I talked to her in our studio.
Her parents moved the family here from Canada. They met as bank tellers. But after they immigrated, her mother stayed at home with the kids while her dad went on to become a bank president.
JG: However, my mother, who is a deep feminist, she wanted me to do whatever it was that I wanted to do. "Don't let those guys get you down." That was that she would say on one side. And on the other side she would say, "Okay, if you're in a competition with a boy let the boy win."

AS: Really.

JG: Yeah. However I won any of my races with that advice, I will never know. But she wanted her daughter to not have to—like her—be trapped in a generation.
Trapped in a generation. That's what I wanted to talk to Jennifer Granholm about. What it was like to be a woman candidate and top elected official in her generation. She rose through the political ranks in the '90s and early 2000s, when more women were running and winning than ever. But she was also told it was best not to mention she was a woman.
Growing up, she never imagined she'd ever run for office. She was interested in politics—she went door to door for Gerald Ford in high school—but her first time competing for a title was in a very different kind of venue.
AS: I'm interested in the time in your teenage years when you you got involved in beauty pageants.

JG: [Off mic] Ah! Oh my God do I have to leave the room? They're so horrible. So horrible.

AS: Well I think obviously you learned -

JG: It's mortifying!!! Don't ever do it. Get rid of them all.

AS: Is that how you feel about it now?

JG: Totally, totally.

AS: At the time, what drew you do to them?

JG: Um, I you know, I was in high school and it was a, um, you know just a conversation with a couple of my girlfriends. "Oh we should do this. We should do this. It would be hilarious." And then once you're in you're kind of you're, you're in and it was just - anyway. It's really not a part of my life that I'm proud of. I'm actually totally grossed out by it personally. Now that being said I do know, I understand that in some areas of the country this is where women find their identity and I don't want to disparage anybody who makes other choices. But for me, [ugh!] it was horrible.
But pageants did give her a taste for being on stage. After high school, she moved to Los Angeles, looking to start an acting career.
JG: This was during the '70s now. Right? So this was during the time of Bimbo's and Three's Company and all of that. And I had been sent out on auditions and that casting couch thing where - was real. I mean I didn't do it, but but it was real in the sense that I went on interviews where people would say, hey I've got 50 girls outside lined up who are willing to do A B or C. Why should I give this part to you if you don't play the game?

AS: So that actually happened to you. Direct conversations about [JG: Oh yeah.] suggestions about what you should do sexually to get a role.

JG: In the '70s it was wild. It was wild. I was so naive. So naive! I completely didn't realize that that was what was going on.

AS: I mean I find it interesting that you talk about that time as with embarrassment. And it's also a time when you were made to feel small and made to feel like you were expendable and that you needed to put out. So.

JS: That you're good for one thing. [AS: Yeah] Or yeah - it was really it was a terrible experience.

AS: Do you feel like when you think about the decision to leave LA and go to UC Berkeley and get your college degree - was that a time of rethinking [JG: Yeah.] the kind of woman you wanted to be [JG: Oh totally.] in the world?

JG: I was so mad about the experience in LA that I basically said to myself, "Well I'm going to go to the -" because I felt like people were not paying attention in my mind at all. I was reading like philosophy books and stuff like I was like totally interested in ideas. And when all of this stupid stuff was happening in Los Angeles and I was so mad about it I said, "I'm going to leave here, I'm gonna go to the best university I can get into. I get the best grades possible. I'm going to go to law school and I'll show them. They'll remember me one day!" Ha ha ha.

AS: So here you are.

JG: Here I am, whatever - here I am. But, but I do know that that negative experience definitely propelled me in a different direction.
Jennifer was the first in her family to get a college degree. And she did well and went straight on to Harvard Law School in 1984. Supreme Court Justice Elena Kagan was a year ahead of her.
JG: I could not believe how many women I met who wanted to be president. I never met anybody—any women—who had that kind of ambition. I was like, wow that is amazing, how fantastic to be in this dorm full of - of estrogen power. It was awesome. But even back then you could see people like Elena Kagans, you know, formulating where they were going to go to make an impact in some way. So it was very cool to see women in those kinds of nascent powerful positions.

AS: And how did you orient yourself into those conversations? Did it sound like, "Whoa, those women are on a different path?" Did it sound like "this is this is something I've never considered for myself"?

JG: Well it was more that I had not met—maybe because I was like a public school kid. And there was a lot of women at Harvard who had been groomed in a way that I had not been groomed myself. And so I was just so surprised. And - you know, positively surprised by the fact that there was unfettered ambition on the part of women.
And that made Jennifer more ambitious. In her first year at law school, she ran her first campaign: to be editor of the Harvard Civil Rights Law Review. That's also when she met a fellow law student, named Dan Mulhern, the man who would become her husband.
JG: We met actually counter M of People's Express Airlines. The People Express Airlines was the sort of precursor to Southwest where you didn't get a seat or whatever, your cheap student airline.

AS: It was called People's Express?

JG: People's Express! It was called People's Express. And you paid like 50 bucks they gave you a ticket wherever and so all that all we all went on the cheap. That's where we met. We were both headed back to Harvard from spring break.

AS: And what was it like for you as someone who was formulating the kind of career you wanted to have you're on this pathway of elite achievement at Harvard Law School and falling in love. Did, did those feel in tension at all for you at that time in your life?

JG: Yeah I'm sure that my husband would definitely say that too. Because I mean so first of all I mean, this is what he would say. He would say okay she was editor-in-chief of the Harvard Civil Rights Law Review and he had to find a way in to all of that including studying. So my husband is this great romantic. And so he was very shrewd about how he got me to - because at first I was not interested. I was focused on the things that I was working on. You know but he pressed flowers in wax paper and put him in my mailbox or he wrote poetry and put it in there. And he would cook for me. I mean he wore me down basically is what it was. And it turns out such a brilliant move on my part, one of the best moves ever was to fall for a man who is my personality opposite. Meaning that if you looked at how he is, his orientations in terms of life and how I am and you were looking for somebody, for example, to care for your children you would pick him in a minute. I make lists I got to be somewhere on time. "Come on come on come on come on, we gotta do this -" That's just not him. So I feel so fortunate to marry somebody like that because ultimately I would not have been able to be governor if I did not have a partner who was willing to take the lane of being primarily responsible for the children.

AS: And when you talked, when you were deciding to marry, what was the way you thought your lives would go along next to each other?

JG: So we're Catholic and we were prepared for marriage by a Catholic priest. And he would ask all of the usual questions etc. And Dan, my husband, who is from Michigan, I was from California, right, so he's from Michigan. And he wanted to go when he was growing up he wanted to be either pope or President. That was his ambition. You know he was the debate champion, he went to Yale as an undergrad. Believe me being the First Gentleman of Michigan was not high on his list of - of things to be. So I thought I would be going to Michigan, we were going to move to Michigan because that was where I could do work in civil rights, etc. And that I would be supportive of him of course if he wanted to run. I would happily help him out. So the priest says to us, "What if the party comes to Jennifer instead and asks her to run?" And Dan said, "Well if she wanted to do that I would support her 100 percent."
Coming up, Jennifer Granholm talks about what happened when Democratic Party officials in Michigan did approach her about running for office when her youngest kid was just 10 months old.
JG: I got these three kids. They're young. There's no way. And I come home and I tell Dan this has happened, and he said, "Are you kidding me? The door only opens once you gotta go through it! I got the kids, this is great!"
—
This episode is a collaboration with the podcast The United States of Anxiety from my colleagues at WNYC Studios. Their latest season is all about gender and power in American politics. I especially loved their very timely episode this season called "We've Been Here Before." It's about Anita Hill's testimony during Clarence Thomas's confirmation hearings in 1991.
Back then, there were only two women in the U.S. Senate. Former Maryland Senator Barbara Mikulski was one of them.
BARBARA MIKULSKI: First of all, every podium when you go to speak on the floor was built for some guy who was 5'10" or 6'2".
Neither she nor her one female Senate colleague were on the Senate Judiciary Committee that questioned Anita Hill.
BM: It was very clear that there had to be more women. And that we needed to be on not only Judiciary, we needed to be on every committee.
Someone who was on the Judiciary Committee questioning Anita Hill was Al Simpson, a former Republican Senator from Wyoming. I spoke with him and his wife Ann in one of the very first Death, Sex & Money episodes. And they told me about the private conversations they had around that time.
ANN SIMPSON: I just couldn't believe the way Al was operating. And I did tell him, you all sound terrible. You sound like a bunch of male chauvinist pigs.

ALAN SIMPSON: She'd say I don't know what you're doing today, but for god's sake, you look really nasty.

ANN SIMPSON: You look like a beast.
There's a link to that episode on our website, at deathsexmoney.org. And you can find the entire season of The United States of Anxiety at wnyc.org/anxiety.
On the next episode, author and internet phenom John Green. He wrote the hugely successful young adult novel "The Fault in our Stars." And as his career soared, his mental health suffered.
JOHN GREEN: I couldn't describe it to anyone and so when I was in that terrible um, constant mental anguish that—intense psychic pain it felt um, very isolating and alone because I was the only person who had that pain.
—
This is Death, Sex & Money from WNYC. I'm Anna Sale.
After Jennifer Granholm finished at Harvard Law School, she moved to Michigan, where she clerked for a judge, worked for the U.S. Attorney, and eventually ran the law office for the county Detroit is in, both prosecuting and defending cases.
Then, when she was in her mid-30s, "the party" approached her. That meant two guys who were long-time Democratic leaders asked her to run for Attorney General of Michigan. A woman had never held that office.
JG: You know when you run for office as a woman - this is what I was told. This is different now I think - but when I was first running for office. One, I had to cut my hair, uh -

AS: Into a short -

JG: Short, super short. Which I kind of like anyway. But but -

AS: It was the instruction.

JG: It was clear, right. You had to cut your hair. I actually asked my hairstylist - because I was young when I first ran, I was in my 30s.

AS: 37, right?

JG: Right. Can you put some gray streaks in? And at the time they didn't have product that was good for that because it would make me look like had blue hair which would really be outré. You know I can't do that. So you know you have to look completely asexual and you cannot have people look at you and the first thing they think about is how you are shaped, what you are wearing. You have to be as neutral as possible so that people will pay attention to the words that are coming out of your, out of your mouth. There is no way you should be showing any, any boobs, any, you can't even you shouldn't be showing your toes. You know…

AS: Now that you're out of office your toes can show.

JG: Now, look, we're here and I've got free toes.

AS: Open toed sandals.

JG: Free those toes!

AS: Who told you to cut your hair?

JG: Um… it… you know you have consultants right? All around you who are - and actually I wanted to, because I didn't want, you know I didn't want to, I wanted to look tough. I didn't want to be distracting. You know if I had a long blonde hair I would be, you know you don't want the bimbo thing applied to you at all. You know. So I wanted to do it as well. But they, you know there's a whole series of things that you do when you run for office.

AS: Do you remember feeling hemmed in and resentful at any of the particular instructions?

JG: Umm, I don't think, I mean in order to feel hemmed in and resentful I think you have to be more aware, than I was. I was just learning. "Oh really is that how you do it? Oh okay." So if I had had more experience in life perhaps I would have felt resentful.

AS: Were you told to emphasize or deemphasize that you would be the first female attorney general in Michigan?

JG: Deemphasize. It was obvious that I was a woman. Right? I didn't have to say that. Everything you had to deemphasize. You had to deemphasize your children [AS: Really?]. Oh yeah. People don't, because they were nervous. I mean I had a 10 month old right? And so they would want to know well what the hell? We're not going to send a woman in there when she's gonna, she's going to be torn and her kids will be at home and who's watching the kids and all of that. So if you looked at any of my literature you didn't see kids.

AS: Did you have your husband?

JG: You didn't even really see my husband. It was all about this disembodied creature who was going to fight for you because you don't want to remind people of the mess that is a family and all of that and it would make you look too, too potentially diverted.

AS: Did you have a serious conversation with your husband to say this is how our family [JG: Totally.] is going to have to operate differently?

JG: Yeah, at that initial decision about running for attorney general, this is when Dan stepped up and said I've got the kids I've got this lane. Don't worry I'll take care of it. And that made that just completely liberated me.

AS: And that meant he became in charge of the family calendar, sick days, babysitters, etc.

JG: Right. He's not really great at all of that. He would say that—he's really great at nurturing their souls. He's not great at the logistics part but that's okay because I'm really good at that and I'm very efficient at it. But he took care of the most important things, which was their little hearts and them feeling you know that their family was there for them. So. They did participate with me like in parades and stuff. But after a few parades it, you know it gets kind of old and you don't want to drag kids to something they don't want to go to because that's a terrible picture.

AS: It's bad enough if you're a mom, if you're a bad mom with a crying baby, then...

JG: Oh my God. Right.
Jennifer won a close race for Attorney General in 1998. And within a year, Democratic party officials were back talking to her about another campaign.
JG: This is when the party comes and says, "Okay you are the only statewide elected Democrat. You've got to start thinking about Governor." I'm like no, I love this job. This is such a great job. But eventually they persuaded me to say, yeah I'm going to run for Governor.
She ran in 2002, and she won. She governed while Michigan's industrial economy was in transition, and then falling apart completely. The worst came during her second term, when the global financial crisis was compounded in Michigan by bankruptcies in the auto industry.
JG: Michigan had the highest unemployment rate in the nation during the Great Recession. It had the greatest loss of manufacturing jobs during this time. We had the greatest outflow of people leaving the state because of the job situation in Michigan. And so it was, you know a combination of empathy for people and playing tough was what was necessary. I would say to anybody who's deciding whether or not to run for office timing is really important. And I happened to be governor at a time - at the worst possible time in Michigan history. Had I known, I might have waited a term or two. But nonetheless - I say that kind of smiling. But I, I do think that when your state is in a crisis like that, your decisions have that much more impact. And so it was a privilege to be governor during a time of huge crisis while it was super, super hard for obviously people of the state and for me too.

AS: I read in The Washington Post as you were leaving office you were asked about your approval rating and you said something like "I hope it's 30. It's, it's really low whatever it is."

JG: Yeah.

AS: How did you personally deal with the fact that you had governed during a time of huge structural shifts where your personal ability to control what was happening for people in your state was somewhat limited.

JG: Somewhat! It's funny because even now you know in the governor's race in Michigan today you would think that I was on the ballot because my image is being morphed into the woman who's running for governor now.

AS: Oh you're like Nancy Pelosi in Michigan. [JG: Yeah, exactly.] You're someone Republicans run against.

JG: And you know I keep saying, really? Do you really think a governor is responsible for the global meltdown in the financial sector or for the bankruptcies in the auto industry? Do you really think that's - 'cause that would be one powerful governor if that is really true. So you know I, I say that intellectually. Emotionally I still you know I feel, I feel sad for me personally. If I can be sorry for myself. I feel sad that I governed at a time when I am seen as being responsible for the high unemployment rate in Michigan even though I know intellectually of course it happened because of the global recession and the auto industry and our overconcentration in manufacture - in that manufacturing sector which obviously was 100 years in the making.

AS: I imagine some of those meetings with the auto industry, where there may have been a generational gap between you and some of the people you were meeting with [JG: Mmhm, for sure.] and that they were primarily men. [JG: For sure.] Did you feel that?

JG: All the time. But not just with the auto industry. With almost everything. I mean with my counterparts in the state legislature at least in certainly in my first term that was true you know with business leaders across Michigan. I mean I was yeah, I was young, I was a young person and I felt insecure myself, right? So I, you know, I picked somebody to be my lieutenant governor who was super experienced in the legislative process which is great. He could handle that side of things. However, I wasn't going to show any of that right? You had to demonstrate that you were twice as prepared as anybody that you knew. It did require me to really study, and know every issue backwards and forwards, in order to be taken seriously and which I did.

AS: Did you have a group of women friends who you could call up at the end of a day where maybe you've had some, felt some slights, absorbed them, blew past them and then just needed to go like, "Can you believe what happened today? [JG: Yeah.] Did you see that in in that meeting?"

JG: Well here's what I would say. It's difficult to find a peer, inside of the state. But the governor, the women governors you know who are still - like Janet Napolitano or Chris Gregoire, Kathleen Sebelius, Heidi Heitkamp when we were AGs together. We are still to this moment fiercely tight. You know, we'd have slumber parties when we do the National Governors Association or the national Attorneys General Association so that we could just you know vent a little bit and share you know, share a laugh. So those were my peers and those were my friends still.
Jennifer couldn't run for governor again after two terms. And afterwards, she and her husband left Michigan for California, in part to be near her aging parents.
But she's still active in Democratic politics, raising money and advising other candidates.
JG: I tell women who are running that they should go see Wonder Woman twice.

AS: The new Wonder Woman.

JG: The new Wonder Woman. Because the way she goes about dealing with the curiosities of sexism is as a curiosity. "Oh that's so interesting." But she does not let it stop her from her mission of protecting people. So, people want a warrior. They do not want a victim. And so the more you call attention to that the more people see you as seeing yourself as victimized and you don't want to be seen as a victim. You want to be their champion. So it's empowering to be able to fight for them while blowing off sexist comments as though it didn't penetrate your armor one bit.

AS: I do think about - that is so difficult for people running for office to both project strength and fierceness and make sure they're in no way undermining their likability.

JG: Yeah. Oh for sure.

AS: You always have to be a pleaser.

JG: Especially for women. You got to be likable. Right. That's, you know men don't have to worry about that so much. But for women if you're not, unfortunately people still, you know if you're not likable then you're a bitch. And you cannot elect a bitch. But I would say if I'm a bitch on behalf of others and this is a serious subject, I'm going to claim that.
That's Jennifer Granholm, the former governor of Michigan. She now teaches public policy at UC Berkeley and is a commentator on CNN.
And do check out WNYC's podcast The United States of Anxiety. This season is all about women in politics. And this week's episode focuses on two women running for office this year: Georgia gubernatorial candidate Stacey Abrams and New Jersey congressional candidate Mikey Sherrill. Subscribe at wnyc.org/anxiety.
Death, Sex & Money is a listener-supported production of WNYC Studios in New York. I'm based at the studios of the investigative podcast Reveal, in Emeryville, CA. Our team includes Katie Bishop, Anabel Bacon, Stephanie Joyce, Joanna Solotaroff, Emily Botein, and Andrew Dunn.
The Reverend John Delore and Steve Lewis wrote our theme music. Thanks to Jessica Miller and Christopher Johnson for their help on this episode.
Jennifer Granholm said that leaving elected office brought mixed feelings—some relief, some grief about no longer being able to affect things in the same way. But one thing she loves is getting to be less careful about showing her opinions.
JG: Back in the day it wouldn't have been perfect for me to express every outrage that I feel which now I do on Twitter and I - I love all of that. And even if it's misspelled you know. What the hell.
I'm Anna Sale, and this is Death, Sex & Money from WNYC.
Copyright © 2019 New York Public Radio. All rights reserved. Visit our website terms of use at www.wnyc.org for further information.
Music Credits:
"Where It Goes" by Jahzzar
,
"Storyteller" by Jahzzar
,
"On Our Own Again" by Blue Dot Sessions
,
"No Smoking" by Blue Dot Sessions
,
"Liptis" by Blue Dot Sessions