The Cookie That Ended Jeff Garlin's Sobriety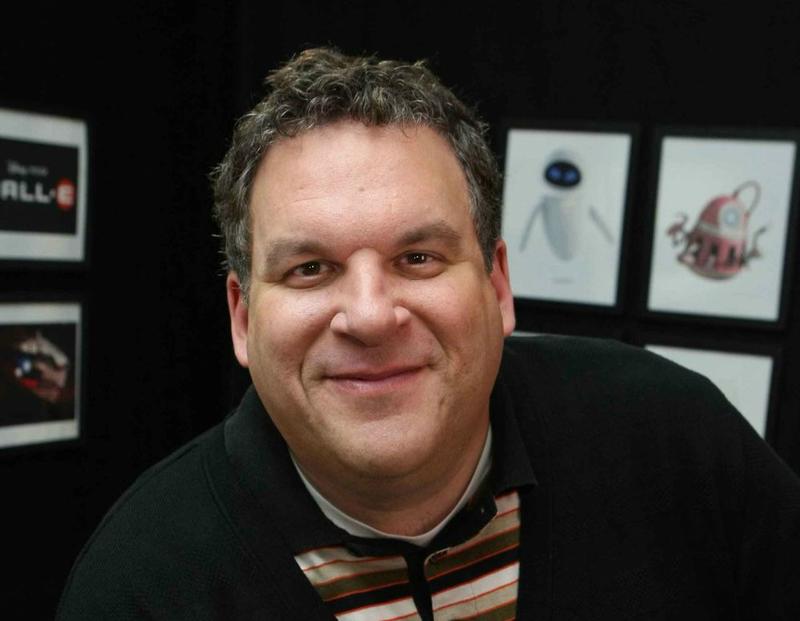 Transcript
Jeff Garlin: I'm funny whether I weigh 180 or 480. I'm just funny. 480 and 180 would both be equally sad though. One I'd be a twig, and one I'd be like "What the hell happened to you?!"
This is Death Sex and Money.
The show from WNYC about the things we think about a lot…and need to talk about more.
I'm Anna Sale.
Jeff Garlin is best known for playing Larry David's manager on Curb Your Enthusiasm.
JG: Boom, she was there, you can't control who pops in. She pops in!

Larry David: She pops in? Well why didn't you pop her out?

JG: I tried poppin' her out, she wouldn't pop out!
He also stars in the ABC sitcom The Goldbergs, and just released a Netflix movie called Handsome. He's been so busy recently that when we talked, he'd almost completely lost his voice.
JG: Can I can I get some hot water?
I was in California. He was at our studio in New York.
JG: If you have lemon great, if not just give me a hot water too. Okay, cool man.
Jeff knows how to deal with vocal strain. He's been talking on stage since the '80s, when he started doing stand up.
JG: It's a real important thing, comedy, to make us human and help deal with pain.

Anna Sale: Hm.

JG: Life throws a lot of pain at people and my job is to ease people's pain. That's my job.
Comedy has helped Jeff deal with his own pain, quite literally. In 2000, right after he shot the pilot for what would become Curb Your Enthusiasm, he had a stroke. He was 37 years old, with a young son, and one more on the way.
JG: It's funny, I was sleeping in my son James' room. Maybe I had a show the night before and I came home late? James was sleeping with his mother and I remember the dream I had. I was having this dream about being on a spaceship and my job was to take care of the plants that were on the wings of the spaceship and I walked out—I was out there, not even in a space suit, watering the plants! On this thing! [Laughing] I remember it so clearly.

And then I woke up and I was nauseous and the room was spinning. And I go to the hospital and they take they take a - they examine me and they say, "You're having a stroke." I mean I wasn't - I was afraid of dying at the beginning, but then when I stayed in the hospital—you know, a few days in and things are starting to even out—I'm talking with a slur. I can barely walk and I thought I'd never do comedy again. It's over.

I didn't, like feel sorry for myself, but I was, like, lost. Like what is this? I used a golf club for a - um, you know, like a cane - 'cause I thought it was funnier.

AS: Uh huh. [Laughs]

JG: I thought "I'm a comedian!" Not that I played golf, even, but I had a golf club.
Jeff used that golf club as a prop on the Curb Your Enthusiasm set. He went back to work just a few weeks after his stroke. He considered it his rehab.
JG: By the end of the season. I was pretty much good to go. But the journey—if you watch Curb Your Enthusiasm now, if you've seen me lately, if you watch any of my movies, anything, and then go back and watch the first season of Curb, you will see an ill man. A sick man. I was very "strokey" as I like to say.

AS: Before your stroke was your health something that you thought about, or not so much?

JG: Well yes, yes but no, meaning what led to my stroke was, I'd gotten in a car accident but I was really fat when I got in the car accident, and I was stressed and I was taking all these meds. I developed Type 2 diabetes, so. And then by the way, Curb—I actually ended up gaining weight, ya know. I was just—it was full of anxiety and I was up to 320 pounds. I weigh about 260 now but I was really - and I'm working on getting down to about 230, 240, and then I'll be good. But man, I didn't take my health seriously. I was arrogant, I was, ya know, just arrogant that's all.
Over the years, Jeff has tried a lot of things to change his relationship to food, including transcendental meditation and going to meetings of Overeaters Anonymous.
JG: It's so strange as compared to the other addictions like cocaine, alcohol, what have you, because you don't have to have those to function. You think you do but you don't. Whereas food, I have to keep myself nourished. So every day you're faced with these choices and they're quite difficult. I mean, it's a challenge every single day. You really have to live it moment to moment.

AS: How has thinking about food as an addiction for you, how has that been helpful?

JG: Well the addiction part is great because then when I'm sober, i.e., for me, sobriety -

AS: So you say sober, you use that term.

JG: Oh most definitely for me it's sobriety, its sober. If I approach it like sobriety, it helps me be successful. If I don't approach it like sobriety, I am doomed to failure.

AS: Have you had instances where you feel like you've like fallen off the wagon?

JG: I went—okay, so dig this. So, ya know, I went almost seven years without eating any sugar. And the thing you don't know about addicts is that it's not just bad things in life that you don't want to feel, that cause you to want to eat a cookie or drink. It's celebrational things, positive things, anything with a feeling brings about wanting to eat. I always say I eat Pop Tarts raw, 'cause I don't have time to toast 'em. I need to shove down my feelings.

AS: [Laughs]

JG: And so I remember this really clearly, my older boy, James, was guesting on The Goldbergs, he was playing a kid in high school who was very similar to me—it was just the storyline ya know? And the day he's shooting I was so happy, so happy, like one of the happiest days of my life. And I'm over at the craft service, you know all the food they serve the crew. And without even thinking I ate a cookie. And I didn't even realize I'd done it until I was done. Well, I thought, well I guess I can control this. And an hour later I had ice cream then I had more cookies and then I've really been stumbling ever since. I've had a month, a month and a half but you've actually caught me right now, I'm currently sober.

AS: How long have you been sober, this stint, this current stint?

JG: Two days.

AS: Two days.

JG: Yeah, I'm in New York man! [Laughs]

AS: [Laughs]

JG: There's stuff here that's shoved in my face! Whether I want it or not it's New York. New York's the most delightful place to eat in the world! Are you kidding me?

AS: [Laughs]

JG: So, yeah. a couple days. Actually not even, a day.

AS: A day.

JG: Not even. Probably hours. I dunno. But I am, as I speak to you, I'm sober.
Coming up, Jeff Garlin on building his comedy career while building a family. He started by marrying his agent.
JG: She likes to joke that she got more than 10 percent.

AS: [Laughs]

JG: Ha ha.
—
It's August. The beginning of school is right around the corner. And after our student loan episodes, so many of you told us that you wish you could tell your younger self what signing up for loans was going to mean for you years later.
For me, there's a lot I wish I knew when I was just out of high school. So—we're going make a podcast playlist that'll be a toolkit for life after 18. And we need your help. Send us your suggestions for podcast episodes that contain some wisdom for the first years of adulthood. It can be a Death, Sex & Money episode or from somewhere else.
We're going to build this playlist in a in a new way—by text. Text the word "episode" to 7-0-1-0-1. That's "episode" to 7-0-1-0-1. We'll respond, and then you can tell us your suggestion for our Welcome to Adulthood podcast playlist from there.
My suggestion is the recent series from the podcast The Heart, called "No." It's about consent and sex and the long process for young women about learning how to say no.
Again, text "episode" to 7-0-1-0-1. We'll circulate the playlist later this summer. Think of it as an orientation packet for young adulthood that you'll hang on to long after you've lost all the other paperwork.
On the next episod, we hear from a widow in her mid-30s, who talks about the awkwardness and isolation that comes with losing a partner so young.
RW: When somebody dies, people are definitely - like they do not know how to talk to you about it, which I think is totally universal and completely normal. Like I have - I have been on the other side of it where like somebody's been like, "So-and-so died," and I'm like, "Oh, I don't know how to respond even though this just happened to me!"
—
This is Death, Sex and Money from WNYC. I'm Anna Sale.
Growing up in the Chicago suburbs, Jeff Garlin was never a great student. He struggled with undiagnosed ADD, and mostly focused on cracking himself up.
JG: When I was little I said things like girdle, I said Jamaica, brassiere, like those were words I thought were funny.

AS: [Laughs] Girdle?

JG: It's true!

AS: [Laughs]

JG: Yeah girdle. It's totally true. I'm talking about a 4-year-old, 5-year-old, but yeah. From preschool on I was the funniest kid in school and I took great pride in that. But. I frustrated my dad, you know, 'cuase I was ya know a different kind of kid.

AS: So you were sort of like - when you say you were a different kind of kid what do you mean?

JG: My dad was very much on the straight and narrow. He worked in law and he was very much by the book.

AS: Hm. How has how has having ADD helped your comedy?

JG: It forces me to be in the moment and it forces me to...that's about it. It forces me to be in the moment. You know, here's the thing. When I sit in quiet moments, like ya know and just stare at the stars, ya know or I meditate, nothing pops in my head of looking back on my life. How's this, how's that. So when you ask me these things it might be the first time I'm ever considering it

AS: Huh.

JG: So I may a week from now go, "Oh here's what ADD did for me," but right now the only thing I can think is, to function having attention deficient disorder one of the things you need to be is totally present in what's going on. It helps you focus. So that is what has helped me.

AS: When you were starting your comedy career, and you're in your twenties, were you worried about money when you were starting out?

JG: Oh yeah. I mean I don't know that I was necessarily laying around worried about it, but I didn't have it. I remember once in Chicago I had to walk about five miles because that's where the wiring place was. I hadn't eaten and I'm walking through the bitter cold, in the snow to get money. God bless my dad.

AS: Do you remember why you asked at that moment?

JG: I WAS BROKE!! Ha ha ha ha! I mean I really hadn't eaten, I hadn't eaten for about a half - a day and I had no money. I'm not too proud to call my father, who I know loves me, who I know doesn't want me to starve and go, "Hey man, i'm not getting money for a couple days. Can you send me some?" And the only thing that was hard about that was knowing that he didn't have much money. But he sent it. My dad!
Jeff's dad got to watch his investment pay off as Jeff got famous. Then he got ill with lymphoma. He died in 2011.
JG: I lost him young, he was only, um, seventies, early seventies. Ya know its like, um, it happens. That's part of the festival, man. It's temporary. It's all temporary. Like my dad's death wasn't shocking. It was a loss, a hole that I'll never be able to fill. It wasn't shocking.

AS: When you think about that process of losing your father, are there things that you left unsaid that you look back and wish you had said?

JG: God no! I at all times told him how much I loved him, he told me how much he loved me, there was great affection, great honesty. Nope! Nothing.

AS: Did his decline change your relationship at all?

JG: Um, well. It became softer. Ya know, um, it became quieter. But the only difficult thing is—when people who are dying, he died of cancer—they hit that point of where they are done. That's it. They're done. They fought the fight. They're done. And that process from that moment through hospice is way too long. Way too long. And I'm not saying he suffered but it was over. And so that dragged out—so after he was pretty much, I'm done, there was another month. And then it got to the point where he couldn't have a conversation so it was all—that was the sadness of it.

AS: In your family now is your youngest son about to finish high school?

JG: Yeah, he's hes going to be going into his senior year next year. Yeah.

AS: So how are you feeling as a parent right now? With your two boys approaching being out of the house?

JG: Well my 21-year-old still lives at home too. Uh, which I'm different than my wife—I want them to live with me forever.

AS: [Laughs]

JG: I want them to be next to me forever, they let me kiss them as much as I want, I squeeze them and I'm there for them. What I've done in terms of discipline is just show them respect, that way if they're not respectful, they feel it on their own, it's delightful. And in terms of how old they are, I remember when they were little I used to say, "Can't you just stay this big?" Ya know, as a joke, but man it gets better ever year. And I just I dig them so much and I don't really think about I just think about—I just think about where they're at now, I don't think about, "Oh, time's passed," or any of that stuff. I don't like overthinking.

AS: Yeah. You have been married now for more than twenty years. What do you get out of your marriage now that wasn't part of your marriage when you were first married?

JG: Hm. Well, my I'm sharing time with a woman that's more soulful and more intelligent. And I started life with someone who had those qualities but has worked her life to develop them. So it's who share it with, and also she and I share two children that we adore. And that brings upon all these feelings. I mean that fills me like nothing else has ever filled me. So we share those things, and that makes it almost completely different than when I first got married.

AS: Yeah. How is sex in your fifties different than sex in your forties?

JG: Wow, see. Um...I'm hesitating because I don't have much sex. Ha ha ha ha ha!

AS: [Laughs]

JG: And I didn't in my forties either! And to me sex is so magical and so special and so—there's nothing greater than sex, including when I'm—ya know comedians will argue with me when you're killing that stage its pretty close to sex, but sex is the one thing more than any others that makes you feel human. Human man! So I feel human in other ways. I'm not saying I have a sexless house or anything like that. It's just, as many people do as they are older and married it's just - it just doesn't happen, for children, for whatever it is ya know? And what you want in a marriage, I think, is to be pres - I think, this is me personally, I think the key to marriage is being present everyday. Just be present, just look the other person in the eye and go, "Man I dig you. I'm really happy to be sharing this experience with you." And that to me makes marriage worth it. And then ya know have sex once a week. Ehhh, if you've got time for more, fantastic. And by the way, don't even have sex. Just stand naked together and have a conversation, dance naked, be vulnerable, be intimate. And I'm not talking as like a marriage coach. I'm just saying, these are my impressions of marriage.

AS: Do you have any questions for me?

JG: Okay. Um. What are you wearing?

AS: What am I wearing? I'm wearing a button-down shirt with polka dots on it. Green shirt with navy blue polka dots.

JG: And do you feel good about how you look?

AS: I feel okay. I'm dealing with post-baby body changes

JG: Well lemme just say something to you, something about that. Just wear it like a badge of honor. I'm gonna tell you something, we talked about all these things, that I'll tell you. This is specifically for you.

AS: Okay.

JG: Be kind to yourself. You always hear people say that but really, be nice to yourself because the world is not out to make you feel better or be nice to you, it can sometimes, but in general you're in charge of being nice to yourself. Every morning when I get up, I look in mirror and I smile to myself because I look ridiculous first thing in the morning.

AS: [Laughs]

JG: Well that smile makes me laugh and then I set the tone for the day.
That's Jeff Garlin. Look out for him in Curb Your Enthusiasm's ninth season, which is coming to HBO this fall. His new Netflix movie, Handsome, is available now. Jeff's character is named Gene, which was his father's name.
Death, Sex & Money is a listener-supported production of WNYC Studios in New York. I'm based at the Center for Investigative Reporting in Emeryville, CA. The team includes Katie Bishop, Emily Botein, and Andrew Dunn. Thanks to Stephanie Joyce for her help on this episode.
Our interns are Mankaprr Conteh and Kent McDonald.
The Reverend John Delore and Steve Lewis wrote our theme music.
I'm on Twitter @annasale, the show is @deathsexmoney.
And if you're in LA on August 12, come out for a live episode taping at the Annenberg Space for Photography. Details are on our Facebook page. And while you're online, why not head over and give our podcast a review. We love reviews! And it helps other people find our show.
Jeff still does standup regularly in LA. And, much like his approach to the rest of life…he doesn't like to overthink it.
JG: You know, I'd have to say at least fifty percent of the time, there's nothing in my head except the thought, oh I'm walking to the stage! Oh I'm standing on the stage! Oh I have a microphone! And then I just start talking. So, quite often, there's nothing prepared. ZERO!
I'm Anna Sale, and this is Death, Sex & Money from WNYC.
Copyright © 2019 New York Public Radio. All rights reserved. Visit our website terms of use at www.wnyc.org for further information.
Music Credits:
"Two Dollar Token" by Blue Dot Sessions
,
"Liam Rides a Pony" by Polyrhythmics
,
"Seattle Denver Arms (Instrumental)" by Loch Lomond
,
"Thoughtless" by Blue Dot Sessions
,
"You Know Who You Are" by Alan Singley