How Jeff Daniels Got Sober, Again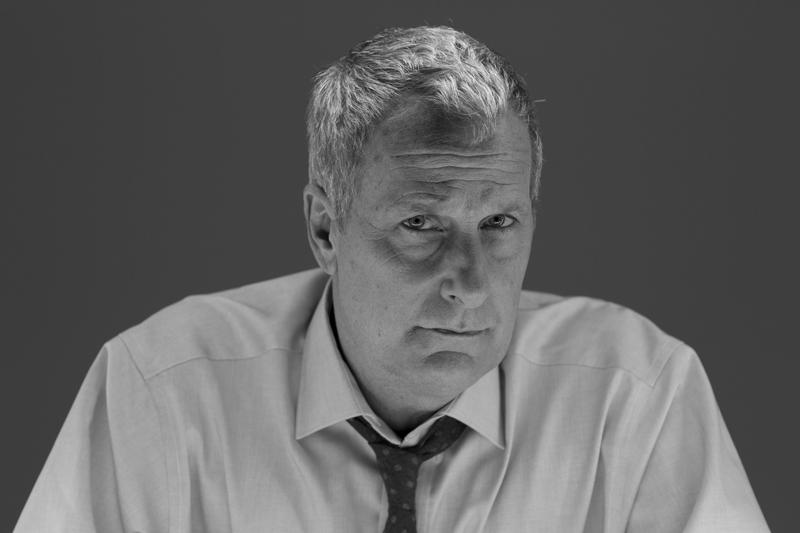 Transcript
JEFF DANIELS: You know, suddenly you get a phone call from the agent who says, "I hate to tell you this, but you're over. It's done." I went back to Michigan cause I didn't want to be one of those guys.
This is Death, Sex & Money.
The show from WNYC about the things we think about a lot…
…and need to talk about more.
I'm Anna Sale.
For the last 30 years, Jeff Daniels has been a Hollywood actor working from a home base in the Midwest.
JD: Where it gets hard is when you're sitting in Michigan when Michigan becomes Siberia. You see actors that you know you're better than they are and they're making 15 million. And they're getting away with the same bag of tricks. And - and you're worried about whether you're going to get a job in the next four months because you have to. You have to do something, because you've got a family and a house that has a mortgage and you're living in the middle of nowhere. There was a time when I couldn't even watch the Oscars. I'd try for ten minutes. And then I'd - I had to leave the room. I'd get so mad.

AS: Mad?

JD: Yeah. Yeah. Maybe it's competitive or maybe it's, you know - you - you want to be appreciated for that thing you're able to do. And that's - that's where the business doesn't care.
Jeff is 61 years old...and on screen, he's perfected a particular brand of white American male that is not altogether likable. He's been the principled yet insufferable anchor on The Newsroom, the snobby intellectual father in The Squid and the Whale....
JD: Ivan is fine, but he's not a serious guy. He's a Philistine.

OWEN KLINE: What's a Philistine?

JD: It's a guy who doesn't care about books or interesting films and things.
Jeff was also the cheating husband in Terms of Endearment...
DEBRA WINGER: You wouldn't try to look so innocent unless you were guilty.

JD: You're going to have to take my word for it. You have no other choice.
But Jeff's also done lovingly stupid, in Dumb and Dumber and Dumb and Dumber To.
JIM CAREY: Why don't you roll me inside? We'll get the nurse to take the catheter out of me. I wanna see if my lizard's still spittin' straight.

JD: We don't need nurses for that. I know how to do it.

JC: But don't you have to -
Throughout most of his career, Jeff's lived in his hometown of Chelsea, Michigan, population 5,000. It's about 15 miles west of Ann Arbor. Growing up, Jeff's dad ran the local lumber yard.
JD: I was the oldest son. I was being groomed. I took Trigonometry. I took Algebra. All those subjects that you need to know if you're going to work with houses and building and - and I was horrible. Horrible at it.
But performing on stage, Jeff could do. All through high school he did plays and musicals—and he studied theater in college, but dropped out and moved to New York City.
JD: September 1st, two o'clock in the afternoon, 1976, I drove through the Holland Tunnel.

AS: Did your dad help you out financially when you first moved here?

JD: He gave me the last year of college. He was paying for college at Central Michigan University. So he gave me a check for 4500 bucks my senior year and said, "This'll get you started. But if - if it's over, if you have to come home, then you're going to work at the lumber company to pay for your last year of college on your own." But I never got any money from him after that. And immediately got commercials, started getting commercials which paid rent.
And that gave him the freedom to audition for plays...and to take acting classes at the Circle Rep, a prestigious theater company.
AS: Did you feel like you fit in?

JD: No. No, and I was painfully quiet and - there's a play that Lanford Wilson wrote called "Fifth of July" where I play the lover of a character named Ken. And I'm the gardener, I'm the botanist, I'm the silent one standing in the corner while all of his friends show up at our house. That was Lanford observing me for two years of Circle Rep.

AS: "This is the role that you can really nail." (Laughs)

JD: Yes. Yes. "Well, we think he can speak. We have to force him up in front of the acting class to do any kind of exercise, cause he'd rather just sit against the wall and just watch." I just felt like I didn't know anything that they knew. They were interested in that psychological thing that's deep inside you that you need to take out and pour onto the table so that we can see it. And that - that was intimidating.
Being emotionally vulnerable... was not part of the way Jeff grew up.
JD: It was Protestant Methodist Midwestern. You know, the joke is, "Sit around the table and, you know, dinner conversation was 'Pass the peas.'" You know. But it wasn't. My dad was an entertainer. He was - he was - he could be the life of the party. Without alcohol. He enjoyed people. He - he brought out - he was a great listener. He brought out the best in someone. Got them laughing. People loved being around him. My mother was the quiet one, the shy one. And I always remember just watching him. In front of five or six people and everyone was laughing, and he was telling another story about the time that Jerry - "Jerry, remember when…" And he was - he was that guy.
After several years in New York, Jeff had his own family to support. He'd reconnected with a woman from home...
JD: She wrote me a letter and I went back and looked her up and, you know, as we tell my daughter, "Wait until you feel the flutter."
They married in 1979, when Jeff was 24. His wife Kathy was just 20. She moved to New York to be with him. They had their first child five years later, but decided they wanted to raise him back home, in Michigan.
JD: I was doing well. The phone was ringing. But I didn't trust that it would continue to ring. It would end next year, or five years, or ten years from now. And I wasn't going to drag her through that life, because I didn't love the life enough to do that. So that drove the choice. And I will sustain the career from the Midwest for as long as I can. And that became the business plan for us. And - and it worked for quite a while. This business and an artistic life, it's up and down, wild extremes, and so I think part of the move to Michigan, and uh, why the marriage has lasted so long is that there's this - this consistency of tone, or of understanding of, that it doesn't - it isn't wildly fluctuating. That's what you work to hang onto, anyway.

AS: And she wrote you the letter.

JD: She wrote me the letter, yeah.

AS: So she went after it.

JD: She asked for this. So we chose family over career and -

AS: Is that how it felt?

JD: It - it felt right because I had such a fatalistic view of the career. Not of the family, but of the career. The family and where I was living and where I was from and what I consider to be home, which was Michigan and the Midwest, was consistent. The career is inconsistent. Fame is fleeting. It's true.
By the time Jeff was in his 40s, he had two more kids, and his chances to play good roles were slowing down. He opened a local theater in town, wrote songs and played guitar, and produced plays that he wrote himself.
He still got acting offers...but he said no to a lot of them.
JD: I turned down TV series and long runs in Broadway plays. Said no to movies that shot in Bulgaria for six months or Thailand for four months. I can't - I'm not going to be away. I'm not going to be that. So I'll pass. And I'll take the supporting role and I'll do a more commercial film. Arachnophobia. My Favorite Martian. Dumb and Dumber, you know, in 1994 to kind of, you know, get back in the game.

JD: I'll do it if you will, Lloyd.

JC: Okay. You go first.

JD: No, unh-uh, no.
In Dumb and Dumber, Jeff played opposite Jim Carrey, and got paid a fraction of his co-star's pay: $50,000 compared to Carey's $7 million payday, according to the directors. The movie is chock full of toilet gags and body humor, like this extended joke about hot sauce…
JD: It's not so bad.

JC: More tingly then hot. (Coughs, screams, heaves.)
It was an enormous commercial success. But afterward, Jeff had a different problem finding roles.
JD: That took me out of the serious actor category. Um, and which I was warned about. And the guys - the agents that said that where - you know, in the end they were right. But it took ten years to kind of have people stop writing me off simply because I'd made a comedy that made a lot of people laugh, you know.

AS: It strikes me that during that period that you wrote a play about a man getting a vasectomy.

JD: Yeah.

AS: So you're about 45 years old...

JD: Mhm.

AS: Why do you think that you wrote that play at that moment in your life?

JD: There was an incident. I was getting a vasectomy at the time. I'll never forget this. And I was getting the vas- we had had our third kid, and I had watched her go through childbirth three times. I said, "There is no way I am going to force you or ask you to do anything." I said, "I'm the one. I've gotta be the one who gets fixed." And I remember laying there and he had just snipped the first tube, vas deferens tube, whatever. And you could hear it: Snip.

AS: Oh you heard it?

JD: Oh you hear it. And then you hear the burning of the flesh. You hear where they get the - it's like a noodle. They pull it out and they snip it and there's two ends and they literally "zzz, zzz." And it goes -

AS: Were you watching?

JD: You could if you liked. You could - you could - you're on your back, you could lean up and look down if you chose to. I chose not to. And there is a - and I smelled it and my wife is sitting there trying not to laugh. And I just turned to her and I go, "I know what my next play's about."
Coming up, Jeff talks about the inner voice he heard 10 years ago that told him it was okay to have a drink…
JD: Go big or go home. Crack a beer!
…even though he'd been sober for years.
JD: In acting, we call it "fire the judge." It's the devil on your shoulder. It's the judge where you - you go out on stage to - and right before you're going into the big speech, that voice says, "You're gonna screw this up." You gotta fire him. And I didn't fire him that day.
--
We've been hearing a lot of stories about addiction from you, including porn addiction. This listener who asked to remain anonymous says he's been married for 7 years, and addicted to porn for 20.
Listener: I needed to not have sex with those images in my head from my years of looking at pornography.
Last year, he says he had what he called a "sexual reboot." He stopped watching porn entirely, and stopped having sex for 90 days. But he says the urge to seek out porn is still one he struggles with.
Listener: It is hard as fucking nails for me to want to not do anything about it.
Hearing this message made me wonder about your experiences with porn. How has it impacted your relationships in good or bad ways? Tell us your stories about porn by recording a voice memo on your smartphone, and email it to us at deathsexmoney@wnyc.org.
On the next episode:
Tasha "Taystee" Jefferson: "...Call me Taystee because my pussy be delicious, like an apple is nutritious, like a Clinton is ambitious..."
26-year-old actor Danielle Brooks. She grew up in a religious home in South Carolina, but she tells me about the freedom she now feels to talk about her body and sex, including her very first time.
Danielle Brooks: So I didn't lose my virginity until college, but like, I just remember being there, and the lights dim, and saying to him, with just my underwear on, I was like, "Just be gentle." (Laughs) And then like once we got into it, you'd have thought I'd had sex for years, the way I was talking!
--
This is Death, Sex & Money from WNYC. I'm Anna Sale.
Jeff Daniels was nominated for a Tony this spring, for his role in the play Blackbird. It's his second nomination—his first came in 2009 when he returned to New York to star alongside James Gandolfini in the play God of Carnage. Jeff credits that role for helping him land The Newsroom.
In Blackbird, Jeff plays another character with questionable morals—but this one is to the extreme. His character Ray is a middle-aged man who had a sexual relationship with a 12-year-old girl. The play takes place 15 years later, when the now-grown girl confronts Ray at work. He tries to explain himself.
JD: You were on my mind all the time. I couldn't get you out. And I gave in. I gave into it. Everything. Every day was about how I could see you.
It's an intense performance…"brutally unforgiving" is how Jeff describes it. Jeff first did the play in New York in 2007. But he felt like he needed to try again.
JD: It's like, you need to come back. You can't sit there in Michigan. You need to do Blackbird on Broadway.

AS: So, what have you done for the second run to get deeper and more connected to this character?

JD: I didn't understand—I don't know if 'addiction' is the right word—but the pull, the power of...in this guy's case having a sexual relationship with an underage girl. You don't - I mean, there are a lot of sick, sick people out there. And they - I wanted to know why. And I didn't - I didn't fully investigate why. And one of the things I've found is that during this play, he's been in denial. Denial. And then she walks in. And I liken it to alcoholics and the powerlessness that you have over something like that. And you find, you know - I quit drinking I don't even know when. It's been years. And I went to a couple meetings. And one of the things you find out is that that's the first word you hear, is you're powerless. You think you can beat it. You think you can outwait it, outlast it. And then you find out one day you can't.

AS: When did you stop drinking?

JD: I stopped a couple times. The second time was I'd say ten years ago. Just beer. But, you know -

AS: Enough that it was time to stop.

JD: Enough that, you know, "Well, I'm not going to do it tomorrow. I just - I won't." And then at 11 in the morning, "psh," popping it. And you're going, "Ahh."

AS: Did it change your marriage when you stopped drinking?

JD: Yeah.

AS: In what ways?

JD: I just wasn't asleep on the floor at 7.30 at night and the kids are running around and she needs help. Yeah. It just was - it just didn't need to be a part of my life. And I was - I was - and then you get unhappy. And, you know, the career was also at a point - that's when I started up again. And I thought I was just - just to take some of the stress away. Just to relax, like you would with anything.

AS: So your kids were nearly grown when you stopped drinking finally.

JD: Yeah, first time they were younger and the second time they were older, yeah. Second time I had just turned 50, which is a - that's a speed bump at 80 miles an hour. And - and I had been - I didn't - I wouldn't like - I hadn't drank for like, jeez, fourteen years. Cold, just cold turkey. Just quit. It was, "This is stupid. I'm done." And I was two months into 50. And I was checking into a hotel room in some city. I'm throwing the suitcase on the bed. And I hear a voice behind me. And it's me, clear as day, say, "Don't you think you've punished yourself enough?" And I stopped. I didn't turn around. I knew it was me. But it was as if I were - I said, "Yeah. Yeah I have." Minibar. Pff. Here we go.

AS: Wow.

JD: Three months later I was done.

AS: Done drinking.

JD: Yep.

AS: So it was a three-month period of drinking.

JD: Uh, yeah, I mean, where you were consistently -

AS: Where you allowed yourself to drink -

JD: Well, I'll just do a little, I won't do much.

AS: But it's interesting that you think of your sobriety as still very two discrete periods when it was still just a three month - fail.

JD: One was, try to do it on my own, and the second time was, you can't do this on your own. You need help. You need some people who have - who know a hell of a lot more about this than you do, Mister Smart Guy. And it's - it's in my family. It's in my family, which I came to learn. And I'm going, "Well, okay. Okay."
Jeff's children are adults now, but his family life is still centered around Michigan. His oldest son is a musician there, and Jeff has toured and played with his band. His middle son is there too, where he's an actor and filmmaker. And the youngest, his daughter, is a junior high school teacher in Michigan.
Jeff's younger brother now runs the family lumber company. He took over when their dad died in 2012.
AS: What's your adult relationship with your brother like? He's running the family business. You're famous.

JD: Yeah. It's a burden.

AS: Wealthy. Have moved home. What - what's that dynamic like?

JD: Um, it's good because you lose...fame - one of the things fame does is it eliminates people in your life because they can't compete with that. And it's in the room every time you're in the room. And - and friends that I used to have become known as, "Oh you're a friend of Jeff's?" And that's the label. And it's unfair to them and - and that's one reason why you don't move to Michigan. You live in New York in an apartment building with other famous people or you move to LA and get up on Mulholland Drive and move in next to Nicholson, you know. But I didn't do that. And so that was one of the - the big negatives. And there are a handful of people that can get past that. My brother is one of these guys that, um, was able to do that. I'm still his brother. And I'm still there. And when he has a tough time with something, you know, like he's been through a marriage or two, I'm there for him. You know, I'm not there as the guy who's famous. I'm there as the guy that's just a sounding board that, you know—especially now since our dad's gone—that - that you can just be there for each other. And it's nice to know that that relationship is still - we're still - can be the two guys who shared a bedroom downstairs.

AS: That's interesting that you say moving back to Michigan you felt in some ways more socially apart than had - if you'd stayed and continued to live where there are more famous people.

JD: Yeah. I - I - I went home and found out I was an outsider.

AS: Your kids are now grown. Do you wanna leave Michigan?

JD: I don't think so. I wish I were there more than I am. I didn't think I'd be running around doing television series and Broadway plays for months and months and years at a time.

AS: Do you get itchy if you don't have something to do?

JD: I think so. I think I get...um...unhappy. When I'm not working on something new. And that can be a song, guitar, writing a play for the theater company, or a new role. I always have to have something in the air. To feel alive. And there's part of me that just wants to sit on the porch and play the guitar and - and look back on a career, ya know. And Michigan would be the place that I do that.

AS: You are very busy for having said how you wanna stop working so hard.

JD: I know. Get some therapy. I know. I know.
Jeff Daniels. He's starring alongside Michelle Williams in Blackbird, which runs on Broadway through June 11. He told The New York Times he's going back to Michigan right after, in time for baseball season. He's got season tickets for the Detroit Tigers.
Death, Sex & Money is a listener-supported production of WNYC Studios. The team includes Katie Bishop, Chester Jesus Soria, Emily Botein, Hannah McCarthy, and Andrew Dunn.
The Reverend John Delore and Steve Lewis wrote our theme music.
I'm on twitter @annasale, the show is @deathsexmoney.
And subscribe to our weekly email newsletter. Go to deathsexmoney.org/newsletter to sign up.
Jeff Daniels won an Emmy in September 2013 for his lead role on The Newsroom. That was 34 years after he drove through the Holland Tunnel...and one year after his father died in Michigan.
JD: I wish he'd seen that. He's the one who said, you know, I don't know anything about your business, but... I think you're gonna grow into your face.

AS: [Laughs]

JD: What the hell does that mean? I just think you're gonna become better-looking as you get older and that you'll grow into your face. Maybe I don't know what I'm talking about... And then he'd go off. And then, of course, the third act of my career is, you know, he's exactly right.
I'm Anna Sale, and this is Death, Sex & Money from WNYC.
Copyright © 2019 New York Public Radio. All rights reserved. Visit our website terms of use at www.wnyc.org for further information.
Music Credits:
"Pickers" by Blue Dot Sessions
,
"All the Best Fakers" by Nick Jaina
,
"Looking for that Moment When Time Stands Still" by Will Bangs
,
"Goddess #2" by Doubleberg Trio
,
"I'll Miss You" by Will Bangs