Why Jeb Corliss Jumps Off Cliffs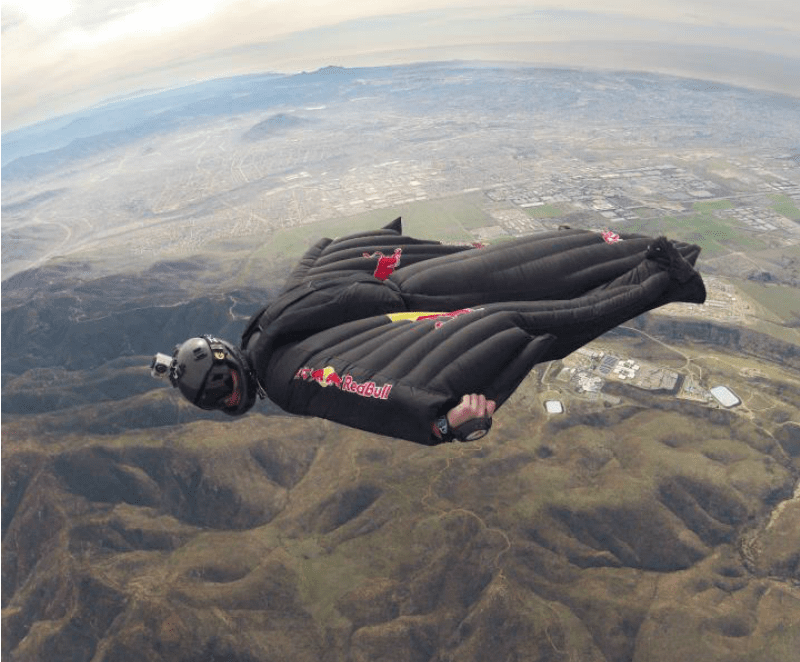 Transcript
Jeb Corliss: We're not curing cancer, we're jumping off of cliffs, not by any stretch. But what you can do is inspire. I know that my life was saved by seeing a person step off a cliff and fly.
This is Death, Sex & Money.
The show from WNYC about the things we think about a lot….
....and need to talk about more.
I'm Anna Sale.
Four years ago, Jeb Corliss was soaring high above the earth in a wingsuit. This is what he's most famous for -- jumping out of planes or off mountains and flying through the air in a contraption that's like a kite mixed with a batsuit.
He has to keep his body at just the right angle to keep it afloat. On this jump, off of Table Mountain in South Africa, he miscalculated by inches and slammed into a rock.
JC: When I hit that cliff, I should have died. When I hit that cliff I didn't think I was dead, I knew I was dead.
Jeb broke both his legs. He was hospitalized for five weeks and had to relearn how to walk. It was just the latest in series of major accidents.
JC: I should have died at least 100 times, you know, at least 100 times. And the fact that I'm still here is - I'm amazed by it.
I met him at his condo in Marina del Rey in southern California. The first thing I noticed is the long rope that hangs beside the stairway.
JC: All the way to the ceiling, yeah.

AS: How often do you climb that rope?

JC: Every other day.

AS: Every other day.

JC: So now the way I have it set up is on back and shoulder day, I can't use the stairs. I'm only allowed to use the rope.

AS: Is there a bathroom on this floor?

JC: There is.

AS: Okay, that's clutch.

JC: But usually I try not to cheat like that.

AS: Okay.

JC: Cause the whole point is to get exercise.

AS: To train.

JC: Yeah.
His place is a total bachelor pad. In the living room, instead of chairs and a couch, there's a pool table and a ping pong table...
JC: And it's got lots of mirrors and glass, and little glasses with skulls on them.

AS: Oh, I didn't notice the skulls!

JC: Yeah!
Jeb Corliss is an intense dude. He says he's always felt a little unusual.
JC: I was always a little bit different from everyone else. And most of it came from the fact that I traveled so much as a child. My parents were art dealers. So they would travel to places like Afghanistan, Nepal, India -- you know, Tibet, and buy a bunch of art and then bring it back to the states to sell in the little art gallery they had in Santa Fe, New Mexico.

AS: And did you like school growing up?
JC: No I hated school. I thought school was an absolutely horrible place. It was a battlefield. It was a place I went to go to war. You know, I was in a constant state of fighting and conflict, and it was a struggle.
AS: So, were you physically bullied?

JC: Oh, of course. Yeah. It's -- who in school isn't? Unless you are the bully, you're being physically bullied. It seems like the system that we live in. And I think that's a big part of, um. I got a real understanding of fear, real early in life. And what fear was. And how to not only control fear within myself, but once you learn -- once I learned how to kind of harness fear and understand it, then I learned how to control it to -- when you 're getting attacked by ten people, you know, you can't win, physically. You know, you have to use psychology and you have to use fear. And that's how -- I learned how to use fear in order to keep people, to make them leave me alone, actually.

AS: So, were you, was that like, sitting at a desk in school and you know you're going to have to leave the classroom and you know you're going to have to walk home...
JC: No, it's five dudes jumping on you and beating the shit out of you. That's like, that's usually where the fear starts.
Jeb uses logic to disarm fear... and really, most human emotions.
JC: I definitely have feelings. I'm a human being, I'm not a superman or a monster or something. I actually do have emotions and feelings, but you learn how to control them, and you learn how to understand that, you know, you can't let them make decisions for you.
Those calculations... have helped him build a philosophy about life that is totally rational ... and a little cold. Hearing him talk about life and death -- and love too -- can be disturbing. But he's so logical that it can be hard for me to argue with his observations, even if it felt sometimes like he was was ripping band-aids off my eyeballs.
Jeb says that learning how to maneuver around his feelings and to focus... kept him alive. Starting when he was 16 and deeply depressed.
JC: I was in a very dark place at that period of my life and I was in, uh - I had no hope, I had no desires. I didn't really want anything. And it's a very, like, bad place for a person to be, when they don't want anything. It's a strange experience. And at that point --
AS: It's a scary experience.

JC: No, it wasn't actually.

AS: No?

JC: It's just numbness, you don't feel anything. You don't care.

AS: Did you have suicidal fantasies or anything like that?

JC: Oh, I mean, that's all you want. All you want is for it to end. I mean, what, I'm going to do another 10 years of this? I'm gonna do another 20 years of this? I'm gonna do another 50 years of this? No. And it is. It's a very, very, very powerful feeling. And that's when I saw BASE jumping for the first time. I was just sitting on my couch just going through channels and stuff, and all of a sudden I see this thing come up and the guy standing on the edge of a cliff. And I was just like, wow this is interesting. What's he doing? And then all of a sudden you see him step off, and it just struck me like lightning. The second I was like, what was that -- that is just perfect. At the time it was this concept of, you know, wow -- very few people in the world are willing to do that. And if I do it, well then I've done something that very few people would ever be willing to do, and if I failed, well then, I got what I wanted. So it was literally win-win. There was no losing. It became, like, the perfect thing.
Jeb started with skydiving. But he had to wait two years, until he was old enough.
JC: Finally on my 18th birthday I went and did two skydives for my 18th birthday… and I didn't have very much money at the time, so I had to - I worked as a projectionist at a movie theatre, which I liked cause I didn't like being around the people - so I had to save up money, go do a skydive, save up money, go do a skydive. It took me 3 years to get my A license. Which is good. I needed it to take me a long time. Because by the time I finally got to the place where I could start like a BASE jumping course, and learning to BASE jump, I didn't want to die anymore. By that point I was already over the whole trying to kill myself thing. It now -- it was just this overwhelming desire to fly, you know? And how can I do that, you know, and not die, so that I can continue doing it? I want to just keep doing it. At 18, the skydiving started giving me some kind of, like... Actually, it wasn't the skydiving. It was just having a goal. Really, the skydiving was almost just an abstract whatever. I had a goal. Purpose. Like, a point. A reason to wake up, and a reason to eat food, and a reason to breathe oxygen. Just a reason to be here. And if you pick a good one, like if you actually pick something that becomes a passion, you know, and then all of a sudden it's like, oh, kill myself? No way, man, I've got shit to do.
That shit has included wingsuit flying and BASE jumping -- off the Eiffel Tower, the Golden Gate Bridge, a waterfall in South Africa... This was another accident in 1999... Jeb's parachute got caught in the waterfall and he was slammed to the ground, breaking his back. It was all caught on video.
He's also done other insane things: like swimming with an uncaged great white shark.
Since he was a teenager, Jeb's been singularly focused on seeing what he can do with his body, and survive. For the most part, that hasn't included making friends.
JC: For a long time everyone at the drop zone just called me the ghost, because I just showed up, jumped, talked to no one, left. I never stayed, never socialized, never even tried to communicate with people, did not care. I wasn't there to make friends. All that's relevant is getting the job done.

AS: Still?

JC: Yeah, still. Well actually, mid-part of my career I started enjoying, like hanging out with other people, and making friends and stuff. But then they all died, and now I'm kind of over it again. So now I'm kind of back to just being a total anti-social, just on my own, kind of thing.
JC: Alright buddy, you ready?
Jhonathan Florez: Yep!
JC: 3, 2, 1, see ya!
JC: And it's funny cause my last kind of new friend, he kind of barged his way into my life, and then he died. And I was just like, "Aw, man!" He was a nice guy, I like that guy. That sucks.

AS: Yeah. Who was that?

JC: My friend Jhonathan Florez. He was actually, he became a really good wingsuit pilot, and I kind of took him under my wing and kind of mentored him a little bit.
JC: Good work buddy… I got scared cause I opened and I couldn't see you… and I'm like, looking around, looking around and all of a sudden I see your canopy and I'm like, oh, thank you! Thank you thank you...
JC: And then, he just -- I guess maybe just a few months ago he died.
AS: I'm sorry.
JC: Ah! Don't be. I mean, you know. This is dangerous.
At least six well-known athletes died last year in wingsuit accidents, most famously two men who slammed into a rock face in Yosemite.
AS: Is there a ritual in your community of extreme -- wingsuit flying and BASE jumping -- is there a ritual when one of you dies?

JC: No. Everyone has their own way of dealing with death. You know? Human beings, I think that's one of the things that really terrify us, because we are one of the few creatures in the world that are really genuinely aware of it and it's funny because you hear people say, "Oh, you don't know what happens when you die, you don't --" Yeah, you do. And I think that a lot of people really don't like the fact that they know what happens when they die. And I think that a lot of people in BASE jumping, at least -- I can't really speak for others. I can only really speak for myself. I just know that all you are is just melting back into the universe from where you came and being released from consciousness. And that's actually kind of beautiful. If you just see if for exactly what it is, you can kind of sit back and go, well that's just a really natural part of life that everything goes through. Whether you're a tree or a fish or a species or a planet or a sun or a galaxy or a universe, eventually, you're coming to an end, you know? And that's -- there's nothing wrong with that. It's totally okay, and once you come to peace with that, then you can all of a sudden be kind of set free from this, like, looking at it in such a negative way.
Coming up... Jeb talks about his love life… and explains why he has no interest in marriage.
JC: Dude, if you can get a divorce then it's not marriage. If you can get divorced, then it's dating with paperwork. And now when you want to break up, because it sucks, now it's really costly. Now it gets expensive and annoying.
So far, Jeb Corliss has managed to evade death… despite having some very close calls. But we thought of Jeb… and his friends… when we got this voice memo from a listener named Dan. His friend, Kellen, died in an avalanche in 2010 while they were on a ski trip together in Colorado.
Dan: The biggest complaint I had when Kellen died was, everyone said he died doing what he loved. And for me that was a crock of shit, because I had a conversation with him right before, and he had things he was looking forward to, and things he still wanted to do.
Dan was the first person to reach his friend Kellen after the accident… he tried to save Kellen's life with CPR. And he told us he thinks of it as a near-death experience for himself, too. He's still struggling with survivor's guilt.
That's what I want to hear about next from you… your near-death experiences. If you've come close to death… I want to know how it affected you. Did it cause any fundamental shifts in the way you lived? Did your change your relationships? Make you more risk-averse... or more willing to take chances?
We're collecting your stories now -- you can record a voice memo on your smartphone or if you'd rather write your story down, just send us an email. You can send either to us at deathsexmoney@wnyc.org.
And we're also trying something new -- you can post your story on Medium. That way you can share your stories with us -- with other Death, Sex & Money listeners -- and the with whole internet at the same time. All you need is a Medium account -- it takes two seconds to sign up -- then add a post at our Death, Sex & Money page on Medium. You can find it by going to deathsexmoney.org/medium -- We'll also post the link on Facebook and twitter.
On the next episode… Lucinda Williams. We talk about trying to understand her mother's mental illness as a kid, getting to chase peacocks in Flannery O'Connor's yard, mourning her father's death last year, and other things…
LW: I can't believe I just said this over the -- on the fucking radio. Is nothing sacred anymore? I'm like who do I think I am? Tina Fey?
--
This is Death, Sex & Money from WNYC. I'm Anna Sale.
Jeb Corliss is really close to his mom. She home schooled him after he left public school in 6th grade. She travels to places like China to watch his jumps from the ground, and she stays with him sometimes at his condo. She lives nearby, and even stopped over while I was talking to Jeb.
AS: What's your relationship with your mom like?
JC: It's good, really good. Yeah, I love my mom. She's my only real family that's left, you know? I mean I have sisters, but I don't talk to them or hang out with them or do anything with them, so.

AS: Do your sisters understand you?

JC: You'll have to ask them, I don't know. I don't - honestly, I don't think anyone understands me. I mean, I don't understand me. So if I can't understand myself, how is anyone else going to?
Jeb also doesn't keep in touch with his father, who split from his mom when Jeb was 8. Jeb is single. He's never been married.
JC: I've had like at least 5 long term relationships. I've had one that's 5 years, a couple 3 years, a couple 2 year, you know long-term, committed, monogamous relationships and they're all bullshit, you know, it's just total bullshit. And I'm old enough now to look back on it and go, God, those feelings that made me do such silly shit. And really what taught me the most is, I think the most important relationship I ever had was, you know what catfishing is?

AS: Yeah.
JC: I've been catfished.
AS: Aw, someone lied to you over the internet?
JC: It was awesome though, it was awesome though. Because what it did was it showed me something really important about myself and about what feelings are because if you can feel something for something that doesn't exist, what does that say about that feeling? I loved the catfish more than I ever loved any real person, so think about that. That tells you something. And for me, it may have been the most important education in my life, with a very valuable lesson. A mistake that I will never make again.
AS: A very cynical lesson

JC: No, it's not, actually it's not cynical at all. People confuse it. Again, feelings and emotions are really interesting because a lot of people put a lot of value on them. They do. Not realizing that they're not real, that they're just you, your biology, trying to convince you to do things, and once you understand where the feeling comes from, then they no longer have power over you, now you can control your own life, you can control your own self, you can be your own person, and you can no longer be manipulated by others, that is very powerful.

AS: Do you think you're hard to have a relationship with?

JC: I'm impossible to have a relationship with. I'm a very difficult person because I'm -- people, I think, give feelings, like this, oh they're the most important thing and I think that they're a very ancient, archaic way of dealing with things. I think dogs work on pure feeling, you come home and you're dogs like "ahh" just super excited about everything. I think animals use feelings to deal with stuff, and for me, I get the feelings and then I think about the feeling, I think about where the feeling comes from and why am I having this feeling and do I wanna act upon it.

AS: This is how you and I are different because I love dogs.

JC: I love dogs too! I think dogs are cool, one of the things I love about dogs is how they're just pure emotion. I think that's great. And even when I see a person who's pure emotion, I think it's funny, it's like, oh wow, that's gonna be a hard life. Because it is. People don't realize that feelings gets you in big trouble.

AS: Do you feel like your work, and what you do, is selfish?

JC: It's so funny, you get that a lot. Um, it's not selfish to do things that make you happy. What's selfish is someone trying to stop other people from doing something that makes them happy 'cause it negatively impacts them. That's what selfish is. I'm sorry. If a person is living their purpose and doing what they love, and it means everything to them and they're willing to die for it, who are you to tell them that that's not okay? That they don't have a right to do that? I get it. Let's just say I got married, and I had a couple kids. Okay yeah, I'm selfish, you're right. That would be a very selfish thing to do, because now I have made the conscious decision to bring another person into my life, to support them and then I'm like, "Ah, peace out, I'm gone." That's selfish. I agree 100%. But when you don't have kids, you don't have a wife, you're on your own, it's not selfish to live your life and be true to yourself. It's just not!

AS: Do you still think you have depressive tendencies?

JC: No. Dude, I haven't had a depressive thought since I was 21 years old. I mean, I wake up every morning super stoked on life, I'm so happy. And I'll be honest with you a lot of my big accidents helped me with that. Because any day that I can get out of bed and go to the bathroom on my own without having somebody help me is a beautiful day. For me, if, let's just say I'm wrong and there is a hell, you die and you go to some horrible place, hell for me would be bedpans. I do not like them. I hate laying in bed not being about to go to the bathroom by yourself and then having to go and you're just laying there going "ahh" and you have to ring the little bell and they come in and the whole process and it's dirty and disgusting and smelly and horrible. And I hate it so much.

AS: And bed pans are also you're totally vulnerable and dependent on other people.

JC: Oh, it's horrible. It's the most horrible thing I've ever experienced. And I've unfortunately had to use them more than once, this last time I literally cried when I realized I was gonna have to use the bed pan again I'm like, ah, I just started crying. I'm like I just, anything, but there's nothing you can do, you're trapped, you're stuck. I actually enjoy rehab now. Like, I like working out, I like going to the gym, getting strong, climbing my ropes, doing my balancing, for me that in and of itself is super fun. So the person I am now at 39 does things for a very different reason than the guy who was 16. You know? Those two people, they do a lot of similar stuff but their motivation for doing it is different.

AS: Okay, I want to talk about that. Because it seems to me like the things that you do with your body now, you know, make sense for a teenager who doesn't quite understand mortality and risk -- the teenage brain. At 39, why are you doing this?

JC: That's a good question. I've been asking myself that very question recently. It's interesting because now the jumping is no longer -- I mean, I've done it. Been there, done that, I don't really need it anymore. Now it's much more about the -- how far can we go? And it's the challenge of pulling something that massive off that involves thousands of people, you know? That to me is quite interesting. Now it's funny because I've changed a lot on money as well. Like I used to think money was evil, I used to think it was paper with dead people printed on it, and had no real value. So if I made money I just burned it, literally.

AS: What would you buy?

JC: Anything, I didn't care, whatever, I bought one time I got a job that paid me like $120 grand and I bought a Porsche Turbo. I didn't have any way to pay for the gas or pay for the insurance or pay for anything else -- I didn't care. Didn't know if I was gonna get another job, didn't care, didn't matter. Drove the car like as if I had stolen it. And that was just the mentality of a child. I had a very childlike brain that just did not think about the future. I had this concept that when I got into BASE jumping, that I had 5 years to live, if I was lucky and then I lived through 5 years and I'm like, oh, maybe I'll get another 5 years and then I lived another 5 years I'm like whoa. And then, another five years. And I'm like, this is unbelievable, I'm just not dying. And then, I hit Table Mountain and I was 35, and I was like laying in bed in the hospital totally shattered and broken but alive and I was thinking, wow, that didn't kill me, maybe I won't just die? What happens if I live to be 50? And all the sudden I'm like, whoa.

AS: You hadn't considered that?

JC: I hadn't considered living past 30. And it was weird because my retirement program was this; I'll die at 30. I don't need to worry about saving for anything. Where all of the sudden at 35 I didn't die after a just horrendous accident and I'm like, OK, now I need to start thinking about what happens if I don't die. And that was actually a scary thought, I was like, whoa, that was always my out, my out's always been death.
AS: How do you think you're gonna die?

JC: I have absolutely no idea and I don't even really care, it doesn't make any difference how you die and when you're dead you don't even know it happened, so it's kind of irrelevant. I could slip in my bathtub and bonk myself on the head and die or I could get eaten by a hippo. Whatever. It's all good.
AS: Do you think you're gonna die doing a jump?

JC: No, I think I'm gonna die getting eaten by a hippo. And that's probably the most realistic thing that's gonna happen to me cause I am gonna go diving with hippos, you know, so they're probably gonna kill me cause that's like the most evil animal in the world so --

AS: Wait, you're actually doing that.

JC: Oh yeah, absolutely.

AS: When are you doing that?

JC: When I want to, I haven't decided yet, but I'm gonna do it.

AS: Why do you wanna do that?

JC: Because it hasn't been done.

AS: If you're eaten by a hippo -- how do you want to be remembered?

JC: I've never really cared what other people think about me and what I do. I do this for me.
Jeb Corliss. His swim with hippos still isn't scheduled, but he is planning a wingsuit flight over the Great Wall of China in May. There's a video of his 2012 Table Mountain accident on our website at deathsexmoney.org. Jeb posted the video on his personal Youtube channel just weeks after the crash.
Death, Sex & Money is a listener-supported production of WNYC Studios. The team includes Katie Bishop, Chester Jesus Soria, Emily Botein, Hannah McCarthy and Andrew Dunn.
Thanks to Stephen Colon and Collin Campbell for their help with this episode.
The Reverend John Delore and Steve Lewis wrote our theme music.
I'm on twitter @annasale, the show is @deathsexmoney.
And remember, if you have a story about a near-death experience, and how you were changed afterward, send it to us. Record a voice memo on your phone or write an email to deathsexmoney@wnyc.org.
As we were packing up our gear at Jeb's house, he had one more piece of advice to share.
JC: Never, ever, wrap your happiness up in another human being. Because I'm gonna tell you what, it's going to end in only one way, right?

AS: Jeb, I just got married.

JC: Well, it works out sometimes, good luck. Maybe you'll be the 1% that it actually like, you'll be like 90 years old and get to watch him die, awesome. 'Cause the woman lives longer, best case scenario you get to watch him die. So that's pretty awesome, you know.
I'm Anna Sale, and this is Death, Sex & Money from WNYC.
Copyright © 2019 New York Public Radio. All rights reserved. Visit our website terms of use at www.wnyc.org for further information.