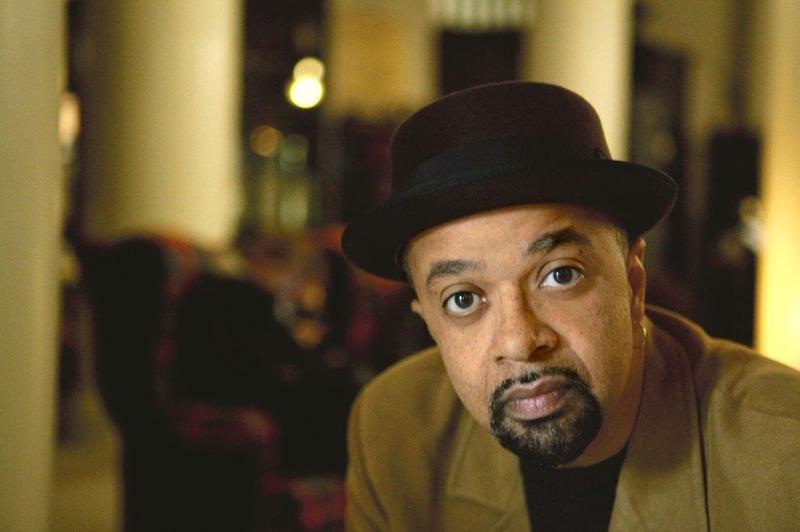 Transcript
It was wonderful to stand up in front of those people for the National Book Award, and give my little talk. But when the thing was over, as soon as it was over, I took that trophy and that ten grand, and I jumped in my little car and I drove right back home. Made myself a tuna fish sandwich. And that was the end of that. I wasn't partying on the floor til four in the morning. I've had that. And it ain't worth nothing.
This is Death, Sex & Money. The show from WNYC about the things we think about a lot, and need to talk about more.
I'm Anna Sale.
James McBride has a look. He often wears a hat perched atop his head -- and a big earring in his left ear.
He's cool….and the look works with a t-shirt or a tux, like the one he wore at the National Book Award ceremony.
The winner of the National Book Award for 2013 is The Good Lord Bird by James McBride.
James McBride won the fiction award last year for his book about a former slave who accompanies John Brown on his historic raid.
Actually, I didn't prepare a speech because I didn't think I was going to win today. But I would like to say that…
At first, James McBride was uncharacteristically flustered, but in the ceremony video, you can can see him gather his thoughts as he talks. He goes on for a few minutes, acknowledges the presenter, the other nominees, and gets through his thank-you's.
And then he takes off his glasses.
When I wrote this book, my mother died in January 2010, my niece died a couple weeks later. And then my marriage fell apart. But it was always nice to have somebody whose world I could just fall into and follow him around, and that was Onion Shackleford in The Good Lord Bird, talking about a great American named John Brown.
But the funny thing is, when James McBride meets new people, he actually leaves this book-writing part out.

I don't tell them I'm a writer, I tell them I'm a saxophone player. When you tell them you're a writer, they say, what have you written? And then you've got to tell them what you've done. I don't ask a plumber what he does. Then I have to explain what I've done, and I haven't really, you know. I've just told some stories.
Some very successful stories. There was last year's big award. And his first book, The Color of Water, was a blockbuster hit. It's about his mother, a white Jewish woman from North Carolina who fell in love with a black man, converted to Christianity, moved to New York, and raised twelve children in Red Hook, Brooklyn.
I'm not the same person I was ten minutes ago, much less ten, fifteen years ago when I wrote those books. So. And also I just don't want to talk about my work. I don't like a bunch of writers sitting around, puffing smoke, they like this book, he wrote this—tell me a dirty joke, you know. It's just not my style, I've never been that kind of person.
But you're comfortable saying, I'm a saxophonist.
Well you know why, because people don't understand music that much anyway. So you say you play the saxophone, Oh that's great, they ask you where you're playing. And you say well I'm not playing around here. Well, when you're playing somewhere let me know. Okay, and it deflects the whole conversation.
James McBride is an accomplished jazz musician and songwriter, and he doesn't just play the saxophone. When he noticed that the piano in the studio was a Steinway, his fingers immediately went to the keys.
I can't be a creative person if I'm a celebrity. You know I have to get on the subway and talk to people. You know, do things, I have to wait for the bus when it's freezing outside. I have to do those things. Otherwise I'm just some guy living in a hot tub or something.
When did you realize that?
I suppose I realized that about myself when I was a little older. When I moved to Bucks County, I think, Pennsylvania. It wasn't a place for an artist to live.
Because it was isolated?
No, because it was expensive. It was expensive I mean, you know just to cut the grass at the place. You got to go to ten different guys to do it, so you're doing it yourself. Heating the place. I don't want to be bothering with all that, I mean I just don't see myself sitting in one of these stone restaurants at 7 o'clock at night, ordering white wine and discussing the wine and then the, Ha ha ha, that's just some corny shit man. I can't do that kind of shit—excuse my language. I just can't do it. So I live in new Jersey now. I live in a little row house, you know. Next house next door to me, there must be three families living in the house. They're Mexicans. Must be three families. It's like Grand Central Station up in there, they come all hours of the night. But they're good neighbors. And on the other side is a single woman. She's private. At least it's people, you know. People who got bumps on their faces and their teeth are yellow and you know. They smoke cigarettes and do normal stuff. I mean not that if you don't smoke cigarettes—but you know what I mean, I have to live in a world of bumps and bruises. I can't live in a world where people with napkins on the table and everything is—Brahms is playing—and you know, Beethoven. Brahms and Beethoven, those guys. You can play Mozart all you want and pretend that it gives you class, but what is class, you know? Class is a bus driver on the M103 who gets off the bus to help somebody on board even though he's tired, he's exhausted, and he's two months behind on his mortgage. That's real class. And those are the kinds of people I really admire and try to put in all my work.
And that you missed, it sounds like.
That I missed quite a bit, yeah. But see now I'm in a music program in my church in Red Hook, in the projects, where I was born. So I see enough of—and I'm there every week.
Can you tell me about that? What is the music program, how long have you been doing it?
It's just a program where I take—I have 8 students now. And I teach 'em music, you know? I just paid for some 8 pianos. And I'm teaching them music. We started out with buckets and sticks because I didn't have any money last year, I couldn't afford to get the instruments. And so I just started out with plastic buckets that I got from the hardware store and some drumsticks, and I taught them rhythm that way. And I got a blackboard and I started writing musical terms, and then we'd meet every week. We meet from 6 to 8. And I love 'em. These are kids from the same housing project where I was born, and lived, and it's in my mother's church.
The church your mother started.
Yeah it's in the church that my mother started. The church that's talked about in The Color of Water. My dream is to be an old man in Red Hook teaching music. That's what I'd like to do. And I've only come to that in the last year. If I can ever afford to do it, that's what I'd end up doing. You know I have kids, and I have financial obligations that are pretty considerable. But that's what I hope to be, an old—if God lets me live that long, that's what I'd like to do.
You've mentioned money a few times already -- you said you didn't have money when you started the program, it was buckets and drumsticks. Did that change with the National Book Award at the end of last year?
No no, my life cycle works on book advances and so forth, so no it didn't change with the National Book Award, like I haven't done another book contract yet. It's just that I have to pay alimony and child support, and I have two kids in college and they don't have scholarships. My son has a small scholarship and I have a 12-year-old, and I'm mostly taking care of the 19-year-old, who I'm the trustee for. So I have a lot of obligations. So I'm not broke, I'm not asking for money, if I mentioned money more than once I shouldn't have. I mean I'm well suited.
No it's part of the, it seems like you're being honest about what are the, what's the texture of your life right now. I mean you're at a moment when—
My mother died the same year my wife divorced me, my ex-wife divorced me. My mother died. Two weeks later my niece died, and my ex-wife divorced me. And I was broke, then. Sure. And it took me a long time, I was in more debt than most people will ever, ever experience.
How did you decide that you were going to go and start a music program at the church that your mother started?
Well, what happened was when my mother got sick, you know, she was always talking about the church is gonna close down, what's gonna happen with the church? And so I told her I would look out for the church. I didn't say, you know, Mother you're dying. I promise you—but she really loved that church. She loved it, her whole life is really more represented in that church in some ways than in the Color of Water. She was very religious. Even in her last moments, she was reaching out to God. You know, when my mother died, she died at home. Her last moments she was reaching up toward the ceiling, towards Jesus. Because I was preaching to her when she died. I said ma, Jesus is waiting. Hurry up. Because it was time.
She was holding on, and you were telling her to go.
She held on to—all her kids who could deal with seeing her pass away showed up. She was dying, and she actually asked, she said, "Am I dying?" And it was hard to tell her that, yes, you are. But then she wanted to see my brother Hunter who was on his honeymoon in Puerto Rico. He'd gotten married and she died like four days after he got married. She waited until he got married. And after she saw him, she went on home.
What was her funeral service like?
Well, she was funeralized here in Brooklyn, in Red Hook. A lot of musicians came and played, and my brother Dennis gave a long, boring-ass speech. But you know, Dennis likes to talk. He's a good guy and he's the oldest. So he talked. And that was it.
You didn't talk?
No, no, no. Dennis was the oldest and he talked, which was appropriate, because he's the oldest and he knew his mother better than all of us. He'd been with her the longest. And then we took her to North Carolina. Her body. We took her to North Carolina and we buried her next to my father. She's the only white person buried in an all black cemetery in High Point, North Carolina.
In High Point.
Yeah. Cus they have like, a black cemetery there. When my father died, all the black people—so she's buried next to him and his parents. She's buried in the same cemetery as John Coltrane's mother. So yeah and that part of it, when I drove in, because I'd been to that funeral, that graveyard many times. When I drove into it that morning and I saw Mommy's coffin, in the morning sun, big silver coffin, it was surreal. It was rough. It was a very difficult moment. But you know God had blessed her with 88 good years. And you know I've learned to live with her memory, and I don't go around crying that she's dead, I mean I hope to see her in the next life. I hope there's a heaven.
Before James McBride was a bestselling author, he had a successful career at magazines and newspapers, including the Washington Post. But all that ended when he was approaching 30.

I remember when I left the Washington Post, and I was glad I left.
Coming up, what made him decide to quit.
We have some job news here at Death, Sex & Money. Our first full-time producer is on board. She's Katie Bishop. She's from Rochester, New York. She plays the cello. She and her husband have a dog who has thankfully gotten over some early bouts with separation anxiety.
What this means, is we can do more for you, our fantastic community of listeners. We're just beginning to sketch out our plans, but we're going to start with a Death, Sex & Money newsletter.
I'll tell you what's coming up on the show, what we're reading and what we're listening to. And I'll get to share more of your incredible emails and stories that fill our inbox every day. You make me tear up at my computer on the regular...and it's time to share more of these stories with you.
You can sign up for the newsletter on our website at deathsexmoney.org -- it's in the right-hand column.
On the next show, Liam and Marissa. They met in college, they're in their 20s and they're just getting married. But they've already gone through a lot of change together.
There was this very harmful time to me in our relationship where my gut reaction when she wouldn't instantly understand from like two words what I was talking about, I'd be like, I'm trans, you don't get it, I'm trans, you're not, whatever. But yeah. That's more what I remember of that time, was having this feeling of like -- misunderstood. Constantly.
This is Death, Sex & Money from WNYC. I'm Anna Sale.
When James McBride was just out of college at Oberlin, he went straight to Columbia Journalism School. That led to staff jobs at the Boston Globe, People Magazine, and finally, The Washington Post.
Then he walked away. He wanted to play music full-time in New York.
I don't know, I guess I was making 50 or 60-thousand dollars a year, which for me was a lot of money.
It is a lot of money for that, yeah.
I made, I think I made 18,000 the next year. But I was having the most fun of my life, I was playing on Bleecker Street, I was playing with a blues band on Bleecker Street, that was my main gig. And then during that period I wrote a song for Anita Baker that made me some money. That was just a stroke of luck, really.
When you think back on your life, I mean you've taken some major turns, and they've, it's paid off when you've taken a risk.
My mother did everything she wanted to do. And she was never sorry. She walked away from an entire, a beautiful culture. She walked away from a terrible childhood, but she walked away from an entire, one of the great cultures of all time, and she walked into African American life. And she was never sorry. She was, she died happy. She changed all the time, you know. And I think that's probably where I get it from.
Did she feel comfortable with you leaving your full time gig in Washington and—
No, hell no. she was furious.
Good for her, not good for her kids.
She was dancing around like an Indian complete with whooping and everything. When she found out I was quitting my job, oh she just, I got to the point where I just stopped telling her. But I remember when I quit the Post though, she was really mad. But I told her, I think after—I'm sure of it. After the Post, I said ma, you haven't paid my bills in a long time. I take care of myself, and I got to live like I want to live. And I'm just gonna do that. I mean it wasn't like a big speech, I basically said that and she said she understood. And she never, she never raised the subject again. She was pretty cool with it. She was very happy when The Color of Water came out, because it showed that I was a writer—my son's a writer, you know.
When you started first making lots of money when The Color of Water was a bestseller for tens of weeks on the New York Times bestseller list, did it feel uncomfortable?
Well it's funny, when you write a book that's a bestseller people assume you're a millionaire. And I'm not, you know. Like I'm not a millionaire. I mean I made some really good money the first, you know, like when it hit—it's been a long time. I haven't made under six figures in many years. But there have been times where I have made much more than that. When I got divorced man I was cleaned out. I mean I was just—so you asked me about money? I've always had enough money. It's just, when you owe way into, I'm not talking about six figures, when you a whole lot of money, it's just a horrible place to be. Cus I don't believe in owing, giving the banks money and all that I just, I ain't into that. So—but how did it feel when the Color of Water first hit? Oh my, honey? You know what? I knew I was rich when I said I wanted a pair of jeans and I went to the store and I said, give me two of them. Give me two of them. And I want those sneakers that my brother Hunter has too. Those red ones with those stripes on the side, you know. So I did that for a while, and then after a while, I just totally lost interest in it.
Is there something that you look back and you're like, I can't believe I bought that?
A BMW. Yeah. I bought a BMW one time and I drove the car and I was killing. I loved it.
What color was it?
It was gray, and I bought it brand new. I had a Ford—this is the thing that killed me, I had a Mercury Marquis, it was a big green car, a floater, it looked like a police car. Never got stopped, grooving. It was just like daddy's car, like one of them grandfather cars. And you would just float down the highway and you wouldn't feel nothing, it was just great. And I traded that beautiful car in, and I got a BMW. I wrote a check for 20 grand. I don't know what they, I remember that. Anyway, I drove away in that car. Woo. Thing was slick. I'm like, now, I drive a Toyota—2002 Toyota Tacoma pickup truck. 5 speed. That's the car I drive all the time. And it drives just as nice now as that BMW did when I drove it off the lot and gave up all my hard money. So yeah that was a stupid thing to do, but you know, I'm allowed to make silly mistakes like that I guess. What's money if your mind is empty, really. And I hope that I haven't, if I've given you the impression that I've been talking about money, that money is on my mind all the time, it's not. I have plenty, what do I need, you know?
It sounds to me like you're, being back in the row house, with the music program in Red Hook, that there's a kind of, this is what your life looks like after a reordering and redesigning of what your life was gonna look like.
It's very interesting and I'm glad we had this conversation. Cus I never really thought of it that way. But yes there is a reordering that has happened. And being in a row house, in a little humble row house, in a little small town, and you know, taking the bus into Manhattan, driving my old pickup truck around, and having my music program in Brooklyn, yes it's been—I can't remember when I've been this happy. I just don't do stuff I don't want to do no more. And I don't care how much money's involved. I've done it for the money. And I ain't do that no more. And I feel great. I feel great, you know.
That's wonderful.
Yeah, well you know. Let's just bust into tears and eat spinach like Popeye now, that you know, that we've mind-melded. How much time do you have in this world? How much time do you have?
Are you interested in getting married again?
I don't know about that, you know. I mean. I'm not really that successful at dating, you know. I haven't really had that much luck at it. I'm 56 years old, I don't have anything to say to anyone who's under 50. 45, whatever at best, you know. I don't know. I don't think so. At this point, the answer is no. I was married for 19 years, and I thought it was a good marriage. I couldn't go through that kind of pain again. The divorce. Divorce is painful. And I'm not busting on my ex-wife, she's a very fine person. I hope she finds a good spouse for herself. But I don't know if I can do that again. It's just too hard. Also, I'm a person, I'm married to the work, and while I would like to have a full life outside of the work, between my work and my kids, there's very little time to actually, to meet people. And then there's the whole business of like—I just stick with my old friends. I have several of them. I'm happy there. When you're young, all you want to do is get laid and all that shit. When you get older, you know, a good eight hours of sleep, that works. That's alright. It's possible, you adjust, you know what I mean? So you learn what's important. Love's important. Companionship is important. Sex is good to have, but if your heart's not full, sex is like drinking beer. The first one's good, by the ninth one, you're poisoning yourself. At my age—not that I'm an old man, I mean I'm a young guy still. I'm told I look very young for my age and so forth. I can't remember a time when I've been happier. Not looking for someone, not looking for love, just living good, living whole, strong.
And serving.
You could call it serving, but, they're serving me. You know, those kids give me more than I—people used to say that, I'd say yeah right. Yeah, I get more from them. But they do serve me. When you walk into the battlefield of what America really needs and say, this is what I'm gonna do, it makes you better. It makes you better.
James McBride. His most recent book is The Good Lord Bird. His most recent jazz album is called The Process, Vol 1.
His Thursday night music classes are open to anyone. It's five dollars for kids who live the nearby public housing. 150 dollars if you live anywhere else.
Death Sex & Money is a production of WNYC. The team includes Katie Bishop, Emily Botein, James Ramsay, Jessica Miller, Jenna Weiss-Berman, Chris Bannon, Merritt Jacob, and Jim Briggs.
I'm on Twitter @annasale. Death, Sex & Money is on Facebook -- if you like us, like our page. Or go on iTunes and tell the world that you like the show in an iTunes review -- that really matters and helps other people find the show.
All our episodes are on our website at deathsexmoney dot org. And remember, that's where you can sign up for our new Death, Sex & Money newsletter.
I asked James McBride whom he'd like to hear on the show. He recommended Stephen King, because he admires his work.
He's not considered a great literary talent when in fact he's an extremely gifted literary talent. So, you know, just because a cat's not winning the National Book Award like James McBride, don't mean...you get my drift. That's funny.
I'm Anna Sale, and this is Death, Sex & Money from WNYC.
Copyright © 2019 New York Public Radio. All rights reserved. Visit our website terms of use at www.wnyc.org for further information.