In New Orleans: How to Get Elected Coroner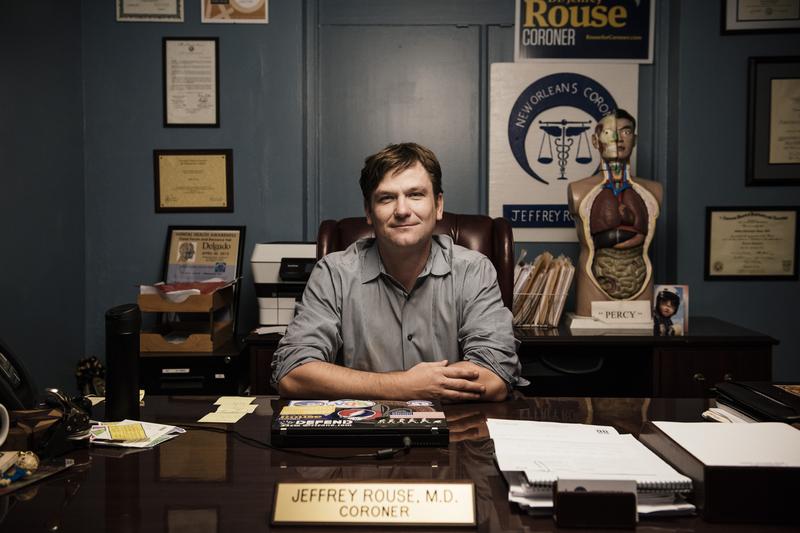 Transcript
Dr. Jeffrey Rouse: You know, when you sit in the role of coroner, you can't let personal feelings get in the way of what the body is telling us in an autopsy.
This is Death, Sex & Money...in New Orleans.
The show from WNYC about the things we think about a lot, and need to talk about more.
I'm Anna Sale.
JR: Welcome to what passes for the morgue in New Orleans.
This is where Dr. Jeffrey Rouse comes to work every day: a squat, concrete building on MLK Boulevard in New Orleans.
JR: The building in which you're sitting now is a rented funeral home that has been retrofitted for use for the coroner's office, uh, ever since shortly after Hurricane Katrina. We've got the transformed embalming room being used as an autopsy suite.

AS: And there's a smell when you walk in the door?

JR: There is.

AS: What is that from?

JR: Uh...we can't completely stop the decomposition process. We can slow it, slow it significantly; however, when a person passes away in a body of water or outside in the hot Louisiana summer, they're already reaching our office at an advanced state of decomposition. And so, that doesn't get us out of our need to do the autopsy and the investigation and such; however, you know, you work with what you've got, and this is what we got.
What they don't have at the New Orleans coroner's office is a lot of space. Jeffrey Rouse and his staff of 23 are supposed to be moving to a brand new 14.8 million dollar facility soon...
JR: ...for which I'm picking colors and picking furniture.
...But that move has been long delayed.
JR: We have some refrigerated trailer trucks that are on generators out in the back that are the space where we hold decedents...

AS: Bodies of...okay.

JR: Yes.

AS: How many are in those trucks?

JR: Um, a number are.

AS: Are they in between a process? Like, why would you—why would a body be in a— be stored here?

JR: One of the jobs of coroner is that you're responsible for the interment of any persons for whom the family can't pay, or persons don't have family. And so, as such, we also operate as the sort of funeral home of last resort.
Jeffrey Rouse has been the Orleans Parish coroner for about a year. In New Orleans, the coroner is an elected position -- one without a lot of turnover. When he was elected last March, Jeffrey Rouse became the first new coroner in 40 years. In other words, the last coroner started his first term the year that Jeffrey Rouse was born.
[Campaign ad] "I'm Dr. Jeffrey Rouse. I've dedicated my life to practicing the art of healing. I need your vote this Saturday, March 15..."

AS: What was running for coroner like?

JR: The most bizarre job interview a human being could ever go through. You know, it is certainly something that they don't teach you about in medical school. I will, I will be frank, I jumped in with complete naivete.

AS: Were you comfortable glad-handing before you were running for office?

JR: Uh...I'm a— I'm an introvert. I'm not really a temperamentally the kind of guy who wants to go out and shake every hand in the room and, you know, get to know everybody. So, to that extent it was playing a little bit against type to do that, but saw aspects of the city that I'd never heard of before, met people I'd never met before. Despite the fact that I'm kind of a bookish nerd and a little bit on the introvert side, I love this town.
Jeffrey Rouse has spent most of his life in New Orleans. He left the city to go to college at Duke, then went to medical school at Georgetown. He still has that shaggy short haircut that you see on college campuses in the South.
AS: Our listeners can't see you -- you are a white guy?

JR: I am a white guy, like, the whitest guy that exists right now, I'm...

AS: [Laughs]
He and his wife met in Washington D.C.
JR: This place is like a rubber band. You can only stretch so far from it, so when I fell love with a girl from New Orleans, I think our fate was sealed. We were coming back.
After he finished med school, Jeffrey Rouse and his wife moved to the Uptown neighborhood in New Orleans, where they now live with their three kids. Initially, Jeffrey Rouse had his sights set on academia. He started a PhD program in neuroscience at Tulane, studying the brains of people with PTSD. And, he picked up part-time work with the coroner's office.
JR: Now when people hear the term "coroner" they think of death investigations. And, of course, we do that, but, in addition, to doing death investigations of suspicious deaths or traumatic deaths, we also do psychiatric commitments.

AS: So, so you operate as like an expert witness in some ways. Like, you sort of come in as an independent party...

JR: Yes.

AS: ...And say, "This commitment is appropriate; this is not appropriate."

JR: Correct.

AS: Um, it seems, as an outsider, it's a little dark that you call the coroner's office when you're dealing with a mental health emergency.

JR: It is a little dark. It is. But, you know, we have our statutory responsibilities and we hustle everyday to get them done.

AS: Is that something a lot of psychiatrists in town do, or was that, like a choice that you made that that would sound like an interesting side gig?

JR: There were five of us, uh, as part of the team that covered the entire city before the storm.

AS: Were you drafted or did you choose to do...were you excited about it?

JR: I was drafted. Uh, but it was an opportunity to, not only earn a little bit of extra money for my young family, but also, I always enjoyed the sort of interface between law and medicine. I'm the son of a lawyer. I had friends that were on the police department. So I always kind of thought it was interesting how medicine could inform the larger, um, legal, more specifically the criminal justice system.
AS: Tell me about the moment when you realized that the PhD program, that course wasn't going to continue and you were going to do something when Katrina had hit.

JR: Well, it was...it all, it all went to the background pretty quickly when I had evacuated my family in the face of Hurricane Katrina. So we got out of town, went to some relatives in Houston. And, while we were safe in Houston, and I, while the kids were playing outside, I can distinctly remember being glued to the television and seeing a police officer that I knew, uh, on camera, crying. And that was not this guy's temperament. And so to me, that was a very strong indicator that my time of studying trauma, from a research perspective, needed to be put on the side and that it was time to go, get back home and to do what was necessary to join a larger cadre of people assisting in disaster response and trauma response in my home town. I had a coroner's badge and so I used that as a way to hop on media and to get into..the, uh, the disaster zone, thinking....

AS: Hop on media meaning, like, that got you through...
JR: I caught a ri—, I caught ride with a Times Picayune reporter to get into town because, at that time, the city was on lockdown, no one was allowed to enter, um, but at the same time I could see on TV that the cops were still here in Katrina. I knew people had to be left behind and so I thought I would come down here, I had a backpack, my gun, medical supplies, everything I needed to be completely self-sufficient, broke back into town, got dropped off at the casino, which is at the foot of Canal Street, and started asking around, found the police officer that I knew, and I'm like, "Okay, let me join the medical response," and he's like, "Doc, you're it."

They took me over to a gift shop at the Sheraton where they had, um, commandeered a bunch of medical supplies and one other doctor who had been sort of there on the ground the whole time had actually passed out from exhaustion. And so they said, "Okay, see what you can do with this." And I'm like, "Great." And I said, okay, I can set up a little clinic here and perform medical services...

AS: Mmhmm.

JR: ...for the first responders and the people that they were rescuing at the time. You know, starting IVs on people who were dehydrated, putting them in the back of pickup trucks and running them out of town to existing hospitals that were open, giving antibiotics, giving psychiatric medication to people who were freaking out. Uh, after about four maybe five days of that, I was starting to, you know, my, my skills were not as sharp as they should have been.

AS: Yeah.

JR: And so what happened was that I actually go to the point, that we started to, I actually started to contemplate going and kidnapping emergency room physicians in, in some of these outlying hospitals, saying, "Don't you know, I'm a psychiatrist, I mean I can do some medicine, but intubating people is not something a shrink should be doing. The need is here in New Orleans. They're still rescuing people. The police and the first responders are still going out there and rescuing people." And so....

AS: It's interesting that you use, you use the word "kidnapping" and not, like, "appealing to people's moral sense of responsibility."

JR: That had already, that had already been done, many, many times.

AS: Kidnapping, so what did you, what do you mean by that? [Laughs]

JR: We had sent, we had sent word through the state about what was going on. There were rumors that, uh, they were just refusing to send assistance because they didn't want to establish, they wanted to just get everybody out of town. Well, you know, that wasn't happening. So I thought I was going to come in and do trauma debriefing and all those highfalutin things, but the need was, you know, to continue the diabetic medications for that police officer whose home was destroyed. The need was to take care of this woman who was brought in who was completely unresponsive and clearly dehydrated and start IVs and get her out of town. So you gotta attend to the basic stuff before you can get to mental health response.

AS: Did you get any help after your experience of being in the middle of Katrina?

JR: Yes, I, uh, will never, I will never forget the debriefing session that I had with a, uh, volunteer psychiatrist from New York City who was part of a team that finally came and, rescued, uh, rescued the operation at the Sheraton and one of them was a psychiatrist, hello Anna, if you're out there, I will never forget you and I'll, uh, never forget bawling my eyes out at the end of that.

AS: And that was it?

JR: That was it.
Coming up: How Jeffrey Rouse turned his time treating first responders in that Sheraton gift shop into political cache that would help land him in office and earn trust with local police.
JR: To be a psychiatrist on the front lines, providing medical care -- that bought some instant credibility with law enforcement.
Dr. Rouse's windowless office is chock full of stuff: piles of papers, campaign posters, a model of the human body with a name tag that says "Percy." On the walls hang his various degrees, including, at the very top, his high school diploma.
JR: Went to a high school called Jesuit. You know, when you're from New Orleans, we identify who's who by where they went to high school so we can draw those connections.

AS: I've been hearing that a lot from people.

JR: Yes, I bet you have. I bet you have.
Virtually everyone I talked with in New Orleans brought high school up, including Terri Coleman, another New Orleans native and teacher at Dillard University.
Terri Coleman: If you talk to people from New Orleans and say where did you go to school, they don't mean college. They mean high school. Because that has capital here. It's like if you went to St. Mary's we know things about you. If you went to Xavier Prep we know things about you. Which is something that's leaving now that we have a lot of transplants because they don't understand the meaning of things.
For the record, Jesuit -- the school that Jeffrey Rouse went to -- is a top-ranked all-boys Catholic school with a state champion football team. Terri Coleman went to Benjamin Franklin High School, a public magnet school that's tough to get into.
Terri is one of the other five people I talked to about the ten years since Hurricane Katrina. During that decade, Terri left the neighborhood she grew up in and then came back to a place that was becoming less familiar.
TC: So like you'll see white hipsters walking their dogs, and you're just like, where are you guys coming from? Who told you?
Find all five episodes in our series "In New Orleans" at deathsexmoney.org/inneworleans or in your podcast feed.
--
This is Death, Sex & Money from WNYC. I'm Anna Sale.
As coroner, it's Jeffrey Rouse's job to classify suspicious or traumatic deaths that take place in Orleans Parish. Including deaths that happen in police custody.
AS: How many in-custody deaths have there been since you took office last year?

JR: There have been several. Several. We've had a, uh, a person die in the jail. We've had several use of force incidents by the New Orleans Police Department.
One of those incidents happened earlier this year, when a 37-year-old black man named Omarr Jackson was shot and killed by police after allegedly opening fire on police officers. Jeffrey Rouse classified his death a homicide.
JR: My job is to make sure that we deliver the evidence from the autopsy and from the investigation in the most transparent way possible. So for example, if the police kill somebody, then one of my calls is to one of several special agents at the FBI that I know saying, "Look, as you know, the police, uh, used force and somebody died. Would you like to come watch this autopsy?" And the answer in the past has been "yes." And so, in the past, we've had an autopsy room that's been rather crowded in these situations. You've had me in there, you've had the police in there, you've had the FBI in there, and, on one occasion, the family did say they wanted to contract with a forensic pathologist -- not one that I employ, not one that works for me -- but just an extra set of eyes to come out and watch what happens in the autopsy suite.

Because what I don't want to have happen is to have the families be left with questions, for the families to think that because, you know, "Rouse knows police, Rouse works with law enforcement" -- we have to on a daily basis to do our job -- I don't want anybody thinking that that skews the diagnoses that come out of the office.
The most high profile death that Jeffery Rouse has ruled on goes back to Hurricane Katrina. It involved a man named Henry Glover. His bullet-riddled body was found burned in a car just days after the storm. The former coroner ruled his cause of death "undetermined," but years later, a New Orleans police officer admitted to shooting Glover and was indicted by a federal grand jury… but was later acquitted.
David Warren: I still believe that the course of action that I took that day and the actions that I took that day were the proper actions.

Reporter: Former New Orleans police officer David Warren found "not guilty" of violating Henry Glover's civil rights when he shot and killed Glover in the days following Hurricane Katrina.
But still, Henry Glover's death was not ruled a homicide by the coroner's office. Until earlier this year.
Reporter: Almost a decade after he was killed, Henry Glover's death has been classified a homicide…

Reporter: Now, for the first time, the coroner's office is ruling on the cause of death of Henry Glover.

Jeffrey Rouse [via telephone on TV]: In my opinion, the death of Henry Glover fits the medical definition of homicide.

AS: Was that a difficult call to make?

JR: I'm going to speak rather vaguely about this intentionally because I know that this, uh, this saga is not over and other agencies are looking at this death, but what I will say is that, you know, it is the duty of anyone who sits in this chair to re-evaluate a case when new evidence is provided to them. You know, that is the basic nature of forensic medicine. You know, your conclusions are based upon the information that you have, but that information is never a thousand percent complete.

And it was always our understanding at the coroner's office that there had been other investigations around this issue and so when I sat in this seat, I actively reached out to the FBI and I said, "I do believe that y'all did a parallel investigation." Everybody in the world knew that. However, that information had not been shared with the coroner's office.
AS: With your office. With the local office.

JR: Yes, yes. And so, uh, the FBI did provide me a packet of, uh, of information. I am not at liberty to discuss what was in that information; however, having read that information, it was my sincere belief that the classification of Mr. Henry Glover would be more appropriately classified as homicide. As a coroner, you've got one of five categories into which you have to place a death. You have to sign the death certificate. There's no 'other' on there. You have to pick one of the five. And so if you look at the National Association for Medical Examiner's Guidelines on this, the literature that's out there on this, it's quite simple that the term "homicide" simply means "death at the hands of another." It does not assign legal blame. It does not assign moral blame. It just simply means "died at the hands of another." And so having reviewed all that information provided me by the FBI, I, uh, I made the conclusion that I did.

AS: When I first started talking to people about why we were here, one person said to me, "Are you here because of the Katrina anniversary? Or you here because of the murder rates?" And I thought that was interesting. The murder rate was at a record low last year.

JR: Yes, it was. We were very fortunate last year.

AS: This year, your first full year in office, it's ticking back up.

JR: It is ticking back up. At present we're, year to date, we're at roughly 20-25% increase, uh, from where we were last year. I get notified on every homicide and each one of them is...it's a death, not just of the person who expired, but it's a slight death of the soul of this city and I take that to heart.

AS: And how frequently are you talking to family members of crime victims?

JR: Every day.

AS: How—did you know how to do that before you took this office?

JR: I'm a—I'm a psychiatrist. I mean, I've got some familiarity with...sitting with people when they're having difficult emotions and I think that's when I first knew that being a psychiatrist was not a detriment, it was actually a boon to doing this job was one of the first times I had to do that after I sat in the chair. It's a difficult phone call to make. Now many times a persons are aware that their person has passed away because they were at the scene and whatnot.

But to know how and why they died or to sit with a mother after the, uh, her son has died in a police-related shooting, takes a special sort of training and I've been lucky enough to have that training.

And then for all the deaths for which we sign a death certificate, I send a personal, uh, a personal condolence letter as well.

AS Whose idea was that?

JR: Mine.

AS: That's nice.

JR: Yeah, it's a little something.
Dr. Jeffrey Rouse, the new coroner in Orleans Parish.
Death, Sex & Money is a production of WNYC. The team includes Katie Bishop, Emily Botein, James Ramsay, Rachel Aronoff and Benjamin Franklin.
Special thanks to Anna Hiatt, Zoe Azulay, Stephanie Billman, David Herman, Rick Kwan, Andrew Dunn, Joe Plourde, Maureen Loughran and Laine Kaplan-Levenson.
The Reverend John Delore and Steve Lewis wrote our theme music, and this is the Outer Borough Brass Band performing it. Thanks to band members Jeff Pierce, Scott Bourgeois, Rick Faulkner, Joe Scatassa, and Jason Isaac.
If you like our show, subscribe to us iTunes, and sign up for our newsletter at deathsexmoney.org/newsletter. You can find all of our episodes in our "In New Orleans" series at deathsexmoney.org/inneworleans. There you can see a photo of Dr. Jeffrey Rouse in his office.
As coroner, Jeffrey Rouse makes about $100,000 dollars a year. He's the sole earner for his family of five.
JR: I could be making a lot more money if I set up a shingle and started prescribing Prozac and Ritalin to upper-class white people. I really, really could. But, I knew from very early on that was never going to be interesting enough for me.
I'm Anna Sale, and this is Death, Sex & Money from WNYC.
Copyright © 2019 New York Public Radio. All rights reserved. Visit our website terms of use at www.wnyc.org for further information.