In New Orleans: From Raising Hell to Raising Kids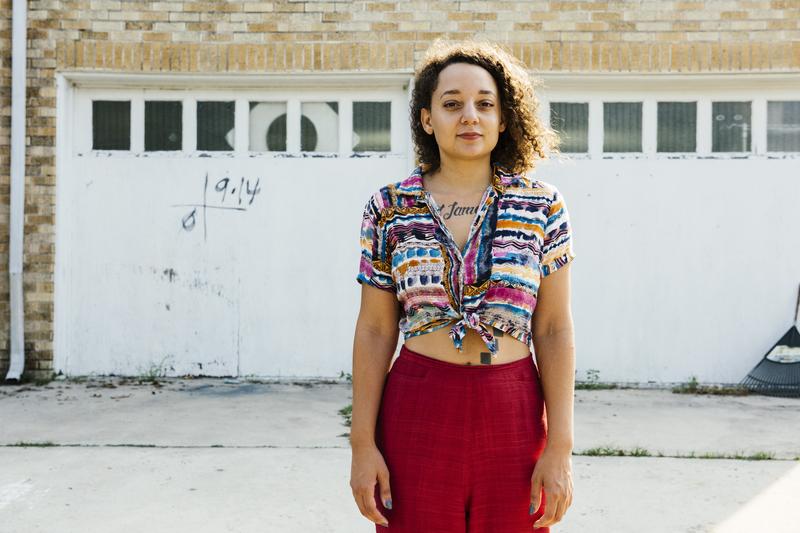 Transcript
Terri Coleman: It's still broken. And authoritative voices are going to, I think, come in and wrap everything in a narrative of recovery and wrap everything in, "How well we've done" and "How happy it is" and "Look at the shiny new, like, restaurants and like the taco trucks." I really love tacos. But there's more work to be done. And if the narrative is that that work is finished, then we're fucked.
This is Death, Sex & Money… in New Orleans.
The show from WNYC about the things we think about a lot, and need to talk about more.
I'm Anna Sale.
TC: So let's talk reality.
Terri Coleman is talking to her students at Dillard University, a historically black college in New Orleans.
TC: These guys are all super smart with super big brains.
This is her honors writing class -- it's made up of freshmen who've come to campus early to get a head start.
TC: Um, so let's talk a little bit about perception versus reality of the storm. We're going to do the same thing that we did yesterday where...
To Terri, this conversation about what's real and what's perceived about Katrina is a really important one. I sit down with her at her house which is a couple of blocks from Dillard.
TC: I just got back from two years in Illinois for grad school. So kind of coming home, back to where things make sense. That's my mom. Hi, Mom. She's going to go register my nephew for school.
Terri is 29 years old. She has three kids. Today she's wearing tailored, cream-colored pants with a button-down tied above her navel. Her tattoos peek out.
TC: [To her children] Did you take your medicine?
While we talk, there is a lot going on. Kids, parents, Terri's husband all run through the room.
Terri's Daughter: Mommy, where's Gilbert?
Gilbert's a water balloon.
TC: [To her daughter] Gilbert's wherever you left him.
There's the constant hum of TV coming up from the playroom.
TC: Please don't pop Gilbert on Mimi's tablecloth. Because she will beat you.
It's three generations in this house, but it's a big place. It sits right on the corner of a major thoroughfare in New Orleans' Gentilly neighborhood.
TC: Gentilly is a good mix of black and white. There's a lot of, in this area of Gentilly, a lot of owners and a lot of renters. But it's a lot of families, like intergenerational. So...and that's changing a little bit after the storm. It's begun to shift and there's some things where you're like, "Oh, it's coming." So like you'll see, like, white hipsters walking their dogs, and you're just like, "Where are you guys coming from? Who told you?" Um...

AS: And you don't say that with warmth.

TC: No, I'm really conflicted cause, like, clearly I'm here for white hipster game. Like, I like...I like fancy tacos. I like dogs. I like cool pants. Most of my social circle...all my social circle is hipster. A substantial of them are white, transplant hipsters. Like, I like them as individuals. As a class of people I think they're really dangerous to the city.

AS: How do you describe, like, your family's class background?

TC: I grew up really solidly middle class. Both my parents are the first generation in their families to be in middle class. My grandfather and a lot of the men in that generation joined the army and that was the first...That was kind of like the first generation when black men in the army could get officer status. And we were kind of...My family was lucky from color privilege. Like if you had to have a black dude you want the light dude, so they rose pretty high in the ranks in lots of ways.

AS: And when you say light, just to be clear, you mean fairer skin.

TC: Yeah. Oh yeah, you guys can't -- They can't necessarily see me but super bright. Super yellow.

AS: Bright. I've never heard that.

TC: You're not from here. [Laughs]

AS: I know. [Laughs]
Ten years ago, Terri was about the same age as the students she teaches now, but she was not the kind of kid to get a jump on freshman year with a summer class.
TC: I was mostly an irresponsible jerk. I was um...I had left Dillard the year before. And I had been working in the Quarter, bartending, waiting tables, doing bike delivery, drinking. I did a lot of drugs. I did a lot of, like, watching reruns of Family Guy all day long while super stoned. Yeah. I was not a useful human being.
She stayed with her boyfriend most of the time, but when Katrina was approaching, Terri decided to ride it out at her parents' house.
TC: There was a lot of like talk like, "You should leave. We shouldn't leave. Blah, blah, blah, blah, blah." But the year before there had been a big evacuation. We had tried drive to Lafayette to my aunt's house, which is normally a three, three and a half hour drive. And it took like fifteen hours and it was horrible. So I refused to evacuate. I was like, "No." Like, "Stop. I would rather drown."

AS: And what happened in this neighborhood?

TC: During the storm, like we -- I remember I woke up the...like in the wee hours to the sound of like crashing sound, like someone throwing dinner plates. But it was the tiles from this house hitting the Soules' house next door. And so we were like peeking out the windows to watch it. And it was really, like exciting and interesting. Like, in retrospect it feels really silly how we like watched the storm happen. Because it wasn't that big a deal.

And then the next morning, when the sun came out, we went outside and the street was dry. Like there were trees down and there were, like, power lines down, and we didn't have power anymore, but was dry. And it wasn't until later that day that we started to see water coming in. But when that happened, like, the radios all went out. Cell phones went out. There was nothing. So we were really trapped on this little island of high ground. And so we were here for a little over a week, I think. But while we were here, it was just -- Part of it was because we were isolated, but also we were young. Like I was eighteen or nineteen. Like I didn't, like, have a brain yet. So it was just like, it was hot. It was boring. And we ran out of weed and we ran out of booze. And like there was nothing to do. We went and, like, air quote looted, I guess, the Walgreens and the Rite Aid and the grocery store and all the stuff down there.

AS: What did you take at the Walgreens?

TC: Well we took water, food...Anastasia down the street had a little baby so we brought diapers and formula. But for me, I was really excited because like, as a teenager—I'm a horrible person—but like, as a teenage girl you go in Walgreens and like, you know when you go down the cosmetics aisle and there's all that stuff that you want but you're never going to spend seven dollars on mascara? That's ridiculous. You can do it. You can have it all. I had teeth whitening strips until like 2010. Like...

AS: [Laughs]

TC: But I just made-- And I know that's shitty, but they claimed it all as lost. Like come on. They weren't gonna go in there with the insurance people and see what was there and what wasn't.

AS: So you only knew kind of as far as you could see, what was happening?

TC: Yeah. And there were like hints that the -- Like there was like -- Once we got out it made sense.

You know something's wrong but you can't imagine how much wrong could be. But as the days went on too, people started coming from back in the neighborhood and coming from the east. And so, like, these dead-eyed people would just come through and they would say that there's water everywhere. They would say it, but we couldn't believe it. Because how could you believe that?

And then when we got airlifted, like that's when it kind of solidified cause they lifted us from Brother Martin field, which is right across the street. And we got in the helicopter and we went up in the air. And all of a sudden there was just like, water. Just like this, like, light brown soup covering everything. And like...like you couldn't even look to see what the streets were. Like it was, like seeing an aerial map but not being able to, like -- None of the markers were there. Like you never -- You like think you know where trees are, but you don't know what they look like from top. And like, that was the moment it all like solidified and you were like, shit, the world died. [Voice cracking] So yeah, there's that.

AS: And that was like a week after the storm?

TC: Yeah.
Terri was airlifted to the interstate, where transportation out of town was being coordinated. It didn't feel very coordinated.
TC: They just dropped us off in this sea of people. Just like thousands and thousands of people. And trash. Lots of tra-- Like I remember wondering like, "Did people bring trash with them?" Like, you know what I mean? Like the peop-- Like every single person had to have brought like a Glad bag full of just shit. But it was just covered in trash and people and, like, ten port-a-potties, and they just set you down. And you could ask questions but no one would tell you anything. They would all like yell and be really mean. And then where we were, we were on like the underpass part but there's an overpass above, and above us were all the media with their news crews and their cameras and lights at night. Motherfuckers. And you know, khaki vests. And they all looked really clean, just like, kind of like, this like weird eye in the sky like watching us toil like ants...

AS: Oh my god. Just, that like, you're performing desperation and being filmed with spotlights.

TC: Yeah, it wasn't fun.

AS: No.

TC: And like I mean -- I guess there were lots of things like that. It's like you had that when you got in the helicopter, and like saw it. But then when we got dropped off it was like, "Oh, like, it's 2005. We live in America. This exists. Reality is broken." Like, you know what I mean? Like you can no longer reconcile things you know as truth when something so fundamental as that. Like you -- I can't even like -- It still like...it still feels like something that must be made up. Cause that can't happen. Like how can that happen?
Coming up, how Terri made it to safety, and discovered the rest of the country considered her an outsider.
TC: I have an American passport. I was born in this country. If the rest of this country wants to call us refugees then I want my taxes back. I want you guys to pay tariffs when you use my port. You know what I mean? Like, you can't...Citizenship isn't conditional. Those services aren't conditional. And I feel like all of that language is wrapped up in this way that the rest of the country really conveniently said like, "Oh you guys are complicated right now. Never mind. You are not of us." Which is some bullshit.
People were slow to return to New Orleans after Katrina. Six months after the storm, less than half the population was back. So the people who were there -- they noticed each other.
Terri told me about a woman who started a demolition company after the storm. Her trademark is that her dumpsters and heavy machinery are all hot pink.
TC: There's something to be said for bright pink dumpsters.
Demo Diva is the name of the company. And Terri told me, yes, the hot pink equipment is a little kooky, but it was nice to see around.
TC: It was just like everything was gray and covered in like gross silt and nastiness. So like the bright pink dumpsters, it's like, "Oh it's a cute idea." But actually, like experientially, it was really, really necessary. It felt good.
I talked to five New Orleanians about the ten years since Katrina for our series In New Orleans. In the next episode, you'll meet the Demo Diva, Simone Bruni, and hear how she went from being unemployed to running her own demolition company.
SB: O​ther people were already here doing demolition. But they were not marketing themselves. They'd go in, they'd hustle a deal, tear down the house, and pull off. I went to all those nice, sandy lots that were cleared, and I asked the homeowner if I could put my yard sign out, so within a week I put out a hundred yard signs on jobs I didn't do. And so, [Anna laughs] yes, fake it til you make it, and keep on trucking. With a big smile.
--
This is Death, Sex & Money from WNYC. I'm Anna Sale.
A week after Katrina hit, Terri was on the interstate waiting for emergency transportation. There were buses, but she didn't know where they were going.
TC: You just got on a bus. And they wouldn't let you just get off anywhere. Because nobody wants, like, the crazy browns in their town or whatever...like, the refugees and the looters. By this -- By the time we were getting out, that narrative had already started of, you know, here come just like this hoard of rapists and murderers and, like, scary black people. So the security on the buses when you could get on and off was really, really tight, and they wouldn't tell you where you were going. So by the time we were on the road like they were already closing down shelters. So you know, you'd get like -- You'd think you were going to Houston, but by the time you got to Houston you had to go to Abilene. You thought you were in Abilene, you'd be in Nevada. People ended up super far away. So when the buses finally came, also, they didn't tell you where you were going, and it stopped for gas outside Breaux Bridge, Louisiana, which is really close to Lafayette. And so we just got off at the gas station and hid and didn't get back on. Cause we were like, they're not gonna let us off anywhere. If I end up in California, like, I can't afford a flight back.

AS: Did you actually hide?

TC: Yeah.

AS: Like where did you hide?

TC: We hid behind the gas station, behind the bathrooms. Because they like came looking for everybody.
Terri made it from the gas station to her aunt's house in Lafayette. A lot of other family was staying there too.
TC: There were probably like fifteen people in this house. And that was true of a lot of houses in Baton Rouge and Lafayette at the time that, you know, people from South Louisiana don't stray far from home. And so everyone went by their one auntie. And it sucked. But there was just nothing to do and nobody had any money cause nobody was working, and it was just horrendous. And boring. Like my mom and my aunt just aggressively play Scrabble for hours. Hours.
By Thanksgiving of 2005, about three months after the storm, Terri came back to New Orleans, before the rest of her family. She picked up her old job in the French Quarter.
TC: Before the storm I worked as a bike delivery person at a pizza restaurant and I just went back. Most of the staff came back. If you were working service industry in the Quarter right after the storm, you were making bank. 'Cause the Quarter was one of the only places that was still alive. It was -- But most people still didn't have -- People who were able to come home still didn't have kitchens or refrigerators. But also in the Quarter, like, a lot of the people in town at that point were relief workers. They were FEMA workers. They were construction people. A lot of single, middle class or upwardly mobile working class men who like to give money to cute girls on a bike. So for me, like, I worked double shifts and I made bank, like I did really, really well. In retrospect I probably could have, like, saved some of that or something. But oh well.

AS: What'd you spend the money on?

TC: Cocaine is a hell of a drug. [Laughs] Clothes, I got lots of clothes. Went on road trips. Like, just very irresponsible stuff. Definitely in like the two years after the storm I was lashing out at all things at all times, but not knowing why. Like I was just really distraught. Like we used to go to New Orleans East and light cars on fire. Because you could do that. Because we lived in like a post-apocalyptic, Mad Max world. Like, you could do that.
It was during this chaotic time that Terri got together with Tony, who's now her husband. He was also working bike delivery in the Quarter.
TC: I was like, "Ooo. Who's that hot guy who works at Verti Marte?" And I probably rode 200 miles out of my way trying to be like, "Hey look at me!" And then one day I had had a couple shift beers when I got off work and I went into Verdi Mart and I like grabbed his butt and I was like, you can touch mine back. Let's move this forward. And then we got married.

AS: [Laughs]

TC: Because we're adults.

AS: What year did you get married?

TC: We got married in 2008.

AS: Okay. So, I just want to make sure I -- When you tell the story of when you...Even before the storm and after the storm, you know, you're enjoying yourself, you're partying, you're being young in New Orleans...Like when did the way you were spending money and the way you were kind of partying, when did that shift?

TC: Um, I think for me that shifted with having kids. Because all of a sudden there were like people who had to like also eat? They don't tell you about that when you have them. Like you just think they're self-sustaining. But they are not. They basically eat money. Um, so my son was born in 2008 and everyone was really excited that we had a baby and stuff. But a cousin of mine said recently like, "You realize that part of the reason everyone was so excited about Harland was because there were no babies." There were no babies. Like, there -- You didn't see them in grocery stores. You didn't see them waiting to get on the bus because there was no school. Like...And I mean by that point like it had started again but so few people would have brought...I wouldn't have brought my children to New Orleans in 2008 if I had any other choice.

AS: When you got pregnant did you think about leaving?

TC: No. Definitely not. I mean my -- Everybody's here. My whole family's here. Like, where...where would you go?
Their son Harland is 7 now, and Terri and Tony have had two more kids: Their daughter Lollimae, who's 5. And the baby, Booker Byrd, who's just over a year old.
Tony's working making costumes for parades in New Orleans. Terri's got her adjunct position at Dillard. She also has a second job writing questions for a quiz bowl trivia league for historically black colleges.
TC: Do you need the only seven letter word in the English language with five vowels? I got you, it's sequoia.

AS: I didn't know that.

TC: You're welcome.

AS: [Laughs] So you have two...You have two jobs, three children? That's a lot.

TC: Yeah, it's weird.

AS: That's why it's good to get to live with your folks.

TC: Yes. I will begrudgingly admit that.
Terri and Tony are doing OK financially. Terri says when she was still in school she relied on Medicaid to cover her medical bills during her last pregnancy, but she and Tony were able to buy the house across the street from her parents' house. She showed me how they're slowly working to fix it up. The older woman who lived there before Katrina never came back and wanted to sell. They got a deal.
TC: I feel guilty saying what my mortgage is, because people are like, what! But [whispers] our mortgage is $400 a month!

AS: When I think about kind of the big details of your life and what was happening in your life ten years ago and where you are now, it feels like it's been kind of a narrative of progress for you, or at least of kind of digging in, growing up, and building something.

TC: I'm really really happy with my life. And I don't know that my life would be what it is if the world hadn't been erased. Like, if I didn't have this like kind of clean slate, especially with the way like I was right around the storm. If I hadn't had the storm to allow my kind of weird adolescent destruction to be socially structured and socially acceptable in some way...Like if I had been doing the exact same shit in Peoria, like the story would be very different, you know what I mean? Like, this -- Like it wouldn't be okay. But I get to be forgiven for a lot of things because of this huge external force. And so I'm like happy for that and I appreciate that, but progress is more complicated. And I think...I think, too, like as an individual, and I think most New Orleanians will also like recognize that like we have made progress. We were not perfect before the storm by any means. Like, we had a literacy rate that was comparable to countries in sub-Saharan Africa. Like we are not...We are not a great city. We had a horrible, and continue to have, a horrible record of policing and corruption. Um, we are in lots of ways a poster child...before the storm, we were a poster child of the urban future gone wrong. And I'm not saying that like, change isn't necessarily a good thing. Because a lot of the change we had had to be progress because we were so messed up. Like were so low. But progress and change comes at a cost. And I think in the narratives of progress that are told by outsiders, there's not an appreciation for what we've lost in order to make this progress. You know what I mean? Like...So there used to be this lady who, she moved out last year, she got an apartment uptown, Miss Celeste. And she sold pralines. And she would walk down the street, and she worked at Dillard in the cafeteria, and she lived down on the street Claremont. And she is like the quintessential example of a dying breed of New Orleans lady. So she's...she's like mid-tone, like caramel colored, she's really short and like squat. Like, she's a type, they are like a type of person. But she walks down the street and she says, "Hey baby. Hey how you doin? Hey how yo mama'n them..." just goes on and on so loud. The woman has no inside voice. Like...Progress kills that. Like we are -- She is the last of a dying breed of person and we will never get them back. That stuff's erased. And I don't know...I'm not sure if fancy kale and bike lanes are worth that. Even though I love kale. And I love bike lanes. I'm not sure if it's worth that. And I'm not comfortable with saying "We've made progress" without remembering what that was built on top of.

AS: What about the anniversary are you not looking forward to?

TC: I'm really not looking forward to media coverage. And I know I'm saying that into a microphone so I know it's like, weird. But um...I'm really not looking forward to half-page think pieces that only delve into the surface and are like designed to like...like these like pathos-inducing things that make us like feel feelings and then allow us to forget. Because we haven't forgotten. We don't have the privilege of forgetting. Like, it's etched into our physical bodies. It's etched into our spaces. Like it's...there is no forgetting. And I'm really, really hesitant about outsiders shaping memory.

In the work that you're doing, I hope that when you're telling our stories you're making sure that people know that like our stories are our individual stories and collectively like they can begin to point to like a collective truth. Like, our particulars can begin to make up a universal, but there is no single story of the storm. And as soon...as soon as you start telling a single story you're silencing somebody and that's really dangerous. So don't do it.
That's why we're bringing you five episodes in a series called In New Orleans. You'll meet five people and hear their individual stories, not just about the storm, but about what's happened since: running for political office, finalizing adoptions, starting businesses, mourning a mother. Look for all five episodes this week in your podcast feed or at deathsexmoney.org/inneworleans.
Death, Sex & Money is a production of WNYC. The team includes Katie Bishop, Emily Botein, James Ramsay, Rachel Aronoff, and Benjamin Franklin.
Special thanks to Anna Hiatt, Zoe Azulay, Stephanie Billman, David Herman, Rick Kwan, Andrew Dunn and Joe Plourde. Rush Jagoe took beautiful pictures for us that are at deathsexmoney.org/inneworleans. Laine Kaplan-Levenson reported for us in New Orleans and introduced us to Terri.
The Reverend John Delore and Steve Lewis wrote our theme music, and this is the Outer Borough Brass Band performing it. Thanks to band members Jeff Pierce, Scott Bourgeois, Rick Faulkner, Joe Scatassa, and Jason Isaac.
I'm on twitter @annasale, the show is @deathsexmoney. If you like the show, subscribe to us on iTunes and leave us a review. That helps other people find the show in the iTunes charts.
Terri says one of her friends calls Katrina the gift that keeps on giving, in the way that it keeps messing with your everyday routines. Terri still hasn't gotten used to the idea that the corner store in her neighborhood just isn't there anymore.
TC: I never grew up knowing how to make groceries. Like I never learned how to go to a grocery store and purchase food for a week. So like every day when we're in this house I'm like, "Goddamnit we need milk. We have to actually go somewhere?" Like, "Fuck you Katrina!"
I'm Anna Sale, and this is Death, Sex & Money from WNYC.
Copyright © 2019 New York Public Radio. All rights reserved. Visit our website terms of use at www.wnyc.org for further information.