In New Orleans: A Doctor's Adopted Home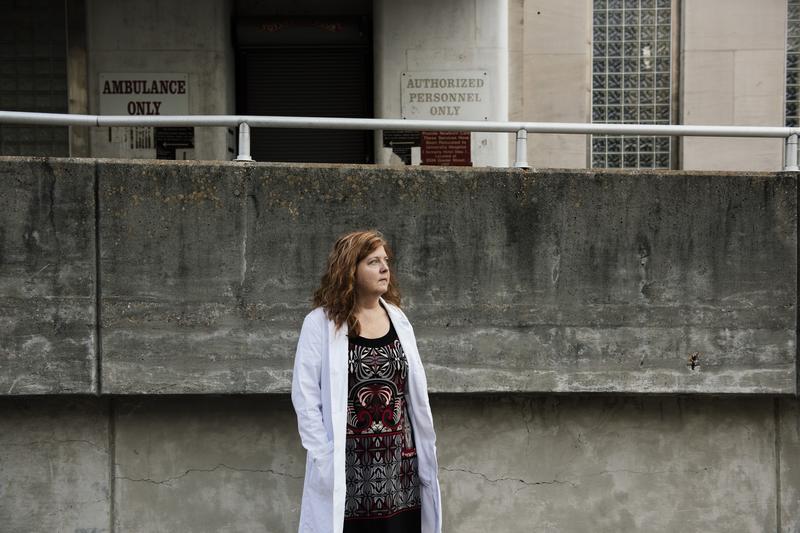 Transcript
Kiersta Kurtz-Burke: For the people that worked there, you know, this was part of what our training was. And a lot of people that worked at that hospital, we were attracted to a kind of chaotic environment. That's why we were there.
This is Death, Sex & Money...in New Orleans.
The show from WNYC about the things we think about a lot, and need to talk about more.
I'm Anna Sale.
When the thick summer heat settles over New Orleans, it all comes back to Kiersta Kurtz-Burke.
KKB: The body remembers. When it gets hot, I tend to have more dreams. It's hurricane season too so, you know, you hear on the news, okay, and you're thinking to yourself I gotta make sure I have a tank full of gas. I have to have these things in place in case I need to evacuate.
10 years ago, Kiersta didn't evacuate. She was inside New Orleans' Charity Hospital, the public hospital that had served New Orleans residents, rich and poor, in some form since the 18th century.
KKB: Charity Hospital was a pretty chaotic place day in and day out, so there was that level of, um, that this was what we always did, maybe just a little bit more insane.
Kiersta is a rehab physician, and as Katrina hit New Orleans and the levees failed, she was with more than 350 stranded patients. Water flooded into the hospital, windows were shattered by the wind, and there was no power.
Anna Deavere Smith [as KKB]: By now, it's 106 degrees. There are no lights. We're reduced to feeding people very small portions.
Kiersta was interviewed by Anna Deavere Smith, the actor and playwright, about two months after the storm. That became a monologue in Deavere-Smith's one-woman show about health care in America, that's called "Let Me Down Easy."
I played a recording of the monologue for Kiersta when we met up in New Orleans.
AS: Let's listen now. Let's see...

Anna Deavere Smith [as KKB]: ...I tried to keep a kind of stiff upper lip in the beginning, you know, "Hey, we're going to get out of here. Don't worry about it, blah, blah, blah...
Kiersta is white and and from the midwest, but most of the nurses she worked with and her patients were black residents of New Orleans. And she noticed they had much lower expectations for how they'd be treated in the emergency.
Anna Deavere Smith [as KKB]: Then here I am coming from my privileged position, "What do you mean they're not going to come and get us? Of course they're going to come and get us." FEMA knew we were here, we were in constant contact with FEMA, but my patients really did sense. And that part made me ashamed. And it's just...I just thought, well, this is...this must be what it'd be like your whole life. Just this feeling that we have to do for ourselves, because nobody's going to come get us. Just that feeling of being abandoned. That was all new for me, being abandoned. But for my patients and the people who work at Charity Hospital, it was just one more thing.

KKB: [Sigh] It's very emotional. I've actually...I've heard it one time. But obviously it's very deep...deeply lodged in my heart. I really hear my voice in that. It's still very present for me. You know, I have very clear memories of every single moment of every single day that we were in the hospital.
Over six days, Kiersta helped carry patients up and down flights of stairs and tried to keep people calm when it seemed like no one was coming to rescue them. She was part of the last group of people to leave the hospital, the Friday after the storm.
KKB: We even cleaned the physical space before we left. You know, we thought, "We'll be back here in a week or two weeks." Pretty naive at the time, but we didn't want it to look messy and so we cleaned up, you know, made sure everything was in the right spot and we had used a lot of towels to mop up and so we put everything...stacked it up. We really didn't know that that was not a reality that we were gonna return to those jobs.

AS: And where did you go on Friday?

KKB: So on Friday they actually — thank god for the Cajun Navy, as we call them. It was not...it was, you know, not FEMA, it was not the federal government, it was actually Department of Wildlife and Fisheries who kind of were watching everything go on, and they just said we need to get in there with fan boats. So we were evacuated, our patients were evacuated, they went kind of all over the place. And then we were put on buses — we were put on boats and then put on buses — and we could see the layout of the city, and I could see kind of off in the distance my neighborhood and I knew that it was completely flooded. We had about 8 feet in our neighborhood. So, you know, we had not seen video, photographs...

AS: ...Anderson Cooper getting famous.
KKB: Yeah. Anderson Cooper. That was all to come really later.

AS: What did you do with your anger after Katrina and those days of waiting in Charity?

KKB: Um...I was much more angry later, I think in retrospect. I was so focused in the days we were in the hospital of getting out. And it was only in retrospect that I felt so angry. I felt—I was so angry about the way that New Orleans was portrayed during that time. I was just furious. Um, and again, we didn't have...I didn't have the images and little news clips of people looting. You know, I remember being somewhere in front of a TV a couple months after the storm and seeing some clips and kind of the way that people were portrayed and I think that infuriated me. I think I threw something at the TV.
Kiersta was back treating patients within about a month after Katrina, working for the VA.
KKB: We had a...a temporary clinic set up in Baton Rouge. We're still in a temporary facility, believe it or not, in New Orleans.
That temporary VA location sits right across the street from the old Charity building. Charity Hospital never reopened after the storm. The hulking, art-deco building has stood empty, abandoned, for 10 years.
KKB: And you can still see there's some—a very faded poster up there on the fourth floor and then the fifth floor is where the rehab unit where I was with patients, and you can still see those posters. Um, a lot of people made posters saying "Thank you" when we were eventually evacuated. And around the front, you can still see some posters that say, "Help." Um, so now I work at the Veterans Affairs hospital, which is just right across the way.
At the VA, Kiersta sees a lot of patients now with traumatic brain and spinal cord injuries, and amputations.
KKB: I have one patient who's 103. He's a World War II vet. And then I have patients that are in their mid-to-late 20s. A lot of the people that I serve and that I take care of are from a small town where everyone in their high school class went into the military. But at the same time as a country, so few of us are really touched by the military. So you just have pockets and pockets of people for whom the last two wars have been all encompassing, and then you have another group of Americans who see it on TV, read about it, but otherwise are relatively unscathed by it.
AS: The way you describe that, like a small, core group who were very affected in the midst of this larger culture that doesn't understand and won't ever understand, is very similar to how you described the experience of living here through the storm.

KKB: That's true. I never really thought of it, but it's true. You...you have experiences. I would never, you know, compare my experience of being in Katrina to being in combat, but I do relate to, in some ways, how much difficulty they have with everyday life. Um, it's very hard I think when you're in a life or death situation and so many things are dependent on you, and then you come home and your wife or your husband says, "Geez, you forgot the milk again." You know? And suddenly there's a routine-ness to life that doesn't have the same [sighs] same impact on the world. And so I do relate to that part of it, I think more than I ever have before.

AS: The people that you worked with during the storm—are you still working with them in some form?
KKB: Some people. Not very many. We've all wound up at different hospitals. When I see people, when I talk to people from that experience, it's always very emotional. We kind of all dispersed all other the place. Which is...that was a...that's a...such a minor disappointment, in the big scheme of things, but to not ever have that closure, to not ever be together again was painful. You know. We just kind of all got on buses, and we all got on different buses—we got on any boat, any bus, we could—and I really had no idea that we wouldn't all be in the same place or, you know, be able to say "thank you" to one another. That's still something I would love.
Coming up, Kiersta describes the tediousness of rebuilding and all the ways Katrina is a part of life ten years later—for her, and for her patients at the VA.
KKB: You know, I have a lot of Vietnam-era vets, who, most of their combat took place in water, they may have had a very traumatic experience during Katrina, and I worry about that, you know. I worry about flashbacks.
Kiersta spends most of her time in the clinic with patients, but she has dabbled a bit in local politics. She took to the streets to campaign for Dr. Jeffrey Rouse in the local election for coroner.
KKB: You know, I campaigned a little bit for him. He's great.

AS: We just haven't gotten our heads around the idea that there's a campaign for coroner.

KKB: [Laughter] That's right. I forget. It's such a weird southern thing.

AS: [Laughter] Like...did you like, wave with a sign in a median or something?

KKB: You do. You do. Pretty much. Yeah.
Kiersta's sign-waving worked; Jeffrey Rouse won. And the new coroner is one of the five people I talked with for our series "In New Orleans." I met up with him at his office.
Jeffrey Rouse: The building in which you're sitting now is a rented funeral home that has been retrofitted for use for the coroner's office, uh, ever since...shortly after Hurricane Katrina. We've got the transformed embalming room being used as an autopsy suite. You work with what you got, and this is what we got.
All five of our "In New Orleans" episodes are at deathsexmoney.org/inneworleans and in your podcast feed this week.
—
This is Death, Sex & Money from WNYC. I'm Anna Sale.
Kiersta Kurtz-Burke and her husband, Justin Lundgren, are both doctors. They met in college in New York City, and moved to New Orleans 23 years ago.
KKB: I thought it was such a romantic story, you know. We came to New Orleans on vacation and we never left. Um, and then I found out, yeah, like a lot of people, they have that story.
They bought their house in the Mid-City area of New Orleans in 2003. It was heavily damaged in Katrina. She says adrenaline got her through the first year and a half after the storm, but then, that ran out.
KKB: All of the energy that drove us to rebuild or to make a life in the new New Orleans, that can't be sustained forever. I definitely felt that. It's one thing to be able to sustain that, "Ok, I'm gonna eat off paper plates. We're gonna have candles and we're gonna gut our house, and then we're gonna rebuild it. And I'm working in a temporary facility," but as that goes on, it just gets really old. Things go so slowly in New Orleans, and then you add into it the federal government. You add into it, you know, insurance payments. We were lucky we had insurance, but you know, it took over a year to even be able to access that. So you're slowly rebuilding your house. Your neighborhood's coming back little by little. Schools were not reopened for an entire year after the storm so we didn't hear kids, you know? It's a really strange thing in our neighborhood.

AS: Was there a part of you that thought about leaving and starting in a different place?

KKB: You know, very remotely. Very like a flicker I would say. When I look back of course I would love to say it was all this very noble intentions. You know, we knew that New Orleans needed health care providers. We didn't want to abandon the city we loved, but there's this other sense of we can't live any place else. We just got too weird for any place else other than New Orleans.

AS: Like, what would you think about when you say, "We got too weird"?

KKB: [Laughs] Just I don't think there would be very many other places where it would be acceptable to be a half an hour late for work because you ran into a second line or, you know, spend your free time making costumes for months on end or...just...I think also Katrina. You know? I think there was a—Definitely if there was another—If there was a sense of otherness before the storm, then there was...there's also the sense of, "How are we gonna go someplace where people understand what happened?" But at the same time, it's also part of the story that we tell ourselves in order to bond ourselves to the place, and not leave because why would you stay? It's an absolutely insane place to have a city in this day and age. We're under sea level, the coast is eroding, another disaster can happen at anytime, it's a broken city in a lot of ways, the infrastructure is incredibly corrupt. I could go on and on and on. But part of it is the longer that you live here the less fit you are to live anywhere else as well.

AS: I mean the way describe it it's like you've become a little bit mad.

KKB: Yeah. I think "touched." I love that word and I didn't grow up with that word, but we use it a lot in New Orleans. Like, "You're just a little bit touched." It can mean a little bit crazy, a little bit strange...It's just a little bit off. You have to be a little bit off to see this place and say, "This is where I'm gonna lay down roots. This is where my kids are gonna go to school. I'm gonna rebuild friendships in this very tenuous place." I think you have to be a little bit touched.
Kiersta and her husband are now parents to two six year olds. Their son, Leo, is from China—they brought him home in 2010. Two years earlier, they adopted their daughter, Vida, from Thibodaux, Louisiana, which is about an hour away from New Orleans. They started the adoption process before Katrina. A social worker was scheduled to come by for a home visit...
KKB: ...right around the time of the storm. So needless to say, that didn't happen. And then about two years later we continued the process. Um...and we—In the course of all this it took much, much longer than I thought it would, but we met a woman here in Louisiana who's my daughter's birth mom, and she was about four months pregnant with my daughter, Vida, and she felt very strongly that this was not meant to be her child, that this was meant to be a child for someone else. And we got to be at the hospital with her when Vida was born. She never wavered in her decision that she was not gonna be a parent to this baby girl. But it was really hard. It was not...it was not easy. I think that in the beginning of starting that adoption process I really—in my mind I knew that having an open adoption, having, you know, the birth mother involved, birth family, and being a part of the child's life and having the openness was the right thing to do. But when I really think about it, I think I was paying a lot of lip service to it. I think it's really different to say that and then to have a relationship with your child's birth mother. Um...and, you know, I haven't always known where the boundaries are, but I also didn't know how much joy I would have in having her in my life. And, you know, she is also my daughter's mother. I'm so excited when, you know, when she gets student of the week. I text my husband, and then the next person that I text is Tracy because I see so much of her in my daughter. And so I did not know that that relationship would be, um, so important to me or I thought that I could do that, but I didn't know how much I would really enjoy it.
Kiersta's son was abandoned on the street in Taiyuan, China, and was taken in by an orphanage. He was born missing most of his left foot. Kiersta and her husband don't have any information about who his parents are.
KKB: It's an absolute question mark and blank slate for my son. And we try to be realistic, we try to say, "I don't know." I tell him a lot of, "I don't know." We know where he was found. We know the orphanage he was placed in. We went to visit it. We met some of the people, but there are a lot of question marks, and I wish I had those answers. And I mainly, um, wish that I could speak to his birth mom. And I want to tell them that he's doing great, and that he got a robot foot, and that this is the design he picked out, and this is what Mardi Gras is like, and one of the first full sentences he learned how to say was, "Throw me something mister." [Laughs] We had only been home about six months and, you know, he learned English pretty quickly, but it was just like, you know, that was one of the first full sentences he learned. So I would would love that. I would give anything for that. I just never knew it was possible to miss somebody that you have never met before.

AS: What's it been like to raise kids in New Orleans after Katrina?
KKB: Absolutely magical. Absolutely magical. You know this is not probably on the top 10 list of places that you would raise a—you know. It never makes the Family Circle "Top 10 Places to Raise Kids," but there's an amazing street culture, amazing music culture, and they don't know anything else. You know, they— we talk about it a little bit. They have some, you know, sense of Katrina. They go to a school that's K-8 so some of the older kids have experienced it, but they don't really know, you know. They don't really have any sense of "before and after." They do know however that you can evacuate, and that we will evacuate, and that we need to keep a tank full of gas.
Dr. Kiersta Kurtz-Burke. Since Katrina, she and her family have evacuated once, during Hurricane Isaac three years ago.
Death, Sex & Money is a production of WNYC. The team includes Katie Bishop, Emily Botein, James Ramsay, Rachel Aronoff, and Benjamin Franklin.
Special thanks to Anna Hiatt, Zoe Azulay, Stephanie Billman, David Herman, Rick Kwan, Andrew Dunn, Joe Plourde, and Laine Kaplan-Levenson.
Photographer Rush Jagoe took pictures of all the people you're meeting in our "In New Orleans" series. Check them out at deathsexmoney.org/inneworleans.
The Reverend John Delore and Steve Lewis wrote our theme music, and this is the Outer Borough Brass Band performing it. Thanks to band members Jeff Pierce, Scott Bourgeois, Rick Faulkner, Joe Scatassa, and Jason Isaac.
If you like the show subscribe on iTunes, and sign up for our weekly newsletter at deathsexmoney.org/newsletter.
Kiersta is committed to staying with her family in New Orleans, but that's where her pronouncements about the future of her city end.
KKB: What's hard living here is we want to have this end to the story. We want to have the 10 years be a closure. Is New Orleans better than ever? Is it a gentrified hipster paradise or is it a sinking hell hole? And the reality is there's just no short answer. There's no period on the end of the sentence yet.
I'm Anna Sale, and this is Death, Sex & Money from WNYC.
Copyright © 2019 New York Public Radio. All rights reserved. Visit our website terms of use at www.wnyc.org for further information.