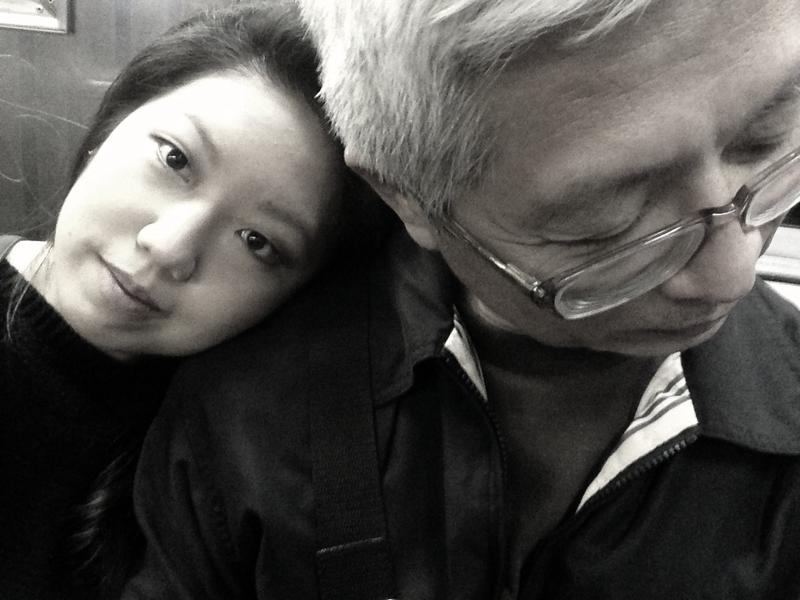 Transcript
Jane Chung: I still have him on my speed dial and I can't manage to erase it because I feel like I'm erasing a part of him.
This is Death, Sex & Money.
The show from WNYC about the things we think about a lot...
…and need to talk about more.
I'm Anna Sale.
It's been almost exactly two years since Jane Chung lost her dad. He died on the morning of Halloween in 2014.
JC: I miss talking with him and holding his hand and his laugh. You know like he and I are very similar. We don't have to say much to each other and then we can say so much to each other. We are very much in sync. My mom and I are always clashing. We're so different.
Jane says her mom can be a little overbearing. That made things tough when they moved into a one-bedroom apartment together after Jane's father's death.
Living together lasted less than a year. Jane now lives on her own in an apartment in Koreatown in Los Angeles. That's where we talked.
Jane's life today is completely different than how it was two years ago. Back then, Jane was living in New York City.
JC: It was crazy. I loved, I love New York, the energy is great, it's pulsing all the time, there is always something to do.
Jane moved to New York when she was 28. She was dating a lot, and working a lot. She was a co-founder of a startup called Klooff. It was kind of like Instagram, for pet photos.
JC: And I would call my dad every day and I will tell him like, all the news. I'm like, "Dad, as soon as I sell this company I want to help you make your dreams come true, I wanna get you out of that dollar store."
Jane's dad owned a dollar store in California. Her parents had originally come to the U.S. from Korea for her dad to get his PhD.
JC: The dream was that he was gonna graduate and he was gonna go to Seoul National University which is kind of like the Harvard of Korea, but, uh, he had been asked to be a professor, and so that was kind of the plan. Um, but he met God. He was studying a lot of religions at the time. He was Buddhist, looking at different religions and he just became a passionate follower of Christ.
Jane, her mom and her older brother became Christians too. Her parents helped start a new church. And after getting his PhD, Jane's dad decided that academia wasn't where he wanted to be.
JC: For a while it was a little tough, I think my dad was just kind of soul searching. And my uncle said to my dad, "You know, you have to put the kids through college, it's really expensive, why don't you help with the dollar store? There's a lot of cash involved, just a simple transaction. You could just learn that so fast 'cause you're smart. This is the way to get your kids through school," so that's what he did.
The dollar store didn't completely pay for college. Jane went to a private art school. She got some scholarships and took out a loan, her parents took out a loan, and Jane worked a lot of jobs.
JC: I was a gallery monitor, a fitness monitor, I worked in public safety, I was an RA, worked at a cafe, and...I hustled.
That didn't let up after college. Jane moved between different design jobs through her 20s. She saved up—even bought her parents a house. But career-wise, she never found the right fit. Until she moved to New York.
JC: I was so confident because everything seemed to align. And so I went to Chicago—it was like my first vacation in, like, two years to visit my aunt and uncle. And the next day I got a phone call. And that was when my mom called me to tell me that something had happened.

My dad had been held up before, three times. Owning a convenience store. Twice was with toy guns, so my mom always used to tell me to like, pray that we're safe and I used to worry about it so much so I used to pray that specific prayer like, "God I'm just worrying about this too much, like, can you just take care of this and it's in your hands and I'm not gonna fret about it. Like I trust you."

AS: So, tell me about what you remember about that phone call.

JC: I thought my mom had called me super early. Her voice was really weird. She kept on saying, "Your dad. Your dad." And she kept on screaming, "Call the helicopters." And I'm like, "Call the helicopters? What are you talking about? Call the helicopters?" And then it got really staticky and I couldn't hear what she was saying and she was hysterical. So I had thought, "Oh, my dad died." And there was like the feeling that you just kind of know that something awful happened.
That morning, Jane's mom and dad had driven from their house to the park where they took morning hikes. They pulled into the parking lot...
JC: And this guy, he comes up next to my dad by the car door.
He demanded her dad's wallet and keys. And he had a gun.
JC: Maybe he thought it was a toy gun, maybe he thought he wasn't really serious. But my mom said before she knew it, he shot him twice in the head right next to her. And she said it was so loud, she, like, for a second, like didn't know what happened.
The man who shot Jane's father was 19 years old. He fled the scene, and robbed and injured several more people that day.
JC: And the cops found him later that evening in his house watching TV with my dad's wallet and keys on him.
By then, Jane was on her way from Chicago, to be with her mother.
JC: I just remembered while I was in Chicago, and my aunt and uncle giving me a prep talk saying that I had to be strong for my mom. And so if I had to cry, like, I should cry everything here, and when I see her that should be strong. So when I saw her I did everything to be strong, so.

AS: Where was your mom when you finally got to their home?

JC: So by the time I got back, she was at the house, surrounded by my family. My relatives were already there. And I just remember she was just like walking like a zombie, like she just seemed like all the life was just sucked out of her, and I had been so worried about her, like I didn't know if she was hurt or if she was—there was like no information, you know. So the moment I saw her I just remember her crumbling and just sobbing, yeah.

AS: And did you hold her?

JC: Yeah. I slept with her that night. And I, and I woke up with her and she was just like in a ball, like crumpled. And I told her, like, "I'm gonna take care of you, don't worry, we'll live together. I'll do anything to provide and protect you. I'll pack up my things from New York and I'm gonna come here." And she said, "Okay."

AS: Where did that decision come from? How did you know that so quickly?

JC: Just like, it's something that I would do. It's just a natural thought. It's like, I wouldn't think anything else. I mean they have sacrificed and protected me and did anything in their power, and it's like, my mom needs me.

AS: When was your dad's service?

JC: So he was cremated. And we did kind of a memorial service for him, like four days afterwards. Yeah, and I just remember when his ashes came, and the whole family was hysterical and crying. And I just like couldn't be in the house. And they had just like returned the one thing in a plastic bag which is my dad's wedding ring and it was just surreal to me, that he, you know, someone that you know and can feel is just all contained in a box. And it was just, yeah.

AS: When you had said to God, "Can you take this, can you take this worry and take care of this, this worry that my father could be harmed," and then he was harmed—how did you process that?

JC: Oh, it's something I still process. When you give something to God, I just assumed that God was my safety net and that safety net was gone. I almost felt betrayed by God. Or that he was not protecting me. He allowed something so bad to happen and I didn't know why. I just felt like my life was crumbling. I was so hurt, really disappointed. I think most people were angry at the murderer, I think I was more angry at God.
Coming up…Jane leaves New York, her job and her life out on her own to help her family move forward.
JC: What we did was we sold the house I bought my parents, and with that money and my dad's insurance money we bought my mom a car, 'cause my dad was shot in the car, so we lost that car.
—
You know what makes you think a lot about death, sex and money?
Becoming a parent.
I am now back from maternity leave, talking to you from the East Bay in California, where I'm now based.
I've missed working these last few months...and I'm learning a lot now about working parenthood. Like, how we now have to schedule late recordings about porn around my babysitter schedule.
Or that I might urgently have leave to go back home because I brought my breast pump...but not the parts that are on the drying rack next to my sink at home. And I had to rush back to go get them. And then I did that again just a few days later.
But we are doing this! And we have some live events coming up to celebrate my return with you.
In San Francisco—we've got two things coming up. This week, on Thursday, October 27, I'm joining W. Kamau Bell's show, Kamau Right Now, in San Francisco. And at the end of next month, on November 30, I'll be interviewing Bravo's Andy Cohen at the Castro Theatre.
I'm also coming to Chicago next month. WBEZ is hosting us. I'm talking to actor and writer Mara Wilson at the Music Box Theatre.
More info, including how to get tickets, is on our website at deathsexmoney.org. Click on the events tab. I'd love to see you there.
On the next episode…
Amy Landecker: It's funny because I always play characters that are drunk or stoned. [Laughs] Always.
Actor Amy Landecker. She plays the oldest sibling on the series Transparent. She told me about how her sex life today compares to what it was like in her early 20s...before she got sober.
AL: Once you get to blackout, there's really not much you can do to protect yourself. And no one that I know has done anything to me that I didn't consent to at the time, whatever consent means when you're completely shit faced, so.
—
This is Death, Sex & Money, from WNYC. I'm Anna Sale.
Jane's dad was 58 years old when he was murdered in 2014.
After his memorial service, Jane went back to New York. She needed to say goodbye..
JC: I told my mom, I'm like, "Mom, can you just give me four days and I'm gonna pack up, say goodbye to my friends and I'll be here before you know it." So then I went, I packed up, like, took half my clothes and I had to tell my roommate, I'm like, "I'm so sorry, you have to find another roommate, I'll help you search." I told all my friends to meet at Ace Hotel so I could say bye to them all at once and I just remember feeling so sad that I was saying bye to everybody that I loved and the city that I loved.

AS: What was it like for you to live with your mother again after being out on your own for years?

JC: Oh my gosh, it was awful. [Laughs] I mean, you're—any grown person that goes back to live with their parents is like, this weird situation, it's like Twilight Zone, I mean they think that you're still like 16 or 15 in their eyes so, you know, when I'm like getting ready to go out when it's like 9 or 10, I'm putting on my makeup my mom's like, "What are you doing? Aren't you going to go to bed?" And then I'm like, "What are you talking about going to bed?" And then she would be going to morning prayer at five in the morning and I would be sleeping on the couch and she would like make all this noise going back and forth in the living room, and I'm like, "Oh my God, like, I wanna sleep," and she's like looking at me, like, "Are you still sleeping?" and I am like, "Of course I am sleeping, it's like 5:30 in the morning." She would always say, "You know I'm praying for you, I'm praying for your husband," and I'm like "I don't want to hear it." 'Cause I get really annoyed when she starts like, the whole like "I'm praying for your husband" thing.

AS: Yeah what do you say when she says I'm praying for your husband?

JC: I'm like, "Mom, change your prayer request 'cause I don't want to hear it." I get really annoyed. You can't really change how a Korean mother thinks anyway, you just have to accept it. [Laughs]

AS: Do you—have you dated differently because your mom is close and can watch what's happening in your life?

JC: Um, yes, I would go out around nine and then come back at two or three and that would totally freak her out. But I toned it down a lot because I knew she was like constantly fretting. So yeah, I definitely think that my way of dating is also different, I think I'm a little bit more open minded on who I date.

AS: What have you noticed?

JC: I think I always had this idea in my head, 'cause I was that girl who would, like, pray...and like list down all the things that I want in a guy and, you know.

AS: Mhm. I have many of those lists. [Laughs]

JC: Yeah, it's like you know, probably in my diary since I was like 10. So I had this, like, idealized version of, like, what the guy should be like. When I came to LA, I dated this guy and he was like kind of that guy that you thought maybe I would be married to. He was like tall, he was smart, good-looking and, you know, he's Korean so he could talk and translate with my mom and I was like, "Oh my gosh, maybe God's like throwing me a bone after all this hardship." So there I thought, "Wow okay, I think maybe he could be the one." So we went out for like a month and a half and then when he asked me why I came to LA, you know, I was really hesitant to tell him but then finally I told him the real reason and then the next day he just like stopped texting me and calling me. And so that made me feel really awful, 'cause I was hurt that he made me feel like damaged goods, and so that was when like, on Tinder I'm like swiping right, 'cause I'm like, I just need to get out of house 'cause I'm fighting with my mom.

That was when I landed on this guy, and I thought I would never date him 'cause he had said he was a personal trainer and I'm like, "I get worked out by a personal trainer, I don't really go out with one," (laughs) but that was just the snob in me. So then we met up and he was funny and, you know, I kind of told him early on just like why I was here in LA and he just immediately teared up and held my hand, and he said you know, "I am so sorry." And I just thought, you know, what a different reaction from some guy who seemed to have it all and great on paper, and then here's this guy who might not seem to have everything on paper, and like had a really warm empathetic heart. And so that was when I thought, "You know what? Maybe he's worth a second date." And that's when he told me that he had two children and I'm like, "Oh my God. That's a bomb." I'm like, "No way," and so I was like, "Let's just be friends." Obviously when you're friends you just keep on hanging out, and things get romantic and then, every time I'm resisting it, just—he's very persistent.
In my world, in my family, they are just always kind of against this idea of divorce. It was so hard, it was like a year and a half of us dating and me constantly breaking up with him because I would have so much anxiety over if my mom found out or, I thought I was being dishonest and what does it say about my integrity. When my mom, my aunts, my uncles, they found out that he was divorced they were like freaking out, and then "Oh, no not just divorce, he has two children." Like, "What!" I'm here to help out my mom and here she is having heartache over it. So, I struggled a lot, and I think it was because I lost a lot of love and he gave me so much love. And he also, very similar to my dad, super tenderhearted, generous kind, just very warm. So I just had this like internal conflict for the longest time, but at the end I decided to just end it 'cause I felt like, for now it was the right thing to do.

AS: Why?

JC: I'm ready to get married, whether it's to him or not, it's to somebody, he is not sure if he wants to be married again. Which is totally understandable but, my dad used to say, "You know when it's meant to be when your life converges together, and if it diverges, is not meant to be," and I just started to see like, maybe it's diverging.

AS: Do you think you're broken up for good?

JC: Yeah. It's just been such a rollercoaster that I need to move on.

AS: Do you have a sense of what your dad wanted for you?

JC: Yeah, my dad always had this like archetype of who I should be with and he always said, "You know, he has to be like quiet but strong, he should always like know how to handle you, because you're a piece of work. [Laughs] But, you know, a guy who can plan because I'm more of a big picture person, less detail-oriented. He also used to say, "You are ready for marriage when you can like ride the plane without any mishaps," 'cause I'd like, forget something or I'd almost miss my flight, I'd go on the wrong day. I once took a plane and landed in the wrong city, he used to joke about that.

AS: And when you think about him, like right now, what do you miss?

JC: I miss his essence, I miss his presence, I miss his voice, and it makes me sad that like any parts of him feels like it's fading away.
Jane now lives about 20 minutes away from her mom. She and her brother are still financially supporting her. Jane and her mom talk every day, and they see each other at least once a week, for dinner on Sundays.
And after not working for almost a year, Jane's now freelancing at a design firm in LA. She and her co-founders had to sell their start-up… that app for pet photos. They lost money on the deal.
So, now, in almost every way, Jane's rebuilding.
JC: So in art school we always talked about process and sometimes it's unpredictable and you work with how it leads and takes you. I was never a process-oriented person. I think I was a very task oriented person, so that was really hard for me to grasp. Always struggled with it because for me everything came so naturally to me, if I want to dance I'll dance and like, become the like cheerleading captain. You know, so it was just like, I always had goals and like tried to do my best to get those goals done. And, then you realize, you collect things in life, you gather pieces, you don't know what you're gonna do with those pieces but somehow it maps to something in your future, or maybe it might not. You don't know. I think that's what God does. I think he is an artist. I think he collects experiences and brings people in and out of your lives, teaching you or bringing new insight, perspective. And then it can become a bigger piece of work.
—
That's Jane Chung.
Her father's murderer pled guilty, and this past April, he was sentenced to forty years to life in California prison.
Jane wrote a statement that was read at his sentencing. She said she hoped he'd get a second chance to build a life he's proud of. She said she hoped that for herself too.
Death, Sex & Money is a listener-supported production of WNYC Studios in New York. I'm now based at the Center for Investigative Reporting in Emeryville, California. They produce the great investigative radio show and podcast called Reveal. Check it out.
The Death, Sex & Money team includes Katie Bishop, Chester Jesus Soria, Emily Botein and Andrew Dunn.
The Reverend John Delore and Steve Lewis wrote our theme music.
A big thank you to our interns Ali L'Esperance and Rich Renelique for all of their work this fall—including on our episodes with guest hosts while I was away.
You can find me on Twitter @annasale and the show @deathsexmoney.
And subscribe to our weekly newsletter! You can find out what's coming up, read emails from from our listener inbox, learn about other podcasts we're listening to. I recently found out my own husband is not subscribed to the Death, Sex & Money newsletter. I'm sure there are more of you that I'd be disappointed in. So go to deathsexmoney.org/newsletter. Or text the word "newsletter" to 69866.
And one more thing—we're on Instagram now too! You can find us @deathsexmoney to see behind-the-scenes pictures from the DSM team, including of course, photos of our pets.
JC: America loves pets. We have three times as more pets than children, did you know that?

AS: [Laughs] I didn't know that. That sounds like an opening line in a pitch meeting.

JC: Yea, sort of.
I'm Anna Sale, and this is Death, Sex & Money from WNYC.
Copyright © 2019 New York Public Radio. All rights reserved. Visit our website terms of use at www.wnyc.org for further information.
Music Credits:
"Stuffed Monster" by Blue Dot Sessions
,
"Callow" by Blue Dot Sessions
,
"Petaluma" by Blue Dot Sessions
,
"Silent Flock" by Blue Dot Sessions
,
"Cylinder Four" by Chris Zabriskie
,
"I Still Can't Believe"
,
"Once a Moment" by Blue Dot Sessions
,
"A Certain Lightness" by Blue Dot Sessions
,
"June" by Kai Engel