I Married the Gay Father of My Child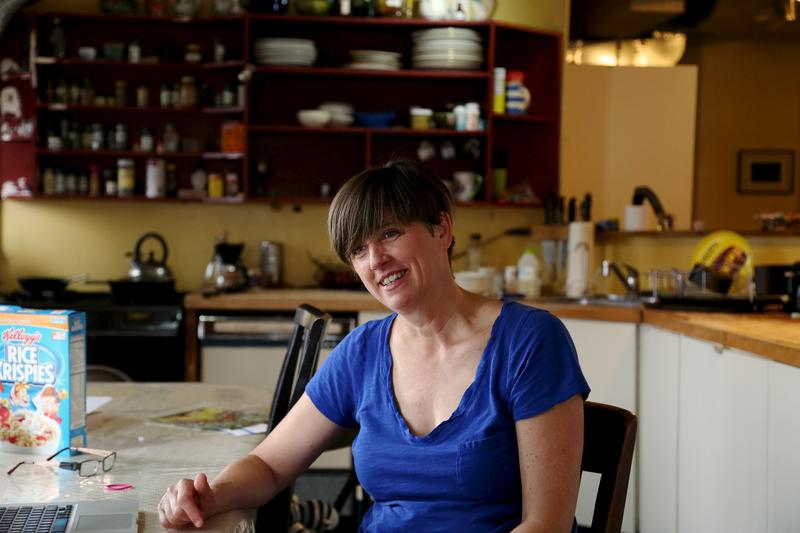 Transcript
Note: the transcript below contains some curse words.
Lucy Sexton: "I really didn't want to be doing it alone. I was open to who else might be around to support it. But I felt like, really parenting where it's just you and the kid, that's very tough."
This is...
Death, Sex & Money: the show from WNYC about the things we think about a lot and need to talk about more. I'm Anna Sale.
In one way, Lucy Sexton's story is not so unusual. Life whizzes past. A woman is 30, then in her mid-30s, and then in her late 30s. And then, if kids are going to happen, it's really time. There are limits, though, to what you can control.
I was married when I was, you know, 27. And then in my mid-30s I was like, Okay, so let's have a kid. And then he didn't really want to. And then in my late 30s, that marriage broke up. And I was like, shee… EERGH. You know? I really wanted a family, I really wanted a kid. And now I'm in my late 30s and without a partner and a way to have a child.
But what Lucy did have was a willingness to break the rules.
She's a performance artist and a dancer.
In the 1980s, she was a fixture on the downtown New York scene.
Pyramid host: "These are real women, not chicks with dicks."
As part of a duo called Dancenoise, she performed in black-box theaters and night clubs. This is a show in the mid-80s at The Pyramid, a center of club, dance, art culture in New York's East Village.
Pyramid host: "Internationally renowned performing artists — let's give a big pyramid welcome to Dancenoise!"
Lucy and her dance partner take the stage dressed as gift-wrapped packages -- which they tore through in short order...By the end of the 5-minute act, they're down to bras on top and fur chaps on the bottom.
In the 1980s, the downtown New York scene was this mix of punk rockers and drag queens, filmmakers and painters, all making art together and hanging out in the same places. The Pyramid was where the Red Hot Chili Peppers and RuPaul played their first shows. Madonna and Andy Warhol hosted an AIDS fundraiser there in the early days of the epidemic. Lucy's art picked up on all of these influences.
Her performances are political, irreverent, sometimes absurd...
Dancenoise with Madonna "Like A Prayer"
And often involves getting naked on stage, sometimes even rubbing brown paint on her body that looked like...
"SHIT!"
So, yes, Lucy Sexton's art is not afraid to flout conventions.
She brought the same attitude to becoming a mom.
She's up-ended traditional family structures, but in the process, she's become a parent that's raising her family in a lot of the same ways that her Irish Catholic parents raised her.
It all began when her friend Stephen agreed to help.
Stephen was a very close friend of mine for many, many years. And it started as a real desire of mine to have a kid and him coming along on that and helping me.
Stephen is Stephen Daldry, a British director, famous for movies like Billy Elliot and The Hours.
He's also gay. So there was that. And then:
It was hard to get pregnant. It took us three years from when we first said we're going to have a baby to actually having a baby. Including lots of medical help and all those other things too. And your own psychic journey of how much am I going to push this, can my body do it, and should we do it. So, the upside of having to really work at it is that you're really asking yourself, is this really what I want, how much is it worth, how much do I want to push it, and for me, the answer was just — I know it's really what I want, it may not be able to physically happen for me because I'm older, but I want to know I gave it my best shot. I really put all my attention there. I didn't just drift into my 40s and sort of go, oh, I guess that didn't happen and always be sort of 'what if' about it.
So you made the momentous decision with a long-time time friend to have a child together. You've got the plan, and then it was another 3 years of figuring out how to conceive.
Correct. And it also caused our relationship to grow. We were trying to have a kid together. We wound up getting married. We really wanted a family together. So, that went from being sort of, 'Yeah we're friends and I know you want this Lucy so I'll help you out,' to really both of us being a unit.
Stephen and Lucy got married in October of 2001. But at first, they kept it all secret. Not because Stephen's gay, but because Lucy hadn't been able to get pregnant yet. She says she was already feeling enough pressure without adding a big public wedding party announcing they were trying — and so far failing — to start a family.
So for Stephen and Lucy, strict labels have never really fit.
Stephen has always said, yes, I'm gay, yes I'm married, whatever.
Why marry? Why marriage?
For a number of reasons. As I say, It became an emotional journey for us and we became much closer. A physical journey, we became much closer physically. And then it's also health insurance.
Health insurance. So pragmatic. Maybe too pragmatic for something like marriage and family.
But also, totally responsible. The kind of thing Lucy's parents could totally get behind.
You know, my parents were very glad that me and Stephen were going to get married. Because of that — because there would be some legal and financial protections. That really is somebody making a commitment, and it's not all, 'loosy-goosy, everything will all work out okay.' So they're clear-eyed about — and they were clear-eyed with us about, however you want to define your marriage, this is what it means. You're being serious, and this is for real.
Again, she was raised Catholic, and now goes to an Episcopal church every Sunday with her family...which has taken some explaining to her daughter.
Are we Catholic? And well, I'm like, Nonie and Grandpa are Catholic, and I grew up Catholic but we go to an Episcopal church. 'I want to be Catholic!' Okay.
And when you think about marriage, does it have a dimension of the sacred for you?
It's really interesting. Absolutely, for one is the answer. I was really devastated when my first marriage broke up, and I absolutely was, no, this is it. There were lots of problems in the marriage but I didn't ever think that that meant we shouldn't be together. So I do have a very big emotional commitment to the idea of marriage. Similarly with this. I would absolutely say there is a lifetime commitment to it, a deep love commitment to it, a sacred commitment to it, there's nothing more sacred, I think, than making a commitment to raise children together. And that is a primal, deep, human activity. And the more we can surround it with sacred support the better.
It's almost, sort of, the most conservative definition of marriage, which is to reproduce and procreate together.

Yeah, that structure is there for a reason, and I feel like we should be able to take advantage of those structures and use them to create the lives we want to create. It never felt like it was something that sat on top of me and defined me. I always felt like we were using it for what we wanted to use it for.
Are you a different sort of wife in this marriage than you were in your first marriage?
Sure. Basically the most important difference being that the first marriage started from a romantic place and this did not. So, the purpose and intent is to build a family based in love, and that's the most important thing. So, there's a certain freedom. Your identities don't mesh in the same way. He can do what he does. I can do what I do. We both have careers in the arts, which take us all over the place and we're both a very good team about supporting each other with that. I don't mean to make it sound cold, but I think it's a great working unit. That's how it feels.
You mention that Stephen says, 'Yes, I'm gay. Yes, I'm married.' Yes, to everything. In your life, do you have romance?
I'm not going to talk about that. (laughs). I think, yeah, just don't want to, you know — kids no matter how unorthodox the way you're raising them. They want mommy and daddy to love each other and be a regular mommy and daddy, and they get to a certain age and that's just what they want. And the thing I've always been able to say is, but we do love each other. We do love each other more than anything else in the world. There is a deep love there. And it's a family unit there and we're in the same house, and you know, they haven't had a great deal of having to navigate our other relationships and I think that's easier for them.
And intentional, on your part.
On my part it is, yes.
And that's all Lucy would really say about the mechanics of her marriage to Stephen. She's a little protective — there's the British tabloids who've written gossipy coverage of them from time to time. But it's also how Lucy thinks about her family. You can tell when you talk to her — it's all about being a parent.
Wife is one thing — mom is really the role. That's the main role I would say that I feel as an identity, that's keeping this family together.
So, Lucy Sexton married a friend have a kid and raise a family together — not because of romantic love.
It's unusual. But what's normal in American families is changing fast. In 2011, 41 percent of American kids were born to an unmarried moms. More than a third of LGBT Americans are parents, according to the Williams Institute.
And the average age for a woman to have her first child is steadily creeping upwards. For Lucy, becoming a mom in her early 40s meant years of difficulty conceiving, but also a lot less ambivalence about the tradeoffs of motherhood.
I have younger friends who are artists and then have kids and then it becomes a conflict, of, 'I'm not doing my work as much, am I considered an artist? I'm just a mom now.' And I don't have any of that. When I wanted to be a mom, that was really what I wanted to do, so I didn't have any existential conflict about it.
But Lucy hasn't been doing it alone.
Coming up: the other adults who are helping Lucy her raise her kids.
We heard from a lot of you about dealing with distance in your relationships, inspired by the Death, Sex & Money interview with musicians Jason Isbell and Amanda Shires. There's 3 ½ million married couples out there doing it — a rate that's doubled since 1990. I talked about that on the public radio show The Takeaway, and you responded with your stories of long-distance relationships.
"We see each other in person about 50% of the year," Karen Moller wrote in from San Francisco, "and otherwise connect daily via Skype, Facebook and texting. We have been together for 12 plus years now and just recently got married, however, we do not plan to change our jobs or living places anytime soon."
Rebecca from New York called in — she commutes during the week to Chicago for the money:
"It is not easy, but my husband and my children have accommodated, and it's gotten us through a very difficult recessionary time."
But for Marine in San Francisco, she got burned:
"We were both young and naive, and I believed that the time apart would help us grow stronger. But he just found someone else to get closer to."
For me, when you have to do it, I'm partial to watching movies together over Skype. If you have to be apart from a love and haven't tried it — trust me. It's a great date.
This is Death, Sex & Money from WNYC. I'm Anna Sale.
Lucy Sexton grew up in Brooklyn in a big Irish Catholic family. She was one of six kids. For her, family meant noise and lots of people, and siblings. And she's lived with other adults in a Manhattan loft with cheap rent for decades, even during her first marriage. So as a mom, she knew she needed other adults around.
I think it's very, very hard to live in a nuclear family. It's very hard to have it be just mom and dad, or mom and mom, or dad and dad, but two people raising a family together and trying to keep a romantic relationship together and not having other adults living in the house with you. I know it sounds crazy but I really do think it's an awful lot to take on.
She's kinda right, right? The other thing is, she didn't want her daughter to be an only child. And so the next decision, how to create siblings.
I very much wanted, we both did – wanted another kid. And I grew up in a big Irish Catholic family. And I couldn't imagine having an only child. It was not possible physically. We tried but it had not been possible. So a friend, not a good friend, but someone I knew through a good friend, wound up — she had had a child, was basically a single mom, and was at loose ends at 'how is this going to work, I want this baby but what am I going to do here,' and I said to her, 'Why don't you move in, because I live in a big loft with lots of other people, there was space opening up in the loft. Why don't you move in with the baby, we'll raise them together. And at the beginning I said, We don't really know each other that well, if it doesn't work out, then then we live together when the kids were young, it's not so traumatic for them. As it has turned out, it's turned out exactly how I wanted, which is that we have raised the girls as sisters. It has been a really good family, extended family unit. And the kids are a year apart. So I travel lots of times with my two daughters. And refer to each other as my daughters, etcetera, and they refer to each as sisters. They're both quite clear, there's mommy and other mommy for both of them.
As your daughter's gotten older, as your daughters have gotten older, what's your conversation about family like? How do you explain what family is?
One interesting thing is that you do have to be conscious and intentional about who you are telling them is family. Because we have lots of grown-ups who also have other relationships, and then I also live in the loft with other roommates, and in one sense they're all part of an extended family and have been and it's been incredibly valuable. On the other hand, they need to know who's never leaving. Who are you going to live with for the rest of your life no matter what. The two moms and the two dads are both very involved. But, they need to know that this unit — that their sister is not going away. That this unit is not going away. We have all made a commitment to raising them within this structure as loose or different as it is. So, it's great to have loving adults around, and those loving adults are incredibly important to them, but it's also important that they are clear.
I was divorced, and when I brought my next boyfriend home, my sister kept introducing him as "uncle" to my niece and nephew, and subsequently, it's been very confusing for the kids, and it was initially an attempt to embrace him, but it was a little premature, I think.
Right. I also went through a divorce, and I have nieces and nephews that had an uncle that then went away. But that's a reality. It was their uncle, I was married to him, he did intend to be their uncle for the rest of their lives, so you can't protect them from that happening. But you do want to be conscious that the relationship where you're hoping it'll last for the rest of your life. It may not, but you can at least say that to the kid. So when they make an investment, you know that you'll also try to protect that investment even if that relationship breaks up.
So your oldest daughter is 10 now. Are there things that she says back to you that have sort of surprised you about the ways she's incorporated all of this?
The only slight surprise was how much she — this was only a couple of years ago now, when she was 8 or 9, and still, lobbying for, and still feels, why isn't it a normal family — considering that she has not known that. Her school friends — very few of them are in what she's saying is a normal family, but still there is a lobby for that, no matter what.
What do you say?
I try to talk about the stability that's inherent in our situation. I think for me, it's way more stable, because the primary piece of it is not a romantic situation. She takes what she want to take of it, and hold onto — Yeah, but I still want this — Okay. You still want this, that's okay. That's all right.
Who have been the people you've asked for advice?
I don't know — me and the other mom have done some counseling. I guess my sisters, really, just because my first concern is always how to present this to the kids.
Are you the most unconventional of your siblings in terms of the families that they've built?
Probably the most unconventional, but still, there's an unmarried couple with two kids and they haven't married yet. They didn't live together for a while. God. People have crazy lives, people have lives. My sister had a baby and a toddler when her husband died, so she was a single mom for a while and then she married somebody else that also had kids so they have the blended family thing. So we may not think of them as unconventional but they're big things to navigate. And you just don't know how life is going to go. So you keep making it up as you go along. So in that sense, I don't feel like I'm that weird in my family. I feels like everyone has had to make it up as they went along. Even though it's not perhaps as, from the outside, doesn't look as wacky as mine looks.
And it's a funny thing, and maybe it's just the way I was raised, but I have always felt in myself an utter conventionality in terms of, I had a nice stable upbringing. I don't come from a dysfunctional household. It's really important to me to have friends and family and I've always invested in that. And my family has always gone with me on the ride — my crazy story is always that I'm performing at the Pyramid nightclub at the East Village, in various states of undress, and I'm in my early 20s, and my dad stops by on the way home from work and stands in the back at the bar with his briefcase. And watches the show and that's very good and continues on. Not to say he's been comfortable with everything I do, but he's been supportive of it, and sees, why's she doing it, what's she trying to make a point about, and took it seriously. So it never felt like a break from my parents to be doing what I was doing. So, for me this is of a piece, that then I would grow up and be a mom that would be really important to me and that I wouldn't see it as something that had to be in conflict with going out and performing, you know.
So Lucy learned all the rules growing up Catholic in Brooklyn. As an artist, she toys with which rules to mock, and break. It's helped her see what's convention for convention's sake, and what actually nurtures the most precious things in life.
How do you talk to your daughters about what love is?
The big question that the kids ask is, who do you love more? My mother gave the best answer. 'How much love to give each kid?' I think had something like that kind of question. And she said, it doesn't work that way. It's not a pie that you cut up and give a certain amount of love. You give all your love to each of your children. But each relationship is unique. I have one relationship with my biological daughter, I have another relationship with my non-biological daughter. And they're both incredibly profound relationships, and they're particular to those children, too. Because those children are different. The way they are in the world is different. The things they require is different and the way they relate to me is different. There is a uniqueness that they should also take confidence from — that I'm being loved in a unique way because of who I am and how I fit in with my mom or my other mom. Those are things that I try to reinforce, so that they both feel seen, feel known and feel loved. That's the whole job. Right? That's the job of us as human beings in the world. And certainly that's the job of us as a parent, I would think. Make sure your kids feels known and seen and loved.
That's Lucy Sexton. We spoke in Manhattan, just a few blocks from the loft where she's lived for 25 years. Her folks still live right across the river, in Brooklyn.
We have a classic performance of Lucy's DanceNoise duo at New York's Pyramid Club. It's posted on our website, at deathsexmoney.org.
And Lucy's not alone in figuring out ways to raise children and have a family. Fertility challenges, LGBT families dealing with the law, multiple parents after divorce and remarriages. We're collecting stories about all this on our website at deathsexmoney.org — tell us how you've built family in your life — as parents, without kids, with your friends — and the surprising improvisations you've made along the way.
Death, Sex & Money is a production of WNYC. The team includes Emily Botein, James Ramsay, Henry Molofsky, Chris Bannon, Bill O'Neill, Jason Isaac, Pejk Malinovski, and Jim Briggs. The Reverend John Delore and Steve Lewis wrote our theme music. Thanks also to Amy Pearl.
We want to know what stories about death, sex, and money you want to hear. Tell us by writing us at deathsexmoney@wnyc.org. We're also on Facebook. And I'm on twitter @annasale.
If you liked this episode, share it with all your friends on Facebook, and subscribe on iTunes.
In the next episode, JANE FONDA:
"I think that when a woman is older, sex is better. Partly because she doesn't give a fuzzy rat's ass anymore. She's not out there on the marketplace anymore, she knows her body, she knows what she wants, she's less afraid to ask for it, if it doesn't work out, so what?"
I'm Anna Sale. This is Death, Sex & Money from WNYC.
Copyright © 2019 New York Public Radio. All rights reserved. Visit our website terms of use at www.wnyc.org for further information.