How to Face Your Fears With Steve-O, Laurel Braitman, and Rev. angel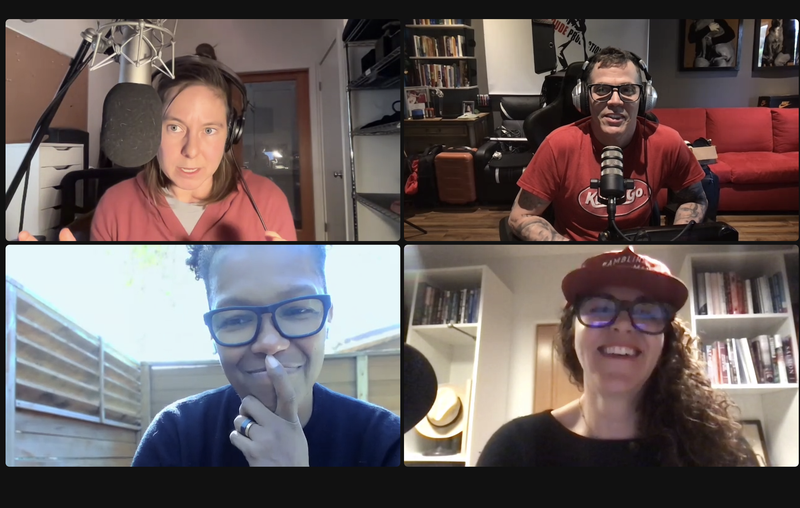 Transcript
Stevo: Hello.
Anna: Can you hear us alright?
Steve-O: Yea, dudes!
Laurel: Yes.
Rev. angel: Yea. (laughs)
(opening theme for Death, Sex & Money)
(end of opening theme for Death, Sex & Money)
Anna: This is Death, Sex & Money. The show from WNYC about the things we think about a lot and need to talk about more. I'm Anna Sale. Today's show is all about fear, when to heed it, when fear is a good tool for self-preservation, and also when you should push through it. When fear is holding you back from necessary change and how to tell the difference.
Listeners, you have been sending in your dilemmas about fear. I have my own difficulties with it, and we have convened a panel of three expert guests to listen to your questions about fear and maybe offer some guidance. They've all had fear and bravery informed their work in some way, whether conceptually or quite literally.
Let me introduce them to you now. Our first guest is Steve-O, who you know from MTV's Jackass, where he performed, of course, countless extreme, often painful, sometimes disgusting stunts. He's also an author and a standup comedian. He's also nearly 15 years sober, and from my years of enjoying Jackass, I can tell you he knows how to be the kind of friend who pushes you when you need it, and he also knows how to rally around you when you're hurt.
His latest book is A Hard Kick in the Nuts: What I've Learned from a Lifetime of Terrible Decisions. Steve-O, welcome to Death, Sex & Money.
Steve-O: Thank you.
Anna: Sure. One thing that I learned about you that I didn't know from reading your latest book is what a devotee you are to your calendar app and how it helps you organize your days and how you're one of those people that does color coded things for all sorts of obligations. There's the self-care you need to do, there's the work you need to do for your standup. There's the work you need to do for tapings. And it made me wonder, um, if you feel fear when you have unscheduled time and how you deal with it.
Steve-O: Oh, absolutely. Yeah, definitely. That's um, yeah, I, I'm gripped by fear and I think that for what I've done for a living, um, it would surprise people how fearful I am because I think I have a reputation of, uh, being fearless and it's just not the case. And should my calendar ever be completely empty, that's among my biggest fears.
Anna: And Laurel Braitman, a writer, a teacher, and a secular clinical chaplain in training, is also here with us. And Laurel, you also have your PhD in the history and anthropology of science. You are the author of the New York Times bestselling book, Animal Madness: Inside Their Minds and the new memoir, What Looks Like Bravery, and Laurel, I have to tell you that your memoir really hit me like a ton of bricks. Like I felt the cells in my gut reorganizing as I was reading. Um, and it didn't always feel pleasant, it was like this churning. Um, but I did feel change happening, and, specifically you write about in your life growing up with a father with cancer who was in treatment through most of your childhood. And he died when you were finishing high school. But it wasn't until your mid thirties when the feelings of loss really rushed in. And until then you had the fuel of productivity and achievement and excellent executive functioning that got you through. And, uh, it made me wonder how you think about fear and how we experience it at midlife versus like in childhood. If in some ways fear is more complicated when we're a little older because we have these tricks that we can do with our brain to try to outrun it or push it down.
Laurel: Absolutely. Um, sorry I'm distracted cause I just wish I had titled my own book A Hard Kick in the Nuts.
Anna: It's taken!
Laurel: Dammit, dammit. Um, it just is so good. Um. Man fear. Yeah. It just gets worse. You know, I feel like as I get older, I just please help me. Um, I, I, I feel like I, I would like to be attached less. Um, you know, I would like to love a little less. I would like, especially my mortality, you know, but as we get older and we are forced to say goodbye to so many things, ideas, people, places, perhaps before we're ready, um, I find the fear gets worse. Um, because I'm feeling my mortality more acutely. At the same time, that also makes my joy and my wonder feel so much more powerful, you know? So I, I think it's the grace, the great curse of being a mortal creature, you know? Um, and I just feel that both sweetly and more acutely and painfully, with every increasing year I'm here.
Anna: Um, Reverend angel Kyodo williams is also here with us. You are a Zen priest, activist and teacher. You're the author of Being Black: Zen and the Art of Living with Fearlessness and Grace and author most recently of Radical Dharma: Talking Race, Love, and Liberation. Um, Rev. angel, do you have anything to say back to Laurel about that idea of fear just getting more immense and hard and compounding as we experience the loss that comes with living a long life?
Rev. angel: I don't know that I would say that I, I would say something to Laurel as much as I would, I remind my myself, uh, you know, about the, the joys that exist on the other side of that, that the, um, that it's exactly those attachments that we have, uh, that seem to incite the fear are that are, that are evidence of how much we love, and I love how you said like, I wish I had less attachment. It's like, oh, but I, that I have that attachment is, is such evidence of, uh, despite all of the things, in fact in, in the face of all of the things that challenge us, that, you know, rip the ground out from underneath us and feel like they're gonna swallow us up, that we still triumph in the fact of wanting to live, of wanting to love, of wanting to be connected and be attached and wanna stay on this, you know, godforsaken shit show of a planet and a situation and we're just still wanting to do it. And that's, that's extraordinary. If we can glimpse that, like, if we can remember that, that's, that's what underlies the fear.
Steve-O: Yeah, I just had a conversation with my favorite author, Neil Donald Walsh, who wrote Conversations With God that, that whole book series, and he had a, a fascinating insight to fear that, um, that it's directly, uh, not the same, may maybe inverse, but, but fear is, is every bit as powerful as love, and that there's a connection there. Because what makes us fear something is love. You know, we fear losing what we love.
Rev. angel: And I, you know, I feel like there's sometimes a conversation of, there's only those two things like fear and love, and I'm like, then there's, there's only love. There's love, and there's the response to the possibility of not being able to have love. But I think giving fear equal measure and power to love is a misunderstanding.
Steve-O: Ooh, I have a different take on that I think. Um, this came up in the conversation when we were talking about, um, the power of, um, say for example, on social media, if, uh, I, if I go looking through comments underneath something that I've posted, I could see a hundred positive comments and not have that affect me anywhere nearly as the one negative one. You know, that one negative comment is something that's just gonna absolutely destroy my day. And, um, in that respect, it, it, it, I, I would even go as far as to say that fear is considerably more powerful than love. That one negative comment has so much more power over me than a hundred loving ones. But then again, I like your take on it too. I like the idea that love is more powerful.
Anna: Um, Shall we bring in our first listener question? Are you all ready?
Steve-O: Sure.
Anna: So let's listen to Tyler from Portland, Oregon. He wrote to us with a question about work and about really wanting to leave his stressful salary job. Let's take a listen.
Tyler: I so, so badly want to get out of my industry, um, I really wanna work for myself making. You know, art, uh, I'm a bladesmith and a blacksmith. I wanna work for myself. Um, but I've been in my industry for 10 years and here's the rub. I'm diabetic among other autoimmune disorders. Um, so here in America I can't really do that because I need health insurance and I'm tied to my employer. Um, I am married. I don't have any kids. I currently rent.
I am afraid to take the leap because of money, because I make okay money right now. I'm afraid to make the leap because of my autoimmune disorders and my health insurance and my diabetic supplies that I need, my insulin that I need every, every month, every day, every second. Um, it's honestly kind of crippling. I think I would've changed industries or started working for myself quite a long time ago, um, if this weren't the case. So I'm a little bit afraid to be brave on that front. Uh, yeah, any, any advice from you or, or anyone else is super, super, super appreciated.
Anna: Hmm. Laurel, I wanna put that to you first because you have had a non-traditional career where you've engaged with a lot of elite institutions, but often like piece by piece and working it as an independent contractor. And you also know what can happen when health emergencies enter your life. Um, so what would you say to Tyler?
Laurel: Well first of all, I would say, Tyler, you already are brave. You, you are living with a really difficult condition. You are making it work, and you have an incredible craft, and you were living in a not inexpensive city. So, uh, first of all, to believe that bravery is, it's some future horizon. If you only do XYZ thing, I think it's not true.You are already brave. And then secondly, my scariest points in my life have been when, because of a preexisting condition before our laws changed in the United States, I didn't qualify for healthcare for a number of years, and I was so scared. Um, I just felt like I was one bill or one car accident away from being homeless. And no one should have to live like that. I think this is a great, tragic embarrassment and shame of our country.
Also, that being said, um, maybe you try this for a brief period of time, um, and then you hop back in again. Um, maybe you try working independently in steps. Maybe you approach an institution that offers healthcare with your own job in mind. Um, I've always been pretty shocked by my ability to go to an institution and knock on the door and say, "I have this idea. Will you have me?" And I'd say, you know, give yourself a certain number of months. Or even a year and just try it and see if you like it. You may not like being self-employed. Um, it's quite a hustle,
Anna: And Rev. angel, is there anything you wanna add about like, I feel like money can feel like such a– dealing with fear around money and not being able to anticipate if we're gonna have enough, if we make a change. Um, do you have a fix for that?
Rev. angel: Uh, well, I'll just say that I, uh, I, I left traditional work at, uh, age 22. I walked out of a corporate job and never turned back, and that's 30 years now, and also have an autoimmune, uh, illness. And, and I feel that, I get, you know, a lot of the contours of that. And at the very bottom know that you, we, we, we do have to make exchanges. Often when we're saying that we're afraid of something, what we're saying is that we want this other something, but we don't wanna give something in exchange. So find the solution that allows for the fact that you are going to have to give something up in order to be able to have just enough, the balance of what allows you to pursue your passion. I, I think you can, can't not do that. You have to, I hear that in your voice. Um, but also to do it in a, in a way that doesn't put you beyond the edge of being able to, uh, stay regulated and stay joyful about the work that you're trying to do.
And, as a formal spiritual teacher and as a person that thinks about liberation all the time, all the time, that what I've really come to is that there are no, um, answers that, that don't live inside of your own body of how risk, uh, inclined you are or how much your own nervous system. Because if you're gonna be overwrought with the idea of not having healthcare for that period of time, it, it may steal the joy out of doing your art. So, you know, fly by the seat of your pants, Steve-O's offering the kick in the nuts and, uh, and, and, and also only goes so far as, you know, you can, you can manage.
Anna: Hmm. Our next listener question is about grief and loss. Um, let's take a listen.
Caroline: My fear, or my anticipatory fear is I am 65 and my husband is 14 years older and I fear that I'm going to lose him. And then life as we know it will be changed. And that's scary. It's particularly scary for me in that when I was young, eight years old, mm, I lost my father and my grandfather in the same year, and then my grandmother just a few years later, and I was close to all three of these people and it forever changed my life. So I suppose I have a little PTSD fear when it comes to losing.
Anna: Laurel, you've just written this memoir about losing people that you deeply loved. Um, and, uh, that, that phrase that the listener uses there, anticipatory fear and, and distinguishing that from fear, um, when it comes to grief. Um, how, how would you, what would you wanna say to her?
Laurel: Oh, I just, I'm, I am with you. You live in my heart. We share a mind, and isn't love terrible. That's just truly, you know, I think I, it's similar to what we've been talking about where I just think the exquisite pain of loving someone so deeply and knowing that it won't last forever, and seeing the end approaching in whatever way it comes, I especially when you know it to be true, is just so exquisitely painful. And I think it's a kind of longing, um, anticipatory grief, um, anticipatory sadness, and there's no solution except to not love the person. Um, which is really no solution at all. But my God, I feel you and I think that sort of low thrum of anxiety around loss is the biggest, most shaping force in my life. It's, it's the river that creates the Grand Canyon that is my personality, you know? Um, and in my life, and maybe this is true for you too, it's, it's also been my greatest gift. And I'm not just saying that because we're on a podcast and I'm trying to cheer you up. I, I really believe that, um, you know, I think that it is the great connective tissue that connects all of us.
None of us, none of us leaves here unmarked. Um, and it's gonna hurt like hell. It really will. There's no way around it. Um, and you're gonna continue to see the world in an extra color, you know that people that haven't had a loss just don't see. The tastes are tastier, the colors are brighter, um, and it hurts like hell, and there's no way around. But also, so glad you're here,
Anna: Hmm.
Laurel: Everyone good is in this club.
Anna: Hmm. Steve-O, is there anything you wanna add to that? You write about the losses you have experienced in your life, the loss of your mother who died after um, A long decline, loss of dear friends of yours who died young, um, and how it shaped the kinds of relationships that you had in your adult life. Um, when you think about loss, fear of loss and love, um, anything you wanna tell this listener?
Steve-O: Yeah. What came to mind for me was my father who, um, recently said to me that he's got, um, 10 years tops of useful life left in him. And just to hear him say that so candidly, so matter of factly, um, it struck at my core. And, um, and he, he said it in the context of, um, expressing that with all of the time of usefulness that he has left, that he wants to shape me–
Anna: No pressure.
Steve-O: Yeah, it, it, it was, you know, he wants to, to know that I am capable of everything that he wants me to be capable of, and, and that warmed my heart so much. Um, but yeah, the idea of losing my dad just terrifies me, and I know it's gonna happen and I know it's gonna hurt. The only thing other than I, I think that it's something when, when people tell me that they've lost a loved one, I always, um, implore them to grieve selfishly. That's something that I feel strongly about. Um, you know, grieve for your loss, but grieve selfishly for yourself and grieve, uh, in a mindful way that, uh, that honors the memory of your loved one, because anybody who loves you is going to want you to be happy and healthy and thriving.
Anna: Hmm. Laurel, I just wanna say that the, the, the, um, guidelines or the sort of guidance framework for grieving that you learned, uh, in the grief group for kids that you reported on in your book, the three steps, um, I just loved. The first step of acknowledge the loss, feel the loss, uh, transition the relationship to memory from presence. And I just thought that was, so it's sort of what you're saying Steve-O. I think of the selfishness, the selfish grieving is those first two steps and then the like, what is life now if this relationship in my life is moving to the, to memory from presence. Um, I just thought it's so simple and so achingly difficult, um, to do of course.
Um, let's go to our next listener question. Um, this is a story from a listener named Hannah.
Hannah:  So what I am, um, messaging in about is my fear that because my husband and I have chosen not to have children, um, that everyone's going to be right around us and that we are going to regret it. It is an unconventional choice and something that kind of goes against the grain it seems, and makes people really angry. And I'm just really afraid that those people will be right and that we will regret not having children. So that is my fear that I think about quite a bit, especially being in my mid thirties and having a quote unquote biological clock ticking. Um, and very opinionated family members.
Anna: Very opinionated family members she adds, um, I, I think of the four of us, I'm the only one who has chosen to have kids. Is that right? Um, so let's luxuriate in the choice that you all have made to not have kids. Just to, just to present Hannah this, um, this vision that could be a possibility for her. Um, Rev. angel, do you have anything to say to Hannah about that? There's fear here about not having kids and, and I feel the fear of regretting it later when you have to make a time bound decision, um, that you're gonna have to live with. I hear Hannah struggling with that when she's getting a lot of inputs from elsewhere.
Rev. angel: Yeah. You know, it's, um, uh, akin to the earlier comment that I made about, there's this place that's right here and right now of resolve that I think is important of, in all of these kinds of things that we tend not to talk about and we get really caught up with is the, um, the future pacing of them. And we have a lot of, um, you know, feeling to enter into it now and to allow ourselves to process this. The same thing with, you know, the possibility of loss. Uh, you know, Steve-O when you said something about mindfulness, like there's a Buddhist, uh, practice and notion of actually like practicing with death. And so the, um, walking into, in your own experience of what it would be, you know, as best you can to have kids and kind of like, check it out, you know, it's like go visit it. Go visit in your, in your body, in your mind's eye, what it would be like to have children and what it would be like to, uh, you know, to, to not, like what is it that you're not making that decision for? And everybody else, you just have to put their decisions aside because the truth is that you're the only person that's gonna live through that life.
Anna: Mm-hmm. Rev. angel, you're reminding me, I, there was a, I have two youngish kids and deep in pandemic, I started fantasizing about having a third kid and how lovely it would be and how much I loved my two kids and who would this third child be. And then I started picturing three car seats and I was just like, hell no. I can't do this. Two is fine. So it was really inhabiting that, that three kid life. I was like, now I have clarity. Laurel or Steve-O, is there anything you wanna add about, um, having made the choice not to have kids and, and whether that was difficult for you or whether, um, what has come having made that choice, do you look back with clarity about it?
Steve-O: I feel very, very strongly about, I feel so strongly about not having kids, that I went ahead and, and, uh, got a vasectomy and I made a, a, a crazy, uh, wild video called the Vasectomy Olympics.
Anna: Of course. Of course you did. Uh, and how, how old were you when you got the vasectomy on camera?
Steve-O: Um, yeah, I was all, I was in my forties. The thing that just catches me off guard is the, I'm just so confused by why it's conventional to have children at this point. Um, I mean, my, from, from my parents' generation, a university diploma meant placement in a career of their choosing.For my generation, not so much. It was considered helpful. And then now, you know, if I were to have kids, a university diploma just means student, just debt. It just, it just means debt. We live in an age of mega threats with, uh, the environment, with the global debt, with, uh, you know, it's, I, I think that we're facing an economic collapse that will make the great depression of the 1930s look minor.
Anna: Steve-O, you're, you're narrating, um, what very much sounds like all of my fears as a parent, so I'm gonna, I'm gonna like leave that thread for now. But, it's something I think about. Um, and, and Laurel is there, is there anything else you wanna add about, um, what I hear there is you write in your book about feeling ambivalence about whether to become a parent, you become pregnant with an unplanned pregnancy, and thinking about what is this ambivalence really, and where did you land on that for yourself?
Laurel: You know, I realized that I am a someone who deeply, deeply wants things. I really, really wanted to be a writer when I grew up. I really, really want to have a pet donkey. I really, really like, you know, my snacks. For me, the experience of feeling ambivalent about having a child was so tied up in societal expectations, which this listener is talking to us about, that for me, the feeling of ambivalence was my pleasing self, not wanting to disappoint other people, or future version of myself, who's, frankly the judgiest person in the room, usually, even though she hasn't even walked in yet. Um, and I realized that my ambivalence was actually feeling like I didn't want to do it. Um, the other thing that I would say to her is that this is so bananas, but why are we the ones who are questioned? Why if you choose to not have children, is that the question? "Why don't you wanna have kids?" is the question. We do not ask people why they want to have kids, which to me seems like such a bigger choice, right? So just sit with a minute when people ask you those questions and, and pressure you. I think so often when it comes to those things they are wanting, it's their own fears made realized. You know, if someone opts out of a choice that is their fundamental choice in their life and makes a different one, it can be threatening. Um, but, but stay strong, plum your own ambivalence. Um, and yes, I, I also think, lean into the car full of car seats, the Cheerios under the floor mat, the Lego that's sharp in the middle of the night on the way to the bathroom.
(Daymaze Lazybeat Leader – Blue Dot Sessions)
Anna: Mm-hmm.
Laurel: Uh, you know, children are great joys and, and also burdens, you know.
Anna: It's true. For me, two, two car seats is glorious and a lot of work. And that was enough. Um, we're gonna take a quick break and we'll be right back listening to more of your fears.
(end of Daymaze Lazybeat Leader – Blue Dot Sessions)
Anna: This is Death, Sex, and Money from WNYC. I'm Anna Sale. My guests talking about fear are author and historian, Laurel Braitman, comedian and author, Steve-O, and Zen Buddhist priest, Reverend angel Kyodo williams. I have a question for each of you. When you need to self soothe and you want to grab a book or a tv, or a movie or something to listen to, to calm your fear, what are you reaching for right now? Let's start with you, Rev. angel.
Rev. angel: Ah, it's tricky, you know, um, I think however we have gone through the conversations about the podcast, fear is not something that I am driven by. And I, and so I don't, I don't relate to the question in that way. Um, I have an impulse to go towards something, you know, rather than to, uh, you know, go away.
Anna: Yeah, that's okay. You can reject the premise, that's allowed.
Rev. angel: Yeah I either, I either turn into the, in towards the thing itself, like whatever that may be. It's grief, it's, you know, sense of loss and pending loss or feeling of indecision, maybe turn into it or I turn away like, I just come back to myself. Like, it really is like, like just return here. Because the truth is, a lot of the feelings that we have that we think have a grip on us, um, is, are, are, they're not nearly as sustained as we think they are. They're interrupted all the time. They're, you know, you, you go to the bathroom and like, you're not in fear anymore. You have a moment and you just, like, you're, you're, you're at the toilet. You're not having fear at that moment. It's interrupted. So we actually pick it up and leave it as if it's a continuous thing. And the truth is it's not. So if you can find a little, you know, space to, uh, to, to, I, I think of it as like remembering yourself, to come back to yourself. This body, this person, this human is not, not in fear. There's a, there's a thing that we may be resisting or contracting from or so on that we relate to as being fearful, but, but this being at their very core is, is okay and continuing to want to live. And, uh, we're turning to those places in ourselves and it's threading them together so that we are no longer the fear, but we are the, we're the constant, uh, ever-changing thing that is in between.
Anna: Hmm. I love that answer so much more than watching the Great British Baking Show, which is my answer. No judgment to my fellow Netflix watchers.
Rev. angel: I might try, I might do that.
Anna: Um, Steve-O or Laurel, do you have a go-to thing that you find is the centering thing, whether it's centering is the word, or soothing, or just bringing you back out of a kind of, um, hum of anxiety or fear? Laurel, do you have something?
Laurel: Yes. Um, but like you, the, the, I, I wish they were sort of more spiritual in nature. Um, but I will say that I think distraction, um, is highly underrated. And I think if the British Bakeoff gives you the pause that you might get through prayer just for a half an hour and then you can re enter your anxious thrum after you might have evolved a little bit more coping skills by the end of the British bakeoff I'm not sure. I will say that I have used, in the past, distraction which can be a kind of addiction. Um, so for me it's usually water, like hurling myself into water and it can just be the shower. Um, bathing is my number one hobby and for whatever reason, when I draw the bath and hop into it, um, and getting naked, somehow, it's like my fears live in the pockets of my jeans, and I, I really agree with Reverend angel, like the, any salvation here is turn is torn towards, um, rather than away. But sometimes we're not ready for that. Sometimes I need a bath, I need a phone call, I need a snack, I need a dumb movie. Um, I need Love Island. Uh, you know, I need something, um, before I can face my difficult feelings. And I think that's okay. I used to shame myself about that, but I'm trying to be kinder.
Anna: And, and your answer, Laurel makes me think for you, Steve-O about somebody who has, who has had to sort of reimagine the patterns that you, your, your go-to things as somebody in recovery, like you, you have had to create new frameworks for what to do when you have an urge to do something to make you feel calm or distracted or less agitated.
Steve-O: When you initially asked the question, do we have anything that we turn to, for self soothing? It was so instant, my answer. It's like, oh, my animals, you know, like, uh, grab my, you know, snuggle up with my dog and just cuddle and, and, and that, um, it, that's certainly my go-to. Um, I think that, uh, in a bigger picture sense, um, you know, I describe in, in my last book, that my default, um, setting, if you will, is just one of, uh, anxiety and stress. I have this default core belief that everything is not okay. Or if it's okay now it's not gonna be okay and I've just gotta hurry up and frantically just hustle and, and just try to accomplish something so that everything will be okay. And, uh, you know, it makes for a pretty, pretty uncomfortable existence.
But if I compare to that the idea of being content all the time, I feel like content, um, happiness, it, it just, it feels dangerously equivalent to lazy. And, uh, you know, I, I just think that I'm always gonna want to choose the hustle. But in a more constructive sense, the way to break down, um, that which disturbs us is really laid out in the 12 steps of recovery.
It's, uh, the fourth step we made. Uh, we make an inventory of everything which disturbs us. And those things break down into three categories. One being resentment, the second being fears, and the third being guilt from harm done to others. And as it relates to the fear inventory, um, it, you know, it's, uh, it's about identifying the next indicated action. You know, because worry is not action. So if you can take a concern that you have and identify what you can do constructively to alleviate the concern, then uh, that's the best thing you can do.
Anna: Hmm.
Rev. angel: I just wanna say, I think Steve-O just called me lazy. (laughs)
Steve-O: I like it.
Anna: I did flash when he said that. I was like, Hmm. I think I want a little Steve-o and a little Rev. angel. I want a little more of both in my life.
Steve-O: Ideally you'd be able to, to turn it on and turn it off. You know, I wish that there was a switch where I could be productive and feel good and secure and then say, okay, now I can clock out. But I just don't have that switch. I never have.
Anna: Yeah.Well, let's turn to our next listener question. Um, and this listener wanted to remain anonymous. And it is, it's about substance use, uh, in a household and reading it is our producer, Zoe. Let's take a listen.
LISTENER: I have been living with anxiety since my first husband abandoned me unexpectedly, We got divorced a few years ago. I am now remarried and just gave birth to my first baby, but the post-partum hormones have caused a rearing of my anxiety and also depression. I have anxiety about all sorts of things. But one area where I just don't seem to know how to get brave is in having a very difficult conversation with my husband. I want to talk to him about his drinking. I am worried he is becoming an alcoholic. I'm also worried that it's bad for his health. I also don't really like being around him when he has had more than 2 beers, which is most nights. I also worry about his drinking and then taking care of our baby. I often work nights as a doctor and am away from home a lot and thinking about his drinking and caring for our son fills me with anxiety. He has never seemed unsafe with our son but I feel like that line is blurry and I don't know what happens when I am not there. I have tried to talk to him about this in the past and it always leads to a significant emotional withdrawal on his part which triggers my deep rooted fear of abandonment.
Anna: I think this question really gets at something that we haven't talked about, uh, as much, which is the fears of lifting something up in a relationship and what it can do to change, um, the dynamic, um, between two people and a family. Um, Steve-O, do you wanna start? What would you say to this listener?
Steve-O: Well, this is something that I'm so close to, and if it were possible to impart upon somebody the willingness to do the work of recovery, then, you know, we wouldn't have the 12 steps. And, if somebody finds themselves wondering or if you find yourself wondering, you know, I think somebody might be an alcoholic, generally the answer's gonna be yes. And, it is so destructive, it's so scary. And when there's a child involved, you know, the stakes are, are, are enormous. And sadly, there's just nothing you can do to make somebody want to get better. Um, it, it becomes an issue of, uh, of, of acknowledging that you cannot control people, places, and things outside of yourself and there's a whole other 12 step program for this called Al-Anon. And, um, I think that, uh, it, it sounds like that this is an Al-Anon issue.
Anna: Yeah. I was interested that the listener began the message talking about her own fears of abandonment and the fear that bringing up this conversation causes her partner to withdraw, which makes her feel that sense of fearful abandonment. Laurel, I wonder if you have any advice for this listener about how to prepare for this conversation if she does decide to bring it up with her, with her husband? Because what I hear from the listener is both like, I don't like how the conversation has gone before. Um, how do I prepare myself to say what I need to say?
Laurel: You know, I would tell her to gather a few allies that she can practice the conversation with. And to know that if she brings this to other people, that she will only find that other people are dealing with similar things, um, including physicians. You know, I don't know that her partner is a physician, but, um, it's a huge problem in medicine. Um, so I would practice it. Um, and also to realize this isn't an abandonment, that this is something else. Um, and I think a good therapist will, will help her realize that, um, that she's in a, coming from a position of strength and power here, um, that she is not somebody being left, um, and that she knows better than anyone else that, that this is a illness that is in her household. Um, and that doesn't mean she doesn't need to protect herself or her child and, and maybe make certain choices, um, but the, but that's what she's dealing with, not somebody who is abandoning her, um, by choice.
Steve-O: Correct. It's also, uh, very much a family illness. It's impossible to be in a, you know, such constant contact with somebody who's sick and not become sick yourself.
Anna: Hmm. Thank you all for, for your thoughts on that. Um, we have one last listener who sent in this question. Um, he asked to go by Stan and he's in his thirties. Let's take a listen.
Stan: I get scared of being scared of appearing scared in front of people and before I go up, before I speak to people, friends will say, you know, what's the worst that can happen? And the worst is that I become so aware of myself, unable to get the words out, that I could feel like a, like a pressure in my chest, it's like a pressure behind my eyes. So it's like I'm disassociating from the world and that I need to flee just to get out of there. And that need to run away from the audience, that's the worst feeling. And then it's all compounded by this, this phrase that comes to me, which is kind of like, this happens to no one else. You know? You are so weak and lame for letting it happen to you, and that just compounds everything. So I think that's the fear. But in the event with a beta blocker and a dram of Rye, I can make it through and enjoy having done it and having the whole thing behind me until the next event.
Anna: Ugh, I just hear Stan, uh, like how hard it is to keep up appearances. And, and I also hear, I don't know if you all heard this, but I hear, um, needing to appear strong and unafraid and masculine very much in that message. And, um, I guess Steve-O, I just wanna hear your thoughts about the, um, especially like thinking, thinking about like all your years of having to do very scary things when you've got this like crew of dudes pushing you to do it, and sometimes you haven't appeared like you really wanted to do it. Um, and you pushed through sometimes maybe for not a hundred percent healthy reasons, um, to show that you were strong and tough and manly. Um, like what would you say to Stan?
Steve-O: Um, when, when Stan started out, he said, when I go up.
Anna: Mm-hmm.
Steve-O: And, you know, I, I was just initially curious, what does he mean by go up? Because it sounds like a, a term that, uh, a standup comedian would, would use, and um, you know, part of me felt as he continued that, ooh, maybe he's, uh, should find another activity other than standup comedy. But I stopped myself with that response because what drives me in everything that I do is attention seeking. I just consider myself an attention whore just at my core through and through. And I think that with, um, you know, certainly with me, um, like I, when I was in school, I was, you know, wanted to be the, the center of attention, but at the same time, I was so afraid of, of the attention, you know, um, like when, whenever I had to get up in front of the class and give any kind of a class presentation, I was the kid whose voice was shaking the most, you know? So it's counterintuitive that, uh, you know, the person who wants to be the center of attention is so terrified of the attention itself, and I'm not sure what, what, what the answer is. Maybe do it more and see if, uh, doing it more brings more comfort. Um, and if not, uh, maybe look at other things that you can do.
Anna: Yeah, listening to Stan, I pictured like being in a public radio station bathroom and like the pep talks I have had to give myself in a mirror before hosting a live talk show and how like that fear, that feeling of like, ugh, like if I could run away, I would have, and then how I was glad that I pushed through, um, with the pep talk in front of the mirror. Um, but, but it's interesting like that question of like, how much is too much? Laurel, what would you tell Stan?
Laurel: Oh my God, Stan, I love you. I, I, I feel like we are related in some way, and I, here is what I would say, which my therapist told me, and I think it's an opportunity that for better or worse, we get day in, day out as long as we are alive. The beautiful thing about being that scared is that you get to be brave. Um, you know, like you can make a choice in that moment to acknowledge your fear. And this is what makes you courageous, is for getting up there anyway. And if you need a beta blocker or you need a shot of whiskey, I truly am not gonna judge you. Um, you know, unless it starts to get in the way of your life, you know? But I think sometimes those things are like putting on your magic socks, you know, like whatever placebo you need too to get yourself up there and to get doing it, um, I think works and just know that this is the feeling of doing it. I truly feel like that feeling is the feeling of living your life right. Um, you know, it's a kind of productive terror. Um, it is a terror rooted in pushing yourself. I would embrace this rather than worry that something is wrong with you. Um, and just know that, uh, you're not alone. Um, you know, any of us who are doing a song and dance in front of people that we are not sleeping with or related to has some feeling, uh, similarly, you know, will they like me? Will this be the last time anyone cares? You know? Um, and no one can answer that for us. You just have to keep trying.
Steve-O: Bravo Laurel. That was my favorite answer of the whole hour. I love that.
Anna: Um, Rev. angel. Like, what would you say to Stan about that edge? Like when is that edge productive and when is it telling you something about that you're in an environment that, um, you could find a more safe environment and could seek out a more safe environment.
Rev. angel: Yeah, you know, I am an introvert that is a public figure and I choose to, as an introvert, do things that require me to stand up in front of audiences, you know, over and over again. You know, I, I don't know if I'm gonna be as, as uh, you know, pro get, get a dram of whiskey, but um, you know, also there's plenty of things that one could do to, um, to, to self sooth, you know, to bring to the question we had earlier to self sooth prior to that. Because if you can identify the situations that elicit those sensations, like whatever we tend to like, call these emotions, they're actually a combination of sensations and, you know, chemicals like, you know, flying off through our body and being able to slow them down through, through practices in which we can observe them, can, um, take the heat out of them, you know, it can take the charge out of them. And so, um, mindfulness practices are known to do that on, you know, meditation. And I mentioned this earlier, I talked about like, coming back to yourself, right? Like to find a point in yourself. I usually talk about the low in the low belly, finding your breath and returning to that point. There's a, it may be just for a glimpse, but there's like a moment of pause. There's an interruption to what feels like the continuity of fear or anxiety or like freaking outness. And when you remember, again, that you have that point that you can return to, you can return to it again, and, and then you can return and then freak out and then return to it again, and then freak out and then return to it again. And it, it, it blows, it blows some space into the situation so that you have some perspective. And then whatever the feeling is you're having anxiety, grief, um, fear of, you know, not having it together, fear that you shouldn't have fear, all of it is no longer you. It's out there and it's not you anymore. And, and the power of that, uh, giving ourselves the grace of being something other than the, the series of shitty, weird, gnarly feelings that we have, um, is extraordinary no matter what they are.
Anna: I wanna close with, um, what might sound like a weird question, um, but as you were describing like how to be in our body, how to notice fear in our body, um, when I picture myself afraid, I picture like a crouch, a fetal position, maybe like a child's pose, like protecting myself. Um, and so I wonder for each of you, like when you picture, um, yourself at your most like, courageous, brave way, um, like what's the shape of your body? What do you picture, Laurel? When you're being brave, what's your body doing?
Laurel: I love this question. I've never thought about it, but I immediately knew I, it's a tree. It's a tree. Um, maybe that's because I'm a commercial rancher.
Anna: Whose name is Laurel.
Laurel: Whose name is Laurel, like, yeah, maybe this was enough to me. This was predestined. Um, but yeah, yeah, it's allowing to stand strong and having roots and not be able to be blown over quite so easily.
Anna: Hmm.
Laurel: And to feel a part of something larger than myself. So, so strength in connection to that which is bigger than us, whatever that may be.
Anna: And Rev. angel, what do you picture when you're being your most brave self? What's the shape of your body?
Rev. angel: Uh, it's actually something kind of along the lines of, um, when in Aotearoa or what is conventionally known as New Zealand, uh, you know, they, there's, there's a, there's a dance and it's kind of like a squat and it's a little bit lower to the ground and it's a little bit leaned in. It's got a little bit of swag and it's like very, the audience can't see me, but I'm doing it now. You know, it's like low down.
Anna: I'm doing it. I feel very brave, just moving my hips.
Rev. angel: Yeah, it's like low down. I could get out of there if I need to, but I'm also leaned in a little bit, right. Um, you know, heart open and, and belly soft and, and back feeling like I've got my ancestors at them. So it's the, it's the whole, it's the whole thing. Low to the ground and, and, uh, ready.
Anna: Mm. Strong also. Wow, I love that. And Steve, how about you, your most brave self? What's your body doing?
Steve-O: Well, the thing that for me, um, bravery isn't something that, uh, I consider with physical connotations like at all. So I don't really imagine my body when it comes to bravery. Bravery for me is, uh, you know, saying, doing the right thing. Even when it's not easy to do the right thing. I think, uh, it's like asking what, what physical shape does integrity take? And, and I don't have physical, uh, associations with that.
Anna: And I, it's also interesting because of all the people on this call, your body is the one I know the most. Like, I can picture you in your undies like very easily.
Steve-O: I love that.
(end theme for Death, Sex & Money)
Anna: I wanna thank you for being in this conversation with us and with our listeners. Um, Laurel Braitman is the author of the new memoir called What Looks Like Bravery. You can find it and read it as soon as you can. It's just out. Reverend angel Kyodo williams is a zen priest activist, teacher and author most recently of Radical Dharma: Talking Race, Love, and Liberation. You can find all of her work at revangel.com. And Steve-O's latest book is called A Hard Kick in The Nuts: What I've Learned From A Lifetime of Terrible Decisions. And he's currently on the road doing standup. It's his bucket list tour. You can go to his website to see when he will be near where you are. Thank you so much to each of you. What a pleasure.
Steve-O: Likewise. Thank you.
Rev. angel: Thank you.
Anna: Take care.
Laurel: Thank you so much. This was a true pleasure.
Anna: I'm Anna Sale and this is Death, Sex & Money from WNYC.
(end of end theme for Death, Sex & Money)
Copyright © 2023 New York Public Radio. All rights reserved. Visit our website terms of use at www.wnyc.org for further information.
Music Credits:
"Daymaze Lazybeat Leader" by Blue Dot Sessions