Holland Taylor Steps Off Her Island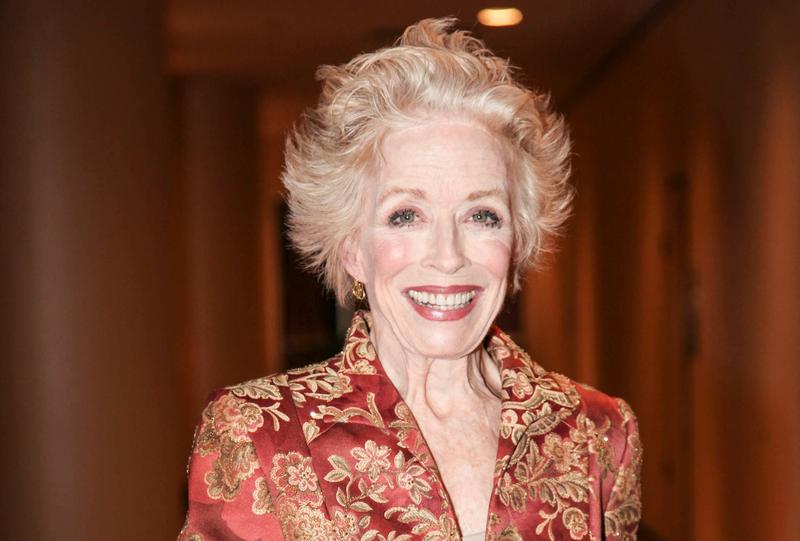 Transcript
Holland Taylor: I was always at a certain safe remove I think, no matter how much I might have loved a person, I was at some sort of a safe ground, still with a foot on my own island.
This is Death, Sex & Money.
The show from WNYC about the things we think about a lot….
….and need to talk about more.
I'm Anna Sale.
As an actress, Holland Taylor often plays patrician, self-assured characters who keeps all the other kooks in line. A judge on Ally McBeal and The Practice…
JUDGE ROBERTA KITTLESON: I take pride in adhering strictly to ethical obligations.
an ad exec on Bosom Buddies…the mother on Two and a Half Men…a professor in Legally Blonde…
PROFESSOR STROMWELL: The law leaves much room for interpretation, but very little for self-doubt.
Her characters often don't need anyone else. And they tend to keep other people at arm's length. That's an impulse that Holland herself is trying to shake... at 72 years old.
HT: I'm finally wised up to the fact that I haven't got that much longer and I would like to have a more fulsome experience of relationships in life than I have. And I'm lucky I have the opportunity to. Very lucky I have the opportunity to.
Holland Taylor is known for keeping her private life… private. But she agreed to meet me at her friend's apartment in Manhattan…
It's a beautiful sunny penthouse. She's staying here while her apartment gets renovated, just a few floors below. You can sometimes hear the whine of a table saw floating in through the window.
HT: I mean it's a little bit discomforting not to be in your own place but… not exactly sloppy seconds….
I grew up watching Holland on television. The first time I saw her on stage was in 2013, in her one-woman show, ANN. She played Ann Richards, the former governor of Texas.
ANN: Let me just say...you haven't lived, til you've been governor of Texas.
Holland never met Ann Richards in person… she died in 2006. But Holland dug deep into her story and her mannerisms while writing the play. It earned her a Tony nomination.
ANN: Now I would just love to be able to tell you that I was fated for greatness and groomed to lead and — and — and blessed with genius. But as Richard Nixon said so many years ago, that would be wrong.
But then…that show ended.
HT: I've had a couple of very depressed periods, and I'd say after ANN was the major one.

AS: Really?

HT: Mhmm. It was — it was really — I was stymied. I was just at a loss for what to do with myself and my mind. I really kind of went blank. It was — it was a very odd period, I'd almost qualify it as a breakdown. Parting from the production was shocking in its sense of loss and deprivation and confusion. And I think that that was coincided with an aging spurt 'cause I just turned 70. I really broke down, I certainly broke down physically. I mean I had lost, I weighed 108, I weigh 130 now.

AS: It's so interesting because that's so at odds with how I think of the story of Ann, I think of it is as: you created this play out of sheer passion and dug into the research, created this thing on your own, performed it on your own, get a Tony nomination.

HT: That was great, that was so great, but it all did reflect back to Ann for me. And it was a really worthy project. I haven't had an opportunity to do tons and tons of worthy things, but that was one. I wish I could share some of the letters I got from people who knew her. Molly McCool was an old friend of hers who was — said life was different after Ann died for her. It was like we didn't have any fun anymore. And she came with her family — five of her kids — to the show, and it was, it made me cry just thinking of it because she's — she wore the same glasses that Ann got. She still had her glasses from the '90s, glasses that she made Ann have. And I wear those glasses in the show briefly, the red glasses. And she was wearing those glasses, and she was in my dressing room on the couch, and these kids crowding around, and she was laughing and telling stories just wreathed in smiles, and I — and I was just — so moved by it. I was so moved by so many things that happened with ANN that, it was just, I was bathed in emotion at all times. So, in a very unreal way. Very unreal way. So the absence of that, I think — I hadn't thought of it until this moment. So the absence of that I think, I think I hadn't thought of it until this moment. Every day was emotional. Every day had big emotional moments that were often full of tears but it was just profound.

AS: Were there parts of her that you enjoyed tapping into that you felt sad that weren't a part of you when you were no longer performing her?

HT: I didn't — I've never thought of it that way but her — she was a very positive person. She was quite capable of her dark days and her unhappinesses and moods but she had an extraordinary energy to participate and to be with others and to do. And in her doing, and in her joining. And she just was a great companion and a great partaker of friendship and life and activity. And I had been very much a loner a lot of my life. I've not been a joiner. I've not — I've always had friends but not large groups of friends, never did anything like travel with people or house parties and trips together that my sisters, for instance, do. Constantly traveling together with friends to Europe and riverboat tours and — it's just not been my way and maybe I'm leaning more towards that now but it's been a long life not being that way.
Holland began her life far from Texas, in Philadelphia… Her father was an attorney, her mother a painter and a homemaker. She has two older sisters, but they were out of the house by the time she was about 8.
HT: So I was a child who was left to her own devices. And I didn't do that well. I mean, some children are fantastically inventive and in some way content enough to be peaceful in themselves enough to have their hobbies and their interests. I was much too agitated and distressed I think and could get depressed and lonely. So I was not very successful, I had that life of a child who just doesn't know what to do with herself.

AS: You knew, though, that you wanted to study theater?

HT: I did! As a very young age, I guess we— I was about 12. I was show-offy and mimic-y and I guess when I was amongst people I maybe was more the life of the party because I was excited to be amongst people because I was so often not.
But when she moved to New York after college and started acting, Holland felt on her own again.
HT: I don't know what the hell I was doing, putting one foot in front of the other. I had no money, I had one audition dress that I took very good care of. You know, you go from job to job. I was not in a group, I did not have, as so many of my friends do, who went to Juilliard, they have their class or the people who went to that school and they are constantly in touch with them all, they all see each other's plays and they are sort of a free flowing group in the — in the — in the industry. So, I would be in a happy mood and a good frame of mind when I was working and then when I wasn't and was trying to get work and was not getting work and was not getting anything that was sustaining it would all sort of fall apart.

AS: At what point in your acting career did you feel confident that you could support yourself as a single woman?

HT: Well, I always have. And it was pretty hardscrabble in my first ten years or so, but I've never done anything but that. People often assume I had some money, had family money, and actually the opposite was true. I've always supported myself and I've always had to support myself.

AS: What's the opposite of having family money? Does that mean you had to help your family?

HT: Well, yeah. I didn't have any money because, out of, I didn't inherit money or have money and I always helped my sister support my mother.
Holland knew she wanted to be able to take care of herself. And she was comfortable doing it by herself. That was clear from when she first started dating.
HT: My first boyfriend spoke about from the other room, I was taking a shower, and he spoke about "Maybe we should think about getting married." This was when I was still in college. And I literally looked down at the shower floor and the drain and thought no, no, no, no as the water swirled around the drain.

AS: That's quite an evocative image.

HT: But I didn't have conscious thoughts of "I'm not going to do what mother did." But I also never thought, "Let's go and make a home together." And I'm not sure of my mother's experience, my father was not a philanderer but he was an alcoholic and all the chaos that comes from — can come from that life situation, that didn't — marriage didn't look so swell. Hence, the drain image.

AS: Yeah.

HT: And so, I never in a million years thought I would marry and have a life like hers. It wasn't for me.

AS: How'd you know?

HT: I don't know. I know that my mother's life was extremely confined by the fact that she was married, that she had to prepare two meals a day weekdays and three meals a day weekends. Whatever her painting interests or whatever her activities may have been she stopped and she had to shop and have food and she took care of our lovely house and she took care of her husband. And that absolutely governed the boundaries of her life and I knew I did not want that life, I knew I wanted to be a very free agent and travel and not be beholden to anyone, not have to do anything for anyone. And it's only really been in recent years that I've thought in a big, long, long lens looked at my mother's life. 'Cause I must have felt… I must have felt… I imagined that I would chafe and maybe felt that she was chaffing.
Coming up...Holland talks about her mother's death...and how it opened her up to a new kind of relationship.
HT: I am understood by the person who loves me before I am understood by myself and that's really sort of a stunning experience that has taken me a while to accept it.
We've gotten a lot of reactions to our episode about why you're not having sex.
A woman I'll call Jess wrote in with this comment: "I'm a 24 year old virgin… and last night I was rejected because I was honest with a guy. I told him I wasn't going to just have sex with him right away and he rejected me for that. Marie's story is exactly what I needed to hear."
And a man I'll call Josh left us this voice memo about the lack of sex in his marriage:
Josh: I personally have gone through the entire gamut of being — feeling really frustrated to really rejected to really angry to wanting to have a revenge affair, I guess.
And Lynn from Denver left this comment at deathsexmoney.org: I am 35 years old and until a week ago I had never had sex. She wrote, it was "last weekend with someone I feel totally comfortable with," and she added, "it really was just finally the right time and I am glad I waited for that."
Thanks for continuing to share your stories with us.
On the next episode… a woman whose expectations for motherhood... are far different from her reality of raising two sons with autism.
Diane: I certainly kind of consider myself the go—to person for "if you really want to have a conversation about what having kids is like and maybe want someone to talk you out of it, come to Diane! She's always willing to give you the lowdown."
——
This is Death, Sex & Money from WNYC. I'm Anna Sale.
Holland Taylor's latest project... is in an off-Broadway show called Ripcord. It's about two older women who share a room at an assisted living facility. Holland's mother spent the last years of her life in a similar place.
HT: The first weeks of rehearsal were very difficult because I was often very teary.

AS: What was happening in your life when your mom was in the assisted living home?

HT: I was doing The Practice at the time, and I was traveling back and forth to see her because she wasn't well in her last year particularly. It was clear that she was going to die soon and I went back just in time. And my sisters are older than I am by six and seven years and the three of us were with her the last two days of her life, around the clock, which was a rare fair privilege, a really remarkable experience. And all I can say about death that I felt then and now, what I learned from it is absolutely nothing. It's like looking at, I don't know, a volcano or tidal wave, the sky at night. It's incomprehensible, incomprehensible experience. Just to be with someone as they die, astonishing. I could weep now thinking of it. And yet I couldn't really tell you about it. There's nothing to tell. Person was there, person went away, and left themselves behind too. It's just very strange, very very strange. And I got no philosophy from it at all. Just the experience of it.
But losing her mother…did cause Holland to think differently about her life, and the people in it.
HT: And I just suddenly got the sense that I was living a very shallow life, and that I was not very self-aware and that I had not had wonderful relationships. I had not made them be wonderful or let them be wonderful, or sought them even. I had stayed very solo. And I made a judgement about that, that that was impoverishing.

AS: At what point in your life, looking back, do you feel like you were the most changed by a relationship?

HT: I've been very… I haven't been very much altered by my relationships because I think I've never had many that were very, that cut deeply into my life in the sense that I've never lived for long period of time with anyone, I mean, sort of, really linking my life to someone else, that has never been the way I have lived and it's somewhat the way I'm living now and at my age it's quite interesting. It's quite a learning curve. Cause I'm in that sort of relationship now. And I'm lucky to have the opportunity to. And I think the complete reorganization of cells I went through after ANN has allowed that because then everything becomes up for grabs.

We all grow and we all expand and that's a natural process of life. But somebody once said that transformation is not the same thing as growing and if you have a caterpillar turning into a butterfly to use a banal image, the caterpillar doesn't just grow wings and change in that manner. It wraps itself in a chrysalis or whatever they're called, and it turns to, you should pardon the expression, goo. Very messy, horrible, icky, disgusting, formless, shapeless, non—functioning, resting, growing, percolating goo, for a while. And that eventually, this completely other creature, not a grown up caterpillar, but a completely other creatures emerges. So I think that if you really break apart so that you don't know what you want, who you are, how to function, you know… you really dismantled, there is a state where you go in that is kind of goo like and something else can form from it that can be quite different and quite wonderful.

AS: What a two years you've had. That's — that's incredible to think of it that way.

HT: It has been incredible.

AS: What are you finding that you are doing different in this relationship?

HT: We are just being attentive to it, thinking of it as a thing that requires attention and thought and care. Not inattention and not just whatever comes, not just whatever happens. No, it has a much more important place in my life. Where I am going to be geographically, what I am going to do, how I am going to spend my time, is determined by that, not the other way around. I am not going to have a relationship take short shrift.

AS: Does it feel having lived such an independent life for so long are there moments where it feels uncomfortable?

HT: Yes, but not negatively so. It's like okay, okay, I have to figure this out now because I am just so unused to this. But there is no question in my mind that it's the most wonderful extraordinary thing that could have ever possibly happened in my life, so the fact that there are differences and things to adjust to and new and old habits to break because they're useless or even negative or just to learn to think in a new way is a great privilege.

AS: Do you find yourself enticed by marriage?

HT: Well, my relationship is with a woman, and I have not — given my generation it would not be something that would automatically occur to me. But she's mentioned it because just from a spiritual point of view, from a heart point of view, as a — as a — as a deed that has a very rich symbolic gesture to it, it has its attraction. But it's been a very casual conversation at this point. But it's not — it would be a very private thing. I would not do that publicly. But as a symbol, as a pledge, as a plighting one's troth I would see it — that it would be a wonderful thing to do.

AS: Do you want to say her name?

HT: Well I feel at this point in the conversation it feels kind of awkward. Now I feel very very shy of it. I've been really wrestling with this lately because most of my relationships have been with women and I don't like talking about them because I don't like talking about the politics of it all because I'm not political about it. I think we're ridiculous in this country about it. Ridiculous. And so, it's awkward because if I talk about relationships in my life or people that have been in my life, or somebody I've been seeing for a while or this, that and the other thing, I'd like to be able to just say that, without having to stop and say, 'so have you come out?' No, I haven't come out because I am out. I live out.
In the end, Holland wanted to protect the privacy of her girlfriend…but she did want to share...she's with a much younger woman.
HT: There's a very big age difference between us which I'm sure shocks a lot of people, and it startles me. But you know, it's not a statement original to me — I've heard it as a joke once in my past, but as they say, "If she dies, she dies."

AS: That's funny.

HT: It is, I know. She thought it was funny when I said it too.
Actress Holland Taylor. She's on stage in New York in the show Ripcord until December 6. And she'll be reprising her role of Ann Richards in Texas' capital city this April and May.
Death, Sex & Money is a listener-supported production of WNYC Studios. The team includes Katie Bishop, Emily Botein, James Ramsay, Destry Sibley and Andrew Dunn.
The Reverend John Delore and Steve Lewis wrote our theme music.
I'm on twitter @annasale, the show is @deathsexmoney.
So, Holland Taylor says a big coming out to-do isn't her style...but she says there is one scenario where she'd think about it.
HT: When Clinton holds a press conference to discuss the fact that he is — lives frankly a heterosexual life, I'll consider it. It's regarded as something that people who are not mainstream have to do….

AS: Declare, yeah.

HT: They must declare. And it's like, watch me if you want to see how I live, because I live.
I'm Anna Sale, and this is Death, Sex & Money from WNYC.
Copyright © 2019 New York Public Radio. All rights reserved. Visit our website terms of use at www.wnyc.org for further information.
Music Credits:
"Rollin' Train" by Steve Pierson from BWN Music
,
"Cass County Beauty Queen" by Alan Singley
,
"Elle va au Japon" by Nic Bommarito
,
"Words" by Jason Shaw
,
"Supermoon" by Alan Singley